Happy Bachelor Monday, you guys!!! I am so excited to talk about tonight's episode with you because I finally feel like there was a good amount of substance to watch, and it was entertaining! Sooooo much better than last weeks episode which I found super boring. What do you think? Did you like tonight's episode? Let's get into it.
Victoria F Date
My goodness. Could this date be any more produced?! Obviously Victoria F told the casting agents and producers that she used to date Chase Rice and that's why she got this date. I've read a little bit about it, and from what I understand neither she or Chase knew it was going to happen. And it seems like Chase is pissed about it, as he should be! He came on the show to promote his music and now got dragged into the produced Bachelor drama. However, I will say that this publicity is only good for him. I had no idea who he was before. And now not only do I know his name, but I know his songs and I've googled him multiple times. This is definitely going to help his career even if it's not the kind of attention he wanted. So I'm just trying to look at the silver lining for him.
Anyway, let's talk about what happened. Do you think Victoria should've dance with Peter while Chase was singing? The whole time I kept thinking she's got to stop this and walk away. But on the other hand, I started realizing that that could come across as really dramatic and ruin a concert for a bunch of people and make things even more awkward for Chase. Who knows, maybe these things are running through her head and she didn't know what to do. As much as I was yelling at my TV wanting her to stop singing along to the music that her ex boyfriend probably sang to her at one point, on the other hand, it's such a weird situation and I truly don't know what I would've done if I was in her shoes. I probably wouldn't of sang the words to be completely honest. But again, that's something I'm saying I wouldn't do and maybe she was so nervous in the moment that she didn't think clearly.
Does Victoria Still Have Feelings for Chase
And don't hate me but does anybody think that she was kind of trying to get Chase's attention? I feel like she all of the sudden came alive and seemed confident and sexy dancing to his song. I feel like she wanted him to want her again? I feel like it's a bold accusation for me to be sharing that opinion, since she was just dancing. But I guess it's because she has been shown as so shy and timid this entire show, and she really came alive when they were dancing. In a way I've never seen her act before. It's almost as if she was trying to tell Chase, "Look what you're missing," and I guess I can't blame her. I'd wanna do the same thing if I was confronted by my ex. But it just kind of seemed unfair to Peter.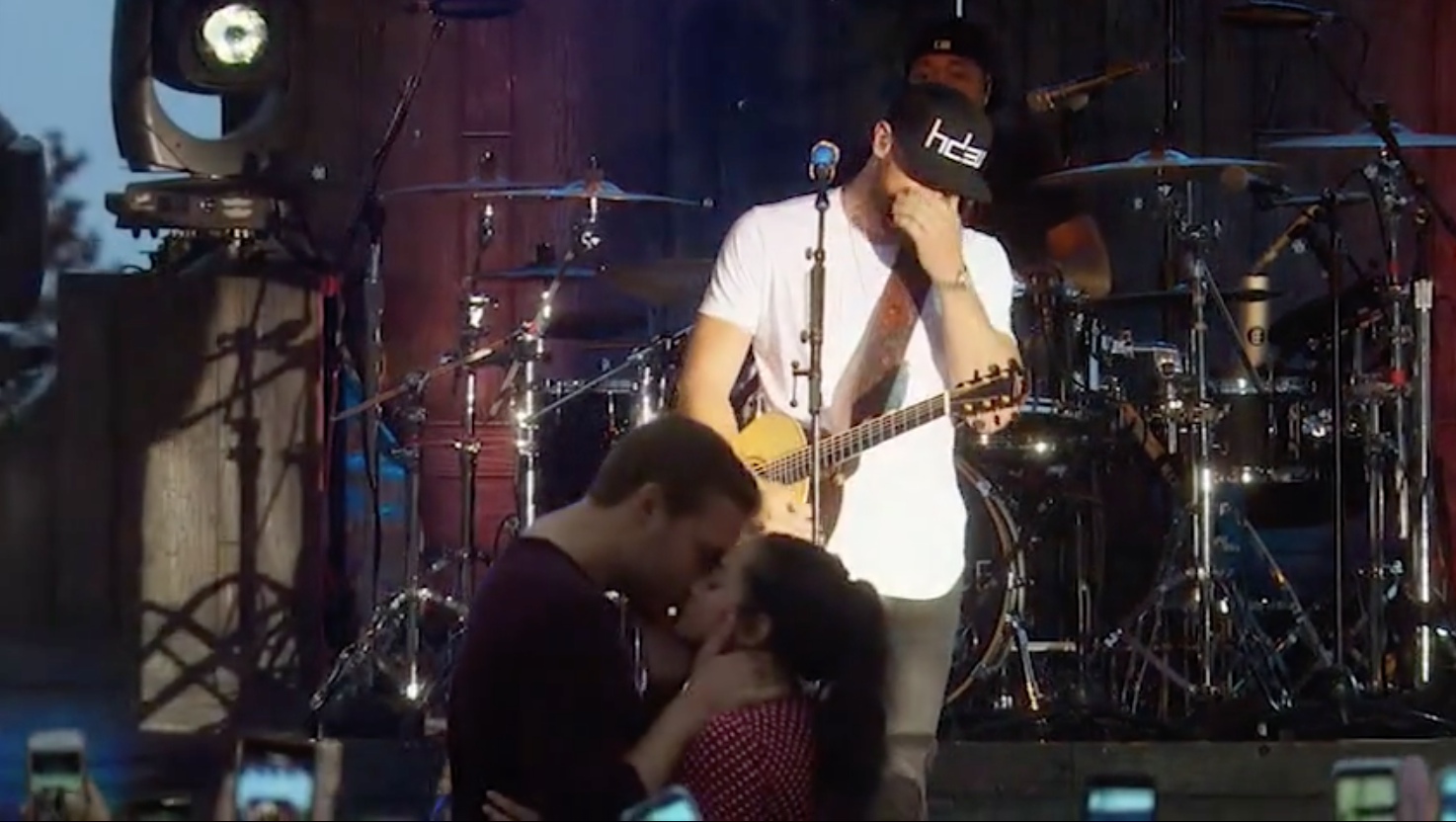 And oh my gosh, did you see the look on Chase's face when she and Peter kissed at the end? He did not seem to care for that. What do you think Victoria should've done? Should she have continued on with the dance? Or stopped it right away? It's so hard to say. Especially because we're not in that moment.
Victoria Tells Peter
When Victoria let Peter know at dinner, I think the reason he looked so hurt and upset is because he was upset with the producers. I'm sure the very first thing that went through his mind was that there was no way this is a coincidence. He knew the producers knew and I bet producers begged him to take Victoria on this date. I could see a scenario playing out where he suggested somebody else and the producers strongly encouraged, and even asked him to trust them by choosing Victoria. I went through a similar situation on my season to be honest. I wanted to send a guy home on my season that had a girlfriend on a 2-on-1 date, but producers suggested I send the other guy home first, and quite frankly I don't care which guy went home because I didn't have a relationship with either of them to be honest, and so I went along with it. I feel like Peter probably went along with it as well and was pissed in the moment that the producers would do that to him.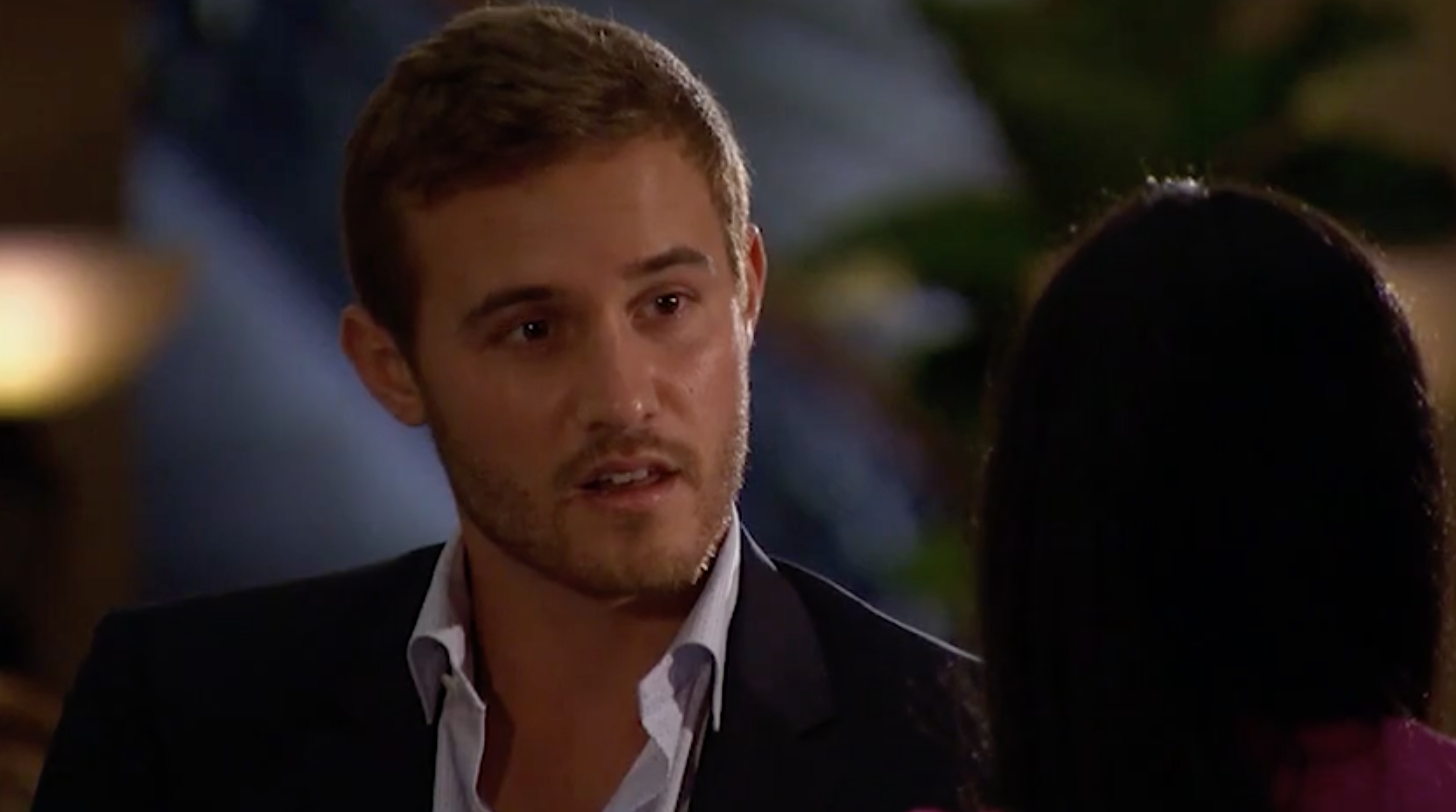 People often ask me if the show is real or not, and if the producers make you do things. Here's the truth. The show is real. There's real feelings and you can really fall in love. Or fall in lust. And it's also true that the producers strongly encourage you to make certain choices. They usually won't mess with whoever you tell them you really, truly like. So let's say Madison, Hannah Ann, and Victoria P are Peter's top three girls right now. That's just my guess. He probably would let the producers know not to mess with his relationship with those 3 people, but the rest of the girls who he doesn't feel like he's going to end up with it doesn't matter as much. So maybe he wanted to take, let's say, Kelsey on this date, but instead went with Victoria because the producers asked him to. Does that make sense? So yes, they get involved but usually only do it in the scenarios where you don't really care either way. But in this case in retrospect, obviously Peter cares now. I bet he feels like a fool. I would. Poor guy.
Group Date
I am so over the dates that involve any sort of physical violence. I get that it's football but it still involves tackling and letting on aggression on each other and I just feel over it. The girls had visible bruises afterward!! And anybody else think, besides all the girls, that it was ridiculous that there was no sort of tiebreaker? I understood that the girls were upset about all 13 of them going on one group day even before Alayah showed up.
Group Date Cocktail Party
I was floored when Victoria P pulled Peter first. I completely side with Shiann on this and think that it was very selfish of Victoria P to do that. She spent so much time with him earlier and I find it mind boggling that she wouldn't be aware of how pulling him first would affect the other girls. I don't necessarily think Shiann deserves to talk to him first because she played football the best, all the girls were trying their hardest – she shouldn't win time first for scoring the most touchdowns. So I don't necessarily agree with or get that logic. But I completely agree that Victoria P was selfish to take him first. Actually, I shouldn't say that because I don't think Victoria P is selfish. Her actions were selfish in that moment.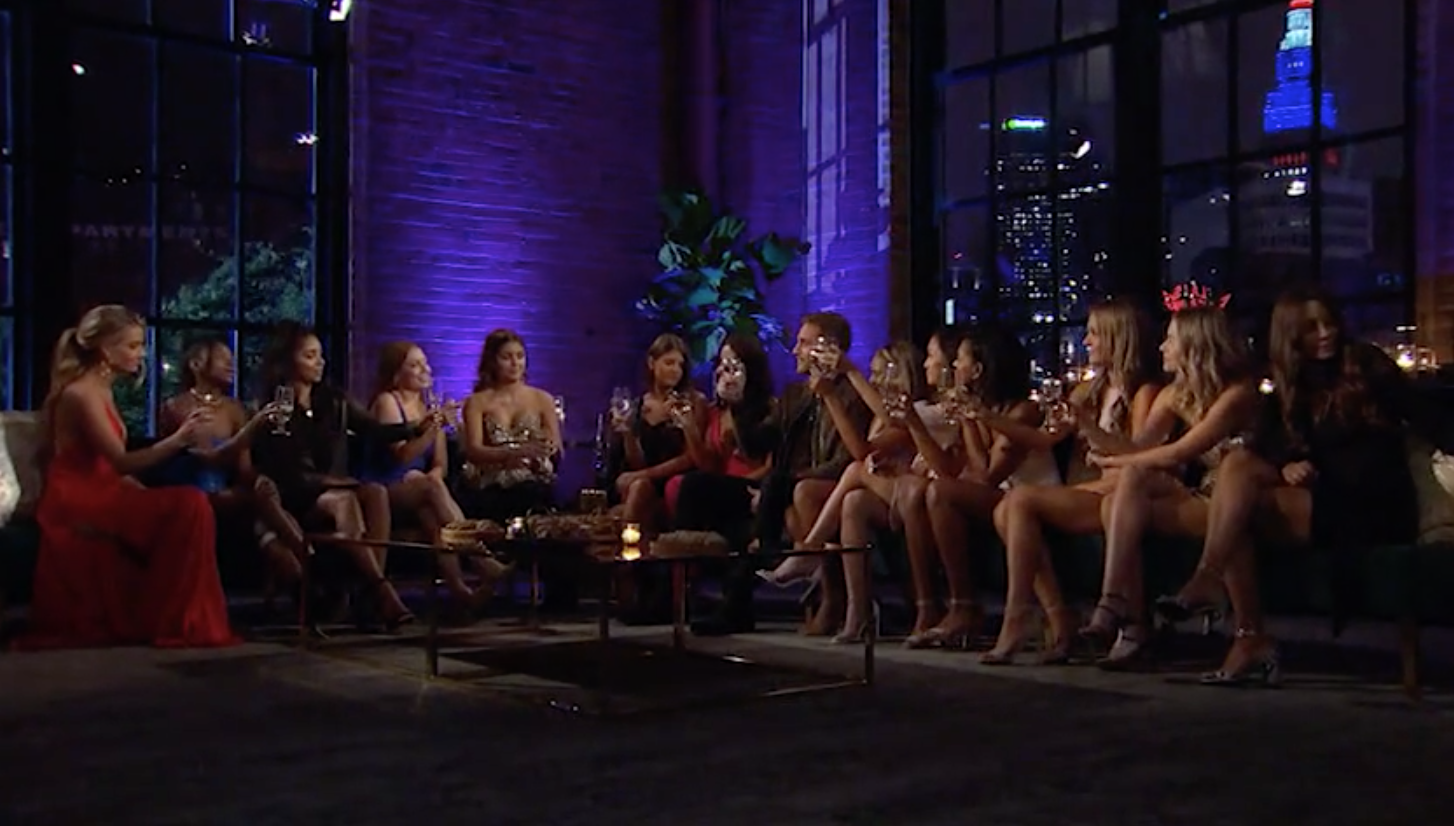 But let me throw this out there. The only thing I can possibly think is that maybe a producer told Victoria P they really needed her to pull Peter first for whatever reason. Because the producers knew Alayah was coming back and Alayah wanted to talk about Victoria P and that all this drama would go down. Therefore, they wanted us to see a really sweet moment with Victoria P and Peter before Alayah came and turned it all upside down and left him questioning his relationship with Victoria P. Make sense? These producers know what they're doing! I feel like there's a very good chance that's how this went down. That Victoria P asked to pull him first because she was instructed to and was given a very good reason as to why she should put him first.
Alayah's Return
Anyone else think that there's no way on this earth that Peter feels as strongly for Alayah as he does for Madison or Hannah Ann? Or does everyone out there even think that Peter really thinks Alayah could be his wife at the end of this? I don't know, I guess he could feel that way, but I just don't believe it. I think he let her come back because he feels bad that he sent her home after something Victoria P said that turned out not to be true. But in the same breath, I think he also sent her home because of everything else the other girls were saying. I'm not really sure why he let her come back, but I do know he went about it the wrong way. Those girls have every right to be so upset with him for everything they were put through on that football date, then to go to the cocktail party with 13 girls which is the biggest group date I think there's ever been, and then to get no time with him because Alayah shows back up. I get the frustration and I'm going to get more into that in a minute.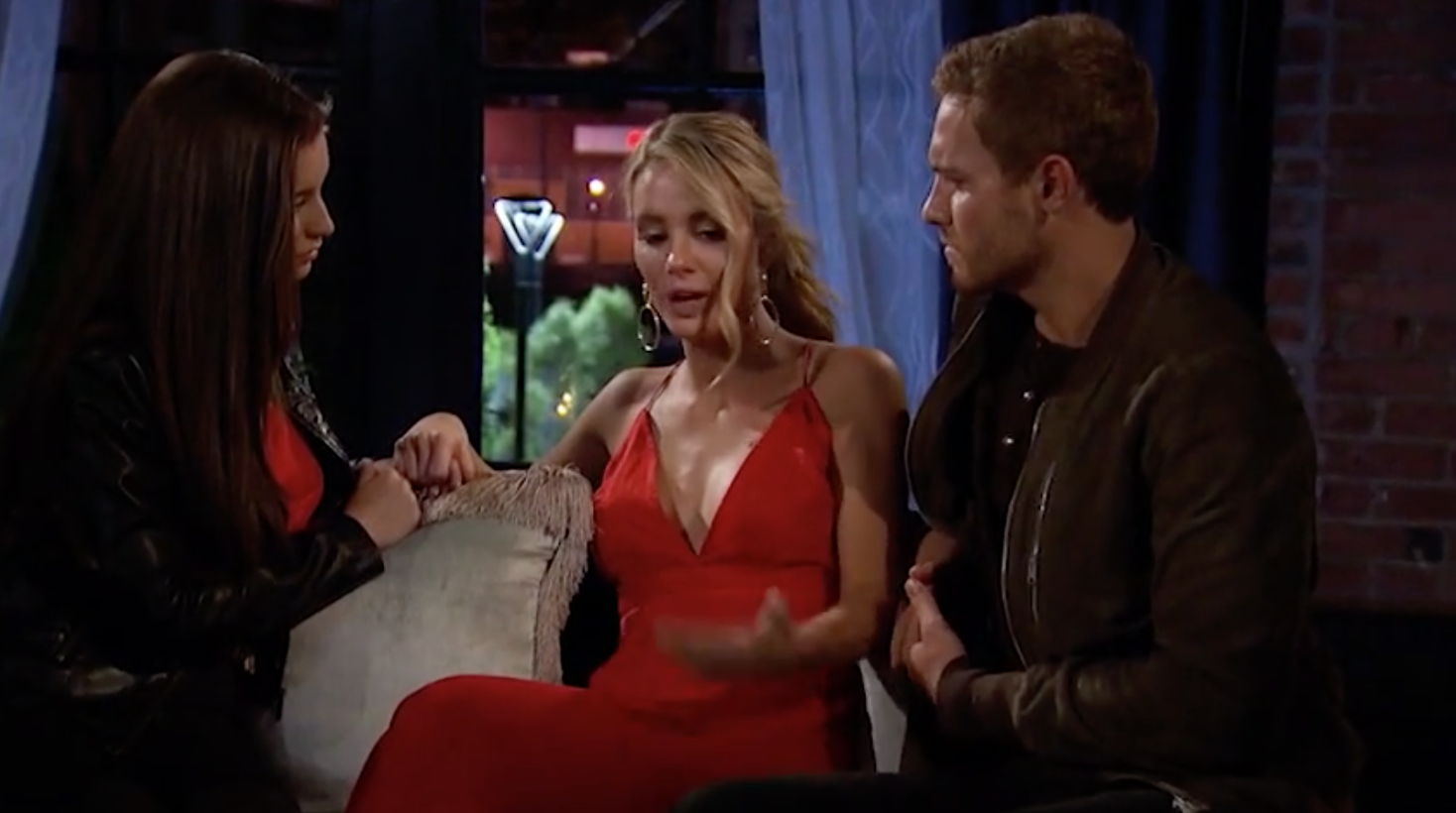 Also, did anyone else find it SO odd that Victoria P said they maybe knew each other for 3 hours when Peter had asked her about Alayah, but once Alayah returned she gave her a big hug when she saw her. And not only did she give her a big hug, but she held Alayah's hand the entire time they were talking with Peter and even wiped her tears? I am just so confused by this friendship. I was scrolling through Instagram the other day, and I did see a photo of them from Vegas so I know it exists. But I also know that it mentioned there was a Miss USA event that weekend. So maybe they were both just there with a group. But regardless, they definitely knew each other more than 3 hours, and I really can't pinpoint why Victoria said that!!!! What do you think about this? Did you notice the affection too? Almost like they were the best of friends? Maybe that is how pageant girls treat each other for support, but I just don't think that's the case. Okay, let's talk about Kelsey's date!
Kelsey's Date
I thought without a doubt when Kelsey got the 1-on-1 day that she would be going home at the end of it, but the entire date surprise me. The first thing that surprised me was when Peter used the word drama free to describe her. Ha! Just because of the whole champagne gate thing, that's definitely not a word I would use to describe her. However, I think he more meant that the date in general was drama free compared to what he had been dealing with in the group date the day before.
Then when Kelsey opened up about how after her parents divorce things changed. To be completely honest, when she first mentioned that she's the way she is because of her parents divorce, I kind of rolled my eyes. Hear me out for a second. I know some of you are going to strongly disagree with me on this, but I'm a firm believer that people who try to explain that the reason they have fault is because their parents broke up are just looking for something to blame. Let me be clear this is not in all cases! But in my experience I've met many people that like to blame their problems on their parents divorcing. And I just don't think that's fair for so many reasons.
However, when Kelsey went on to explain that she didn't see her dad for 12 years after that, my heart broke for her. When your parents split up and then one parent disappears that's a completely different thing. That's not saying you are the way you are because of a divorce, that's saying you are the way you are because a parent abandoned you. My heart seriously broke for her. I feel like it explains so much about her and who she is. It explains champagne gate and explains why she so badly wants this to work for her. She needs to find a man who will stay and not a man that will walk out on her. And you can tell that Peter is so passionate about his mother and grandmother having to also be on their own. He cries with her! I think he really feels for Kelsey in that moment, and I think it really switched the energy in their relationship.
Anyway, I'm pretty tired so I hope I'm explaining myself right. If anybody is reading this who have had parents split up at a time in your life where it really really hurt you, know that I'm sorry. I can't know your particular pain because I don't know your situation. But what I do know is that holding on to something that happened 10 to 20 years ago between your parents and letting that hold you back in your life today is not helping you. So I guess that's kind of my point in this. I also just quickly want to say my parents divorced when I was in middle school as well, and while I know it affected me at the time and many years later in some ways, I in no way think it makes me who I am today. Both my parents are great. And both my parents are great apart.
Kelsey's story is different. It's about abandonment and I just want to give her a big hug.
The Girls Are Pissed
Like I mentioned above I think the girls have every right to be pissed off right now. Peter is not making the wisest of choices. It's not even that I don't think Alayah should've come back. That's completely Peter's choice and if he feels like his decision was based on something somebody else said that he might not believe, I do think she has a right to come back. I just think it was how it was all handled is what's not sitting right. Walking back in with her hand and hand, then giving her the group date rose after the girls had such an emotionally and physically exhausting day, just isn't cool to me.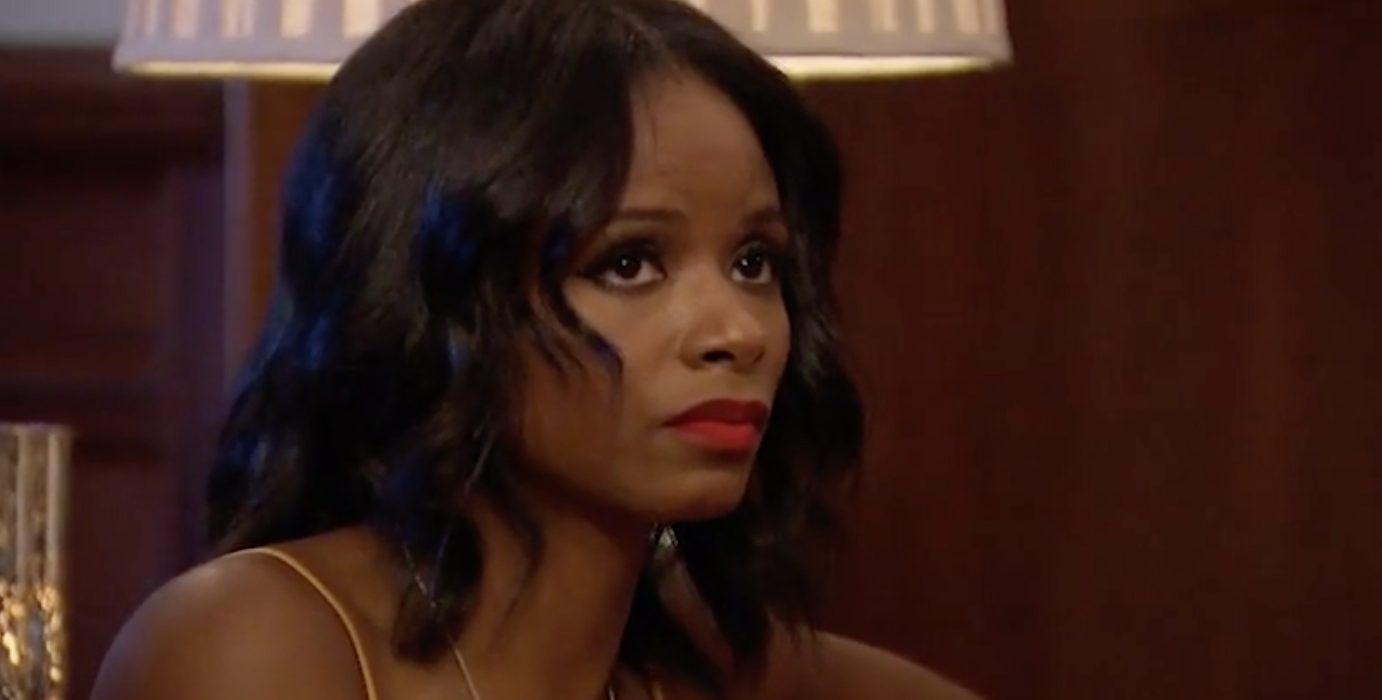 I'll also say I feel a little bad for Alayah. I definitely think she's manipulating things in the house and doing things that are upsetting a lot of the girls. But the truth is, I'm pretty certain she doesn't even realize she's doing it. So when she says she feels like a victim she truly believes that she is a victim. In a way, she almost is because she doesn't realize she's doing it. Something about the way she was brought up or the things she's experienced in her life have made her blind to how some of her actions affect others. I don't know what those things are, but I truly just don't see her flat out trying to be manipulative, but then she does end up being manipulative. So I feel for her.
For example, when she said she assumed the girls in the house knew about Victoria F and Chase, I believe her. Yeah she knows the girls don't have phones to look it up, but I'm sure she just assumed Victoria told some of them. I know I would have if I were her. Heck when we found out the Victoria F didn't tell any of the girls and kept it a secret, which is obviously her decision and choice, I was pretty surprised! If that happened to me on a date, I would've needed a friend to vent to afterwards. So I get why Alayah thought all the girls knew.
What are you guys thinking about the whole situation? Do you feel sorry for Alayah? Or do you think she knows exactly what she's doing? Let's discuss in the comments below!
My Most Chic Look
But real quick before I go, I really want to share this cami and dress pant look that I shared here on my blog earlier this week. I know every week I tend to share outfits from the week before, but I really hope you give this one a second look if you didn't get it the first time I posted about it! When I wear these pants I feel like a boss! I feel chic, sexy, and sophisticated! Plus, I think they look so expensive even though they're not!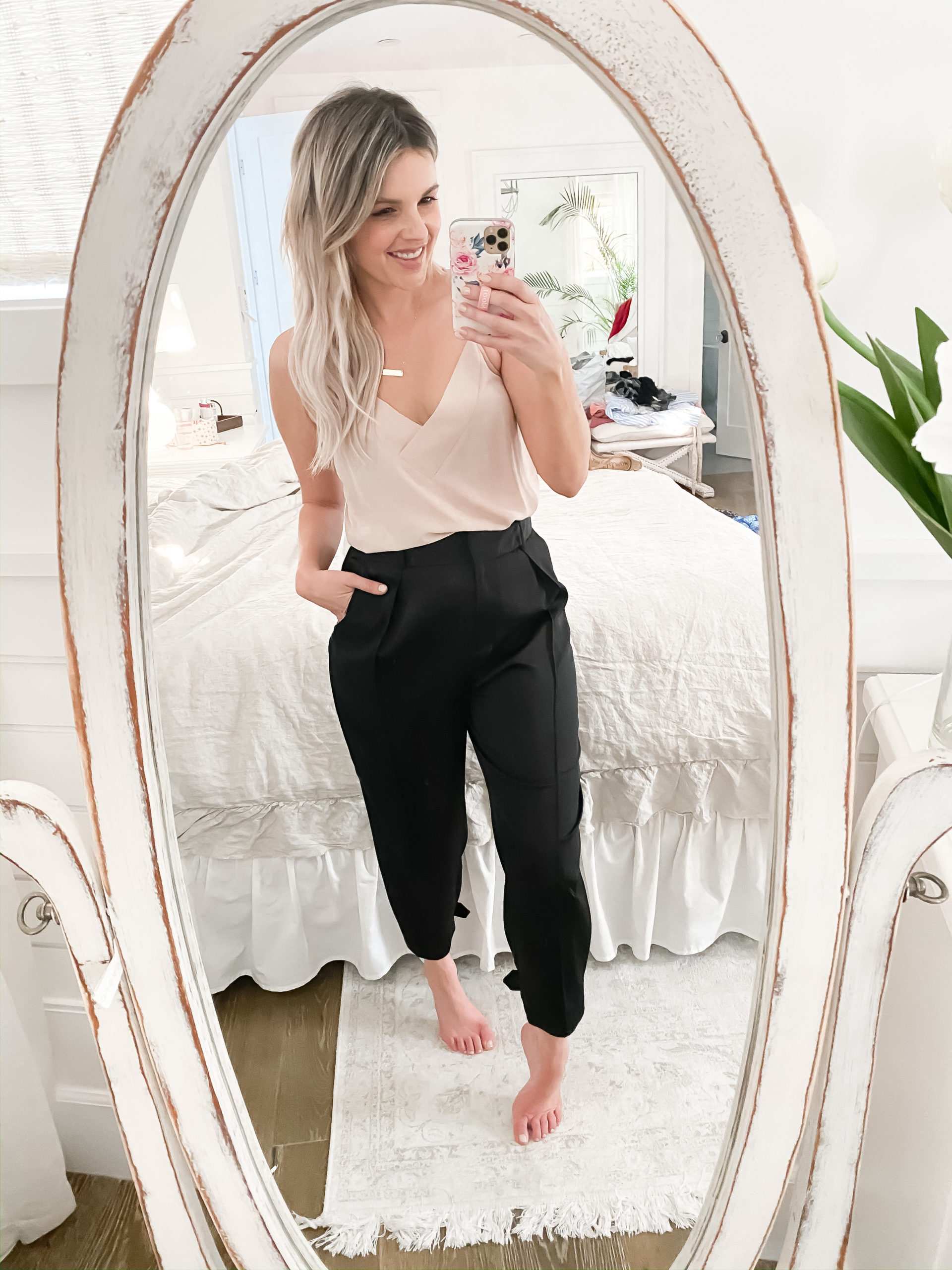 1. NUDE LIP | 2. CREAM CAMI | 3. SATIN PANTS | 4. SUNLESS TANNER | 5. NUDE PUMP
And the creamy color of this cami is just delicious! I described it that way on my blog when I originally wrote about it and I have to use that word again because it is just so luxurious looking! When I wear this outfit to work the other day I just threw a black blazer over it because it's winter. But in the spring/summer I'll definitely wear it just as it is. I hope you love it as much as I do!
Thanks so much for coming by my blog today. I am so interested to hear what you have to say about the drama with both Victoria F and P!