Hey guys! Anyone else shop 'til they dropped yesterday? I know I did! But I wanted to do a new post today specifically highlighting Nordstrom Cyber Sale because as you guys know, it's my absolute favorite place to shop! And I just feel like the items that are part of their Cyber Sale are so good!!! Plus they have a deal right now where you get Nordstrom cash back depending on how much you spend!!! I'll explain at the end of this post.
Nordstrom Cyber Sale!
I'm actually going to start this blog post with a look that isn't even on sale, but it's so affordable already that it might as well be a sale price. I think that's one of the things I love about Nordstrom. They don't jack up their prices just to pretend to discount them on Black Friday. Which I know some brands do (I don't shop at or blog about those places). Nordstrom prices things just as they are – and the prices are good!!!! Like this $39 turtleneck sweater.
1. $39 Sweater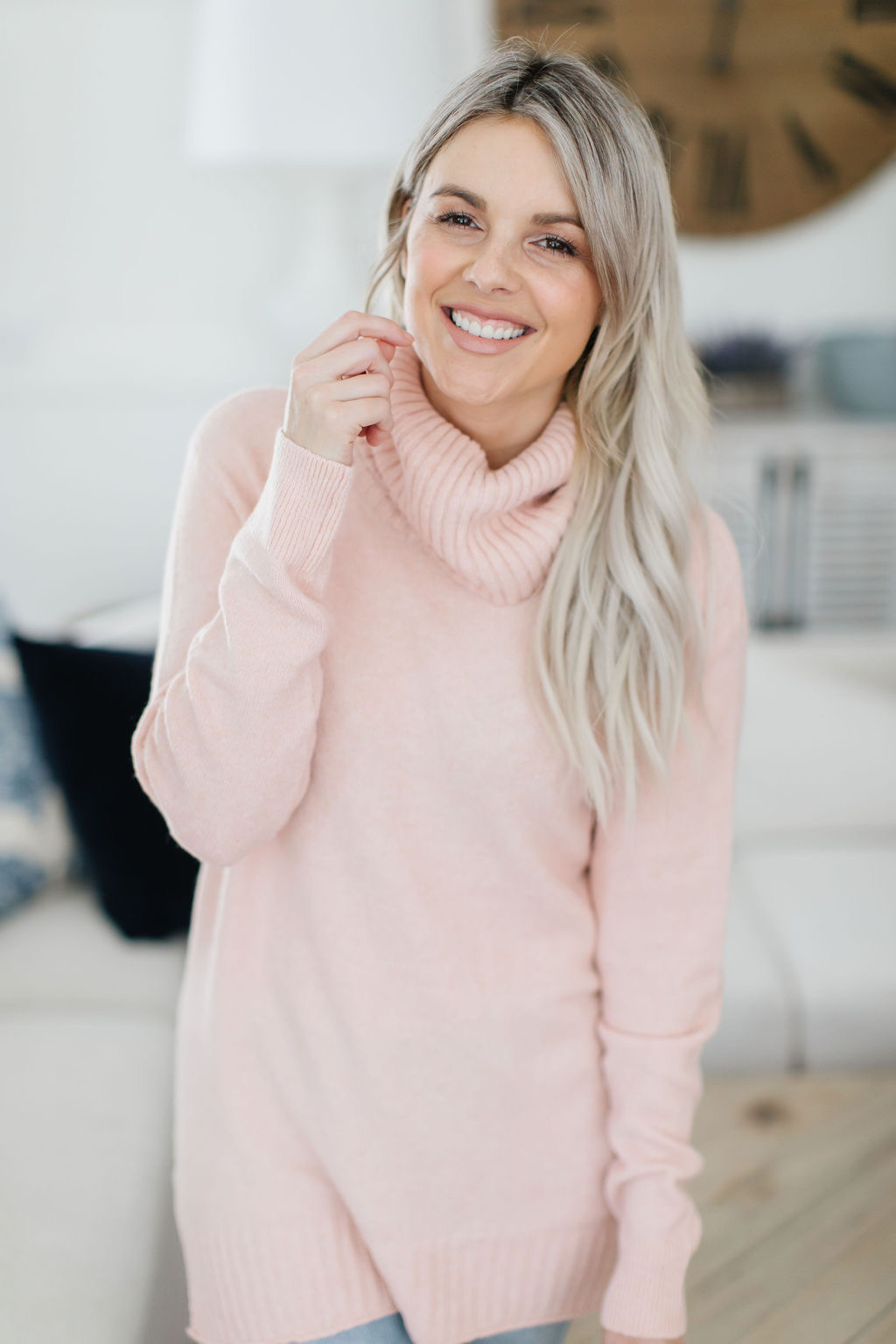 1. SWEATER | 2. MOTHER JEANS
I originally bought the sweater in the blush color I'm wearing in these photos and was unsure of what I would think of it. Only because of the low price. It's funny, if there's one thing I've learned over my years of blogging about clothes, it should be that price doesn't mean an item is good or not. And that's the truth! Some of my absolute favorite things I've ever found are an absolute steal of a price! And this turtleneck sweater is on that list! When I got it in the mail, I fell in love instantly! It's super long, so it's great for covering your booty and hips. Especially when wearing leggings. And it is so so so soft. You will not be feeling itchy whatsoever in this sweater.

1. SWEATER | 2. MOTHER JEANS
Also, I just love a sweater with a big neckline like this because I feel like it looks so nice layered underneath jackets. I don't have a picture of this exact sweater layered with a jacket. But the second outfit that I'm talking about in this post (see next look) shows me wearing a similar sweater with a jacket to show you guys what I mean. I just feel like sweaters with big necks like this kind of double as wearing a scarf and make a look instantly feel styled even though you're just putting on a sweater and jacket.
Anyway, I loved it so much that I bought it in gray as well. I love wearing the gray with a pair of black leggings and knee high boots.
2. This Plaid Coat is EVERYTHING and on sale!!!!
When I went online this morning and saw that my plaid coat is part of the Nordstrom cyber sale I was so excited! Only because this is by far the nicest coat I've ever owned. I bought it when it was full price (and blogged about it) and honestly it kind of freaked me out because I never splurge like that! $265 for a coat is a lot for me to spend! But I just loved the photo of it so much and I knew that if it held up in person it might be my favorite coat ever. And it totally did! When I got it in the mail the quality was insane and the texture was divine!!!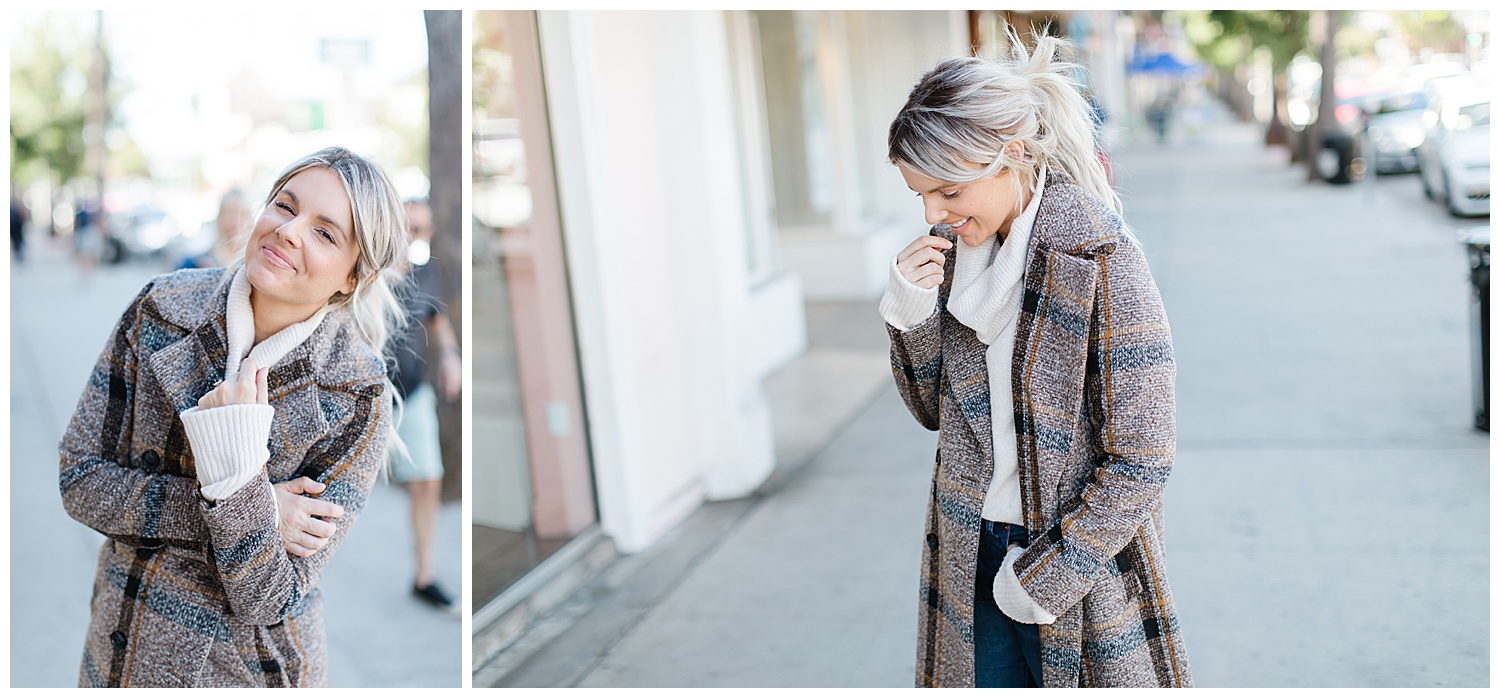 1. PLAID COAT | 2. SWEATER | 3. JEANS | 4. OTK BOOTS | 5. SUNLESS TANNER
The reason it's more expensive is because it totally looks and feels super expensive! I couldn't love this coat more and the fact that it's under $200 right now is so exciting to me! Get this coat as a gift for yourself this year! Or if any guys happen to be reading this, get this coat for your girlfriend or wife. They will be so happy about it! Any ladies, send this blog post to your partner!!!! Like ASAP! 😉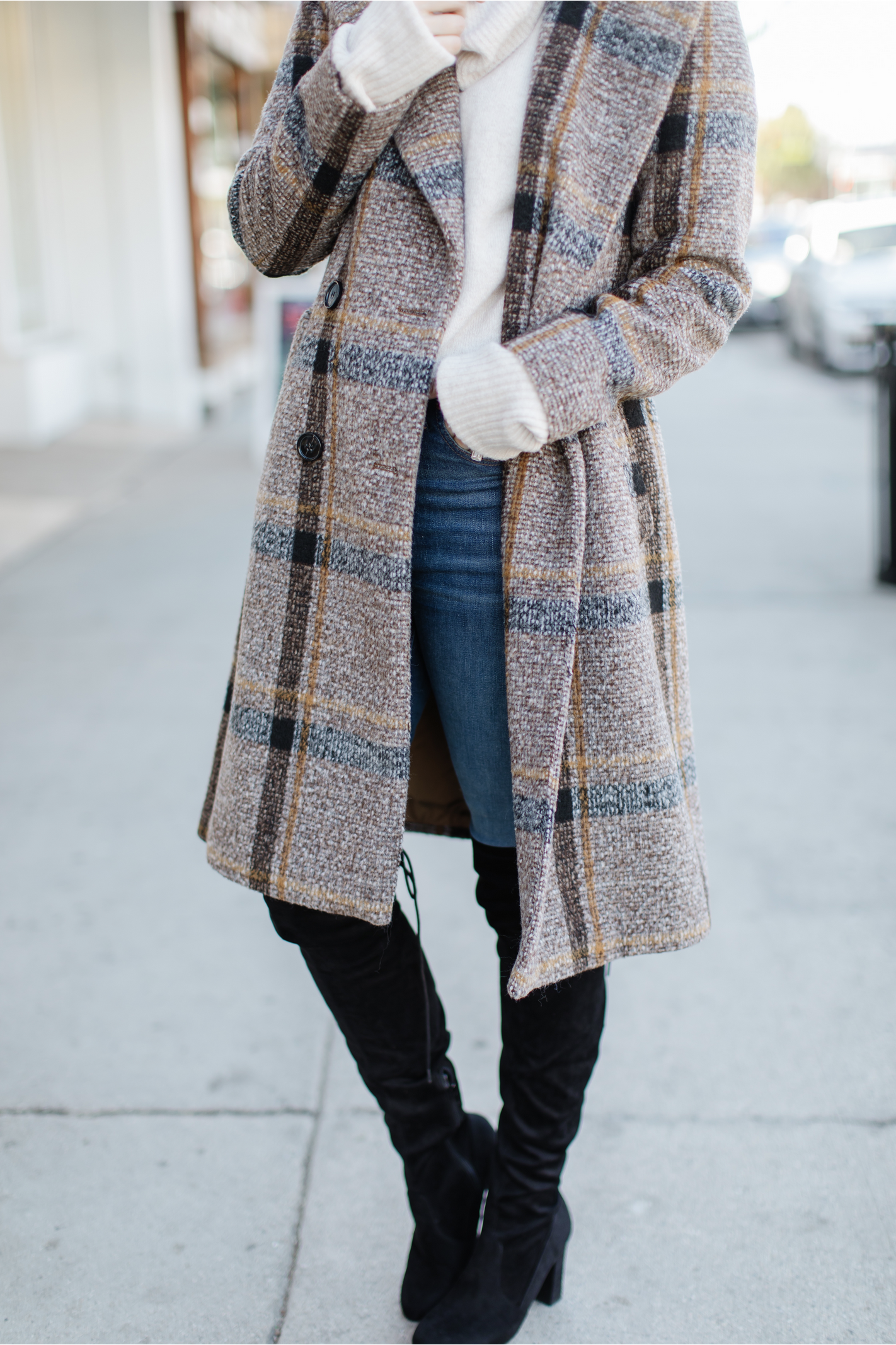 1. PLAID COAT | 2. SWEATER | 3. JEANS | 4. OTK BOOTS | 5. SUNLESS TANNER
My cowl neck sweater is not part of the sale but it is available in five colors now! When it first came out it was only available in two colors and they keep adding more which I'm so excited about! And if you don't have this sweater yet, what are you waiting for?!?! I've only blogged about how obsessed I am with it about 10 times 😉
3. Animal Print Dress for 50% Off!
OK now let's get into some other insane sales! Like this animal print dress that I wore to work the other day. It is 50% off right now! I'm not over exaggerating when I say I had at least 40 people come up to me at work and tell me how much they loved my dress when I wore it last week. Seriously! 4-0! It's just the most stunning dress! I absolutely love the structured shoulder and the material is super comfy and soft. And I feel like I looked like I instantly dropped 10 pounds when I was wearing it.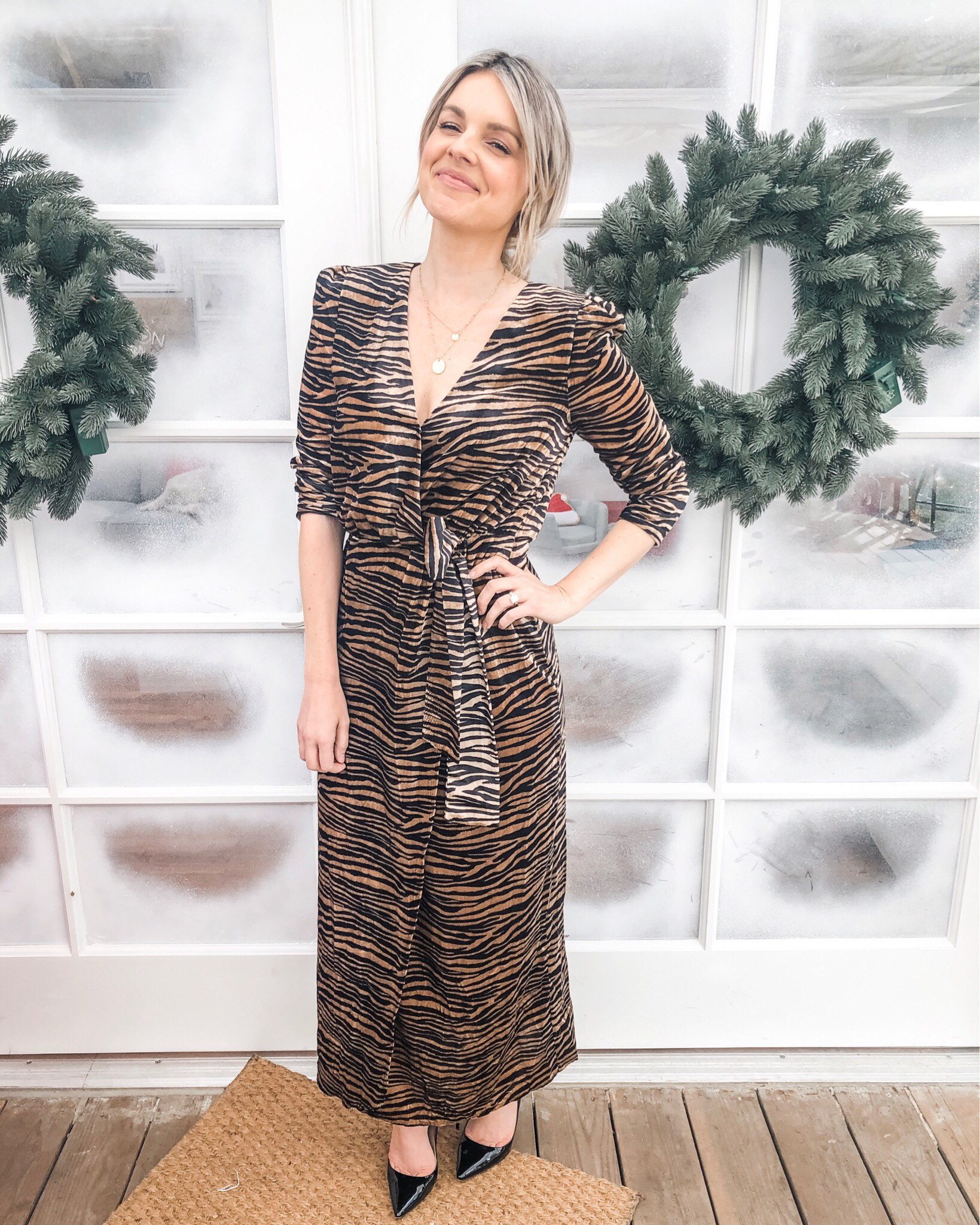 1. SUNLESS TANNER | 2. DRESS | 3. 2 1/4 INCH HEELS
If you have a fuller waste and you're concerned about the wrap dress., don't be! It actually is kind of a faux wrap dress with buttons on the inside and the material around the waist is super stretchy! I'm telling you it's one of the most comfortable dresses I've ever worn! And I love the length! The angle of this photo doesn't do it justice. But it hits my ankle at the absolute perfect spot it looks so luxurious and expensive. I think this will be the perfect dress for a holiday party! It's not as expected as something like a red dress or sequin dress. Yet it still has a holiday feel and is a super stand out!
I also highly recommend a lower heel if you're on your feet a lot at work. I am a lot when I'm at work for the show I work on. So I always wear a lower heel. This one is 2 1/4 inch. But is really sophisticated looking. And they have a bunch of styles. They have black but also leopard print and even red. And they're on sale for $53.
4. Animal Print Pajamas
Staying on the theme of animal print. I want to show you guys these super cute animal print PJs that are also part of the cyber sale. Once again, I'm kind of kicking myself because I bought them full price a couple weeks ago. But I'll just have to tell myself that me buying the full price means that I get to share this pic of how cute they are with all of you so you can get them on sale! I always think pajamas are such a great gift idea. Just because it's easier to figure out someone's sizing and everybody can always use comfy pajamas.

 Usually when I'm trying to figure out what gift to buy somebody I try to ask myself if it's something that I would like getting a gift. And leopard print PJs would be a huge "yes" on my gift list.
5. Spanx Faux Leather Leggings
One of my favorite items from the Nordstrom cyber sale has to be the Spanx faux leather leggings. You guys might recognize these photos because they're from like three years ago. I've had these leggings forever and I love them! They actually suck everything in and are so flattering! I love wearing them with a loose T-shirt like you can see here. And if you want to dress them up just throw a blazer on over the T-shirt and add a pair of heels. But they also look really cute with a boot. Or sneakers! That's a great thing about black leggings, you can wear them with pretty much anything! Such a versatile piece to have in your closet.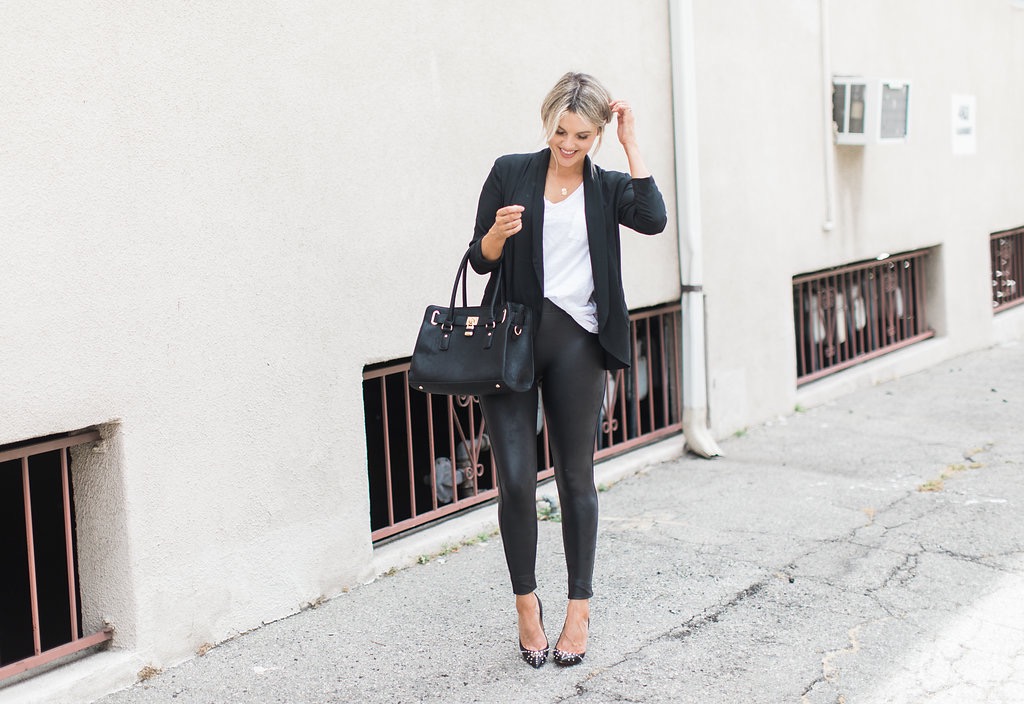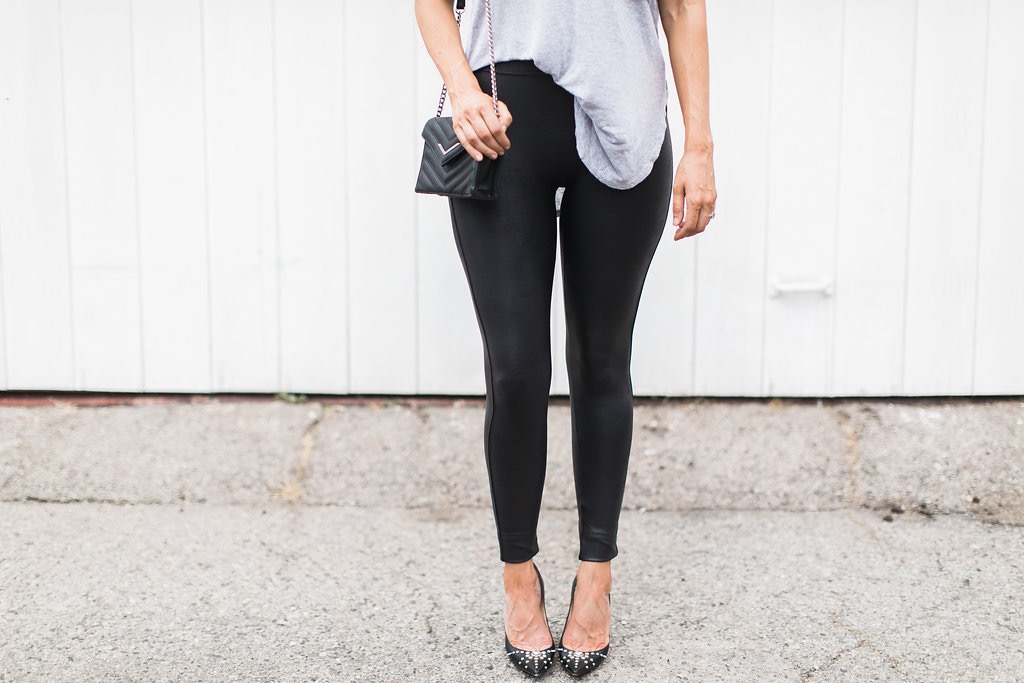 1. BLAZER | 2. WHITE TEE | 3. SPANX FAUX LEATHER LEGGINGS
6. Best White Tee EVER!!!!!
My favorite white tee ever is on sale for $13!!!!!!! Well I shouldn't say white tee because it comes in a bunch of colors too! I have about 10 of the white version. Ha… no really. And a bunch of the other colors as well. You guys know how much I love this white tee  because I've blogged about it at least 2 dozen times! Maybe four dozen times! I just love these white T-shirts so much. They have the absolute best cut and they are just so perfect to throw on with a pair of jeans and loafers and run out the door. Some of you think it's comical how often I wear these T-shirts. But it's just because I stick with what works!!!
Here are a few pics of me wearing it in past posts…
7. Mother Jeans
Last but not least I want to tell you about these Mother jeans I'm wearing. When I bought them they were over $200. But my girlfriend Ashley Burns, who actually took these photos of me wearing them, has raved about Mother jeans to me for so long that I finally splurged and got a pair. And while I was looking in Nordstrom cyber sale today, I saw that they're on sale for 40% off! So you can get them for $136!

BLUSH VEST | 2. LONG SLEEVE WHITE SHIRT | 3. MOTHER JEANS
In fact, the Nordstrom cyber sale has a ton of jeans that are marked down right now. So I highly recommend just checking out their jeans on sale in general. Maybe you want a pair but are looking for something even more affordable. I will do a few Instagram stories later today showing you guys how these Mother jeans look on me and video.
Now let's talk gift ideas. For yourself and others!!!!
More Gifts
Another thing I really love about Nordstrom is that they have a great selection of quality gifts to get for the holidays. So I'm going to link a bunch of my favorites for him, for her, for the kids and gifts under $25 below. Whether you're looking for a big gift or the perfect stocking stuffer, they've got you covered because you can search by price range.
Gifts for Him

Gifts for Her

Gifts for Kids

Gifts Under $25

Ok now for deets on the special they have going on. The more you spend, the more Nordstrom cash you get back to shop after the holidays. Details below!!!!

OK well that's it for me today! Hope you guys love this post and find it helpful for finding cute gifts for yourself and for others at great prices! I'd also love to know what you guys are finding and loving from the Nordstrom Cyber Sale! If you find anything that you love that you think I would love too, please share with me in the comments below! I love helping you guys find different ideas but I love it when you guys help me too!
And big thank you to Nordstrom for being a sponsor on my site!!!!! I've been a super fan LONG before we started working together!