Happy Bachelor Monday you guys!!! Lots of drama in tonight's episode and I actually have a few things that I need your opinion on… because I am just not sure what to think about it! Let's get right into tonight's episodes so that we can chat about it – like your thoughts on the group date and Alayah!
UPDATE: For those DM'ing me. These are the pants I am wearing to work today!!! My FAVES!!!!!!!
Gone Country
The very first thought I have about Peter's date with Victoria, and you guys might think I'm a little crazy for this being my main takeaway, is that she said she was a red wine drinker and then at line dancing ordered white wine! And they got a close-up shot of it. I don't know why that bothers me so much but it just does. Ha! And people can switch wines, don't get me wrong. But she made it seem like it was really important to her that he liked red wine. She even said he passed the test! I don't know, I just found that strange and needed to comment on it.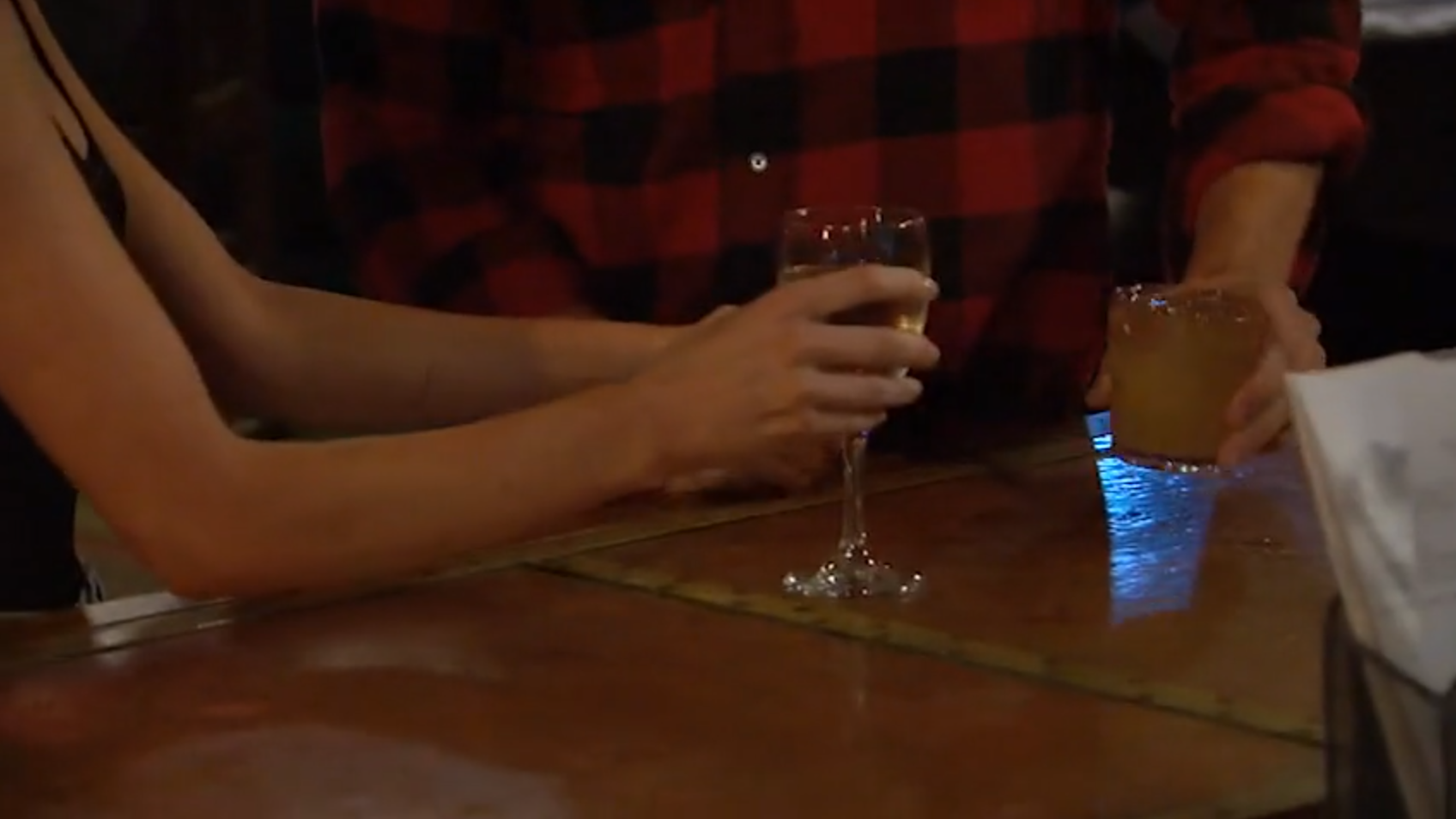 I was in tears when Victoria told her story about growing up. Peter has said it over and over, and I think that's because it's true, she has such a beautiful heart. I truly hope she finds a man who knows how amazing she is. And who treats her right. But I just don't think that man is Peter. When they were talking about the stars aligning he said something like "who knows if the stars are aligning for us "and just knowing how open Peter has been with his feelings and emotions towards all the girls, I feel like if he thought Victoria was the one he would've said something more like "I feel like the stars are aligning right now" anyone else agree with me on this?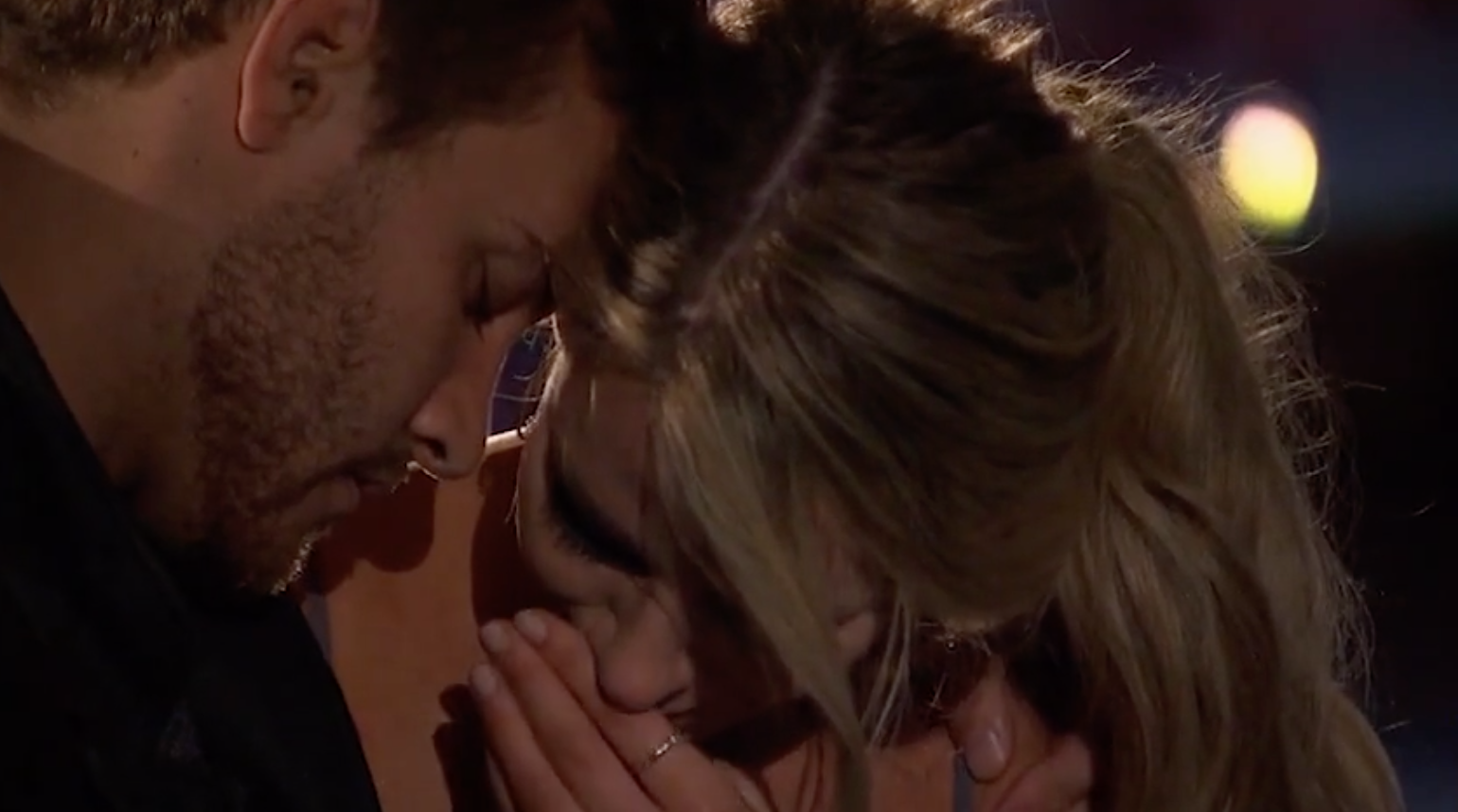 But in the same breath, I have to say that when he gave her the rose he said the sweetest things to her! And he said it all felt very right. Plus, he obviously totally leaned on her at the pool party and trusted her opinion. So I don't know! And honestly, I feel like they are so similar that they would make an incredible couple! They both have extremely sweet souls and soft sides to them. I feel like I usually have pretty good reads on the relationships on the show, but this is one that I can't quite put my finger on. I could see her sticking around until hometowns. But I just don't think I see her being the final girl standing. What do you guys think? This is one of those situations where I really really really want all of your opinions! Because I don't have a strong opinion either way!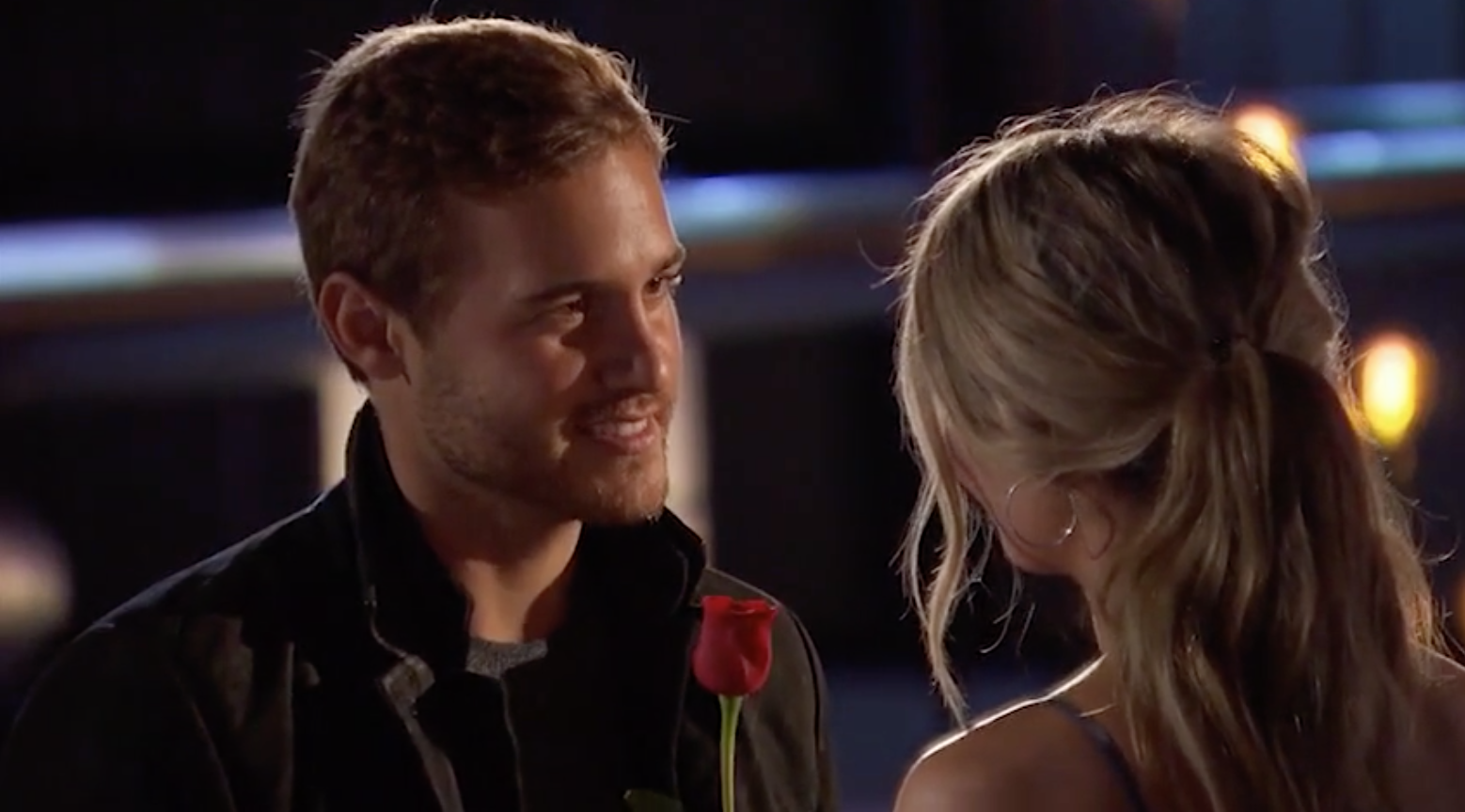 Pillow Fight
I never like the dates during the Bachelor or the Bachelorette where violence of any kind is involved. Someone usually always gets hurt. Even though nobody did in tonight's episode. And it's just too aggressive for my liking. If Demi did help choose this date, I am honestly a little surprised considering the sparring group date on Colton's season didn't go too well for her. Actually, I have to say that I highly doubt that she thought of the idea and that the producers did. Not sure if you remember, but on that sparring date, Katie accidentally punched Demi in the face, and Demi was very emotional physically fighting. They actually stopped that portion of the date right after it happened, because Colton felt soo bad! I just really feel like violence should not be involved in the group dates at all.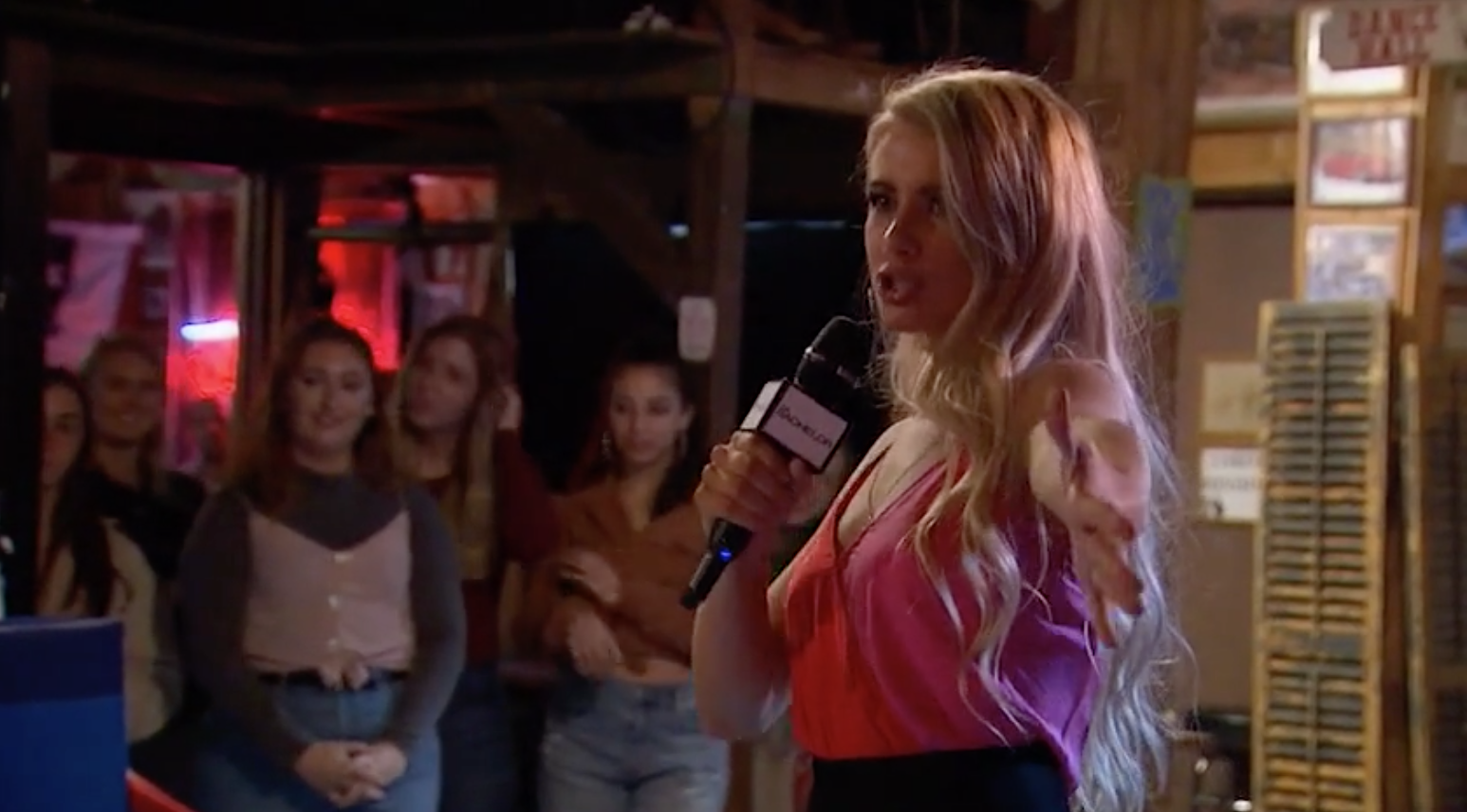 Another thing to mention is how Kelley said something along the lines of how she wasn't very comfortable because knew her client's wouldn't love seeing their lawyer on tv in lingerie… and I agree with that. I just think overall the date was not the best choice. What do you think?
I will say I was disappointed when Peter kissed Alayah at the end of the date right in front of all the girls. He seems to do that a lot thinking it's no big deal. I love Peter! Like truly truly adore him! But it bothers me so much. When I was the Bachelorette, I was so careful trying to not kiss anybody in front of the other guys. Everybody knows it's happening but nobody wants to see it happening.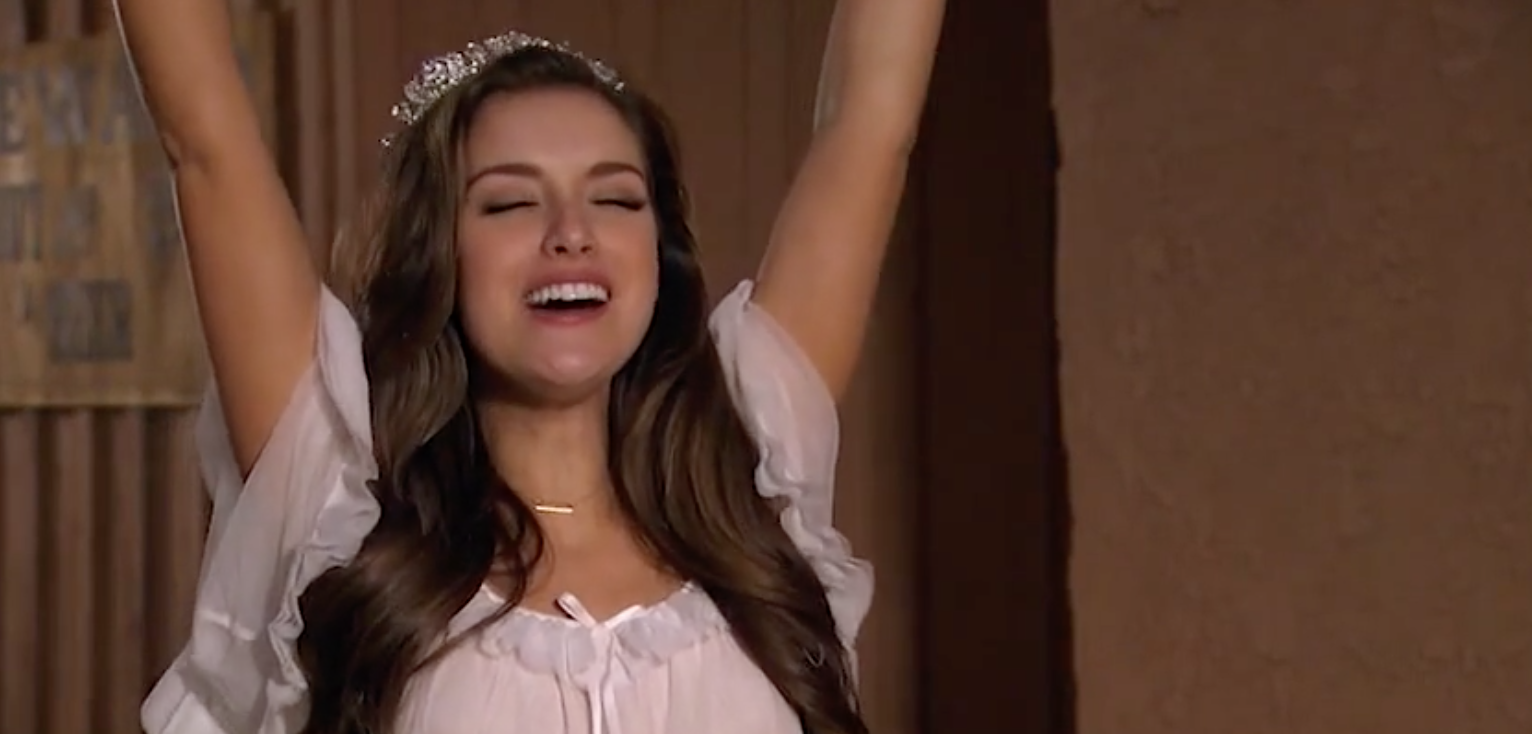 Is it just me or do any of you absolutely get no pageant, princess, or good-girl vibe from Alayah?! She keep saying it over and over and over again, but all I have seen from her is the exact opposite of that. But, my oh my is she a little actress. I feel like every season you hear the girls or guys talking about a contestant who's one way in front of the cameras and in front of the Bachelor or Bachelorette, and then another way in the house. But it's as plain as day with Alayah. She is a completely different person to Peter and in interviews than she is to the girls.
Group Date Drama
I am so torn on how I feel about Peter calling Sydney out in front of all the other girls. I feel like Sydney was trying to bring something to his attention without calling out any names. But then he basically put her in a position where he forced her to call out names in front of all the other girls. But then again, there's always so much he said she said, so I guess he just wanted to get it all out there. But then again none of the other girls commented so it was just a very weird situation. I don't know if I appreciate the way he handled it or absolutely hate the way he handled it. Here's another scenario where I don't even know what to say and I need to hear what you guys think!!! What do you guys think?! I think he gave Sydney the rose because he felt bad for calling her out. How do you think he should have handled it?
Pool Party Gone Wrong
I really felt for Alayah at the pool party. I do think she thinks of the whole experience as a game, but I don't think that mean she doesn't have feelings for Peter. She just has ulterior motives. Like Victoria's said, something about some of the things that Alayah has said, and the way she has carried herself just make it seem like she's in this for the potential benefits of being on the show and not necessarily for love. That said, I still felt sorry for her. Especially when she broke broke down in tears after her conversation with Peter. You can tell she felt defeated.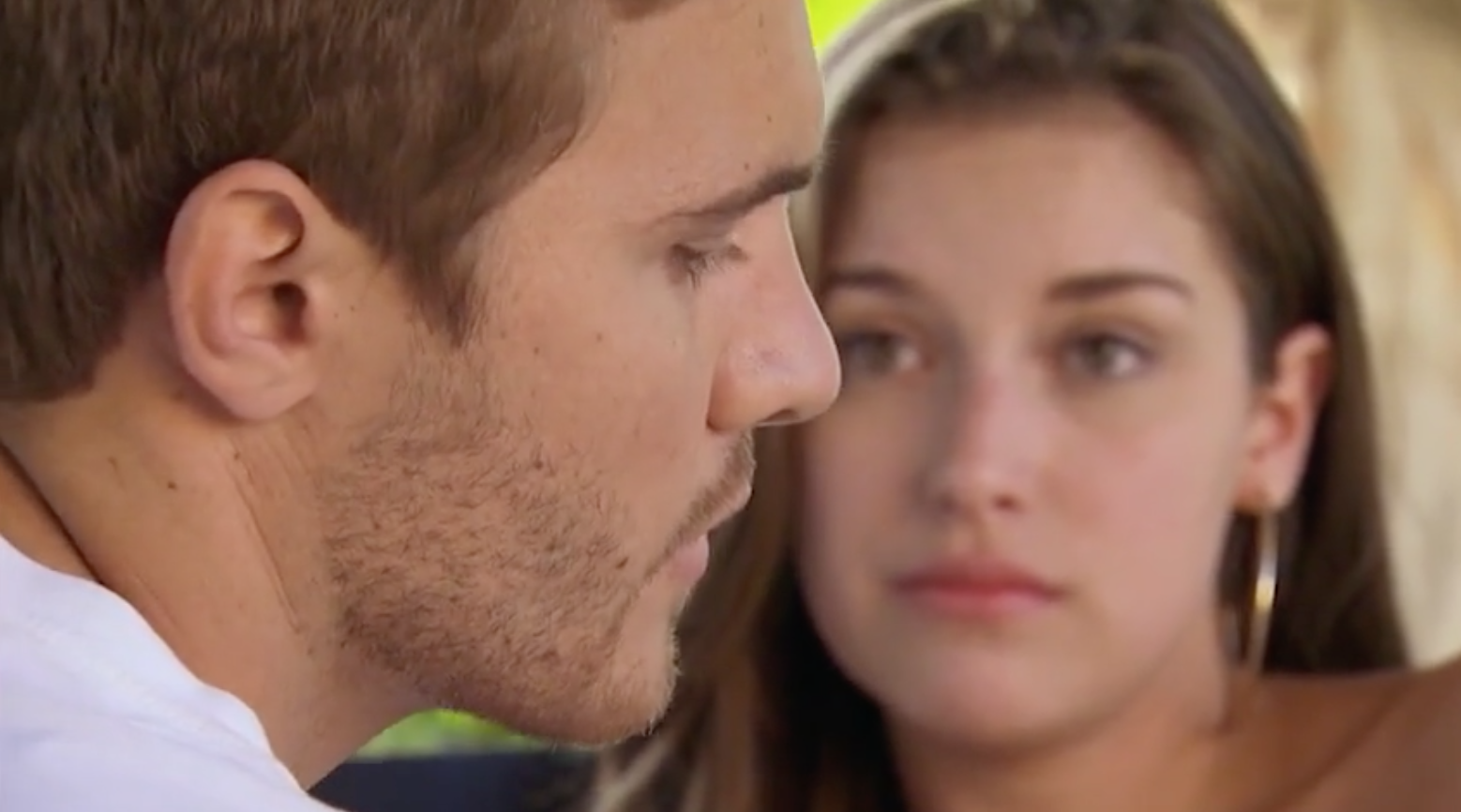 And I agree that you should not base your opinion on somebody based on the opinion of one other person. But like Peter said and like we all saw, it was way more than one girl who thought that Alayah wasn't being genuine. So I think Peter definitely made the right choice and sending her home. This process absolutely can't work if you were putting on any sort of front. I know that for sure from experience.
The Return of Alayah
So what do you guys think? Do you think Peter let's her stay in the house and that's why the girls are upset? Or do you think that was just good editing? My gut is that it's just good editing. Plus, to be honest I feel like this episode was pretty boring. At least it was for me. I found the drama to be forced and it just wasn't that interesting to me. So maybe the show needs to do this creative editing to keep people hooked? I mean, I'm watching every week no matter what! What are you guys think? Let's chat about the episode in the comments below!
Fave Looks of the Week – A Dress for $6.99! WHAT?!?!
$6.99 Dress!
Okay, I can't go without telling you about my favorite outfits from the week! So you've got to keep reading! Especially because this first dress is only $6.99! Isn't that absolutely insanity?! I love it so much that I wore it on Home and Family, the show I work on, on Friday. It's true to size and has the most beautiful flow to it. The only disclaimer I would like to add about it is that the waist band isn't stretchy. So you have to be careful pulling in over your head since the waistband is not fitted. But I actually think that's what gives it the super flattering shape! If you love it and want to get it, you might want to try to get free shipping on Walmarts website. I recommend adding things you need to your cart like toilet paper or toothpaste to get your total up to $35 so you can get free shipping! Those are things you need anyway right?! Btw, ignore the dirt on the mirror in the photo below 😉 Ha!
Oh I also want to mention that this dress was $20 when I bought it, so it is a completely steal right now. If you're feeling a little hesitant, check out the reviews on the site – they are pretty positive!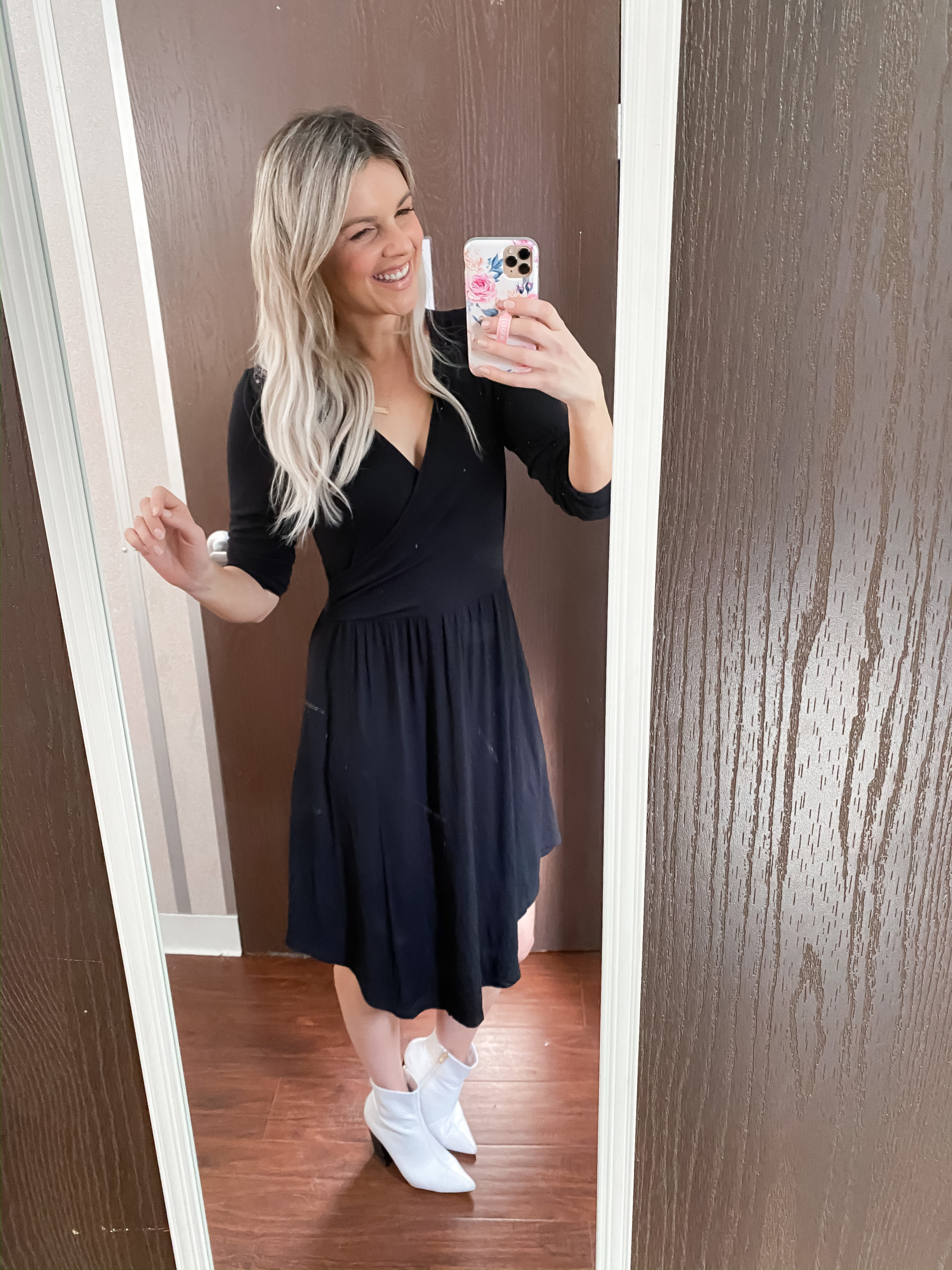 1. PURPLE DRESS | 2. BLACK DRESS | 3. NUDE PUMPS
Chenille Sweater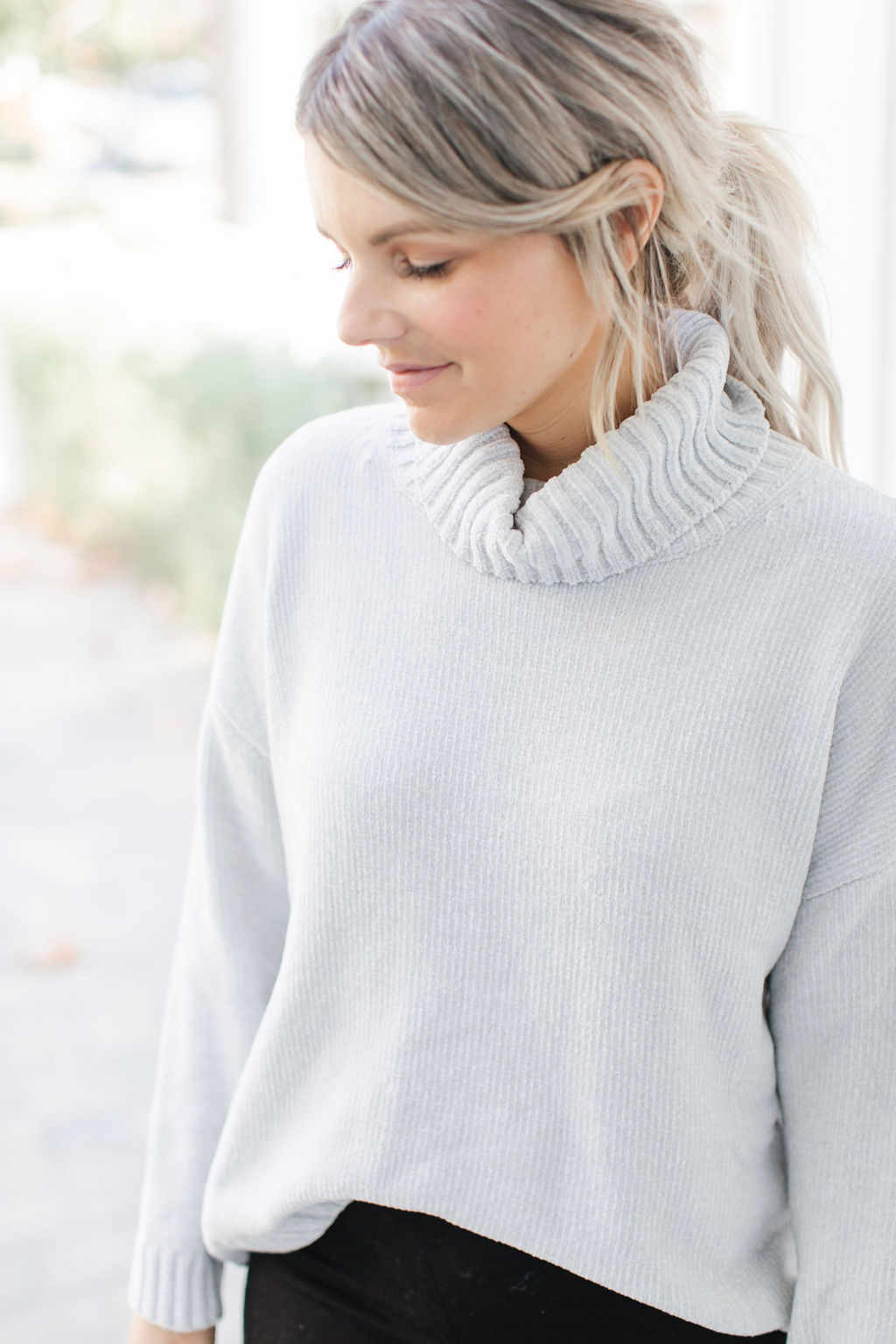 1. CHENILLE SWEATER | 2. BLACK PANTS 
If comfort is super important to you and your clothing, then this gray sweater is perfect for you! It's hard to tell from these photos because it just looks like a normal sweater but the material is the softest thing to ever touch my skin! Ha! I'm not even kidding. But I love that it still just has that beautiful sweater look. I'm wearing it with black pants and black boots in these photos, but really you could wear this with absolutely anything. Jeans, a skirt, really anything in your closet that you wear on the bottom half of your body. The boots are sold out, but any black boot would look great!! Oh, and I'm wearing a size medium in all of the sweaters (and the dresses below). I'm 5'7 and about 145 pounds for reference. Medium is my normal size so I would say everything in this post is true to size.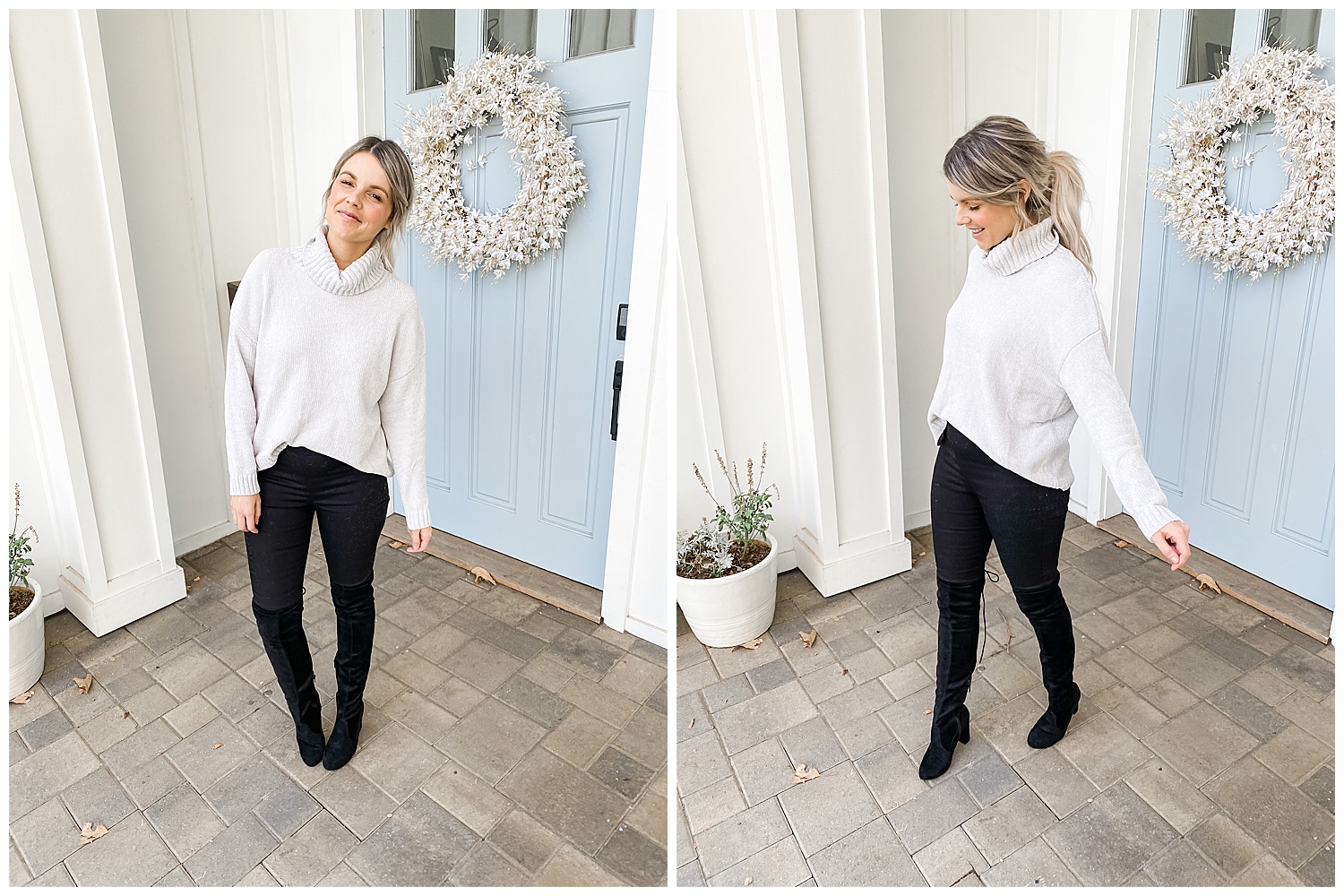 1. CHENILLE SWEATER | 2. BLACK PANTS 
These are just a few of the items from my Affordable Friday post last week. But definitely check out the entire post to see sizing notes on everything and to see the other items I wrote about that are under $25 and absolutely amazing! It's honestly my favorite Affordable Friday post that I've ever done!
The $17 Jeans I Love… that are on sale for $11!
OH! And last but not least, I wanted to take a moment to tell you to get my favorite $17 jeans while you still can. I know you've seen me post about them a bunch of times, and that is because they are seriously some of the best and most inexpensive jeans I've ever found! And sadly, it looks like they are getting rid of them on Walmart's site, and I really don't know why!!! Some sizes and colors are still available for shipping and in-store pickup, so I would check that out – and most size are only $11 now!! They are seriously THE BEST jeans and they are made out of water bottles. Stock in these is extremely limited, so if you want them, I'd look into it as soon as you can!  I've asked Madi, my friend and AliManno.com team member, to give her honest review on the jeans below because she loves them to!
Hi! Madi here! I may have chatted with some of you over on Ali's facebook group, and I actually posted the other day about my love for these jeans! I can't believe that they are on clearance. I love them because they are very flattering and comfortable, plus they are stretchy…. and who doesn't love stretchy jeans. When Ali and I realized that they were on clearance, I actually rushed over to my local store and  I picked up 3 more pairs (2 of the light and 1 medium wash), and it was less than $36 for all of them!!! If that doesn't convince you that they are the best jeans, then I'm not sure what will. Haha! I highly recommend ordering your size if it's available, or order them for pick up in store, because these guys are selling out really quick!
Honorable Mention: Pink Sweater
Just a quick shout out to the pink sweater below! Stock has been going in and out for this beautiful sweater, so check and see if it's still in stock for you! I'm wearing it with the $17 jeans! It's only $10 and I feel like the photos don't even do it justice! It's just SO good. I even wore it to a Fab Fit Fun photoshoot last Wednesday, which you might have seen on my Instagram stories!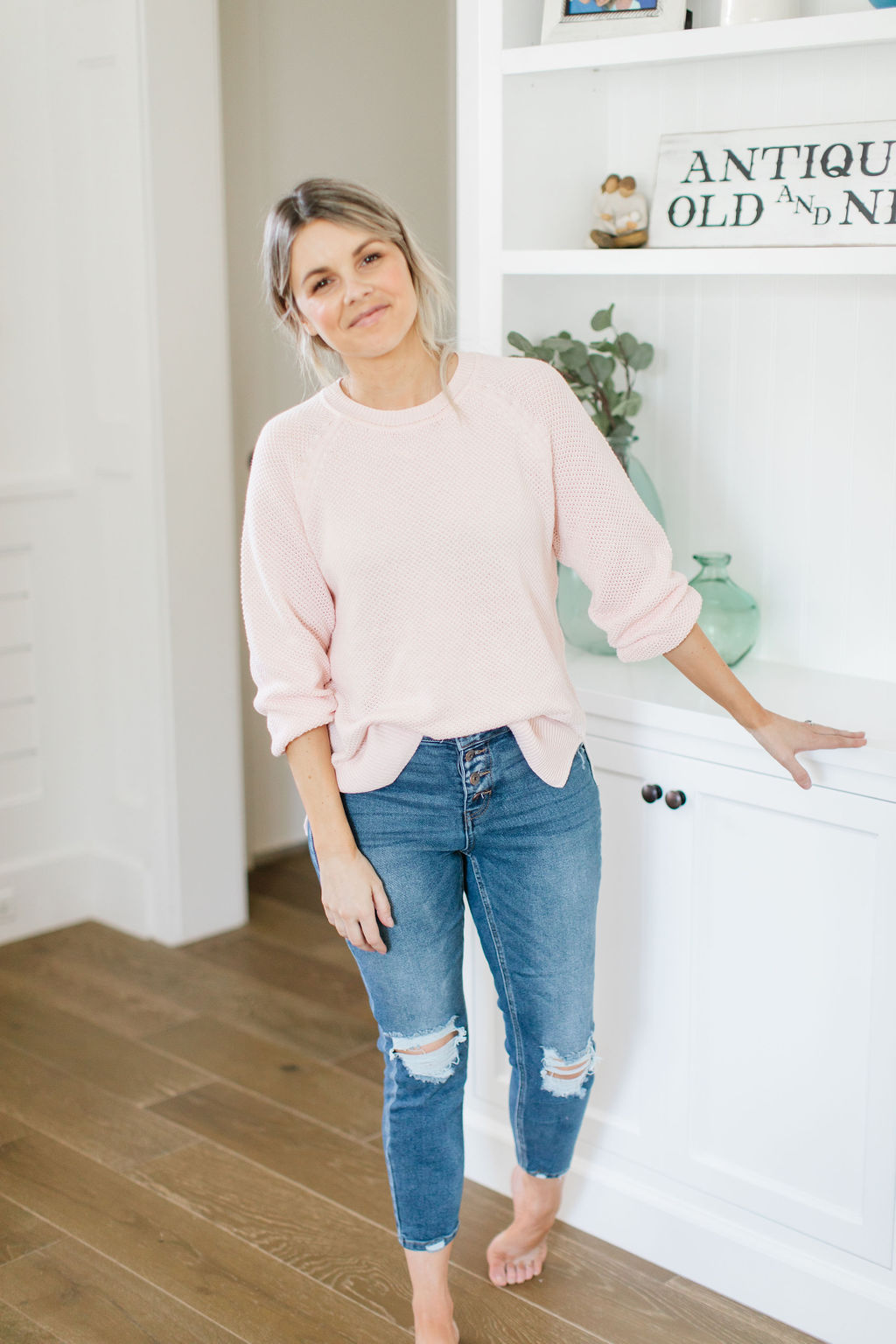 1. PINK SWEATER | 2. $17 JEANS
Update: And here is the outfit I am wearing t work today, it is soooooo good!!!!! Like my favorite dress pants EVER!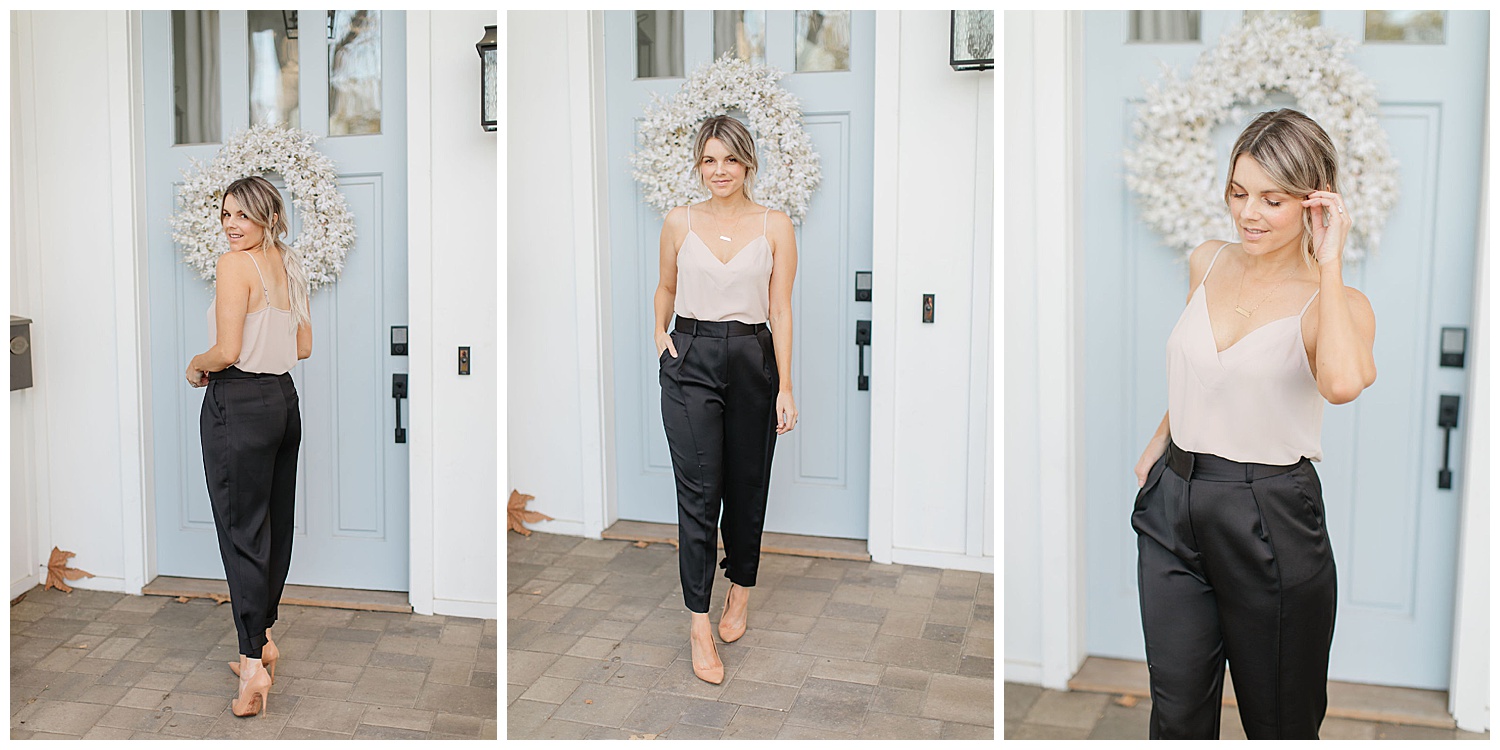 1. NUDE LIP | 2. CREAM CAMI | 3. SATIN PANTS | 4. SUNLESS TANNER | 5. NUDE PUMP
Thanks for stopping by my Bachelor blog today – now let's chat about Victoria's date, Alayah, and what you all thought of the pillow fight!