Happy Bachelor Monday everyone!! Hope you all are having a fabulous start ot this new decade. Everyone has been anticipating tonight's episode so I will jump right into it!
Saying Goodbye to Hannah
I told you guys in my blog last week that there was no way Hannah B was staying around. And I know a lot of you think she'll be coming back at the end of the season, but I truly don't think that's the case. Last week when the episode aired she tweeted the following:
Does that sound like somebody who ended up with Peter?! It doesn't at all to me. If she did think she was going to end up with him, I feel like that would've been much more lighthearted but that tweet feel sad to me.
And I feel for her. It's just a sad situation all around, but I think Peter said it perfectly when he wants to be loved by someone as much as he loves them. And I'm just not sure that's what's going on with Hannah here. She's been through so much and she's hurt and she's looking for love from an amazing guy like Peter. Which I don't blame her for because I would too. But I think it's time for both of them to move on for good.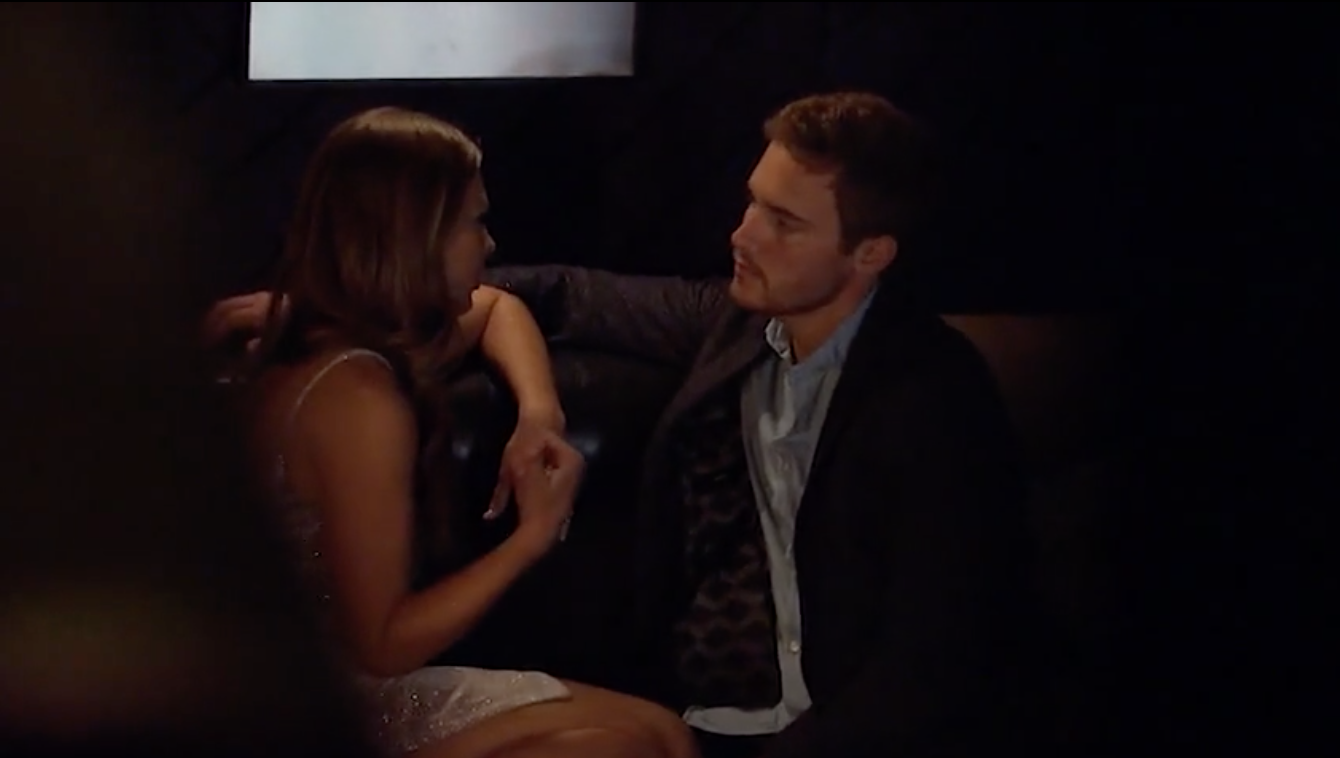 The only thing I will say is that there is a chance they could end up together and that is if for some reason Peter goes through this entire thing and still keeps thinking about her. Peter and Chris Harrison have said multiple times publicly that it's not the normal ending. And there's been rumors flying around that the ending will happen live. So maybe Hannah tweeted that because she doesn't know that they're going to end up together because a live ending hasn't happened yet? I don't know. But I would honestly be willing to bet quite a bit of money that he won't end up with her in the end. So I think it's time to close the chapter on Peter and Hannah B.
Hannah and Peters Connection
One thing I want to address real quick is that I know a lot of you might think based on the last episode that Hannah and Peter have such a strong connection that they're meant to be together. I highly disagree. While I do think they have a strong connection, I also believe they're exes for a reason. Take it from someone who has been on the show. Yes, there could be some confusion on how your heart feels. But when you send someone home there's a reason for it. And, I can say with absolute certainty that if my ex had shown up on night one when I was a Bachelorette and on my first group day I would've absolutely been an emotional wreck!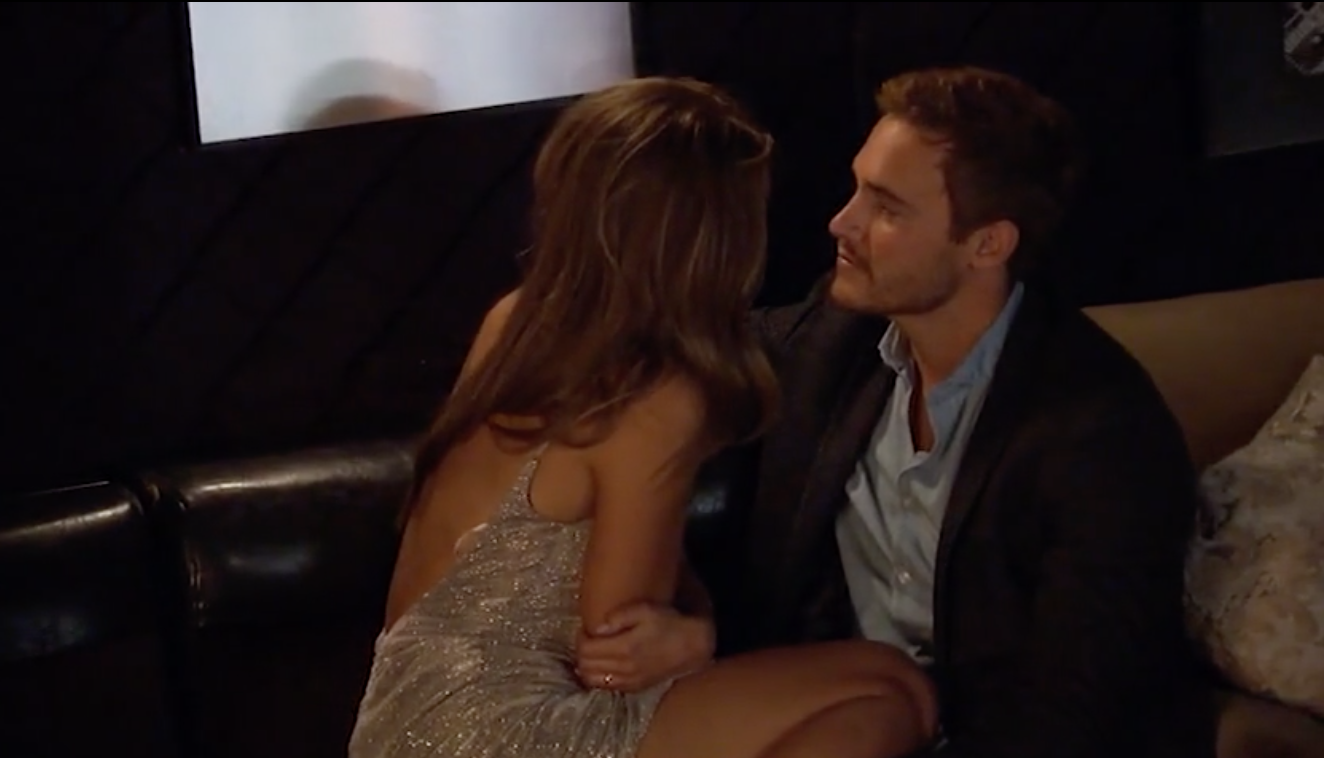 Especially if they had showed up telling me they wanted me back. And I'm not talking about my ex from the Bachelor. I'm talking about my actual ex from before I went on either of the shows. Honestly I might've quit the show at that point and just gone back to him. Or at least felt like that could've been a possibility. I've been very open about the fact that I went on the Bachelor and then the Bachelorette to try to get over my ex-boyfriend. So while I saw the connection between the two of them, I absolutely don't think it means are supposed to be together.
The rest of the group date was really too short to say much about. I do wish he would quit the move of picking girls up and putting them on a table to kiss them. I think that's sexy but only when it's in a moment of passion not with every girl to try to force passion or feel sexy/masculine. Do you guys get what I'm trying to say? Anyway, I hate even saying anything remotely negative about Peter because I adore him so much. But I'm just not into that move with so many different girls.
Champagne Gate
Oh my goodness. Where do I even start with this? I get why Kelsey was upset, I would've been upset too. That looks like a bottle of Dom Perignon which is very expensive. And she's been saving it for something special, plus emotions are just running so high on the show that I'm sure she wouldn't of acted quite the way she did if she wasn't on this dang show. So while looking at it as an outsider, it seems absolutely ridiculous that she's crying over a bottle of champagne. Being in her shoes before on the show and knowing how crazy emotional you can feel because of the scenario you're in, I get why Kelsey lost it. What I don't get or respect is how she treated Hannah Ann.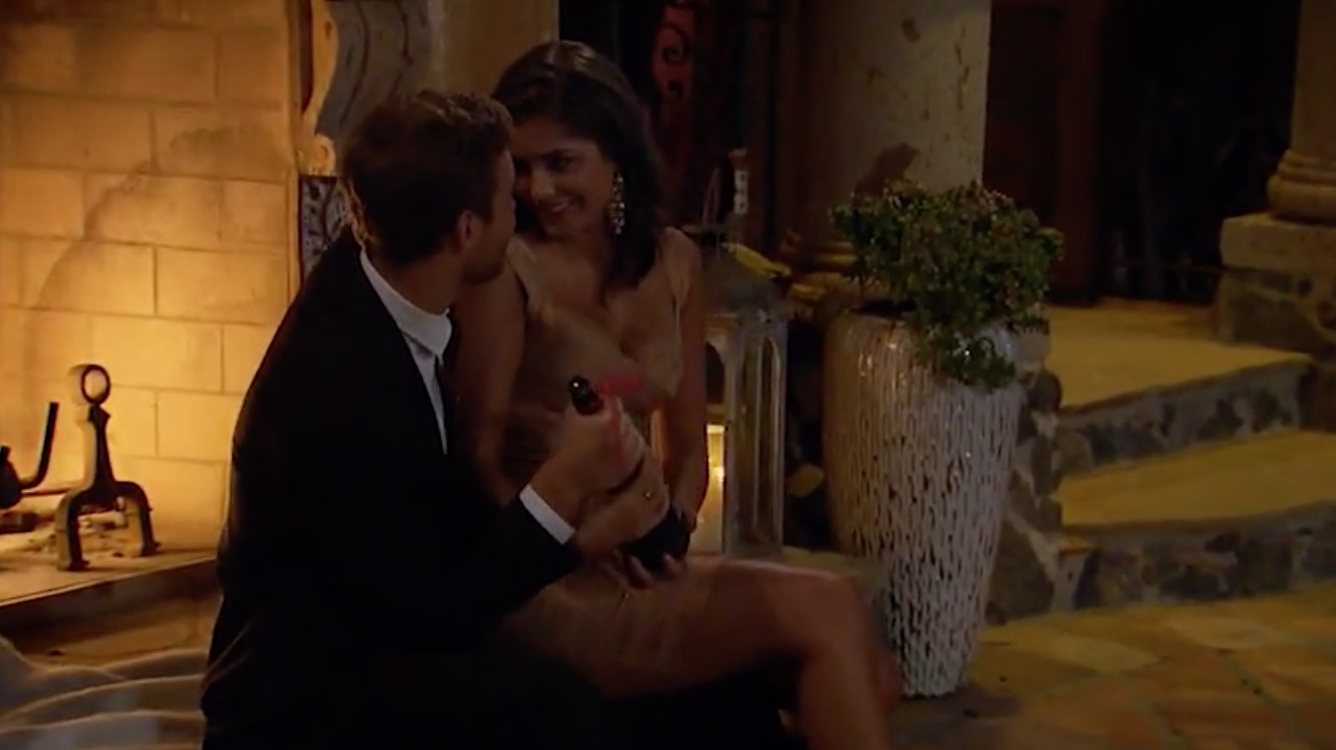 I know a lot of people don't like Hannah Ann already and think that she seems manipulative. And I get why people are saying that. I don't necessarily agree but I get it. However, that's no excuse for how rude Kelsey was to her for no reason. I 100% believe her that she had absolutely no idea that that was the champagne Kelsey brought. And, the producers so set that up! I'm sure they directed Hannah and Peter over to that location. And they very well could've stepped in and told them that was Kelsey's bottle. Producers do that all the time! Sometimes they let things ride but if they really cared about Kelsey's feelings they would've stepped in.
Anyway, Kelsey ended up getting a rose really for one of two reasons and neither of those reasons is because Peter is into her. I feel strongly about that. If anyone else thinks differently please share. But I think those reasons are 1, the producers asked Peter to keep her because of all the drama. Or 2, which I think is the more likely of the scenarios, Peter felt bad for her because she had such a crappy night. Needless to say, I don't think Kelsey will be around that much longer.
And before I move on from the cocktail party/rose ceremony, how cute was that photo Peter gave Madison? I'm convinced he's going to end up with her in the end. And I think he thinks that right now too. Why else would he give her a framed photo of him with his family? That's something you immediately throw out if you don't win the Bachelor. Ha! I think he thinks that photo will be with her forever.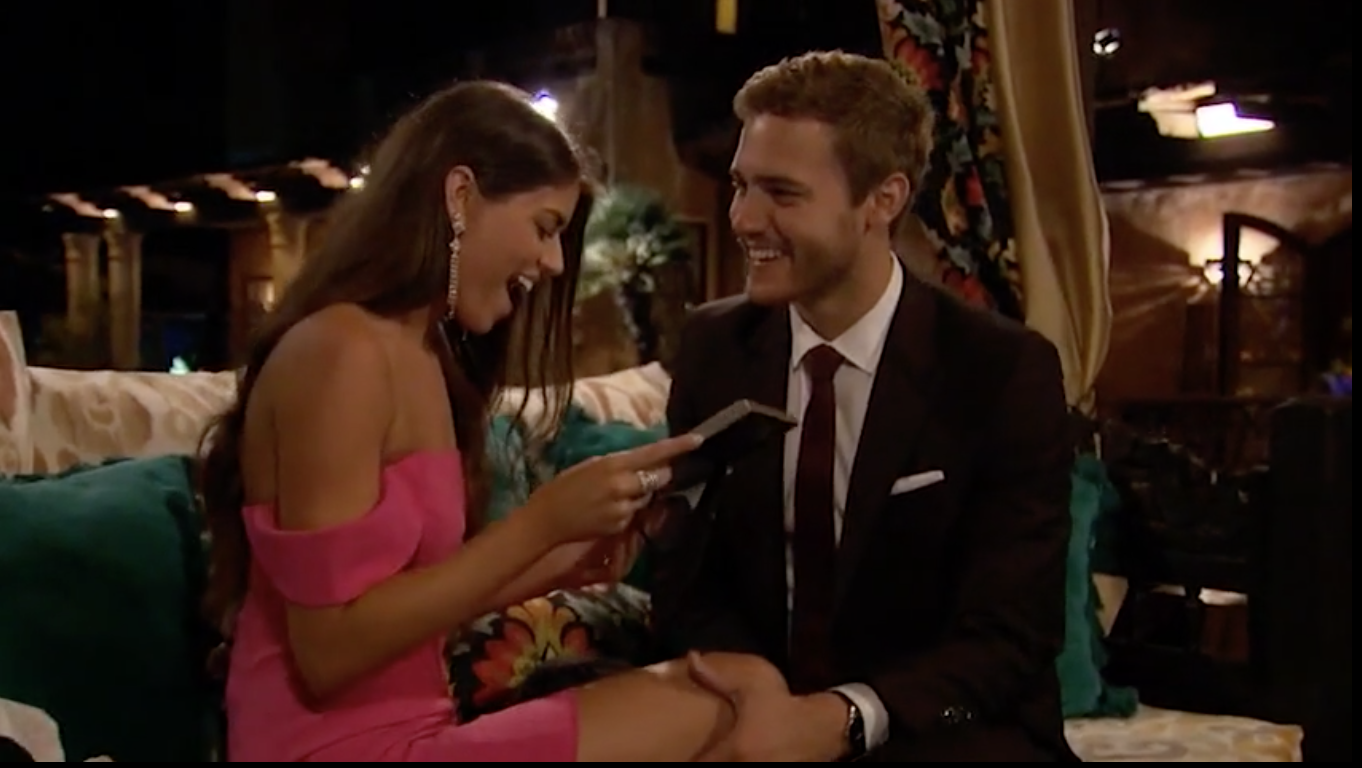 Revolve Group Date
Not to toot my own horn, but I did call last week that when Victoria walked away saying "he can be with Hannah" that it would be about Hannah Ann not Hannah B. Okay, I'm totally gonna toot my own horn because I'm pretty proud of that. Ha!
Victoria is a cutie and I'm glad she was able to come out of her shell a little bit. It was driving me crazy trying to figure out what celebrity she reminds me of and I finally think I figured it out! Shailene Woodley! Anybody else see that?!
Kelsey Drama
Kelsey was bullying Hannah Ann plain and simple. She even went on to say that calling somebody bad names to their face isn't the same as constantly bullying them. And she's right. But Hannah Ann didn't say Kelsey was constantly bullying her. She said she was bullying her – which she did. I feel for Kelsey because this is obviously extremely emotional for her. But the way she's treating Hannah Ann just is not okay. What do you think about how Kelsey acted?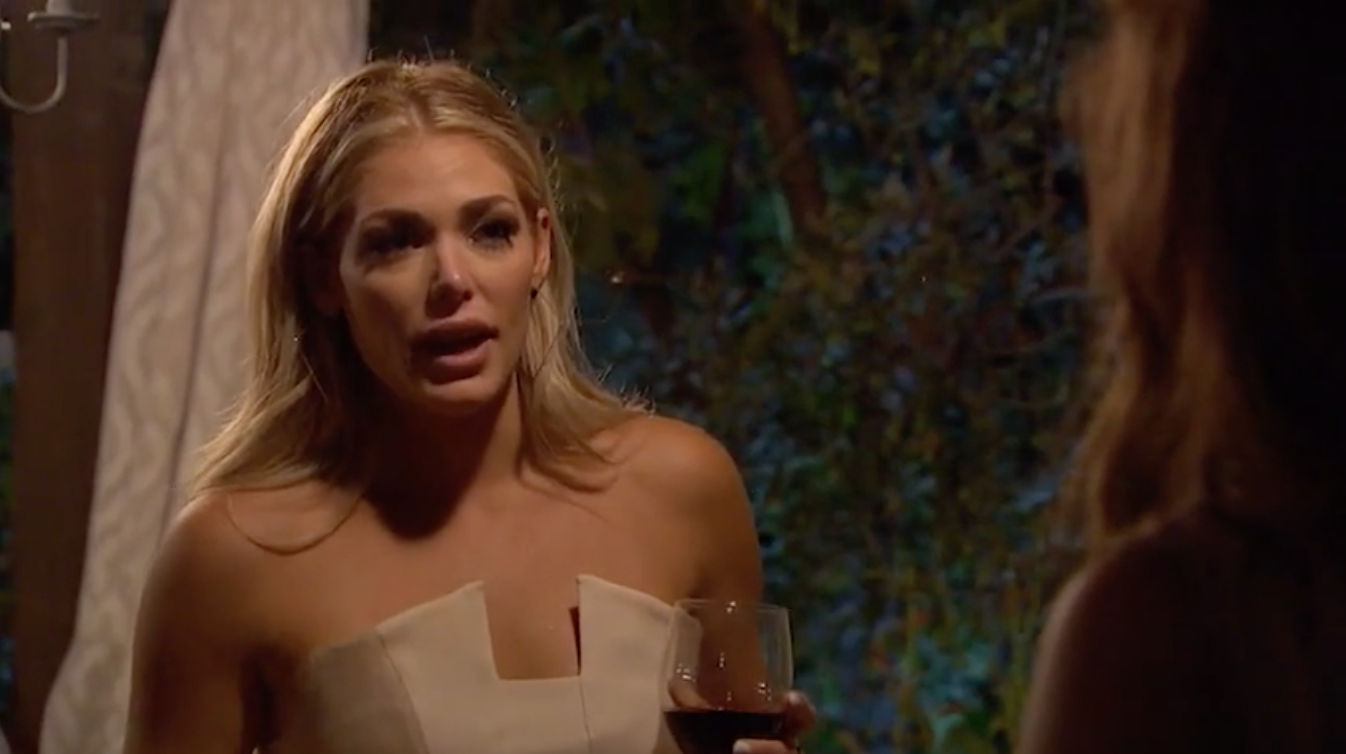 Going back to what I said above that some of you feeling like Hannah Ann is manipulative – honestly so far there's really nothing she's done to justify feeling that way about her. I honestly think it's the way she's being edited and maybe just some of the faces she makes. She has given us no reason whatsoever to think poorly of her at this point. She's just absolutely stunning and other people are intimidated by that. I would be intimidated by that. But I was kind of feel like she's being body shamed in a way. I don't know if body shamings the right word, but maybe pretty shaming? I'm really curious to know what you guys think about this. Or if anyone can pinpoint something she did that makes her manipulative. Cause I can't.
Final Thoughts on Peter
What I absolutely love about Peter as the Bachelor is how closely he listens and how thoughtfully he responds in every conversation he's in. That seems like something anybody with any sort of manners would do on the show, but that's way easier said than done. What I mean by that is when I was the Bachelorette, I was so exhausted from all of it and quite honestly the first night knew my top two guys. So during these group dates where I had to go around talking to everybody… it's a very repetitive to be honest. I know I sound like a complete jerk right now. But it's just the truth. And I can tell it's the truth for almost every other Bachelor Bachelor/ette because the conversations are always the same. Where as Peter it feels different. I'm just so impressed with him not only as the Bachelor but as a human being.
My Updates!
I'm just getting back into the swing of things after the holidays, so I haven't had a ton of outfits to share (don't worry, I just took some new photos today!). I thought I'd share with you one of the things going on in my life, and that's that we finally got Molly a big girl bed. I blogged all about it the other day, from the decor I decided on to how our transition went. I have to tell you, it was so much easier than I ever could have imagined. She was ready! All my doubts that I had and fears that she would come running out of her room did not happen. She actually has been going down even easier now that she's in her new bed!
You can read all about it here, but I'll share a few details now for you. You might have seen on Instagram but I was SO close to getting Molly one of those little house beds! Ultimately because we live in California I decided not to because of the earthquakes. I just think it's not safe for anyone that lives here to have something over their head. So if you live in a state without earthquakes and can get one of those cute beds, I am jealous! Ha! Here are a few options at different price points.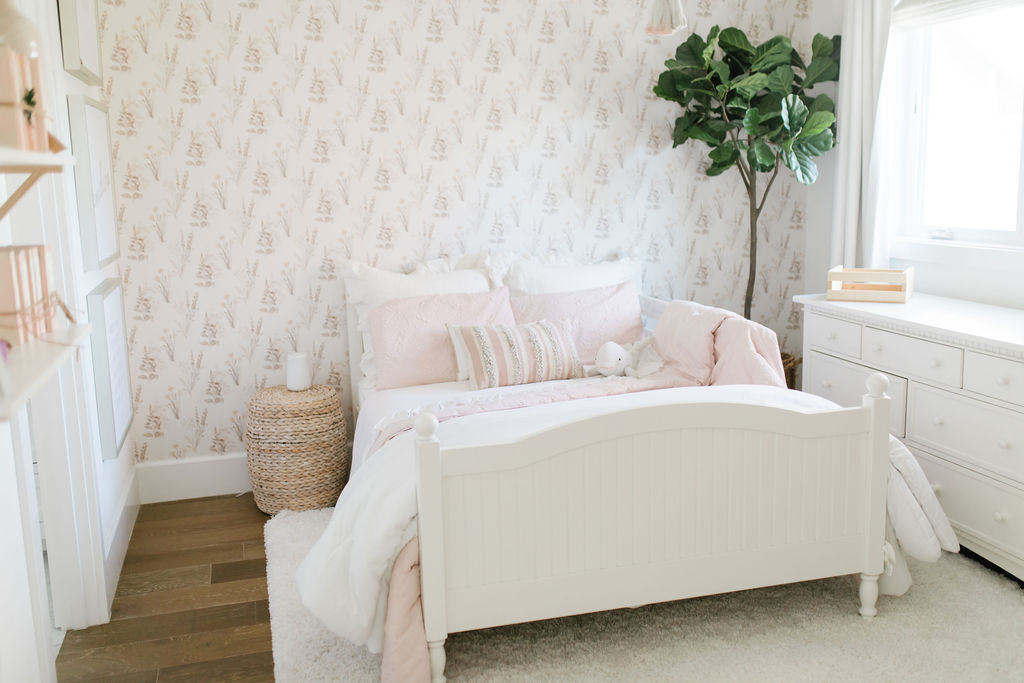 1. BED FRAME | 2. BLUSH COMFORTER | 3. WHITE RUFFLE SHEETS | 4. OK-TO-WAKE NIGHTLIGHT | 5. SIMILAR EURO SHAM | 6. SIMILAR THROW PILLOW | 7. GUARD-RAIL | 8. WALLPAPER
In the end I decided on this simple farmhouse style frame. It's classic and clean, but also has adorable character! I did kind of wish the headboard was a little taller to be honest. But I was able to give the head of the bed more height with pillows. Originally we had purchased guard rails for both sides of the bed, but with a bed of this size I really think that 1 is plenty. When I make the bed I drape the bedding over it to make it look cute! Unless you have a kiddo that thrashes around, I don't think they would need both unless they are in a twin! I would base it off the way they sleep and the size of the bed.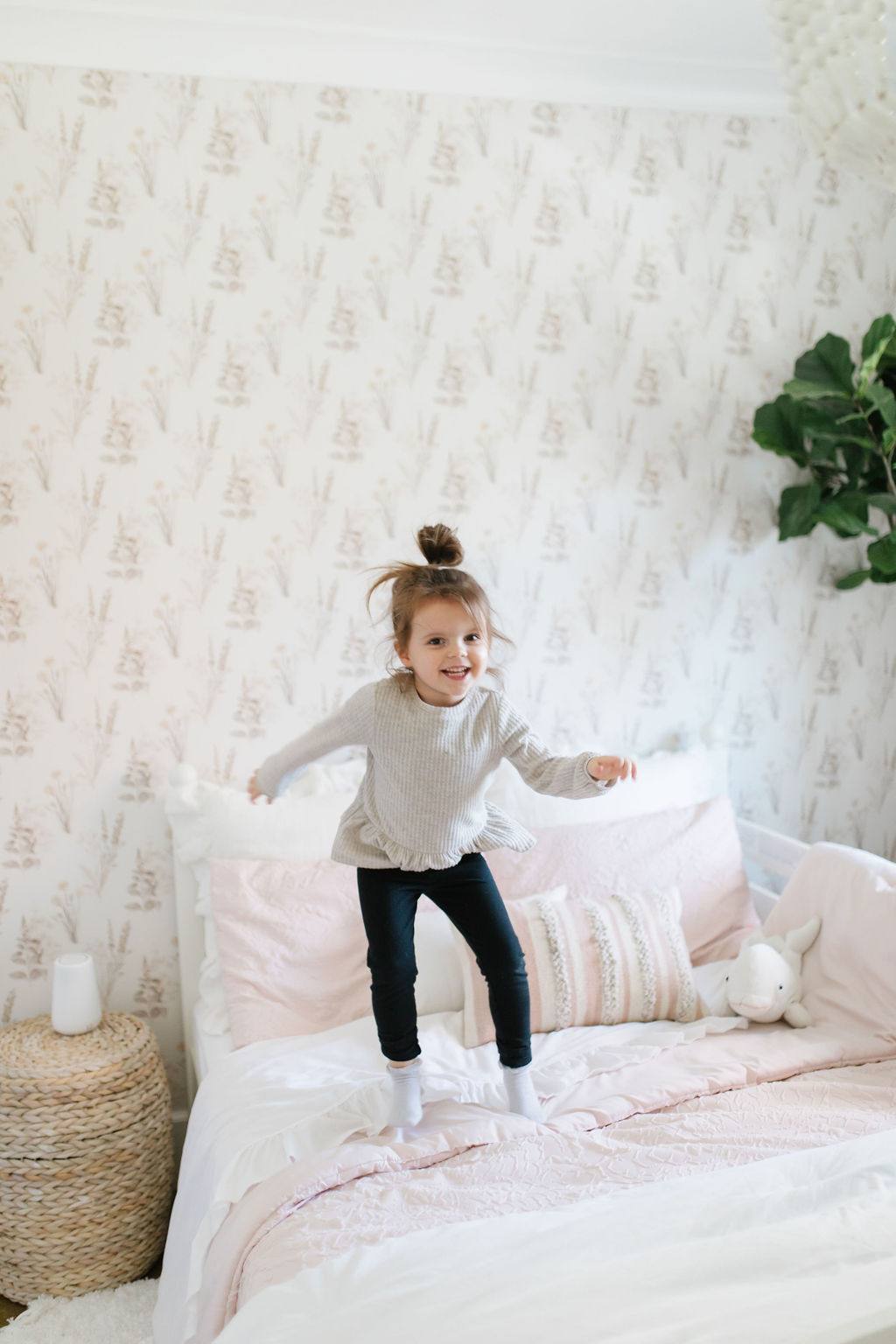 Next, I wanted to show you all this sweater that I posted for an Affordable Friday post a month or so ago because I realized that it is still in stock! Plus, it is still pretty cool outside, but it's not really the time of year where you would want to splurge on an expensive new sweater. The best part is that this sweater is only $11 right now!
I really feel like it's going to be super flattering on so many different body types. It's got a really nice shape to it and it's super long, so it will cover your booty and your hips. And it's just ridiculously soft! When I ordered it, I had high expectations because there's over 70 – 4.5 to 5 star reviews on the website. So I knew it was going to be good but I really didn't think it was going to be this good! And it's available in eight colors total so if you really love it you can get in multiple colors! And it's $17 you just can't beat the price. I got a medium, my normal a size.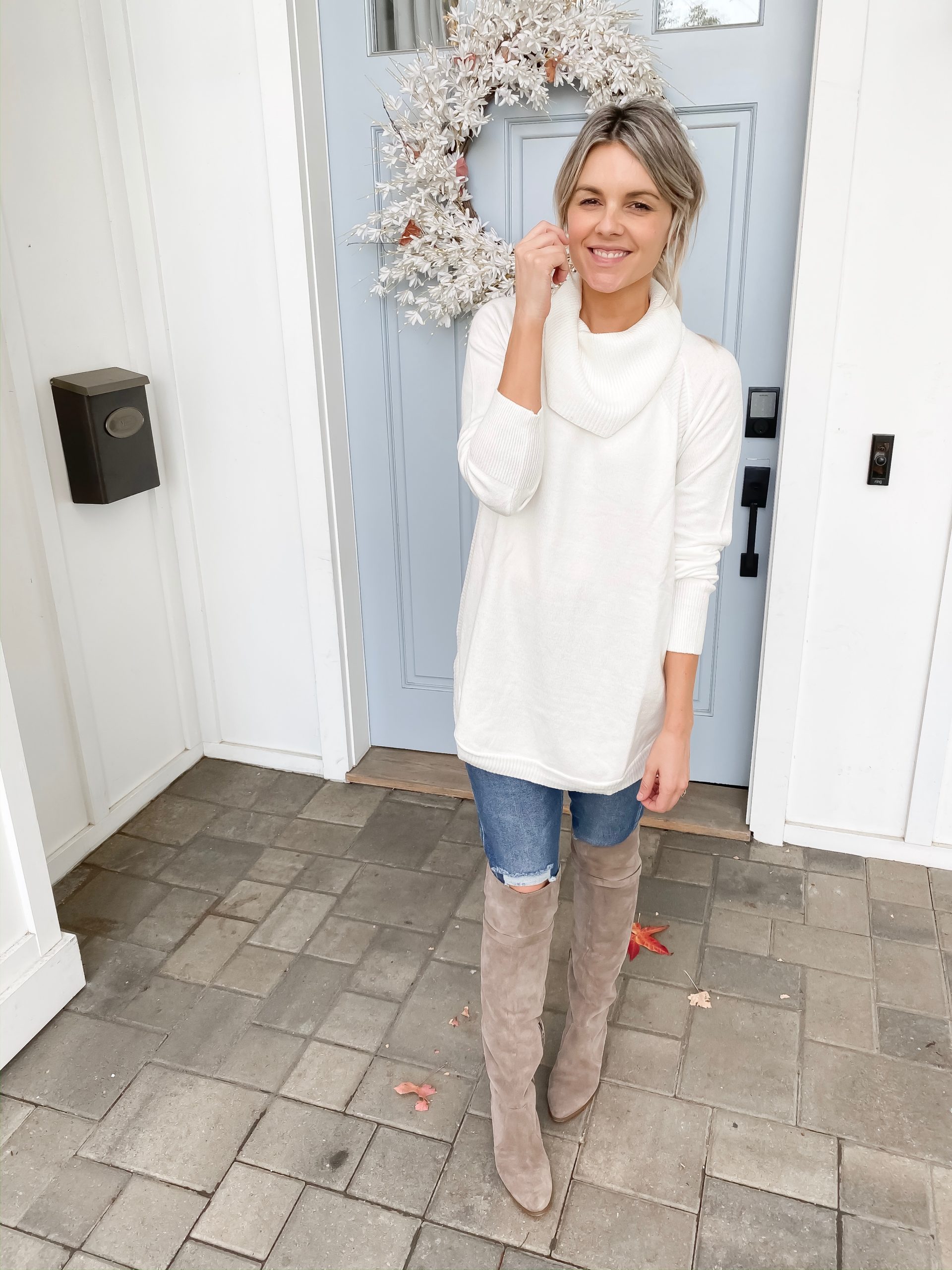 1. TUNIC SWEATER | 2. $16 JEANS | 3. SIMILAR BOOTS
If you like the style of that sweater, I want to show you this beautiful blush turtleneck sweater that I purchased recently!
I originally bought the sweater in the blush color I'm wearing in these photos and was unsure of what I would think of it. Only because of the low price. It's funny, if there's one thing I've learned over my years of blogging about clothes, it should be that price doesn't mean an item is good or not. And that's the truth! Some of my absolute favorite things I've ever found are an absolute steal of a price! And this turtleneck sweater is on that list! When I got it in the mail, I fell in love instantly! It's super long, so it's great for covering your booty and hips. Especially when wearing leggings. And it is so so so soft. You will not be feeling itchy whatsoever in this sweater. Plus, I loved it so much that I bought it in gray as well. I love wearing the gray with a pair of black leggings and knee high boots!

1. SWEATER | 2. MOTHER JEANS
I just love a sweater with a big neckline like this because I feel like it looks so nice layered underneath jackets. I don't have a picture of this exact sweater layered with a jacket. . I just feel like sweaters with big necks like this kind of double as wearing a scarf and make a look instantly feel styled even though you're just putting on a sweater and jacket.
Thank you so much for stopping by the blog today! Can't wait to see what you have to say about Hannah B and all the Kelsey drama!