For full transparency, this post is partially sponsored by Campbell's Well Yes! Sipping Soups.
Hey guys!!! I have been so busy lately that I had little to no time to spend thinking about myself! With work, kiddos and the holidays, there just isn't a ton of time in the day, but I decided to make a game plan so that I am better equipped to tackle my days, and also live a brighter lifestyle! The tips in the post are straight from my new daily to-do list, and I hope that you implement some of them too! We all can be so busy around this time of year, but taking a moment for yourself – both for your physical and mental health – is so important.
Water Before Dinner
I know this seems obvious but I want to start with it because it's SOOOO important. I try to always drink a full glass of water before a meal. Do any of you already do this? I've recently made this more of a priority because sometimes by the time I eat I am SO hungry that I eat so much before I am full. And then I realize that I ate way too much! Drinking a glass of water before you eat helps to fill you up, so you end up eating more of the correct portion of food. It helps you feel full at the correct time, rather than overeating. Plus, I've read a bunch of articles that talk about how drinking water before and with your meal actually helps with digestion, because water is needed to promote the enzymes in your stomach. You can read more about it here (about halfway down the article), but there are tons of studies about it online if you want to check it out!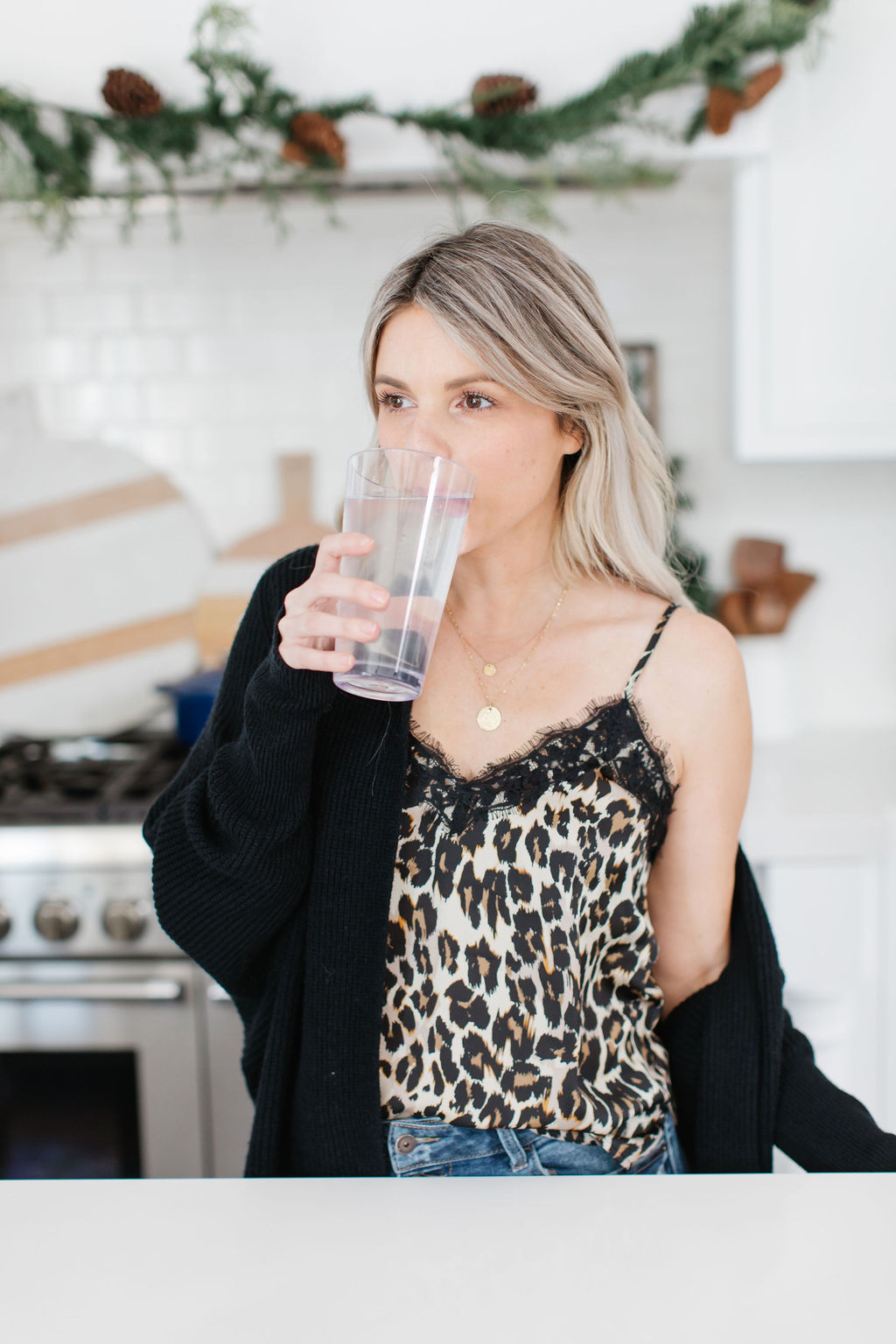 1. CARDIGAN | 2. LEOPARD CAMISOLE TANK
In that same category, I also drink a shot of grapefruit juice before indulgent or high-calorie meals. If you Google it, grapefruit juice helps your body block some of the fat being absorbed. It's also why you're not supposed to drink grapefruit juice before you take medication – it can block the medication from getting into your bloodstream. The FDA even made an announcement warning people about this! Super interesting!
Making Your Bed
Living a healthy lifestyle and physically taking care of your body is just half the battle. Mental health is just as important as physical health. That is why I want to share a few tips for how I like to take care of my mental health, too.
So, let's start the mental health discussion with making your bed! This is a newer one for us, and I am definitely loving it! I was told by a friend awhile back that there were actual benefits to making your bed besides your room just looking tidy, so I decided to look into it and have been doing it ever since! I seriously never used to make our beds and ever since I started, I really just feel like my life is more organized.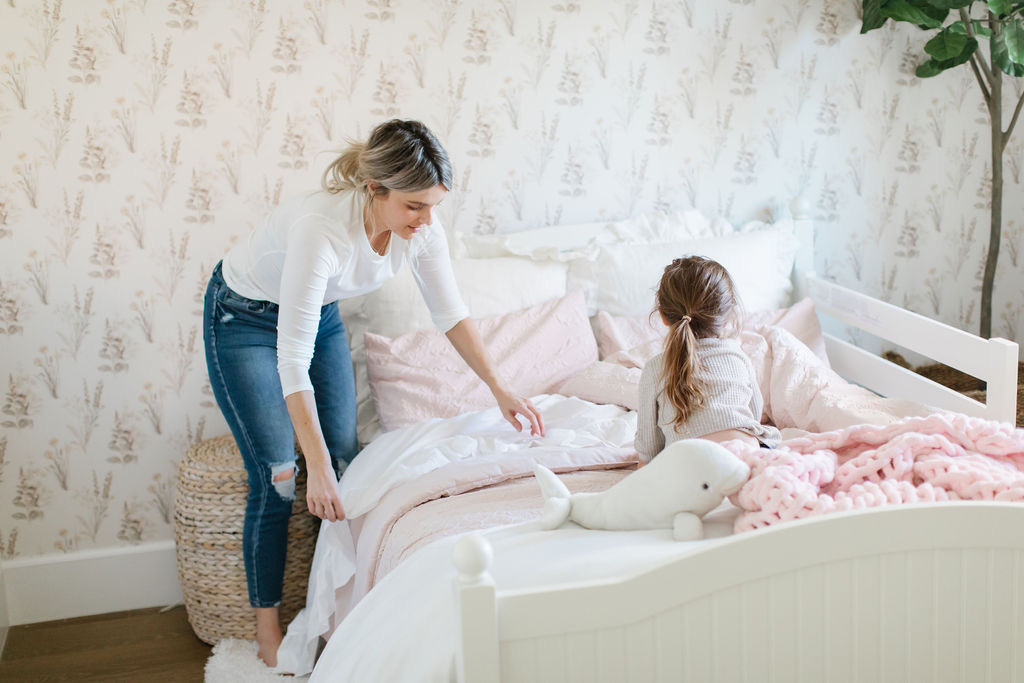 1. BED | 2. BED RAILING | 3. COMFORTER | 4. MY JEANS
When I looked this up I found SO many studies on different reasons as to why making your bed is so significant to kick off your day. One of the reasons is that by starting your day with a habit, you are more likely to be successful the rest of your day. Kinda like a chain reaction, where if you start your day by doing something that makes you feel good and productive, you are more likely to continue to make productive choices throughout the rest of your day. I also read a study done by a researcher and author who was writing a book about happiness. Her studies found that making your bed triggered happiness, and that many claimed that making their bed was the number one most impactful change in their life!
I really do feel like my life is so much more put together ever since I started making the beds, especially when I am going to bed at night. Getting into a made bed makes you feel so relaxed and at ease, almost like a gift to yourself for fulfilling so many tasks throughout the day! Now that Molly has a big girl bed, I started doing it with her too, because it also teaches her responsibility!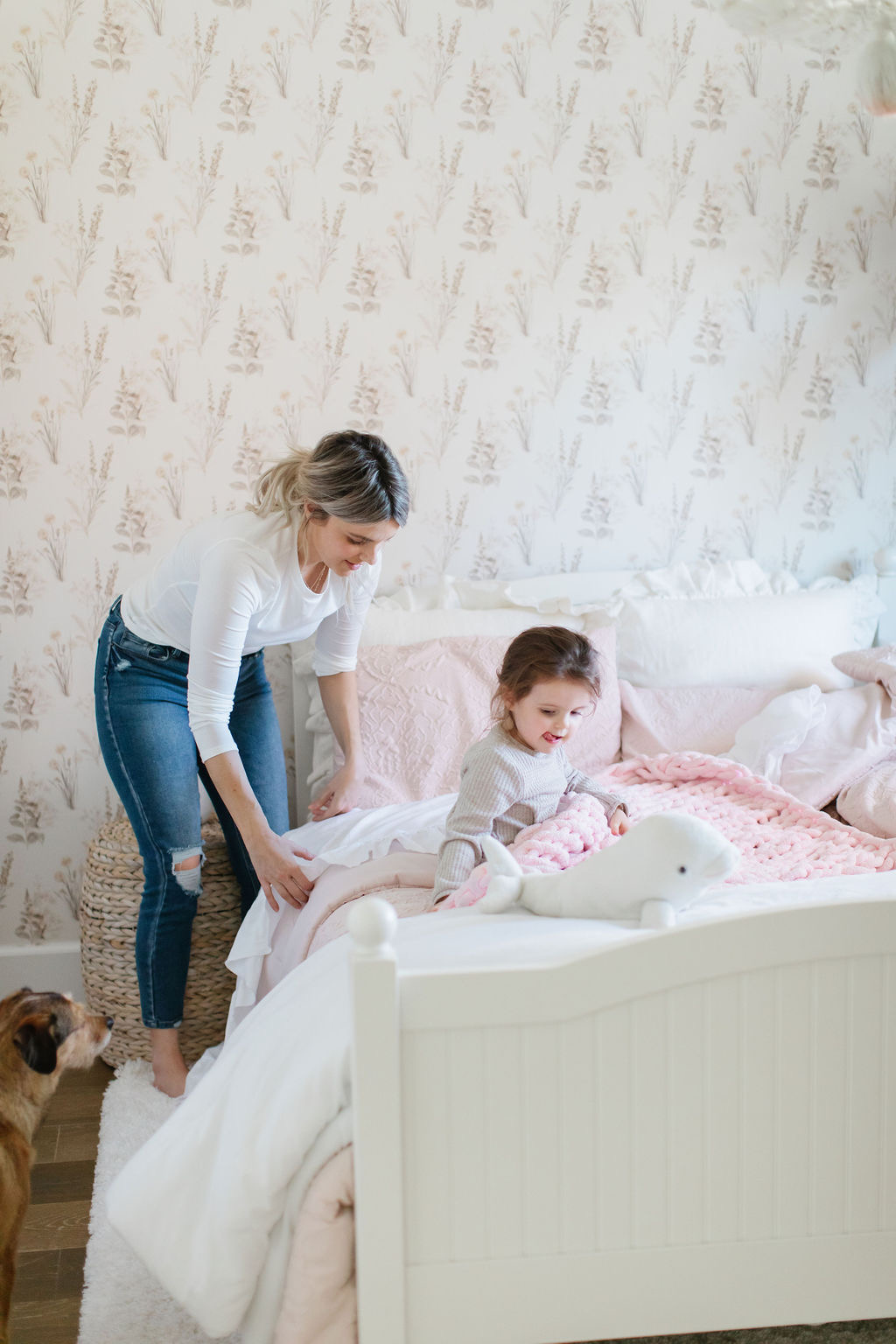 1. BED | 2. BED RAILING | 3. COMFORTER | 4. MY JEANS
Eating on the Go!
By far one of my biggest hindrances when it comes to living a healthier lifestyle is making poor food choices. It's just so hard to eat right when I'm constantly in a rush and have a million things on my plate. I told you guys about the Campbell's Well Yes! Sipping Soups before, and I had to include them in this post because they've been a bit of a lifesaver for me recently. I honestly keep one in my purse at all times because I constantly find myself out and about running errands and feeling famished because I forgot to eat breakfast. Campbell's Well Yes! Sipping Soups contain at least 20% of your daily veggies, and they have no preservatives, GMO's, artificial flavors or colors. And they just taste dang good!

 1. WELL YES! SOUP | 2. WREATH | 3. TOP | 4. HIGH-WAISTED PANTS | 5. COIN NECKLACE
They have seven different flavors but my absolute favorites would have to be the Tomato & Sweet Basil and the Sweet Corn & Roasted Poblano. It's funny because when I wrote about these last month, I had two different favorites, but now that I've tried more of them, these are my new go to's! Honestly, it's almost impossible to pick a favorite because they are all so good. I really just think they are the perfect snack to grab when you're running out the door or if you just want something quick at home. You literally just throw them in the microwave for one minute and you're good to go! Plus, some of them are good to eat room temperature, which is why I keep them in my purse! Definitely check them out! I get them at my local Target, but they're available so many places! I'm surprised more people don't know about them because they're so good.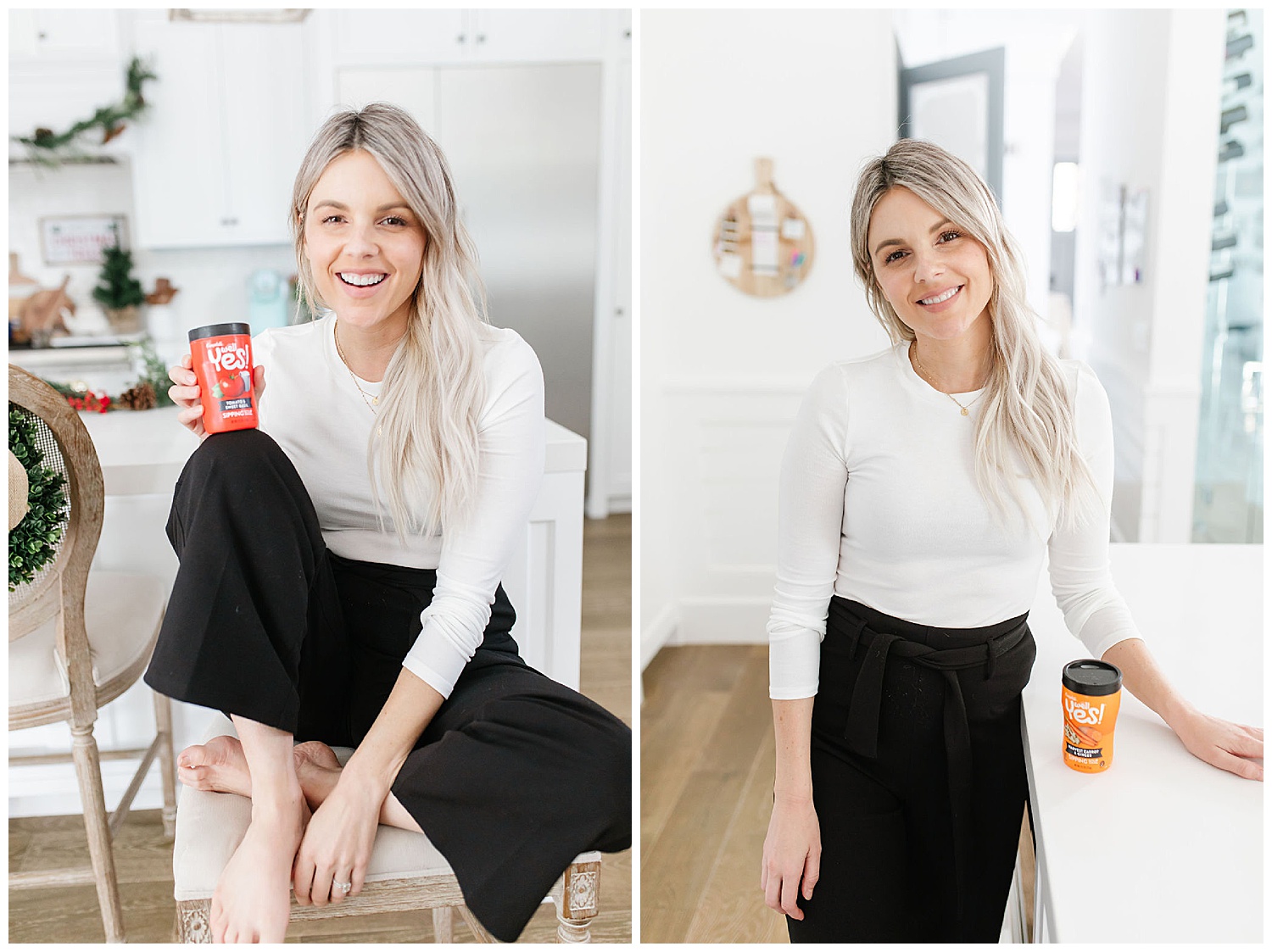 1. WELL YES! SOUP | 2. WREATH | 3. TOP | 4. HIGH-WAISTED PANTS | 5. COIN NECKLACE
Physical Activity – My Tips for How I Motivate
Everybody knows that physical activity is important for your overall health. And it took me a really, really, really long time to really get on board with that. Look, I've always known it's important, but that didn't mean I was going to do it. Ever since I had kids, taking care of my body is not just about me anymore. It's about them too. I want to be around for as long as possible so I can be here for my kids.
That's why I really made physical activity a priority in my life. As you guys know, I go to spin class as much as I can. I also really kind of love that the studio I go to has a cancellation policy that if you cancel your class less than 12 hours before it begins, you get charged for the class anyway. Some people hate that, but I actually like it because it keeps me accountable. I don't want to lose $26 because I missed a spin class. That's a lot of money! So, even if I wake up in the morning and I don't want to go at all, I will go because I don't want to waste that money.
In case you are looking for options that are a little more affordable , you guys may have seen on Instagram stories that I've been doing these at-home workouts with a company called Obe. I absolutely love them! They don't know that I'm writing about them on my blog today, but I am because I truly love them and I think it's going to help so many people out there, especially people who are too busy to make it to a class and get their workouts in. Plus, the people who came up with it are friends with one of my closest friends, so I am so happy to support them!
They gave me a code because I worked with them recently (and hope to continue too because I LOOVE them) and it gives you 30% off your first month. I just checked, and it still works! So code ALI will not only get you 30% off your first month, but there is also a 7 day free-trial to start. For reference, it's normally only $27 a month! Only one dollar more than my spin class is for one class, but you get the whole month! With my code and the 7-day free trial, you get it for way less than that! They have thousands of on-demand classes and they add 4 new on-demand classes every single day, so you could work out four times a day, and never take the same class twice! They also have live classes, which I really love because the instructors will actually call out your name while you're doing the class, which keeps me motivated!
Dress for Success
Speaking of physical activity, there is no way I'm getting any during my day if I wear my tightest pair of skinny jeans and high heels! For a while now, I've been trying to remind myself to dress for success in the morning, which means dressing your body for a successful day of movement! If I wear skinny jeans and high heels to work, I'm probably going to sit at my desk most of the day and not actually walk around or keep my body moving. But, if I wear sneakers and a comfortable pair of pants, I'm way more likely to walk a few blocks to get lunch or even walk to the bathroom on the far side of the building rather than the one closer to my desk.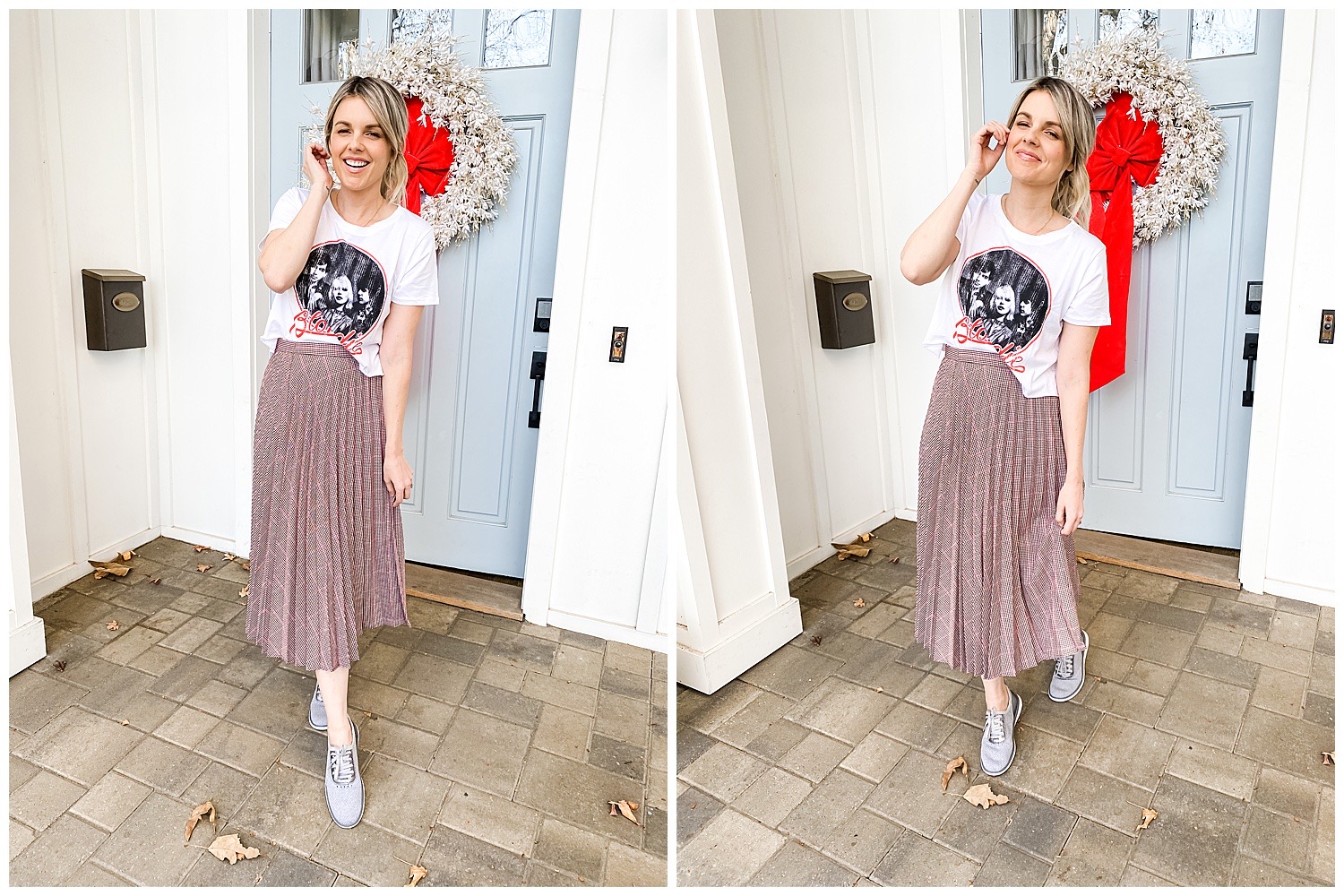 1. BLONDIE SHIRT | 2. PLEATED SKIRT | 3. SNEAKERS 
I also do this when I go to the park with my kids. Instead of wearing tight jeans and uncomfortable shoes, I'll put on sneakers and yoga pants. It encourages me to run around the park with them and play and stay active. Keep this in mind when you're getting ready in the morning. Do you want to move your body throughout the day or sit at your desk because you're too uncomfortable in your shoes and tight jeans to walk around? I swear it's those little moments throughout the day that really help burn the most calories.
To help you dress for success and encourage your healthy lifestyle, I'm linking a cute outfit above that I wear with sneakers or flats that help me stay active throughout the day so that I'm comfortable moving around. By the way, I just recently started wearing sneakers with skirts and I feel like it's the cutest ever! I wish this trend was around years ago. But I love that it's in style now!
Delegate Tasks
The holidays are an extremely stressful time for many, but should be the most wonderful time of the year! I especially try to delegate around the holidays, but really it's something I remind myself to do year-round. Thankfully I have such an amazing husband, and a lot of times I don't even have to ask for help – he asks me what he can take off my plate. But a many times we, especially as moms, tend to take on everything and no one thinks to ask us if we need help. Not because they're not thinking about us, but just because we tend to try to make it look like we have it all together even though deep down inside we're falling apart. So, ask for help – asking for help helps YOU in living a healthy lifestyle.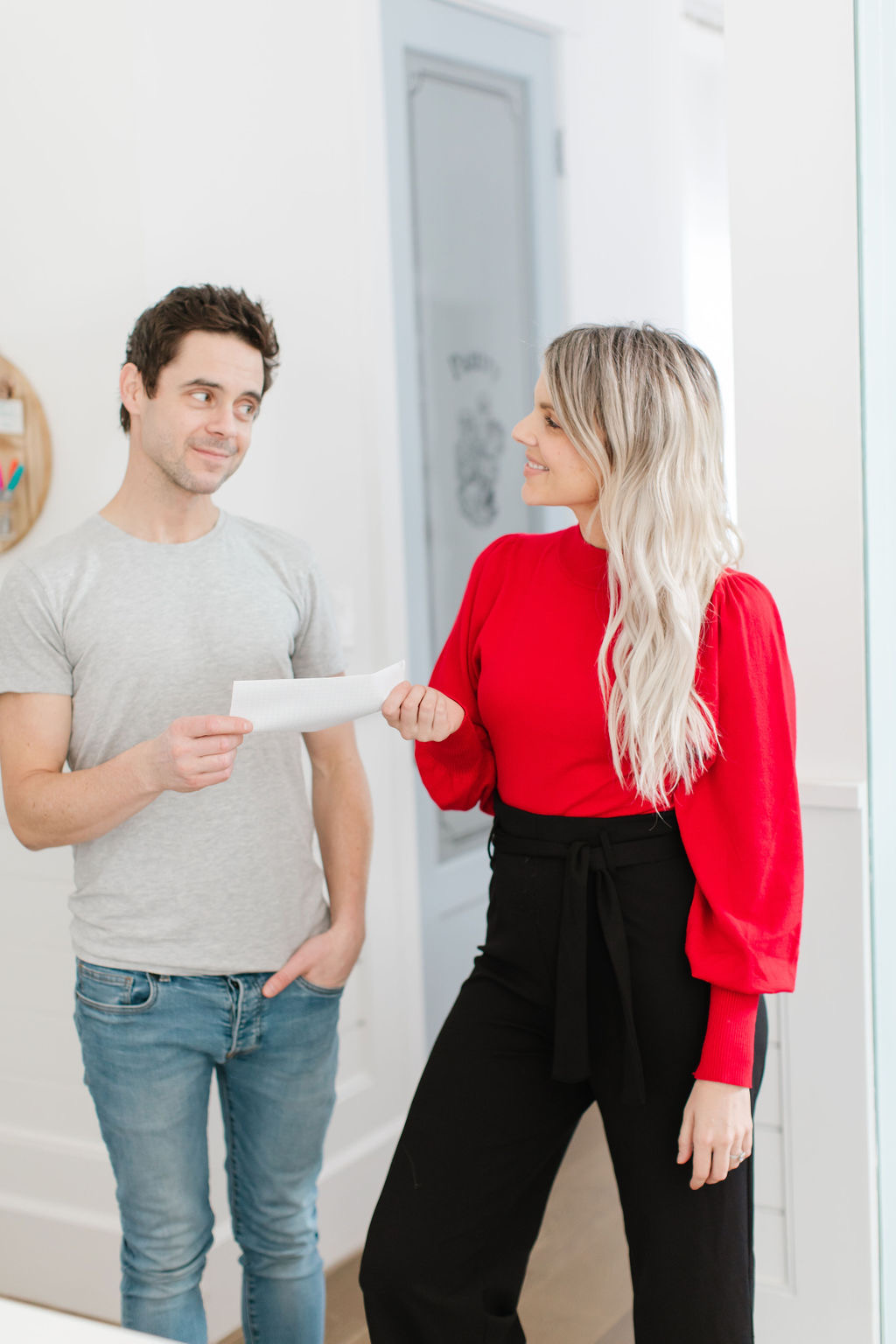 1. BLACK HIGH-WAISTED PANTS | 2. RED TOP 
One of my favorite quotes is, "if you don't ask, the answer is no." So ask! The people that love you and care about you want to help. They just don't think to ask. For example, instead of taking on all the holiday shopping this season, I told Kevin that he was responsible for our parents' gifts. If you have older children, give them tasks like wrapping all the gifts. Or, if you need to get some errands done, ask a friend if they can watch your kiddos while you go out and get your errands done. Then in return, offer to watch your friends' kids while they go get their errands done!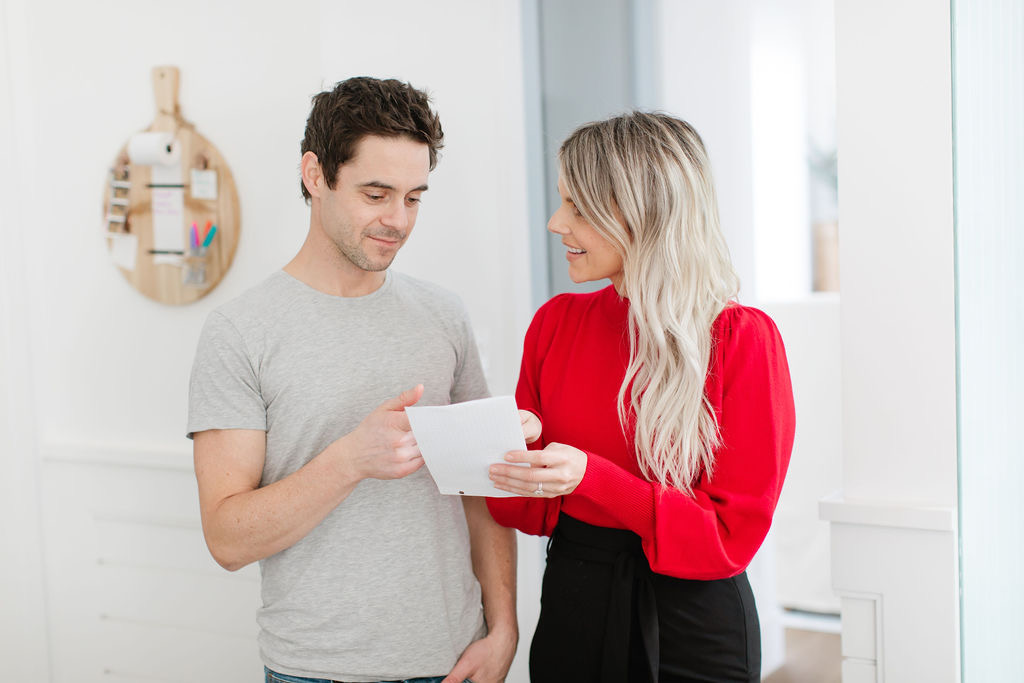 1. BLACK HIGH-WAISTED PANTS | 2. RED TOP 
Take Care of Yourself!
Well that's it for today. If you have been trying to live a healthier lifestyle, I really hope these tips helped you! Let me know in the comments if you already do any of these, or if you have any suggestions for anything else I can do! I love taking suggestions! You would not believe how much I have learned from all of you!