Hi guys! Welcome to my blog today. I really love today's post because I think the 5 things in my purse that I'm about to show you are not necessarily things people might think to carry in their purse. But that I swear by them all! So hopefully one of the tips you learn today gives you a new idea and makes your life a little bit easier in some way.
I think these tips could be helpful for anyone, but especially busy moms and dads! Because let's face it, before, getting kids out of the house was as simple as getting dressed and walking out the door. Now it could be anywhere from a 30 to 90 minute process depending on how your kids behave that day. So, I find having a little arsenal in my purse helps me feel more prepared when I'm out and about. But these tips aren't just for parents! Keep reading and you'll see why. Let's get into it.
Nourish Your Body: Well Yes! Sipping Soup
Because I'm always busy and running around with a million things to do, I feel like I often don't have the time to think about what I'm eating. And a lot of times that can result in poor food choices. So, I have made it a priority for a long time now, to have nutritious and easy snack/food options available to me that I can quickly grab and run out the door. Don't grab a bag of chips. Don't grab a candy bar. Instead, grab something that's actually nutritious so you can actually have the energy to accomplish everything in your day.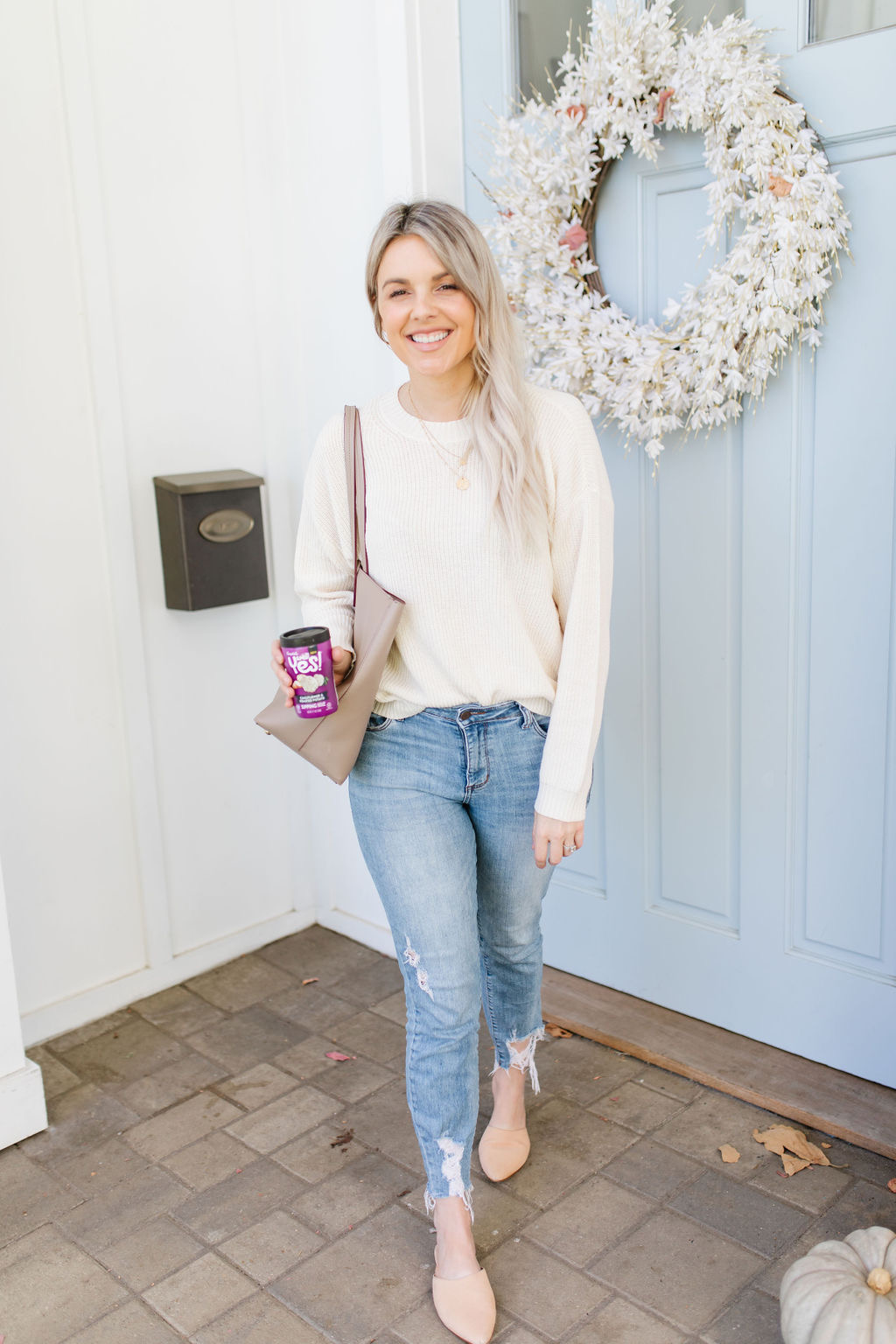 My go-to right now are Campbell's Well Yes! Sipping Soups. That is 100% the honest truth. I first discovered them when I was walking down the soup aisle at the grocery store and I glanced over and saw this incredibly bright and beautiful display of soups. I think it caught my eye because, well, vegetables are bright and vibrant, so the beautiful, bright colors on the soup containers instantly made me think of all those good veggies. Their whole motto is "Live Bright." Starting with the bright, beautiful cups that are packed full of veggies – so much so that each flavor has at least 20% of your daily veggies! Then when I got closer and started reading some of the flavors, I was blown away! Here are a few of my favorites just to give you an idea. Harvest Carrot and Ginger, Cauliflower and Roasted Potato, and Butternut Squash and Sweet Potato. And you guys know that I'm vegetarian, so I just about squealed right there in the store when I saw them. I couldn't wait to try all of these soups bursting with yummy, nutritious veggies!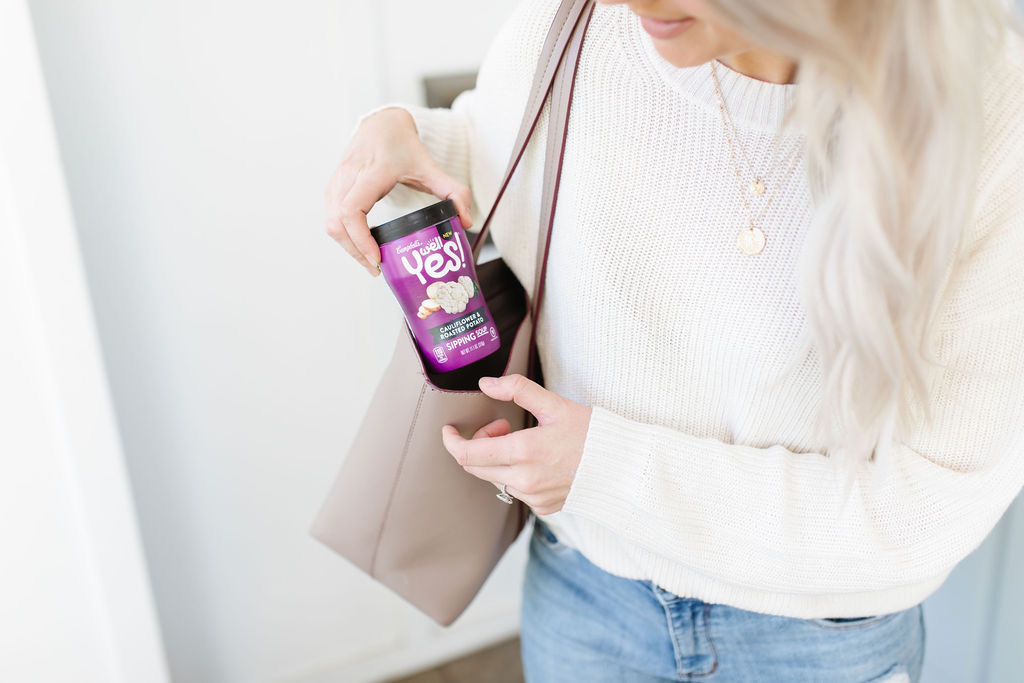 So when I got home, the first soup I tried was the Harvest Carrot and Ginger and I was floored by how good it was! And it's vegan! My husband Kevin is vegan so he was beyond excited about that. It's hardest for me to keep the vegan options stocked in our pantry because he can't get enough of them too! Anyway, I think you get the point that the flavors are insanely good. But here's why this is relevant:  they are so easy for on-the-go which makes my life, especially as a busy mom, so much easier! I definitely think they're best if you drink them hot. So if you're able to throw them in the microwave for a minute before you head out the door you totally should! But I've drank a few of the flavors room temperature and thought they were awesome!
So I just keep one in my purse pretty much at all times when I'm out and about and don't have time to eat, but need to nourish my body so I can actually function and get everything done that I need to. Soup isn't necessarily a snack that you would think to keep in your purse… until now!!! Trust me, get these and thank me later! And if you have them please comment below and tell me your favorite flavor just in case I've missed one. I also have the Sweet Corn and Roasted Poblano, Broccoli and Sweet Potato and Roasted Red Pepper and Tomato. All of them are great!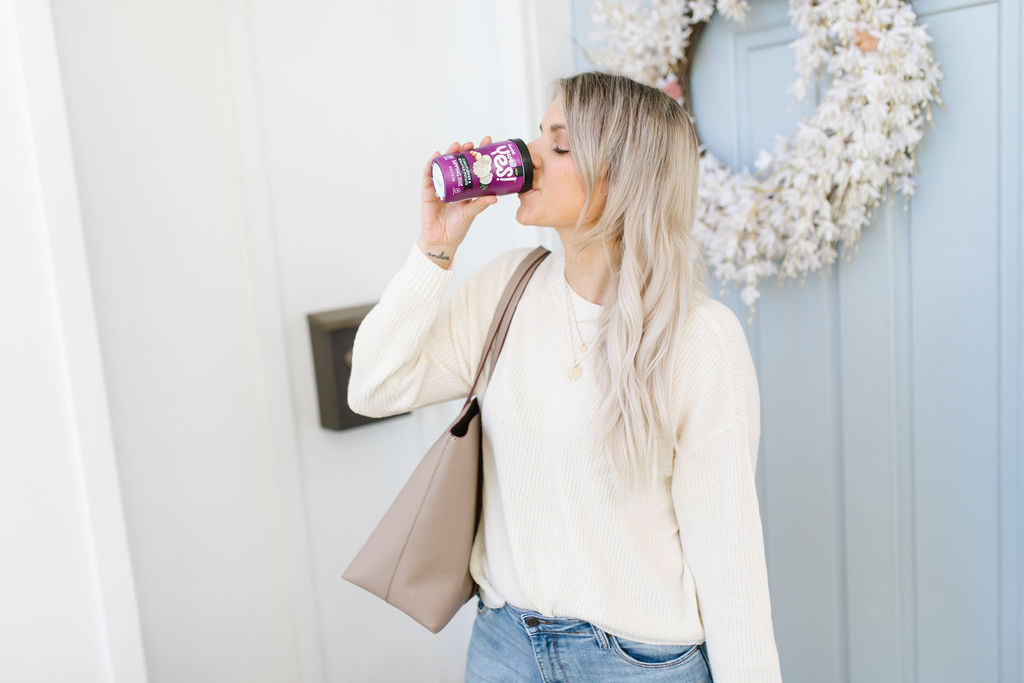 Wipes -But NOT for the Reason You Think
This might seem like an obvious choice to put in your purse, especially when you're a parent. And yes, I have wipes in my purse so that I can wipe down my children's hands. And surfaces, and especially for traveling and going on an airplane! But that's not necessarily the reason I think everyone should have them in their purse. And obviously that's not very surprising to anybody. The reason it might be something that surprises you, is because I actually keep them in my purse to wipe my camera lens.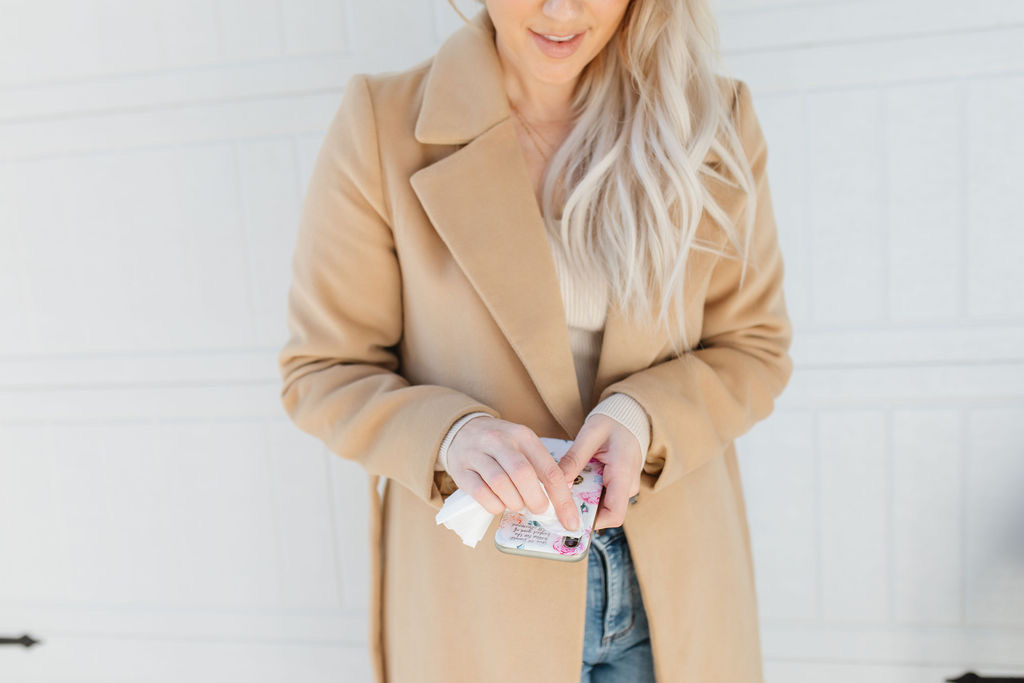 I can't even tell you how many times I get questions from you guys asking about my photos and how I edit them and how they look. And I will say the very first step to having a good photo for Instagram or your photo album or whatever you need it for, is wiping your camera lens. Any blogger or photographer or content creator will tell you that. It's something that is so simple but that people often overlook.
The other day I was at work and one of the girls was talking about how her camera on her phone wasn't good. She had a pretty new iPhone so I couldn't really understand why. So I took a look at her phone and instantly saw how dirty her lens was. She didn't even realize it! So I grabbed a wipe from in my purse, wiped it down for her and instantly her pictures looked 10 times better! And this is what I mean about this wipes not just being for parents. Everybody needs to stay nourished and mostly everyone wants to take a good photo! Whether it's of yourself, your loved ones, your kids, or your fur babies! OK, onto the next tip!
A Marker That I Destroyed – Ha!
OK, I'm immediately backtracking here. I know I just said this isn't just for parents. But this tip is just for parents. Unless you have a boyfriend or husband that is easily amused. Ha! This is something that some of you might find weird but I have found it to be a lifesaver in so many situations. I noticed that Riley just really loves putting things together and then taking them apart. Most kids do. But especially when it has to do with a cap. Whether it's putting the cap back on the milk carton, putting the cap back on his squeeze pouches, or putting the cap back on a marker. He loves to do it over and over again.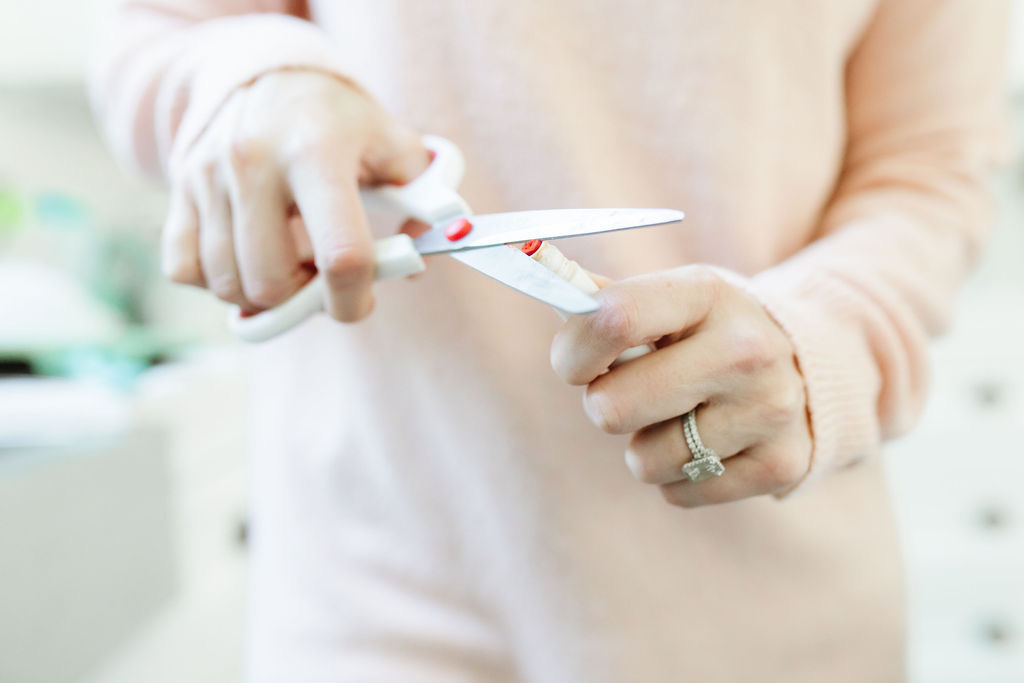 So one day when I was trying to get him out the door and he was having an absolute fit because I was trying to take a marker away from him, I'll grabbed the marker and cut the tip off. Then handed it back to him and put him in a stroller and went out for errands without a peep out of him the entire time. He was just so amused taking a cap off the marker and putting it back on. Because I only cut the tip off, he still got a bit of marker all over his hands. But it was washable so I didn't really care. But the next time we went out I had a new and improved method!
I took a pair scissors and really tried to dig into the marker to get out the part that produces the color. And when we went out for a second time, I gave him the marker and he stayed squeaky clean and super quiet once again. I swear I'm onto something here. This might be my Shark Tank idea. Ha! Anyway, I always have a marker that is scooped out in the middle of my purse now. It just saves me in situations where I need to keep him occupied when we're out and about. If you have a young kiddo like Riley, you should totally try it! And when you do, please comment back on this blog post and let me know if it's been as big of a lifesaver for you as it has been for me. And as always, please check with your pediatrician before giving your toddler something like this to play with and make sure your child is supervised (so they don't try to eat the marker cap).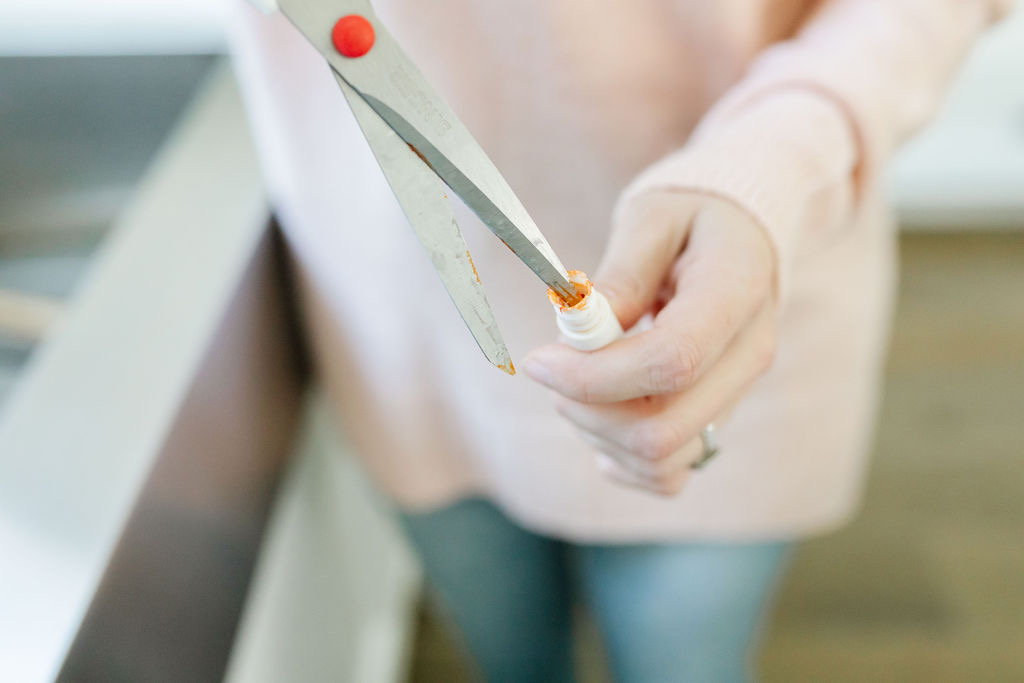 Instant Pick Me Up!
I don't know about you guys, but I feel like I always need coffee. But when I have two toddlers strapped into the backseat of my car, the absolute last thing I wanna do is get them out to go into a coffee shop to get a cup of coffee. Don't get me wrong, sometimes I will drive 15 minutes out of my way to find a drive-through coffee spot. Ha! But sometimes I don't have the time to do that. So I always keep one or two packets of instant coffee.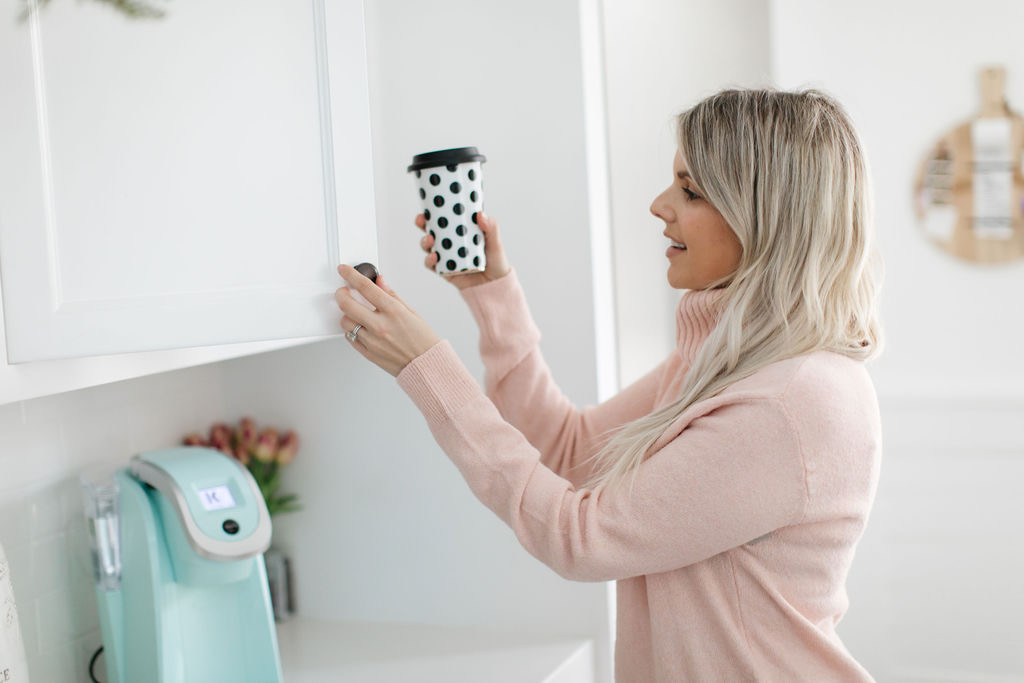 And depending on how big my purses is that I'm carrying at the time, I'll keep a to-go coffee mug in there as well. But if my purse isn't big enough, I have a back-up to-go coffee cup in my car at all times. So you might be wondering how I get hot water to put in it? Well, when I'm exhausted and running around on zero fumes I'm not picky. I will drink room temperature instant coffee any day! Anyway, one of my girlfriends does this and after I saw her keep it in her purse, I started doing it and it's totally saved me in some exhausting situations.
A Substitute for Forgetting to Brush Your Teeth
I always keep a little mini mouthwash in my purse. And I'm kind of embarrassed to admit the reason why. Don't judge me! But more often than I care to admit, I have left the house forgetting to brush my teeth. I for one, don't brush my teeth as soon as I wake up in the morning. I don't know, there's something about brushing my teeth and then having my morning coffee that just doesn't work for me. So instead, I wake up and have a morning coffee and then I brush my teeth at some point afterwards. But, there have been quite a few instances where I was in such a big rush that I've ran out the door without brushing my teeth.
After this happened quite a few times, I started carrying a toothbrush and toothpaste in my purse so I could brush on the go. However, if I didn't have water handy it was kind of impossible to brush my teeth. I also tried just having gum in my purse, but something about chewing gum in place of brushing my teeth felt wrong. I don't know, maybe I'm wrong and chewing gum is actually a good substitute for brushing your teeth now since there's so many sugar free gums. But for me, I just like having a little mini mouthwash in my bag to use until I get home again and can actually brush my teeth. It's something I swear by so it's something I wanted to share!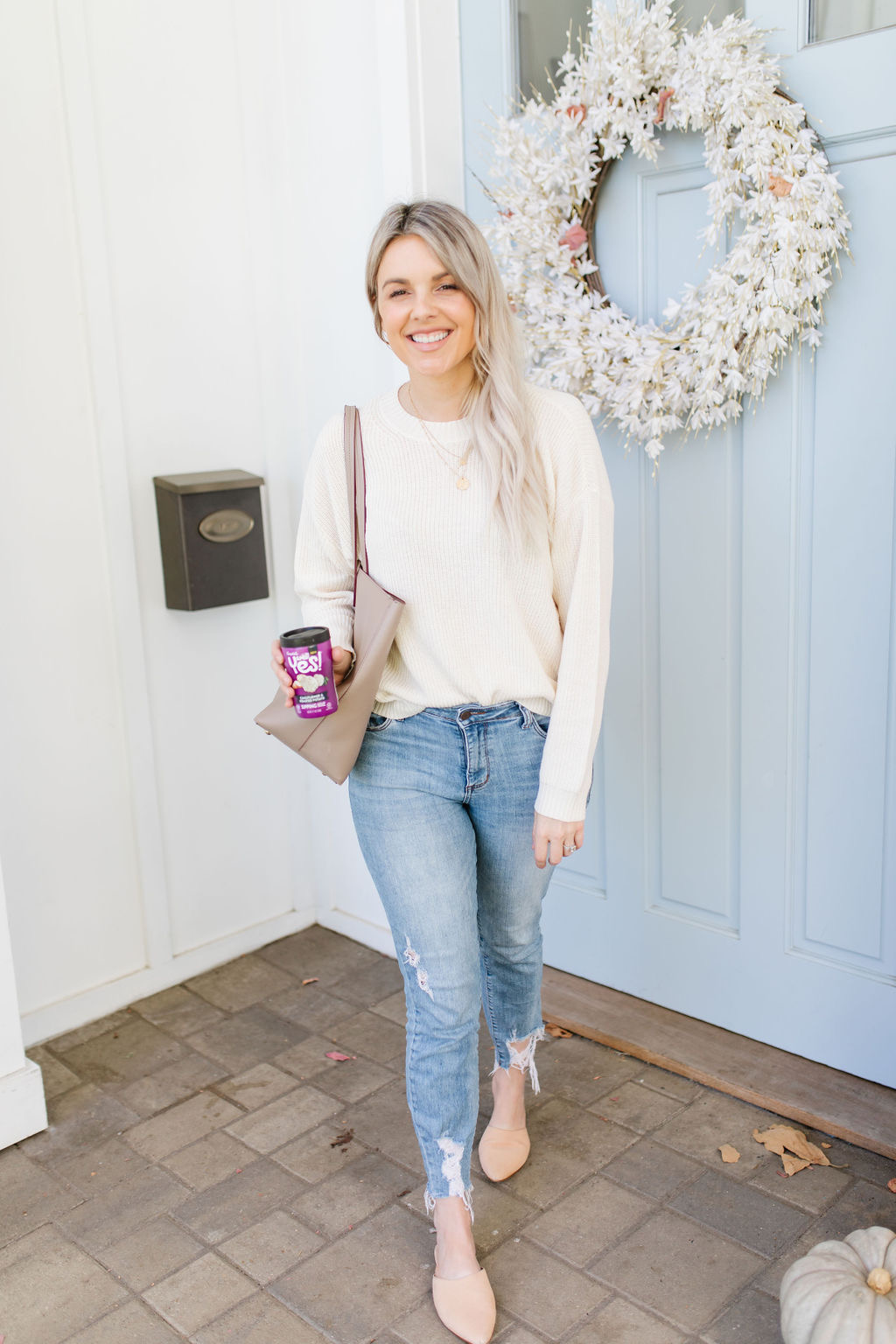 Now You Tell Me What's in YOUR bag?!?!
Okay, now that I shared 5 things in my purse that might surprise you, now I want to know the five things in all of your purses that might surprise me! I want to know because I want to learn more things about you guys, and I also want to know so I can steal your ideas and start carrying more things in my purse! So tell me everything! And I hope you guys enjoyed this blog post and it gives you some good ideas for things you can toss in your purse to make your life a little easier.