Hello everyone! Happy Tuesday! Can you believe we are exactly 2 weeks away from Christmas Eve? The end of this year has seriously been flying by – but we have been loving every minute of it over here in the Manno household! I'm finishing up the last of my holiday shopping, and also was trying to figure out exactly what outfits I am going to be wearing! I decided to compile a list of my 3 favorite holiday looks (which would also be great for NYE!), and also my 3 favorite gifts to give!
I think that I will probably end up wearing all of these for different holiday events, but please let me know which is your favorite and which one you think I should wear on Christmas Day and what one on NYE! I love getting feedback from all of you.
3 Favorite Holiday Looks
Black Chiffon Maxi Dress
The first one that I want to talk about is this black chiffon maxi dress. Isn't it gorgeous?! It's by Eliza J, as you know is one of my favorite brands for dresses. What is unique about this dress is that even though it is a maxi dress, the bottom half of the dress is sheer. It is truly a subtle detail that makes this dress even more perfect. The dress also has a few different ruffles that add elegance, and also allow the sheer portion of the dress to blend in perfectly and intentionally!
The sleeves are also sheer and have a slight ruching at the shoulders that gently puffs them up without being too over the top! I really love that slight shoulder pads and puffy sleeves are coming back in. They are so darling! It is a faux wrap dress, so you don't have to worry about it untying, but it still has the elegant look that wrap dresses have!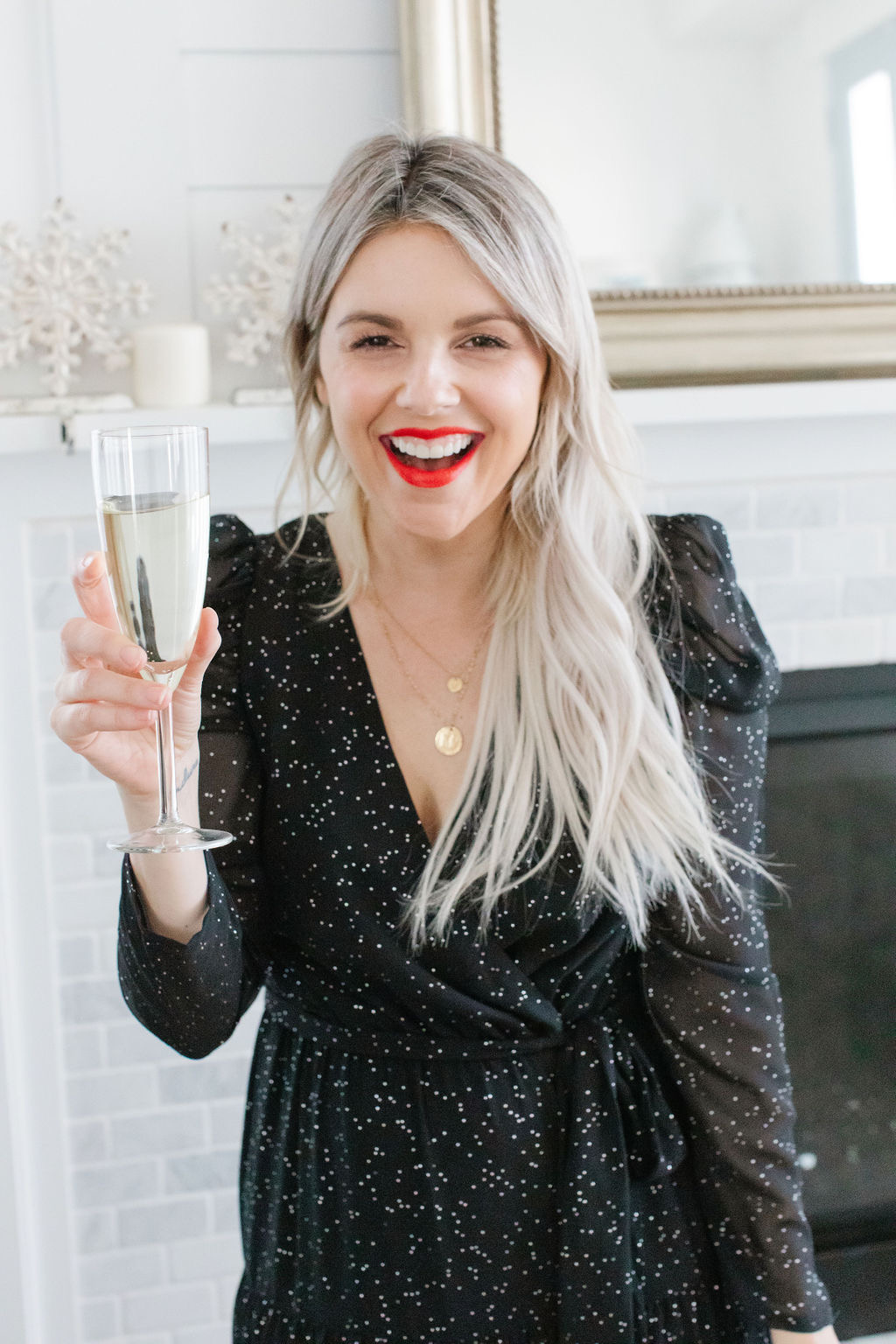 1. ELIZA J CHIFFON MAXI DRESS | 2. CHAMPAGNE FLUTES | 3. LIPSTICK
The little specks of glitter throughout this dress make it the perfect dress for not only the Christmas holidays, but New Years too! I could definitely see this dress worn on new years paired with a leather jacket. So stinkin' cute!
While I am talking about New Years, I wanted to show you these champagne glasses that I just found! I think they are soo cool because four different styles come in each set. It's a perfect way for guests to know which glass is theirs, and it also is just so fun and different. Aren't they awesome? I am definitely getting some for our holiday festivities!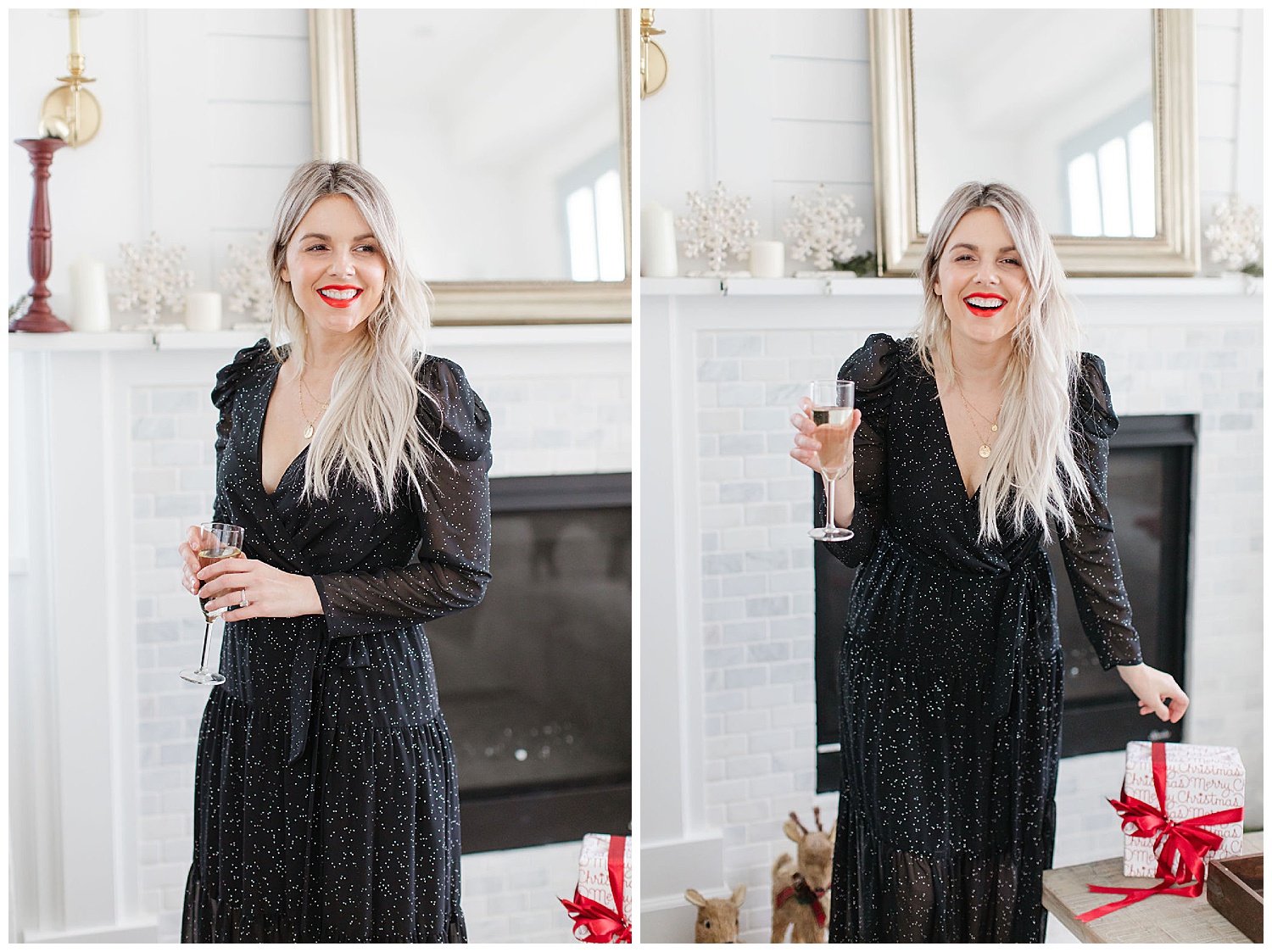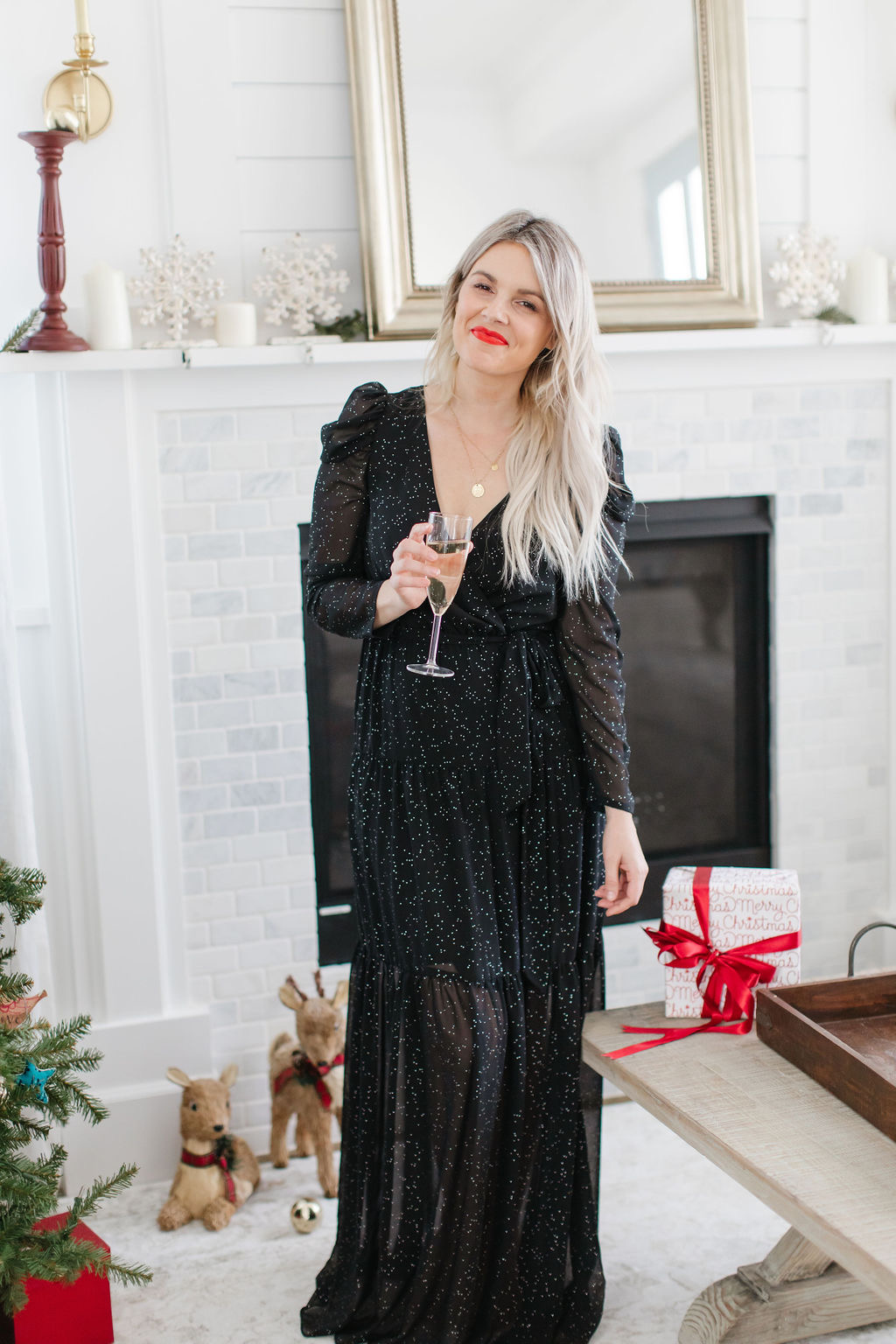 1. ELIZA J CHIFFON MAXI DRESS | 2. CHAMPAGNE FLUTES | 3. LIPSTICK
This lip color is one of my favorites this season. I've had it for quite awhile, but I recently have been constantly grabbing for it. It is such a fun and festive color! I love that it has a brighter red orange hue to it, because I really think that it stands out in all the right ways. It's technically a lipstick pencil (it looks like a crayon), but I apply it the same way that I do normal lipstick.
Mystical Top Paired with Pants & Skirt
The next in my list of my 3 favorite holiday looks is one that I seriously couldn't wait to share with you because it is so unique and I love it. I can honestly say that I think this top is one of the coolest pieces of clothing I've ever owned. The detail is so stunning and I feel like it looks like it's designer. When my mother-in-law saw it she thought it was hundreds of dollars from an expensive designer store. It's just one of those really cool showstopper pieces that will leave people talking and you get so many compliments on.
It has the most gorgeous celestial and mystical detailshttp://bit.ly/2RzT0w9 that are embroidered into it. I love the neckline – it is pretty high and the details of the shirt almost make it look like you are wearing a necklace! The sleeves are also a bit poofy, in a more dramatic way than the last dress, which is stunning. I'm actually going to show you two different ways to style it, with both a skirt and a pair of my new favorite high-waisted black pants (they really might be one of my most favorite pants of all time).
Underneath it, I am wearing a simple black bralette. You might even have one in your closet that works with it, because I feel like any could do! This one is great because it is super affordable and has a great cut to it. I really like that it has a wider band, as opposed to some bralettes that have a super thin band!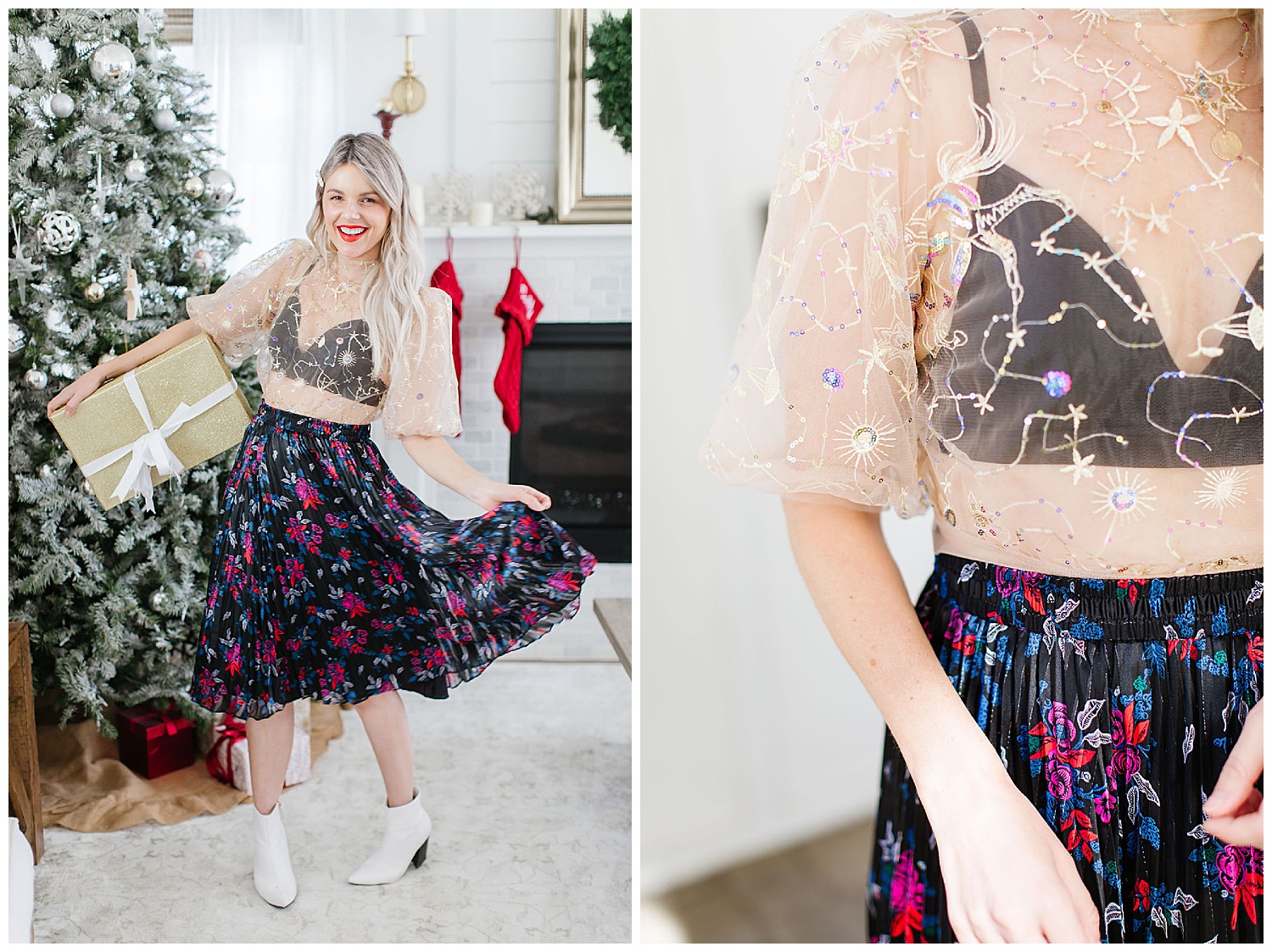 1. MYSTICAL SEQUIN TOP | 2. BRALETTE | 3. SKIRT | 4. SIMILAR BOOTIES
The skirt has so many details going on, and I think that's what really makes it perfect for this look. It has a sheer floral layer over a black lining, that makes it so beautiful when it flows. The pleats make the skirt look sophisticated and expensive, and the elastic around the top makes the skirt so comfortable. I also love that the elastic is not just simple, but it almost looks like it has a pattern to it with the way that it is ruched.
When I paired the top with this skirt, I thought that it pairs perfectly together, but is also unique and different! If you were going to a party, you definitely would be the only one wearing it, and would definitely not have to worry about someone else wearing the same thing!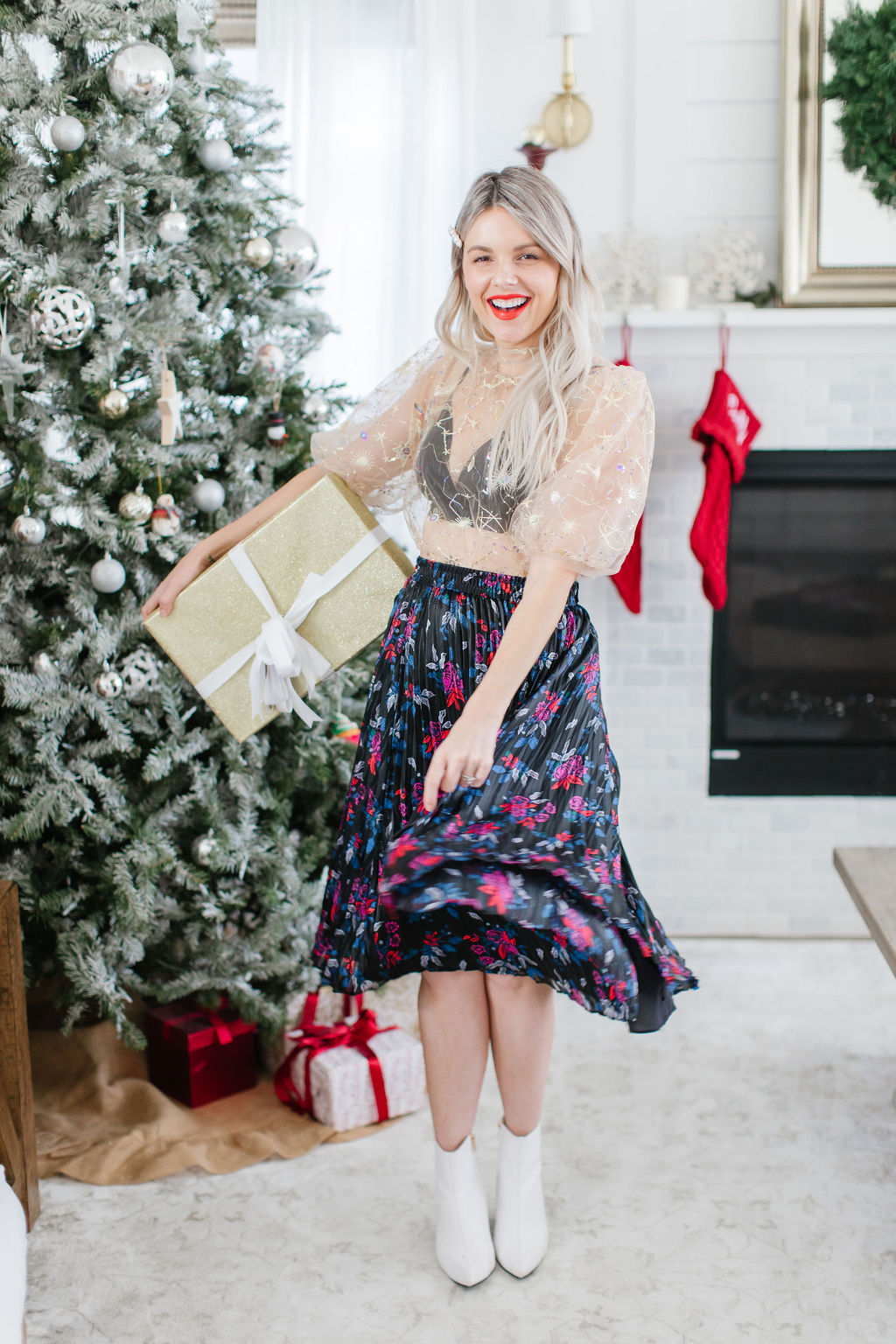 Now onto white booties. Maybe they've always been popular, but I feel like this year they have gotten even more popular and I definitely love it! You can wear them with so many different outfits and for so many occasions. You can dress them up like I did here, or dress them down with some jeans for a brunch or night out. I love them! I've linked a handful of similar ones here at all different price points for you!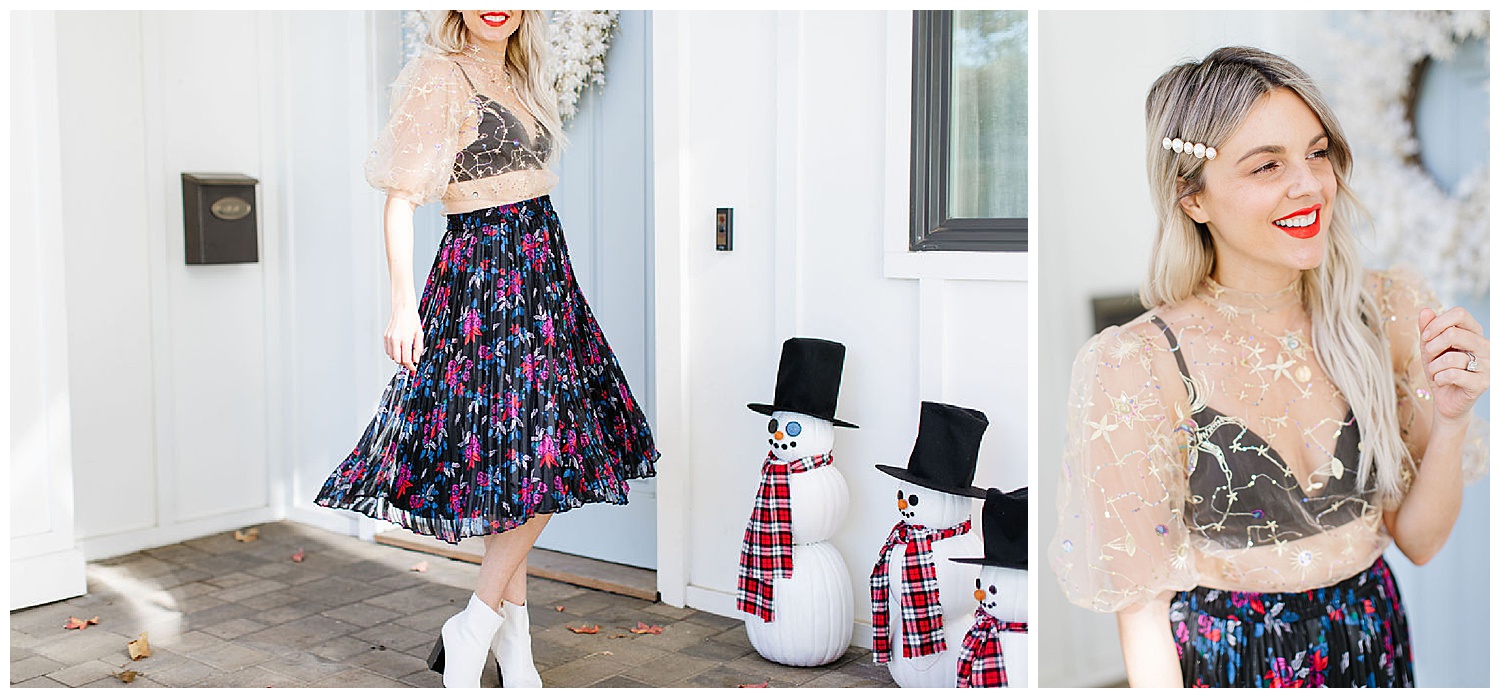 1. MYSTICAL SEQUIN TOP | 2. BRALETTE | 3. SKIRT | 4. SIMILAR BOOTIES
For this next look, all I did was change my pants and shoes. I showed these pants to you recently, and can honestly say that they are definitely in the list of my top favorite pairs of pants of all time. They are so comfortable, flattering and amazing. The top of them is stretchy and truly comfortable. I can't recommend them enough!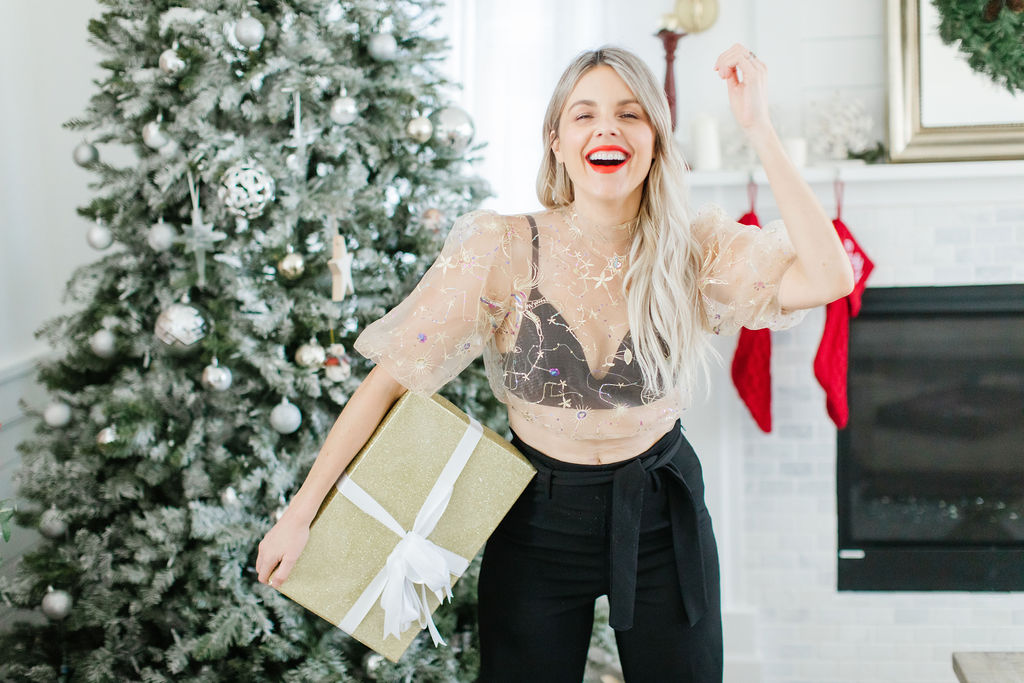 1. MYSTICAL SEQUIN TOP | 2. BRALETTE | 3. HIGH-WAISTED PANTS | 4. STRAPPY HEELS
The heels that I added to this outfit are simple, and might even be a pair that you have already. I love them! There's not a ton to say other than everyone needs a pair of them in their closet!
So, the pants or the skirt – which would you wear? Let's discuss in the comments!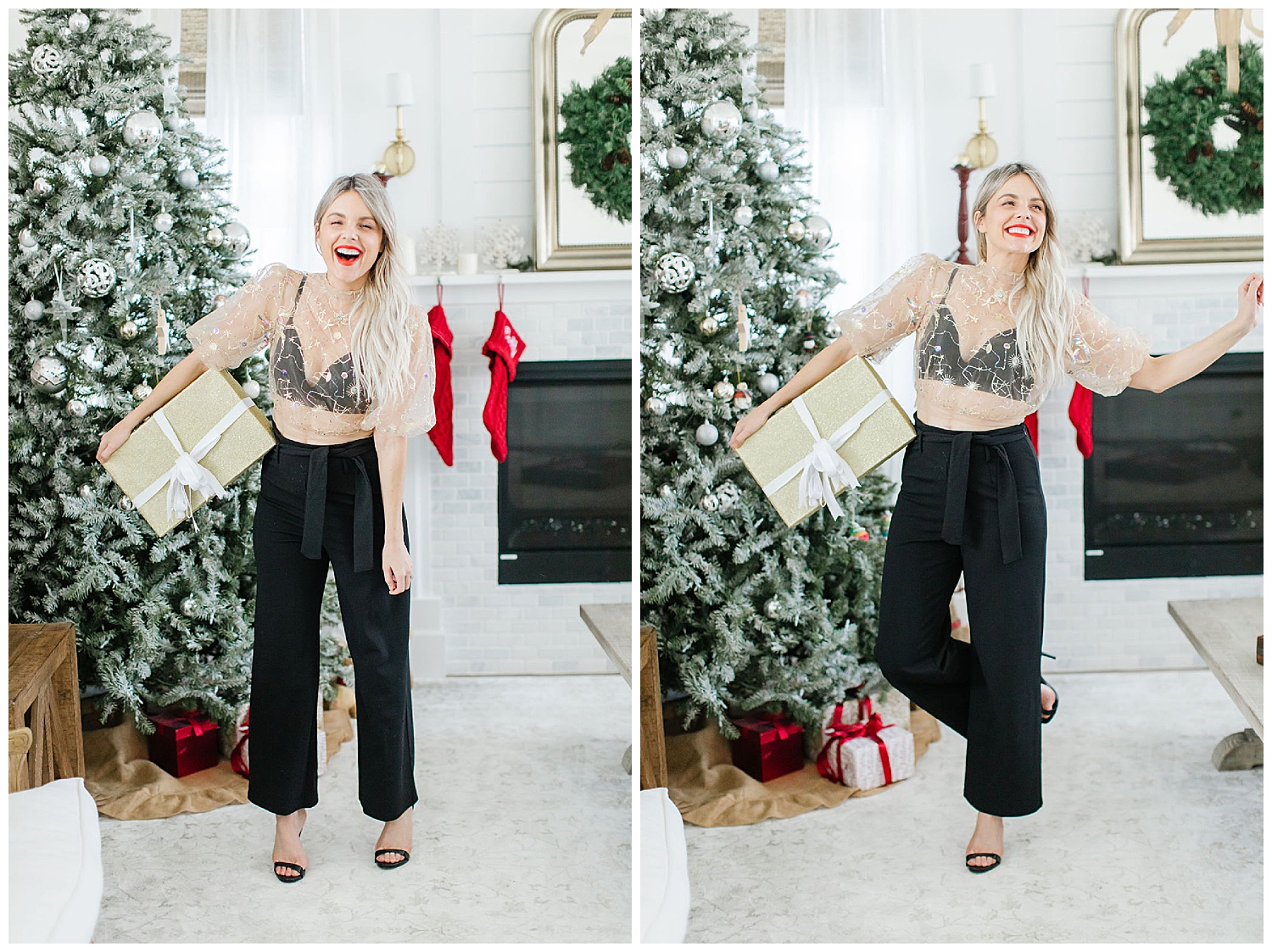 1. MYSTICAL SEQUIN TOP | 2. BRALETTE | 3. HIGH-WAISTED PANTS | 4. STRAPPY HEELS
Red Dress
I'm wearing this dress today for work at Home and Family, so if you watch my stories you will get to see even more views of this beauty!
This dress is so flattering and makes me feel so beautiful when I wear it! It has to be the most flattering fitted dress that I have ever put on. It hugs you in all the right places and is the type of fabric that still allows you to move around comfortably! The details on the sleeves with the little ties are beautiful and it allows for more movement in your elbow than a tightly fitted dress would! I feel like this dress could be worn to a fancy holiday event, or to a work party! It really is versatile!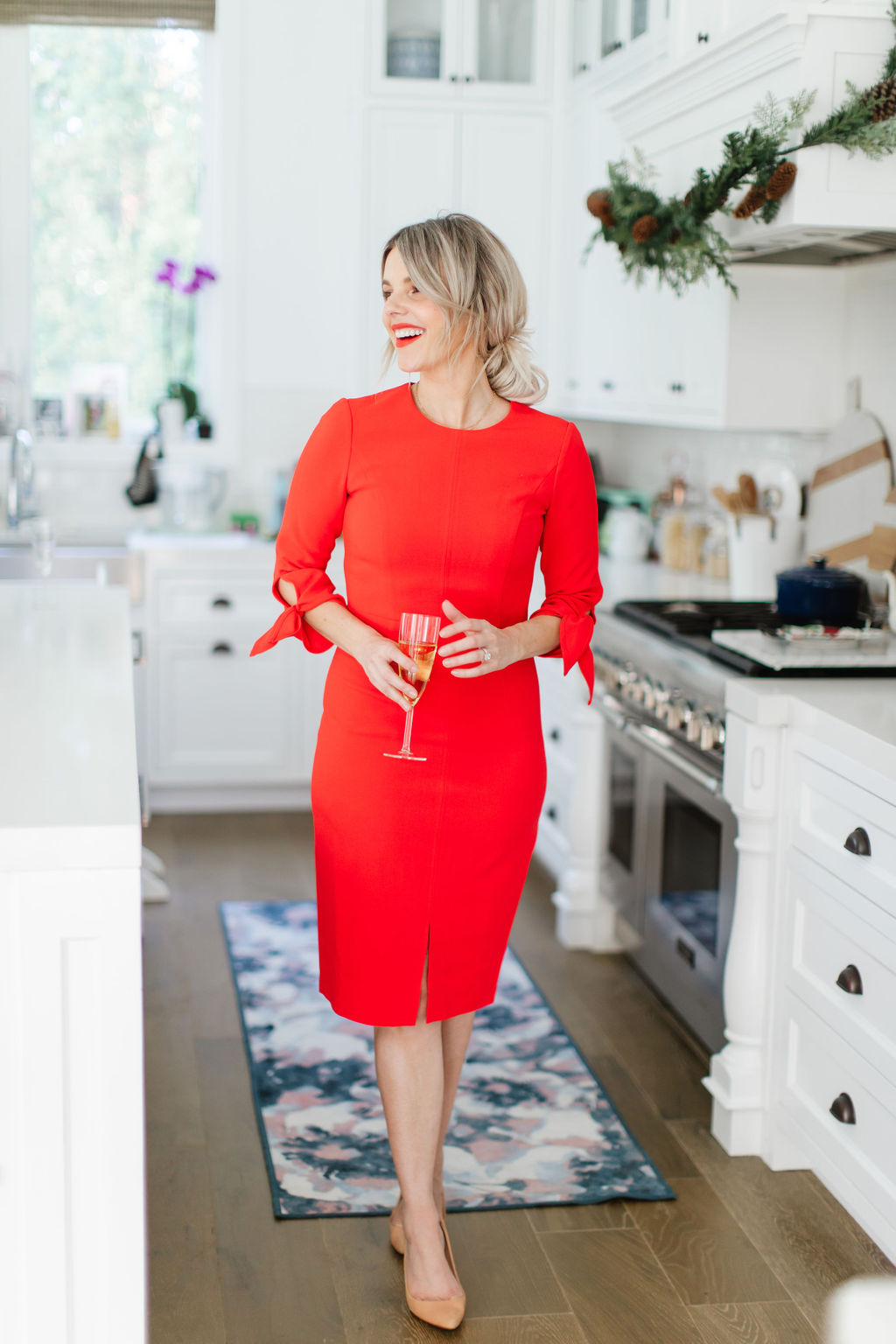 1. RED DRESS | 2. LIP COLOR | 3. NUDE PUMPS | 4. CHAMPAGNE FLUTES
I paired it with some nude pumps! Nude really pairs well with this dress, and nude flats would also be great if you aren't a heels person. I also think that it would be really pretty to wear a pair of sparkly or metallic gold heels if you wanted to make it even more festive!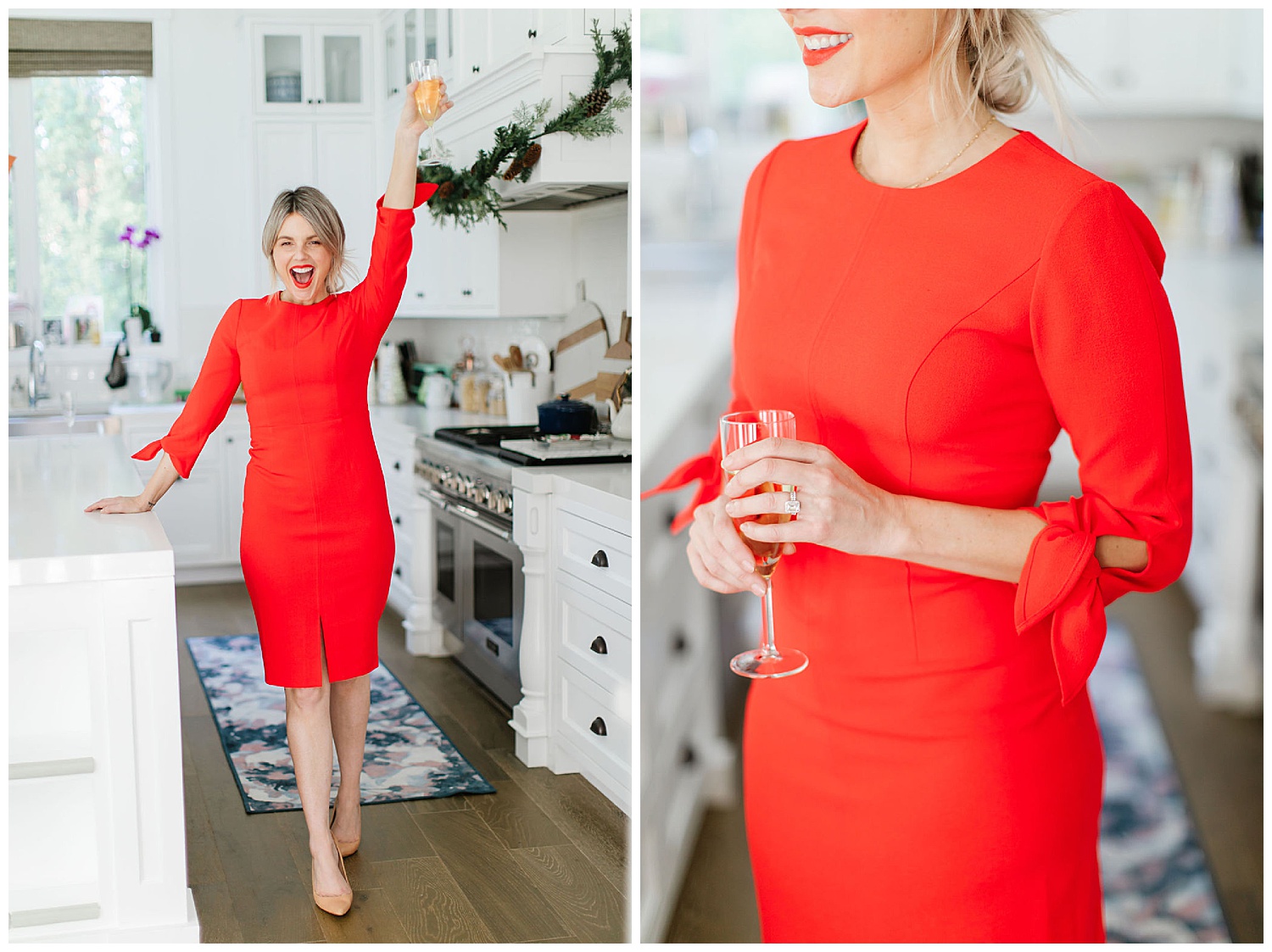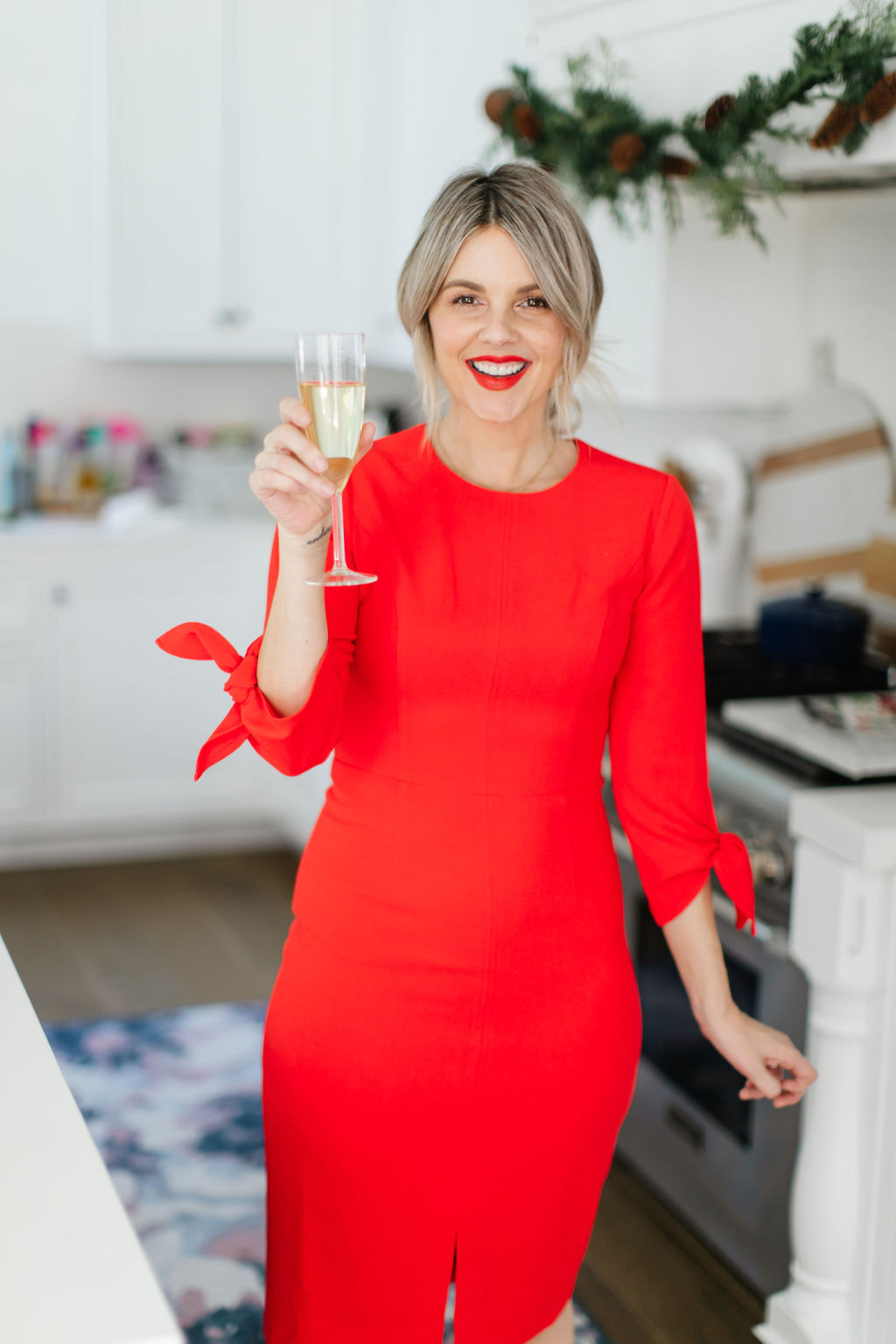 1. RED DRESS | 2. LIP COLOR | 3. NUDE PUMPS | 4. CHAMPAGNE FLUTES
My 3 Favorite Gifts to Give!
Gift 1 – Door Wreaths!
To start off my list of 3 favorite gifts, I thought I would start with this one because I feel like most people wouldn't think of it! Everyone has multiple doors in their house. I love giving wreaths because pretty much no matter what, most people will also have a door to hang it on!  We put them on our front door and also doors inside our house. They can even be hung on the wall! I have this one and love it, and these are all gorgeous too!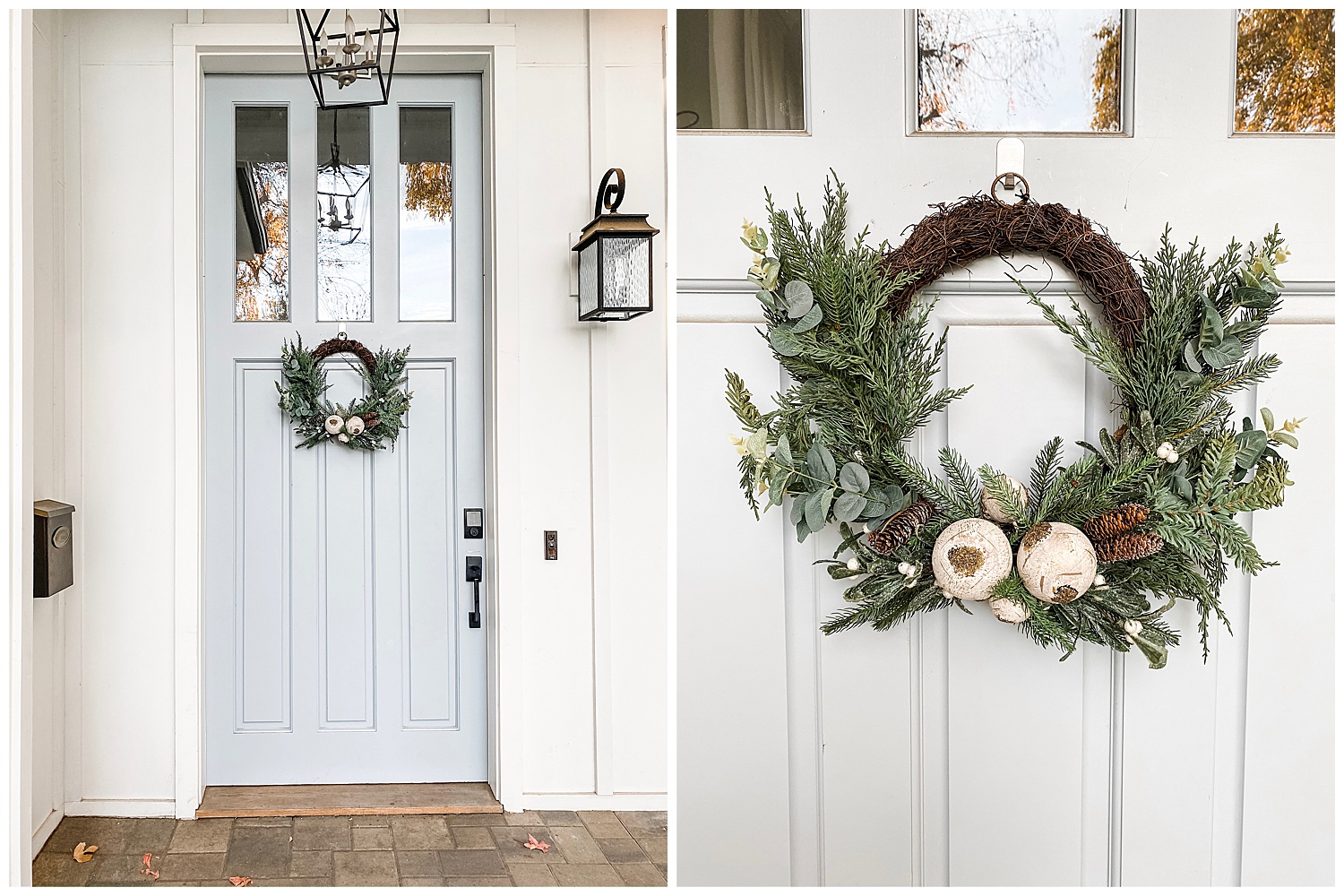 Gift 2 – Beautiful Scarf
Everyone loves a nice luxurious scarf, but we don't spend the money. So a nice scarf is a go-to gift from me! It's something that people love and appreciate so much when it is gifted to them! This one is so cozy and soft and comes in 3 colors. It seriously feels like a cozy blanket! It comes in 3 colors, blush, ivory and black – which means that you can choose whichever color matches the style of the person that you're giving it to!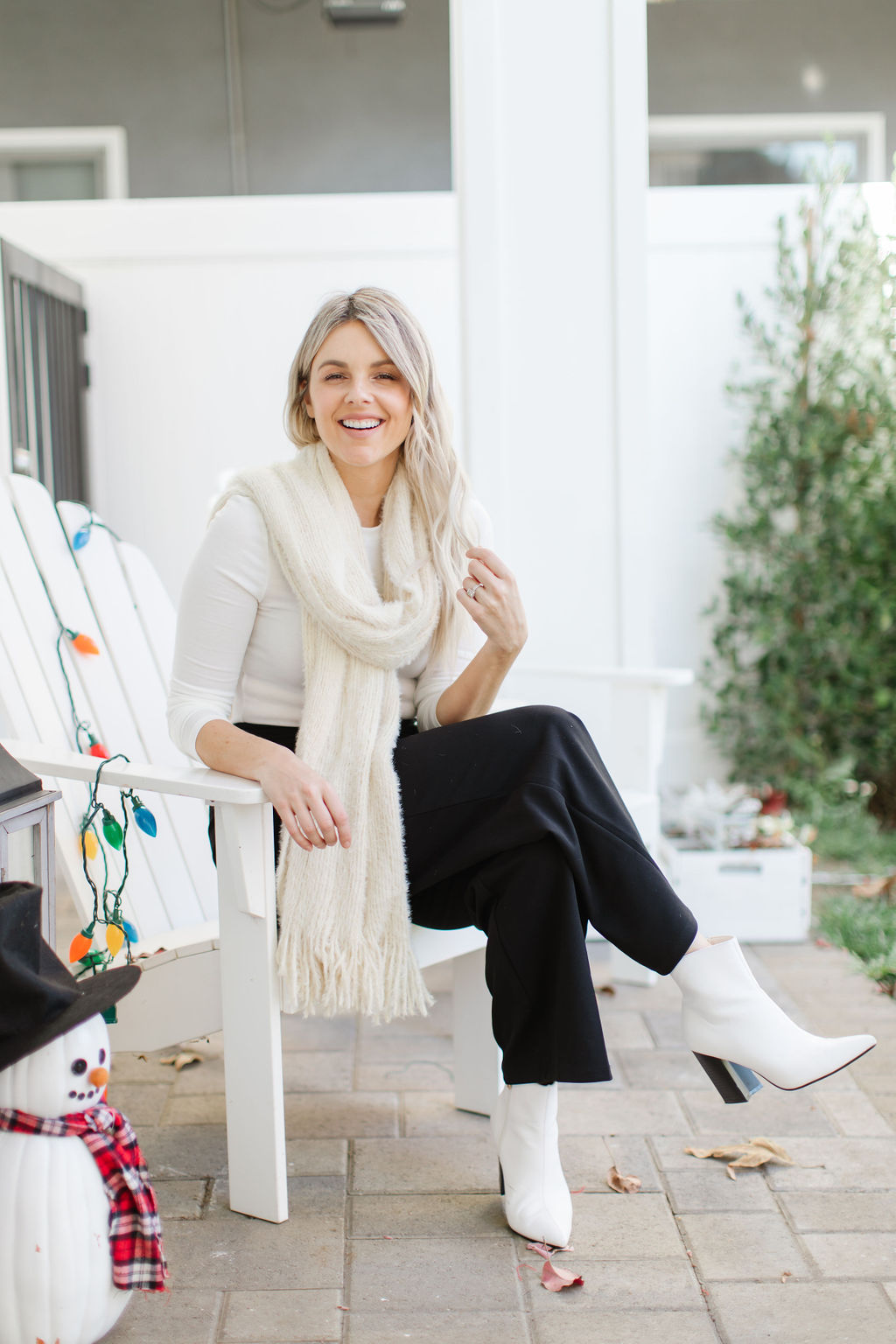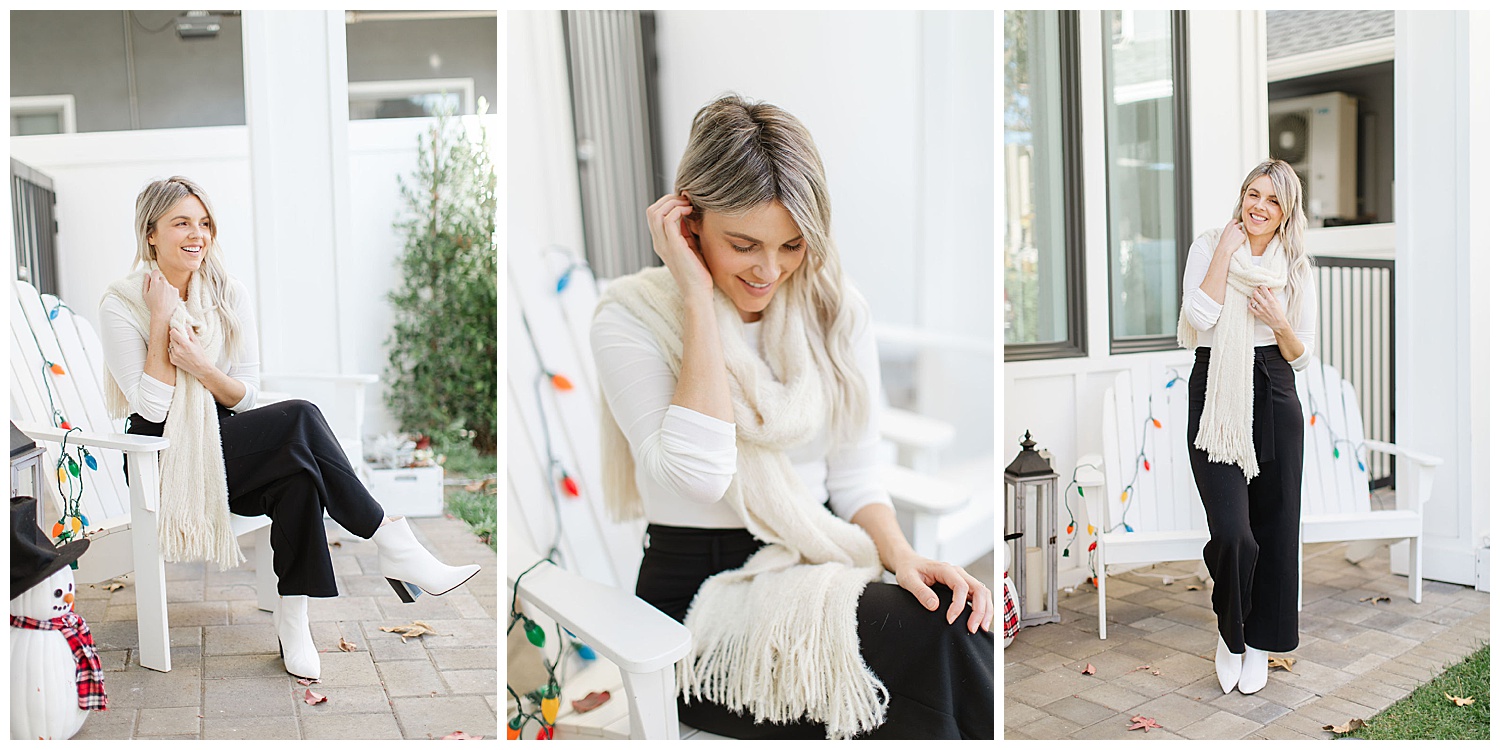 1. SCARF | 2. HIGH-WAISTED PANTS | 3. WHITE TOP
Gift 3 – Monogrammed Mug

 1. FLORAL MUG | 2. BISTRO MUG | 3. SWEATER
Kevin's mom gave me and Kevin mugs with our initials on them when we visited for one holiday and I thought it was such a sweet gift because now every time we go to her house, they are there waiting for us to have our coffee out of. We seriously love it, and now we collect monogrammed letter cups at our house too. If your guests don't come frequently, you can send them home with the mug after their stay with you. But it's something nice for them to use while they are at your house and then to take home. Ever since Kevin's mom did this for us, I do it for my guest now too! AND it such an QUICK and EASY personalized gift. Here's the link to one that I have and love, and here's the link for a great one for men!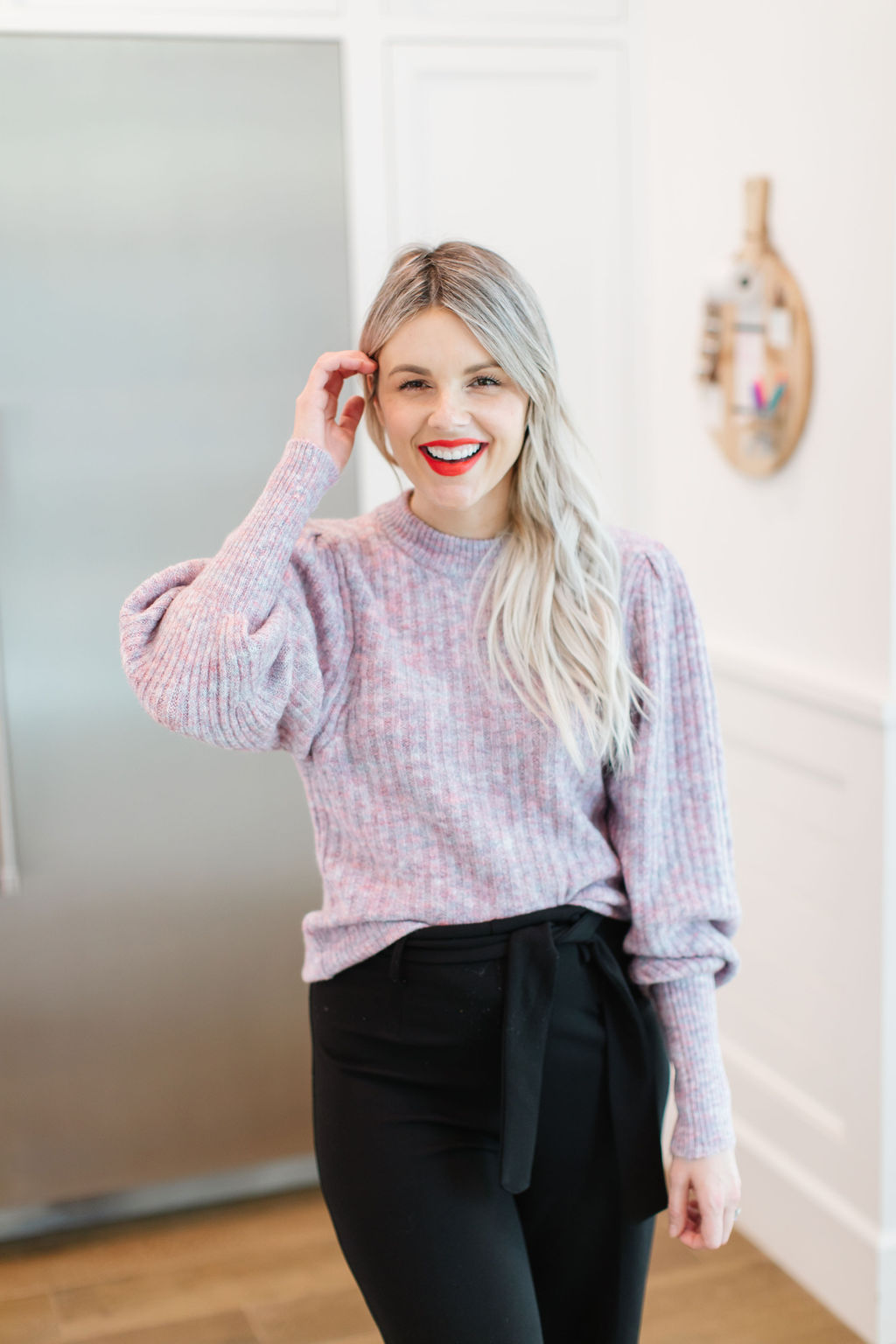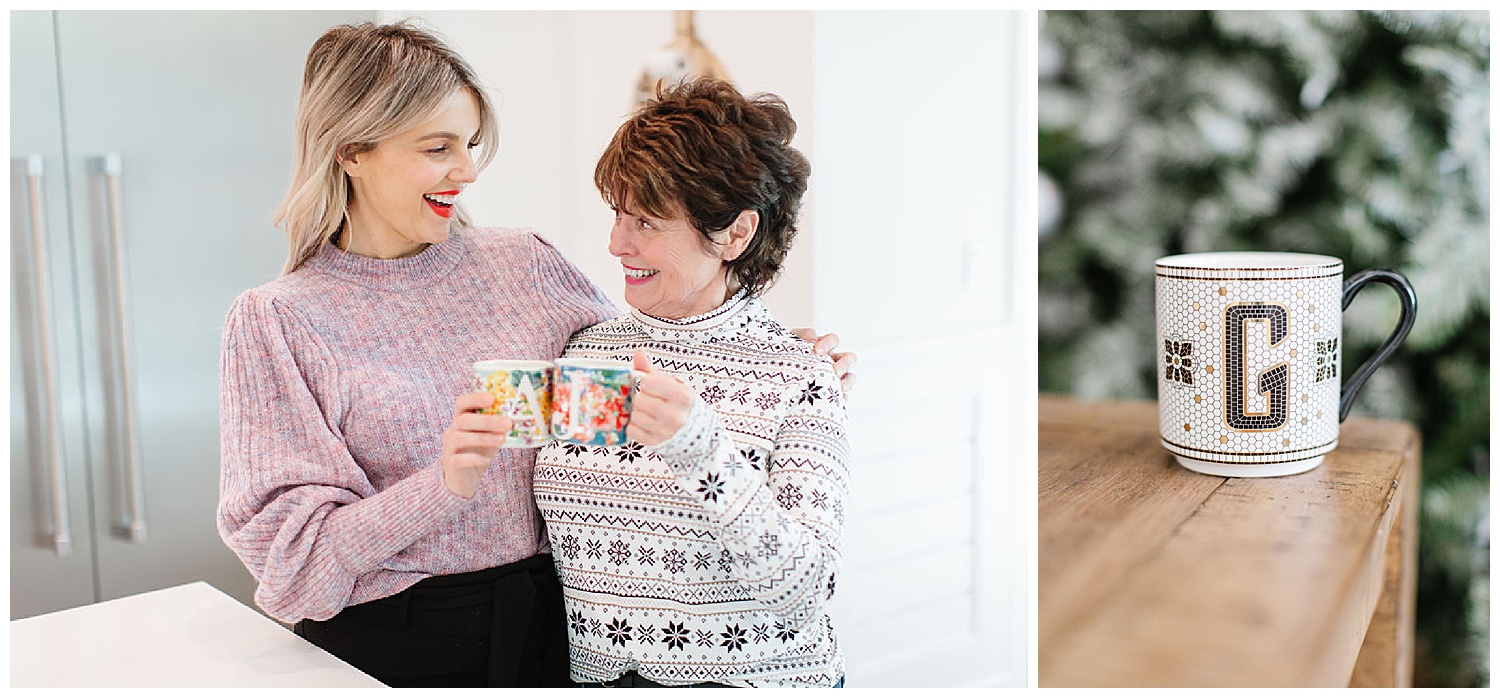 1. FLORAL MUG | 2. BISTRO MUG | 3. SWEATER
Bonus Gift Idea – A Great Sweater and/or Cardigan
I just thought of this bonus idea as I was finishing up the post! A sweater or a cardigan!!! It is so easy to figure out fit especially if it's a cardigan and EVERYONE can use an extra cardigan. A lot of them are roomy, so even if you are just guessing on the sizes, it's pretty probably that it will be perfect! My recommendation would be to just stick with neutral colors. Not everyone might want a pink or red one. Plus, then they can wear their neutral colored sweater much more often, because I bet it will go with a ton of outfits in their closet!
This black one is simple, comfortable and goes with everything! I know this photo is kinda random haha, but it was the only pic that I had handy when I thought to add this to the post! It's great and it comes in a ton of neutral colors! Like oatmeal heather, the black, and two different greys.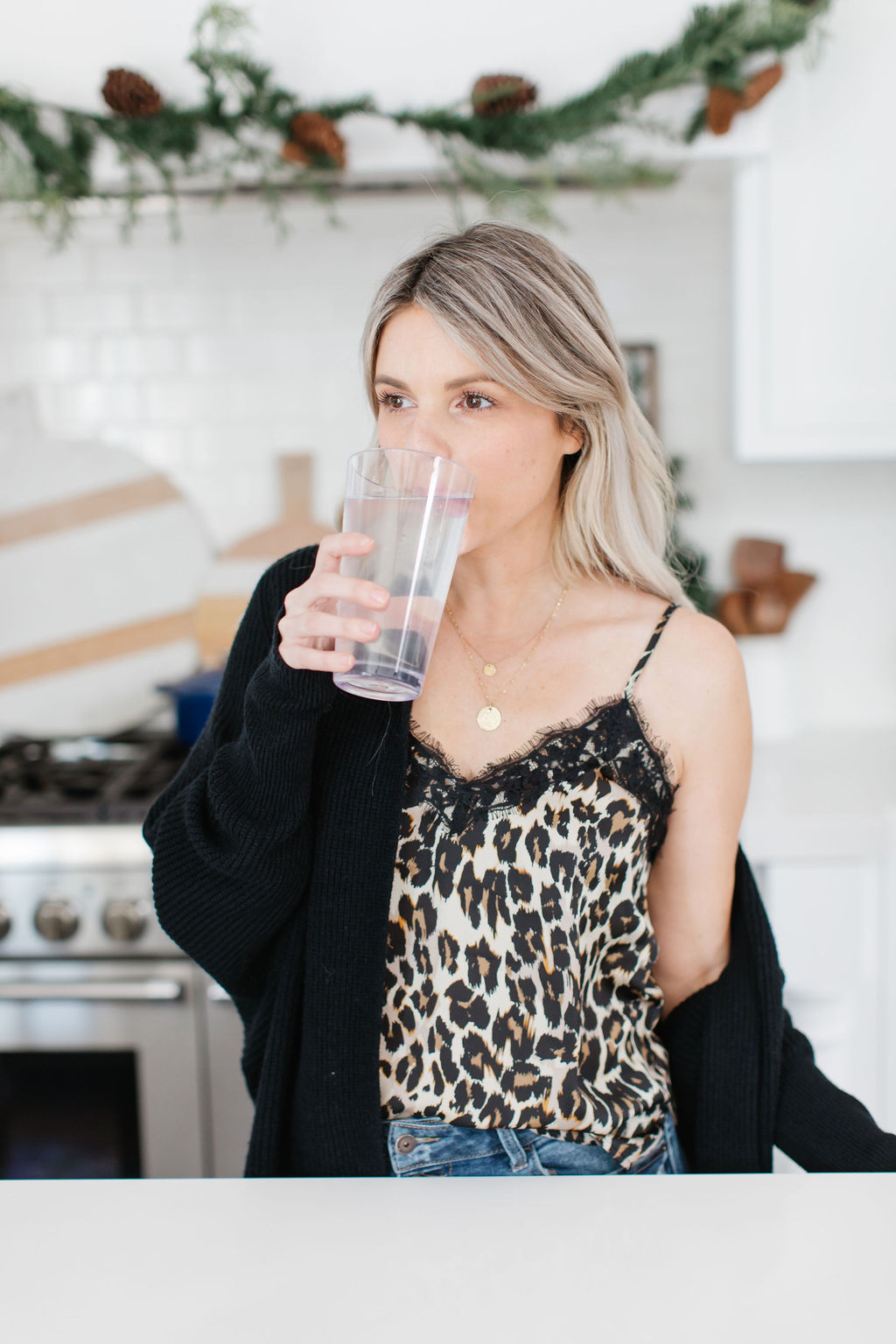 1. CARDIGAN | 2. LEOPARD CAMISOLE TANK
Happy Holidays!
Okay that's it for my 3 favorite outfits and 3 favorite gifts to give for the holidays! I really hope this helps you on your final quest as the holidays rapidly approach us! I am so excited for the holidays this year. If your outfits are already planned out, show me! I'd love to see and get some more ideas for myself! Are there any other gifts you still need? Let me know! I might be able to do one more gift guide with any last minute items!
Thank you Nordstrom for sponsoring this post!!!