Hey Guys! Happy Cyber Monday! The Cyber Monday deals are BETTER than Black Friday this year, and now that you are all at work and most likely sitting at your computer ready to shop (I won't tell your boss. Ha!), I wanted to round up the sales again, and update them with the latest info! Plus, I linked a few more things that I own that I found photos of me wearing that are part of the sales. You can just click the name of the store below and it will take you exactly where you need to go to shop the sale!
And like I mentioned in my Black Friday post, I did an entire category on my blog dedicated to Gift Guides!! And a lot of the items are on sale so I would check out the posts when you have a minute. There are a gifts for everyone, great gifts for kiddos, one for gifts under $25, holiday decor, and even a big master list post with a ton of my favorites! And I think there are some unique gifts so definitely check it out.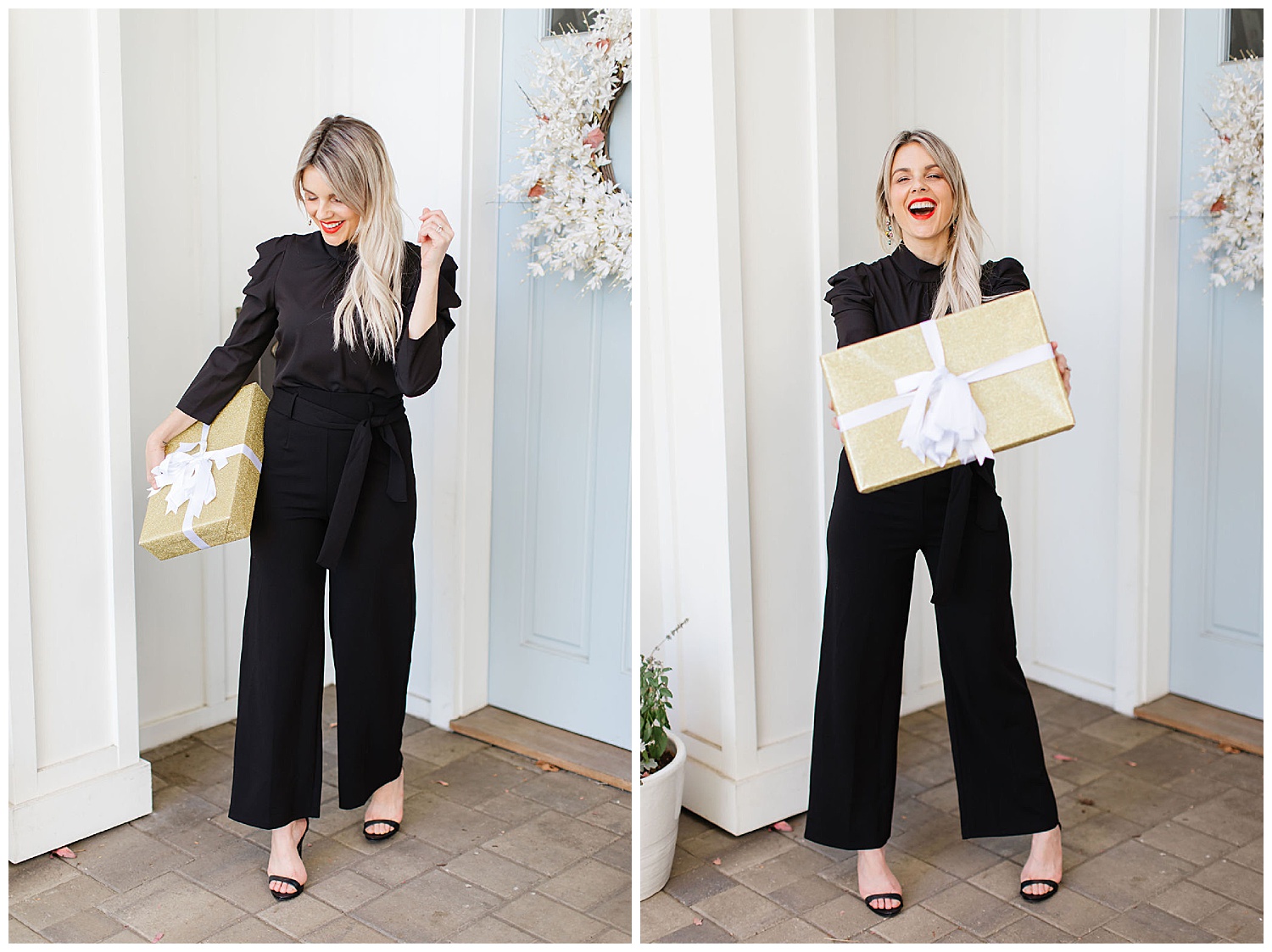 Gift Card Giveaway Winner!
Congrats to @jodubz and @elehyouareeh. You guys won my $50 gift card giveaway!!!! I will be DM'ing you both to send you for cash! Yay! And keep reading because I am announcing my November "Thank You" giveaway winners at the end of this post!!!! This month was a GOOD one!!!!!
2019 Cyber Monday Deals
AMAZON – Amazon has an echo show for under $50!!!! And a 50″ 4k Samsung TV for under $350. You can even get a virtual reality headset, how cool is that?!?! That would be an amazing gift!!!!

AERIE – You can still get 40% off everything PLUS free shipping! The PJ's bottoms I am wearing in this pic are on sale for 40% off and are only $20!!!!!! They are TTS and DON'T shrink in the wash. They also come in short and long sizes to fit every height perfectly! Plus I just love this brand because of their body positivity message. But today they also have 50% off sweater so you can get my cute oversized sweater below for under $30! Sweatshirts and leggings are 50% off, too!

AMERICAN EAGLE – My sweater below (and all sweater s on the site) is now 50% off!!!!!!! It was only 40% OFF ON FRIDAY. And the rest of the store is still 40%! The slouchy sweater that I am wearing in the photo below is from there! It is legit one of my favorite sweaters ever! It's on sale for only $19, which is INSANE!!! In the photo, I am also wearing these amazing, comfortable and flattering high-waisted black pants from Nordstrom. They are such a good price! And a $9 pair of flats from Walmart!!!!!! Yup,$9!!!!!

ANN TAYLOR – 50% off everything on the site with code CYBER
ANTHROPOLOGIE – 30% off EVERYTHING!!!! This is one of the nicest stores of all time in my opinion. I have wanted this mirror FOREVER! Now might be the time to buy it. Don't be confused though because you don't see the sale prices until the items are in your cart! Check out their gifts page for all the CUTEST gift ideas

ASOS – 30% off everything with code BIG30.
BANANA REPUBLIC – 50% off the entire store!!!!!

BAUBLEBAR –  35% off everything! How CUTE are these holiday light earrings?!?!. They also have a bunch of other cute holiday jewelry this year! They are offering 15% off custom pieces, and their best-selling Alidia Rings are only $12!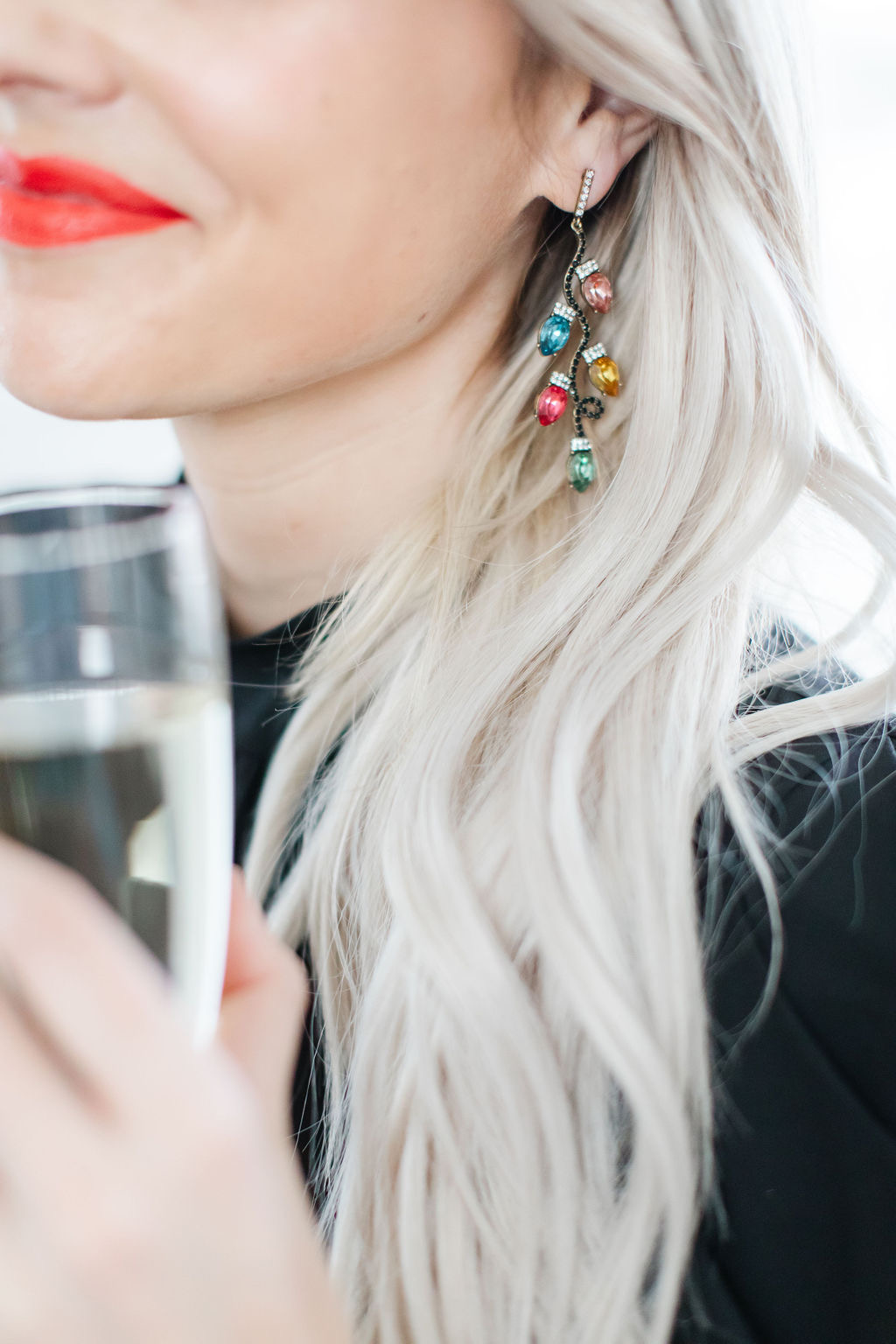 BOOHOO – They have the cutest clothes and everything is 30% off right now. Such great holiday and NYE dresses! And look at how gorgeous this plus sized dress is for only $36!!!!
All the dresses below are $18 or less!!!!

And these ones would all be so great for NYE!

CRATE & BARREL – My wine glasses are on sale!!!!! Yay! The entire site is 20%-30% off!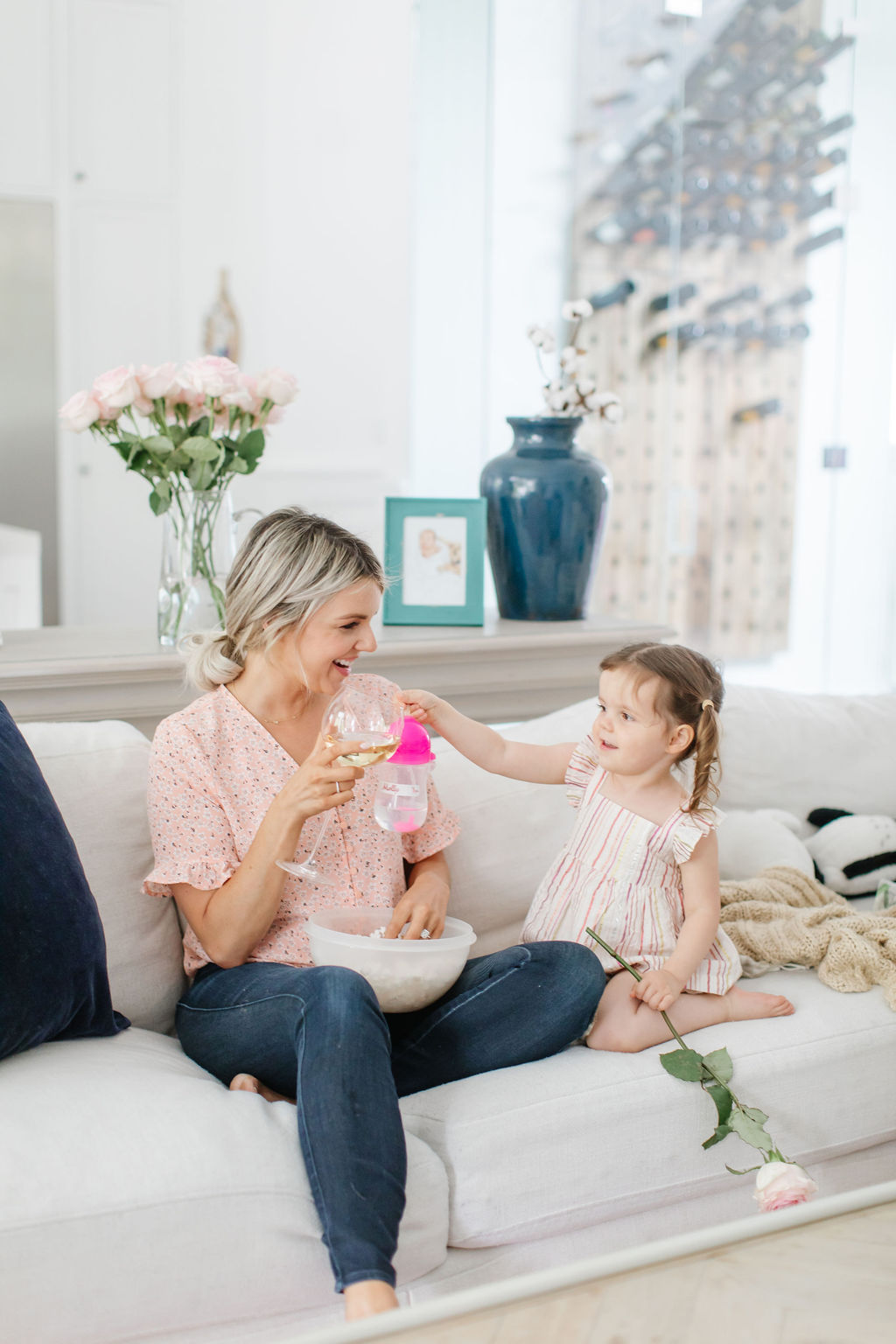 1. FLORAL TOP | 2. MOLLY'S TOP | 3. LONG STEM WINE GLASS | 4. COUCH | 5. GLASS WATER PITCHER/VASE | 6. PILLOW
DSW – 30% off EVERYTHING and a free tote. Heck yes for shoe shopping.

EBAY – You guys know that I am obsessed with eBay. Their prices are insane! Definitely check out their deals

EXPRESS – Entire site is 50% off plus free shipping! My entire outfit below is from Express. The pants are a best seller of theirs and they are STILL in stock! It's one of those items they always have cause it sells so well.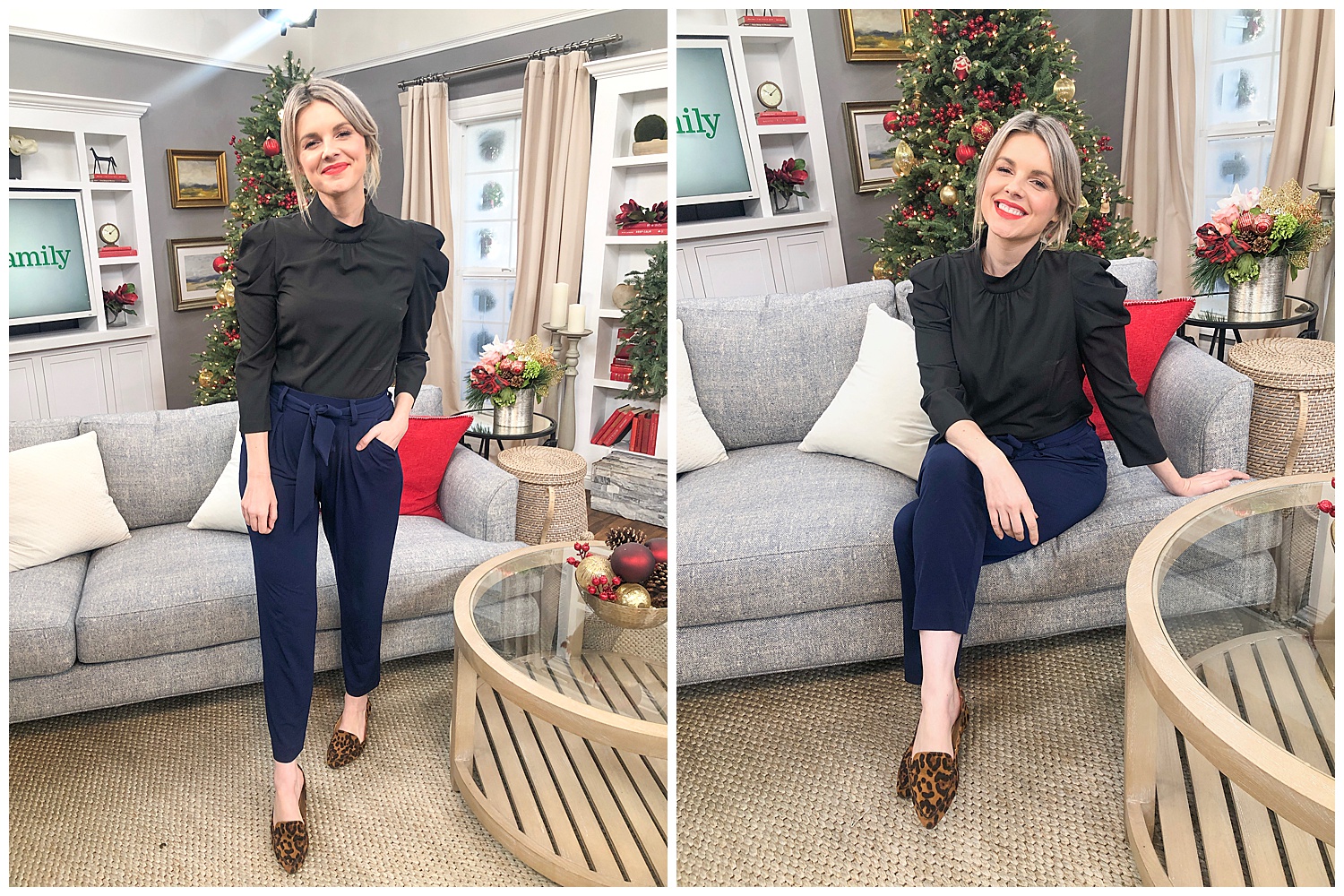 1. NAVY PANTS | 2. HIGH NECK TOP | 3. $9 LEOPARD FLATS
FOREVER 21 –  40% off everything with code GOWILD!!!!!! I don't even know how this is possible because they already have such great deals. My Ramen shirt from there is the perfect gift for any Ramen overs out there! Ha!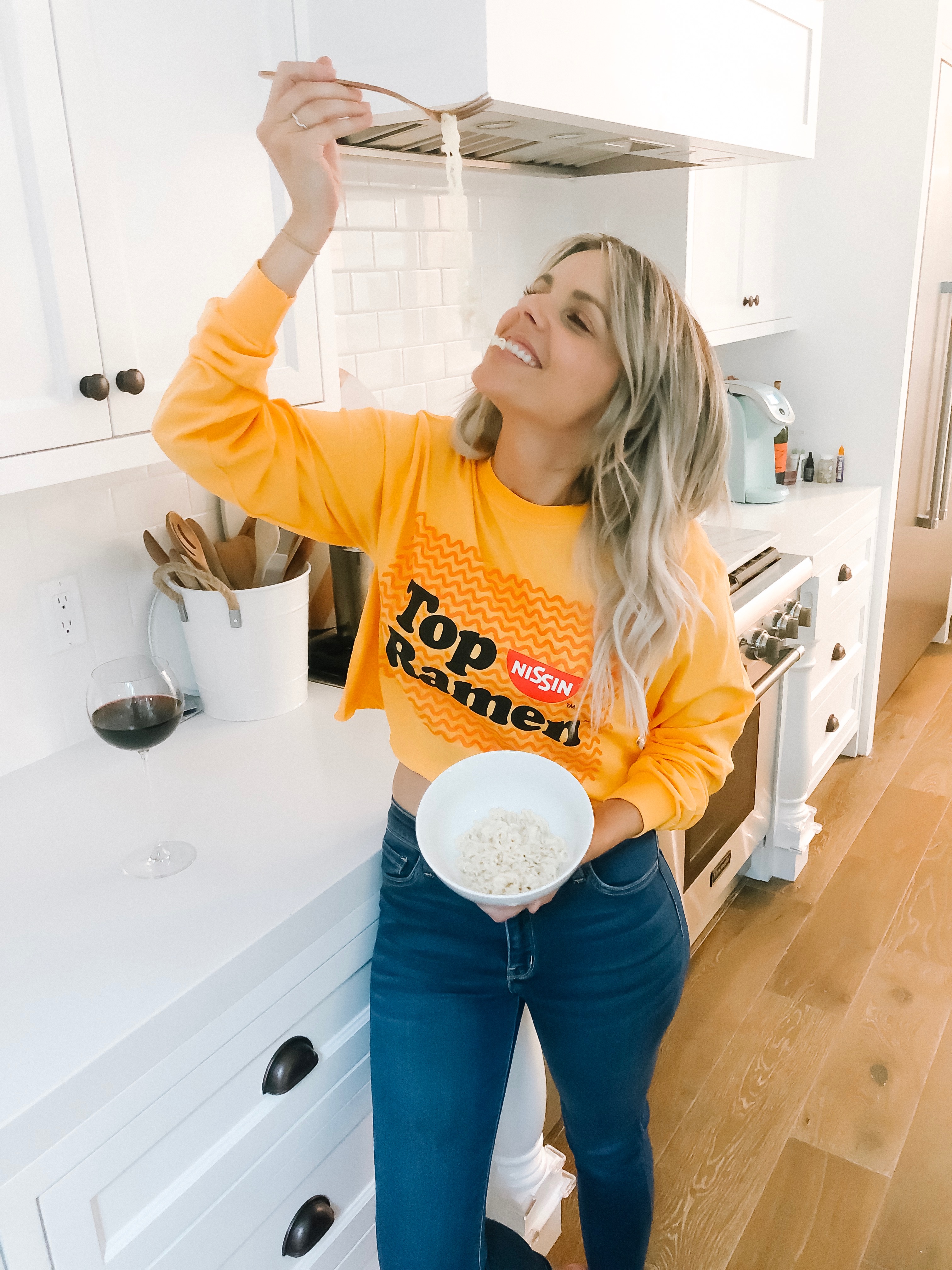 1. RAMEN SHIRT | 2. JEANS | 3. OLIVIA POPE WINE GLASS
GAP – Entire site is 50% off, plus an additional 10% off! They seriously have such great clothes for any member of your family. Molly and Riley's closets are filled with clothes from them! Molly's outfit below is entirely from GAP. Use code GAPCYBER and code GOBIG
GOODNIGHT MACAROON – 30% off the entire site with code Cyber30, and if you spend more you will save more with codes GIVING40 ($250+) and GIVING50 ($450+)

Below are some great items included in the sale!! Love that Goodnight Macaroon includes so many images from bloggers and influencers that they work with!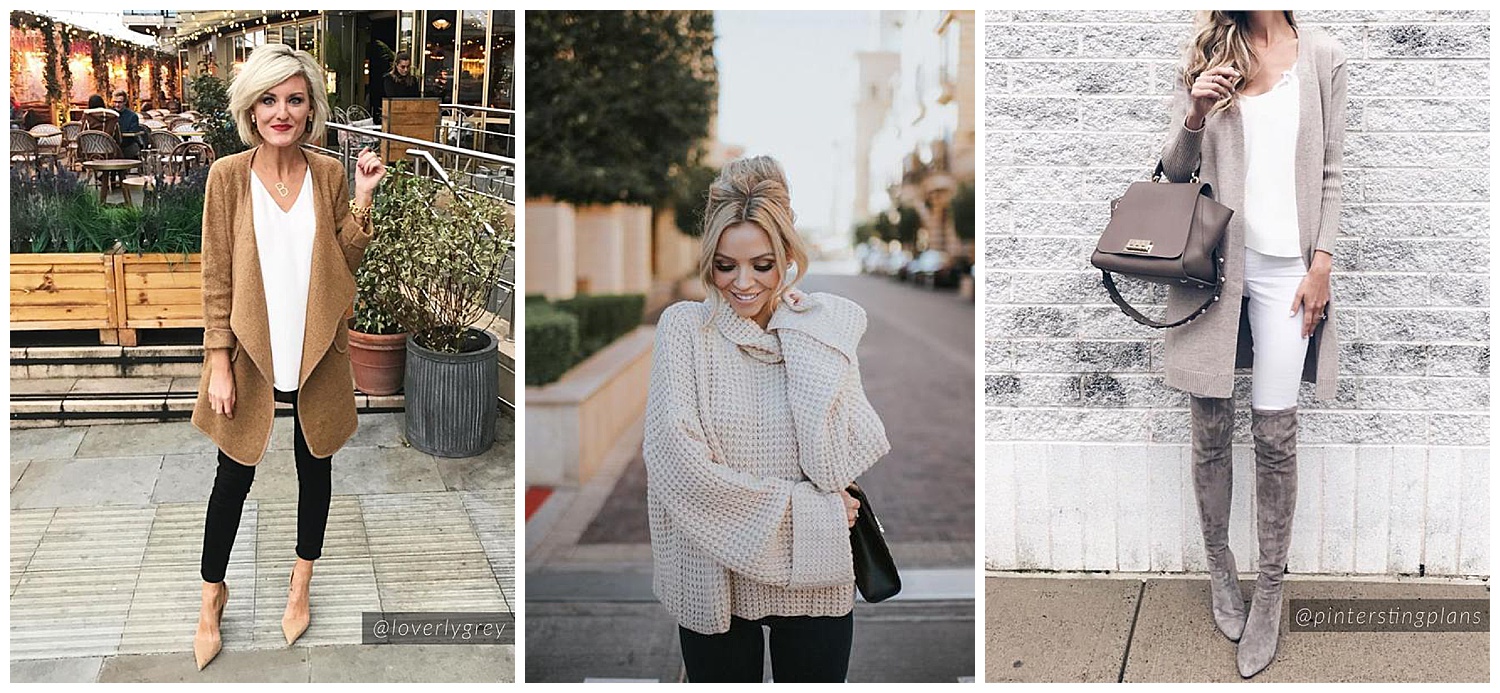 1. KNIT WRAPPED CARDIGAN | 2. RIBBED CROPPED TURTLENECK | 3. OPEN WRAP CARDIGAN
GUESS – 40-60% off their entire site, with free shipping!

H&M – 30% off everything plus free shipping!!!!
JCREW – 50% off the entire store, both in-store and online. Use code MONDAY
JOSS & MAIN – Up to 80% off. I love this site! They are sub-company of Wayfair and have great pieces for your home! They have crazy good deals on Christmas trees if you haven't gotten one yet.
KOHLS – I finally decided on this comforter for Molly's bed! I linked the sheet we got from Pottery Barn Teen below. Her bed is going to look sooooo cute!!! Everything is basically on sale and I got it an extra 20% off with code GOSHOP20.

LEVI'S – 40% off their entire website with code INDIGO. I love their jeans, they are so comfortable and seriously last forever. I think some of the pairs in my closet are over 10 years old! How cute is this throwback pic of me, Kevin and Molly all in our Levi's gear. My jacket is still available and soooo good!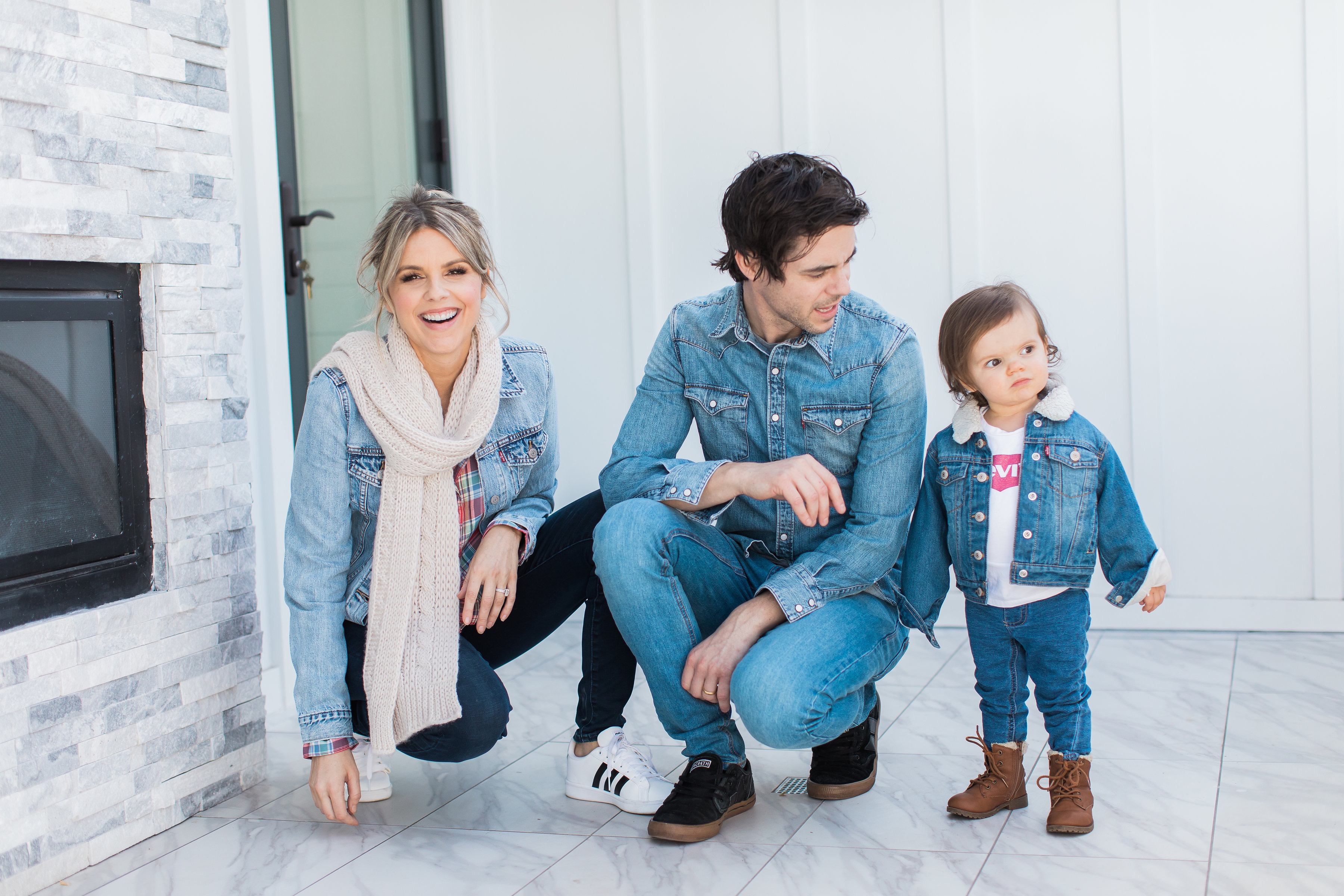 SCARF | 2. JEAN JACKET | 3. FLANNEL | 4. HIGH WAISTED JEANS | 5. MOLLY'S JACKET | 6. MOLLY'S TEE
MACYS – A ton of doorbusters to check out.
MADEWELL – The ENTIRE site is 30% off! Plus an extra 10% off. I am obsessed with their jeans, especially these high waisted ones!

NORDSTROM – You guys know Nordstrom is my favorite and they have SUCH great sales right now!!! Check out all the sales HERE. The spanx faux leather leggings below that I have styles two different way are part of the sale!

My favorite white tee EVER is on sale for $13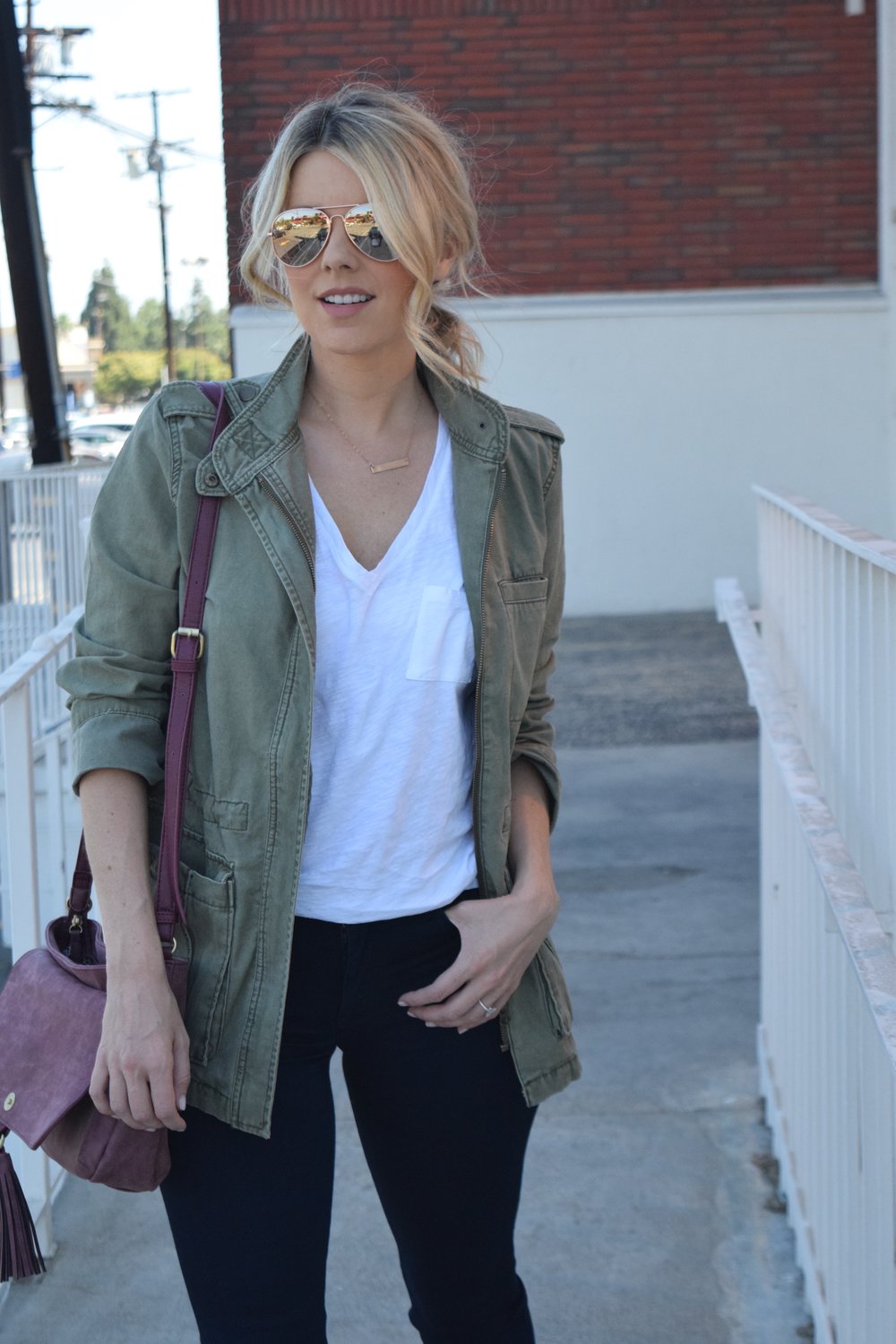 And this sweater is $39. It's not a sweater dress but it's long enough to wear as one! I'm 5″7′. It's great to wear with legging to cover your booty and hips! I have it in blush and gray.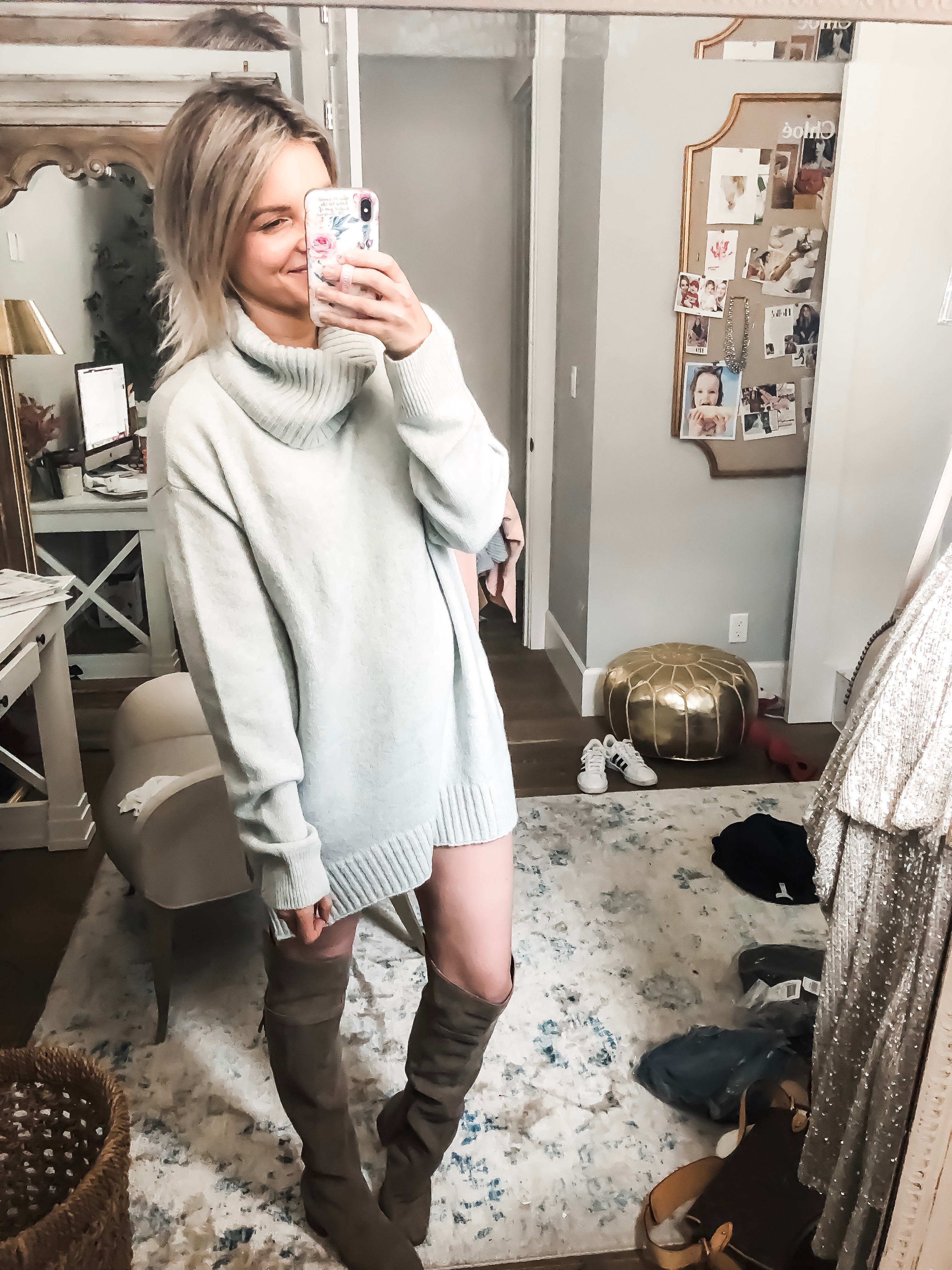 OLD NAVY – 50% off EVERYTHING!!
POTTERY BARN – 25% off everything with code CYBER!!! I recently bought these linen shams and comforter in flax for our bed. So pretty!!!!!! I'm putting this in big print again (I didn't fo my Black Friday post too) because I LOOOOVE them and want you guys to see they are on sale!!!!

POTTERY BARN KIDS – 25% off everything with cope UNWRAP. We bought Molly's big girl bed from here! In fact, I am kicking myself that I didn't think it wait to buy it until all these sales started. Ha! Oh well. The most important thing it's on major sale now if YOU GUYS want to buy it. I don't have good pics yet (only the messy bed pic below) because I am waited for her bedding to come in. I just bought these ruffle sheet from PB Teen. What comforter should I get? Put link below in the comments of ones you love and help me choose! I also bought the universal guardrail.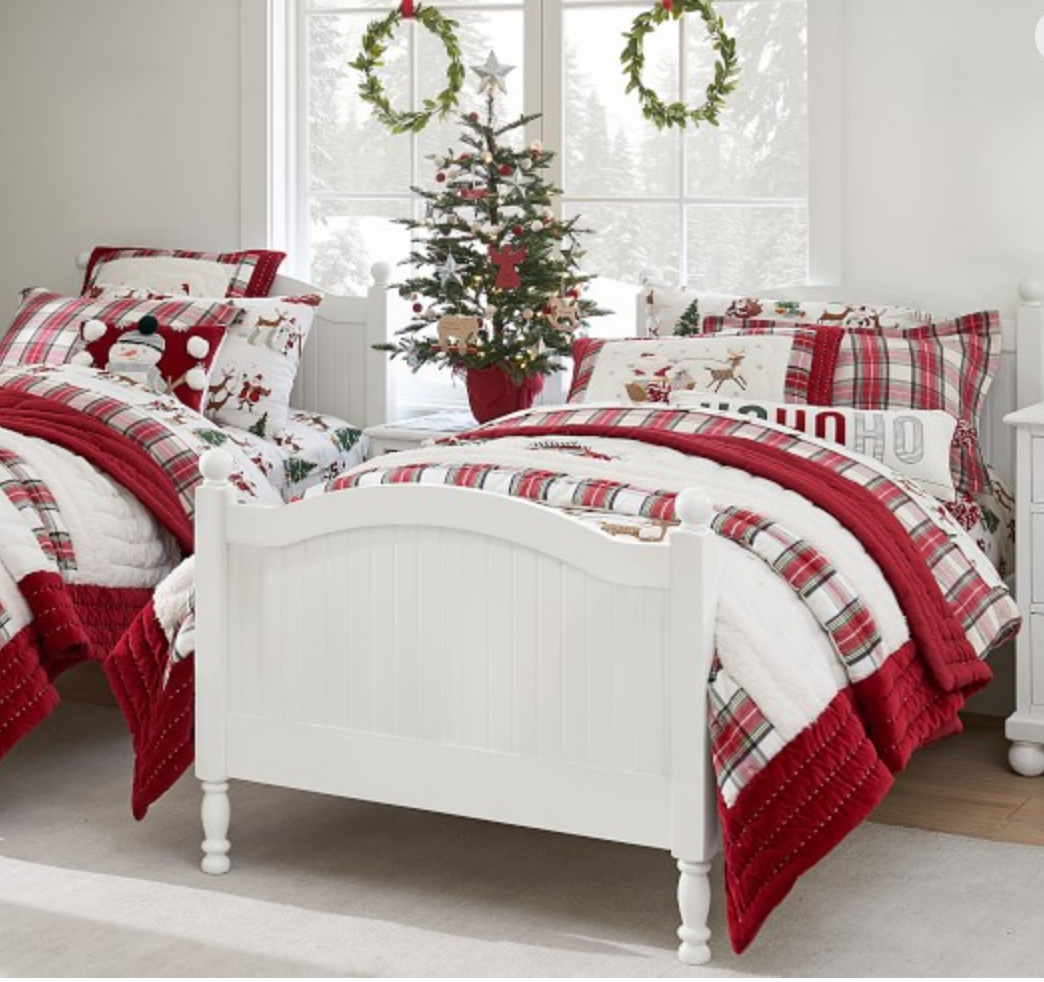 RACHEL PALLY – I LOVE her stuff. I got all my dresses for my maternity shoots (see one below) from Rachel Pally, and recently came out with the most gorgeous dresses ever! Everything on the site is now 25% off with code ENJOY25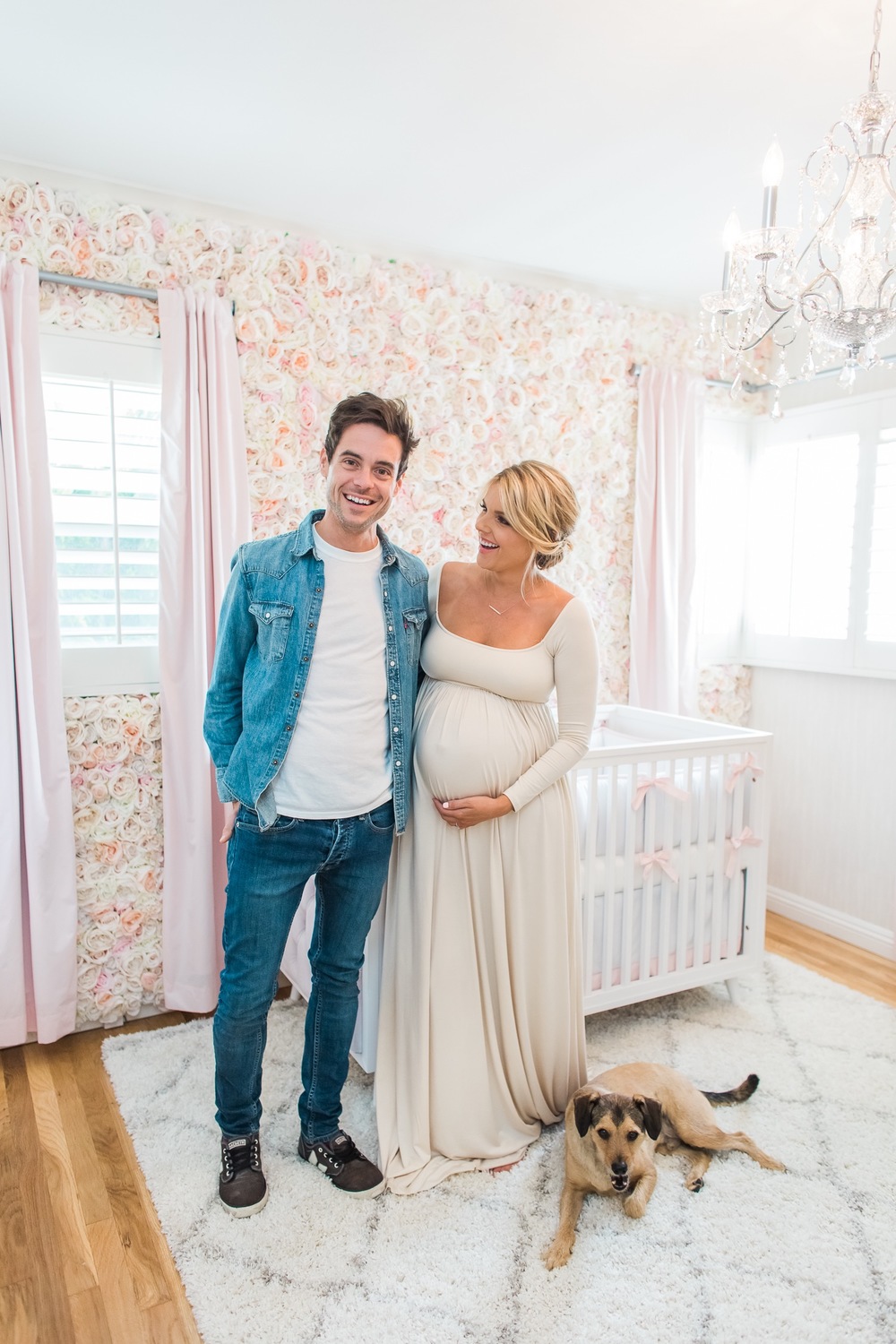 SOLE SOCIETY – 40% off everything. OH EM GEEEEEE!!!!!!

TARTE: Everything is 25% off today and my foundation I use is only $25 (it's noramlly $3). I linked my tinted moisturizer and clay foundation here! They are the BEST!!!!!!! Truly! And natural. Below is what I order on Black Friday.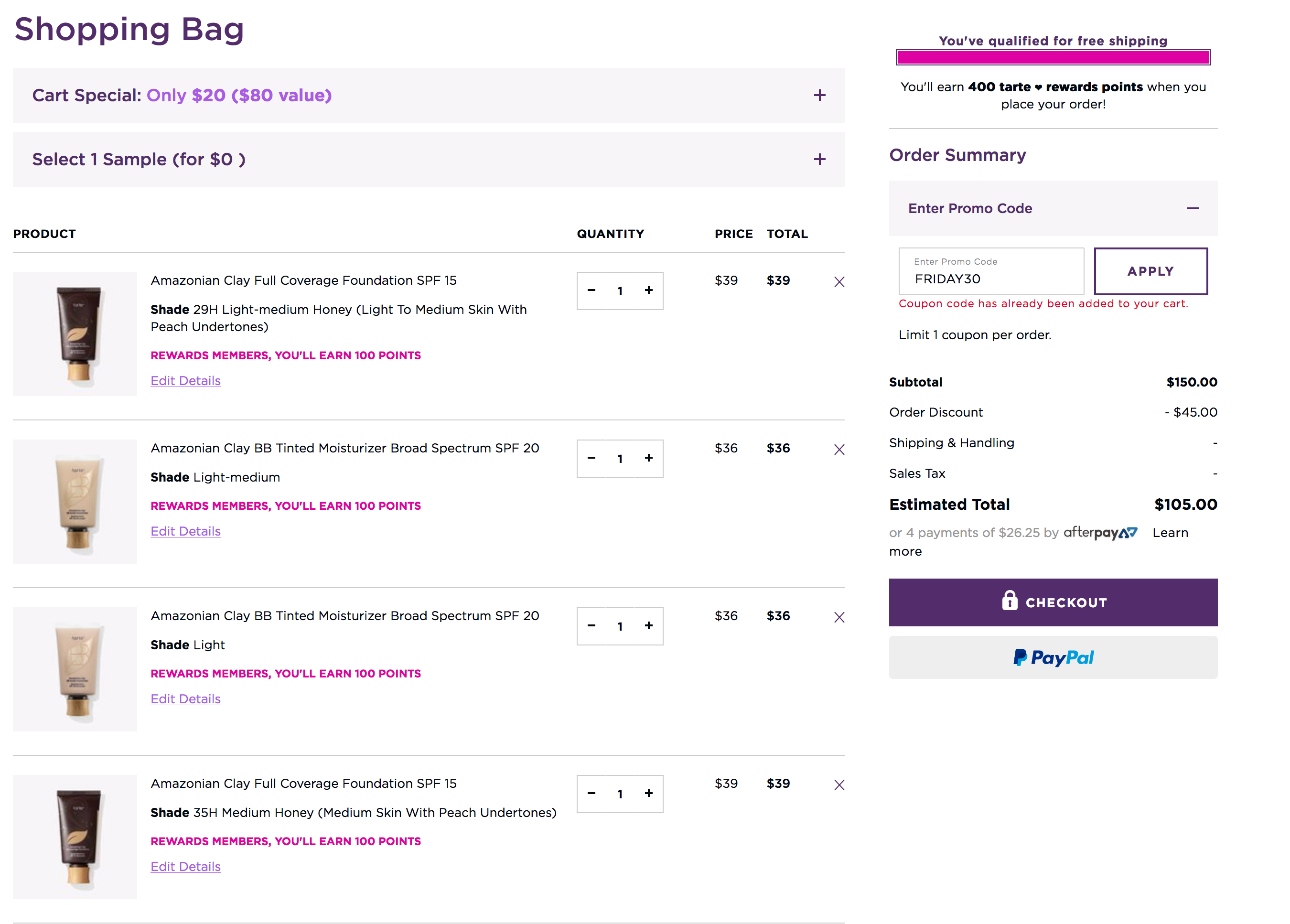 URBAN OUTFITTERS – Save depending on how much you spend. Below are some of my favorite gift ideas!

VICTORIA'S SECRET – 40% off everything!!!!!

WALMART – You guys know that I love love love Walmart for so many things from toys to clothes to furniture. There are so many great deals!! Many items are 50% off!
My Pj's are on sale for $3.99. Now that's a steal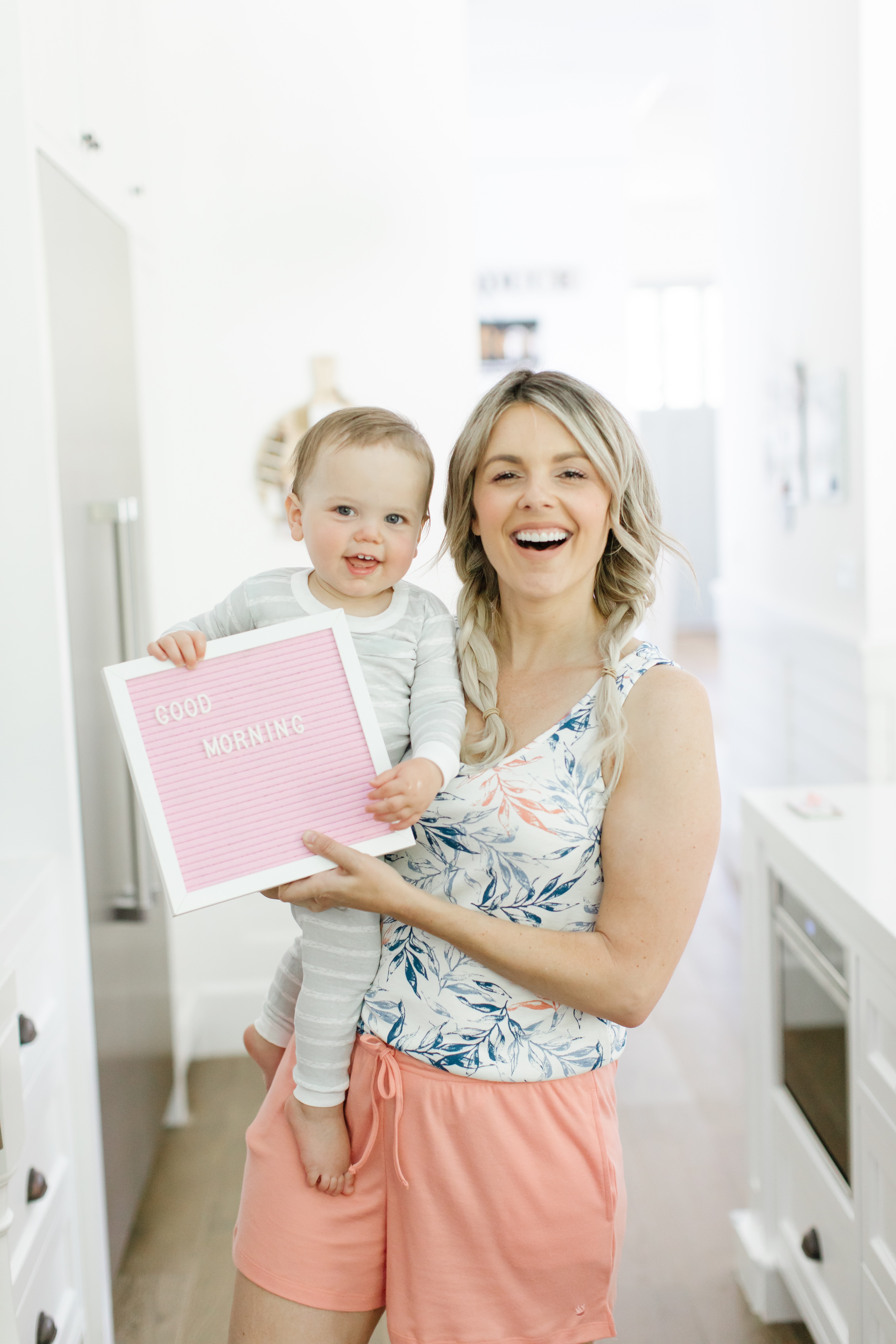 Also this rainbow painting from Walmart is on sale for 50% off!!!! We love it so much in Molly's play area and I think it would make a SUPER SPECIAL gift for someone with a rainbow baby.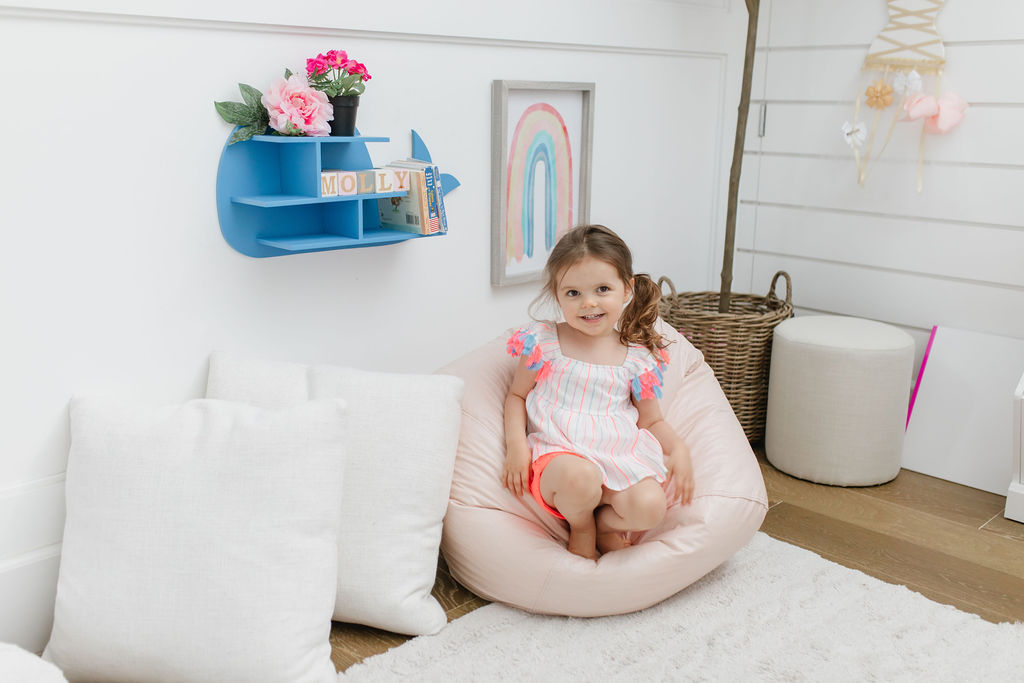 WAYFAIR – Up to 80% off! Seriously almost our entire house is from Wayfair. Check out my "HOME" category to see a post about each room. Here's a pic of our living room: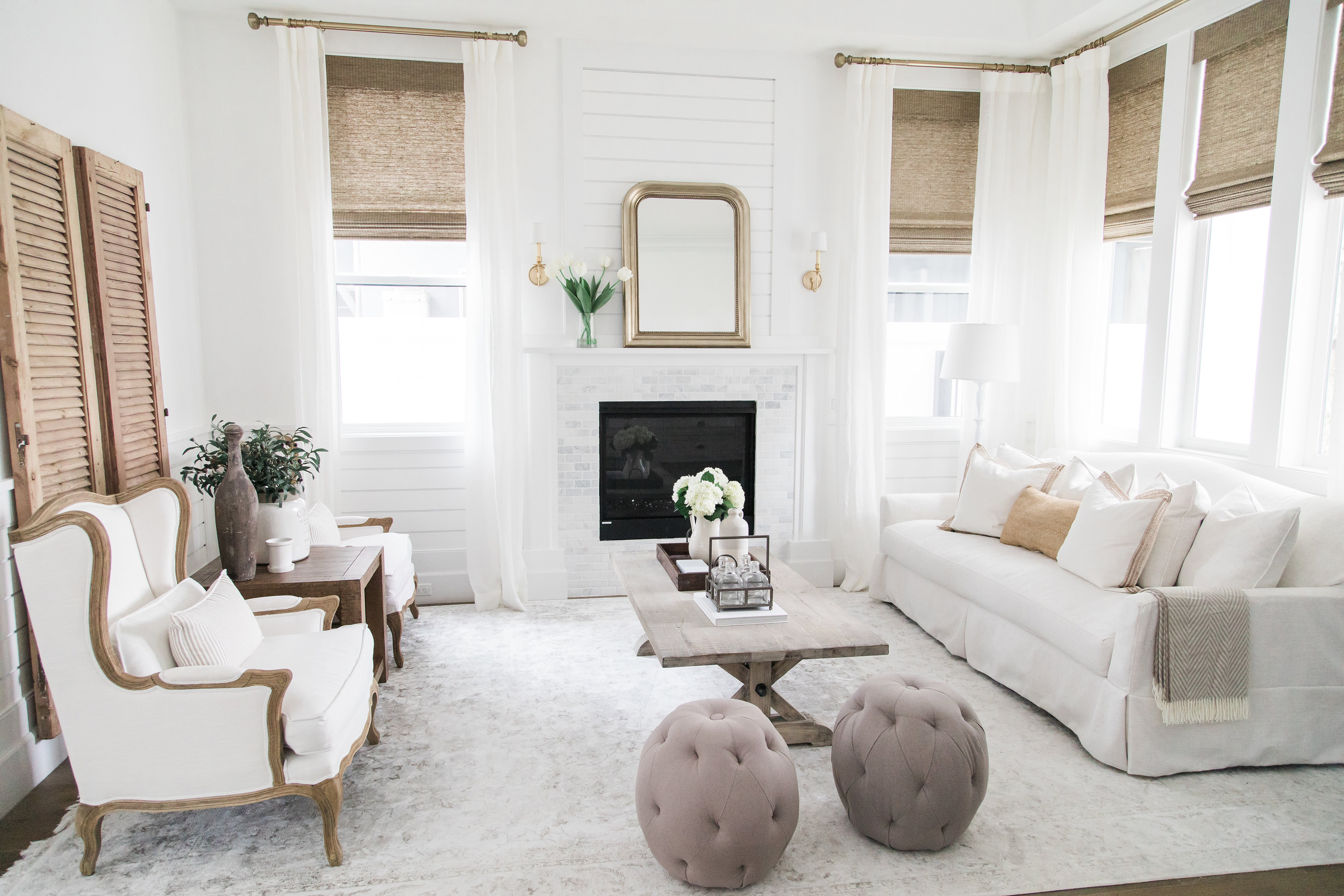 WEST ELM – Buy more and save more. So the more you spend, the bigger discount you get. Their stuff is so sophisticated and nice! I have had my eye on a few things on their site for a while now and now is the time to get them!
WILLIAMS SONOMA – They have some great sales like $150 off a Vitamix (we use ours EVERY day). Check out all their deals HERE. Other electrics are up to 50% off!
WORLD MARKET – 40% off all furniture and clothing! Buy one get one free kid's toys and beauty! And so much more!
Thank you!
Ok now it's time to announce the THREE winners of my November Thank You giveaway!!!!! Congrats @hanreinhard, @bfitgirl49, and @denkersk21!!!!! SOOOOO excited to send you guys your prizes and cash!!!! For those of you who didn't wind don't worry!!!! December is going to be my best Thank You giveaway yet!!!!!
Have fun shopping the Best Cyber Monday sales!!! Tell me what your favorite sales are or what you bought that you think I would like to check out!!!!