Happy Affordable Friday….Ok ok, so it's not Friday. Oh well! I think every day should be Affordable Friday! Ha! And I am so excited to tell you guys about the knit sweater because I've owned it in two colors for over a year now and I was pumped to see it was back in stock on Nordstrom Rack. So let me tell you about it!
I originally bought it in the light pink color last year in a size medium. I loved it so much! Anyway, after I got it in the light pink, I quickly snatched it up in the white. However, I actually ended up sizing down in the white. It definitely has an oversized feel and I just wanted to see what it would look like if I sized down. And as you can see from these photos, it honestly fits great! But so does the medium. The medium just has a little bit of a different feel. I would say if you wanted to wear with jeans size down. But if you want to wear it with leggings and want to be really long to cover your hips and booty then get your normal size.

1. KNIT SWEATER | 2. JEANS | 3. COGNAC OTK BOOTS
Oh my gosh, and I can't believe I haven't even told you the price yet. $26! This will be some of the best $26 you will ever spend. Ha! I really mean that. There are a few sizes left in this taupe color but it's fully in stock in the petite version. It's oversized so if you size up in the petite version I am sure it would work the same the the other version. There's also charcoal available now!
It also available in all colors in this turtleneck version which I LOVE!!!! This type of sweater is PERFECT for wearing with jacket and already looking styled. Because the neck of the sweater kind of acts like a scarf if that makes sense. Like in this picture below of me in a cowl neck sweater and a jacket. Doesn't it feel style even though it's just a sweater and jacket? I feel like big necks on sweater do that! An instant stylist! Ha! It comes in 5 colors!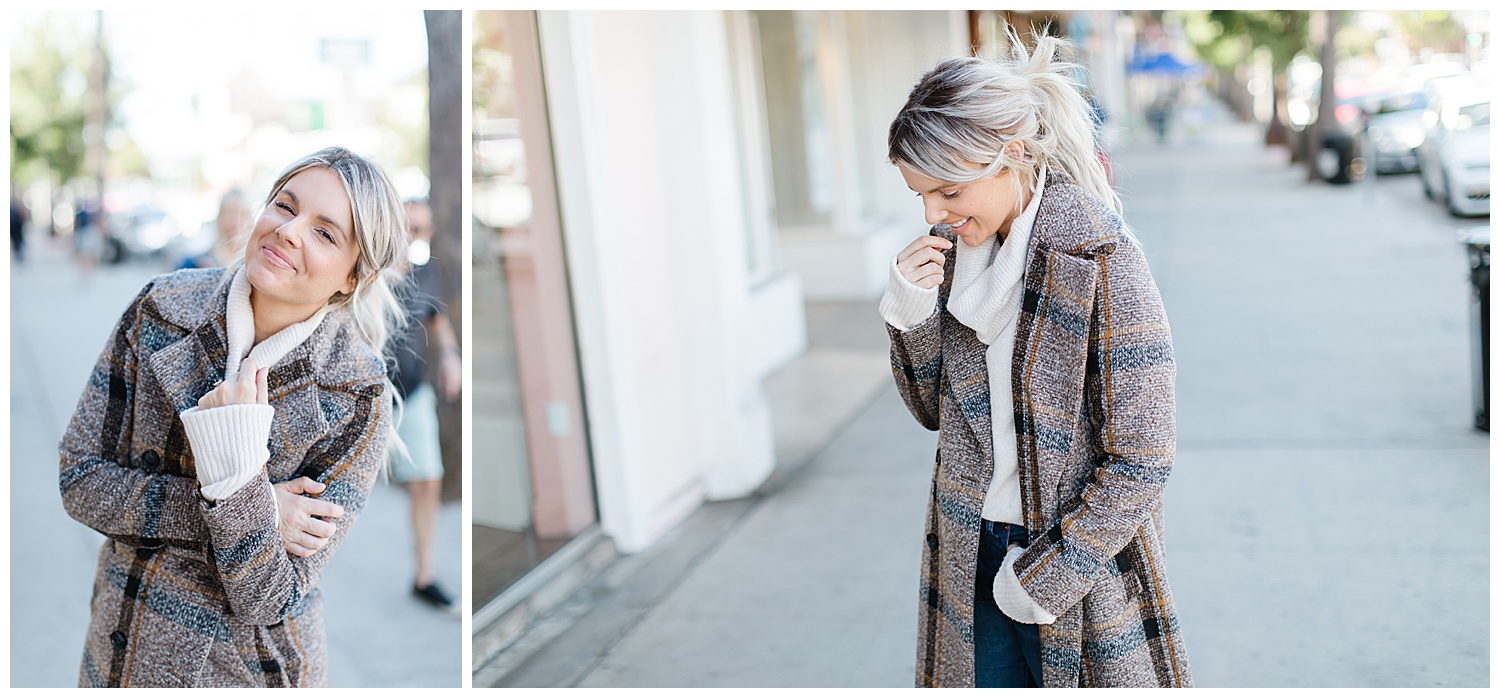 1. PLAID COAT | 2. SWEATER | 3. JEANS | 4. OTK BOOTS | 5. SUNLESS TANNER
I'm wearing it with a pair of $17 jeans. And if you regularly read my blog you know that I write about these jeans all the time because I wear these jeans all the time. They are flattering, stretchy, high waisted, and just the perfect amount of distressing. Plus they're partially made from recycled plastic water bottles which I just think it's the coolest thing ever! I really love buying sustainable clothes.
My friend and AliManno.com team member Madi, who is probably editing this right now, loved them so much that she went and bought a pair for herself and she absolutely loves them! Madi, feel free to add a little in here about what you think of the jeans. Because I know you love them!
---
Haha! Hi, Madi here. Yes!!! I'm not just saying this when I say that Ali truly shows you all the best of the best clothes and deals around. I have gotten so many great things based on her recommendations. Let's just say she "influences" me often! Haha!! I was a little skeptical about these jeans when I first ordered them, but I can honestly say that these are my favorite pair of jeans in my entire closet. I have them in a lighter jean wash as well, which I love to pair with some all white adidas and boxy tee. They are SO comfortable. I get compliments on them all the time, and no one ever believes me when I say that they are only $17. Or from Walmart!!! When I first ordered, I purchased them in 2 sizes because I wasn't sure how they would fit, and the return process was so easy for the second pair. So even if you're skeptical, try them! How cool that they are made from water bottles?!  
---
I paired it with these cognac over the knee boots. These are from a few seasons ago, but going I'm in a link a few pairs that look similar in shape and color below. I really love the richness of the color.

And I can't end this blog without adding a few iPhone photos. You guys know I like to use both photos from my DSLR camera and from my iPhone just so you can really get a good picture of what the sweater and outfit is like.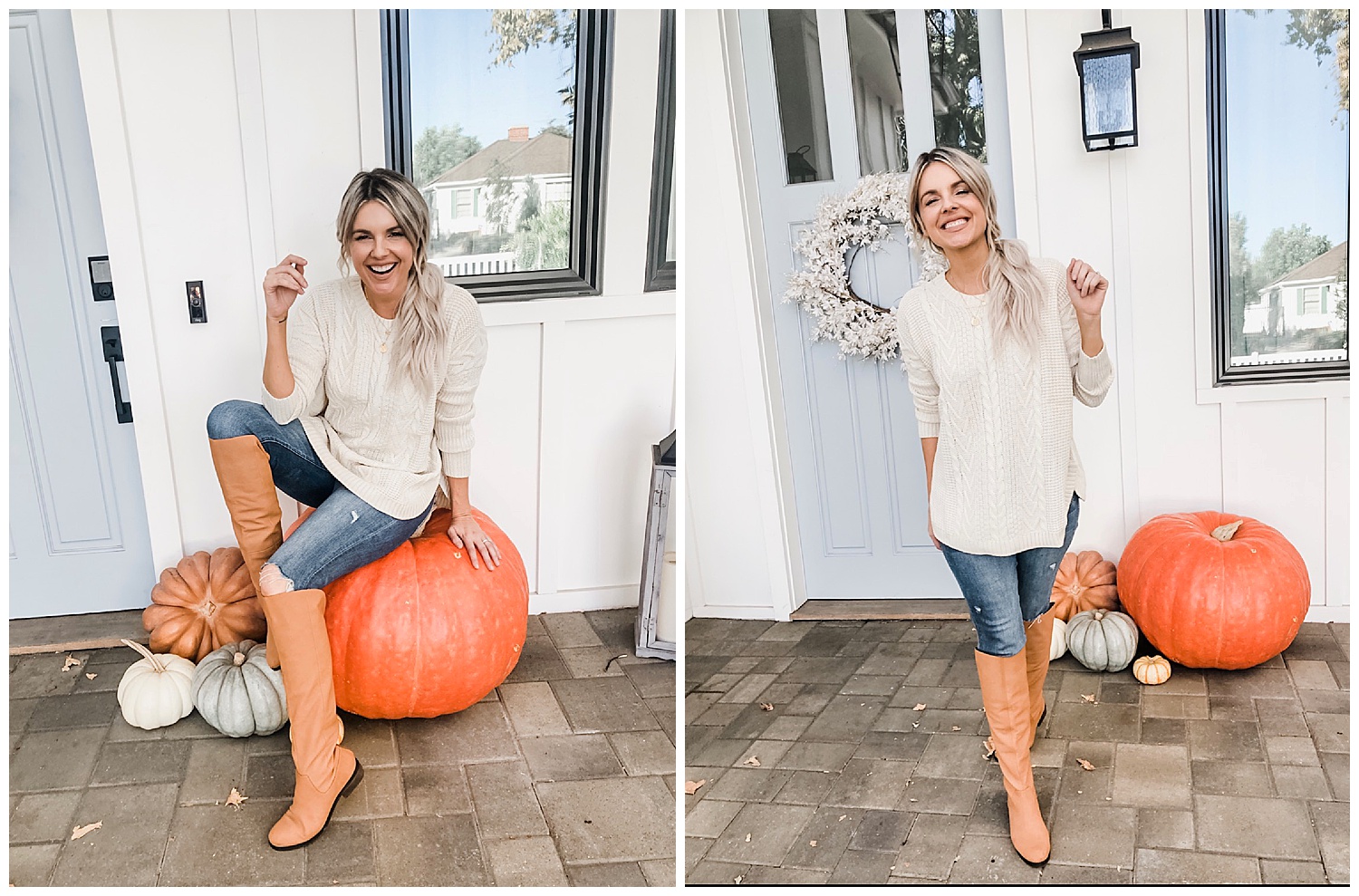 1. KNIT SWEATER | 2. JEANS | 3. COGNAC OTK BOOTS
Also, I have to mention that the trench coat I blogged about a few days ago (pictured below) is actually on sale for only $22!!!!!! WHAT?!?!?!?! Like insanity. I just had to share in case you haven't snagged in already.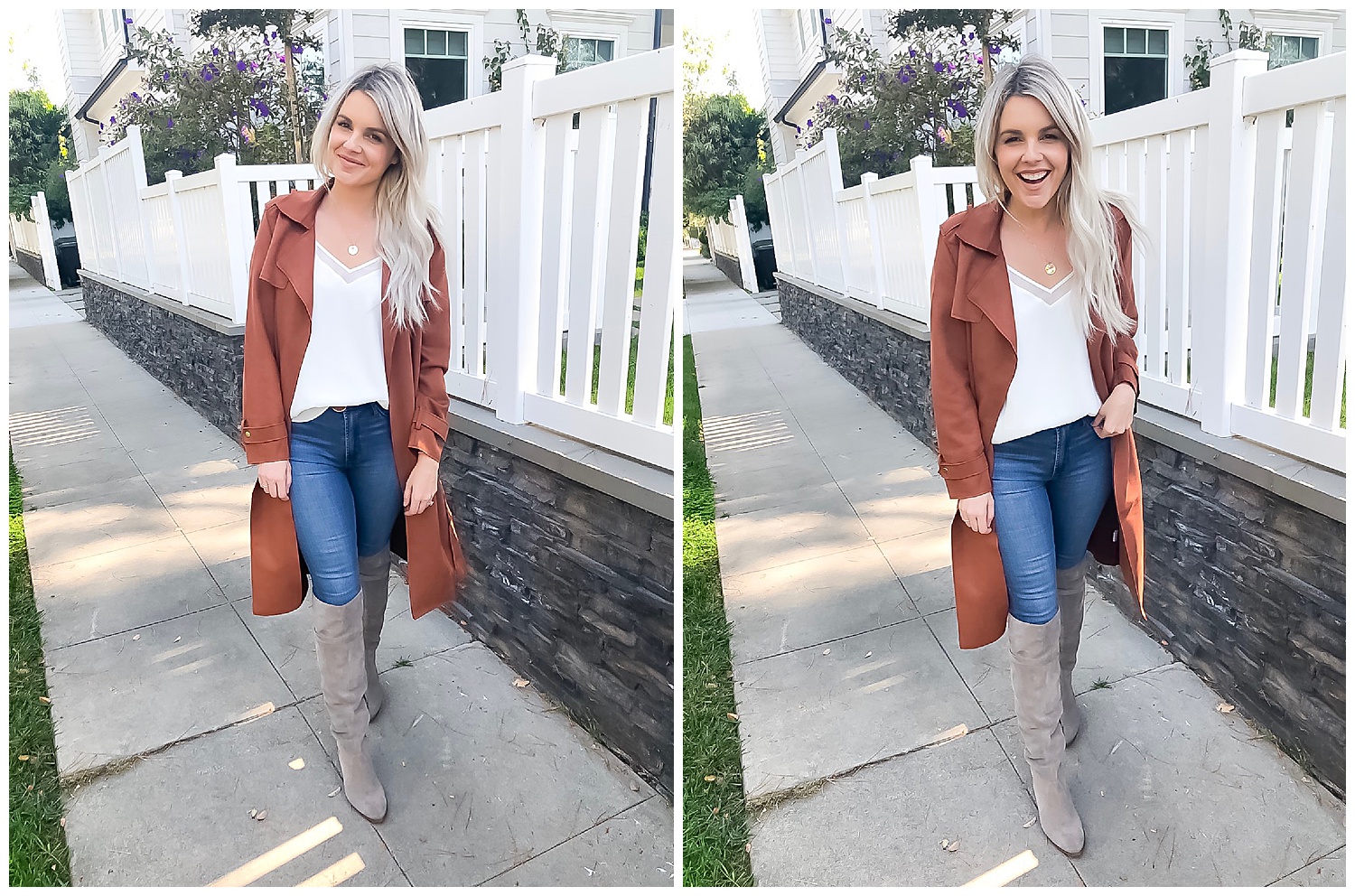 1. $29 TRENCH COAT | 2. WHITE CAMI | 3. JEANS | 4. BOOTS
Sorry if I confused you at the beginning and made you think it's Friday even though it's not! Ha! But I really hope you guys love this look and are able to snag one of the sweaters. I promise you, you will love it as much as I do. And if you happened to get it when I wrote about it last year when I first bought it please tell me in the comments below! You know I love hearing from you guys.