Hey guys. Happy Affordable Friday on a Sunday! A couple weeks ago I did a blog post about three different coats at different price points. And two were for people who live in cooler climates and one was more geared towards people that live in warmer climates. But I realized after writing it that I think that post was missing a trench coat! Just because if you're in really warm climates, sometimes even a lighter winter coat is too warm. That's why I am so excited to tell you guys about my trench coat.
$29 Trench Coat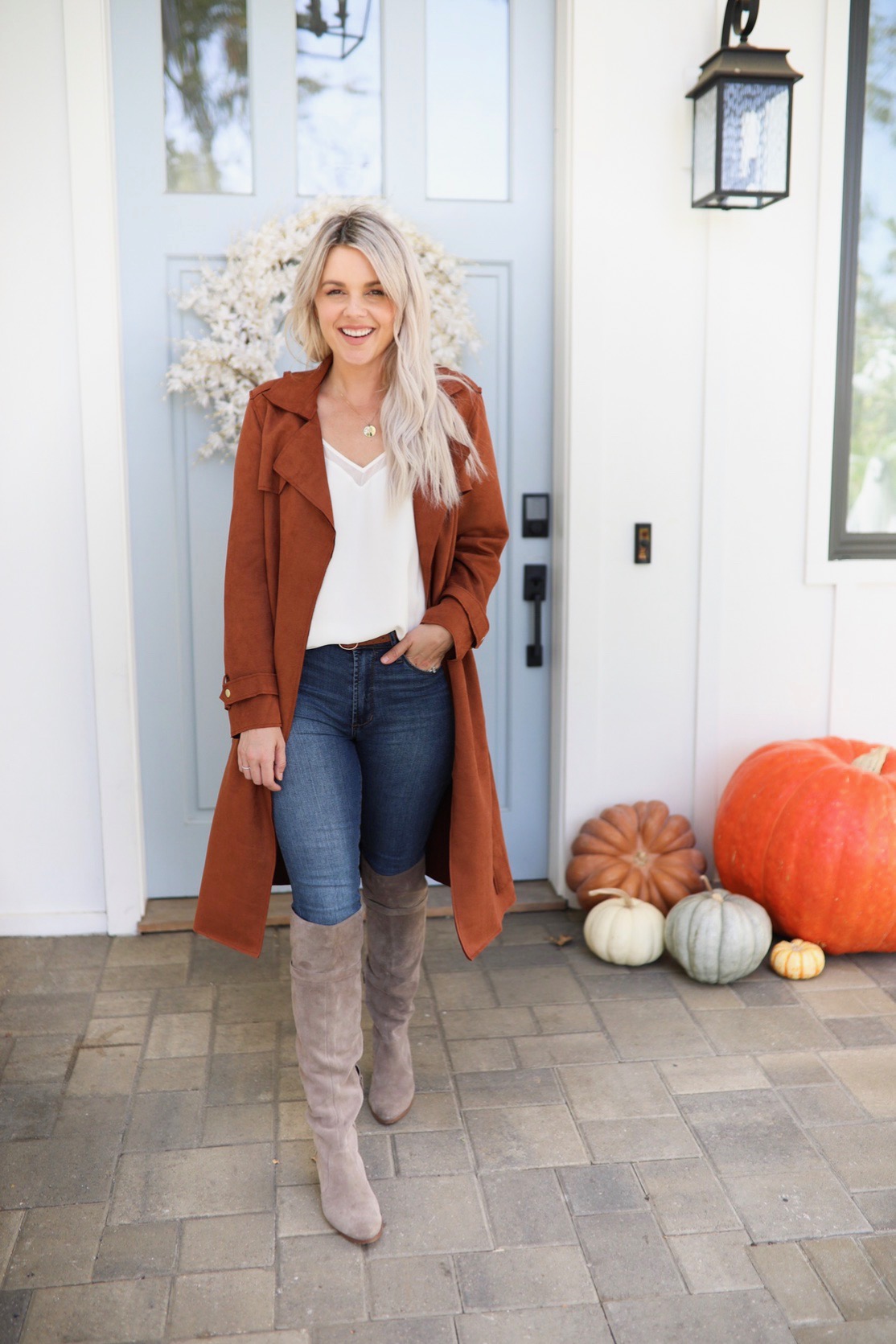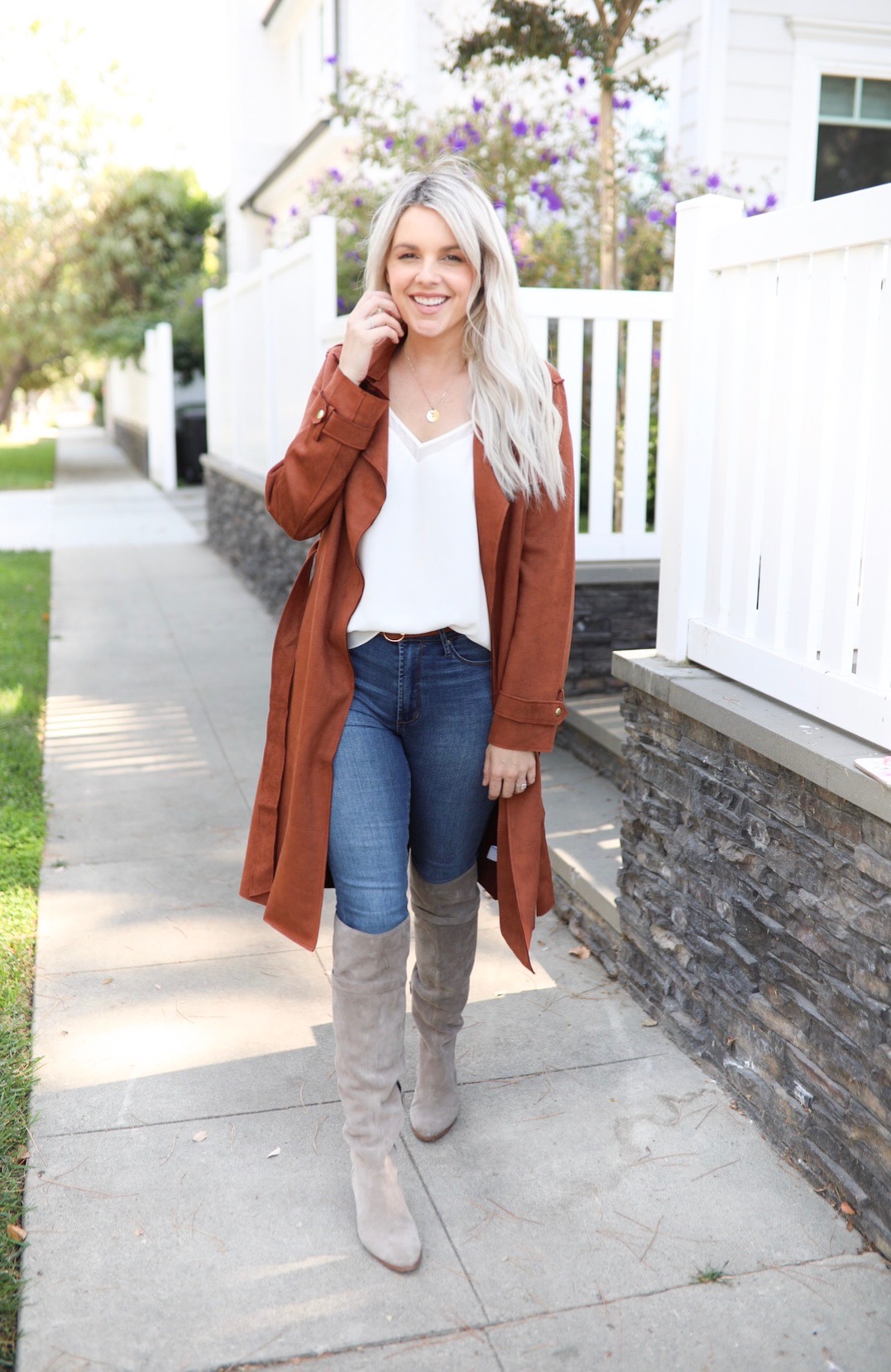 1. $29 TRENCH COAT | 2. WHITE CAMI | 3. JEANS | 4. BOOTS
And I'm just gonna cut right to the chase! This trench coat is only $29! Honestly, sometimes I buy things online when they're really good prices and then forget how much I spent on them when they arrive in the mail. And that's what happened with this jacket. When I put it on, I thought "oh, this must be at least $50 or more". But then when I went back online and checked Walmart's website it blew my mind that it was only $29. Like I truly cannot believe it.
It also comes in this camel color that is so beautiful but I wasn't able to get it because it's no longer available in my size which is a medium. But if you are size L, XL, or XXL then you can totally get the pretty camel color or even the olive green color which is also really pretty! The color I'm wearing is fully in-stock in every size! Which is so exciting!

Detailed Cami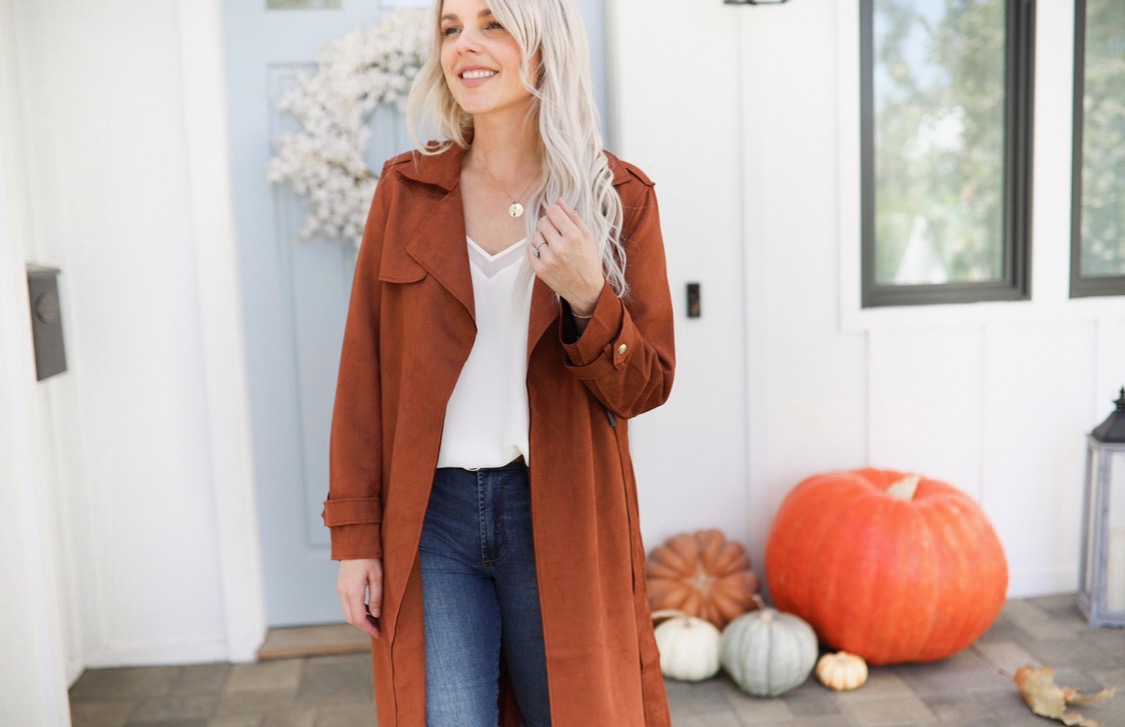 1. $29 TRENCH COAT | 2. WHITE CAMI | 3. JEANS | 4. BOOTS
Trench coats can be worn so many ways. You could wear this over a dress with an over-the-knee boot this fall, or like I am with a top and jeans. Once again, because it's still really hot here in Los Angeles, I just wore this white cami underneath. By the way, if you're looking for a good white cami definitely check this one out. I really like the inset detail on the top because I feel like it gives it a little something extra and feels more styled, especially if you're in a rush and need to just throw an outfit together!
Below are some photos that were shot on an iPhone! I try to do my best to show you both professional photos of an item and iPhone photos too!
My $68 Jeans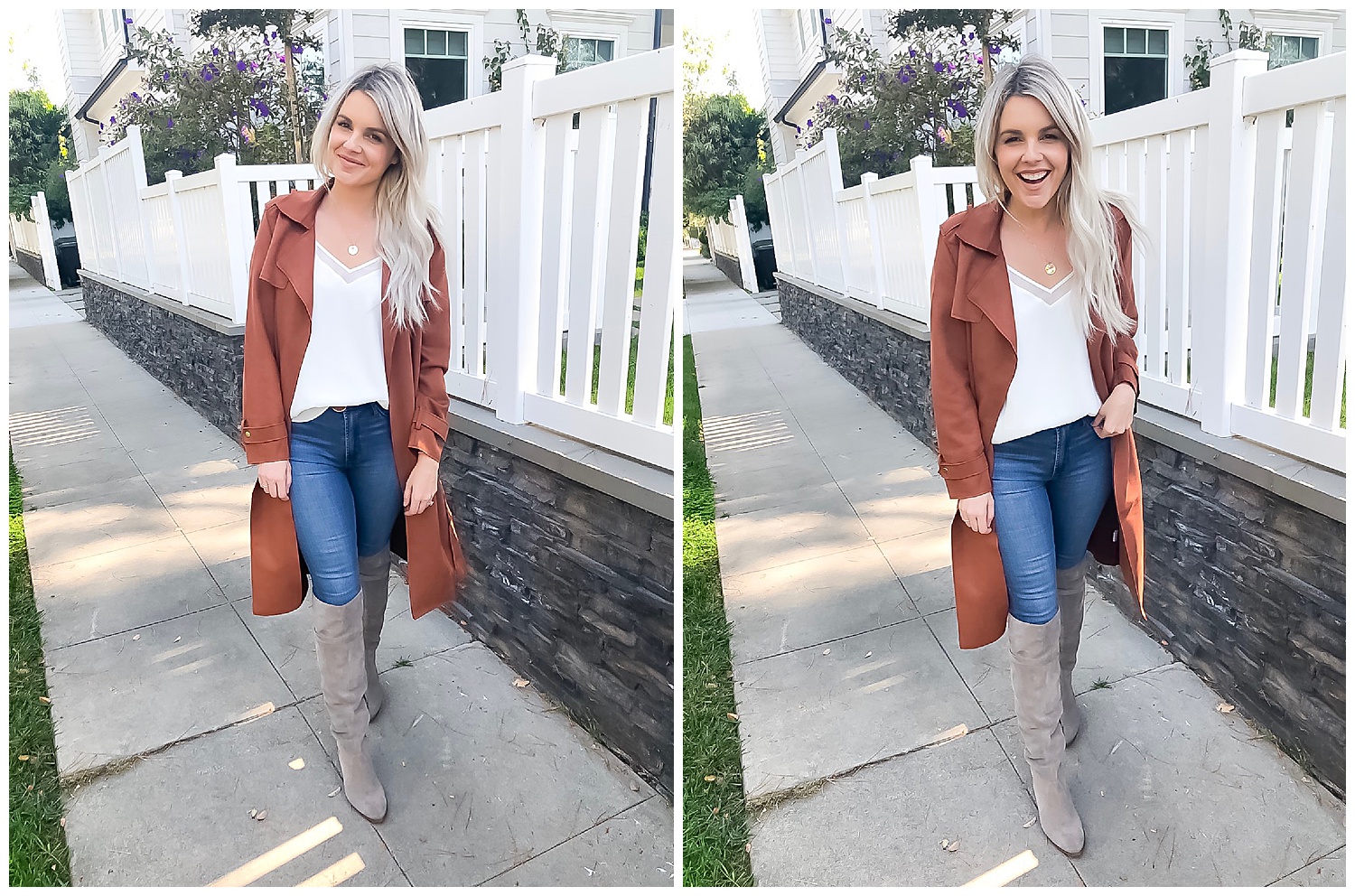 1. $29 TRENCH COAT | 2. WHITE CAMI | 3. JEANS | 4. BOOTS
Also, if you're curious, I'm wearing the $68 jeans that you have seen me wear in a few other posts, like this one. They're just really comfortable and flattering. I also really like this color wash for jeans!
And last but not least, I'm wearing neutral over-the-knee boots. You've seen me wearing these in a ton of other posts so far this month. I wish they were still in stock but unfortunately they're from a couple years ago. But I found a few others that look almost identical and if not really similar. I linked them below!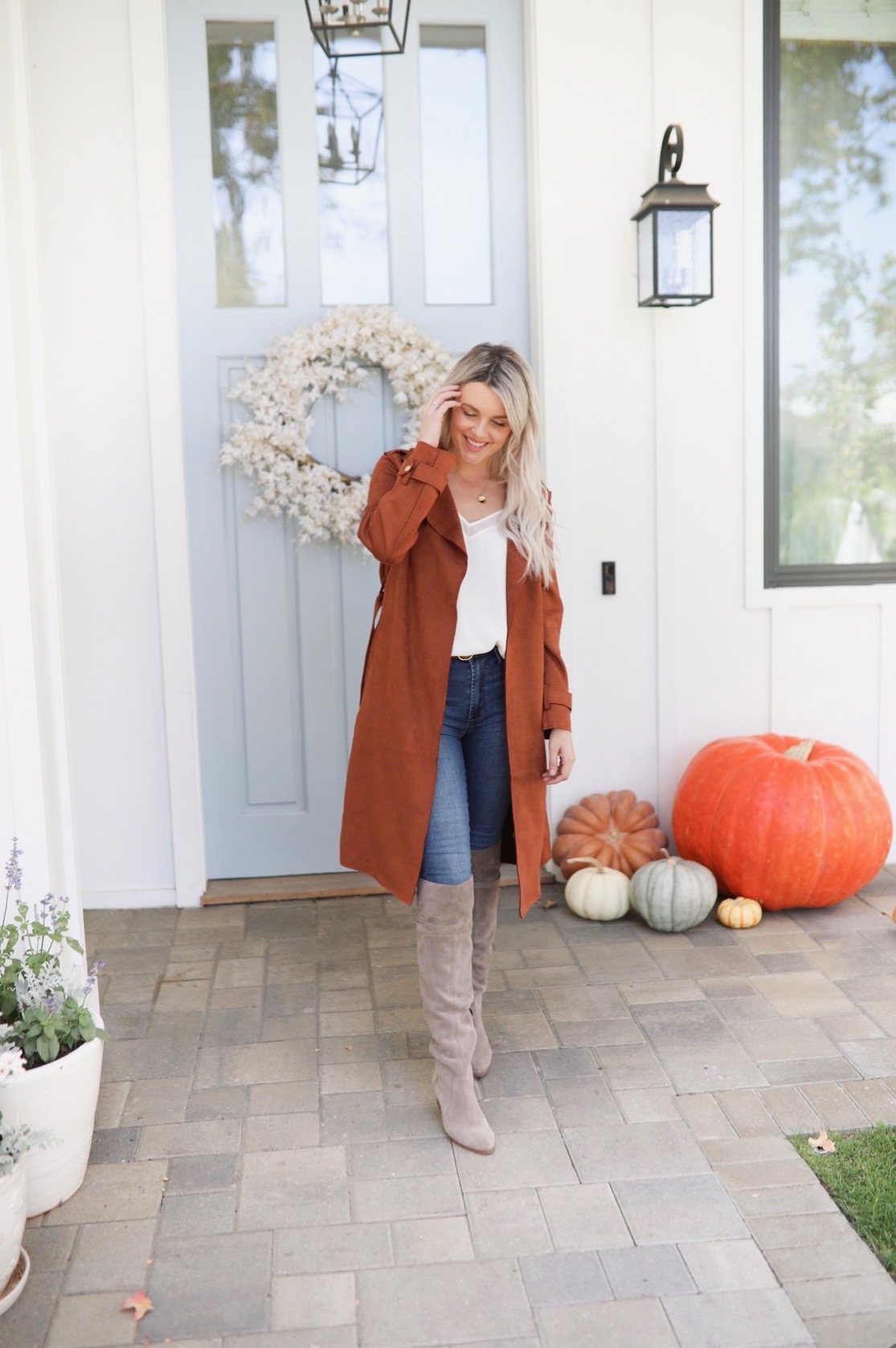 1. $29 TRENCH COAT | 2. WHITE CAMI | 3. JEANS | 4. BOOTS
Well that's all I've got for today. I hope you guys really love this affordable Friday post on a Sunday. Ha~ This jacket is just too good and I couldn't wait to share it with all of you guys! Let me know what you think in the comments below!