Update: Thanks Taryn, for letting me know that the dress sold out and that they have it on Amazon! I'm linking it here, and also I found it on Zappos!

Happy Tuesday guys! I hope you're having a good week. And as always, thanks for coming over to the blog today. You might recognize my jacket in today's blog post about my sweater dress because I've talked about it before. If you haven't already, definitely check out this new post where I talk about my favorite jackets for this fall and winter, no matter what climate you live in. I basically recommend one jacket that's perfect if you live in the warmer climates…and it's only $37! And a couple others that I just absolutely love that you can layer up for the super cold climates or wear a bodysuit or tank top under if you live in the warmer climates. It's truly one of my favorite blog posts ever, so I hope you guys check it out. And if you watched me on Home & Family this morning, you also saw me talk about everything in that blog post plus the look into today's blog post!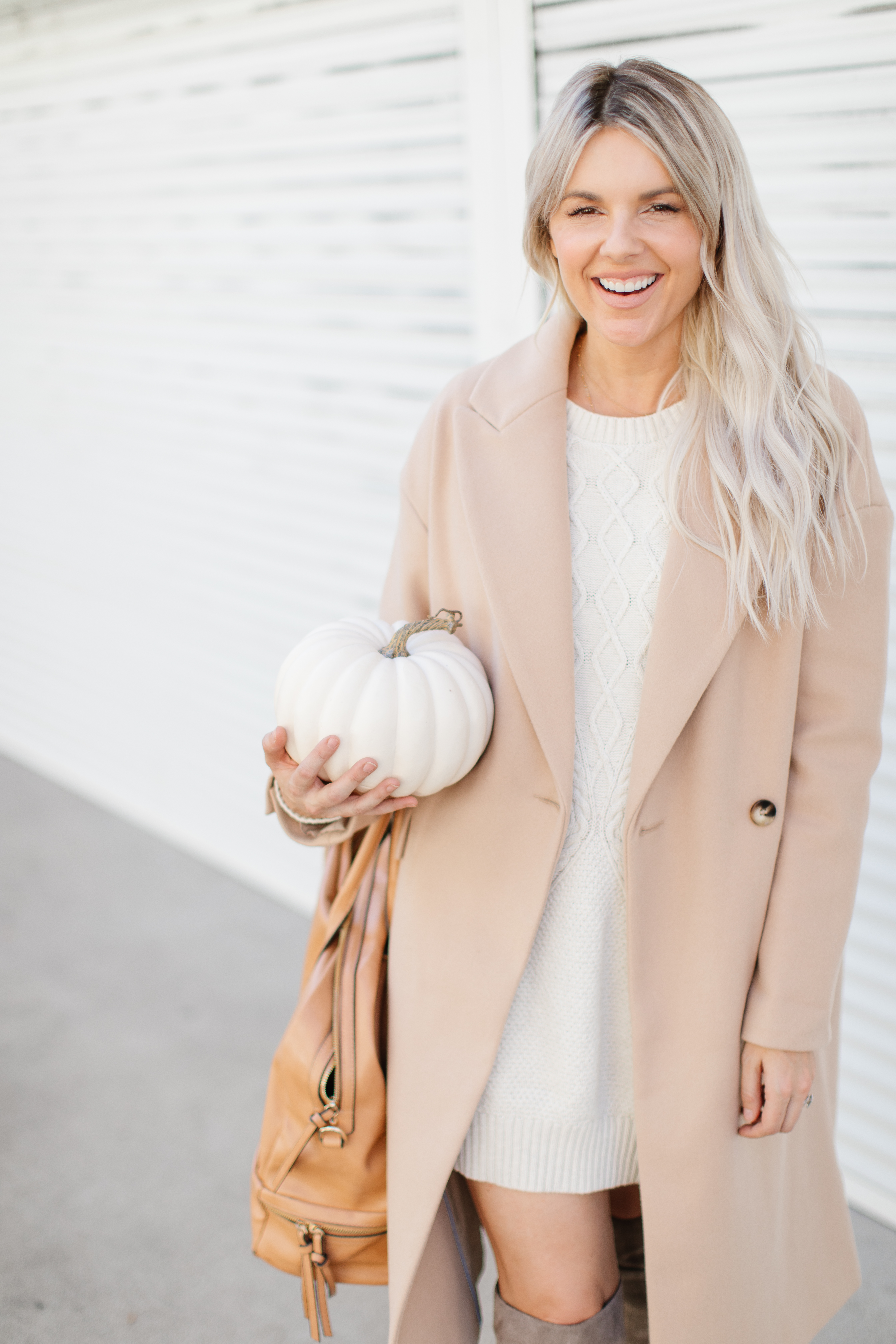 1. SWEATER DRESS | 2. JACKET | 3. SIMILAR BOOTS | 4. WEEKENDER BAG
Like I mentioned, I did just post about the jacket, but I love it so much that it's worth another blog post! Also, I really want to start using my items in multiple looks to show you guys that when you buy something I recommend, I'll show you different ways to style it. So in my latest blog post about this jacket, I wore it with jeans and booties. Really cute leopard booties by the way. But today I'm showing you how to style it with a sweater dress. I wanted to get this blog post up ASAP because I'm so worried the sweater dress is going to sell out because it's so great! I'm wearing a size medium which is my normal size FYI.
One of the reviews says to size down but I didn't. I went with my normal size which is a medium and I love the oversized look of it. I, for one, feel like a sweater dress has to be oversized for it to look cute and cozy instead of too sexy. If that makes sense. Unless sexy is what you're going for! Ha ha! For this look, I wanted to stay in a monotone color scheme because again, I feel like this is a theme here, but I think it looks expensive! I'm wearing the tan TopShop coat that I'm absolutely obsessed with it! And a taupe over-the-knee boot.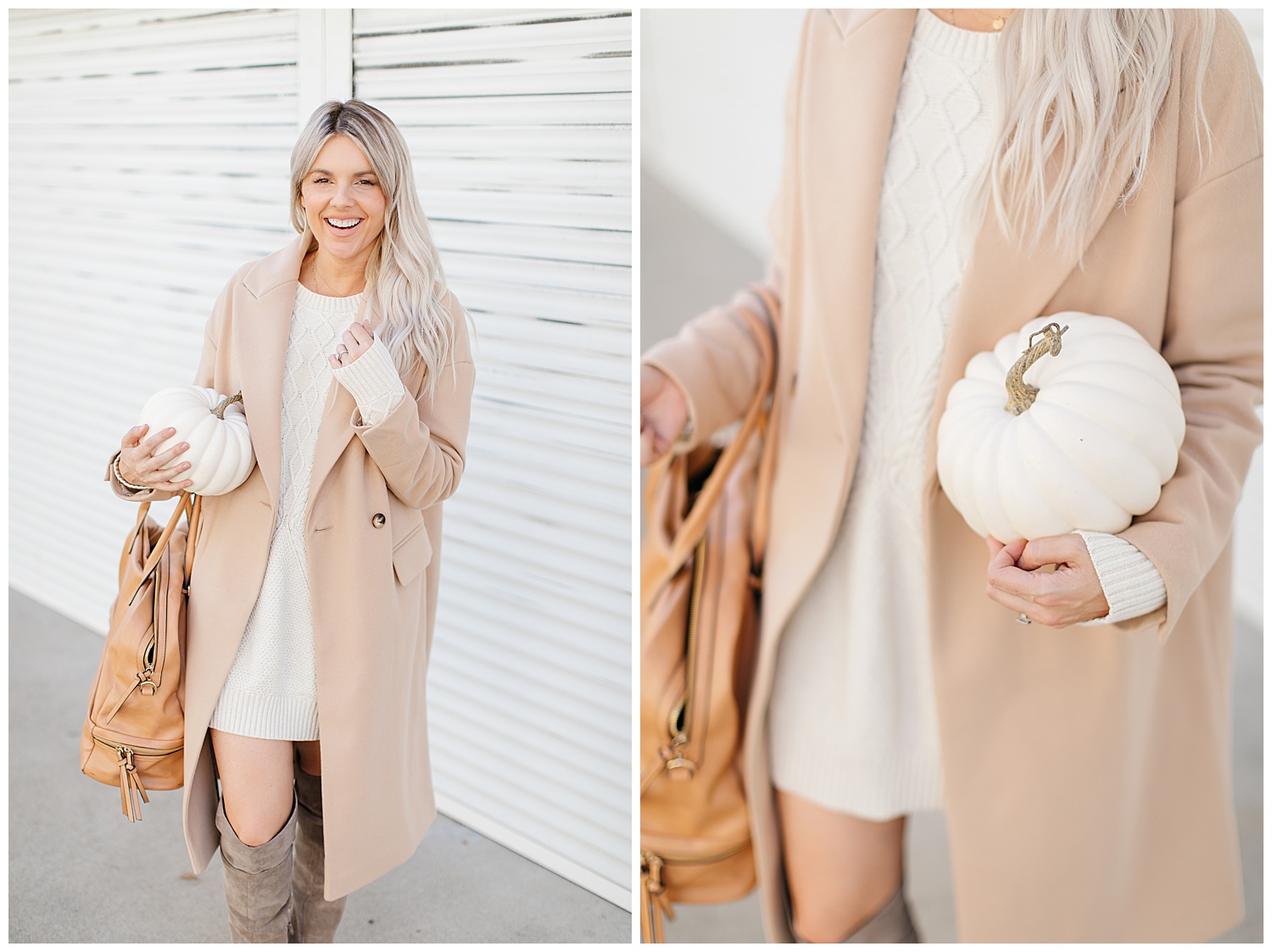 1. SWEATER DRESS | 2. JACKET | 3. SIMILAR BOOTS | 4. WEEKENDER BAG
I decided to take some pictures of the dress without the jacket so you can see what it looks like on it's own. It's oversized, but not in a bulky way. It's still very flattering, which I feel like it's really hard to find in a sweater dress. I can't even tell you how many sweater dresses I order and end up sending back because I just feel like I look huge in them. This one doesn't feel that way at all. I love the color and I love that the sleeves are long enough that I can pull them through the jacket so you can see them peek out of the jacket sleeve. I talk about this a lot, but I feel like when your sleeves come out the end of your jacket sleeve, it just looks nicer and more expensive!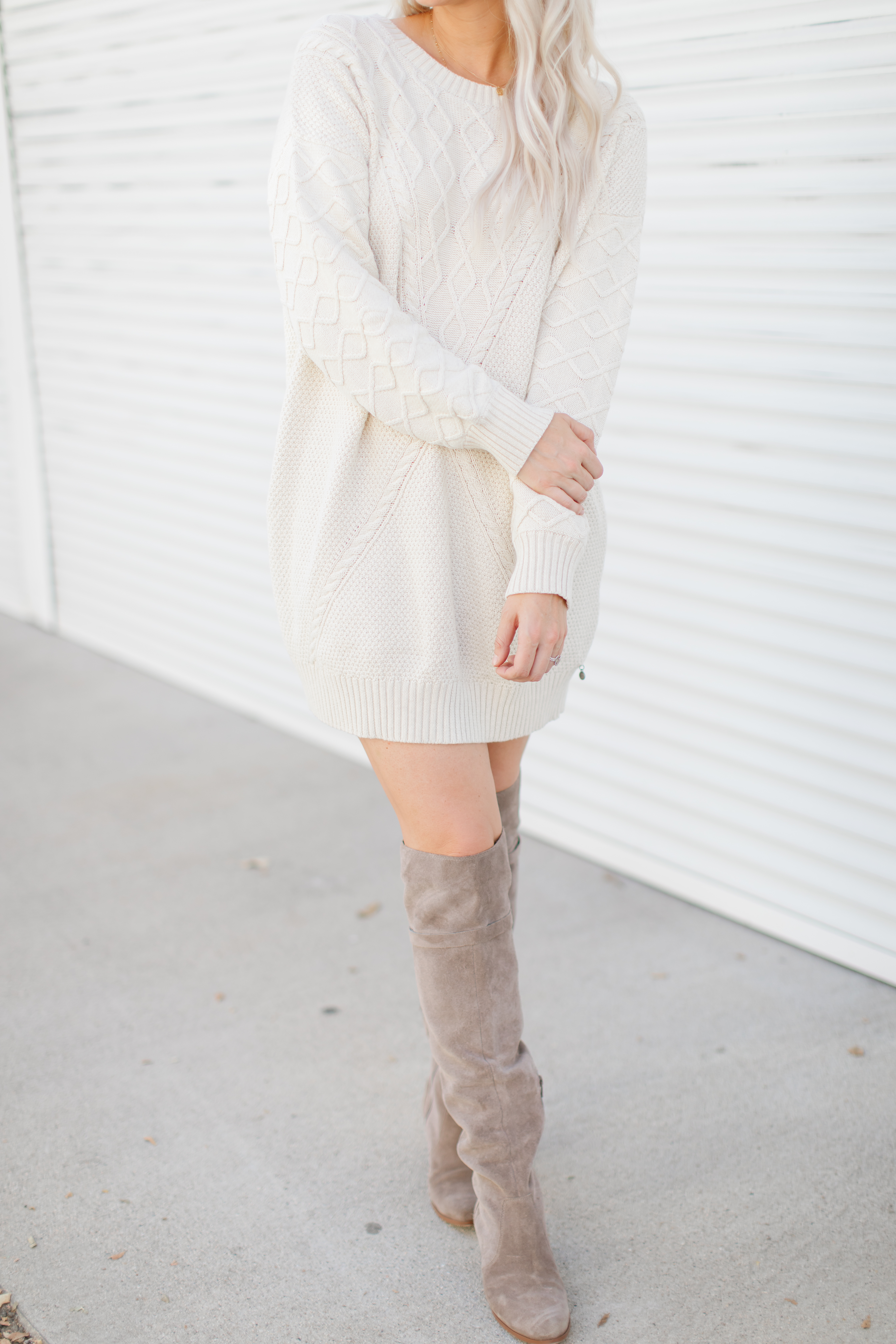 1. SWEATER DRESS | 2. SIMILAR BOOTS
Given that I think this sweater dress is going to sell out quickly, especially because it's only left in a few sizes, I wanted to link a few other sweater dresses that I found online that I either own, know somebody who owns them, or have really great reviews. And here's the thing, if you don't like something you ordered, you can always send it back.

Even though it's left in limited sizes in the color I'm wearing, there is a gray color that would be really pretty with a black coat and a black over the knee boots! If you already have either of those pieces in your closet, I highly suggest picking up the gray 'anthracite' color. When you're on their side, I would try to ignore that the model is wearing it off her shoulder. I really don't think it does the dress justice that way! Of course you can if you prefer that! I just prefer both on the shoulders!
But one thing that is fully in stock, which I'm honestly pretty surprised about, is my jacket! I think this jacket is so so beautiful! I love the color, it's really warm, and the boxy fit is perfect to give you that oversized look but still flattering on your body. Again, check out my last blog post to see me styling it with pants. I'm wearing a size 8 and in TopShop sizes a size 8 fits like a size 6/8. The sizing is perfect for me, I'm normally a size medium in everything, or size 6, and it still gives me room to layer thick clothing underneath.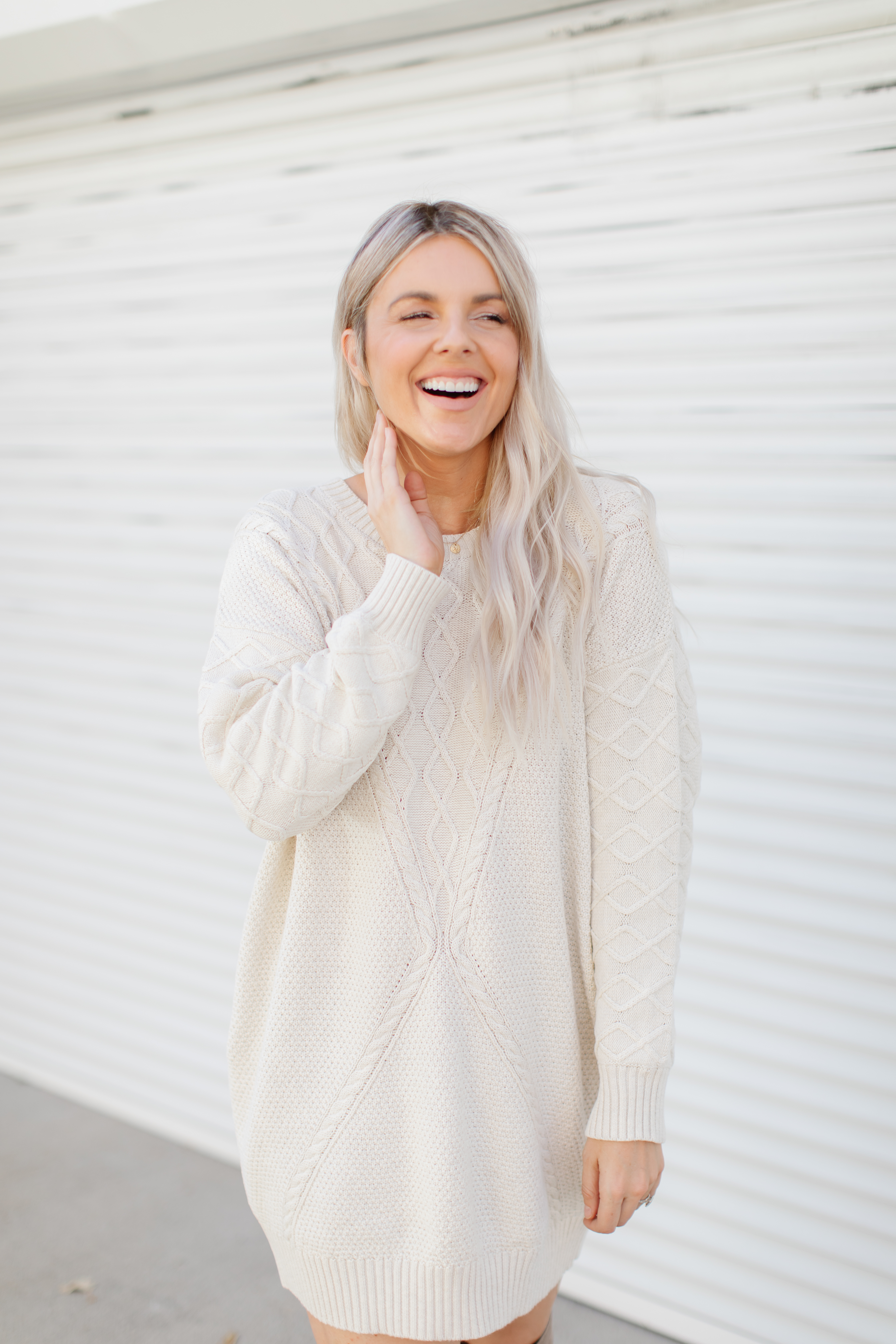 1. SWEATER DRESS | 2. SIMILAR BOOTS
I also want to say real quick that you might notice in these photos that I have a tan going on. And no that's not from the sun! I'm crazy about sunscreen! And I've linked this sunless tanner 1000 times on my blog because it's my absolute favorite so I'm just linking it again. Whenever I wear white and neutrals, I feel like if I have a pretty tan it just makes everything pop. Plus, how much do you love a neutral combo like this one?! Pairing tan and white is one of my favorite color combos.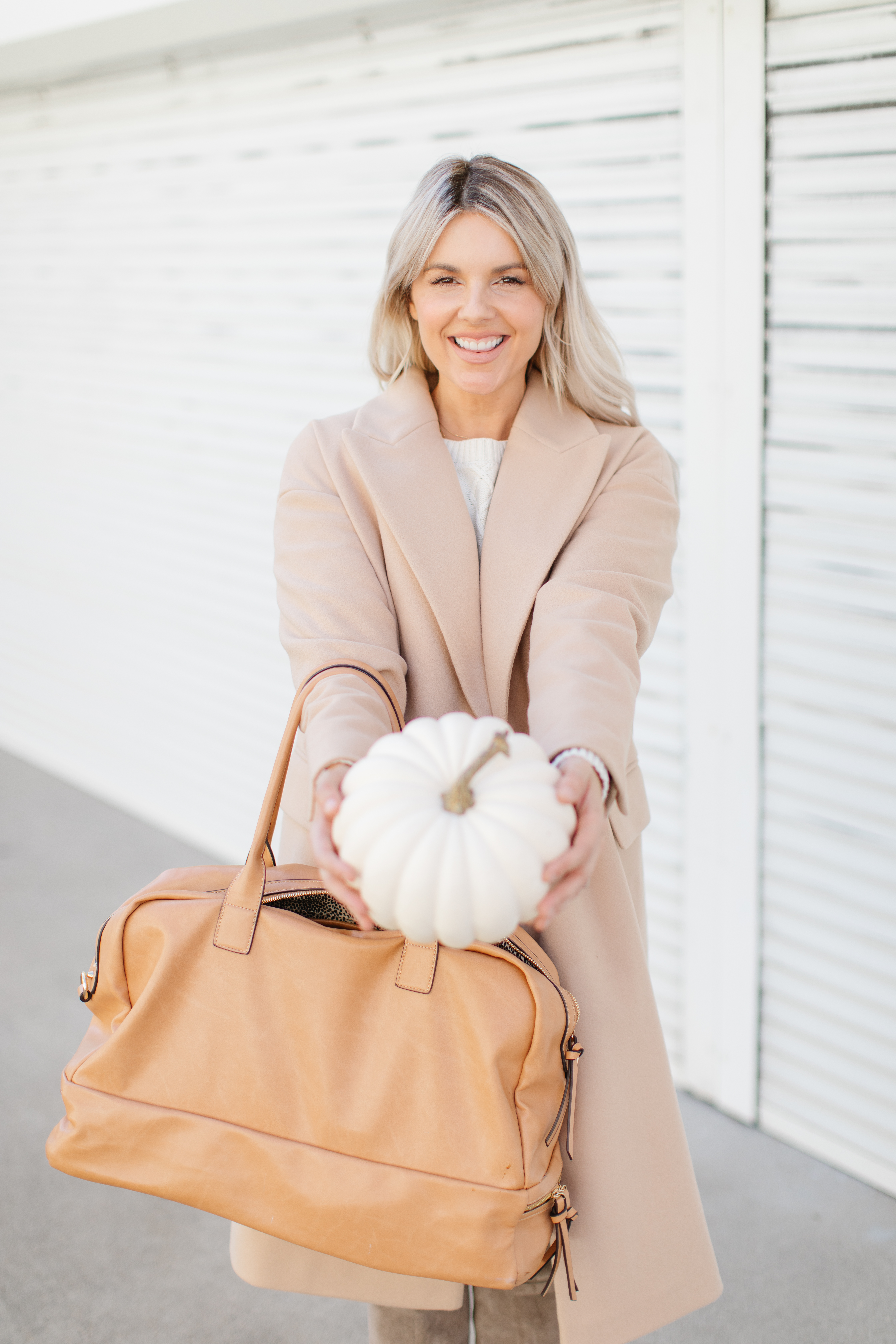 1. SWEATER DRESS | 2. JACKET | 3. SIMILAR BOOTS | 4. WEEKENDER BAG
And if you need a weekender bag, I definitely recommend this one! I love the color and I love that it has a zipper pocket at the bottom to put your shoes in so your shoes are mixed in with all of your clothes in the bag. I've had this bag for three years now and I feel like it still looks brand new. I use it almost every day when I go to work to bring my clothes for the show I work on. It's really great!
And last but not least, I recommend wearing a pair of over-the-knee boots to complete this look. My exact boots are from a few years ago and not for sale anymore. But these ones are pretty much identical and I'll link a few more below that look so much like the ones I have. I think every girl should have a good neutral pair of over-the-knee boots in their closet.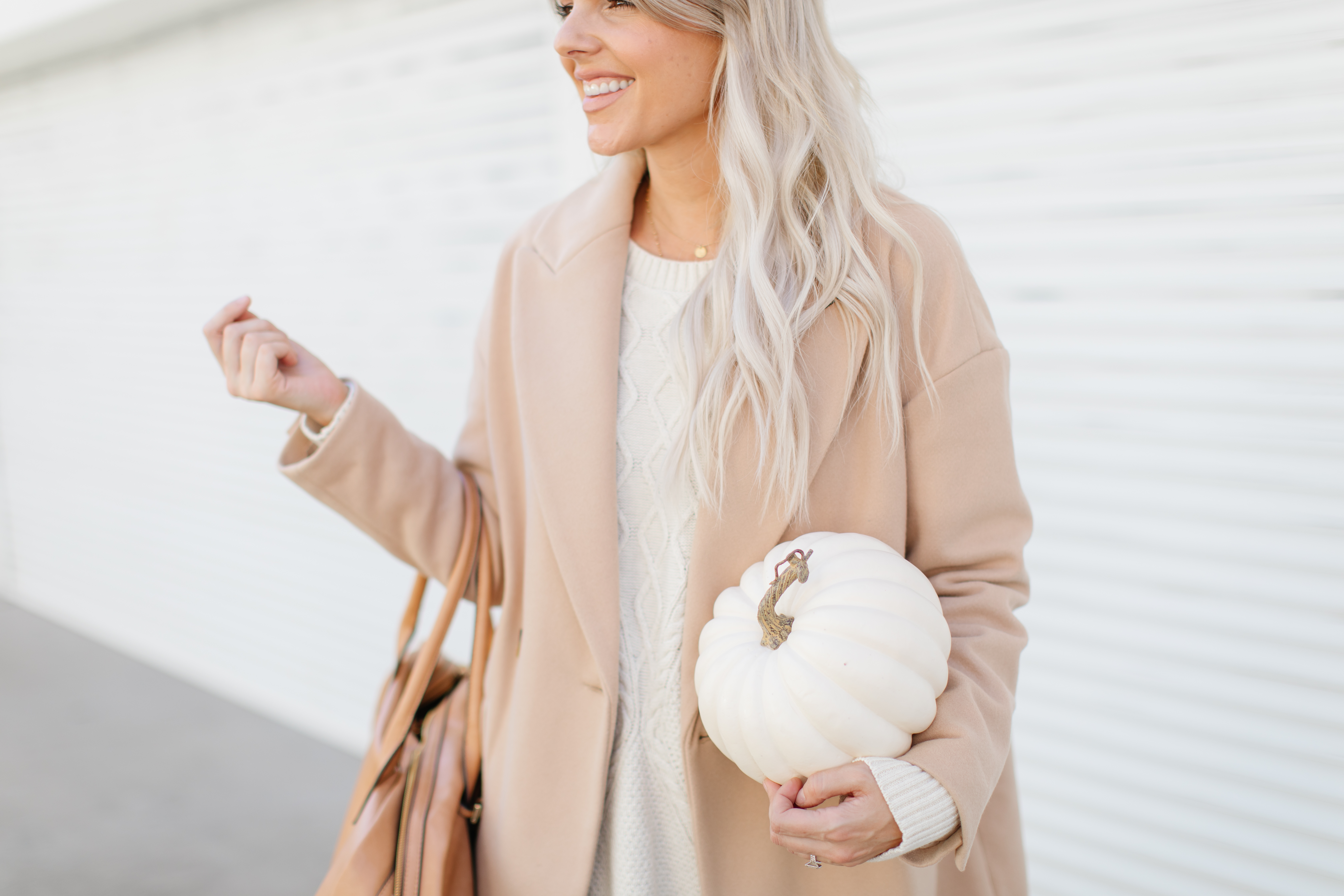 1. SWEATER DRESS | 2. JACKET | 3. SIMILAR BOOTS | 4. WEEKENDER BAG
Anyway, I hope you guys love this look! Let me know if you have any questions about styling or about anything I talked about. Or just leave me some love below! You know that I always try to respond to all of the comments on my blog and I love connecting with you guys!