Hey guys! Oh my gosh I'm so excited about today's blog post. Not only am I reviewing three different pairs of high-waisted jeans ranging from under $100 to over $200, but I'm also showing you some of my absolute favorite ways to wear high waisted jeans with 3 simple pieces. And then three different ways to style those pieces. Does that sound confusing? Ha! Let me get into it and explain more. First, let's review the jeans!
Kut from the Kloth
I want to start with these Kut from the Kloth high-waisted dark wash skinny jeans because they are sooo good and the most affordable. They're under $100 which is so great and they are honestly one of my favorite pairs of all time! And that's the absolute truth. If you guys read the reviews on Nordstrom's website you'll see that people absolutely love these jeans! One person even said they instantly made her feel 10 pounds thinner! And honestly, they do the same for me. I've truly never felt thinner than I do in these jeans.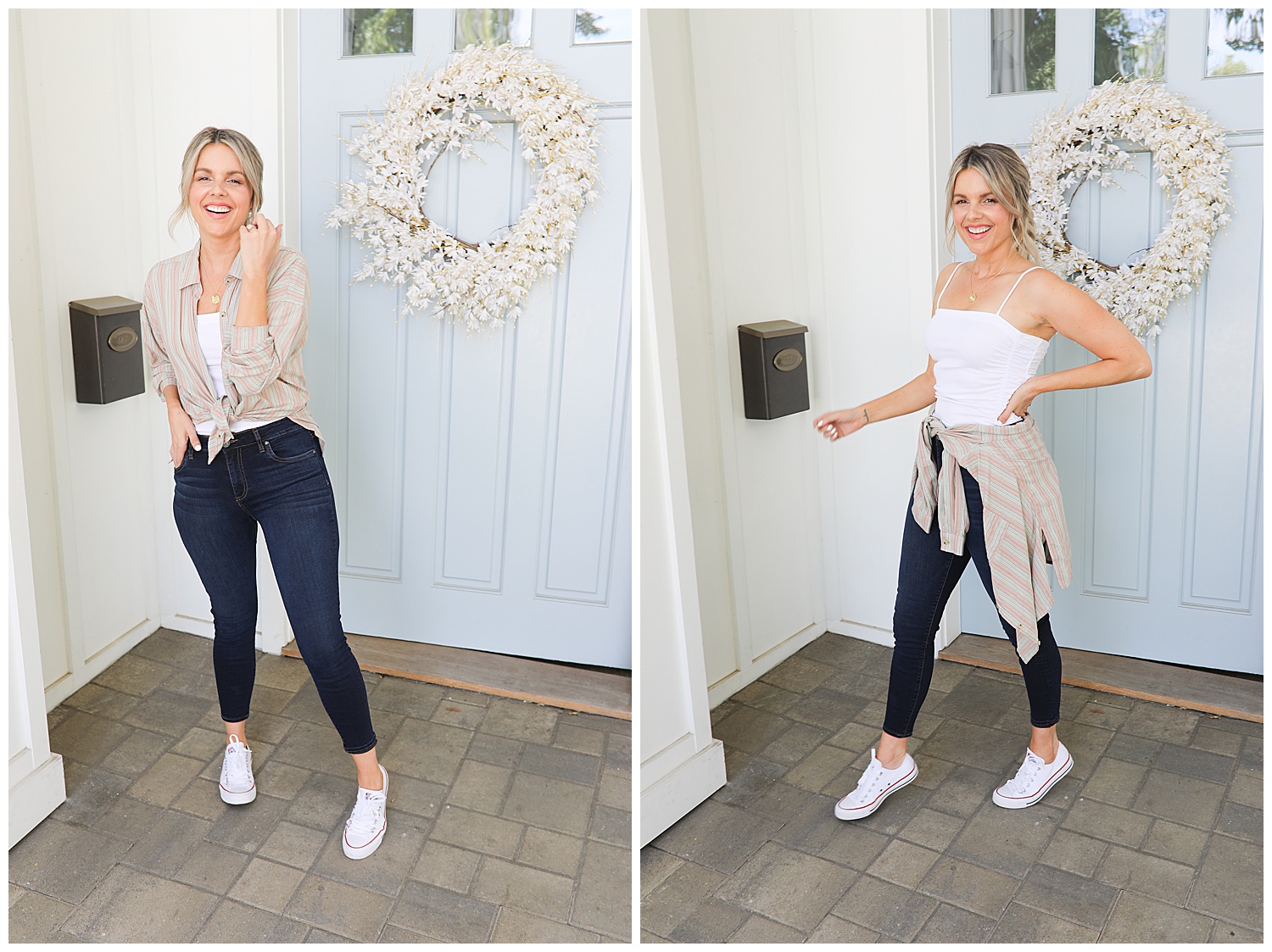 1. BUTTON UP | 2. BODY SUIT | 3. KUT FROM THE KLOTH JEANS | 4. WHITE CHUCKS
Even though being skinny isn't what matters in life. It's not! But if I can put in a pair jeans that are going to make me feel 10 pounds lighter well I am all for it! To be completely honest with you guys, out of the three pairs of jeans I'm reviewing today I think these are my favorite. But in the same breath, all three pairs of jeans are really great so these are my favorite by a hair.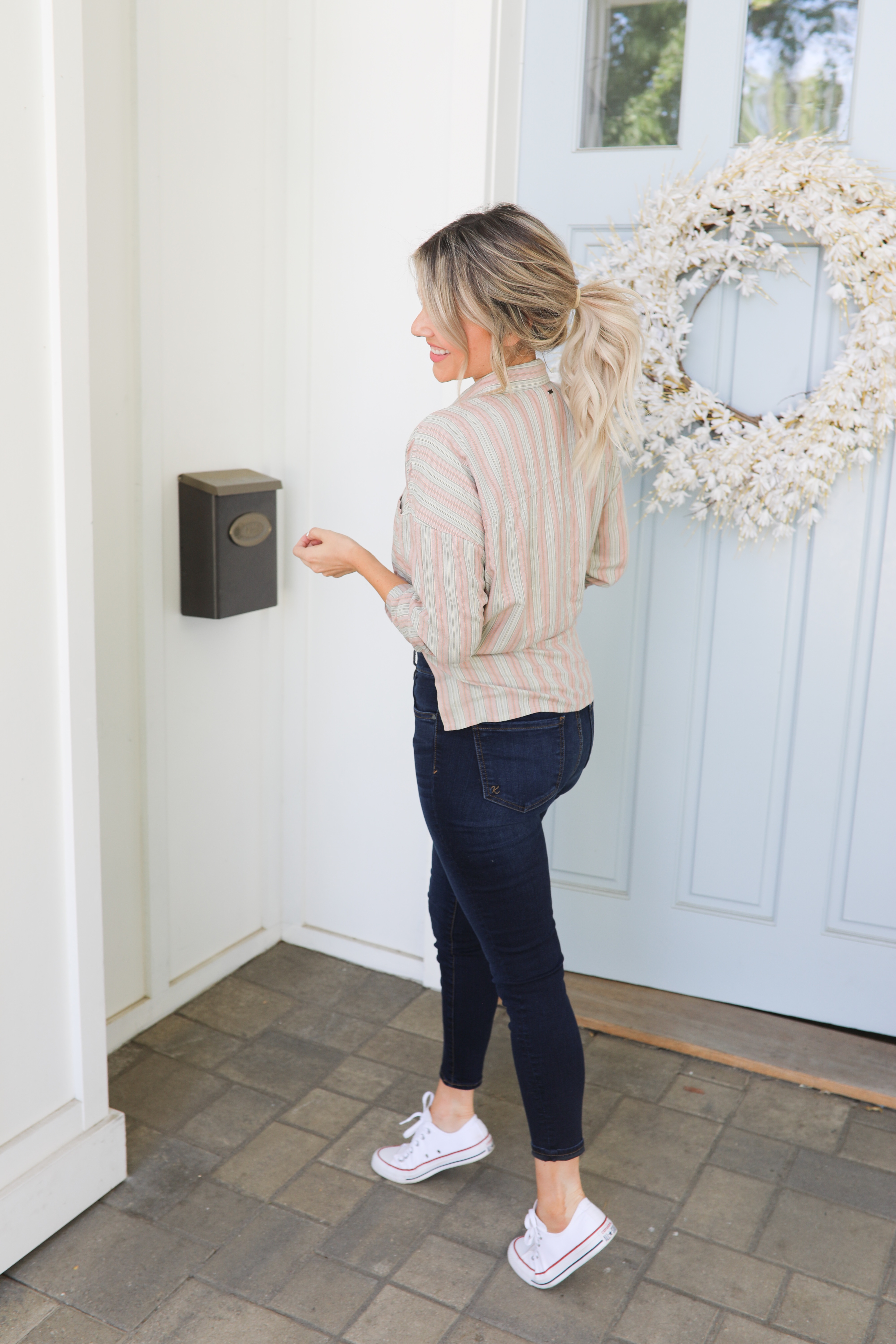 1. BUTTON UP | 2. BODY SUIT | 3. KUT FROM THE KLOTH JEANS | 4. WHITE CHUCKS
I think you can size down in these. I would normally do a size 6 or 8 but I went with a size 6 in these and they fit great! They are also very stretchy!
Paige Jeans
I was going to go in order by the mid-range jeans price wise and then do the most expensive but I've decided to skip to the most expensive. And that is these Paige high-waisted skinny jeans. There's a couple reasons why I wanted to include these. The first being that they are super flattering. I'm not even kidding you, when I put them on my husband, Kevin, immediately told me that they looked amazing on me. That right there was more than enough reason for me to want to keep them. And they totally give me a really round perky bum! Ha! And I'm all for it 😉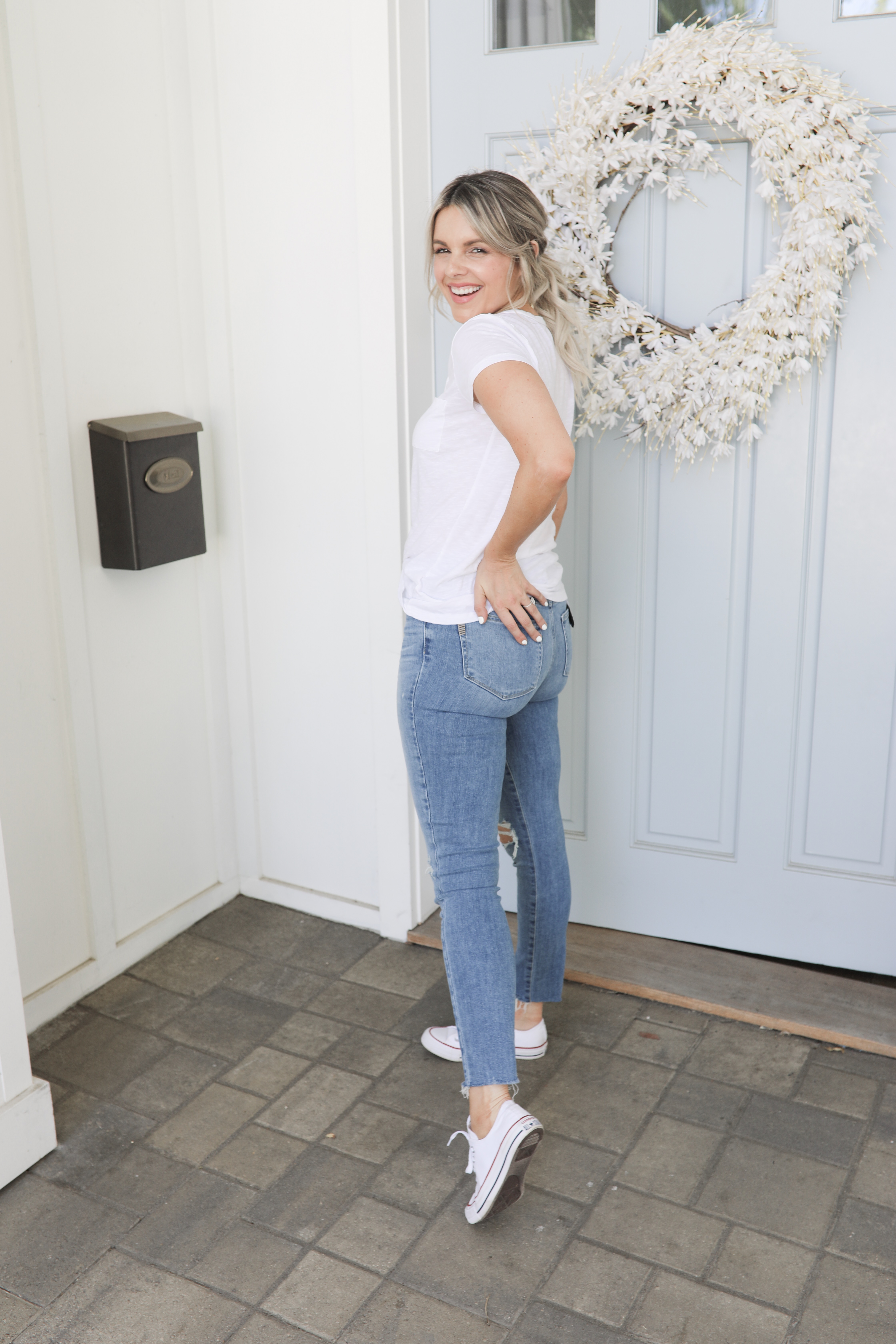 1. CALSON WHITE TEE | 2. PAIGE JEANS | 3. WHITE CHUCKS
Another reason I wanted to share these jeans is because they're not as high-waisted as the other two pairs. I would say the Kut from the Kloth pair are a normal high-waisted. And the Madewell pair I'm about to talk about last are SUPER high-waisted. But these are slightly low for a high-waisted jeans. And the reason that's important to know is that if you don't have a long torso like I do these might actually be very high waisted on you. Whereas if you don't have a very long torso the last pair jeans I talk about might be way too high waisted for you. Are you guys following?! Ha!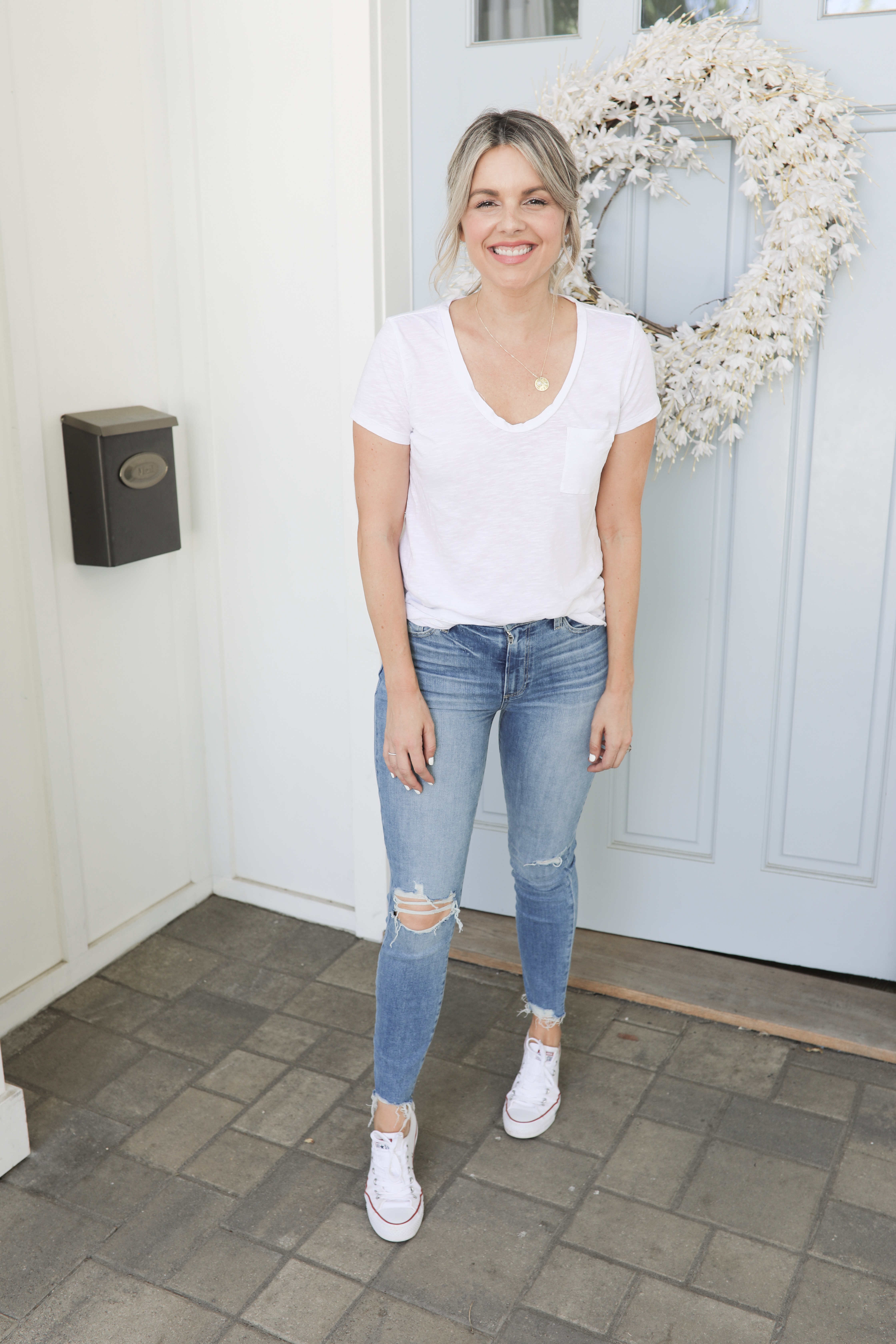 1. CALSON WHITE TEE | 2. PAIGE JEANS | 3. WHITE CHUCKS
One of the many reasons that I love these jeans so much is that they have a really great color and I think the places where they are distressed is just perfect. I love it around the knees and then the little bit of distressing at the ankle. You probably recognize these jeans if you follow any bloggers because I feel like a lot of bloggers own these jeans. Just read the reviews on Nordstrom's site. People LOVE them
All that said, they're pricey. But the great thing about Nordstrom is you can buy them try them on and send them back if you don't absolutely love them. I normally don't believe in spending over $200 on a piece of clothing but jeans are something you could have for 10+ years, so I think it's OK to justify the higher price if you can afford it. Nordstrom returns for the win! And btw, thank you so much Nordstrom for being my favorite and sponsoring this post!

1. CALSON WHITE TEE | 2. PAIGE JEANS | 3. WHITE CHUCKS
These are TTS. I got a size 28 and I am normally a size 28.
Madewell Jeans
And last, but not least, are these Madewell jeans! Like I briefly mentioned above, if you have a long torso these jeans are for you! I can't even tell you how long I've search for a pair of high waisted jeans that have this high of a waist and are this good quality. So often when I buy high waisted jeans they end up hitting me below my belly button and never give me the high waist look that I want. It's also important to note here that my belly button is weirdly high on my torso. It's one of the things I don't like about my body. But I try not to focus on it because let's face it. I'm lucky that I have a functioning and working body in the first place.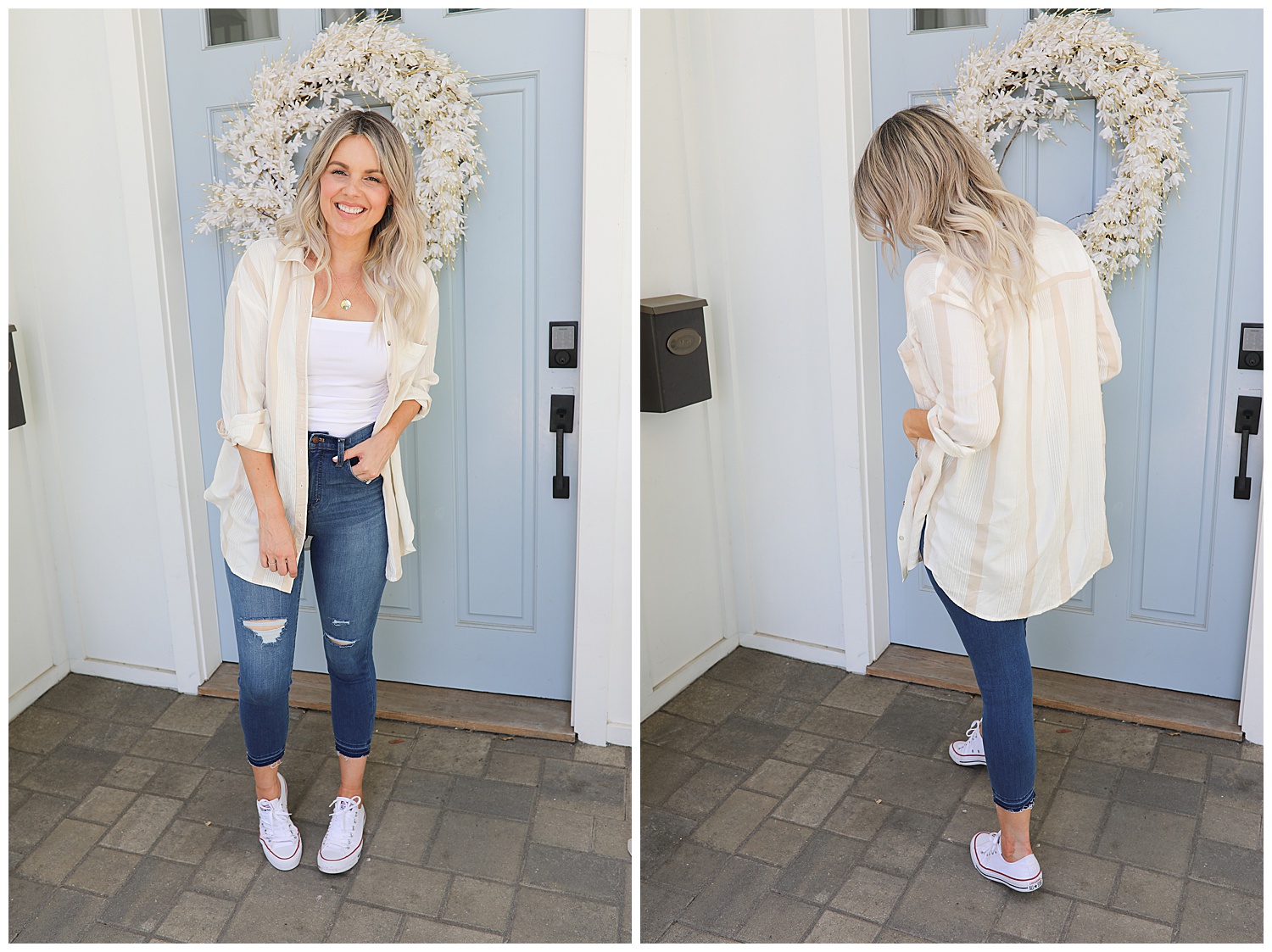 1. STRIPED TOP | 2. BODY SUIT | 3. MADEWELL JEANS
Anyway, they're going to cost you around $125 so their mid range in terms of price. But they are so so so great! They are going to give you curves in all the right places. And again if you have a longer torso like me these are definitely literally the highways to jeans you're going to want to get to wear with the bodysuit that I'm going to reference in just a second. And keep reading because this body suit is one of my favorite pieces of clothing of all time!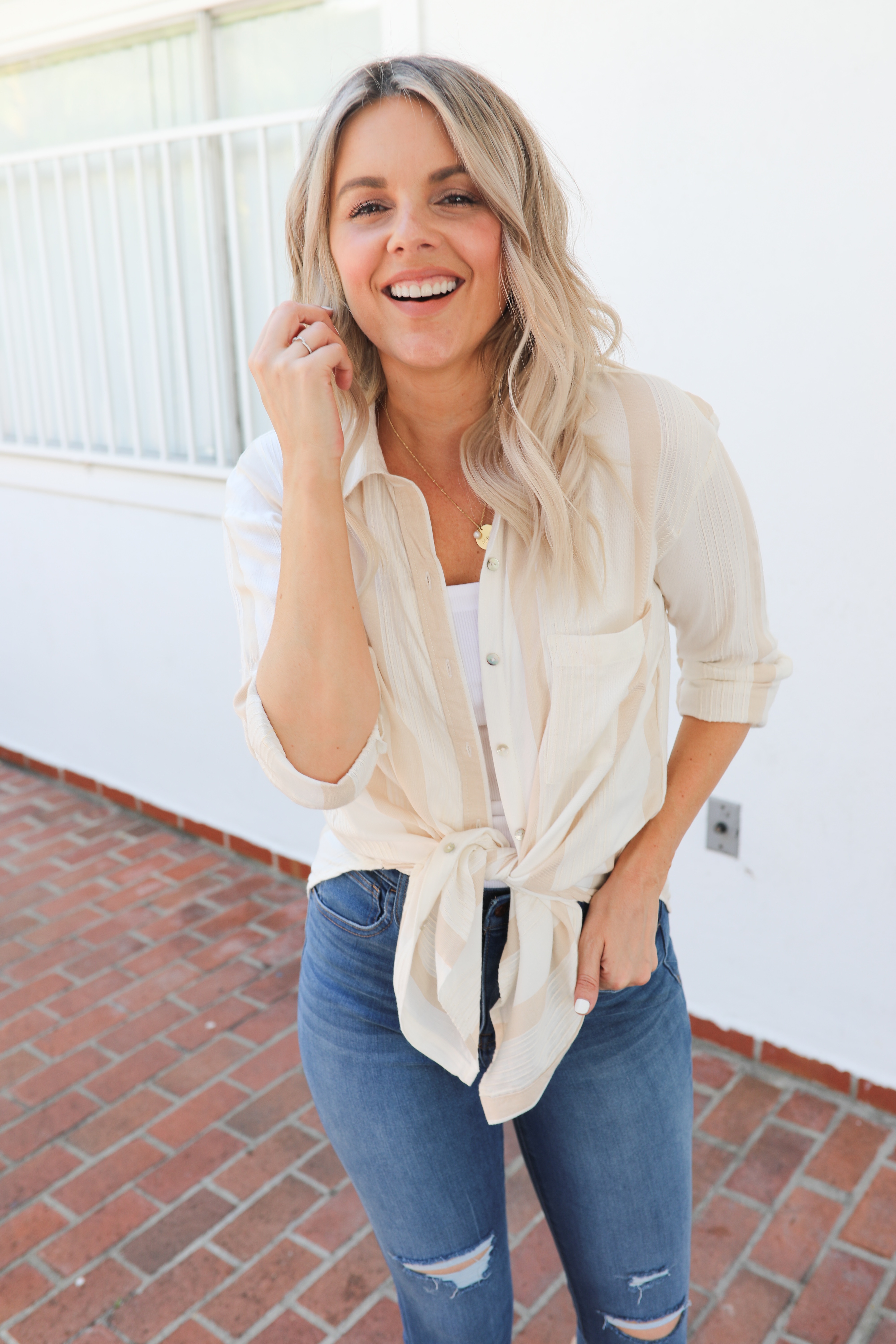 1. STRIPED TOP | 2. BODY SUIT | 3. MADEWELL JEANS
I sized down in these. I normally get a 28 like I mentioned about but I got these in a 27 and they fit great. Not tight at all. Just right!
How to wear high-waisted jeans 3 different ways with the same 3 pieces
Bodysuits!
So let's talk about this bodysuit. As you can see in the three photos below, there are 3 different ways that I'm showing you how you can wear high-waisted jeans by pairing them with two other pieces. So essentially, you buy these 3 pieces and you can wear them a few different ways without having to buy anything else! Ok so let's get into what I paired them with.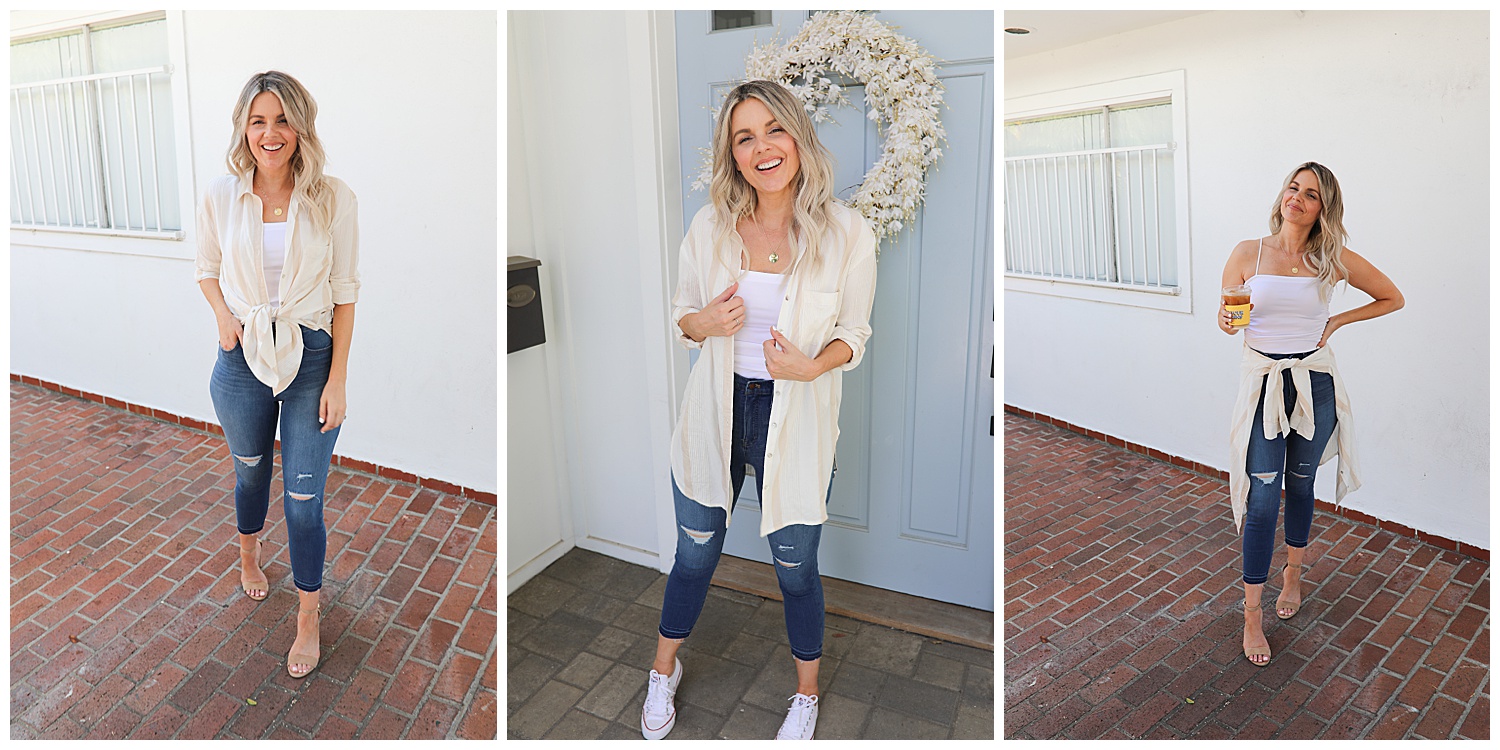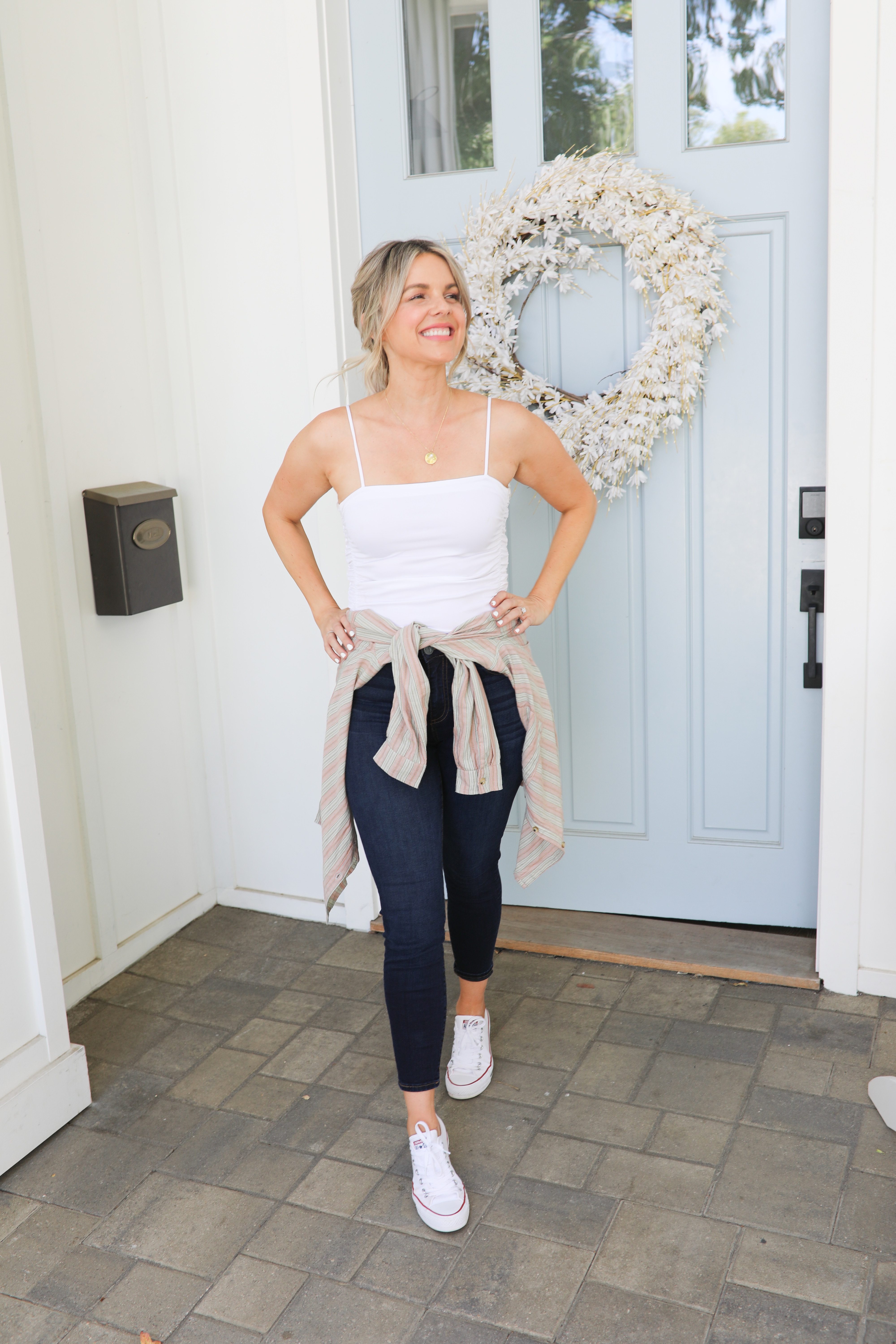 1. BUTTON UP | 2. BODY SUIT | 3. KUT FROM THE KLOTH JEANS | 4. WHITE CHUCKS
The first is this white bodysuit that I just mentioned. It comes in two other colors and I freaking LOOOOOVE it! I've never really been someone that wears bodysuits mostly because I've always thought I didn't have the body for it. Usually bodysuits don't have any ruching around the middle like this one does, so they lay super tight to your tummy and basically show everything going on there. As you guys know, I don't have a flat tummy and I have a big loose piece of skin and fat around my midsection. But what I love about this body suit so so so much is that the ruching in the middle makes it flattering for many different body types!
I've always loved the look of a bodysuit with high-waisted jeans and never thought I'd be able to pull it off and I'm so psyched that I can now! Truly truly truly get this body suit! If you don't love it, you can easily return it. That's one of the reasons I shop at Nordstrom so often is because I don't have time to go to the mall and I'll just order a bunch of stuff online and try it on at home and whatever doesn't work I throw the label on that comes in the package and stick it in the mail. It could not be easier. So trust me, get this body suit, and if you absolutely don't love it just send it back. But I really think it's going to make so many of you so so happy.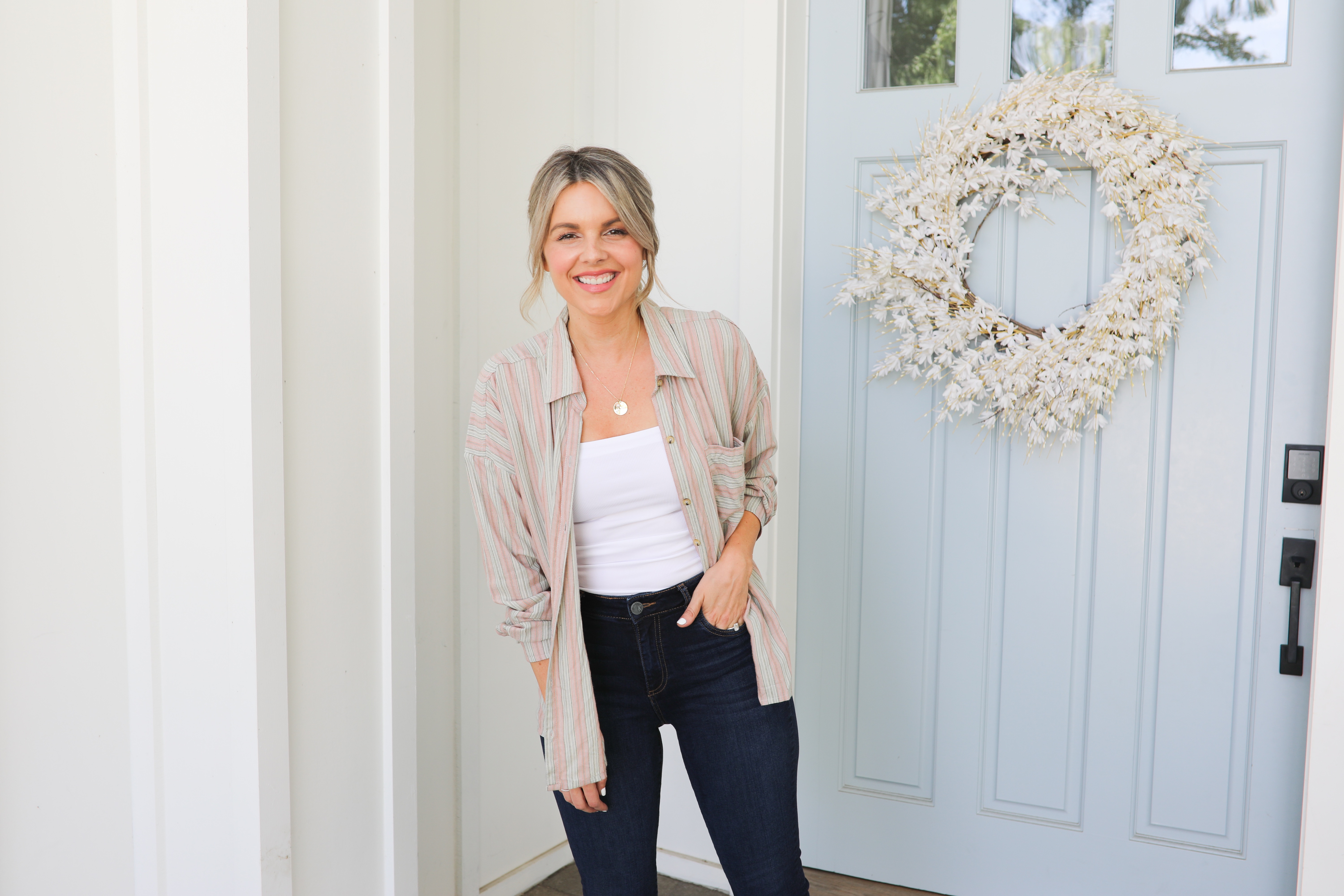 1. BUTTON UP | 2. BODY SUIT | 3. KUT FROM THE KLOTH JEANS | 4. WHITE CHUCKS
If I sound super excited and over the top about it while writing this it's because I am! Normally I would never say that a piece of clothing can make you super happy. Only you can do that. But I'm telling you I just lovethis body suit so much that I don't know how else to describe how I feel about it.
A Cute Button-Up That Can Be Worn A Few Ways!
And then to style different ways all you need is a button-up shirt. I really love this one because it's really long and I love a long button up. But it only left in super limited sizes so I feel like it's going to sell out ASAP. So I'm also showing you in some of the photos above another button up you could use that is still fully in stock! You guys might recognize the shirt in the photos above because I've worn it many times before. I've had it for a few weeks now and I think I've worn it at least five times in that three week period.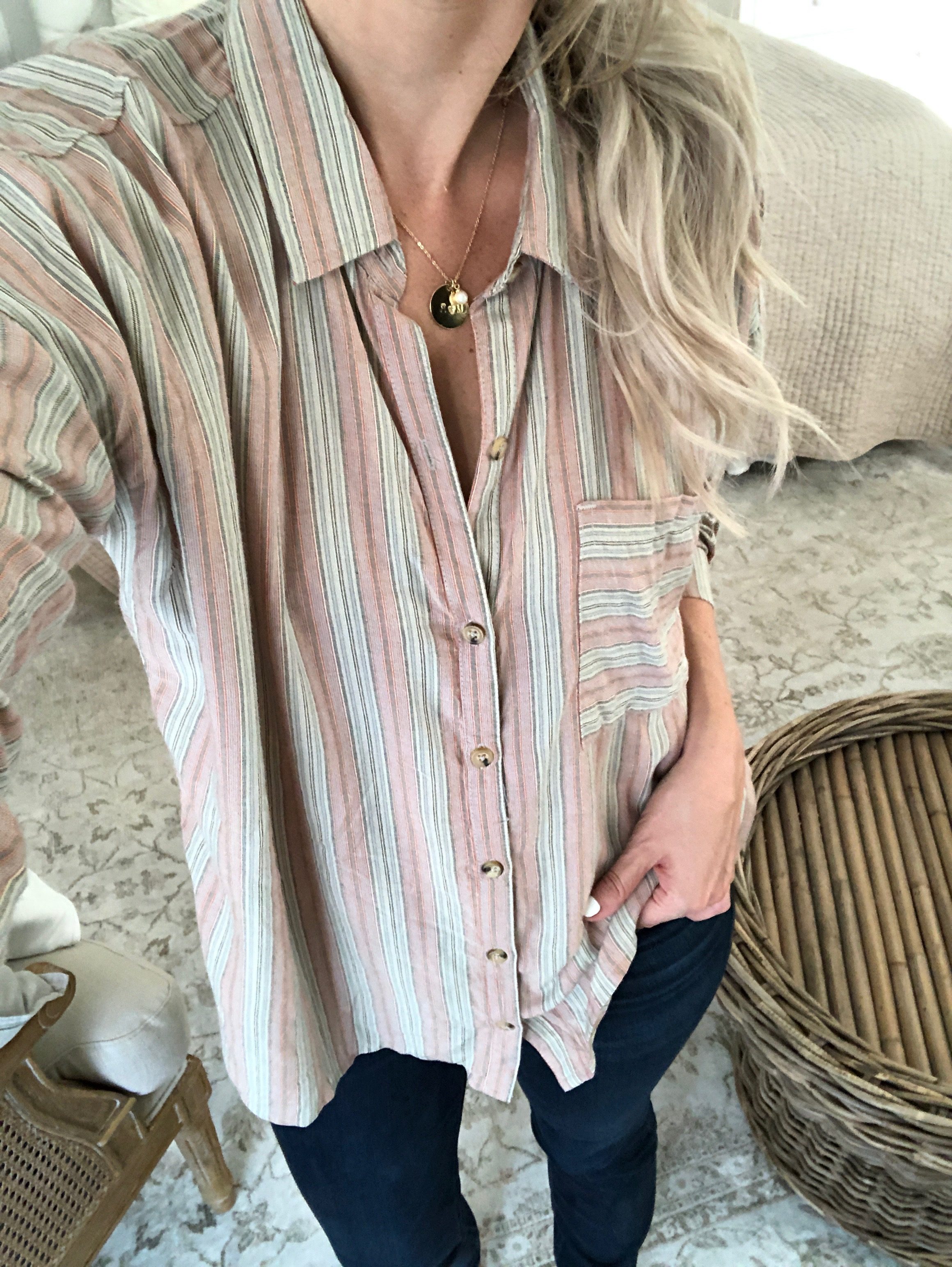 Tied in a Knot at the Waist
As you can see, when you pair these jeans and this bodysuit together you can wear the button up three different ways. You can put it on and it tie it at the waist. I love this look. I feel like it's a more modern take on something Kelly Kapowski from Saved by the Bell would wear. I feel really sexy wearing it like this.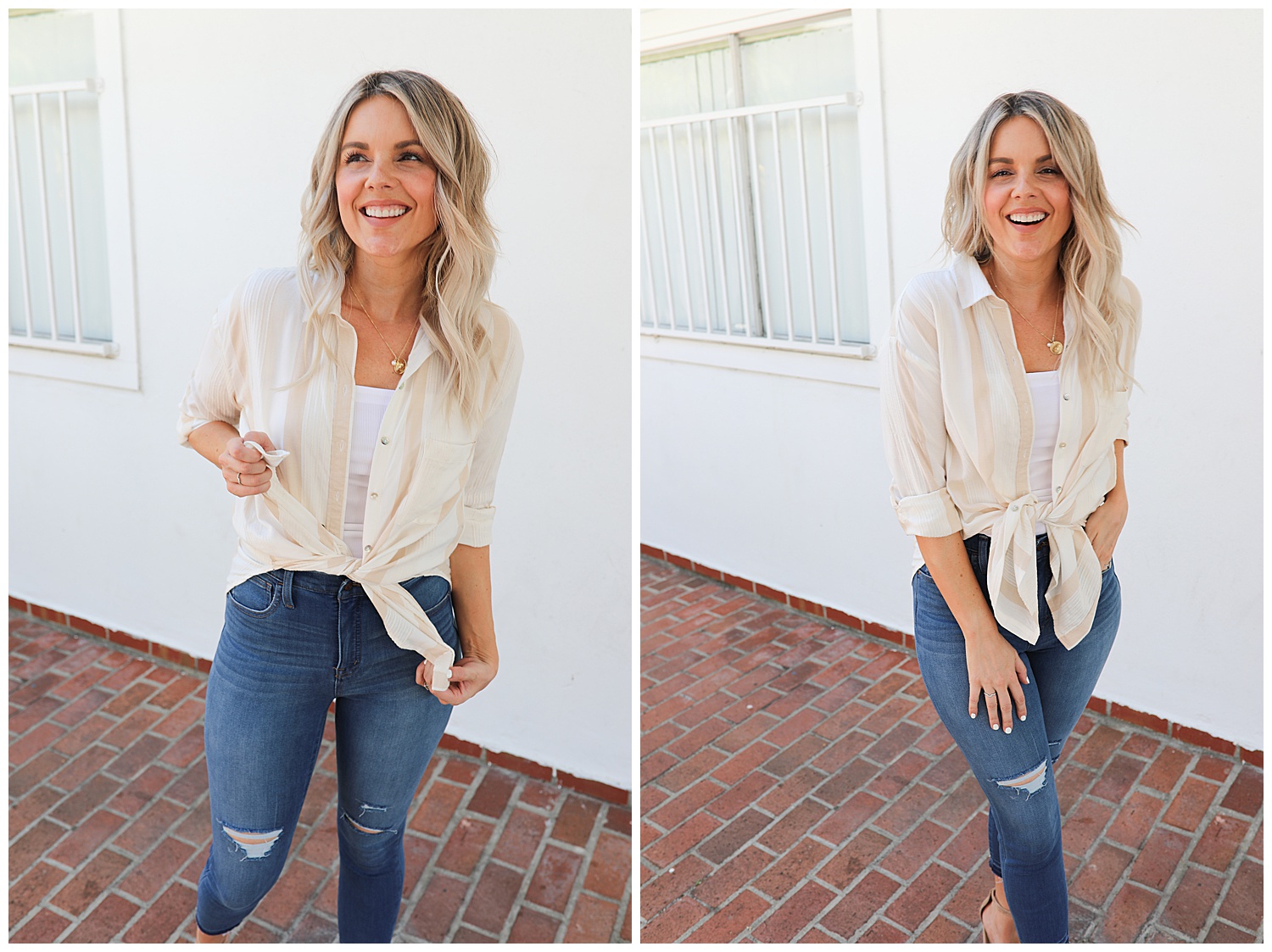 Wear It Unbuttoned
If you're more self-conscious all around, you can keep it covering your arms by wearing the button-down but don't tie at the waist. This allows you to cover up your hips more and have coverage over your lower belly because of the high waisted jeans. And I wanted to show you guys that with this look you don't need to wear the jeans with heels. Flats look just as cute with it! In fact, I might even like the sneakers more with these particular jeans.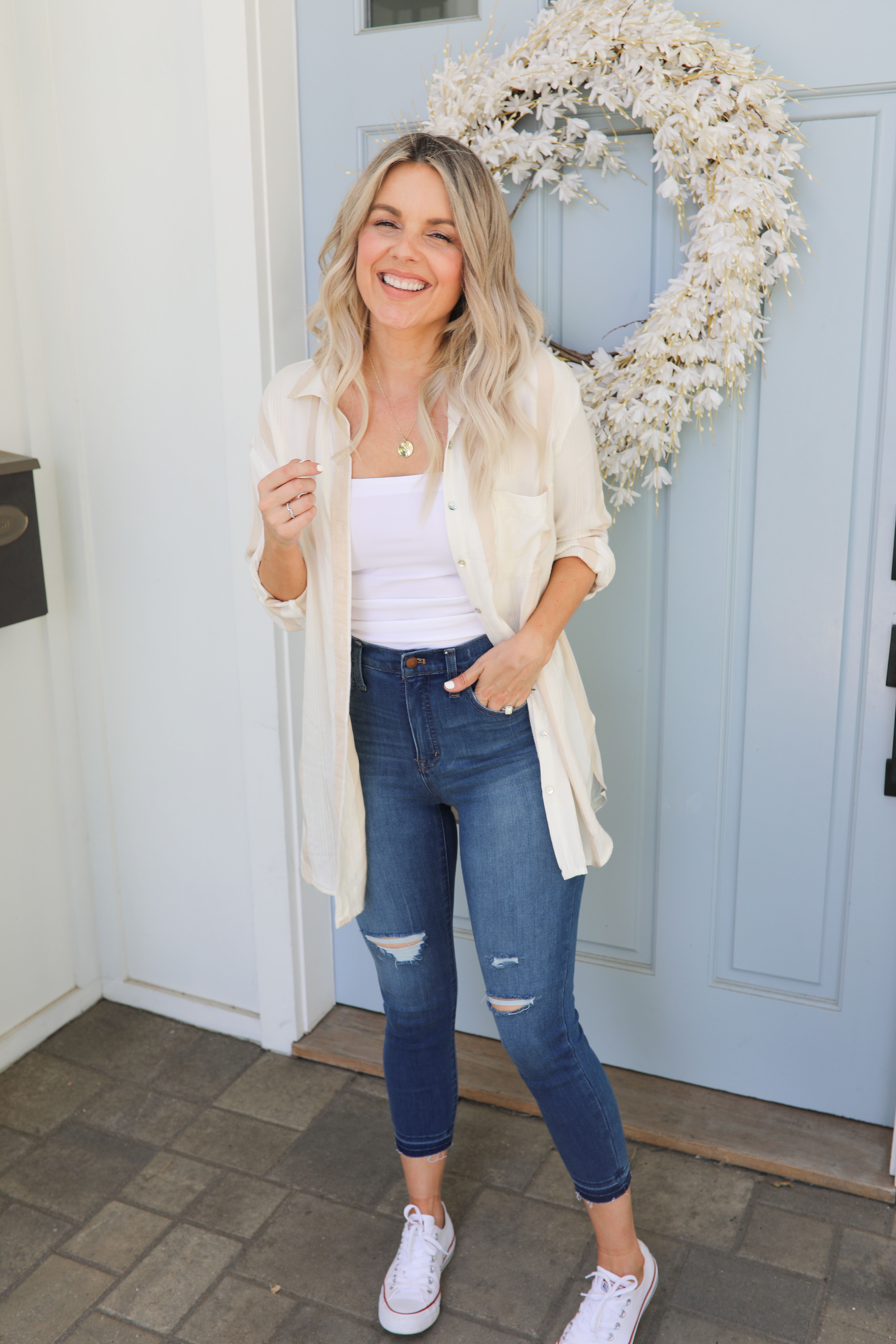 1. STRIPED TOP | 2. BODY SUIT | 3. MADEWELL JEANS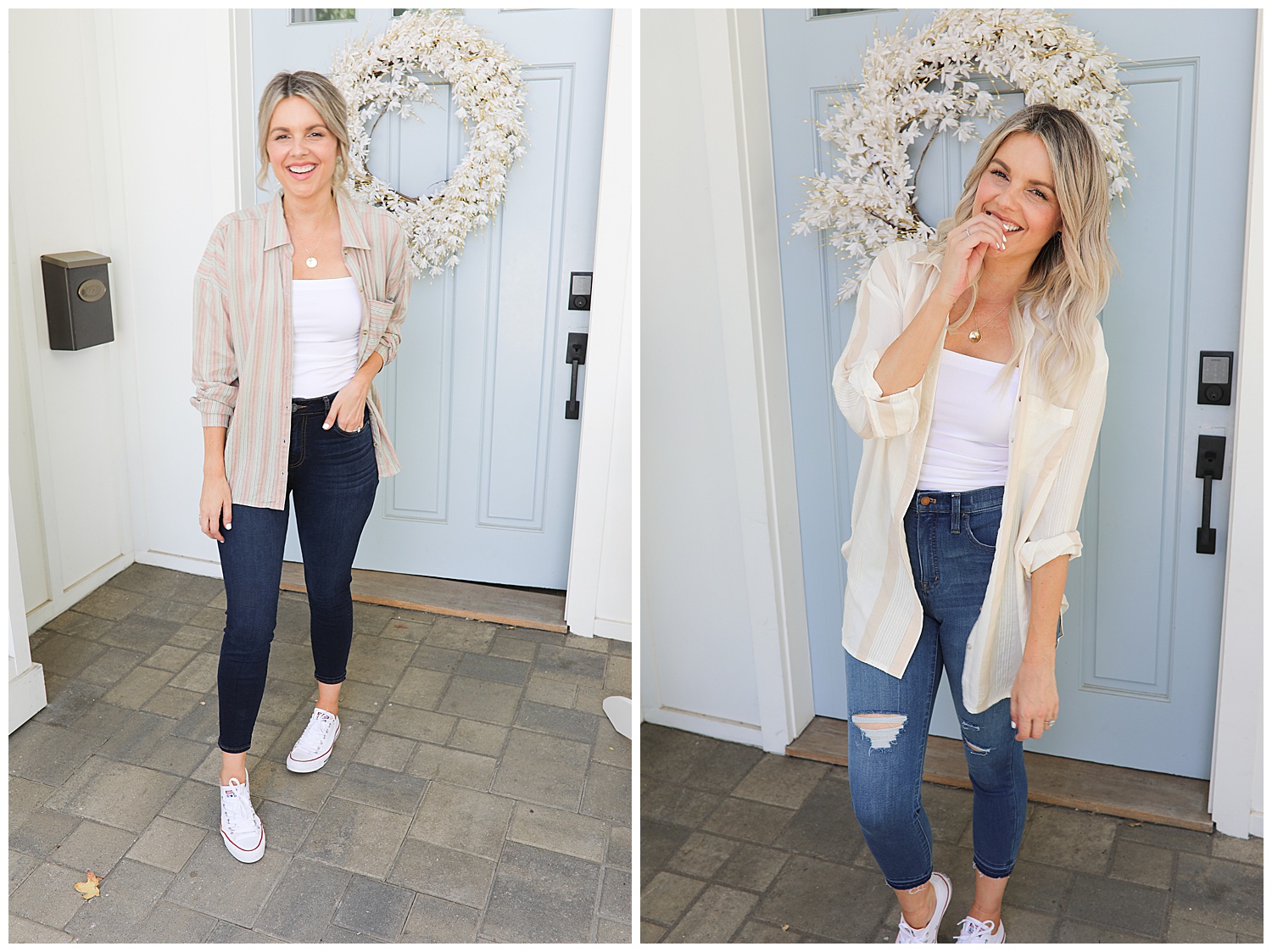 Tie It Around Your Waist
Or if you want to show a little bit more skin, you can just tie it around your waist. I also think this is very sexy but if you're the type of person that is self-conscious about your arms this might not be the look for you. Which is OK! That's why I'm giving you the two other options. If you're more self-conscious about your hips then I would recommend wearing it this way tight around your waist. It's so funny because there's so many looks but I never thought I could wear because I wasn't super thin – until I realized that sometimes the secret is literally just tying something around your waist. To not only make it feel more put together, but also hide anything you're not comfortable showing. I recommend you guys try tying something around your waist with so many looks you already have in your closet!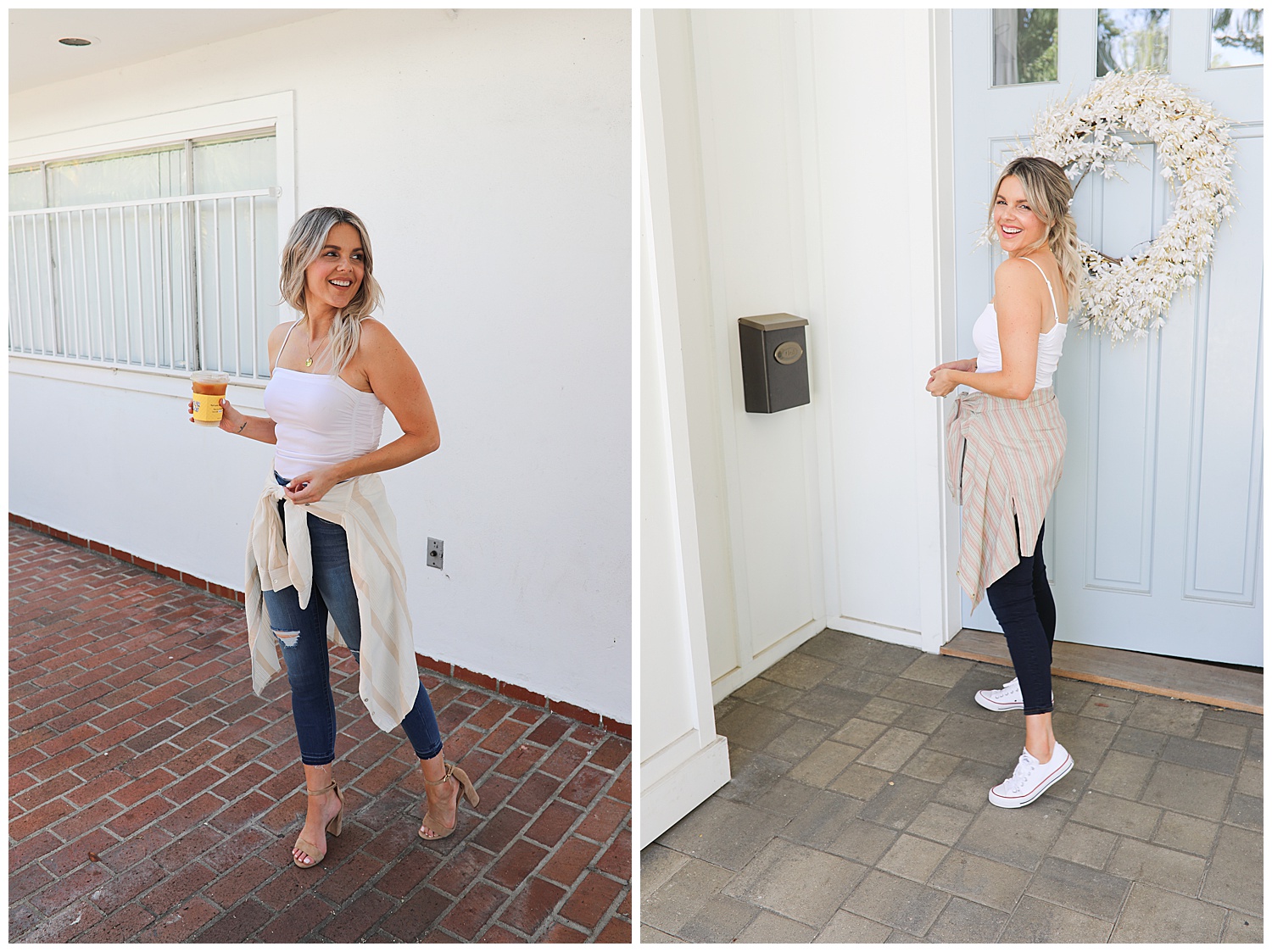 Last thing I want to talk about (and thanks for hanging with me for this long) is that I am so so so happy to see that Nordstrom is making it a priority to bring light and attention to sustainable brands. All of their sustainable brands create gorgeous clothes with 50% sustainably sourced materials—like organic cotton, recycled polyester and materials with certifications like bluesign and Fair Trade Certified. You can read more about it here. I just spent the last hour looking though all the amazing brands they are backing and I bought the following pieces…

In fact, I bought the below sustainably sourced dress from Reformation a couple weeks ago and I couldn't believe how soft it was. Molly calls it my "twirling dress". Size down in it!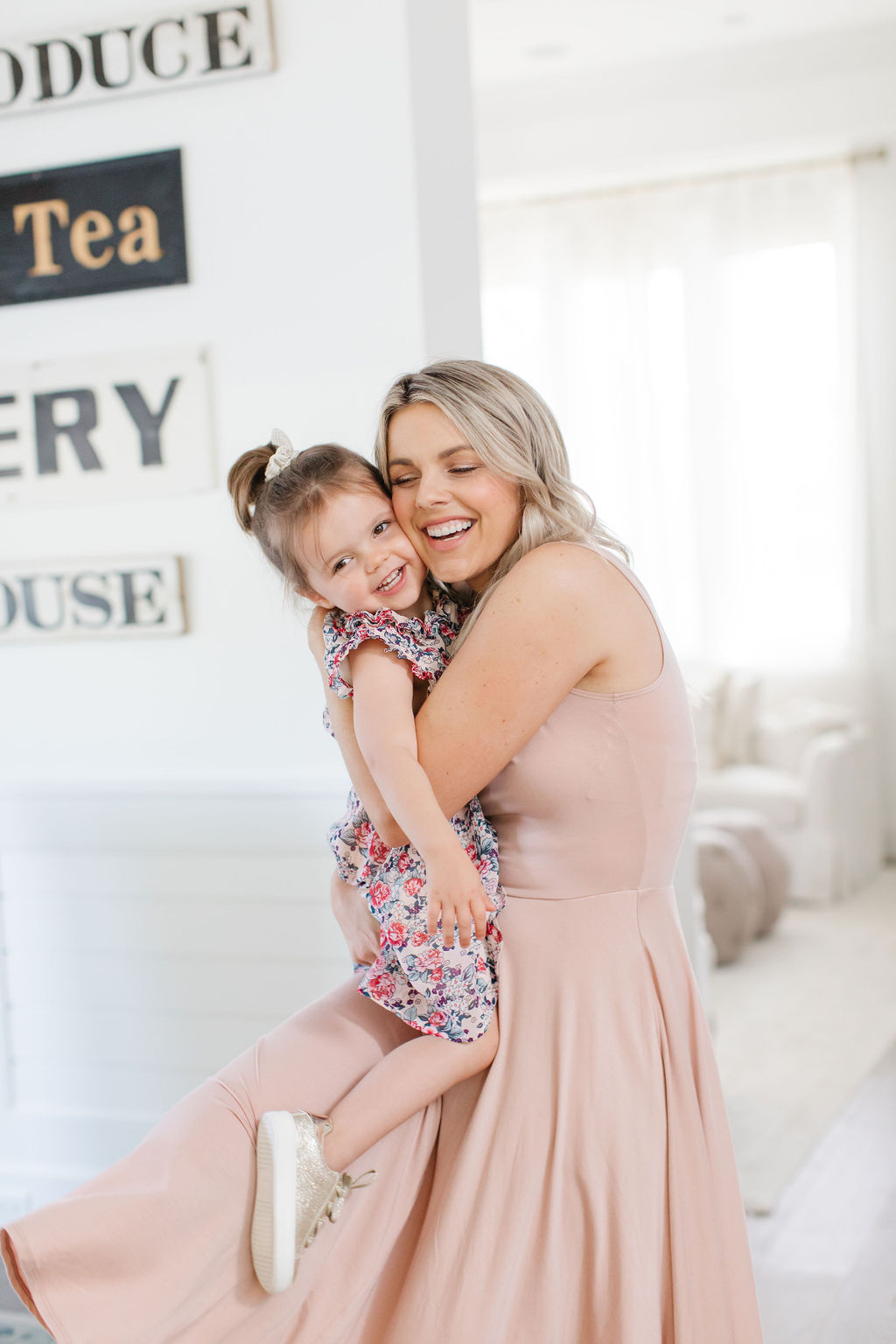 There you have it! I really hope you guys love this post today. It's been a really long time since I've done a review on multiple jeans in one post. Years in fact! And these are truly three amazing pairs high-waisted jeans that I know you guys will love no matter which ones you choose. What are your favorite jeans? Favorite brand? I'm always looking for suggestions!