Hi guys! Hope you're having a great start to your week. I'm having a great start to mine because I'm home with my family. Last week was pretty crazy because I had a quick 24-hour trip to New York City and as soon as I got back, I filled in as the cohost on the show I work on, so it was a lot to say the least. But all good things so I definitely not complaining! I'm grateful for it all! Anyway, I want to share this link with you guys today because it's really cute and extremely affordable! Plus, I just think my scarf looks so expensive even though it's ridiculously affordable. So let's go ahead and start with the plaid scarf!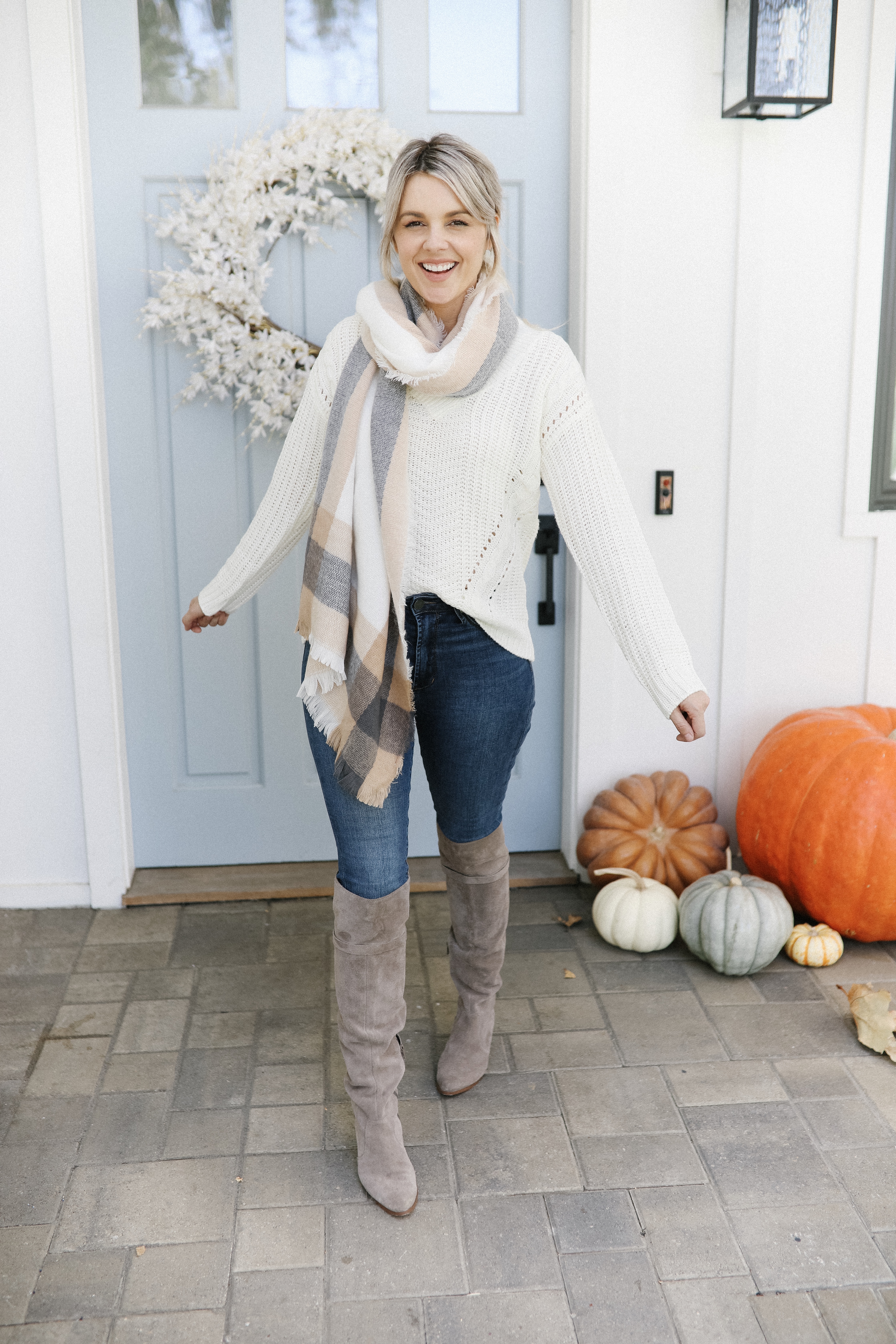 1. PLAID SCARF | 2. SWEATER | 3. JEANS | 4. OTK BOOTS
Like I just said, I really think this scarf looks super expensive. The colors and pattern remind me of a Burberry scarf. And as you might know, if you were to get the scarf from Burberry, it would be hundreds of dollars. I actually just looked it up to compare, and the Burberry scarf is $390! But this scarf is only $12.89! That's basically $375 less!
Not only do I love the colors and patterns, but I love the size of the scarf. It's a really good size and therefore when you wrap it around your neck, you just feel super cozy and most importantly, warm for the cooler months! I brought this with me when I went to New York last week. It wasn't exactly cold enough for it yet, but I still broke it out in the morning. Every single time I've bought an affordable scarf and want to share it with you, I feel like it sells out instantly so I'm so excited that this one still in stock! But, I feel like it's going to sell out very fast so I would snatch it up now if you love it as much as I do.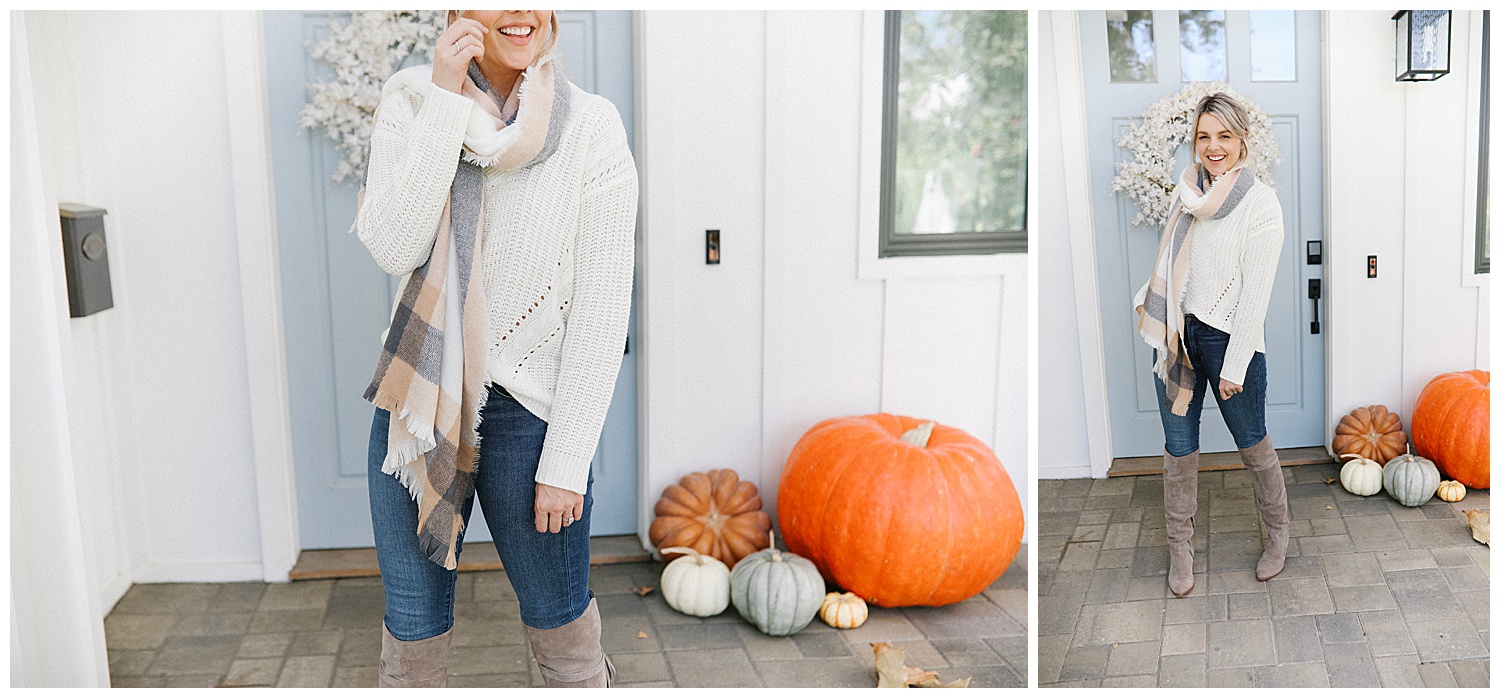 I also want to tell you guys about my sweater. It's only $17 and it definitely looks and feels way more expensive than that! I feel like it's slightly shorter than it appears in the photo on the website just FYI. But I pretty much don't wear anything but pants these days, so it's perfect for tucking into a pair of high waisted jeans or pants. It comes in four different colors, but of course I went with the white. But I think the Energy Blue is so beautiful as well. I got a medium which is my normal size. And I definitely feel like I could've maybe sized up. Just cause I feel like if I put this in the dryer, it might be too small. Like it might shrink up a little bit. So I'll definitely be laying this one flat to dry. Definitely check it out if you're looking for an affordable sweater.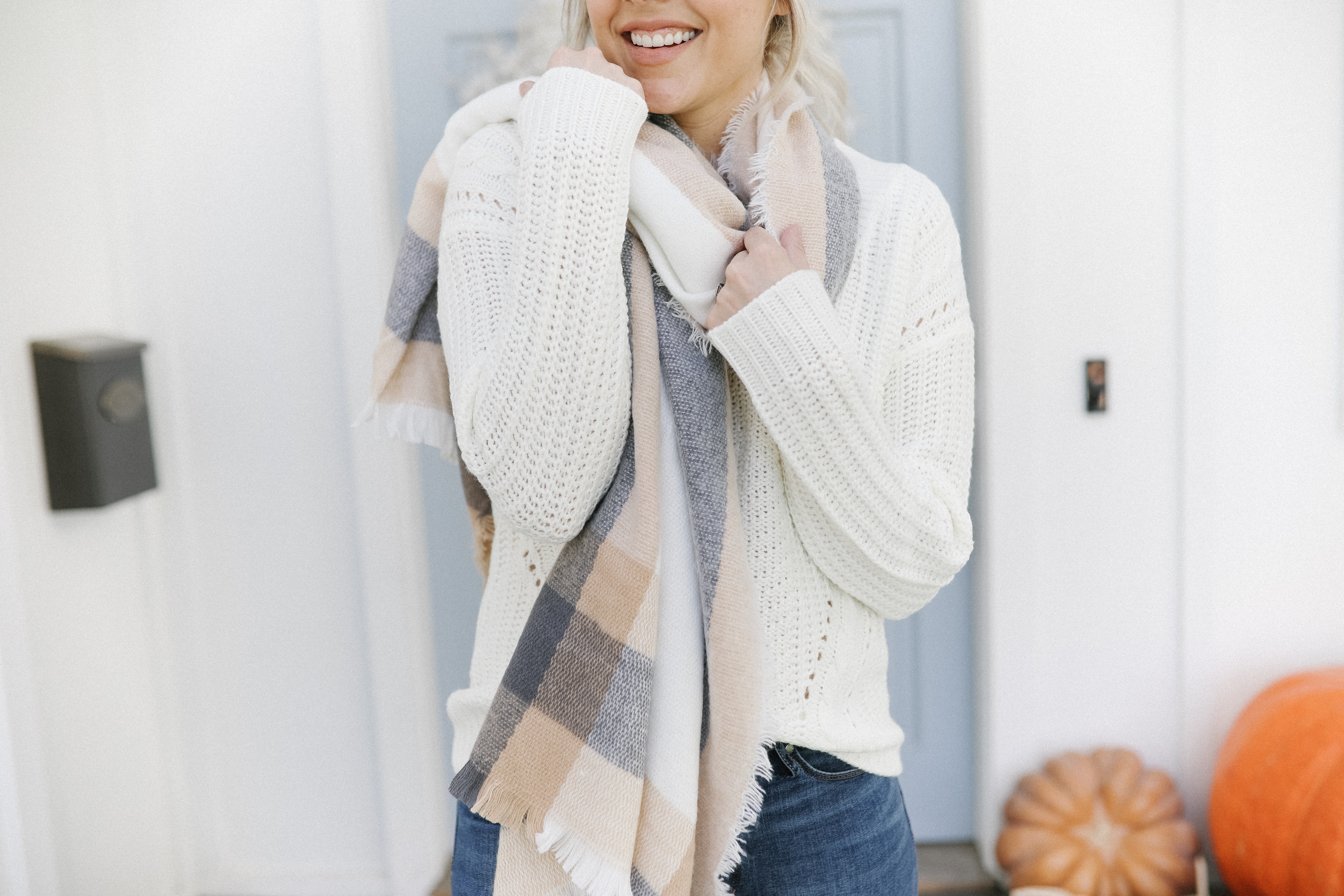 1. PLAID SCARF | 2. SWEATER | 3. JEANS | 4. OTK BOOTS
I'm wearing the sweater and scarf with this $60 pair jeans. I truly love these jeans and have been wearing them so much lately. So just thought I'd leave them for anybody interested. And the boots I'm wearing are no longer in stock because of the last year, but I found a super affordable pair from Nordstrom rack that look identical. Trust me you will use these boots over and over again for the next 6 to 8 months. I love over-the-knee boots because I have wider hips and I feel like the width around my calf balances out the width around my hips. If you never owned a pair of any boots you definitely need to get some ASAP!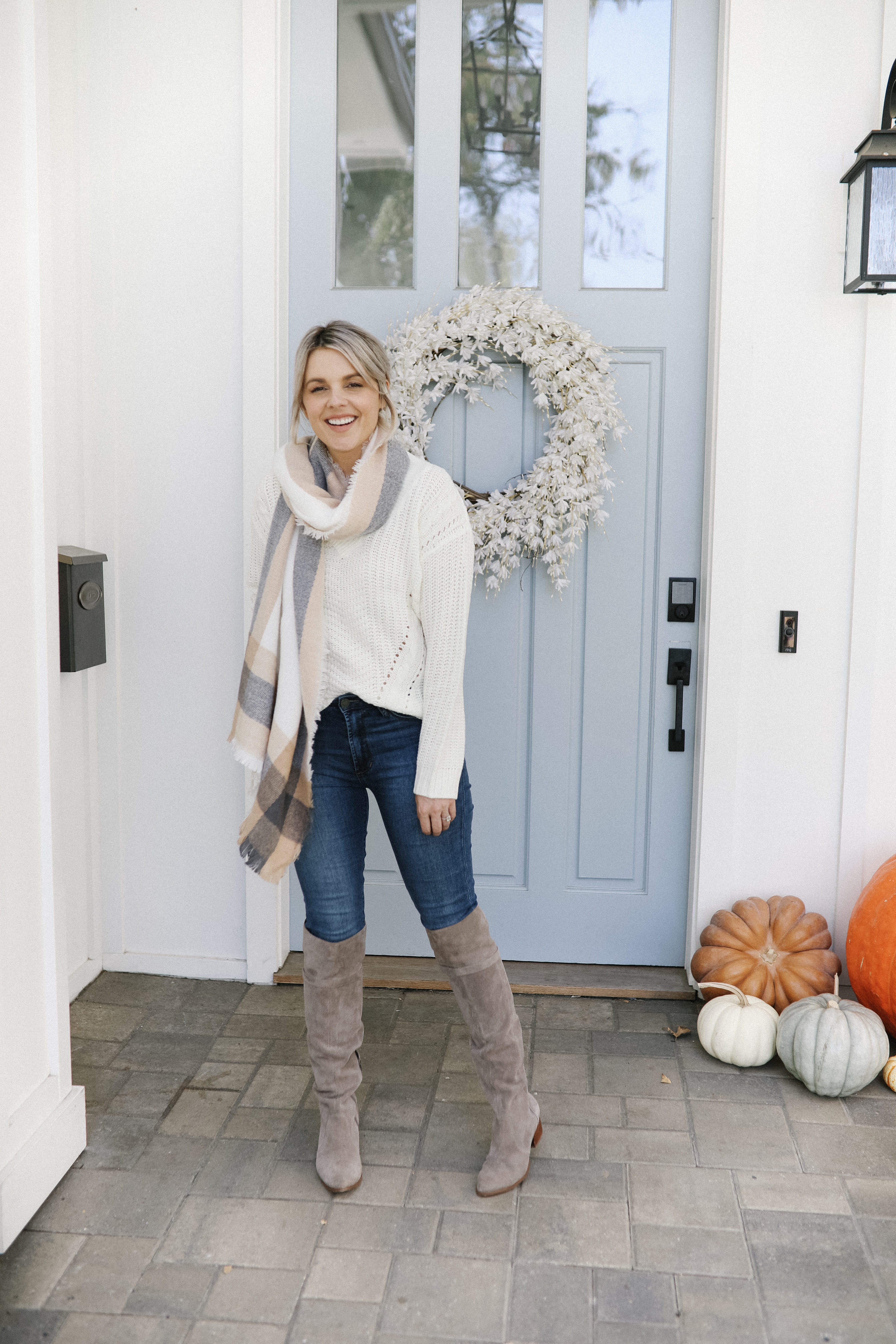 1. PLAID SCARF | 2. SWEATER | 3. JEANS | 4. OTK BOOTS
Anyway, I hope you guys have a great Monday. I'm shooting some content for my blog today. I think holiday recipes! Yes, I am already thinking about the holidays. In fact, if you didn't see, a few days ago I did a gift guide on some cute gifts under $25 that you might want to check out if you're a early planner like I am! Talk to you guys soon! And as always, leave some love in the comments below or just tell me stuff you'd like to see in general on my blog. I always love hearing from you guys.