Hey guys! Thanks for coming to my blog today. I wish I could say this is a blog post where I write all about Molly fighting her nap and then leaving you with some amazing tips of how we solve it! But the truth is, I've got nothing for you! Today, I need your help. That's one of the things I love so much about this blog. I am able to share things that I've learned about parenthood or just life in general and then you guys come on here and help me so much too! We're community of amazing women helping each other out and I just think that's so special. Here's what's going on with Molly.
Naps.
No naps? I wasn't too alarmed because this happened in the past when she was 2 1/2. We thought it was a rough patch but quickly she started napping like normal again. But this time turned out to be very different. At first, she was fighting it here or there or even for 10 minutes beforehand. Then, she was fighting it every single day and for a good hour beforehand.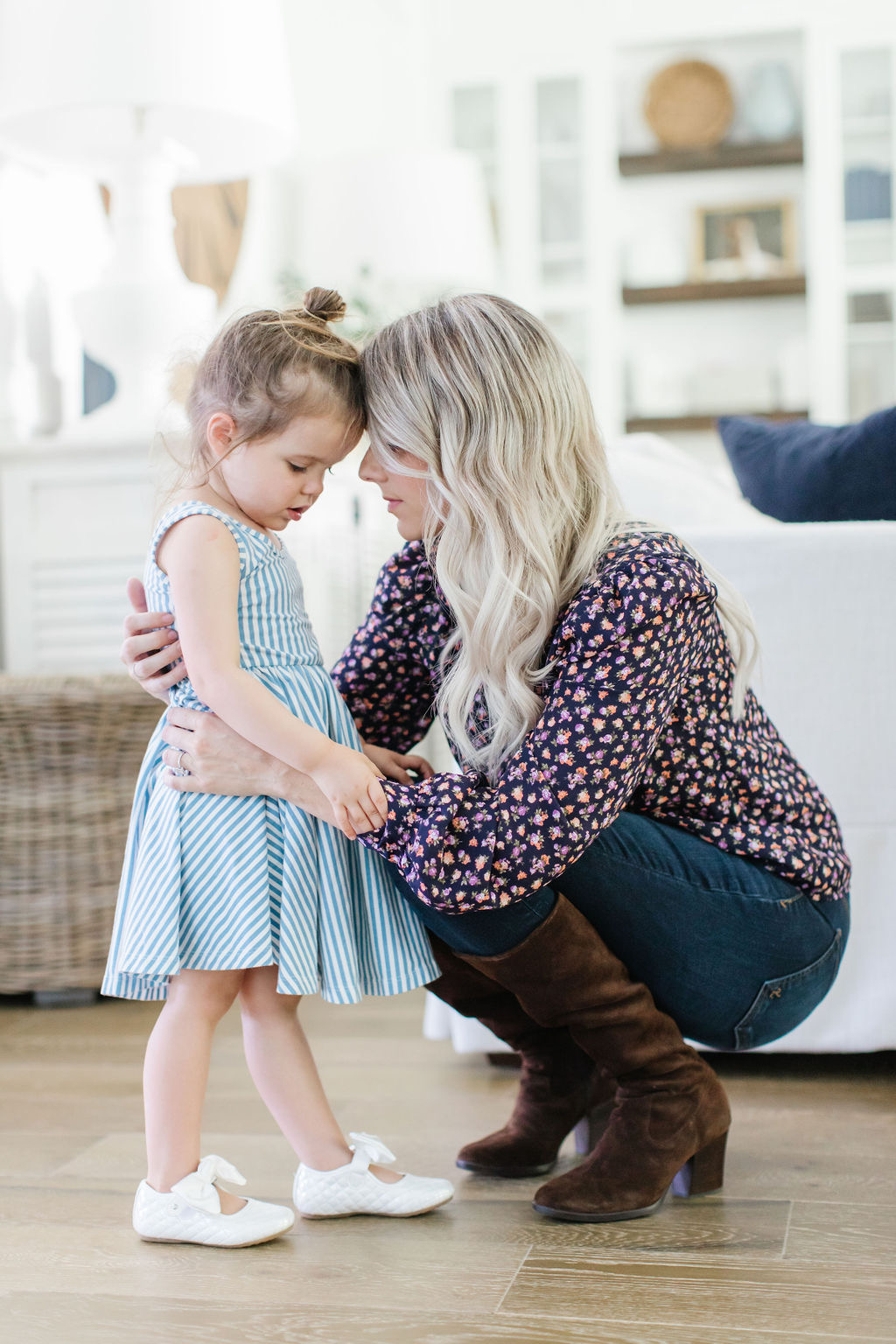 1. FLORAL BLOUSE | 2. JEANS | 3. SUEDE BOOTS | 4. MOLLY'S DRESS | 5. MOLLY'S SHOES
I feel like we tried everything. We tried letting her know one hour before so she had plenty of time to mentally prepare for it. And we tried only 30 minutes before and then only 15 minutes before. And then we wouldn't tell her until five minutes before and then that turned into an hour because she would fight and scream as soon as she found out and it would be impossible to get her in her crib.
Some days we tried the really calm approach of trying to hear her out and assure her that she needed a nap and everything was going to be fine. We also tried just telling her she didn't have to nap and she could just have quiet time in her crib and she thought that as well. And then there were days when we tried to be more strict and put our foot down and not take no for an answer. I felt like a total, complete jerk on those days but I knew I needed to try something else. And then, of course, there were some days when she would scream and I would scream right back and then those days I felt like a complete failure. I'm human. It happens to all of us parents.
There are so many different scenarios so I want to try to lay out most of them because as any parent knows, when it comes to figuring out a sleep schedule for your child, whether they are a  newborn or toddler, there are so many different scenarios. Anyway, if we were able to get her in her crib for quiet time, it was usually after an hour of arguing and by the time we actually got her in there,  not only was she exhausted but we were mentally and physically exhausted at that point.
Essentially we put Riley down for his nap at noon and then try to put her down afterwards and couldn't even get her in her crib until 1 PM. Then usually from 1 PM to 2 PM she'll just sit there and talk to herself and then start screaming at some point for us to come get her. And meanwhile, I would just anxiously sit next to the monitor watching this all happen and get absolutely nothing done. So then I go wake her up and about 15 minutes later Riley would be up. Nobody was getting any rest! It was beyond frustrating. Let me rephrase that, it is beyond frustrating!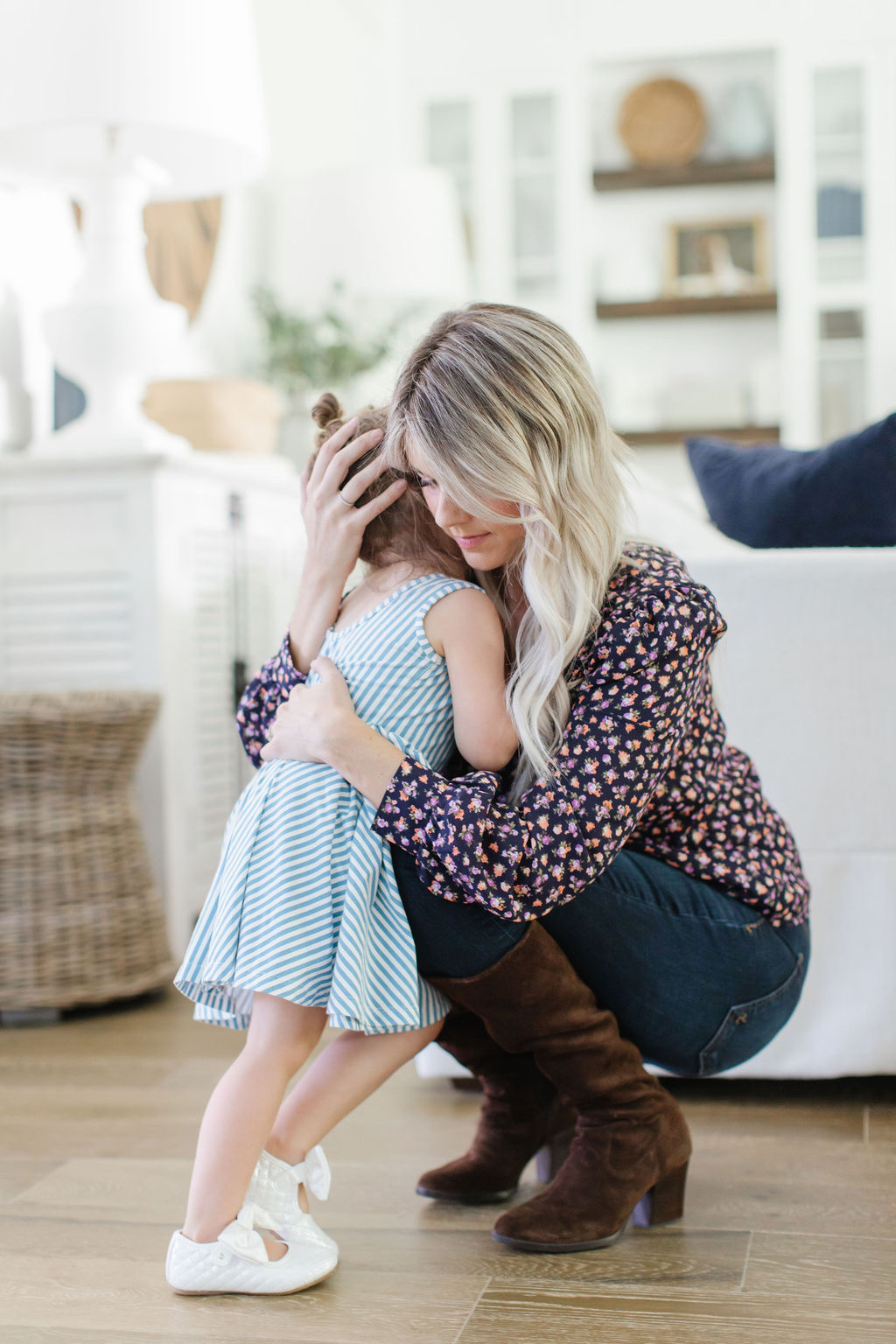 1. FLORAL BLOUSE | 2. JEANS | 3. SUEDE BOOTS | 4. MOLLY'S DRESS | 5. MOLLY'S SHOES
Dropping the nap.
So about a month into this happening, Kevin and I just decided it was probably time for her to drop her nap. So we did. It was so much easier just to let her sit on the couch quietly and read for an hour because she would totally do that no problem! The issue is is that sometime around 4 PM she starts getting really cranky because she is so over-tired. And often the last hour of our day, which used to be our favorite part of the day because we would dance and sing as a family, has now turned into Molly being fussy and throwing fits about 50% of the time. She's totally fine the other 50% of the time, so it's really hit or miss.
Sleeping at School?
And the bazaar thing throughout all of this, is that she never actually stopped napping at school. This all honestly started happening around the time that she moved up in classes and started napping at school. So for the first week we actually started picking her up from school at noon instead of 1:30 before all the kids were napping because we didn't think Molly would nap at school. I mean why would she nap at school when she for sure as heck doesn't nap at home? Then after a week of her continuing to be a nightmare during her breakdowns at home, we decided to let her stay at school until 1:30 during naptime just to see what would happen. And we were both absolutely astonished to learn from her teachers that not only does she nap but she does every single day. How?! I just don't get it.
And lately she's been so tired at home that we will try for the nap sometimes and it will be unsuccessful and she'll be so exhausted that we end up having to take her for a car ride because we know she will knock out in her car seat. This is happening way more often than I care to admit. Well, it's happening every time she actually naps during the day.
How Bedtime Has Changed.
I have to mention bedtime, since that is important when thinking about all of this. The days were she does nap at school or get an hour to an hour and a half car nap, she does go to bed a tiny bit later. We will put her in her crib about 10 to 15 minutes later and then maybe it will take her 20 to 30 minutes to fall asleep. Whereas on days that she doesn't nap, she falls asleep pretty much instantly. But it's not like it's a huge fight at bedtime to get her to sleep when she has napped. Granted her naps aren't 2+ hours. They're really one hour, tops, I would say. Even at school it takes her a little while to fall asleep and she usually gets a good hour in.
So grateful for all of you!
Anyway, I'm writing this blog today in hopes that anyone has some sort of magical advice for me! Or maybe you're here looking to read the comments and hoping you'll get advice as well. And if you don't have the magic solution! Anything that even helps you a little bit would be so useful for me! Thank you guys so much, I adore all of you, and I'm so grateful to have you all as part of my tribe. This shit is hard. We need to stick together!
Oh, and I thought I would link a few old blog posts here about when it was the good ole days and she slept so well thanks to her sleep training! I wrote a post all about the items that I think are best in the kiddos bedrooms to help get them the best sleep (some items were recommended by our sleep trainer!), and also another post about if I think sleep training is worth it or not! I definitely recommend checking both of these out, especially if you're an expecting or new mama!