Welcome to the third and final post in my Baby Registry Must Haves series! I saved the"must have" items to have in the nursery for last because I honestly think these are some of the most important items that you'll put on your registry. When that little one comes into your life you're going to need and want to sleep more than anything! OK, that's kind of a lie. You're gonna want to snuggle and soak up that little baby more than anything! But you're quickly going to realize how sacred sleep is. I feel like when you're a parent to small children, your life can revolve around their sleep schedules. Whether it's naps or nighttime sleep, we're constantly trying to do everything we possibly can to ensure that our little ones get some much-needed zzzzzzz's. Because let's face it, when they get sleep – WE get sleep! Or more realistically, when they sleep we actually get to get things done around the house! Ha!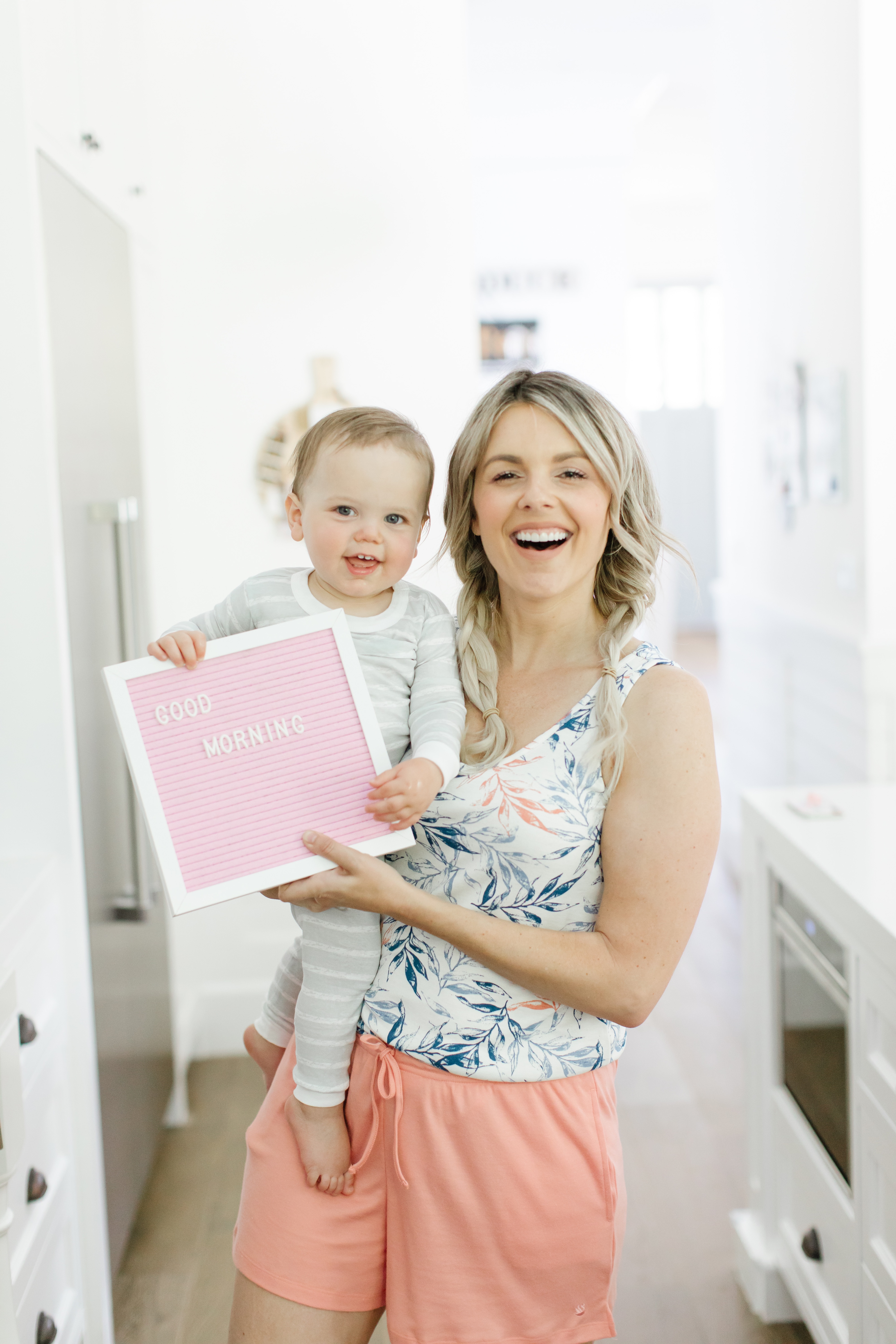 1. RILEY'S 2-PIECE PJS | 2. MY PJ TOP | 3. MY PJ BOTTOMS | 4. LETTER BOARD
Anyway, over the last three years I've definitely collected lots of tips and tricks to prepare my kiddos rooms for the best sleep possible! Whether it's things I've learned on my own, suggestions I've learned from all of you, or tried-and-true tips I've been given by sleep experts – all of the things I've compiled in this blog are things that have worked for me and my family! So, I'm sharing them with you guys in hopes that your babies (or toddlers!) get some good sleep too! And as always, please feel free to share your experiences and tips in the comments below. I love it when we help each other by sharing all of our own experiences. That's my absolute favorite thing about this blog. Mamas (and daddies) coming together!
My first two posts in this series were geared more toward parents of infants or expecting mamas. But this one is really for any parent who needs some extra sleep! But if you are expecting, I HIGHLY suggest creating a baby registry at Walmart and adding these things now. You should also check out my other two blog posts in this series – 1) General Must Haves and 2) Must Haves in the Kitchen. Then use this link to create a registry and easily add all the items! If for some reason you get a product that you need to return, you can easily do it online or bring it in store! Which will be a lifesaver for larger items that are harder to ship. Plus, if you want to add anything that I didn't talk about, search for it on Walmart's site and I swear there is a 95% chance it will be there! I was shocked but how many items they have and how many retailers/brands they work with. Ok let's get into this!
Blackout Shades
This seems like a super obvious tip. And in some ways it is. But the tip I'm about to give you is one that Riley's sleep coach told us that I thought was some of the best advice I've ever gotten! Sure, it's important to have blackout shades in your children's rooms. Molly and Riley both have them in their rooms. Not only do we use the blackout shades but we have blackout blinds to to make the room extra dark! And we will even push furniture up against the sides to make sure no light is peeking through along the edges. We're serious about our dark rooms! And when you're traveling, most hotel rooms, unless you're in Vegas, don't have blackout shades. So this is what the sleep expert Kimberly told us! Use black garbage bags and tape them over the windows. This was mind blowing to me when she told me this! Genius! Now every time we pack for a trip I make sure we pack black trash bags and painters tape so we can put them up over the windows. This is especially helpful when you're changing times zones and want to keep your child on their schedule. For example, when we travel from the west coast to the east coast, we put the kids to bed at 10pm (which is 7pm west coast to keep them on schedule) which means they should sleep until 9am (6am PST). Without the trash bags over the windows they would NEVER be able to stay on schedule since the sun would wake them up well before 9am.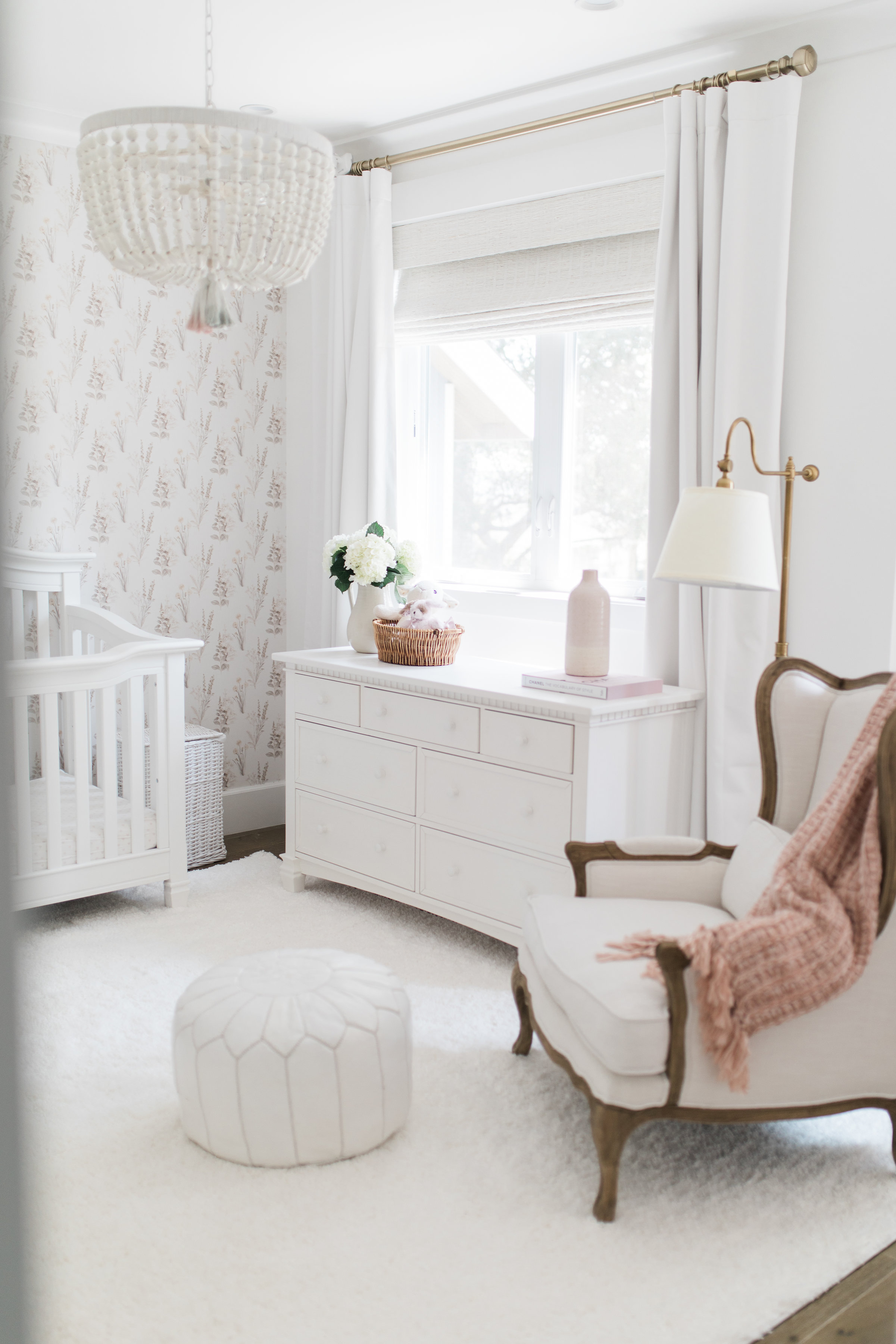 Honestly, you could totally do this in their bedrooms! And even though it won't be the prettiest in your child's bedroom – it works! Who cares about what it looks like when your kids are SLEEPING! Sleep! Ahhhh glorious sleep! Ha! Just take the time to cut the bags out nicely so they fit perfectly over the windows and it won't be so bad. Plus, in the first year of your child's life, you pretty much never go in their nursery unless they're going to sleep. At least that was the case with both my kids.
Sound Machine
A sound machine is an absolute must in a child's bedroom. Not only because white noise/brown noise has been known to help not only children, but adults sleep as well. But also because you don't want your kids being woken up by other noises in your house. For example, we've put white noise in both Molly and Riley's room since they were born and I remember one time when Molly was 1 we actually had a party at the house. And even though it got pretty loud she never woke up! Our house was on the smaller side at the time. It was about 1400 ft.² and all on one level. Her bedroom was about 6 feet away from our living room where all of our guests were. I'm confident that's because of the white noise. And in general, you just want to be able to live your life when your kids are sleeping. When they're napping during the day you want to be able to get things done around the house and not have to worry about tiptoeing around everywhere. And it helps Kevin and I! I honestly can't sleep without it! There are a few good machines you can use. Kevin and I use this one. I LOVE it because it can get really loud. And I like my white sounds LOUD! I can't even tell you how many we went through before I found this one. And in Molly and Riley's room we use the Hatch baby rest. I did Instagram stories about this thing multiple times because I SWEAR by it. It's an OK to Wake light and sound machine all in one! It is the BEST THING EVER to help teach your kids how to sleep later if you have very early risers.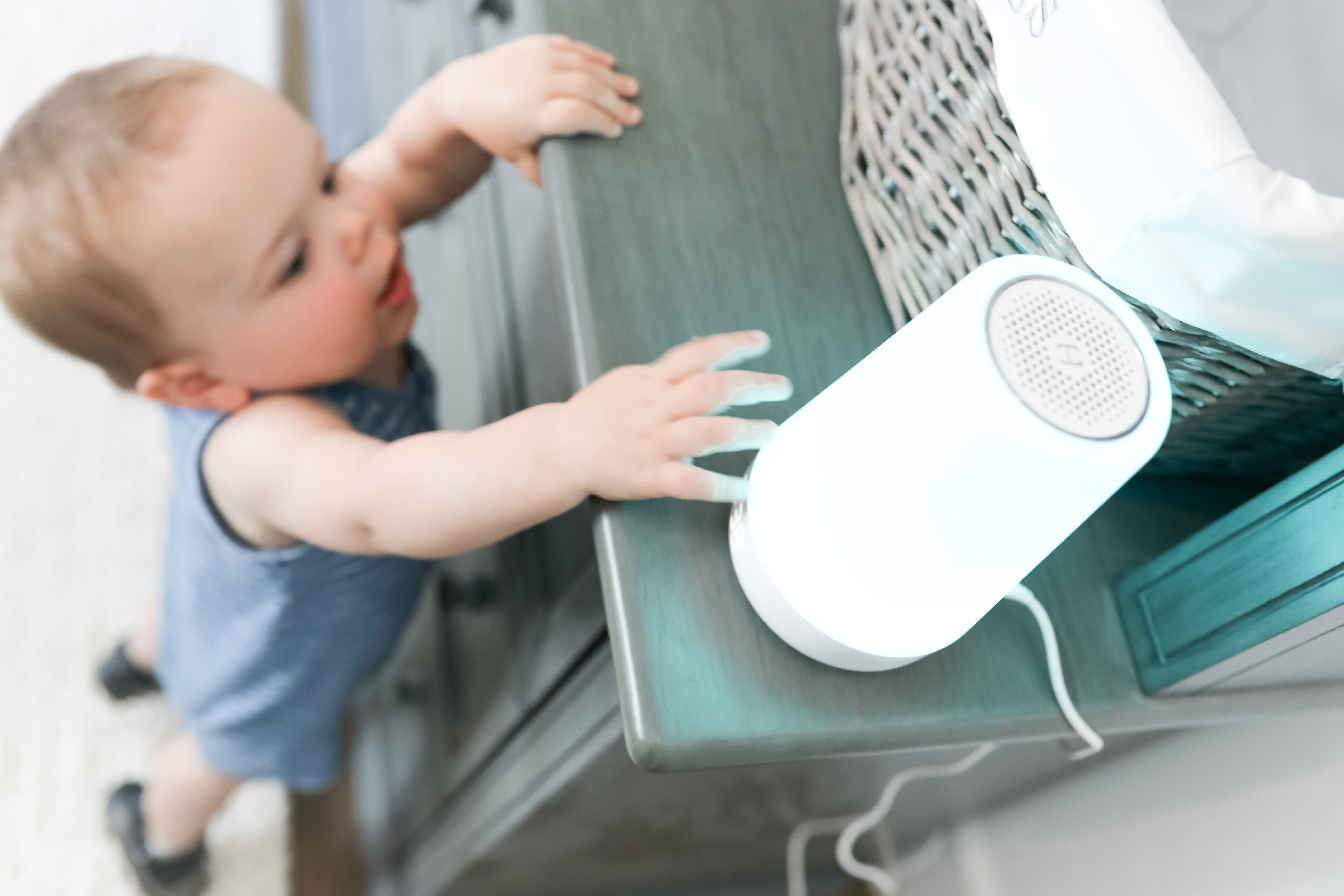 We have this one in our guest room. It's a much softer/natural white noise (similar to a fan) which many people like. I also recommend a travel one for when you are out and about for car naps or stroller naps!

Air Purifier
I almost didn't wanna recommend this one because it's so expensive. And I know a lot of people can't afford it. But in you're in the position to be able to get this air purifier for your child's room I highly recommend it! But not for the obvious reasons which is to purify the air. Yes, that is a great benefit of having one – and if you only need one to purify the air, there are ones under $100 that will do just that which will absolutely help your child sleep better! (This one has GREAT reviews) Especially if they have seasonal allergies, which I'm pretty sure both my kids have.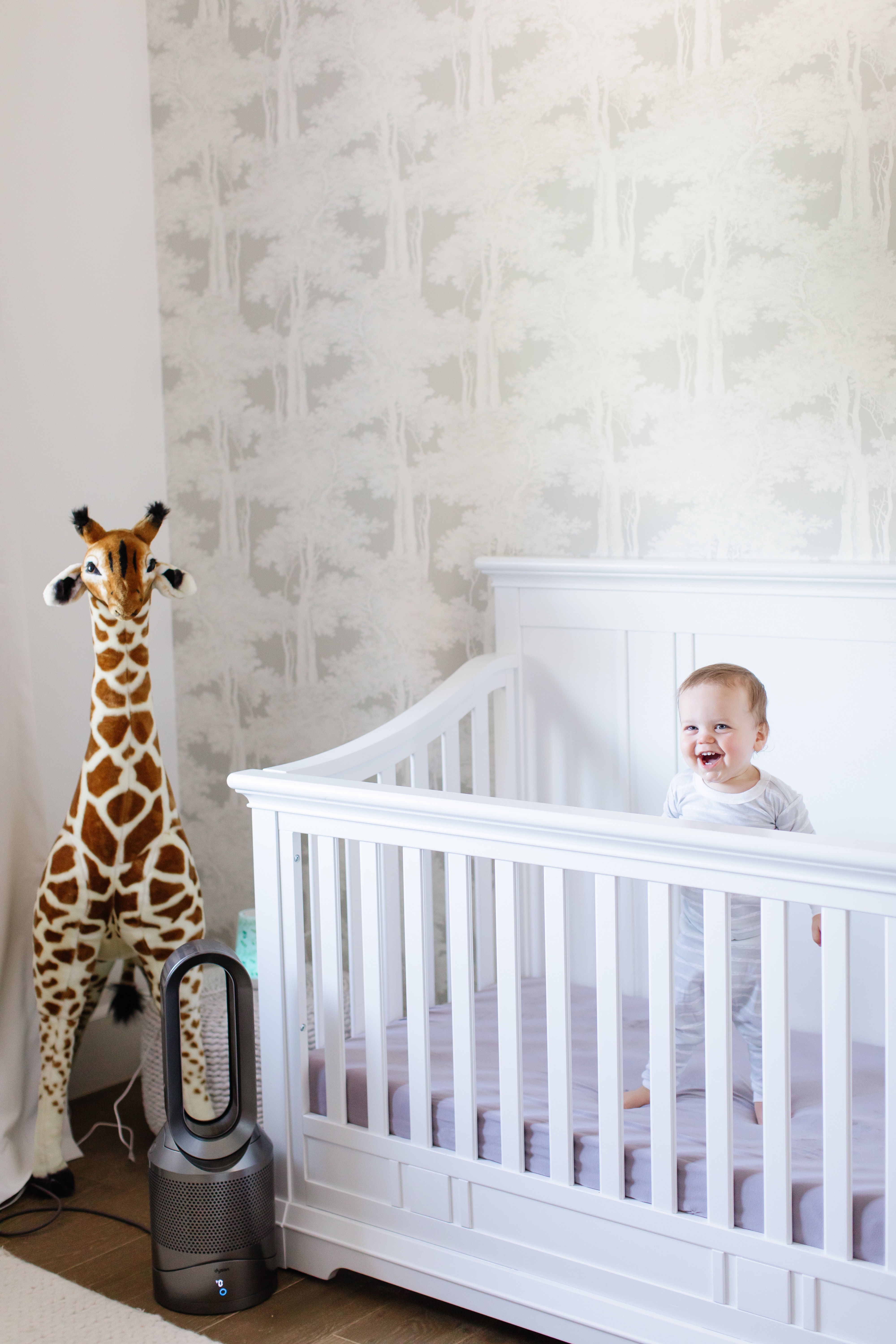 1.AIR PURIFIER | 2. HATCH BABY REST | 3. PJs
But the biggest reason I can't live without ours is because it also helps with temperature control. I don't know about you guys but I literally have had so many sleepless nights because I'm constantly worrying about the temperature in my kids rooms. Kevin thinks I'm insane. I'm constantly waking him up in the middle of the night and asking "Do you think it's too hot in here? Too cold?" Mostly I'm worried about Riley since Molly is now older and can use blankets and easily pull them on her or take them off her as she pleases. But we have this air purifier in Riley's room because even though he sleeps in a sleep suit that keeps him warm and cozy throughout the night, he can't take the sleep suit on and off like you or I could do with the blanket. If we get cold in the middle of the night we pull the blanket over us. When we're hot, we kick them off. Riley can't do that so I'm constantly worried about him being too hot or too cold. Goodness, I cannot wait until I can put a blanket in his crib!
Anyway, even though we have a nest thermostat to help control the temperature in our house. Sometimes when the AC is on it can get really cold in his room since it's smaller than our master bedroom. So even though I had it set to 72° at night. Sometimes it will still feel 75 in our room but feel 69 in Riley's room. So what I love about this air purifier is that you can choose for it to blow hot air or cold air. And it's not like a standing plug-in heater that would be very unsafe to put in your child's room. Just being able to control the temperature in his room with this thing gave me more peace of mind at night. And instead of staying up all night fussing with the air conditioner for the entire house I can just set the temperature in his room to a certain degree and feel good about it.
The only caveat is, I'm not an expert and definitely would consult the website for this purifier or any purifier to make sure that it's even safe to do this. I've looked and haven't seen anything saying it isn't but you should look too!
A Sleep Suit
I just mentioned the sleep suit above and I'm going to make it it's own entire point because I think it's crucial for good sleep! This is the way our sleep coach described it to us. How comfortable would you be sleeping in just your pajamas in your bed? With no blankets or sheets or anything to keep you company? Sounds so not great right? Well the same goes for a little ones. They want the comfort of a blanket. But as you guys know it's not safe to put blankets in your children's crib until they're at least 1 and I believe some people even recommend waiting until 18 months. But I just never felt comfortable leaving my kids in their crib and just pajamas for an entire year of their life. I wanted them to feel "comfy and cozy". I keep saying those words because that's what me and Molly always say. Comfy and cozy! So by wearing a sleep suit you basically get your little one the comfort of a blanket but in a safe way.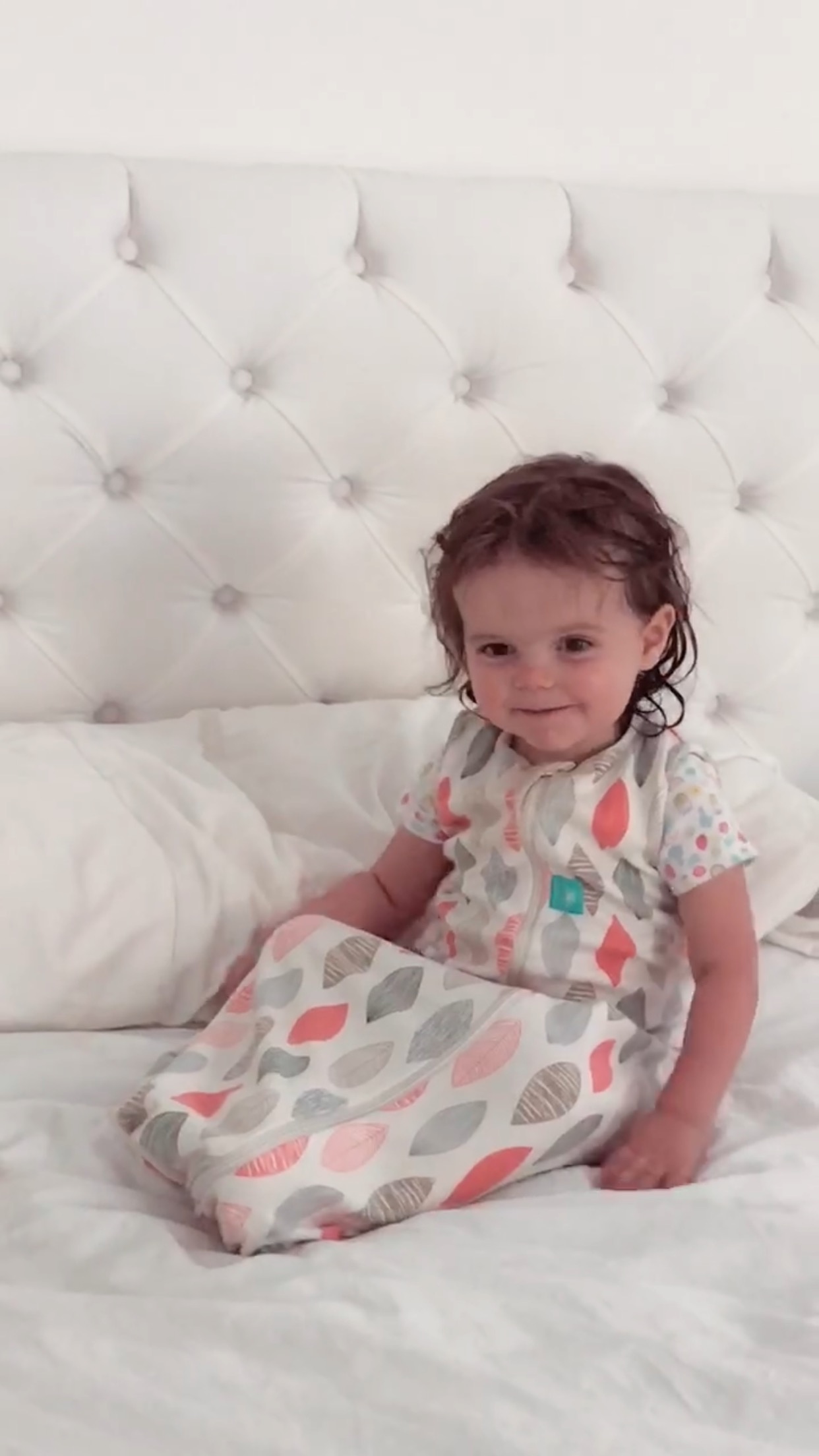 1. SLEEP SUIT
We've used a few different brands throughout the years. I really love this lightweight one when it's warmer in our house. And they have heavier ones if you live in colder climates or keep your house really cool. But I tend to like this one the most because it's not too hot, not too cold, as Goldilocks would say. It's just right! This one is great too! It's a little more on the lighter side. And we try to keep the temperature in our house around 70 to 73° regardless of what time of year it is.
A Lovey
I talked about Lovey's in my past post about sleep training and I have to mention it again here. Putting a lovey, which is basically a small breathable comfort toy, in your child's crib is a must in my opinion. Again, I'm not a doctor so you have to check with your pediatrician to make sure this is something they recommend depending on your babies age. But we started putting one in Riley's crib when he was four months old. His pediatrician thought he was plenty strong enough to be able to move it away from his face if needed and the material of the lovey we used was very breathable. But there's something about having something to cuddle at night in their crib that just provides comfort for your kids. Molly, of course because she's almost 3, has a dozen stuffed animals in her crib now! Ha! If it were up to her she have five dozen in there! But having something in there to snuggle in the middle of the night I found definitely helps him sleep better. Please consult your pediatrician before you put ANYTHING in your child's crib, even a lovey!

A Bassinet
When your little baby comes home from the hospital you're going to want a safe place for them to sleep in your room. It's recommended that you sleep in the same room as your child for the first year of their life. I didn't do that with either of my kids. Molly stayed in our room for the first six months and Riley only for the first four months. But however long you decide to keep that kiddo in your room with you they're going to need somewhere to sleep. You could just put your babies crib right in your room if you're budget is really tight. And if you have a room big enough to fit an entire crib. If you don't though, a bassinet is a great option.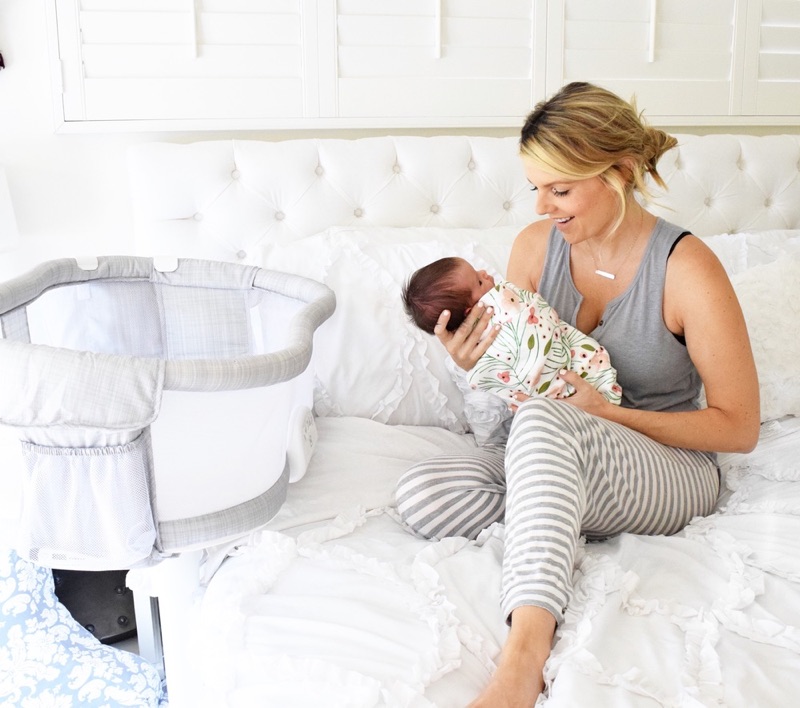 1. HALO BASSINET SWIVEL SLEEPER | 2. SNOO SMART SLEEPER
We use the Halo bassinet swivel with Molly and this new SNOO Smart Sleeper with Riley. Both are great bassinets but the Snoo is going to cost you a pretty penny. Riley slept great in the SNOO for the first three months of his life. And then he went through a sleeper aggression at three months and things kind of went downhill from there. And then we transition him to his crib at 3 1/2 months because we knew we wanted to start sleep training at four months and we wanted him to get used to his crib. But for that first three months we thought we had the best sleeper in the world on our hands! So if you can afford it, I definitely think it's helpful. However, it's really expensive! And I think that the Halo bassinet is a great option. I like it because it swivels over the edge of your bed which makes it easy to pick your baby up and breast-feed in the middle of the night and the side of it pushes down so you can easily get your baby out of it. Both are great options
A Mobile – But Not For Sleep
A mobile in the nursery can be a lifesaver! And no, not for hanging over your babies crib. In fact, I think a mobile of her crib is actually just distracting your baby from doing what they should be doing in their crib and that is sleeping. But what I think mobile's are absolutely great for distracting your baby during is a diaper change. So if you can hang one over your diaper changing table do it! Molly wasn't really this way, but oh my goodness does Riley hate getting his diaper changed! It is a constant struggle to try to get him to stay still or even on his back so we can change his diaper. When we change his diaper in the living room we resorted to putting the TV on for 60 seconds to distract him so we can actually change his diaper. But in his nursery we hung a mobile above his changing table recently and it works so well! I don't know why I didn't think of this so long ago! And Walmart has a bunch of super cute ones. I'll link a few of my favorites below.

Zipper PJ's
Oh my gosh, make sure you have zipper pj's! Because I'm telling you those first few months of your baby's life when they are waking up every hour to hour and a half throughout the night you are going to want to easily be able to unzip their PJs to change the diaper and then zip them back up. Trust me when I say you are not gonna want to mess with buttons! My best friend Stef gave me this advice before Molly and it was some of the best advice I ever got! Again Walmart has some extremely affordable pj's. This set of three is only $13 and comes in a girl set and a boy set. That's four dollars a pair. Gotta love that!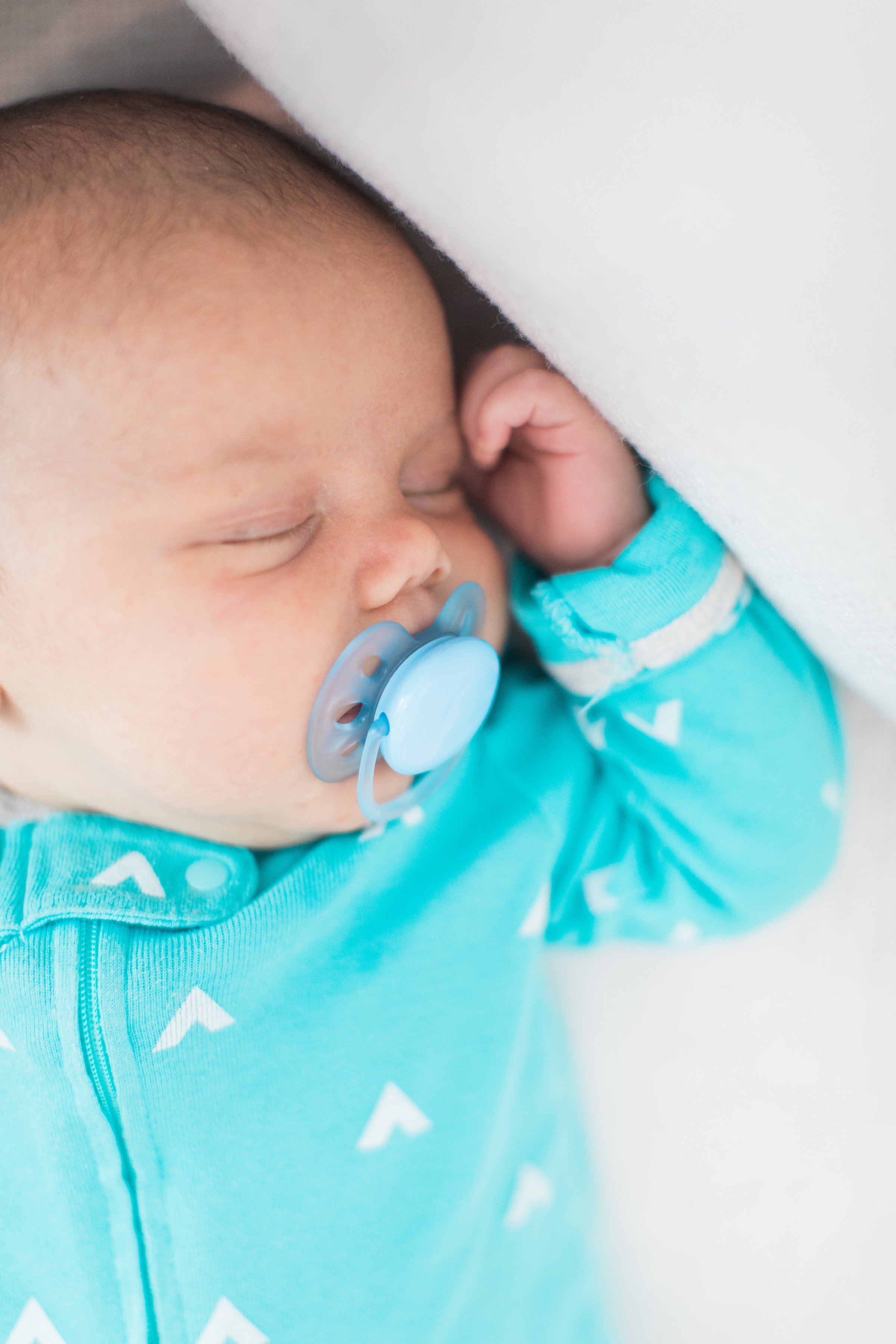 1. ZIPPER PJ's(3 pack for $13!)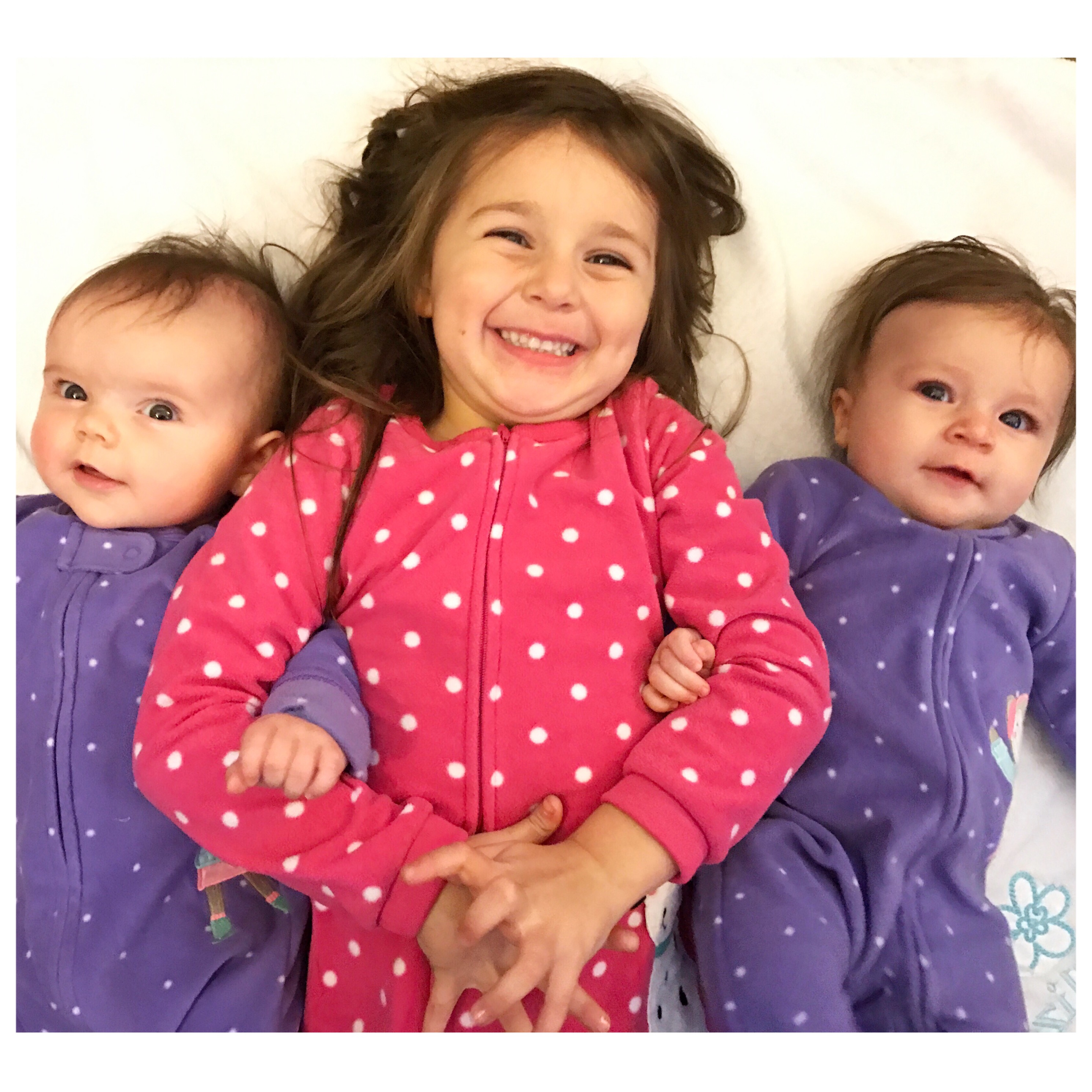 Two-Piece PJ's
And once they get older, two-piece PJ's make life so much easier. Like the pair Riley is wearing in these photos. I also just like a light weight cotton PJ so they aren't too hot or cold. I also prefer long sleeve PJ's. It always stressing me out that Riley can't pull a blanket up over his arms at night and I always worry about him be too cold. Whether it's because it's winter or if it's summer and the AC is running. Oh the temperature struggle is real!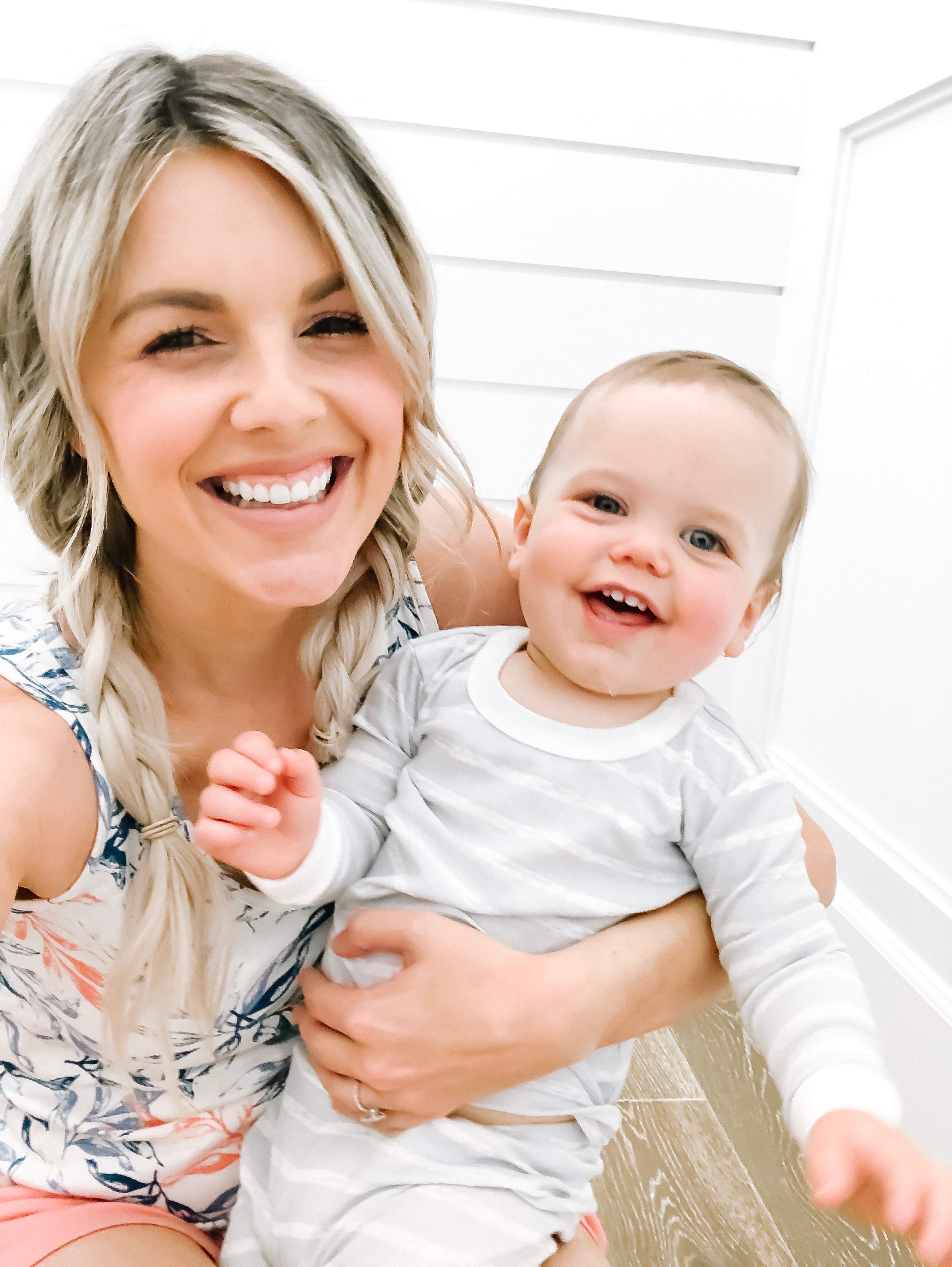 1. RILEY'S 2-PIECE PJS | 2. MY PJ TOP | 3. MY PJ BOTTOMS
Changing Table
Of course you'll also need a changing table in the nursery – the photo below is of Riley's! BUT at least for the first few months of your babies life, you are changing a ton in the middle of the night. And I think that for a good night's sleep, you are definitely going to want a changing table in your bedroom for the first few months of your babies life. I think this one's really cute and pretty affordable, either to have in your room as a secondary changing table or even to have in your little's ones room permanently!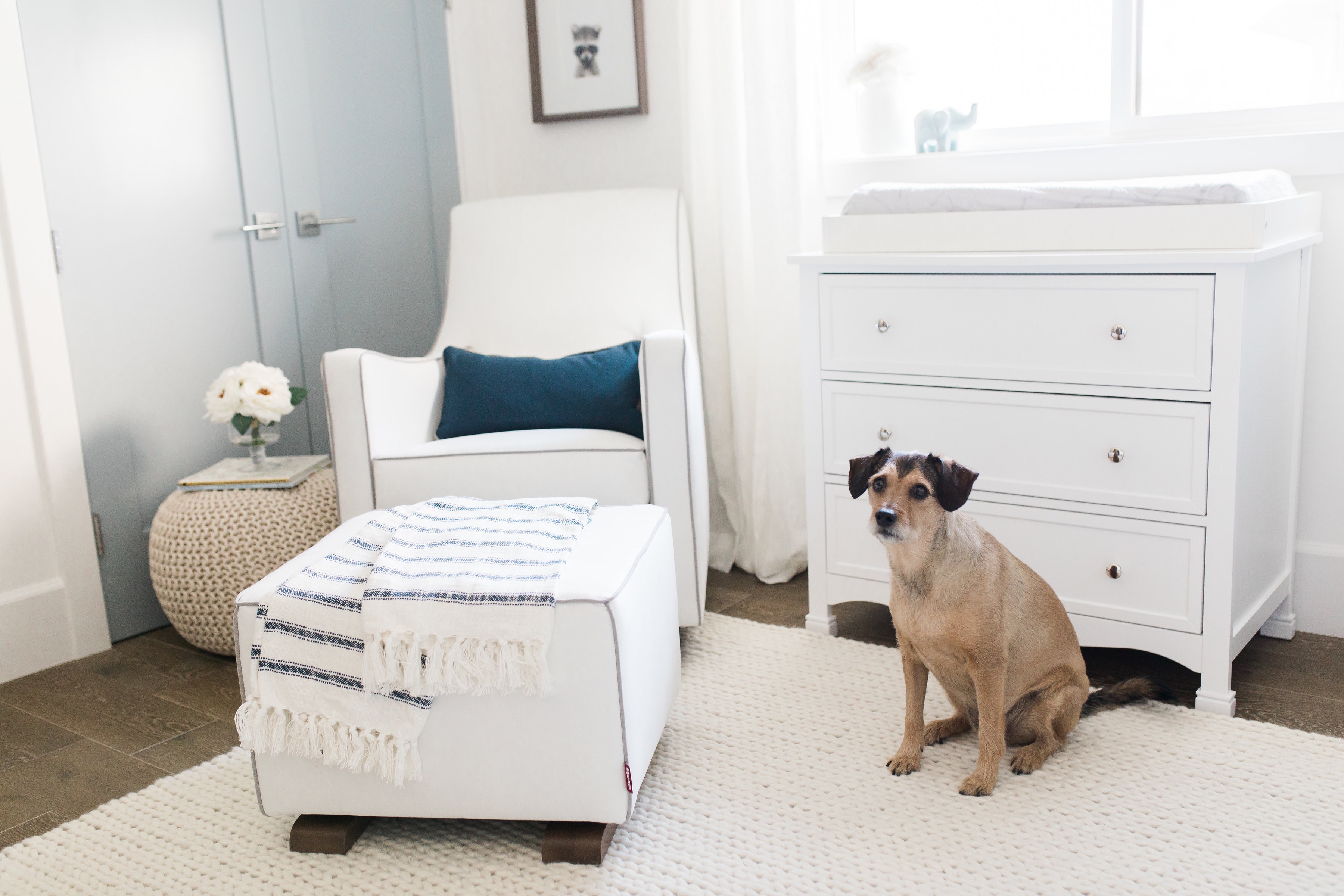 Changing Pad
And if you don't want to put an entire changing table in your bedroom then a changing pad on top of the dresser in your bedroom works just as well! And then you can move it into the nursery once your baby moves in there. I don't really have a preference one one changing pad over the other. I think this one with the Chevron print is pretty cute. But if you want something more high-tech we actually have the Hatch Baby Grow Smart Changing pad and scale. I feel like this is especially helpful to people who give birth to premature babies. It's really important that those babies gain weight consistently especially at the beginning of their life and this changing pad doubles as a scale and tells you how much your baby weighs. I didn't have any issues with Riley's weight ever in his life. But we got this because it was just fun for me to see how much he weighed from week to week rather than waiting to go to the doctor every couple months.

Lavender Oil
Using lavender essential oil to help my babies sleep was advice that my friend Suedy gave me a few years ago. She's pregnant with her first baby now but she wasn't back then and she told me just because it something that her mother told her! So she actually got me a bottle as a gift and we use it on the bottoms of both Molly and Riley's feet the first year of their lives. Actually with Molly I think we use it the first two years of her life. And I'm not even kidding you that one bottle lasted us with both kids. Anyway, lavender is a really calming scent and helps people relax and it definitely does the same for a little ones! We just put a drop on the bottom of each of their feet before they went to bed and let the lavender will work it's magic!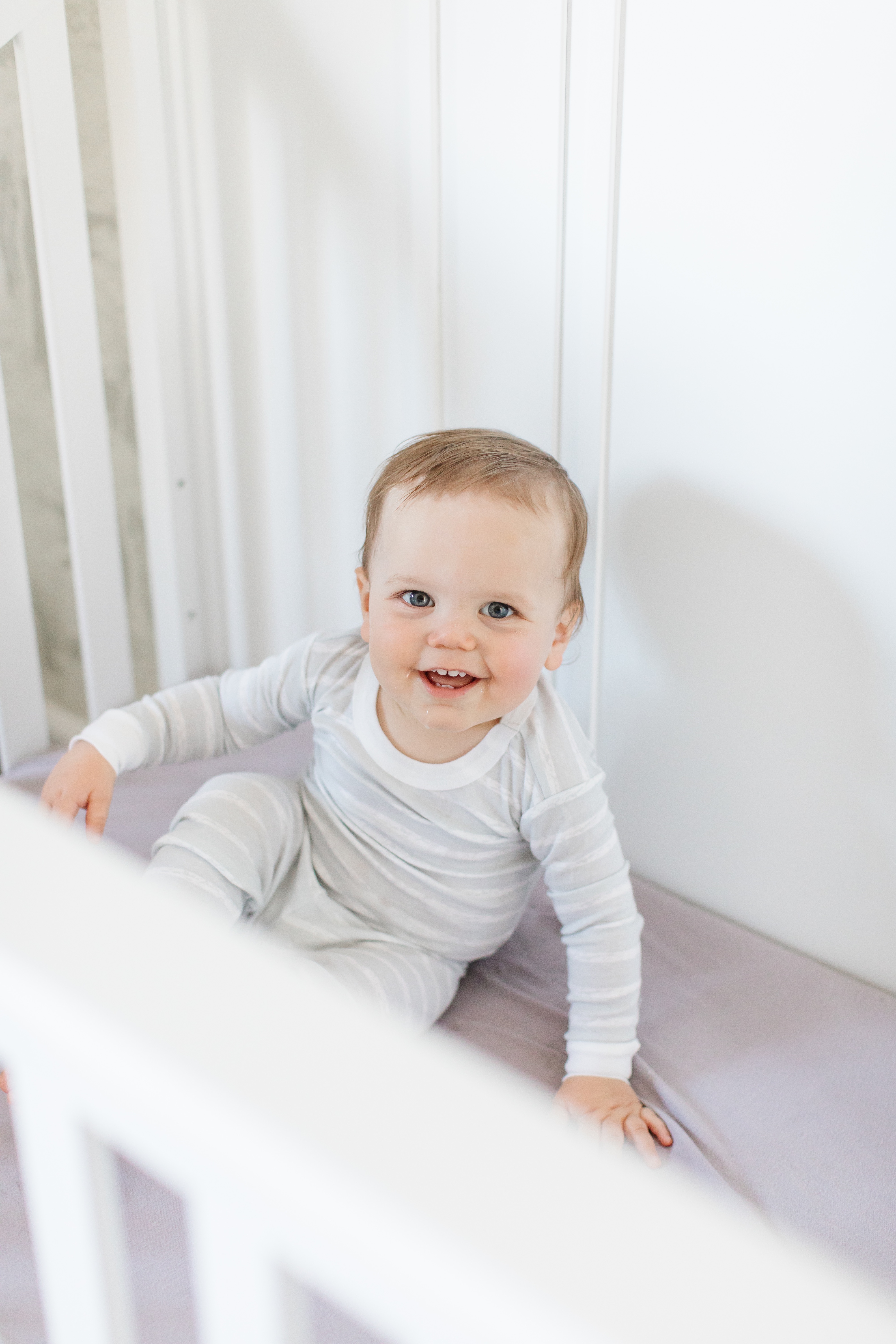 I feel like there has to be things I missing but I can't think of them right now! So can you guys help me and share any products that you think are essential for helping your little one sleep?! We JUST ordered a new mattress for Riley because his current one is ROCK hard so I will let you know what I think of it after we get it! Hope you guys loved this Must Have Baby Registry Series. I had so much fun writing it!!! Here's the link again to start your own baby registry from Walmart! I can't recommend it enough. And I really hope these products help so many parents out there!
And a HUGE thank you Walmart for sponsoring this series!!!