Hey guys! If you're here on my blog, you may have seen me talk about this sweater on Instagram stories and if you didn't see those videos yet definitely go check them out because it shows the movement of the sweater. I cannot be more obsessed with this entire look, so I'm really excited to share it with you guys. And please let me know what you guys think in the comments below. I love to hear from you!

1. SUNNIES | 2. SWEATER | 3. JEANS | 4. LEOPARD LOAFERS | 5. SUNLESS TANNER
I originally bought the sweater in a rust color when it was on sale during the Nordstrom anniversary sale. But honestly it sold out almost immediately! I cannot even begin to tell you how much I love this sweater. It's not only ridiculously soft, but it has so much stretch to it and that makes it extra comfy. It's oversized and I'm wearing a size medium which is my normal size. So I would say it's true to size. But if you don't love the oversized look, you might want to size down. I love how it has a really long cuff on the sleeve, which makes it extra cozy for the cooler months. Right now it's available in the color I'm wearing and in like a gray/black color. I love that color too, so I might order as well because honestly I've never liked a sweater as much as I love this one!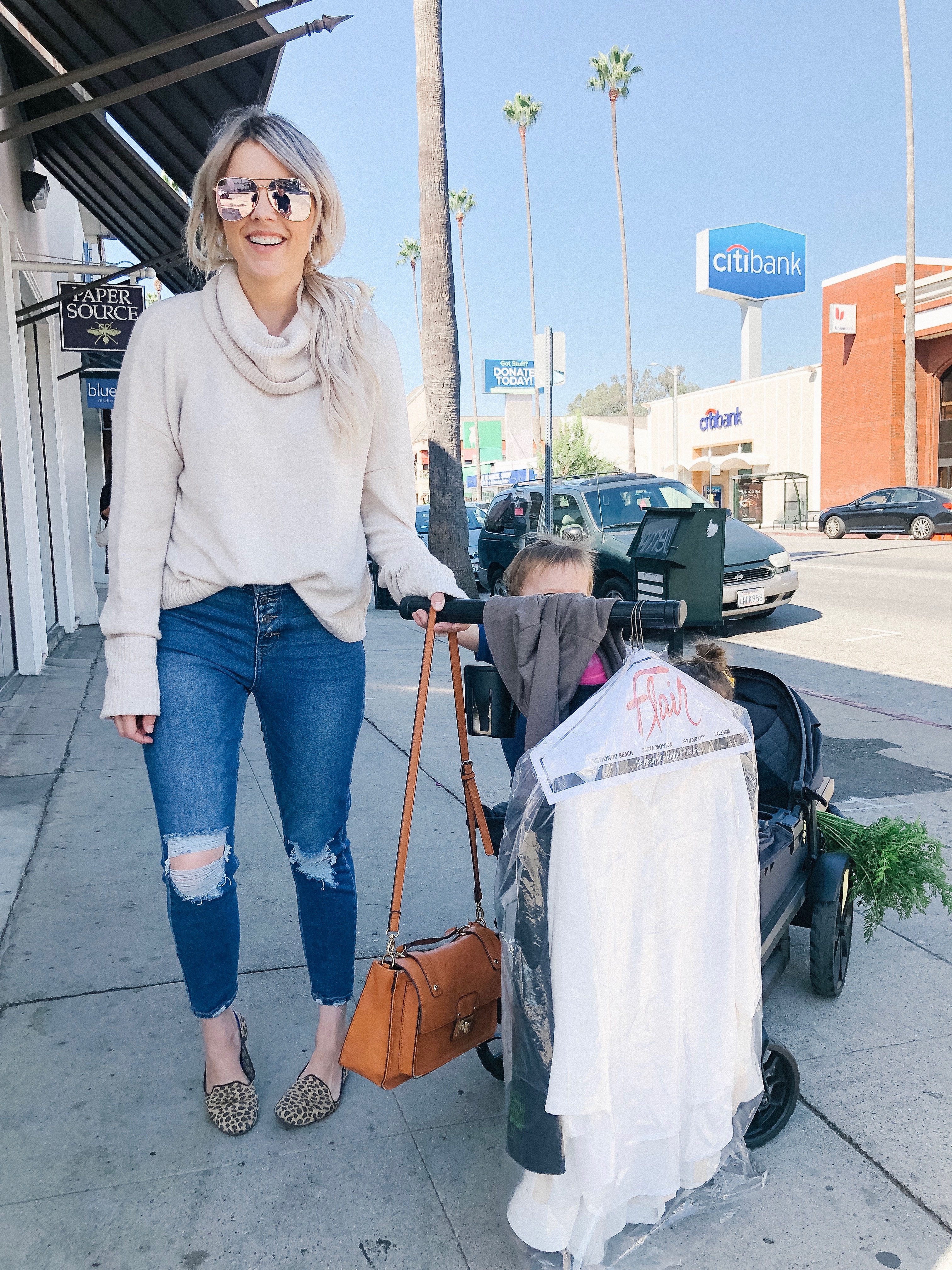 1. SUNNIES | 2. SWEATER | 3. JEANS | 4. LEOPARD LOAFERS | 5. SUNLESS TANNER
And I'm really excited to share that both my shoes and my jeans are made from recycled plastic water bottles! I think the shoes are almost completely made from recycled plastic water bottles and the jeans are partially made from recycled plastic water bottles. When I bought the jeans, I didn't even notice! In fact, I didn't realize it until my friend Madi pointed it out to me because she bought the jeans after I posted about them. And when they came in the mail they had a tag on them that said they were made partially from recycled plastic water bottles. Trying to find more sustainable clothes to feature on my blog is definitely going to be a priority for me moving forward. So I'm so happy that these are jeans that I wear multiple times a week and pair with different looks, so that I'll be able to continuously share them at a price that is affordable for most and will help sustain a better environment for our planet!
If you've gotten these jeans, please comment below and tell me what you think! So far I've gotten a bunch of emails, DMs, and comments on other blog posts from you guys telling me that you absolutely love them and can't believe they're only $17! I can't even tell you how happy it makes me to get that that kind of feedback from you guys. Sometimes when I post about things that are so affordable, I think some people are hesitant to purchase them because they think it must mean they're not that great. I can assure you, these are truly that great! More than great…they're amazing! And I wear them all the time.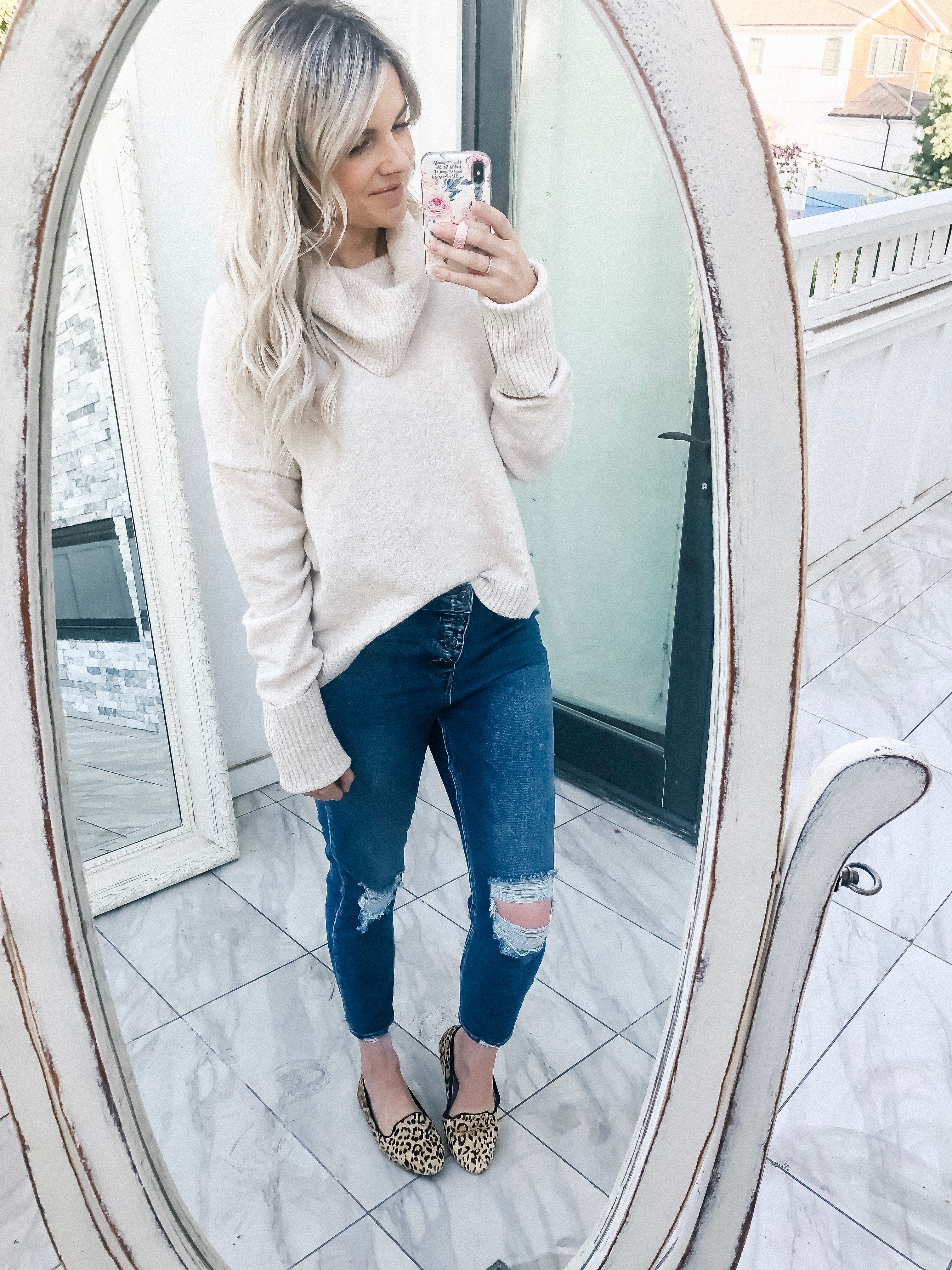 1. SUNNIES | 2. SWEATER | 3. JEANS | 4. LEOPARD LOAFERS | 5. SUNLESS TANNER
And last but not least are these leopard loafers. I wore them to the farmers market on Sunday and a woman literally tracked me down to ask me where they were from because she liked them so much. They really are stunning shoes and I think it's so cool that they are almost fully made from recycled plastic water bottles. I don't know if many of you know this, but I think this is so important because only 23% of recycled plastic water bottles actually get recycled. And that's because recycling is a business. Meaning, businesses need to buy the recycled water bottles to make products with for them to actually be recycled. That's why I think brands like Rothy's, who makes the shoes, are so awesome and I want to support them because if it weren't for them, those water bottles wouldn't be bought and therefore wouldn't be recycled. Quick PSA, that's why it's so important to use a refillable water bottles and ditch plastic water bottles. You think they're being recycled after you use them, but they're just not! Or at least more than 75% isn't!
I also wanted to throw in this photo that I shared with you during the Nordstrom Anniversary Sale! This is the same sweater from this post, in the rust color that I mentioned earlier. Unfortunately the rust is sold out, but I wanted to show you how cute the sweater is when paired with joggers! Effortless and cozy. Even though the rust is sold out, it does come in a dark charcoal color that is really pretty too! I am thinking about getting that one, too! Who says you can't have the same sweater in 3 different colors? Ha! They are all so different on the color spectrum that I don't think anyone would even notice.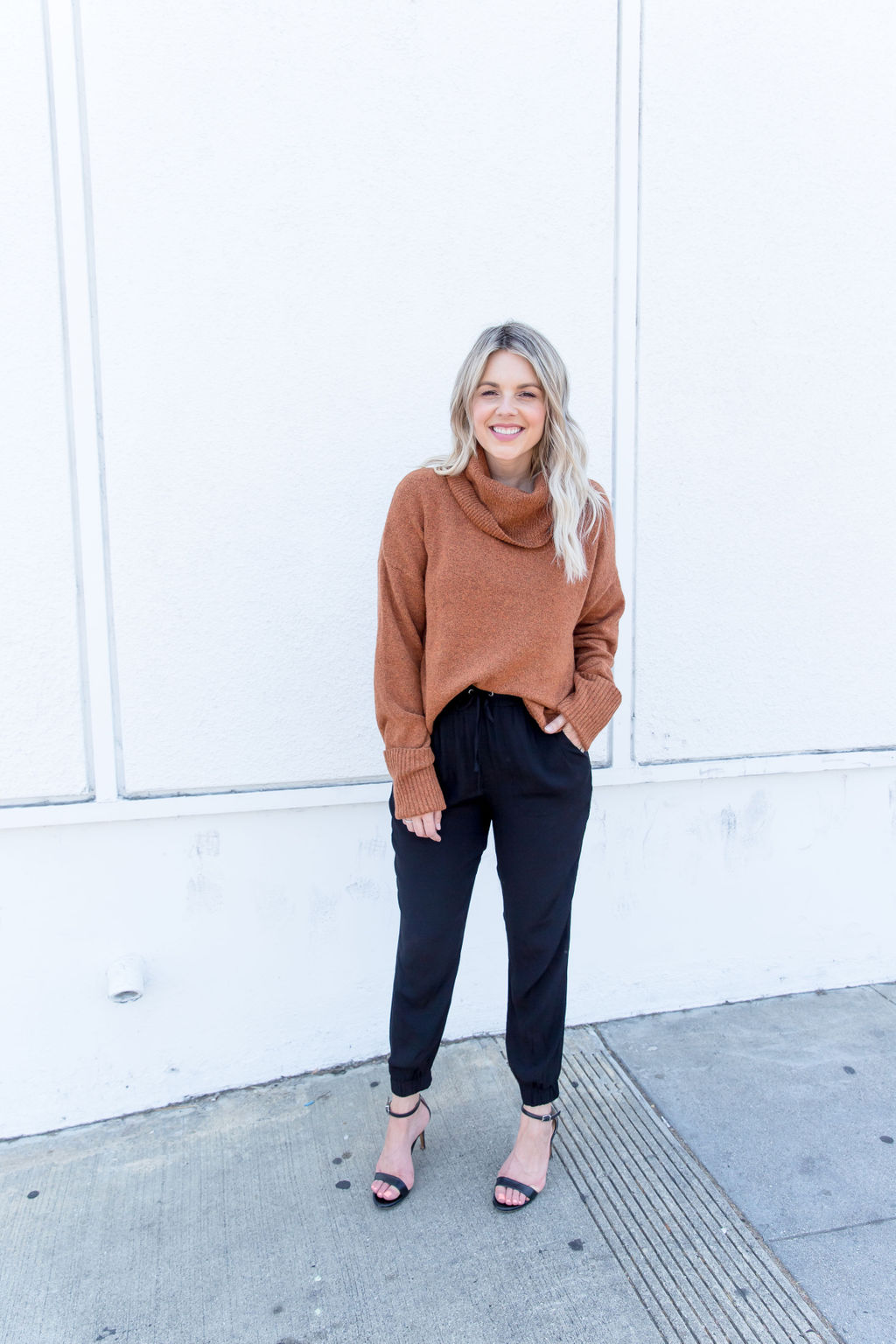 1. SWEATER | 2. $32 BP. JOGGER LOUNGE PANTS
Also, I just realized that the joggers are 40% off right now, so I ordered another pair! That's even a few dollars cheaper than when they were on sale during the N Sale!!! I love these so much, because they can be dressed up or down so easily! If you remember when I first got them, I practically lived in them for a few days straight, ha! They are seriously the best! I'll link a post here where I showed a few ways to style them.
Well, that's all I got for today. I shared this look on my Instagram stories yesterday and you guys seem to really love it so I just wanted to throw the blog post for you guys so I could fully review everything. Hope you guys are having a great Monday!