Oh my gosh you guys I cannot even tell you how good the Nordstrom anniversary sale is this year! I get excited for it every year because it's filled with so many good deals. But honestly, every year I find myself digging to find the really good stuff. Like I'll spend hours online searching for something that's cute because everything looks like, well, sale stuff! Ha! But this year is totally different! When I went to the store yesterday to shop I found myself liking almost everything I tried on! Honestly it was hard for me to narrow down what I ended up buying. And to be completely honest I probably should go return a few things because I spent so much money. Ha! But I honestly got the best items at ridiculously good prices! However, the sale is only open to Nordstrom cardholders for now. It opens to everyone next Friday. But I HIGHLY recommend getting the Nordstrom card JUST to shop this sale early. Things sell out FAST!

LEOPARD CAMISOLE | HIGH WAIST JOGGERS | PLUS SIZE JOGGERS | LOW HEELS
Like these high waist black joggers that are in all of the photos in this post. I want to show you guys multiple ways that you can wear them, and that's why this post is all about this $35 pair of high waisted joggers. You heard that right! Only $35! And they come in plus size too! Yay! After I bought them yesterday I ended up wearing them all day and night and honestly could've slept in them they were so comfortable. You can dress them up and dress them down with a few simple swaps.
Let me start with dressing them up! I paired them with this leopard lace trim camisole that I also got from the Nsale. It's on sale for only $25 and comes in multiple colors and prints. I bought it in this leopard print, white and black! I'll be showing you how I style the other tops in a future post. I got it in small and medium. For instance, the leopard print was only available at the store I went to in a size small, so I went ahead and got it because it fit pretty well. I think it's because my boobs have shrunk a bit since I've lost a little bit of weight recently and after breastfeeding two kids. Ha! Your chest just isn't as full after breastfeeding children. But in white, they didn't have a small and only had a medium in the store so I got the medium and that fit well too! So I would say get your normal size but if you have to size down I think you can as long as you're not super busty.

LEOPARD CAMISOLE | HIGH WAIST JOGGERS | PLUS SIZE JOGGERS | LOW HEELS
Anyway, as you can see from these pictures wearing the joggers with a pair of heels and a cute camisole really dresses it up! I probably could've thrown on a fun pair of earrings too. I could see myself wearing this with a button up shirt and a blazer, or really any fun blouse! These joggers are the perfect dress pants in my opinion.

WHITE TEE |HIGH WAIST JOGGERS | PLUS SIZE JOGGERS | LEOPARD LOAFER
But the weird thing about them is that they're actually the perfect casual pant to! It's the most bizarre thing ever! When I got home from the mall I wore a pair jeans that I got first because I was really excited about these $59 high waisted skinny jeans. But then I quickly realized that I wanted to wash them before I started wearing them because we have a white couch. I always worry about wearing new denim around my house for fear the color will get on my white couch. So then I changed into the joggers and I didn't want to take them off. I paired them with a simple white $18 T-shirt like you see in these photos and a pair of leopard loafers and I thought it looked so cute! And casual! But a put together type of casual. I could throw a blazer on with this look and it would be great for the office! Or I could wear some heels and a statement necklace with my white T-shirt and dress it up a bit. They are just so versatile.

WHITE TEE |HIGH WAIST JOGGERS | PLUS SIZE JOGGERS | LEOPARD LOAFER
This last look with the joggers is with this cowl neck sweater that I got for under $50! It's almost sold out but if it's still available in your size you have to get it! And if it is sold out in your size come back in a week or so cause sometimes Nordstrom restocks their items from the sale. I really hope they do with the sweater because I really want to buy it in the cream color. It's so comfy and really flattering for an oversize sweater look. Plus I absolutely am obsessed with the long cuff on the sleeve. It's honestly one of my favorite sweaters ever.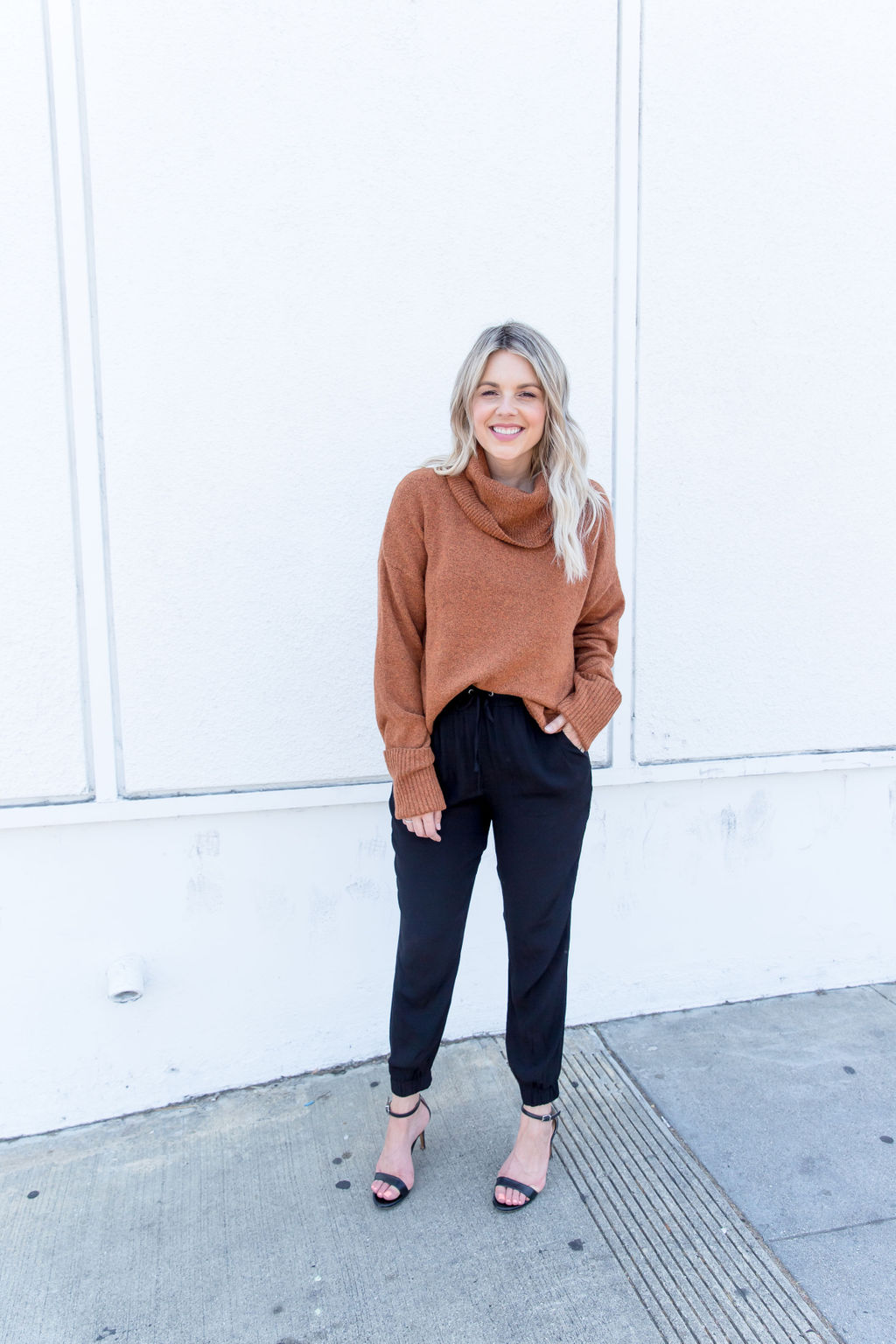 COWL NECK SWEATER | HIGH WAIST JOGGERS | LOW HEELS
And how cute does it look paired with the joggers. I just think it's such a fun Fall look. As you can see from these photos you can wear the joggers in the Summer and Fall. You'll be able to wear them year-round.

COWL NECK SWEATER | HIGH WAIST JOGGERS | LOW HEELS
Anyway guys, I wanted to get this blog post up ASAP because I feel like these joggers are going to sell out so quickly because of how amazing they are and because of the price! What do you think about them? And what do you think about the sale?! Isn't it so good this year! Would love to hear from you guys! And make sureto check out my earlier post with a bunch of other pieces I got from the sale!