Hi everyone, happy Wednesday! Hope you all are having a great start to your day. I wanted to jump on here and give you some of my top tips for getting your kiddos out the door. I know that all parents have to live through this struggle, one that should not be as hard as turns out to be! Ha! What used to just be putting one foot in front of the other and walking out the door, has turned into a much different routine these days! I thought I would share some of my "get out the door" tips that seem to be working so far! I'd also love to hear any tips you have, let's discuss in the comments at the end of this post! Especially if you have little boys because one of these tips mostly works for girls (or boys with long hair!) and I am going to need advice for when Riley gets a little bigger!
Getting Out the Door with Kiddos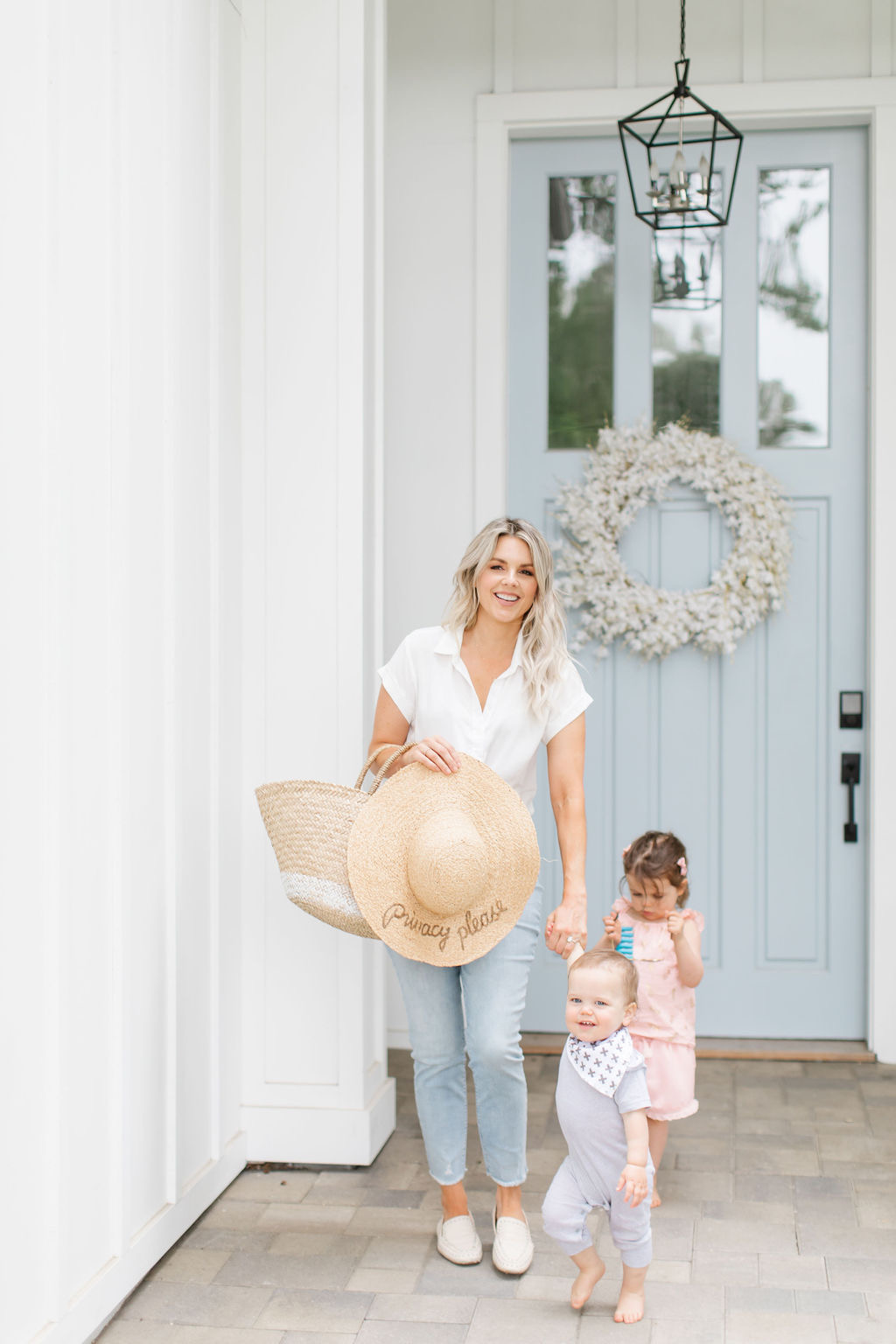 1 . JEANS | 2. WHITE TOP | 3. WHITE LOAFERS | 4. PRIVACY PLEASE HAT | 5. MOLLY'S SHIRT
Really quick, my jeans above are the Sofia Vegara jeans that are only $24! They are totally meant for girls with curves. I love the light wash and slightly distressed look! Plus, they are only $24!!! I do want to say that they run large. In these photos, I am wearing my normal size and I found them to be too big, but I wanted to share them with everyone before they sell out so I kept them! I ended up getting a pair in a size down too and they are perfect. So I recommend sizing down! They are meant for girls with curves, so if you have a straighter figure they might not fit you right! I posted about them recently, here, if you want to see another outfit with them!
And the Privacy Please hat is on clearance for $44 right now if you've had your eye on that! When I bought it, it was closer to $100!
Vitamin/"Candy"
I had to start with this tip because it's my favorite one. And I think it's genius. Ha! Plus it's good for your growing kiddo and works perfectly to help them get into the car! We call vitamins "candy" in our household, and that's because we give Molly chewable vitamins! This has definitely worked out in our favor because she looks at them as a treat. Recently we have started telling her that once we get into the car, we will give her her candy, and this makes her so excited to get out the door!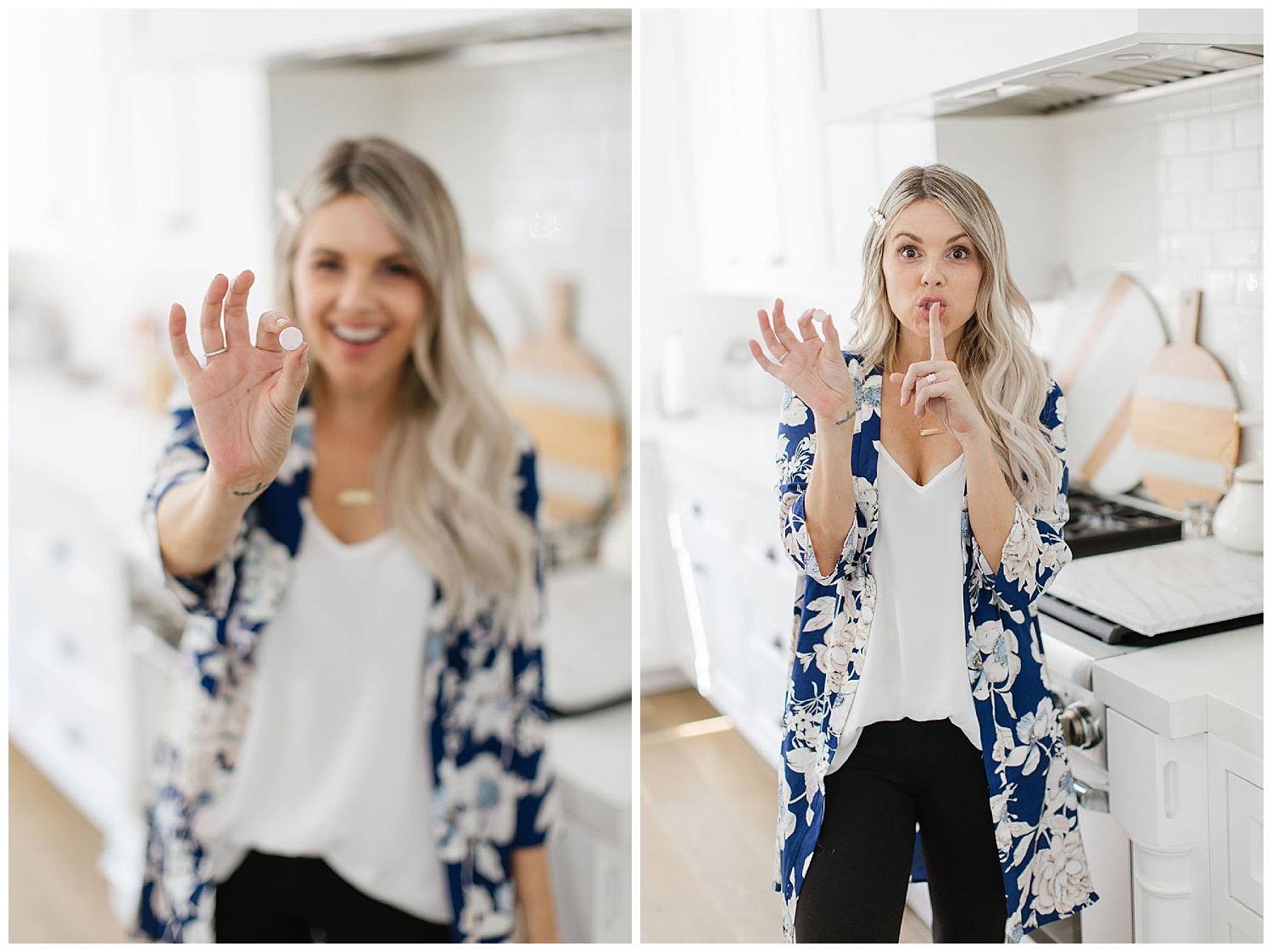 1. HAIR CLIPS | 2. $12 DUSTER | 3. WHITE CAMI | 4. LEGGINGS
This one is so easy, And also helps to remind us parents to give them their vitamins before school! That's a win-win in my book!
FYI my duster above is $12. I love it so definitely check it out. My hair clip is also a favorite of mine right now.
Pre-Pack your Bags!
Some of you may already do this tip, but I definitely think that it is one of the most important! And that would be pre-packing your bags and your kiddos lunch boxes the night before so you can just grab them and go! It's always good to have a bag in the car that's filled with things that your kiddos might need while you are out and about. I always have a change of clothes for each kid and some snacks.
Another important thing that I keep in my is bottled water (refillable bottles if you can! You shouldn't leave plastic water in the car, plus they aren't good for the environment) and empty cups for your kids. That way you can fill them up whenever they are thirsty! And you don't really have to worry about them leaking in the bag. You will also want to include things that keep them busy, in our case usually that means a book for each of them! Having this packed the night before saves me from running around the next morning, and alleviates any time I would have spent making sure I have outfits packed. If you still have kiddos in diapers, that is obviously a must too!! Never want to run out of diapers on an outing.
Packing their lunch the night before also makes a big difference! Molly has a bento box styled lunchbox, and I will put in a pouch, a fork or spoon, some fruit or veggies, and then a main food. Sometimes that means pasta with sauce, other times that means a container of broccoli or another left over from the fridge. This is one of those things that typically takes the same amount of time no matter when you do it, but having it out-of-the-way makes life so much easier! Especially if you pack up the lunchbox after your kiddos have gone to bed – that way they are surprised by what is in their lunch the next day!
"Princess" Hairstyles
This tip is mostly for little girls, but also could work for a little boy too (I'll explain that in a minute!) We used to have a lot of trouble getting Molly to let us do her hair in the morning, which meant we struggled even more to get out the door! Recently we started associating different hairstyles with Disney characters and that has made all of the difference. We will ask her what hairstyle she wants, and if she doesn't know then we give her suggestions!
For example, the Moana hairstyle means we brush out her hair and then clip back the top hairs so that they are out of her eyes! Other hairstyles we do are the Cinderella, which is a bun (or top-knot, depending on what you call them) on her head and we add a clip to the side or sometimes a headband! That's what I'm doing to her hair in this photo! We also will do a ponytail, which we call the Belle. Oh, and don't forget braids! One side-braid is for Elsa hair, and two braids are Anna! Ha! As you can see we've turned this into a fun game that encourages Molly to make a decision on what she wants her hair to look like for the day, and it also is more fun for me, because she is much happier!
And bonus, she goes to school looking halfway put together. Ha!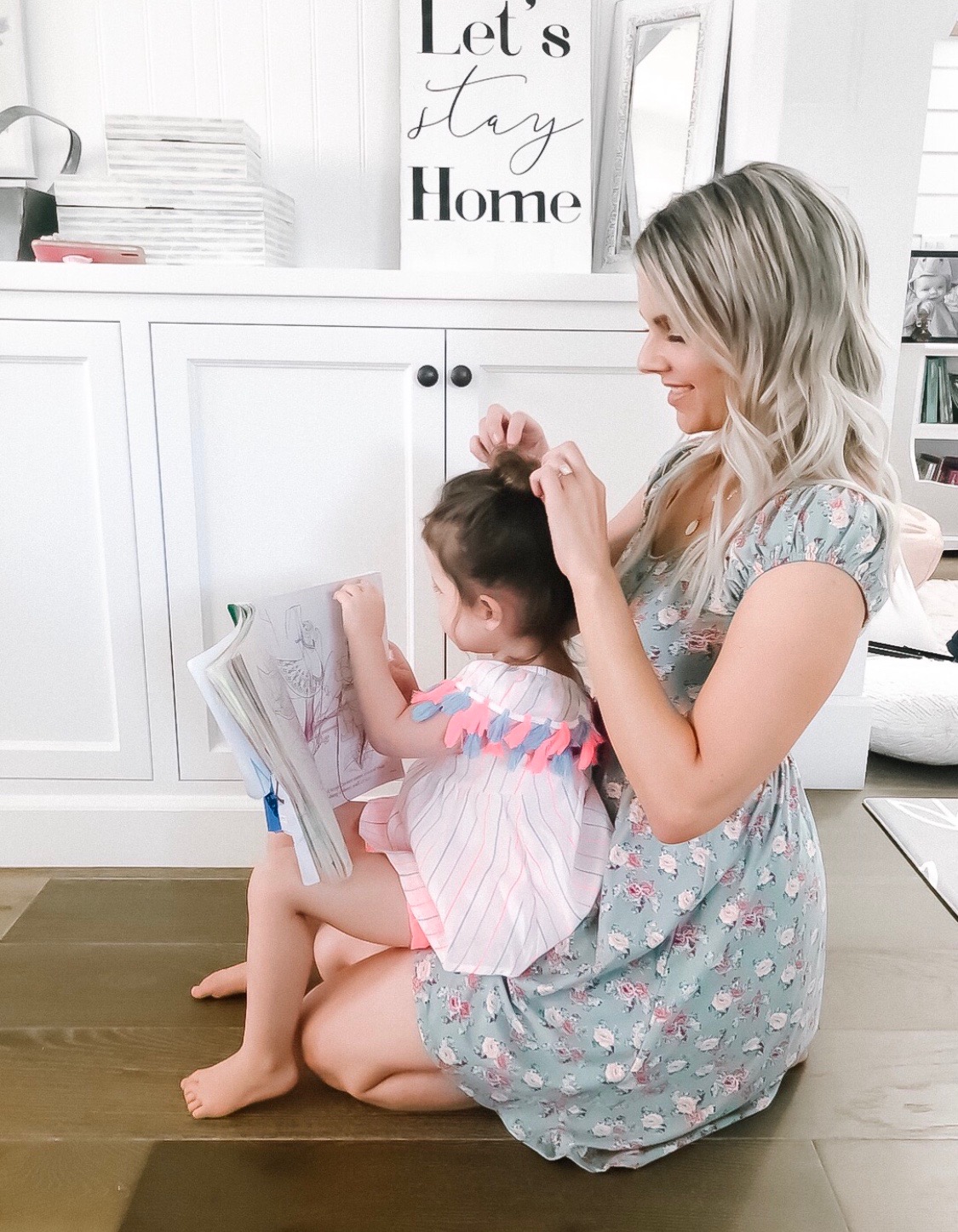 1. MOLLY'S OUTFIT | 3. LET'S STAY HOME SIGN
Back to what I was saying about little boys hair! This could also work for them too! Depending on the length of their hair, you could also let them choose to do their hairstyle like their favorite characters. For example, if they have slightly longer hair on the top you could offer a hairstyle like Ryder (from Paw Patrol), and use a little gel on the top. Or, you could tell them it needs to be tidy like Whyatt from Super Why! Or two other characters with good hairstyles that you could replicate would be  Connor (CatBoy) or Greg (Gekko) from PJ Masks!
Listen to Their Favorite Songs!
As you all probably have realized, my kiddos love music and they love to dance! We have nightly dance parties at our house every single day! A great tip to help get your kiddo into the car is to let them choose the music! So while we are getting ready, I let Molly choose which song or movie she wants to listen to music from. Usually she chooses Moana, Aladdin, or the occasional Vampirina! This really excites her and helps her get out the door because she has something to look forward to! I love this tip because even if the morning didn't go smoothly in the household, and even if there has been tears, once we get in the car and I put on the music that Molly chose, then all frowns are turned upside down!
If she is having a bit of a morning where nothing seems to be making her to happy, and she isn't choosing to give me the name of a song, then when we get in the car I will put on something that I know she would like! Usually at that time, she will give me an opinion on what she wants to listen to for that day! And again, she becomes much more of a happy camper!
Riley is still too young to choose which songs to play, but he is starting to try to sing along to songs that he knows and it is so cute! So when a song comes on that Molly chooses, usually it cheers him up to!
What are your favorite tips?
I hope some of these tips will help make your mornings go smoother and get those kiddos out the door! Do you already do any of these tips? Are there tips that you would recommend to other parents here?? As you know I love when parents help other parents! Let's all make this a discussion in the comments below!