Never Enough Time in the Day When You're a Mama!
So after my post the other day about kidpik boxes, I got to thinking about all the other ways that I try to save time as a mom. Because seriously there is not enough time in the day – even for non-parents!!!! Right? I always feel like I am running out of time, ha! I compiled a list of some of my time savers because I thought it might help some of you like they have helped me. And for some of them, all it takes is a simple switch of routine! I feel that especially because I have been so busy, saving even 30 minutes here and there is so beneficial for me. I want to be able to spend that time with my kids, and if I am able to spend more time with them just by finding ways to do daily tasks faster, then I am here for it!
Talk To Text
So you guys have all probably heard me talk about how I use talk to text pretty much exclusively when I am using my phone. I use it to send texts, emails, caption my stories on Instagram. Pretty much all the time. I even wrote this blog post using it!! It is such a time saver. I'm a fast typer, but talking is even faster. Sure, there are typos (you've seen my story captions, Ha!), but you could always do a quick once over of your message before sending. I am not kidding that once you start doing this, you won't ever want to go back to only typing! My friends are all slowly making the switch too! It is just so useful!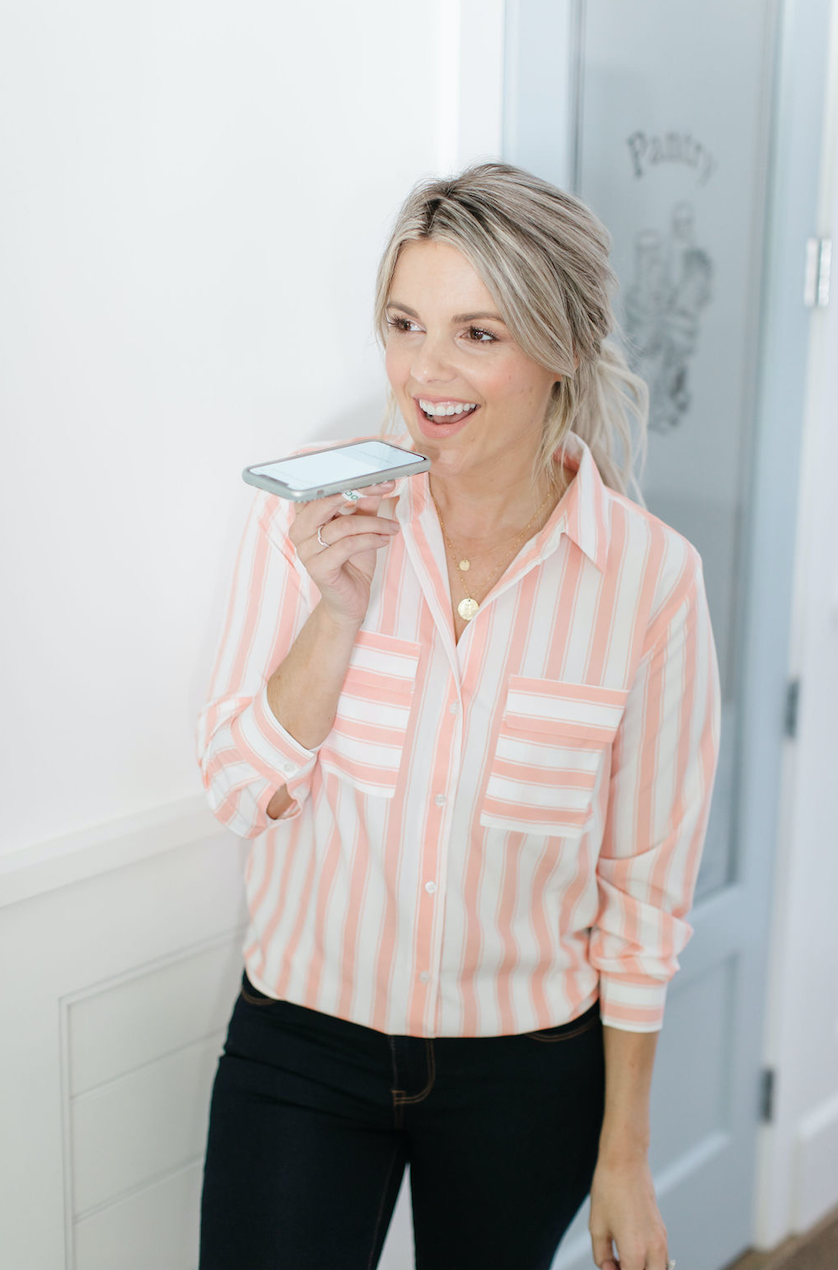 1. STRIPED TOP | 2. $9 JEANS | 3. NECKLACE
kidpik
I HAVE to put this one in here, especially since it's what sparked my inspiration for this time saver post. If you didn't see my recent kidpik post, I highly recommend checking it out! I break it all down and explain why kidpik makes my life so much easier when I am shopping for Molly!
It's tailored to individual budgets, moms, dads and girls – and in my case, especially busy mamas! And now I don't have to spend any time searching the internet or in stores for Molly's clothes, because a box filled with styled clothing now comes to my door. Such a time saver!!!! When you first sign up with kidpik, you can take a fun two minute quiz so that their stylists can personalize looks that suit your kiddos size, style and fashion!
The items are high-quality and so darn cute. And I mean that with my whole heart! I feel like that isn't always the case when purchasing children's clothing. You typically pay a premium price for a small amount of fabric, and for one's that aren't even the best quality! But the kidpik clothing pieces truly feel like my own personal clothing – and did I mention that they are really affordable!? So you are getting great quality pieces that will have your kiddos lookin' stylish at great prices.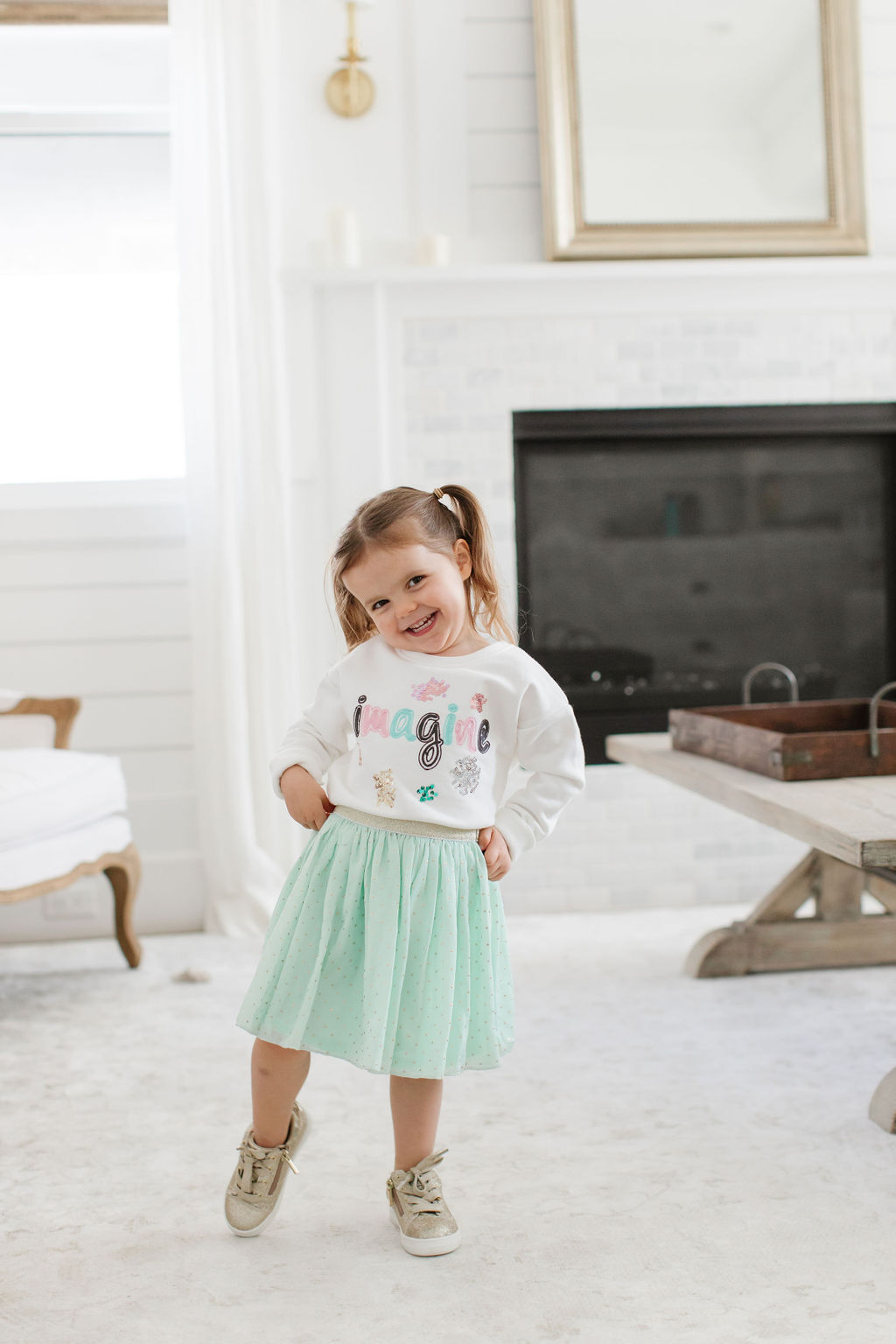 And it is risk-free!! There is zero commitment – there's not even a styling fee! I've seen other types of subscription services where if you send everything back, they keep the styling fee. But since there isn't a styling fee with kidpik (how awesome!), you don't pay anything if you don't keep anything. They also offer free shipping and returns.
And it TRULY saves time. Not even just the time you would have spent shopping, but also the time it takes to get your little girl dressed. It's one less thing to think about when I am trying to get Molly out the door. Since the boxes are pre-styled and the pieces can be mixed and matched, I can just grab them from her drawer, throw it on her and get her out the door. No one at school needs to know that kidpik was the one that styled Molly in the morning and not me. Haha!
Oh and how stinkin cute is this pic of Molly eating a donut! Ha! My next tip is all about healthy snacks, but sometimes a girl just needs a donut! Now I want a donut!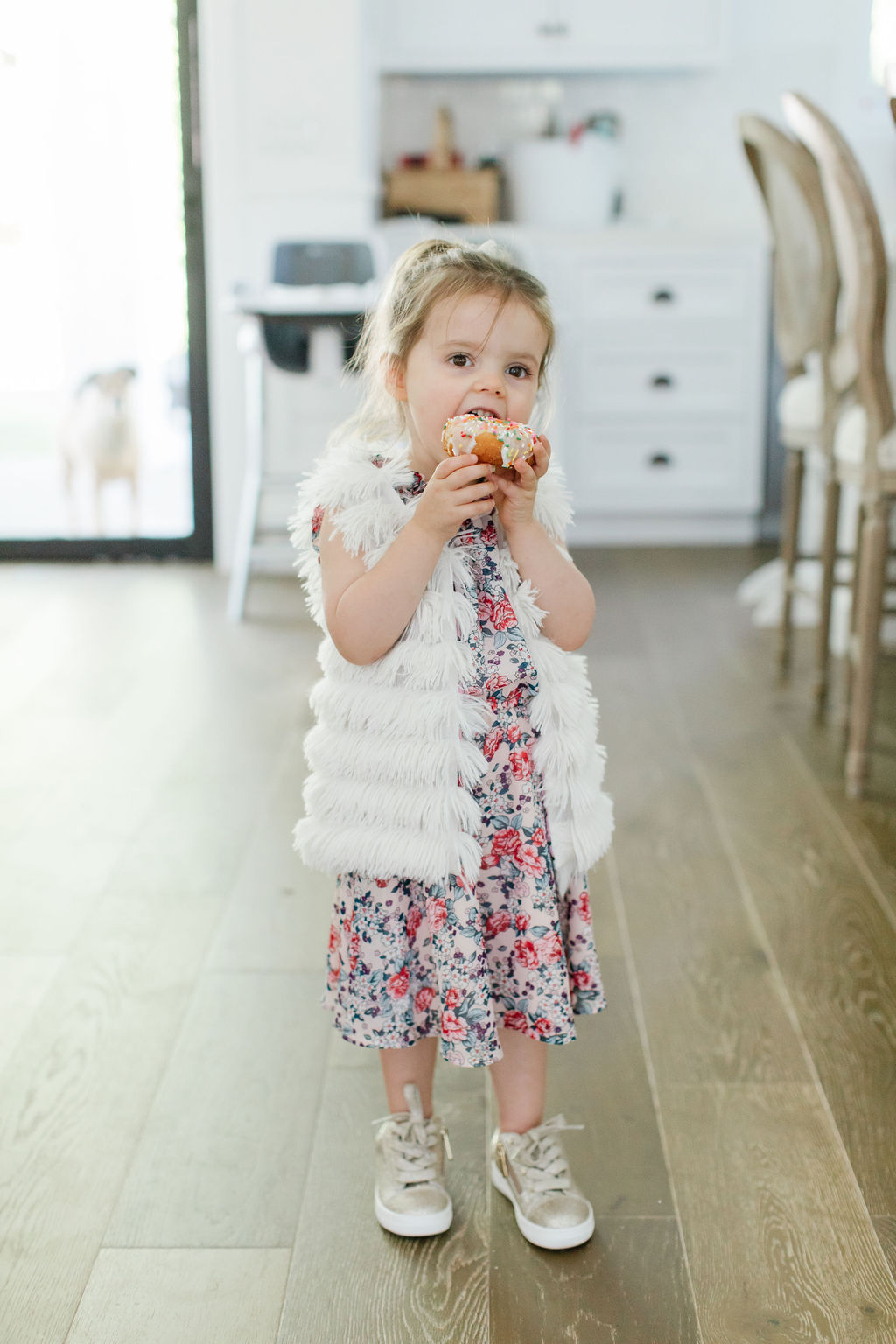 Both Molly and I cannot wait for her next box to arrive! Also, I am so excited to share an exclusive code for your first time purchase! Use code: Aliluvskidpik to take $25 off a purchase of $50 or more. You can even combine it with the 30% off discount that is automatically applied if you keep everything from your box! So if we do that math on that, that means you get all 3 mix n match outfits including the shoes for only $70 your first order! Eeek amazing. I'm going to link my entire blog post about kidpik here for you to check out!
Quick Snacks + Meals
Finding the best quick healthy snacks and meals for your kiddos and family! One great option, especially if you're having a week where you are really low on time, would be to get a veggie tray from the store! That way everything is all cut up and you can give it right to the kiddos.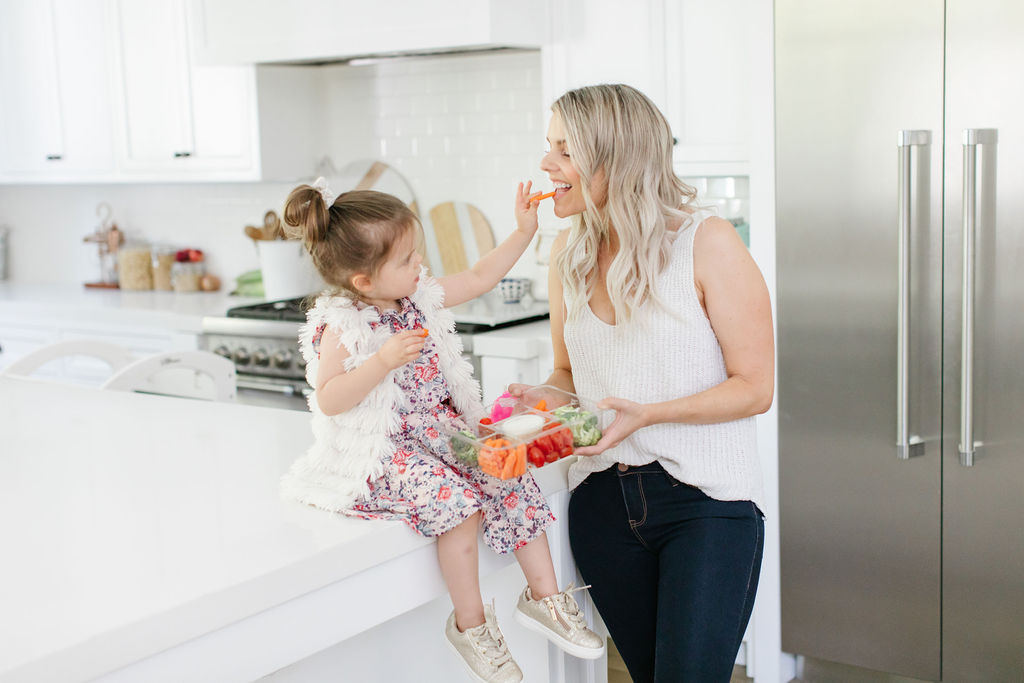 1. MY $10 SWEATER TANK | 2. MY $9 JEANS | 3. MOLLY'S KIDPIK CLOTHES | 4. LARGE CUTTING BOARD | 5. SMALL CUTTING BOARD | 6. VEGGIE TRAY
Also, since there is a variety, Molly likes being able to choose which veggie that she wants for her snack or put into her lunch. This adds a fun activity for her in the morning, and it is making my life easier so it is a win-win! You guys know that we try to go to the farmers market every week as a family, which we love doing, but sometimes I need something faster that doesn't require me cutting up the food! That's why veggie trays are so awesome – they are great time savers! BTW, Molly's clothes in the pic above and below are from kidpik! I mean, I can't get over the cuteness of her little vest!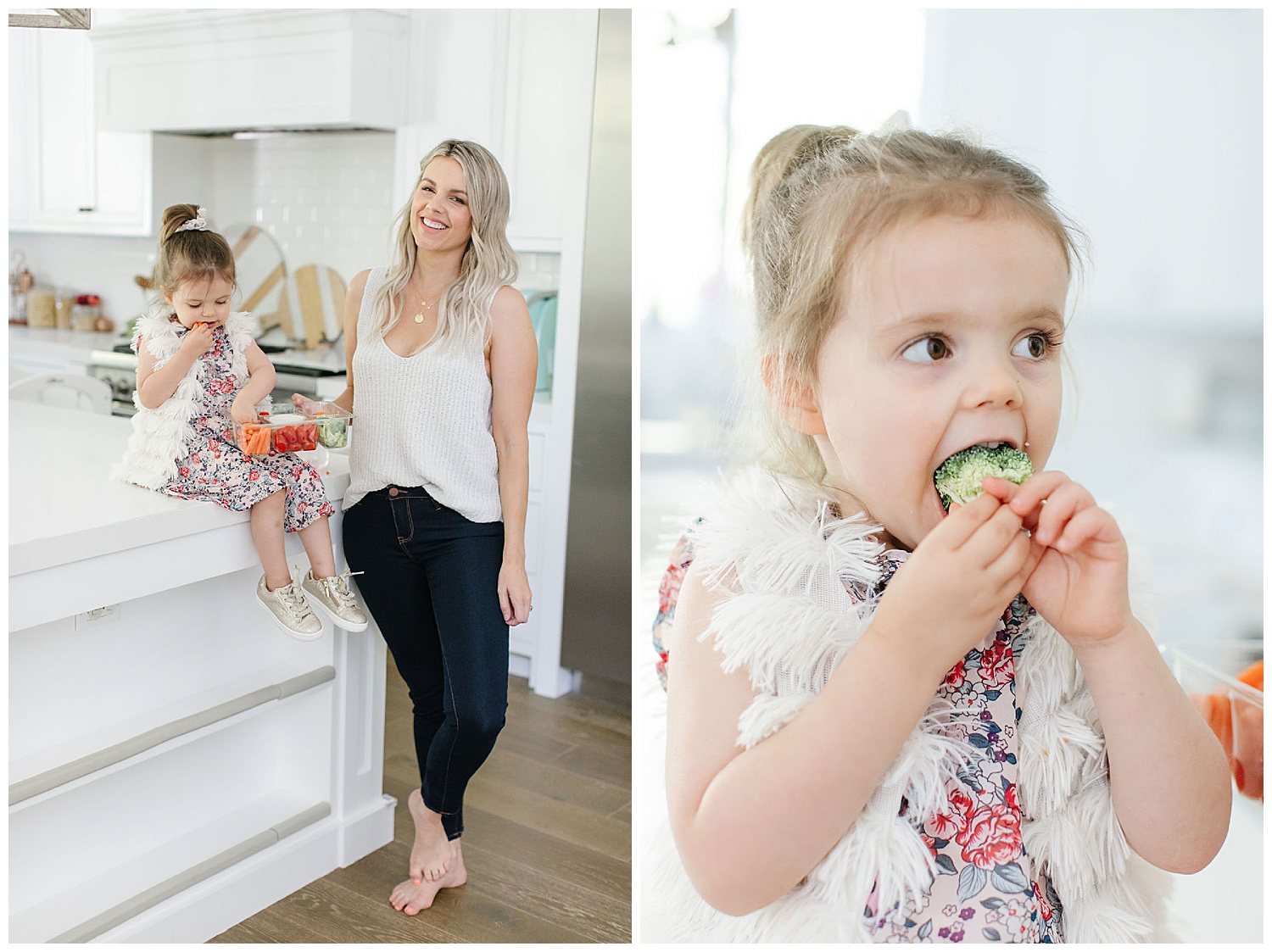 Another staple in our household are frozen waffles (and they are actually gluten free!) There is almost never a time where we do not have both Homestyle and Pumpkin Spice in our fridge. Unfortunately I am not finding the link for the Homestyle online, but you should be able to find them in your store! Molly loves eating them for breakfast, and they are so easy to just pop in the toaster. Riley has started eating them too – but only the Homestyle.  He hasn't acquired the taste buds for pumpkin spice yet, ha! Maybe he never will! But they are Molly's favorite!
I'm going to link some other great snacking items below:

Getting Exercise with Kiddos
So it might not always be possible to trade with friends or get a babysitter, I get it! My recommendation would be to throw on your workout clothes while you play with your kids, especially at the park! Then instead of sitting on the sideline and watching them play or even walking alongside them, get down on the ground with them and jump up, be goofy and silly, and have fun!!! You'll be surprised at how much of a workout it is. It's a way to spend time with your kids, tire them out so they nap (if they're still at the age where they nap), or tire them out they go to bed at a decent hour! I'd call that a time saver! Ha!
Whole Family Clean Up at the End of the Night
One time saver that I recently started doing, well WE recently started doing, is spending 10-15 minutes before bedtime tidying up! Turning this into an activity with the family not only gives you more time to spend with them all together, but also makes it so that once the kids are down for bed, there is less for you to straighten up, which means more time with your significant other! The kids have loved it so far. Molly has been super into setting timers lately before finishing an activity, so we set the timer for 10 minutes.

 1. SWEATER | 2. $17 RIPPED JEANS | 3. KEVIN'S SHIRT | 4. RAINBOW PRINT | 5. MAGIC ERASERS
Our focus is typically the play area and sometimes the family room too! Molly and Riley both can help with this, which is great! Riley loves to copy what we are doing and when he sees us putting the toys in the baskets or the books on the shelves, he helps too! One thing that we have also tried is giving the kids a magic eraser. While Riley doesn't quite understand this yet, Molly is starting to realize that drawing on the counter, even if on accident means that you have to clean it up. The magic eraser comes in handy for this, and also for any pesky smudges on the walls in your play area or doorways from those little hands. And by this way this is in no way sponsored by them, just thought it would be a fun time saver and it's working!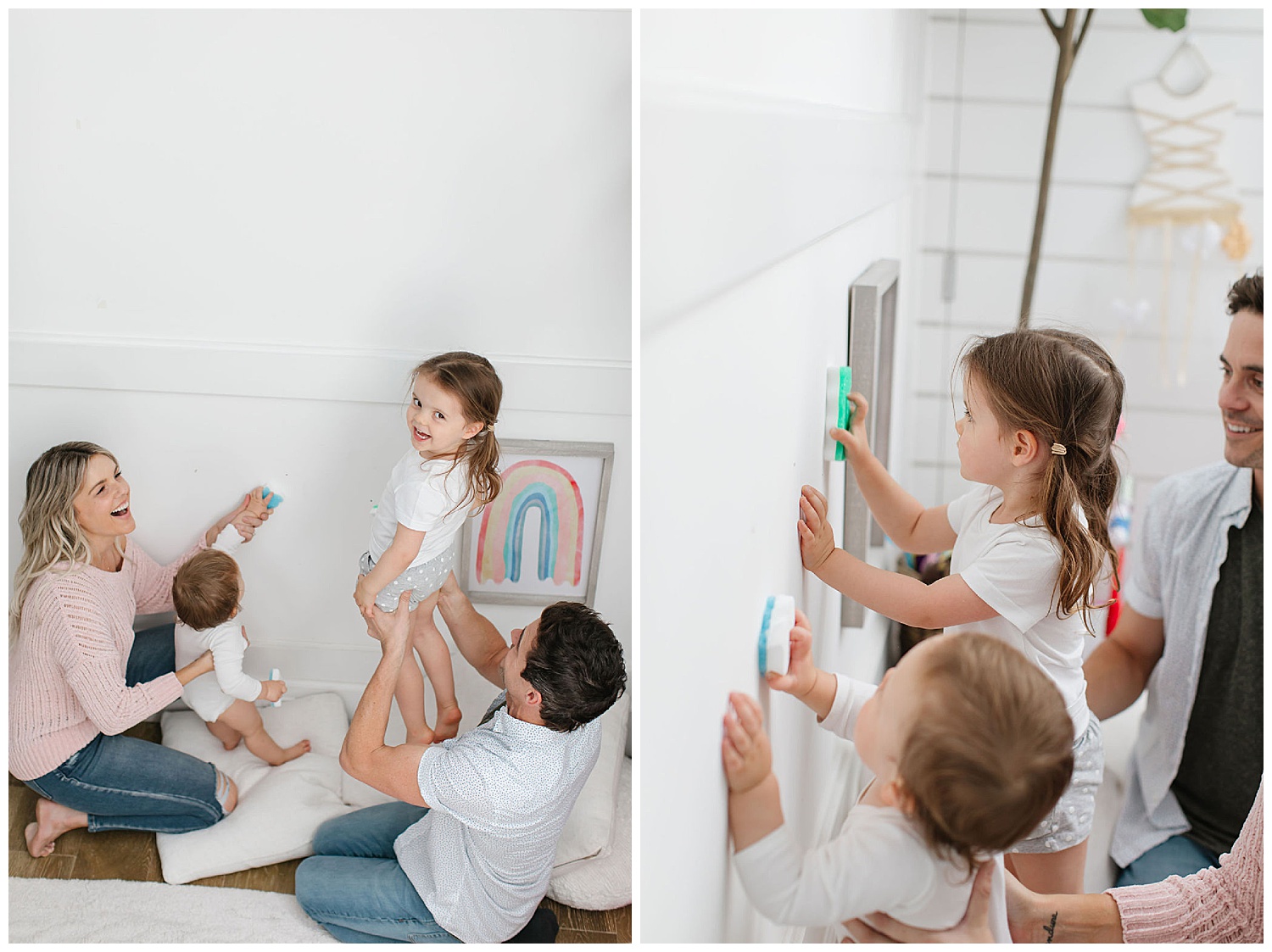 1. SWEATER | 2. $17 RIPPED JEANS | 3. KEVIN'S SHIRT | 4. RAINBOW PRINT | 5. MAGIC ERASERS
Ordering Pickup Groceries on an App
Something that we have recently started doing is ordering our groceries ahead of time to be picked up. You would not believe how much of a time saver this is. Sure you still have to sit down and order the items, but you save an incredible amount of time by not having to walk the aisles in the store. Plus, you will probably save some money because you won't be stopping for the extra goodies that catch your eye. Even if you're not a mom yet, this is a game changer.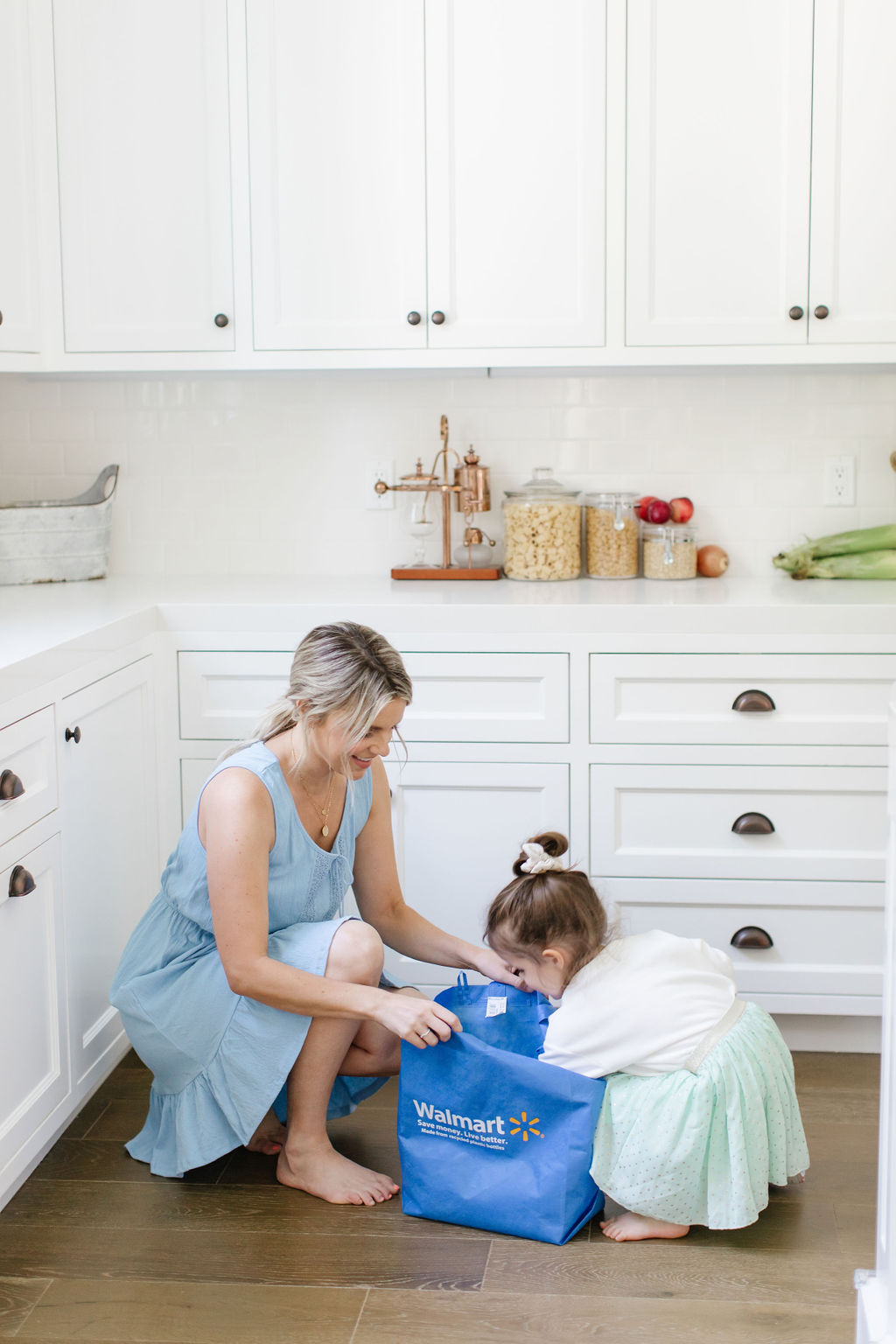 1. MY $7 DRESS | 2. MOLLY'S KIDPIK CLOTHES
A lot of the time we order for pickup at Walmart because we can get other items besides just groceries, like I can grab some diapers for Riley or I can even throw in a dress that I've been wanting to try! I know that I work with Walmart a lot, but this is in NO way a sponsored Walmart post. I truly just love the service! Btw, my dress above is only $7 right now!!!!
Oh! Another incredible thing that I didn't mention about doing this pickup service is that you don't even have to get the kids out of the car!!! Walmart, and I am sure a few other companies too, have started doing Drive-Up! So you pull up outside and they come right to your car with all the items. So it's even a time saver because you're not having to unbuckle your kiddos and take them inside for the pickup. GAME CHANGER!
What's your favorite time saver?
There you have it! I hope that some of these tips help you save a bit of time during your busy schedule as a mom (or dad), or even if you're not a parent at all! What are your best time savers? I can take all the help I can get! Let's chat below!