It's officially my 35th birthday today. It definitely feels weird to celebrate this one because part of me still feels 25. Don't get me wrong, I am well aware how lucky I am to be aging at all. And even though part of me feels 25, other parts of me feel 55 because these kids make me so tired all the time! Ha! Anyway, since my birthday falls on a Monday, Kevin and the kids had a special little day for me yesterday which was pretty awesome. Kevin let me sleep in, like he always does on the weekends, and I woke up to the kiddos jumping on me in bed! It was perfect. Kevin and the kids brought pancakes so we all sat in bed and ate heart shaped pancakes. I know I know, we are kind of crazy to let our kids eat in bed. It was a special occasion 😉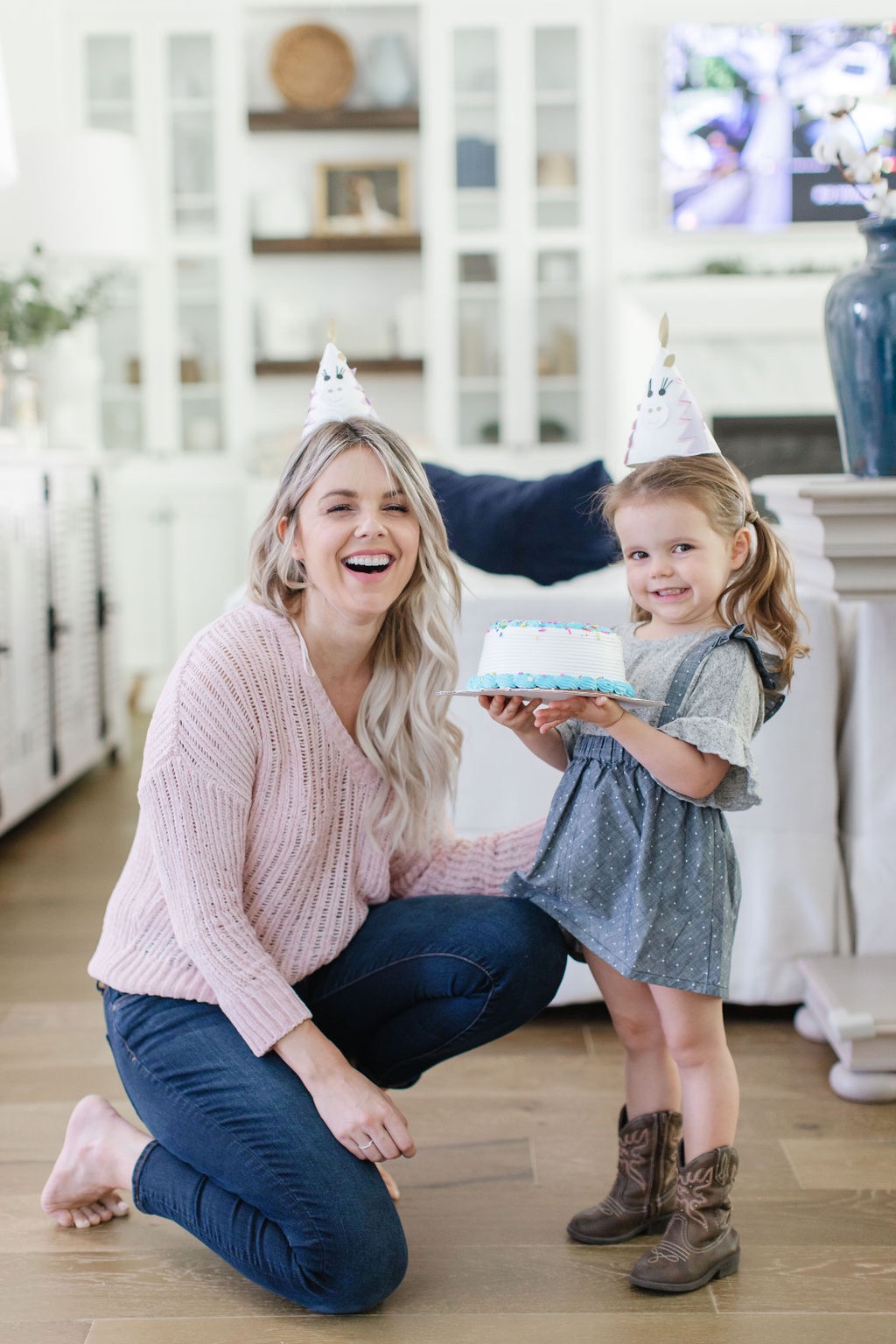 1. SWEATER| 2. JEANS | 3. MOLLY'S TOP | 4. MOLLY'S SKIRT | 5. TODDLER COWBOY BOOTS
Anyway, then I went to my workout class which was so nice and followed that up with some pool time. While we were swimming, Kevin's mom (aka Mimi) showed up! She flew in from Indiana and she'll be with us for a week! Both kids are battling colds right now, so Molly got tired of swimming pretty quickly. Poor thing. After we came in, I went upstairs to shower and get ready and when I came downstairs I was so happy to see my sweet kiddos smiling faces, with party hats on, and a little birthday cake to celebrate my day! Molly could not have been more proud holding that cake when I walked down the stairs. And I was pretty impressed with Kevin because he's the one who got her dressed! And I have to say, her outfit is pretty stinkin' adorable. Both her top and skirt are from Tucker and Tate at Nordstrom. I love that brand for kids clothes at Nordstrom, so if you've never checked them out please do! They have the absolute cutest stuff and it's all relatively affordable.
In her top, I got a size 2T and if it her perfectly. She's normally a 3T FYI. But I also got a 2T  in the skirt and I think it appears a little bit more high waisted on her than I think it's intended to look. But I was so excited about her outfit that I didn't return it because I thought the high-waisted look was pretty cute. And speaking of things being too small, the cowboy boots she's wearing with this outfit just barely get on her feet. I'm sure you recognize these because she's had them for a year and a half now. I just haven't had it in me to let them go because I love them so much, and so does she!!! But her poor little feet are starting to squished in there. However, Kevin knew that and keep reading to see what he did for me as a little birthday present – which absolutely blew my mind! Just because it's ridiculously thoughtful.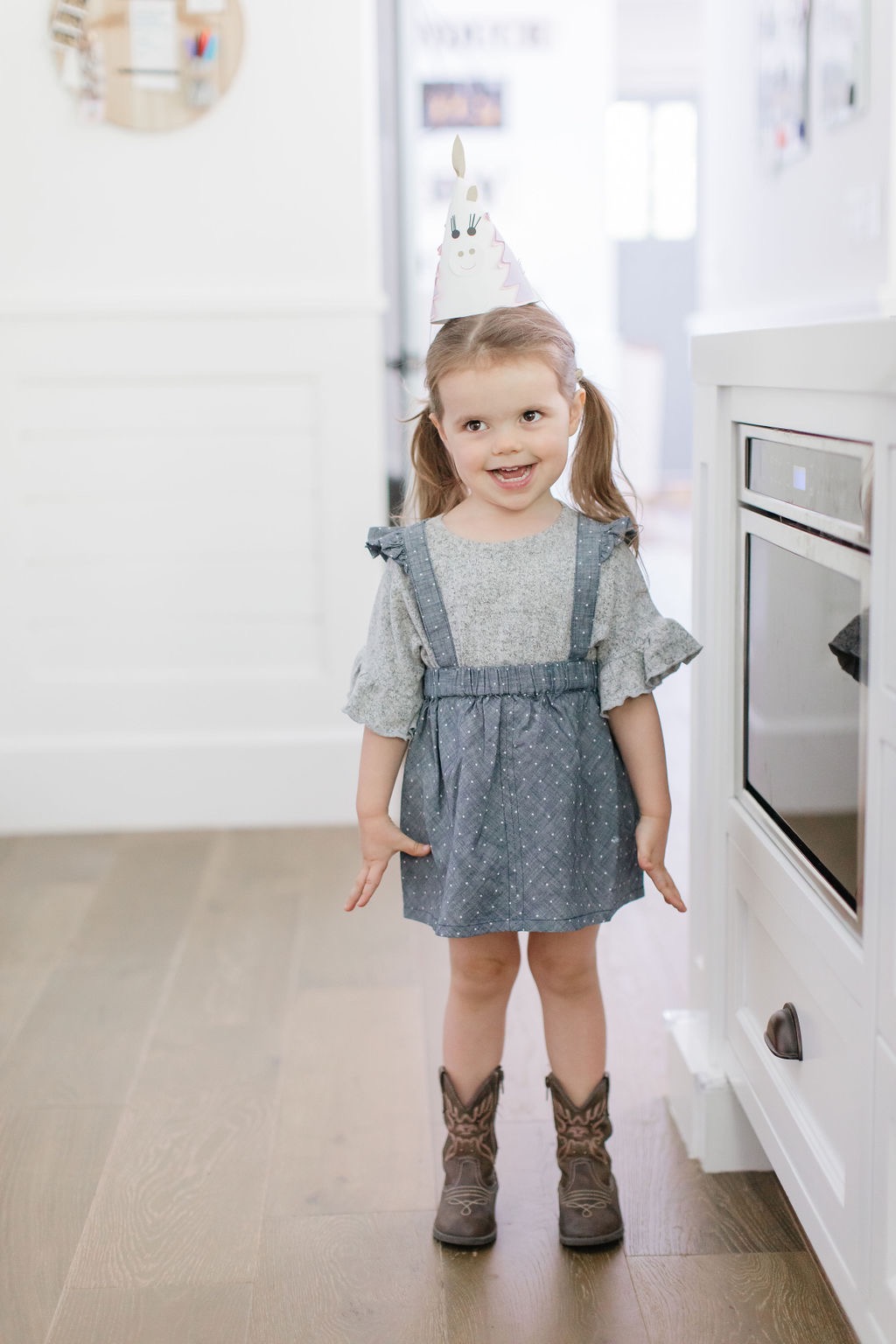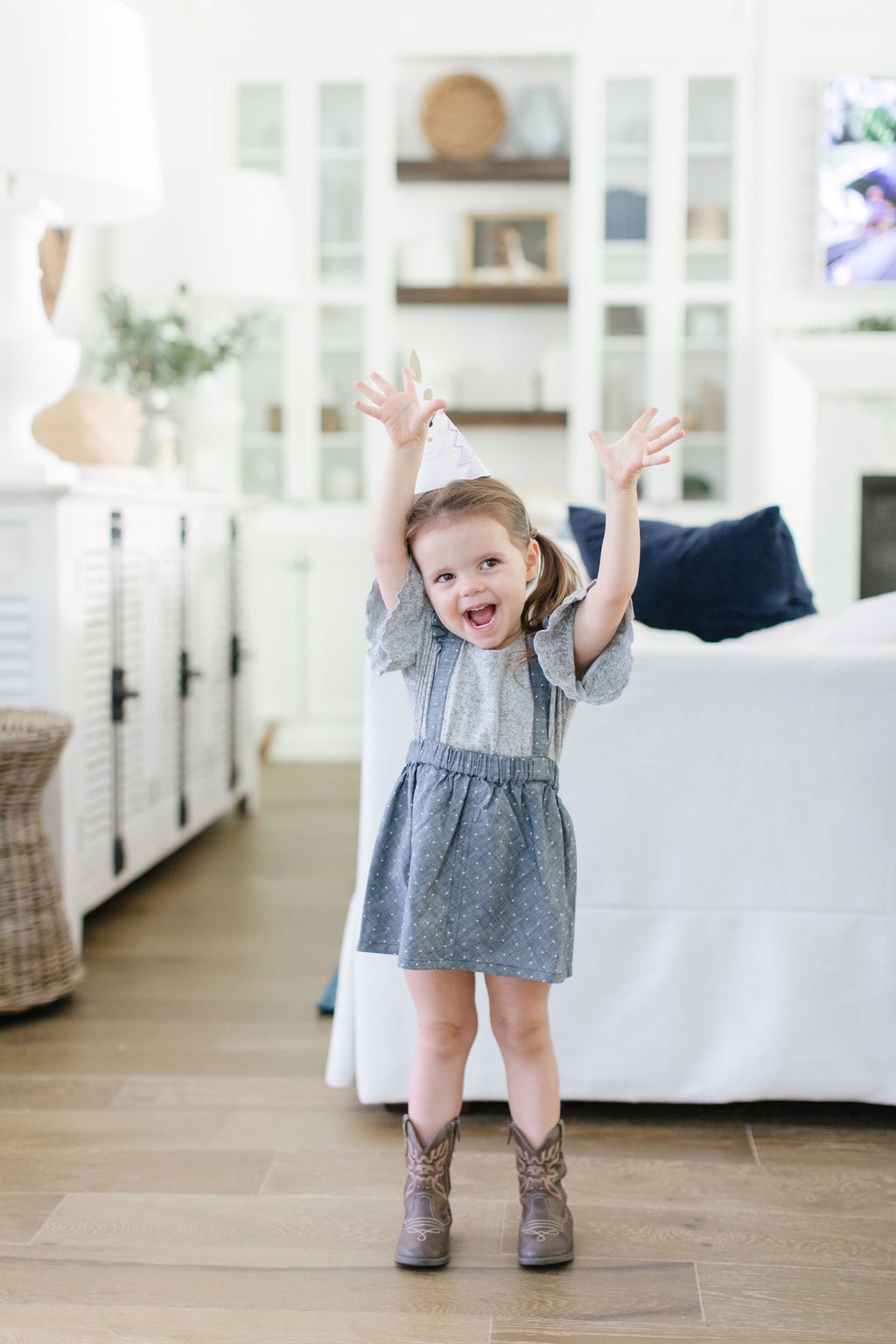 1. MOLLY'S TOP | 2. MOLLY'S SKIRT | 3. TODDLER COWBOY BOOTS
Back to the party, Molly, Riley and I sat down at the little kids table so we could sing happy birthday and eat some cake! We ditched the candle just because Riley kept digging his fingers right into the cake and an open flame just would've been dangerous. Ha! But Molly could not have been cuter singing happy birthday to me. As you guys know, if you watch my Instagram stories, Molly has a little birthday party for herself and all her stuffed animals pretty much daily. So she's constantly "practicing" singing happy birthday. Now that it was my birthday, it was her chance to show off her singing skills!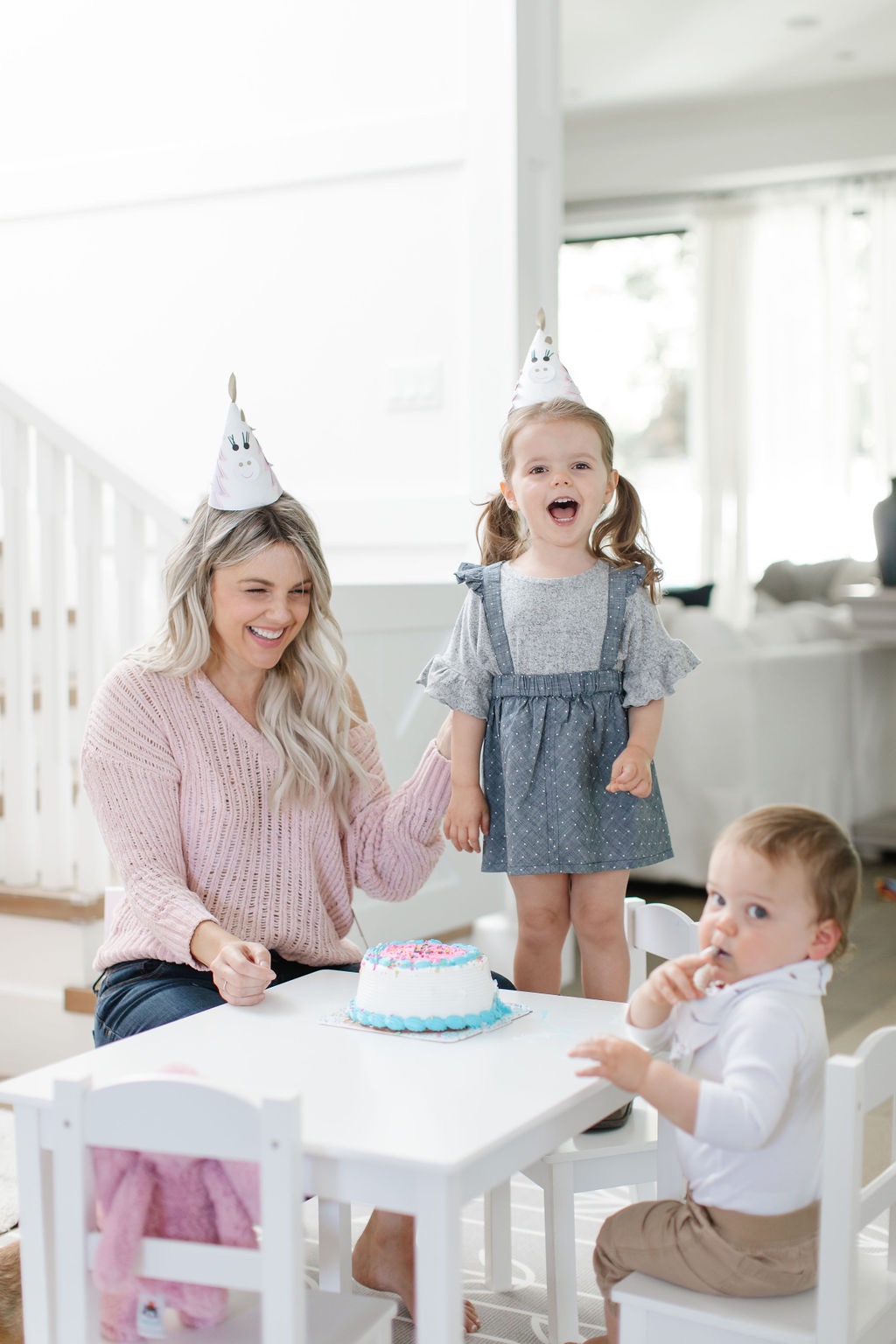 1. SWEATER| 2. JEANS | 3. MOLLY'S TOP | 4.MOLLY'S SKIRT | 5. TODDLER COWBOY BOOTS
The Most Unique and Special Gift
And now onto the ridiculously sweet thing Kevin got me for my birthday. Let me start by saying it's really hard for Kevin to buy me gifts. He knows that I don't like big expensive gifts because I don't want him spending too much money on me and all the little stuff that I really want I treat myself to. And I know how lucky I am to be in a position to do that because I know many people cannot.
So Kevin told me that when he was thinking about what to get me for my birthday, he knew something that I would absolutely love is mommy and me matching outfits with Molly! And just to be completely upfront and honest with you guys, that's because he knows that I'm always looking for content for my blog and he knew I had a Nordstrom post to write (I work with them) – so he thought mommy and me matching outfits from Nordstrom would be a great gift. I mean how thoughtful is that? He knows I tend to take on too much and he is always looking for ways to make my life easier. That's love my friends. Truly the most thoughtful way to give a gift.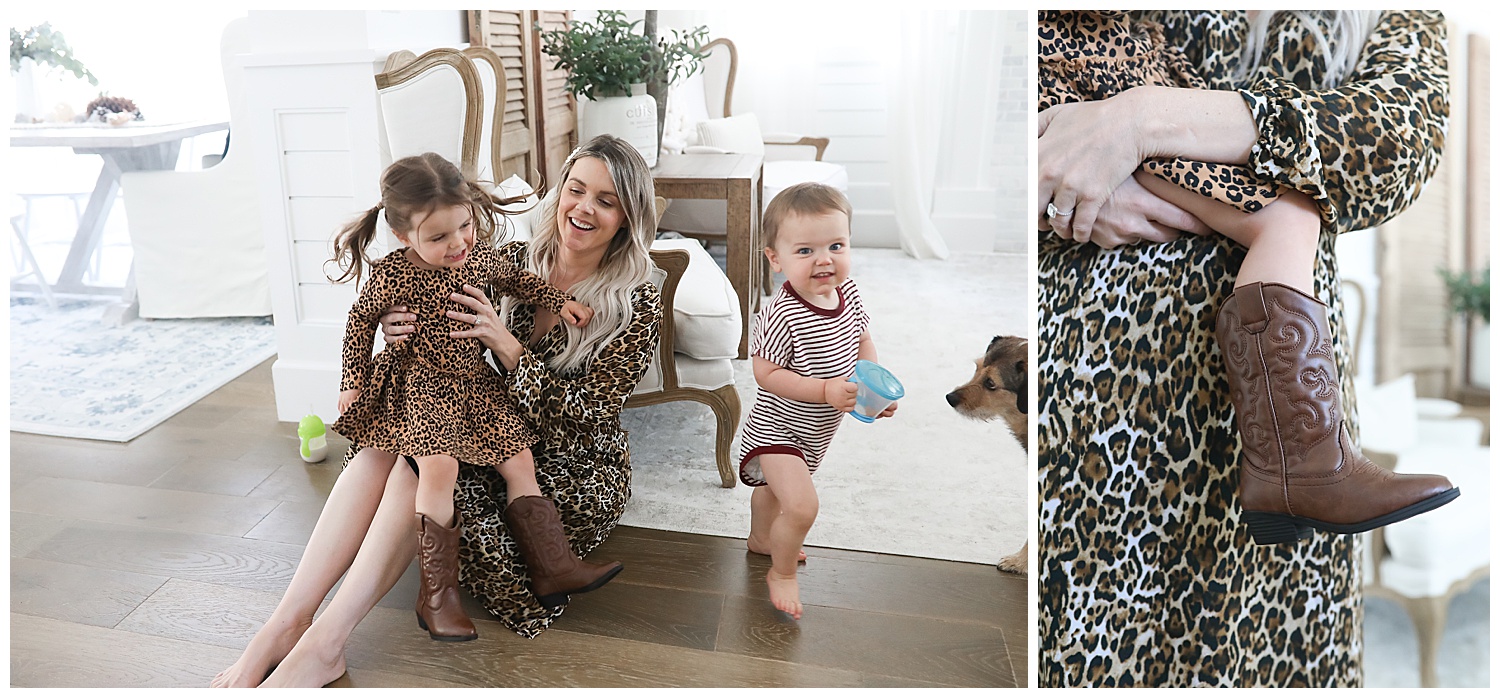 1. ALI'S HAIR PINS | 2. ALI'S DRESS | 3. MOLLY'S DRESS | 4. MOLLY'S COWBOY BOOTS
Not only did he want to get me something because it was my birthday, but he wanted to get me something that I really needed and would help me with my work/blog. Honestly, I don't think of things that thoughtful for him! He just really listens and cares about me and cares about what's going to make my life easier and I love him so much! Given that he bought this so I would have something to write about, I almost saved these dresses to do an entire other blog post. But I decided that the gesture was just so thoughtful that I wanted to share them now. As soon as Molly saw that we had matching dresses, she immediately wanted to put them on. Well actually, she wanted to wear my dress and she wanted me to wear her dress. Ha! Now that would've made for some interesting pictures.
Also, I've got to give Kevin major props for getting mommy and me matching dresses that aren't super matchy matchy. I feel like that was very smart of him. When I think of mommy and me, I always think of things that match exactly. But I actually kind of think it's cool that he didn't go so matchy matchy with these. Well done babe! He also nailed getting me outfits to write about for my blog that are affordable! My dress is under $80 and Molly's is $35!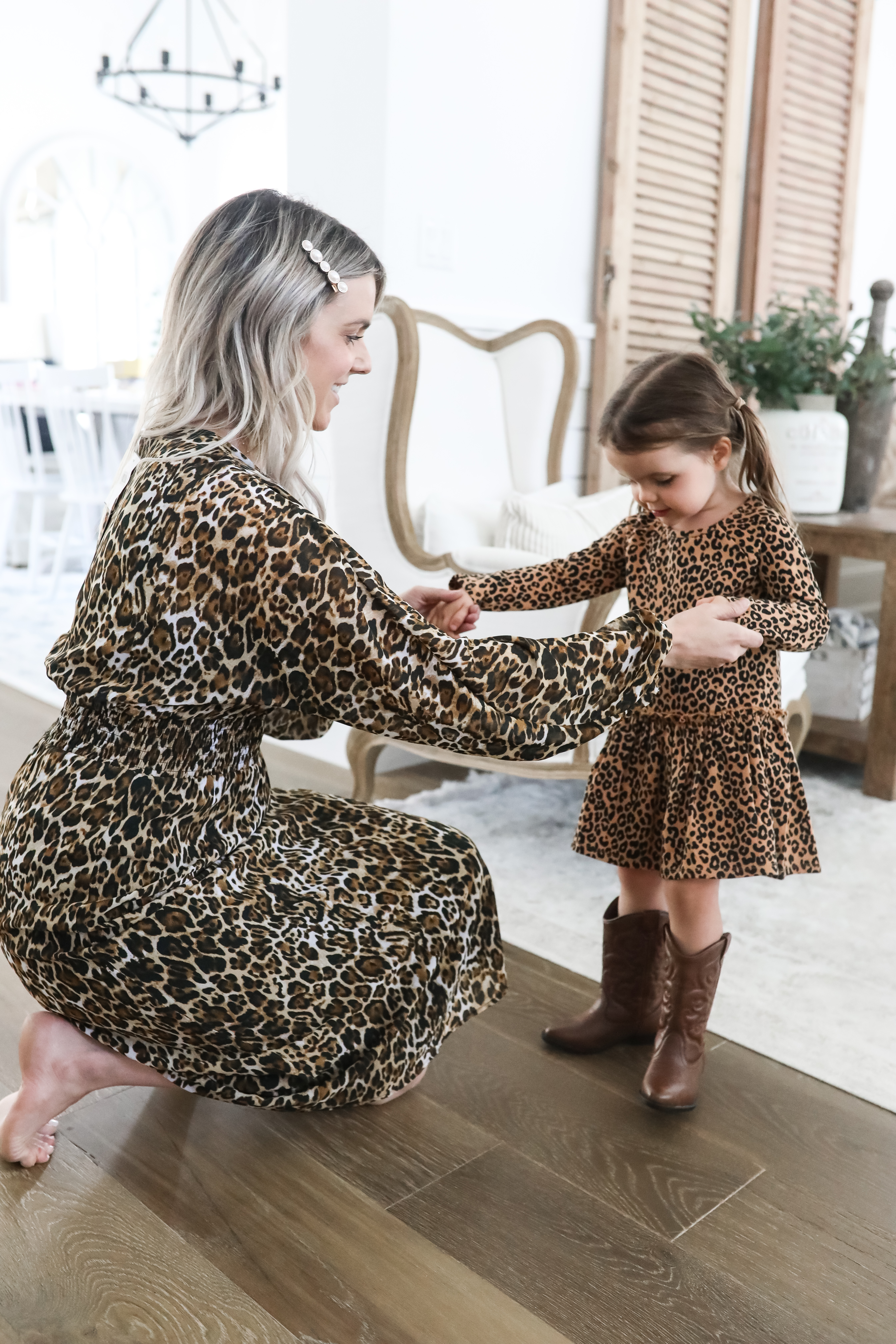 1. ALI'S HAIR PINS | 2. ALI'S DRESS | 3. MOLLY'S DRESS | 4. MOLLY'S COWBOY BOOTS
And I forgot to mention one of my favorite things he did! I casually mentioned the week before at the mall that Molly needed a new pair of cowboy boots because her other ones were too small for her and he went out and got her a pair! Again husband of the year award! And I have to say these new ones are slightly different than her old ones, but I think I may like them even more! I like that they're a taller boot than her other pair that she's wearing in the photos above. I hope she gets another year and a half or more out of these like she did the others! And I'm sure she would get even more years out of them if toddler's feet didn't grow so dang fast!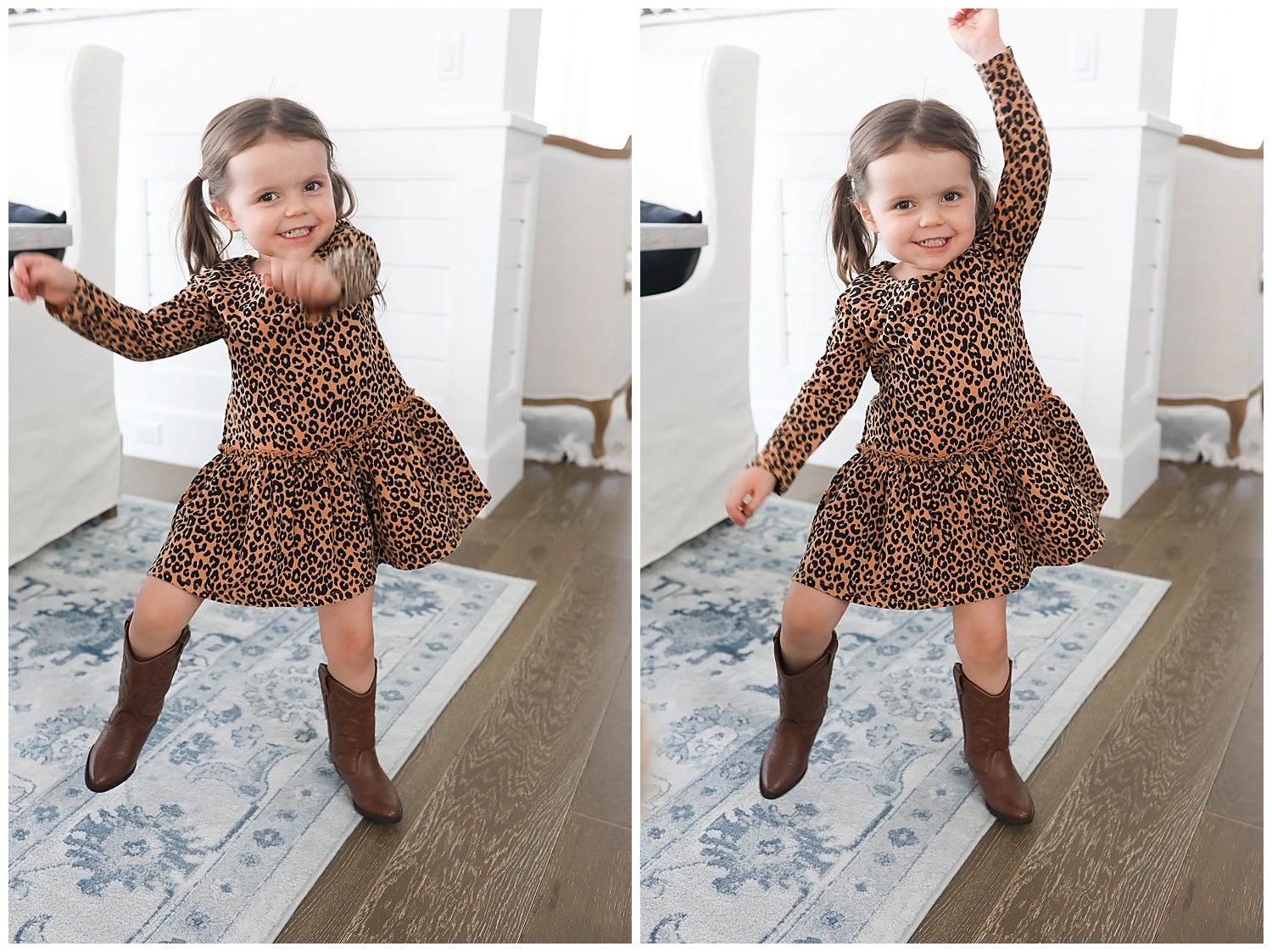 1. ALI'S HAIR PINS | 2. ALI'S DRESS | 3. MOLLY'S DRESS | 4. MOLLY'S COWBOY BOOTS
Oh and real quick the clip in my hair comes from a set of three clips that I'm obsessed with! You're going to see me wearing these clips a ton moving forward. I just got them and I love them! I also wore them with my outfit from last week's Affordable Friday post if you want to check that out!
So I just want to end this by saying thank you so much to my incredible husband for making my 35th birthday so special! Thank you for listening to me, thank you for caring about me, and thank you for always putting me first and looking for ways to make my life easier when I know your life can be just as hectic! I love you so so so much! We aren't perfect, no couple is. But man are we better together.
And like I mentioned, he knew that I had a post to write about my favorite store ever, Nordstrom! So thank you Kevin for making it so easy for me to write this sponsored Nordstrom post!