You guys know that I am all about being affordable, and one great way to do that is to reuse outfit pieces as often as possibly. I've been trying to get creative and see all the ways that I can wear different things, like tops, a pair of pants, or a pair of shoes! I even think that I will possibly make this into a series… 5 ways to wear all my favorite things!
5 Ways to Wear Born Suede Knee High Boots!
Today I'm going to show you 5 outfits that you can wear with my new favorite pair of boots from Born!! The Elbe boot! I wanted to write about these for 2 reasons. 1 – they are my fave! and 2- right now code AUTUMN19 will get you 15% off of them! In fact, the code is good for the entire Born website so stock up for fall! I am almost certain it's only good until tomorrow night (through 9/13), so you want to get these now if you love them as much as I do. They are a brown suede and can be used to dress up a more casual outfit, or add that final touch to an already great outfit! Seriously, so versatile.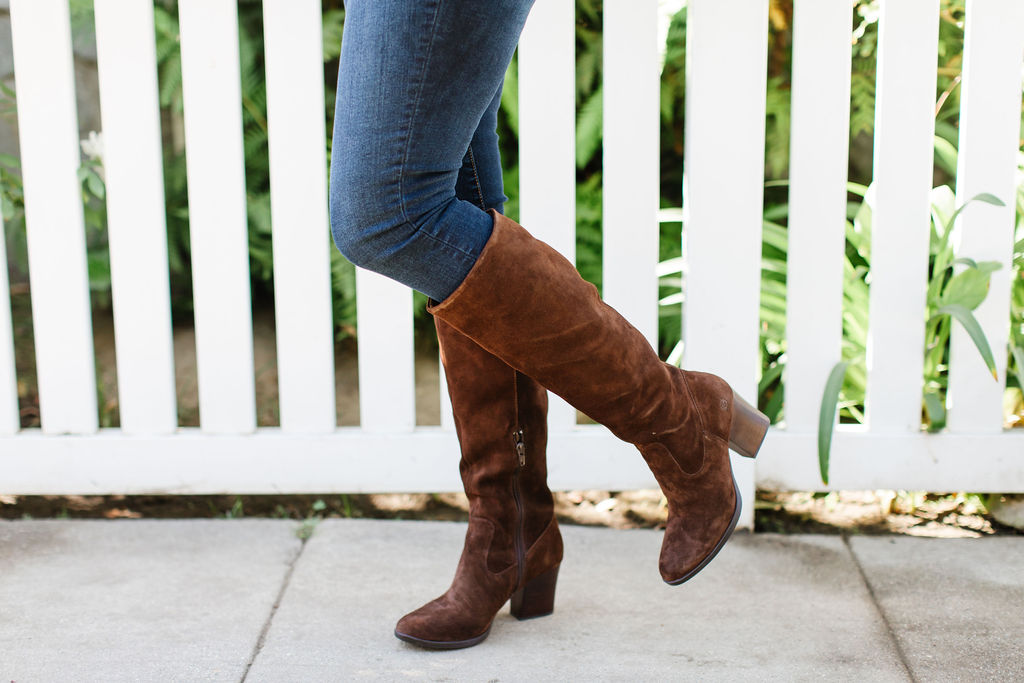 They have a heel, but because it is on the shorter side (3 inches), I find them perfect to wear on a busy day where you need to look put together, but also need to be comfortable! My biggest recommendation when buying boots for fall is to get a pair that can be worn with a bunch of different looks and this pair does just that! Which is why I want to show you just a few of the ways I wear them. I say "a few", because really the possibilities are endless! FYI, I got the castagno suede color but they come in 5 other colors as well!
Jeans & A Cute Floral Blouse
I'm going to start off with this super adorable outfit! I feel like it really is the perfect outfit for fall. I just found this floral blouse, and I loooooooove it!!! The pattern on it is so sweet, they are tiny coral, purple and blush flowers! The sleeves have a button near the wrist, which adds a more dressy-office type look. Depending on your place of work, I feel like this could be a great outfit for a casual day in the office. The top has a boat neck, so it is modest and flattering. The length of this top is great because it can be worn tucked in (like I am wearing it here), or it can be worn loose! I would say that it goes about halfway over my backside.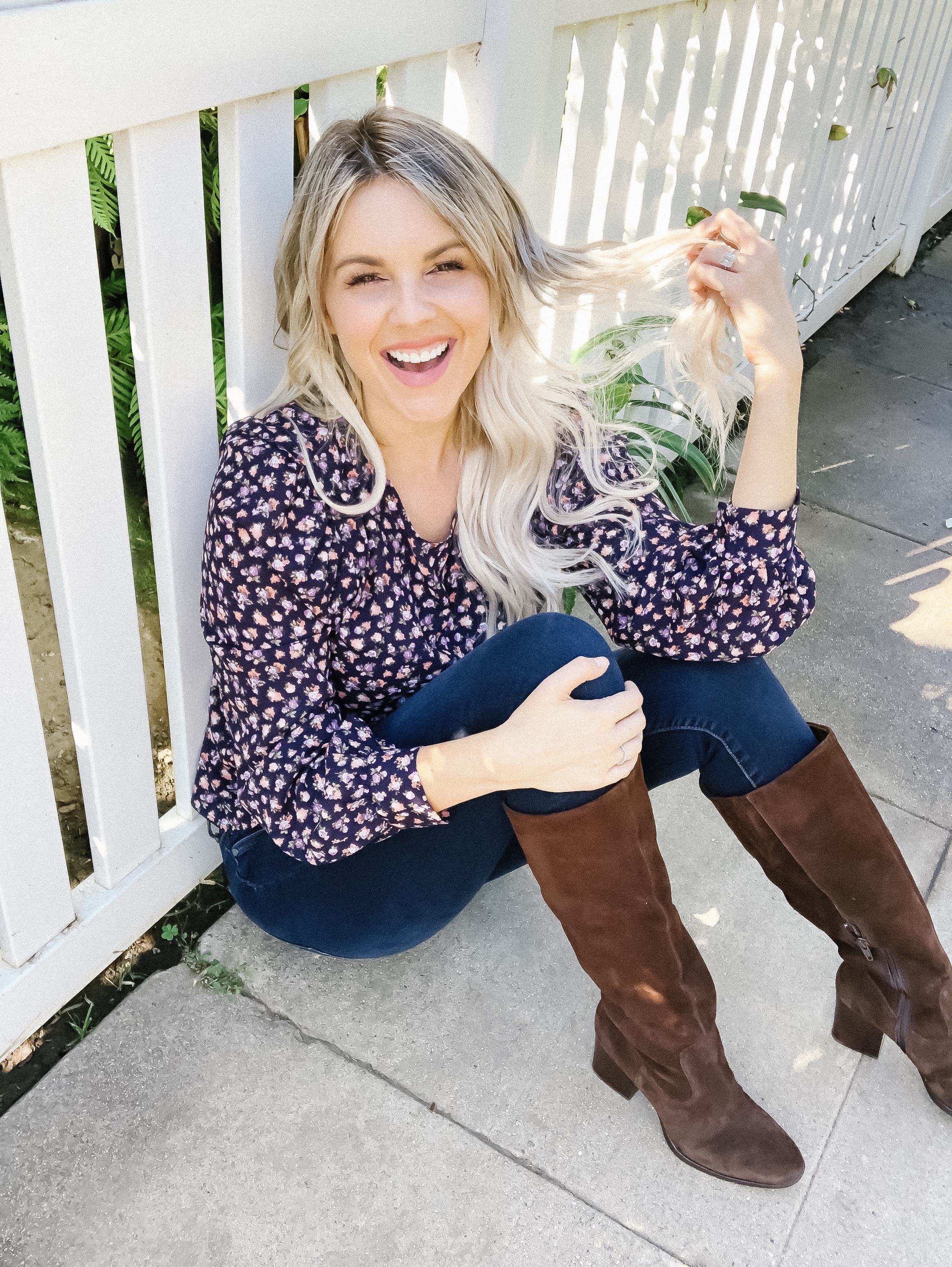 1. FLORAL BLOUSE | 2. JEANS | 3. BORN ELBE BOOTS
These jeans have been shared with you before, and that is because they are one of my very favorites. These are the Kut from the Kloth pair that were a part of the NSale this summer. They have easily become one of the most worn pair of jeans in my closet! At less than $90, you will be so happy to have these in your closet! Jeans are one of those things that I am willing to spend a little extra on – they last forever! These jeans have just the perfect amount of stretch too!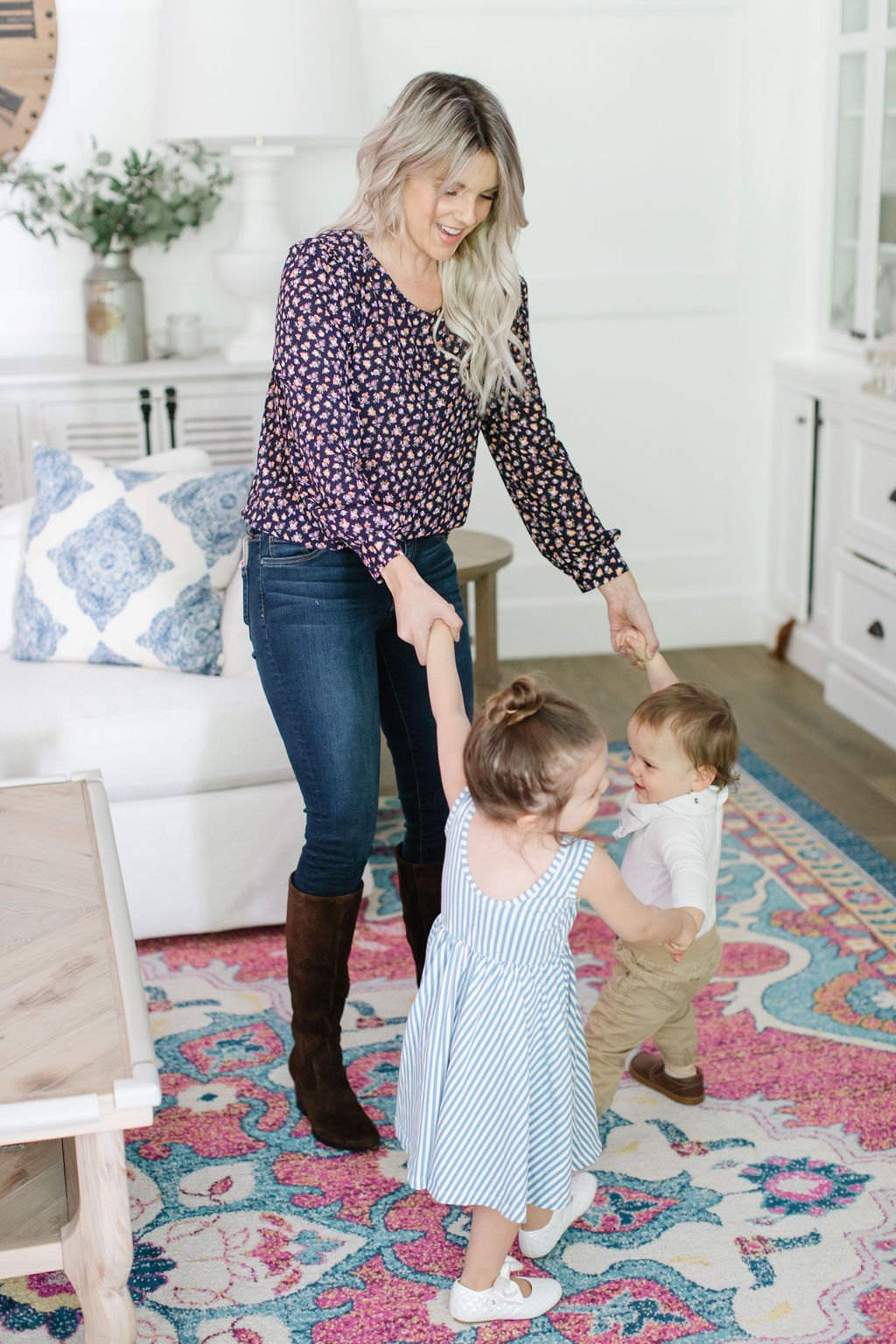 1. FLORAL BLOUSE | 2. JEANS | 3. BORN ELBE BOOTS
Back to my awesome boots… they are from Born. They are a beautiful brown color, as you can see in the images, and the upper is made from leather and the heel is rubber. Which is great if there are any small puddles to walk through. And not to mention rubber is so much more comfortable as a sole than harder plastic! A lot of the shoes I wear are from Born, like my blush mules that you see me wear all the time. Check out this Affordable Friday post to see how you can style the blush mules!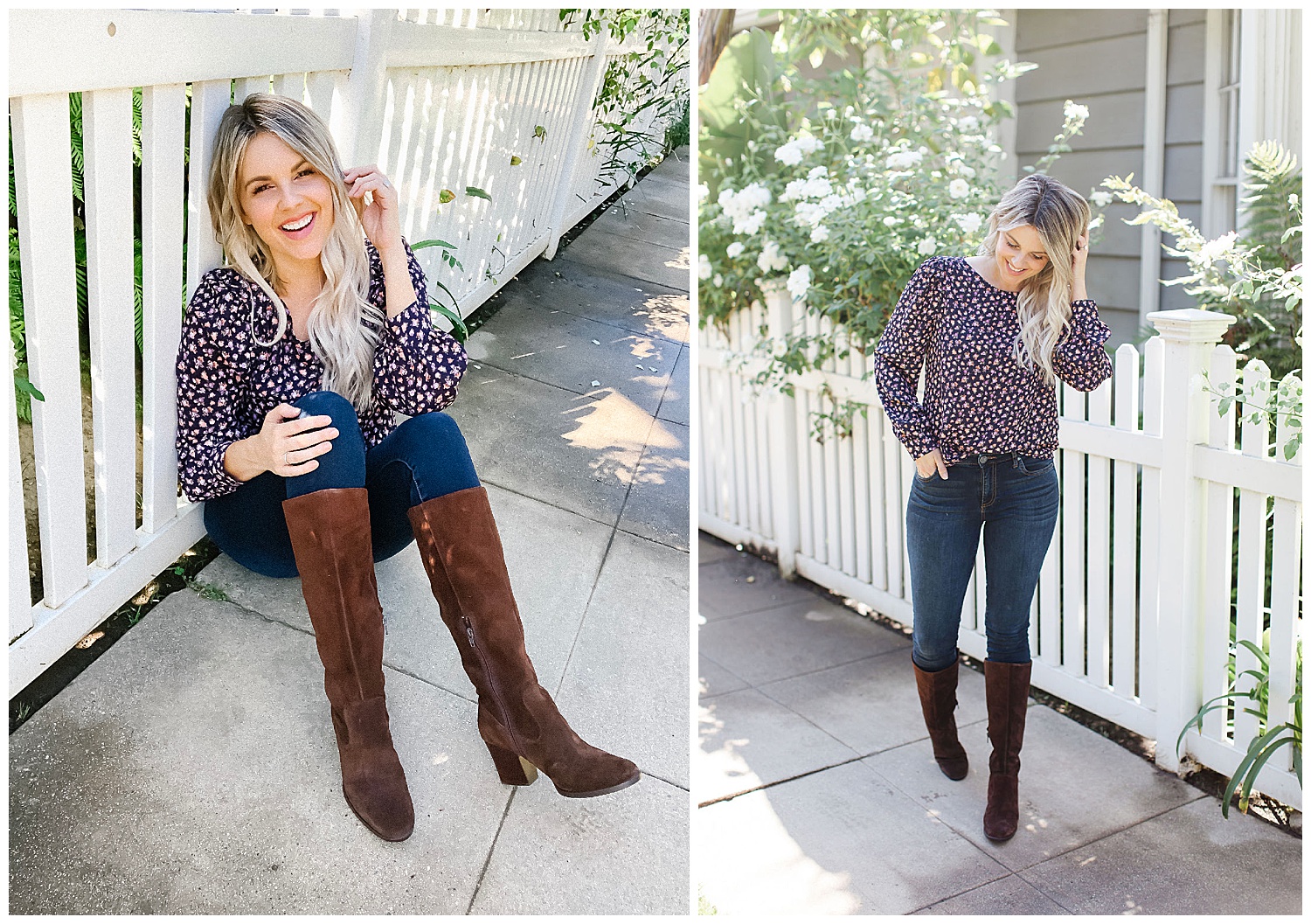 Both of my kiddos also have shoes from Born! It is so fun now that Riley is walking because when we put shoes on him, they have a purpose! Ha! And when they are newer at walking, a comfortable shoe is really important so that they can walk easily. In these pics, Riley is wearing the Han Sawyer, which are adorable slip-ons. And let me tell you they are super durable! If we were going somewhere more fancy he could wear them, or they could also be worn somewhere casual, like the park!
The cute little white quilted shoes that Molly is wearing has become one of her new favorites! She calls them her princess "Cinderella" shoes! I love that she refers to these shoes as princess shoes, because I can totally see it too! They have a darling bow on top, and the quilting reminds me of something from a Disney movie. They have a rubber sole, which is great for when the kiddos are running around, or in Molly's case, twirling around. Ha!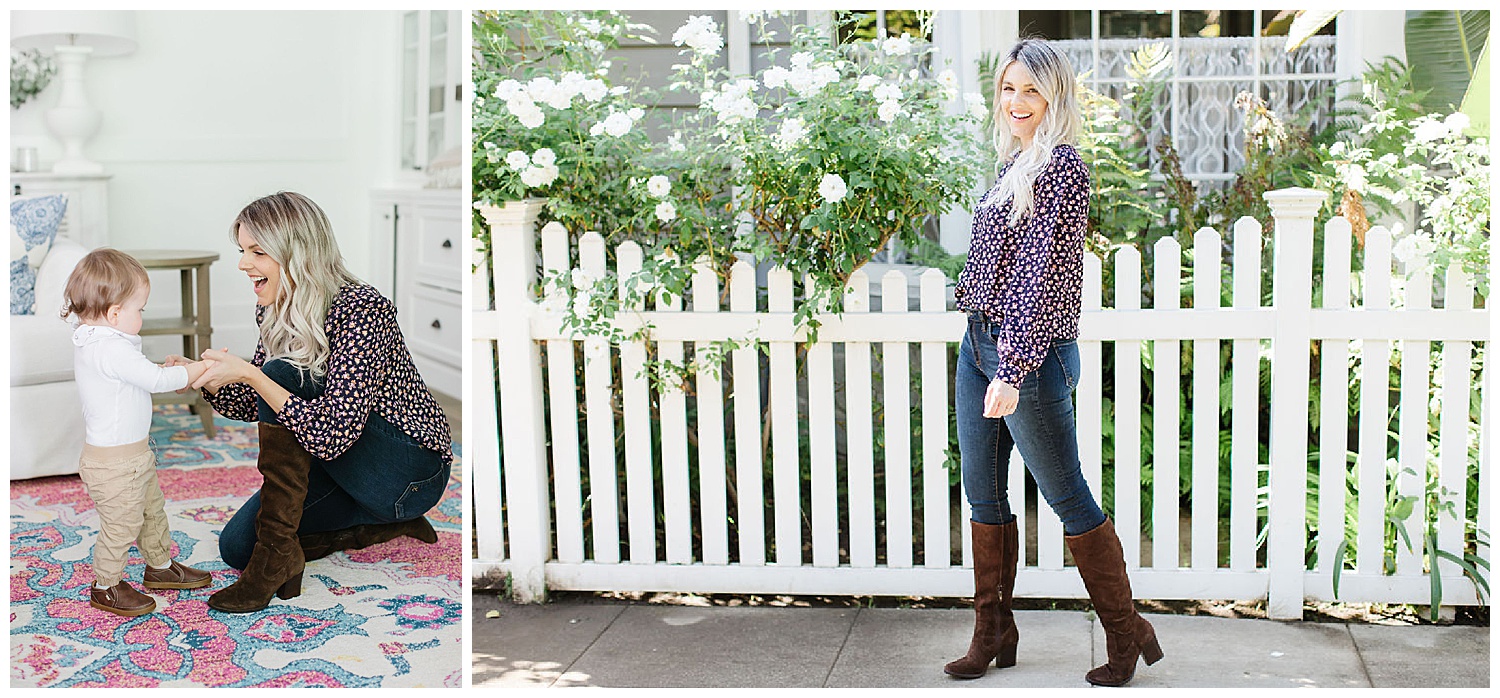 1. FLORAL BLOUSE | 2. JEANS | 3. BORN ELBE BOOTS
Leggings & White Long Sleeve Top (with or without a scarf!)
I love a good outfit with leggings, especially when I am running errands in cooler weather! This outfit is perfect for when you need to get some things done, but also want to look stylish and feel comfortable while you are at it! Adding boots to an outfit with leggings immediately elevates it and makes it less casual. And what I mean by that is, if you throw on a typical leggings outfit in a rush with not much though, once you add the boots it seems like you took time thinking your outfit through! Ha! Does that make sense?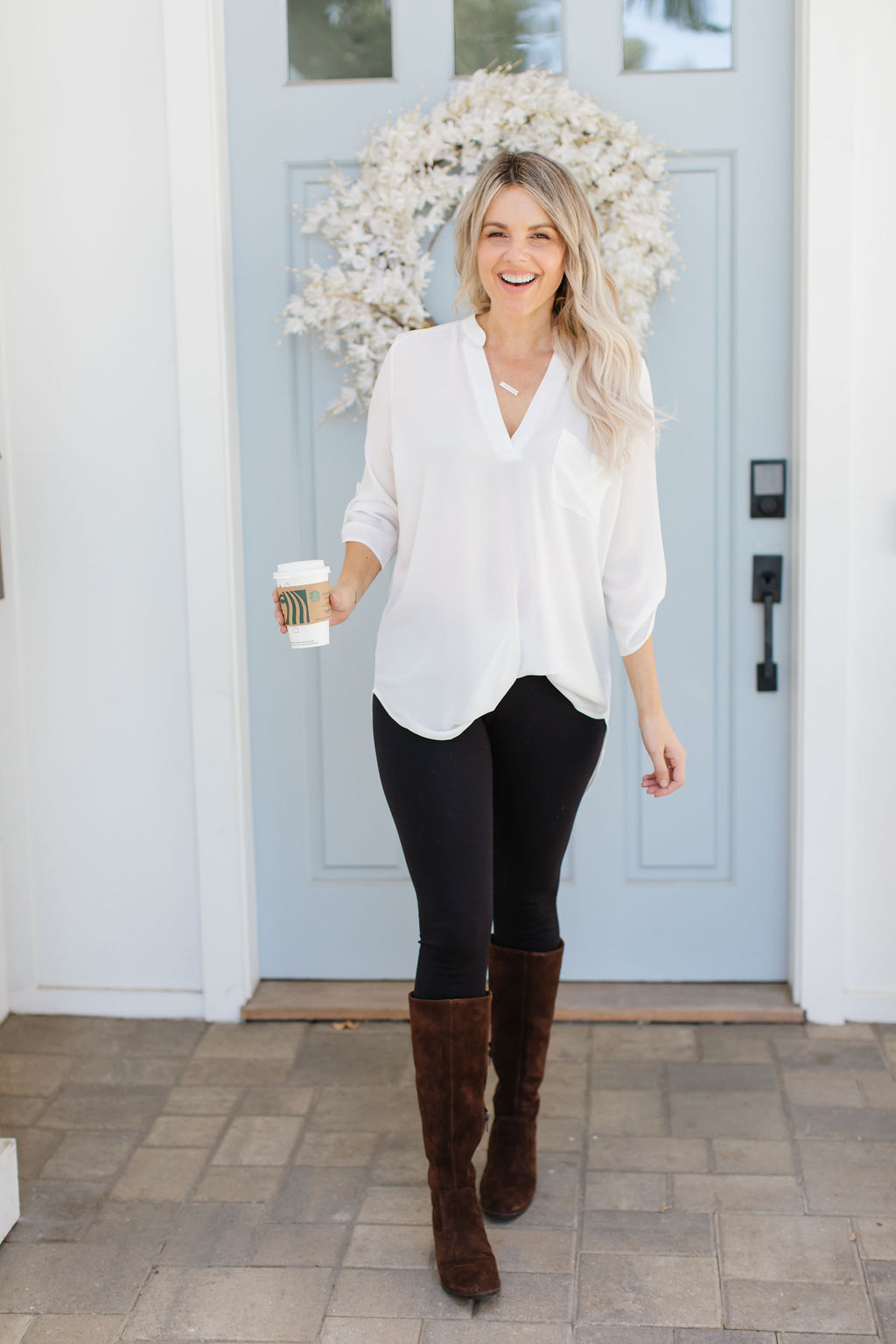 1. WHITE TOP | 2. LEGGINGS | 3.  BORN ELBE BOOTS
This top is perfect to pair with leggings because it is really long in the back. You can't really tell in these photos, but it covers my entire backside! Which is great because when you're wearing leggings, you want to cover your booty as much as possible! I love that the sleeves are gathered, because that extra button detail makes this top less casual. The v-neck is also perfect because it is just the right length and not too deep. The tunic comes in a variety of colors, like a lilac and a black. I just went to link this for you, and I realized that it is 40% off!! So it is only $24 right now! I am wearing a medium and would say it fits true to size.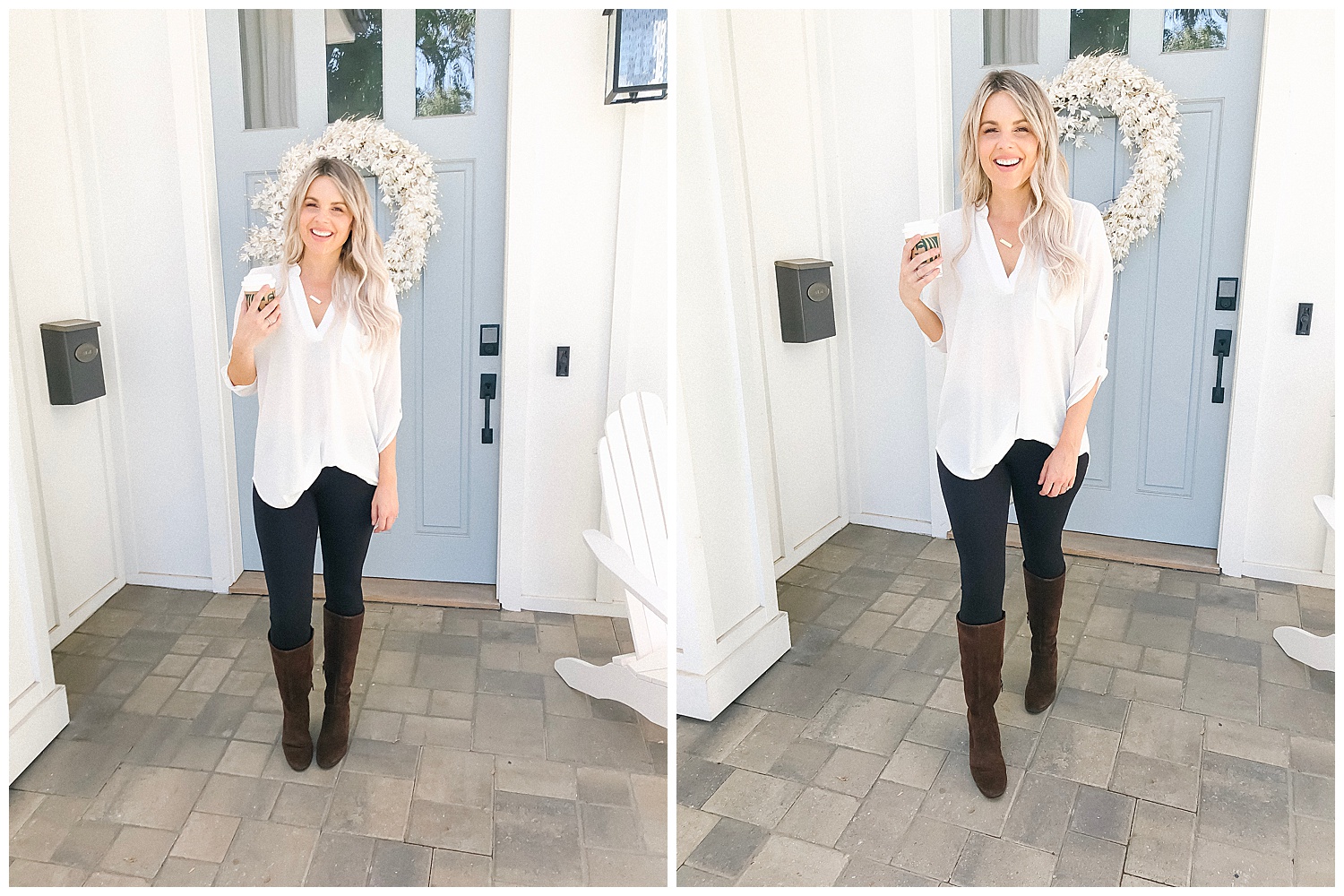 I feel like leggings are one of those things that really depends on the person wearing them. We all have our own preferences when it comes to them! I personally really like these ones, and they are less than $20! I also just found this affordable pair that I am going to be ordering! They are only $9.50!!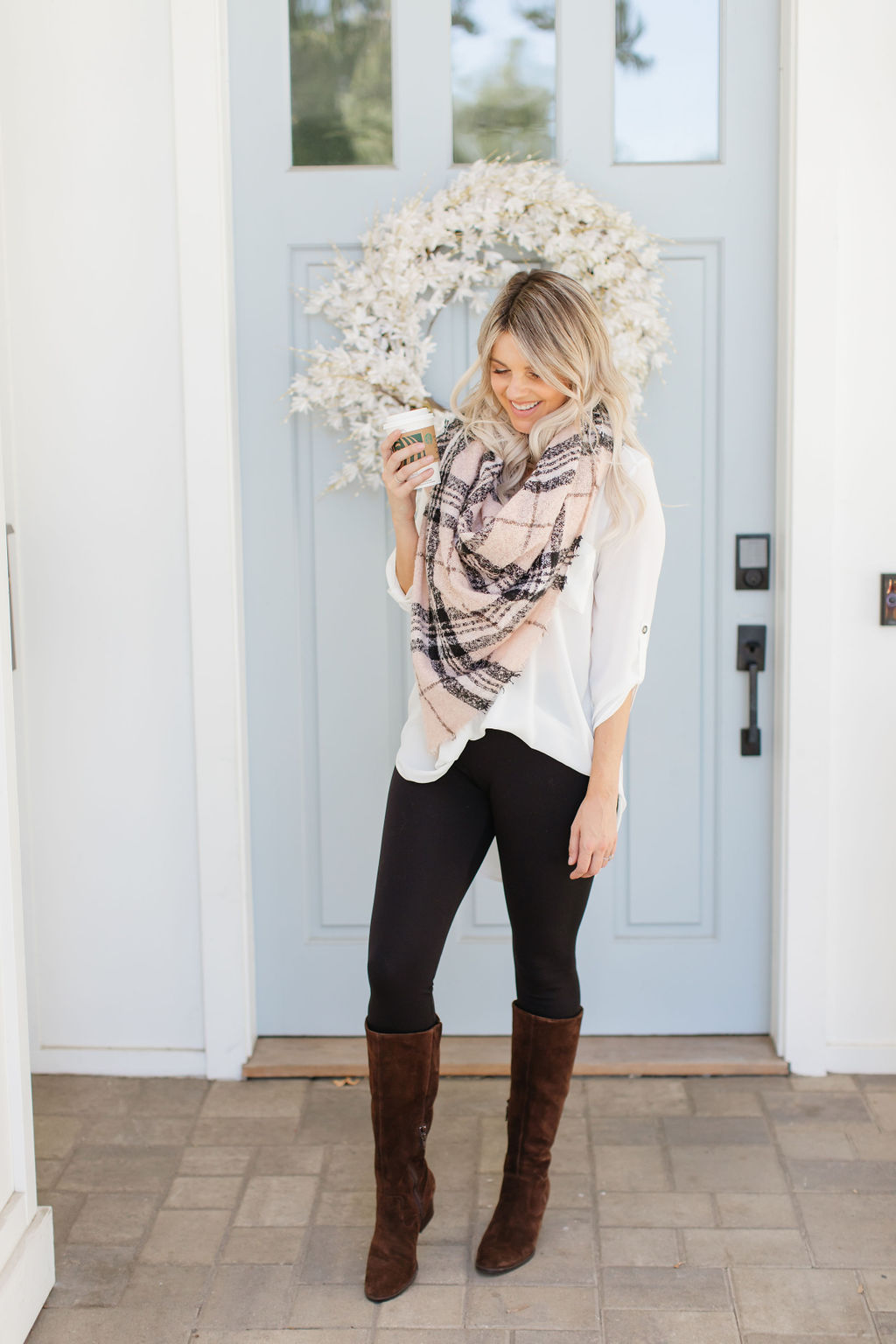 1. WHITE TOP | 2. LEGGINGS | 3.  BORN ELBE BOOTS | 4. SIMILAR SCARF
You can also add a scarf to this look on a chilly day! I think this takes the look to another level of cozy! Looking back at these photos, I feel like they would be a perfect outfit to wear to a pumpkin patch or sip some apple cider in! I love accessorizing with scarves! Unfortunately this one is sold out, but I am going to link a few below that I think are really great!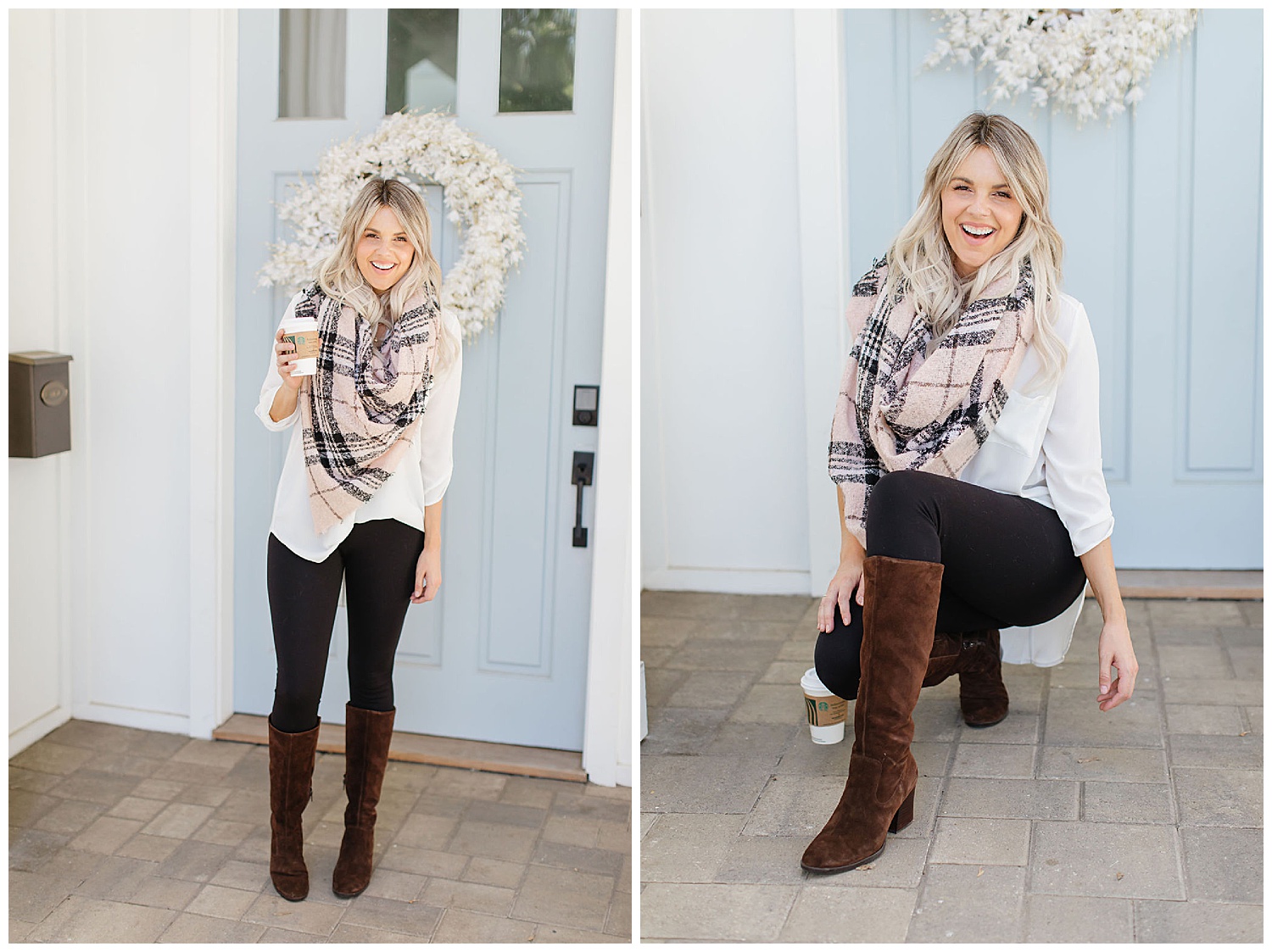 1. WHITE TOP | 2. LEGGINGS | 3.  BORN ELBE BOOTS | 4. SIMILAR SCARF
Jeans & a Tank (add a sweater on more crisp days!)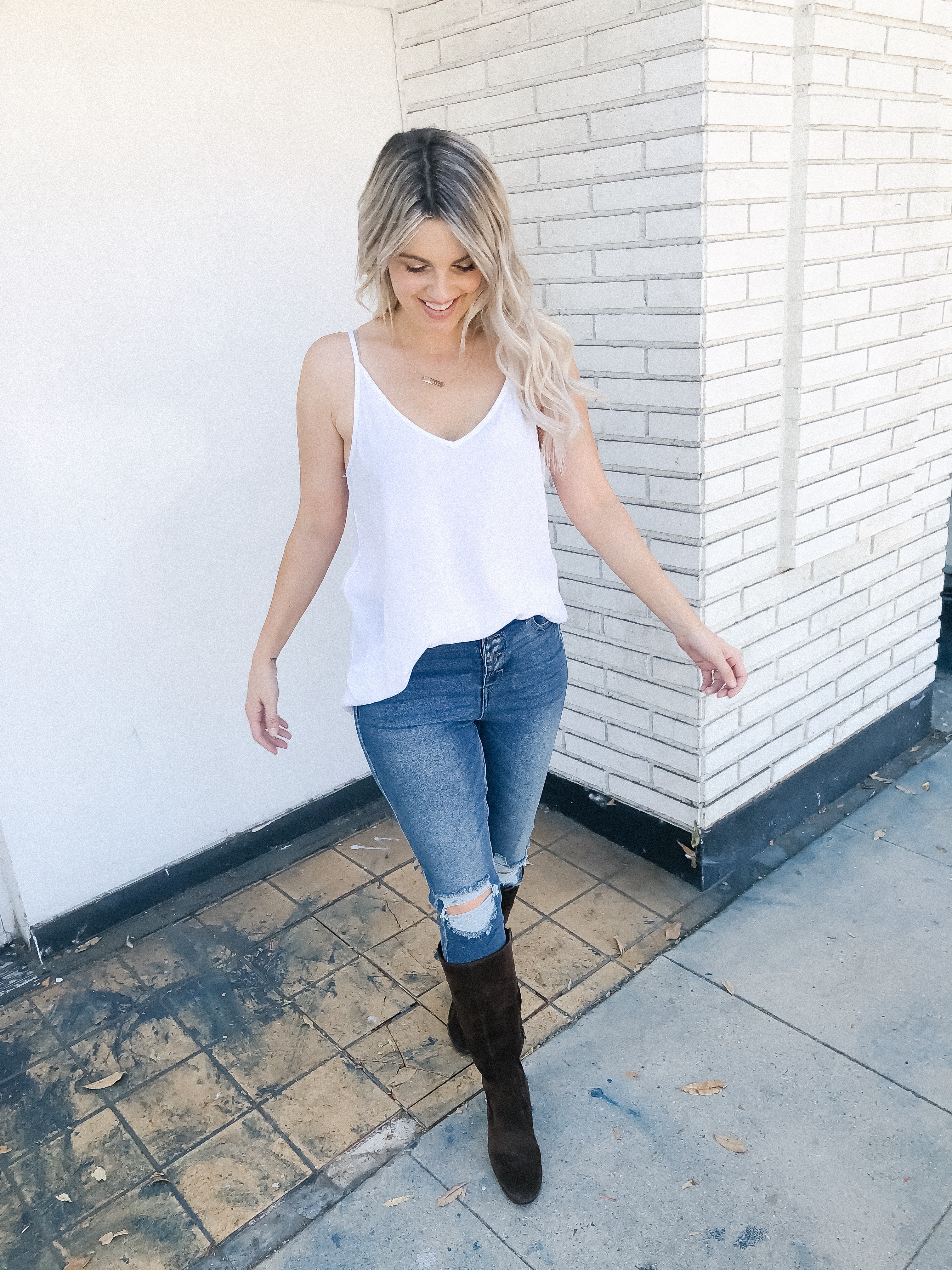 1. WHITE TANK | 2. RIPPED JEANS | 3.  BORN ELBE BOOTS
I love this next outfit, especially because I feel like it is perfect for the weather here in California. Often times we want to feel fallish and dress in warmer tones and outfits, and the air is still slightly on the warm side. That's where an adorable white tank comes in! Loose white tanks like this can be easily paired with jeans, and they are so flattering! Adding boots to this look takes it from summer to fall, which is key!
My exact tank is sold out, but I found one that is super similar that I think you guys will love! Both crepe and chiffon camisole tanks are great to complete this look, and the one that I found has both! I love that the chiffon lines the top hemline!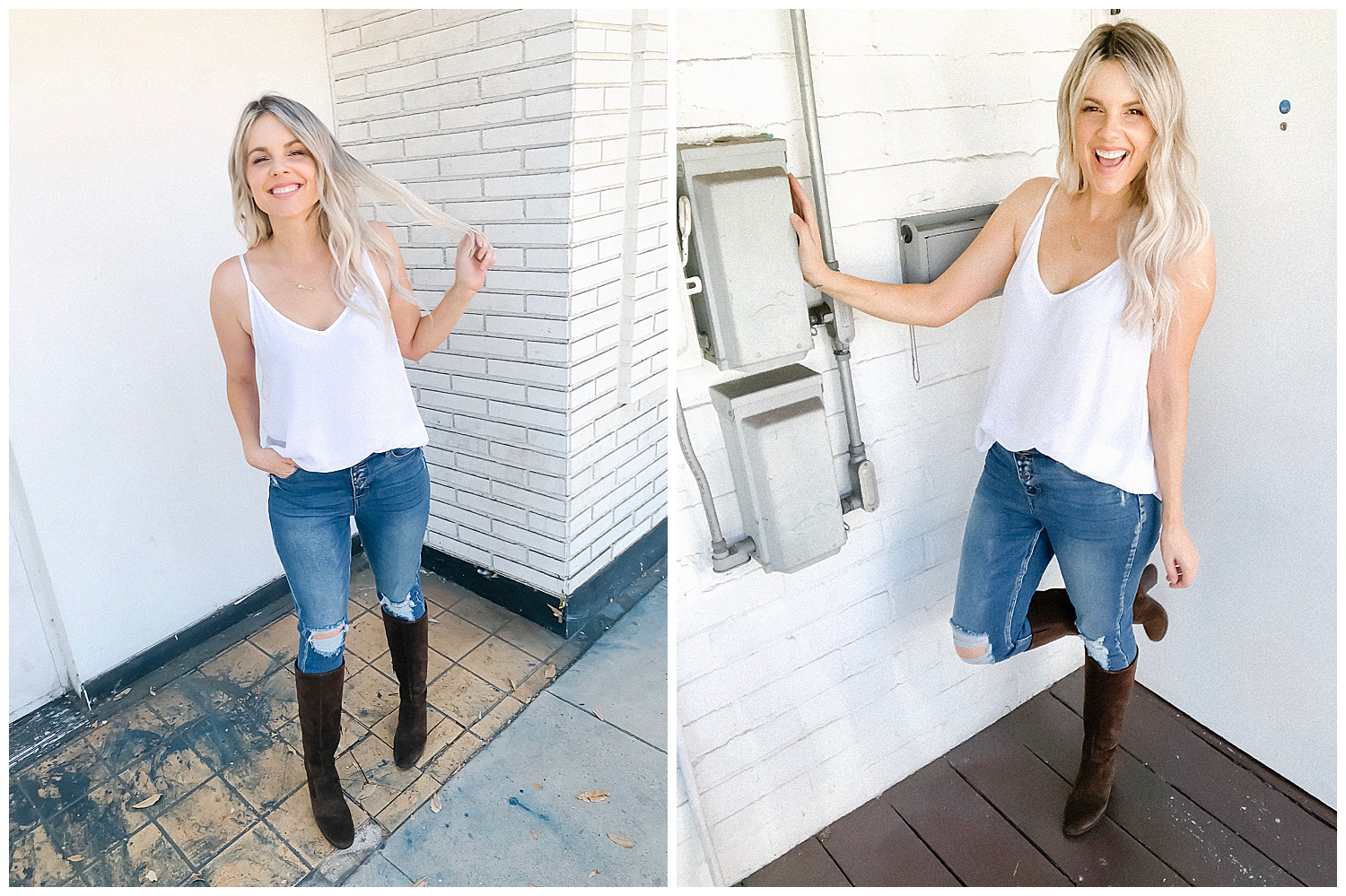 These ripped jeans are only $17…and I LOVE THEM! They are so flattering! There is the perfect amount of tearing in just the right spots. Sometimes you get ripped jeans and the tearing is just a bit too much, but these are perfect. I am normally a size 28 and these are a size 11 for reference when you are ordering! Check out the reviews on the site and you will see how much people love them!
When we were taking these photos, my photographer, Ashley, thought that I was wearing a pair of jeans that she has at home… that are over $250! I think this is the pair that she was talking about – this brand has a ton of ripped jeans so might be slightly different. But WOW, I would say that this is a pretty close dupe. And at $240 less… count me in!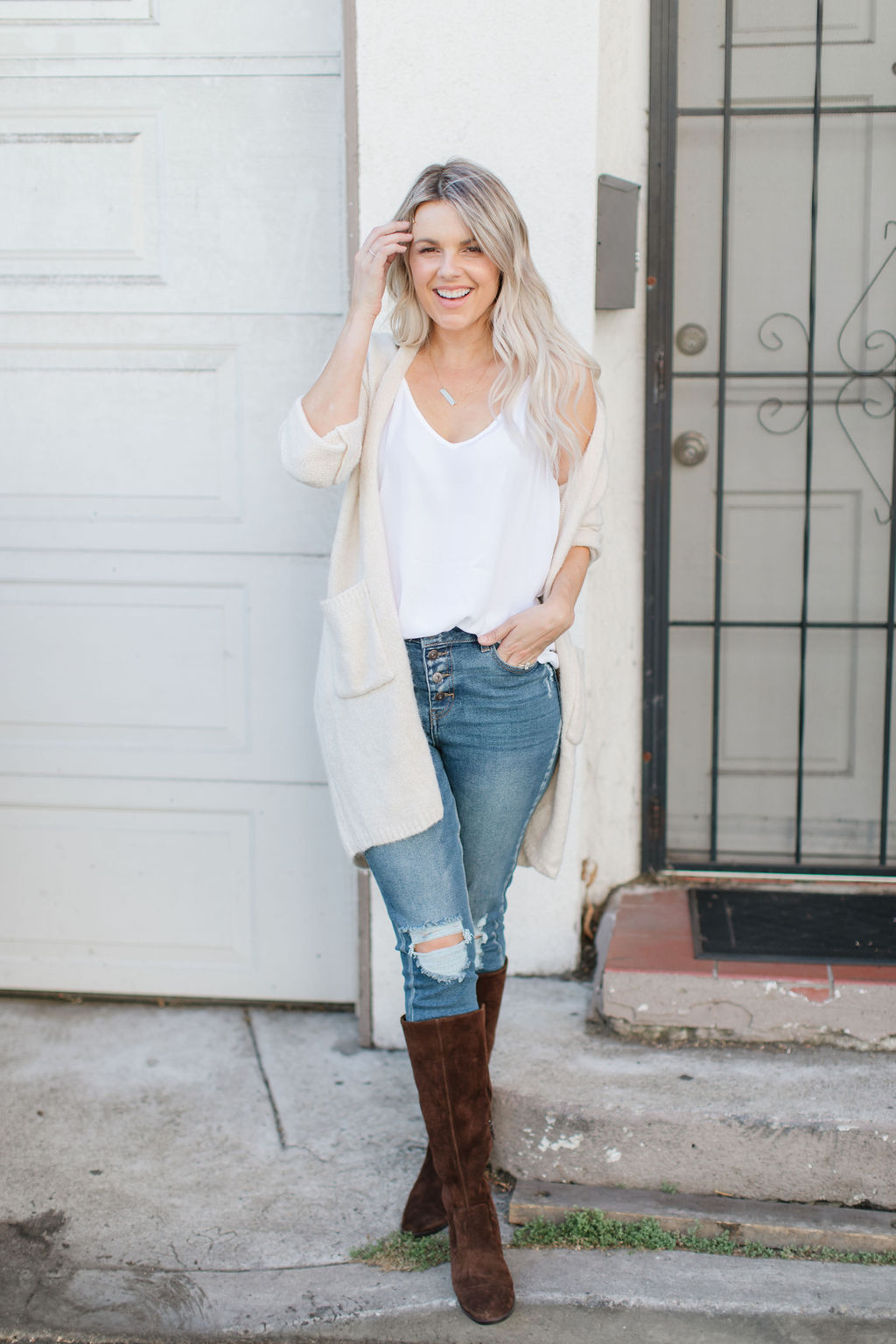 1. WHITE TANK | 2. $17 RIPPED JEANS | 3. BORN ELBE BOOTS | 4. $19 CARDIGAN
So the reason that I was saying that this is the perfect outfit for the weather here, is that it can easily be made warmer. I added this soft cardigan to the look for when it gets cooler out. Look how gorgeous the cardigan looks paired with these boots! The colors are so complimentary! If you had to guess how much would you think that this cardigan costs? Because guess what! It is less than $20!! I am so glad that I found it because I know that it will go with a ton of my outfits this fall!
But at the end of the day I really feel like my Born boots MAKE the outfit. I honestly feel like if I didn't pair the boot with this outfit it wouldn't really be a put together outfit. Don't you agree? I'm just obsessed with them. You'll see we wearing them a ton this fall and styling sooo many future looks around them. So snag them so we can style looks together!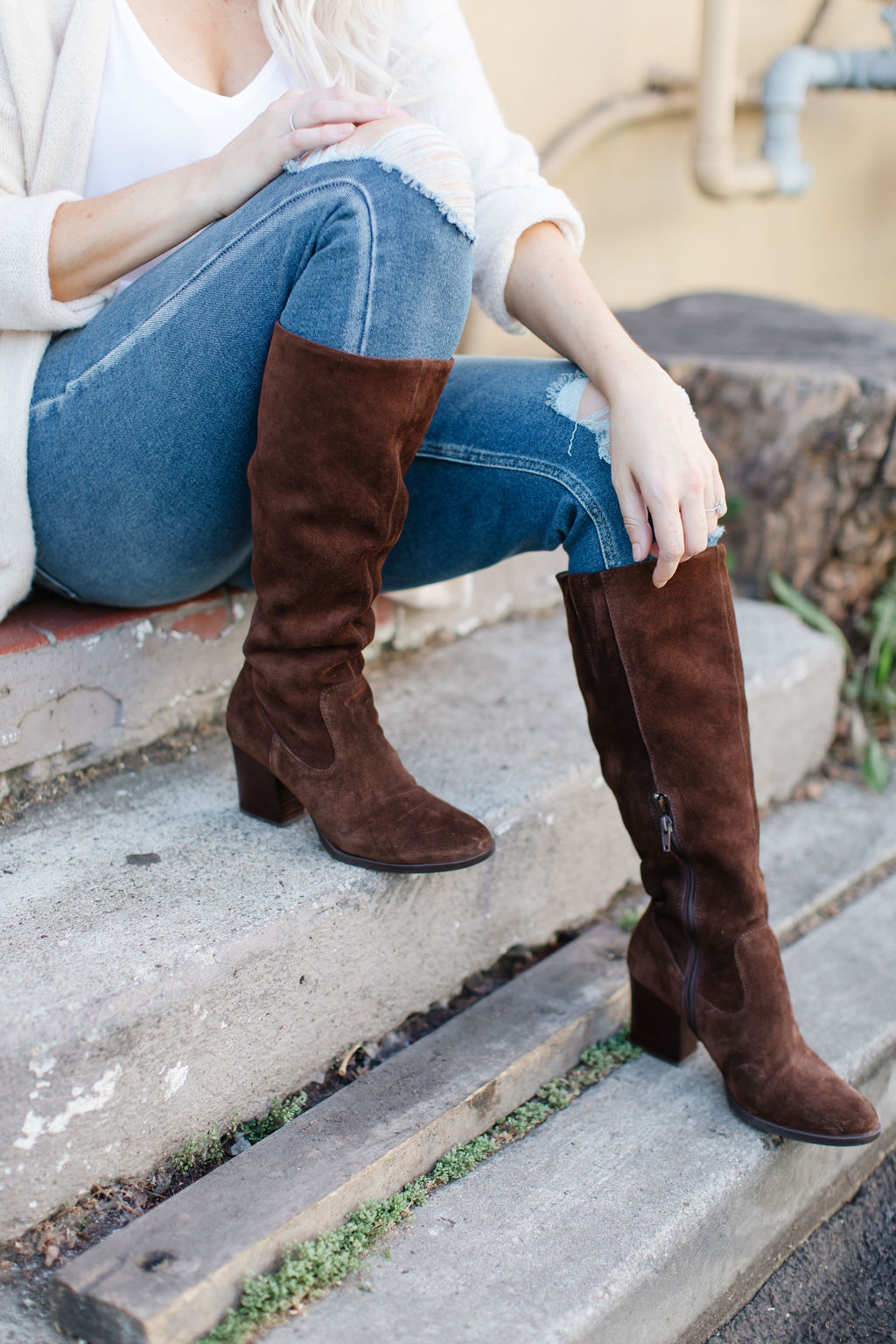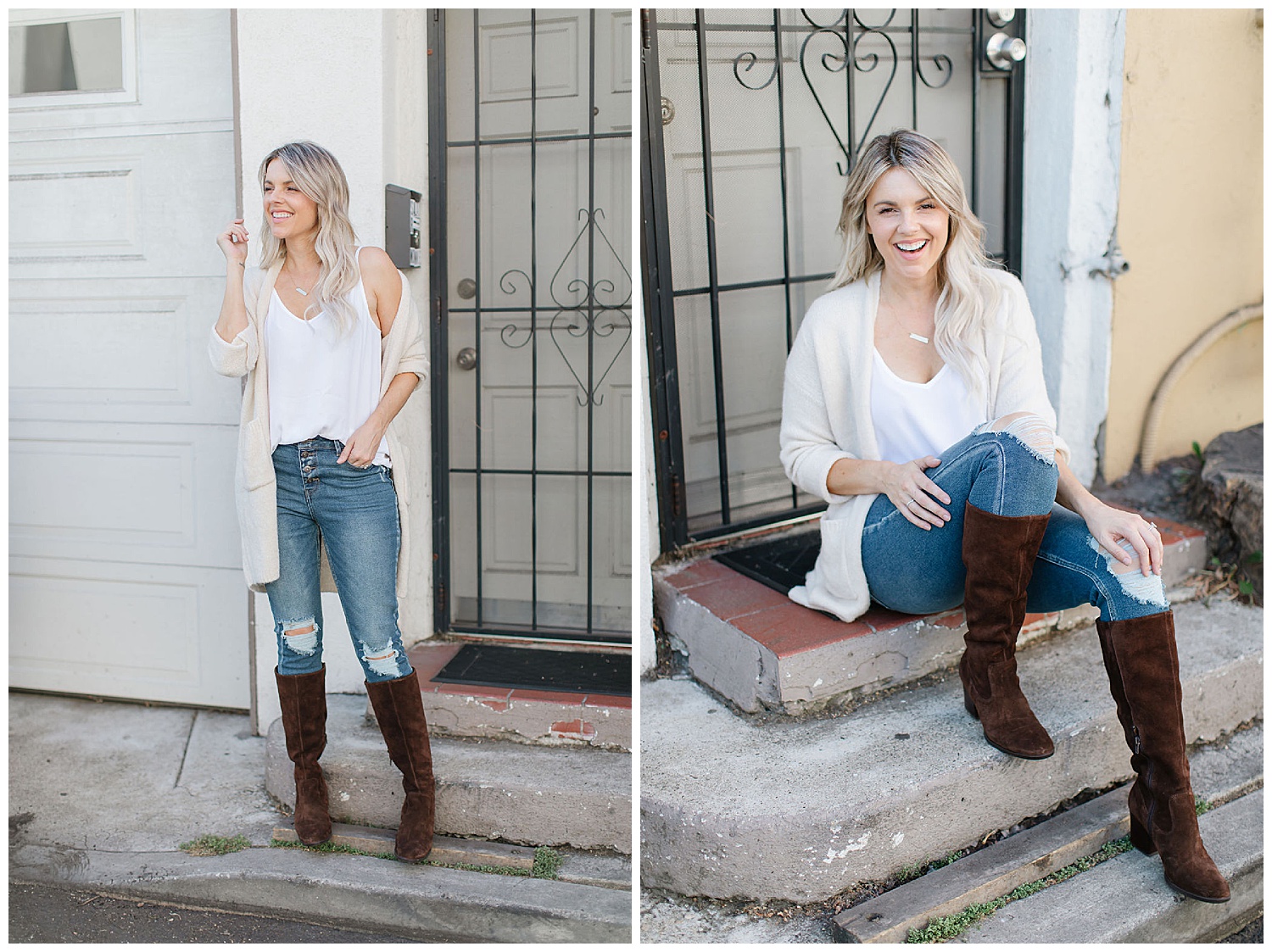 1. WHITE TANK | 2. $17 RIPPED JEANS | 3.  BORN ELBE BOOTS | 4. $19 CARDIGAN
A Flowy Dress
These boots can also be paired with a dress! I love that they reach just under knee because a dress, like the one I am wearing here, is the perfect length. This look would be great for when you are running errands, or lunch with a friend, or to wear out a casual day at work.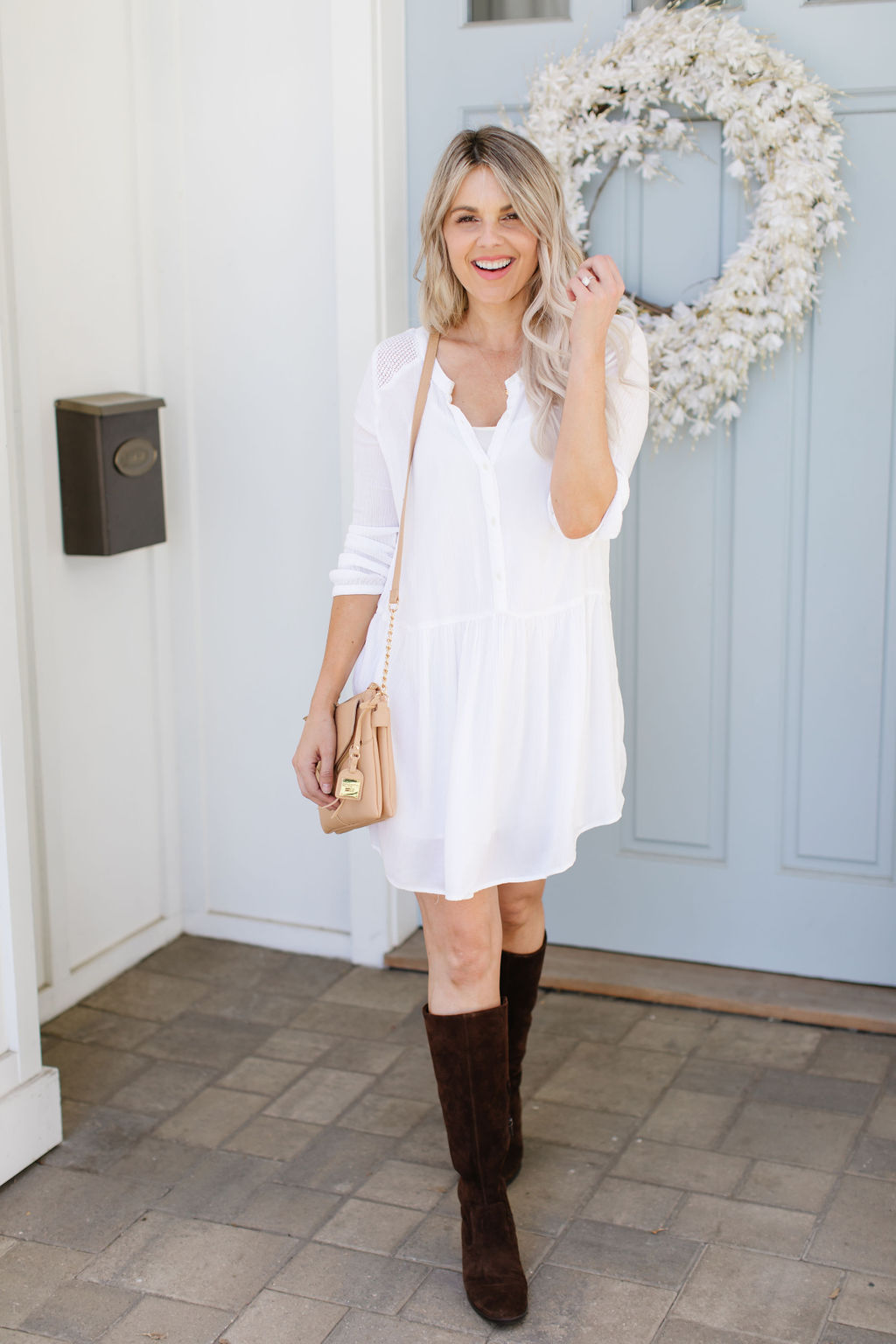 1. PURSE | 2.  BORN ELBE BOOTS
This white dress has been in my closet for years and I have always gotten great wear out of it, but unfortunately because of that is no longer available. I would say that you could pair any casual dress with the same length with these boots.
Another great item from this outfit is my purse! I recently got this for only $13 and I love it! The color is perfect and will go with so many outfits! And I love that the strap has both chain and the faux leather. I feel like it really looks expensive, especially when paired with an outfit like this one!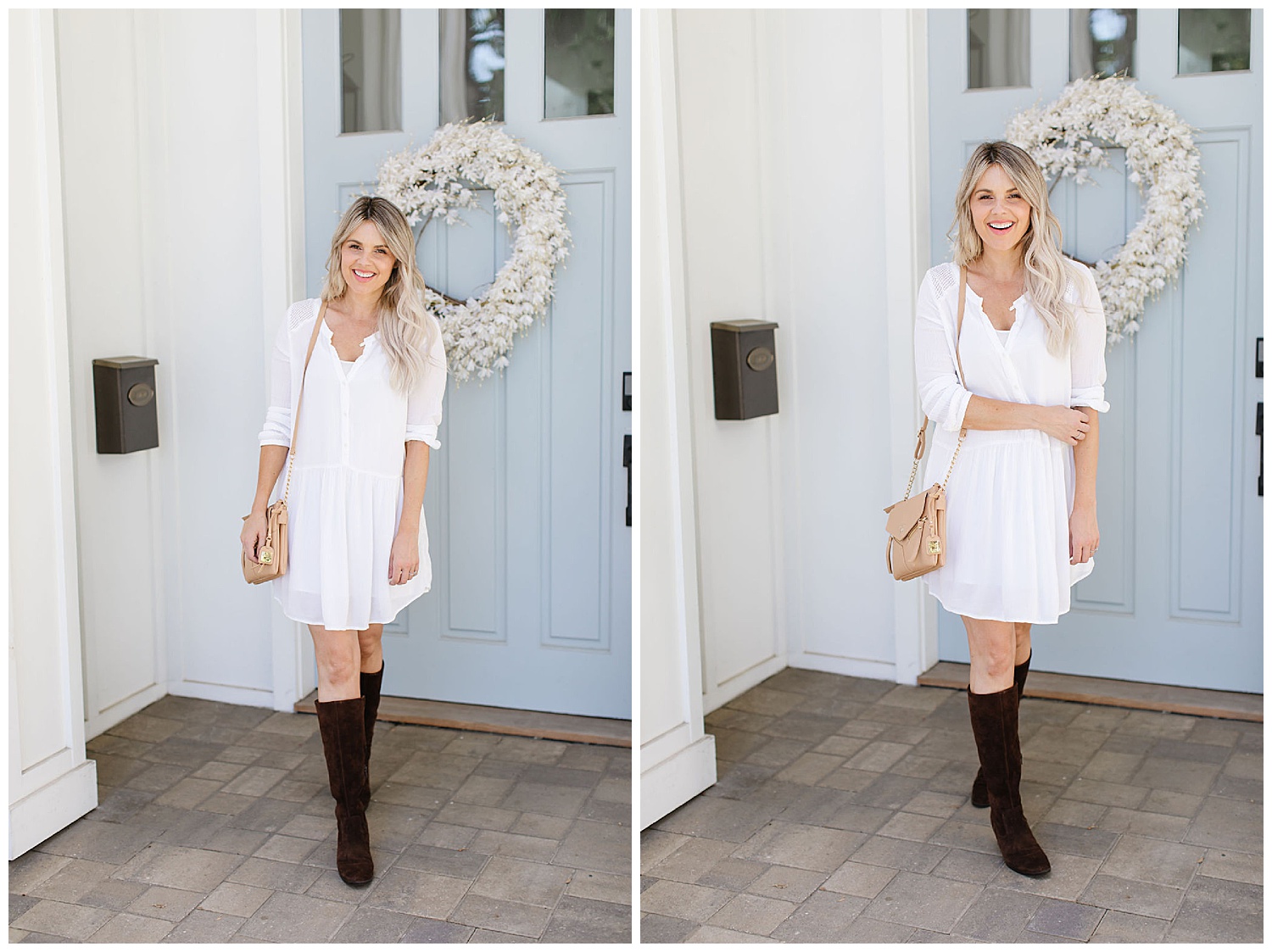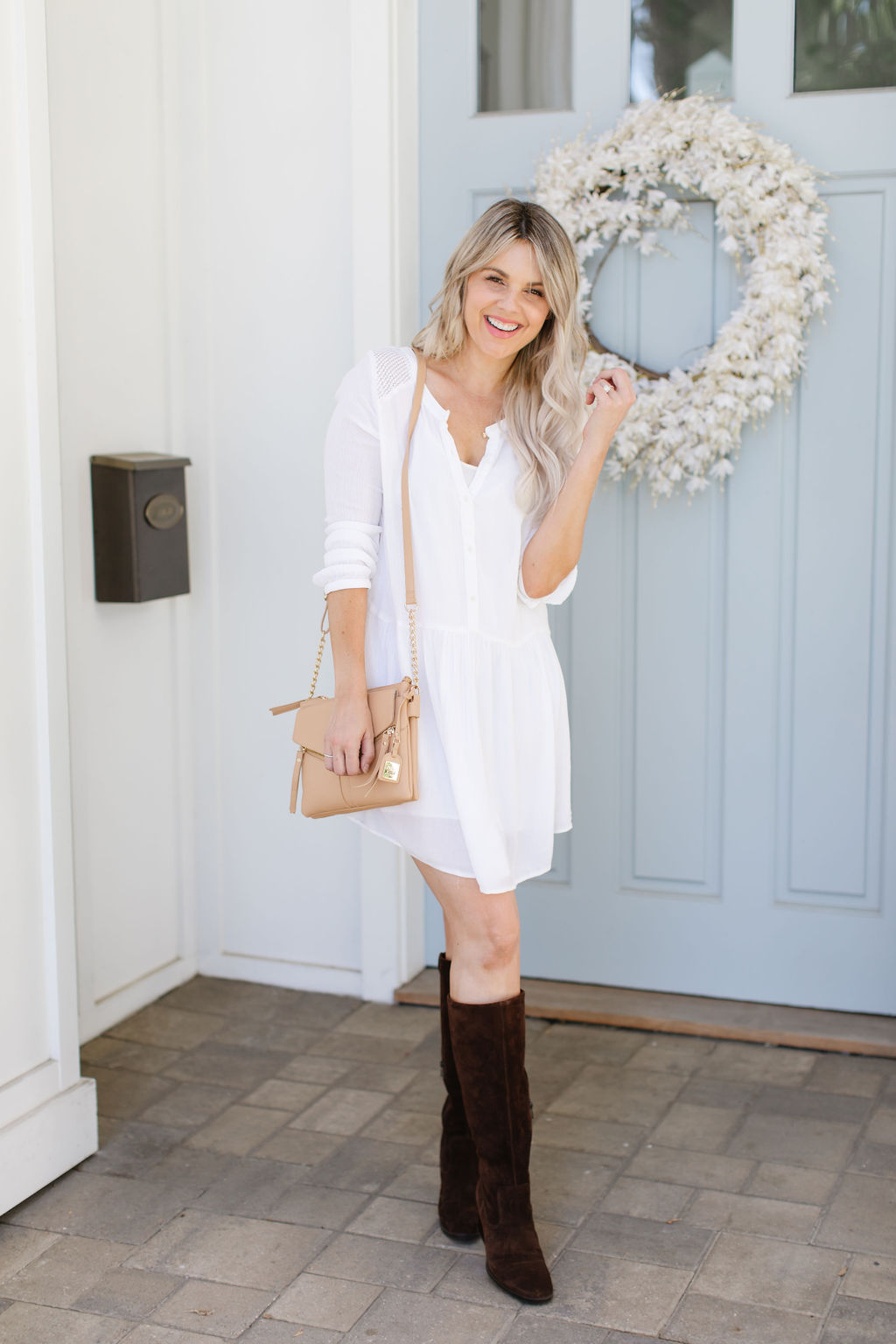 1. PURSE | 2.  BORN ELBE BOOTS
Jeans & a White Tee
Last but not least, is this casual look! It is the most casual of the bunch, but with the addition of the boots, it is still an elevated look! I love the way that the boots look on this color of jean, it makes the brown look even more rich!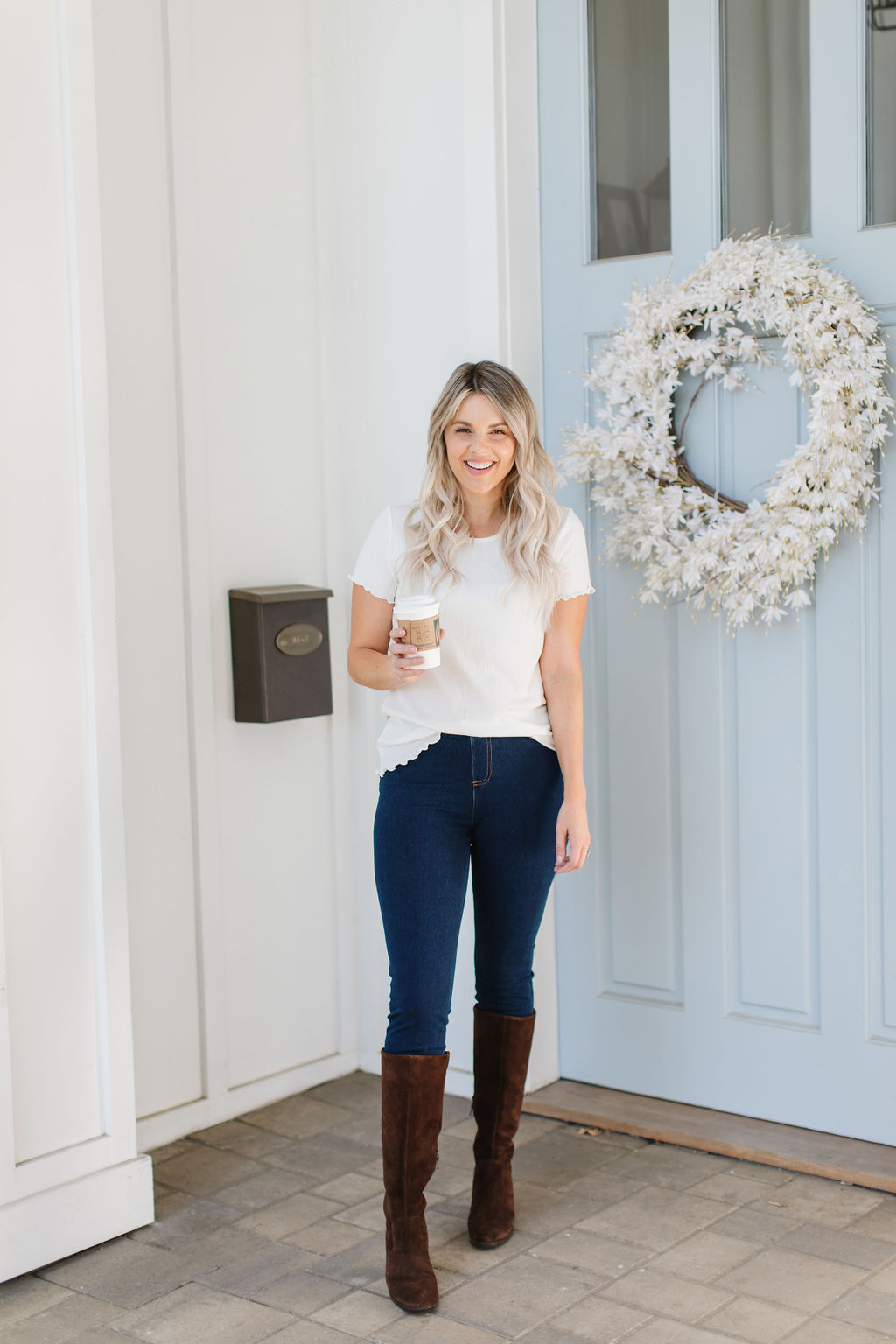 1. WHITE RUFFLE TEE | 2. JEGGINGS | 3. BORN ELBE BOOTS
The white tee that I'm wearing here is one of the most affordable pieces from this post! It is only $14 for a two pack, one black and one white! I love the little ruffle sleeve and hem at the bottom. Also, you might not be able to tell from these photos but the tee is slightly ribbed, which I love as well! It is so darling. If you aren't someone that wears black, there is also an option that has white and a mustard color or white and lilac. I am wearing a size small here, and it is still a bit loose as you can see. So my recommendation would either be to size down.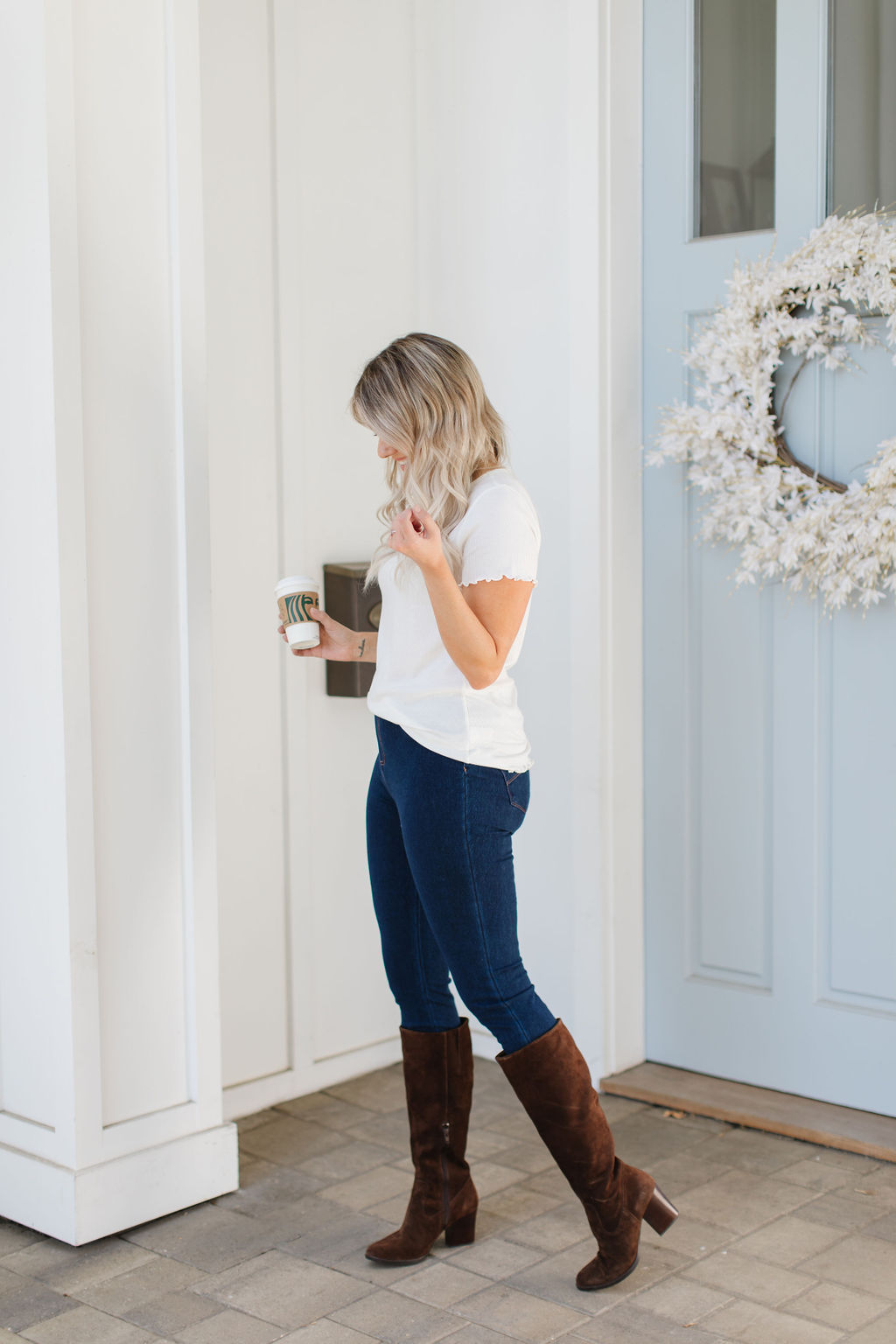 Don't these pants look like just like jeans? Well, guess what! They are jeggings! They are so comfortable and stretchy. I love that they are a little-high waisted because I feel like I haven't come across very many pairs of  high-waisted jeggings like this! They are a great color, not too light and not too dark! I feel like this wash of jean is my favorite color for the fall months. The best part about these is that they are only $12!!! I truly cannot recommend these enough! They are 4.5 stars and have over 700 reviews! They are absolutely great!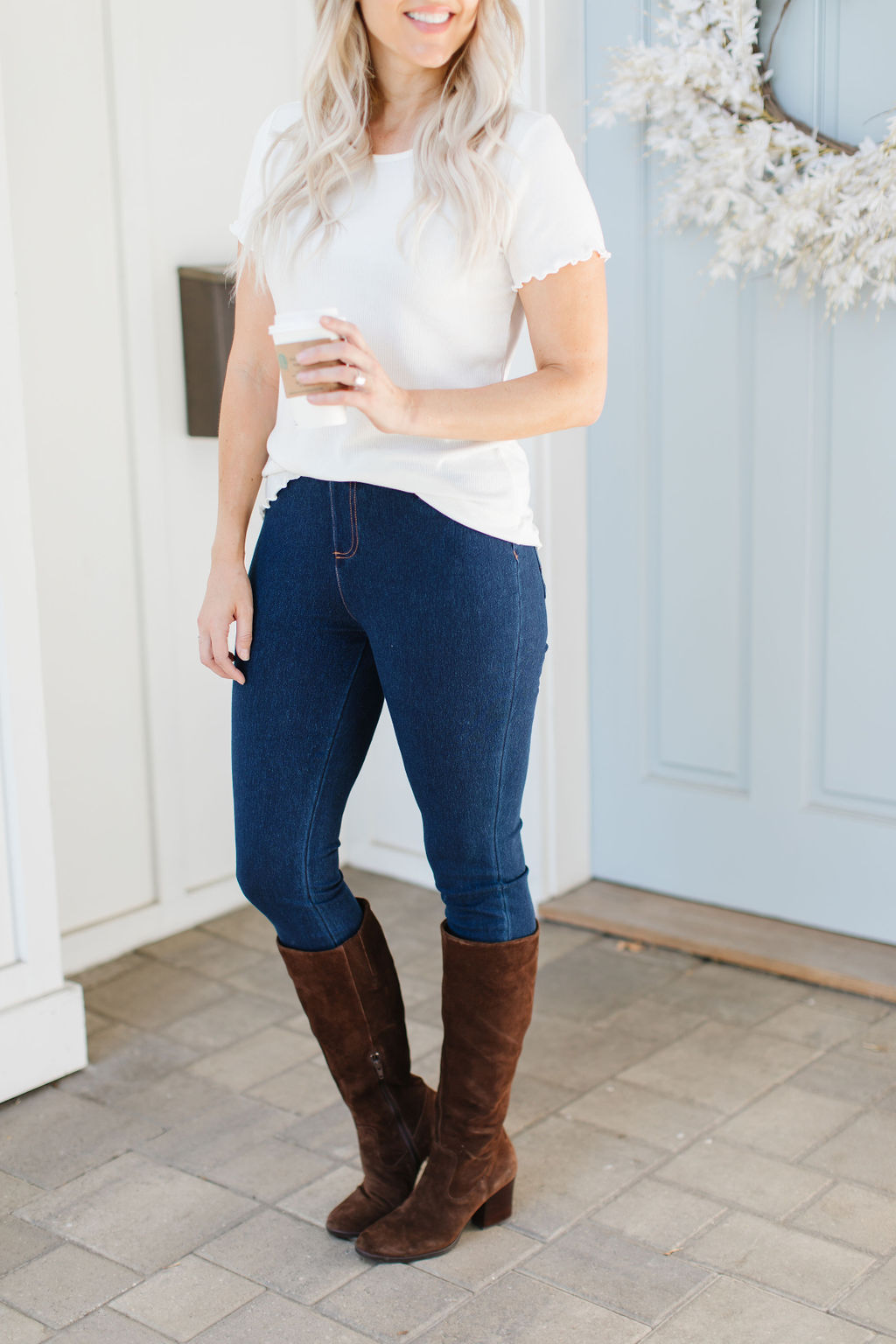 1. WHITE RUFFLE TEE | 2. JEGGINGS | 3.  BORN ELBE BOOTS
BONUS: An adorable pair of Born flats!
I also got these flats from Born and so I thought that I would throw them into this post too! As you can see, I am wearing the same outfit as in the tank and cardigan look from above. They are a beautiful beige-tan suede loafer. Changing from the boots to these flats, you are able to make the outfit more casual, while still keeping it elevated and detailed.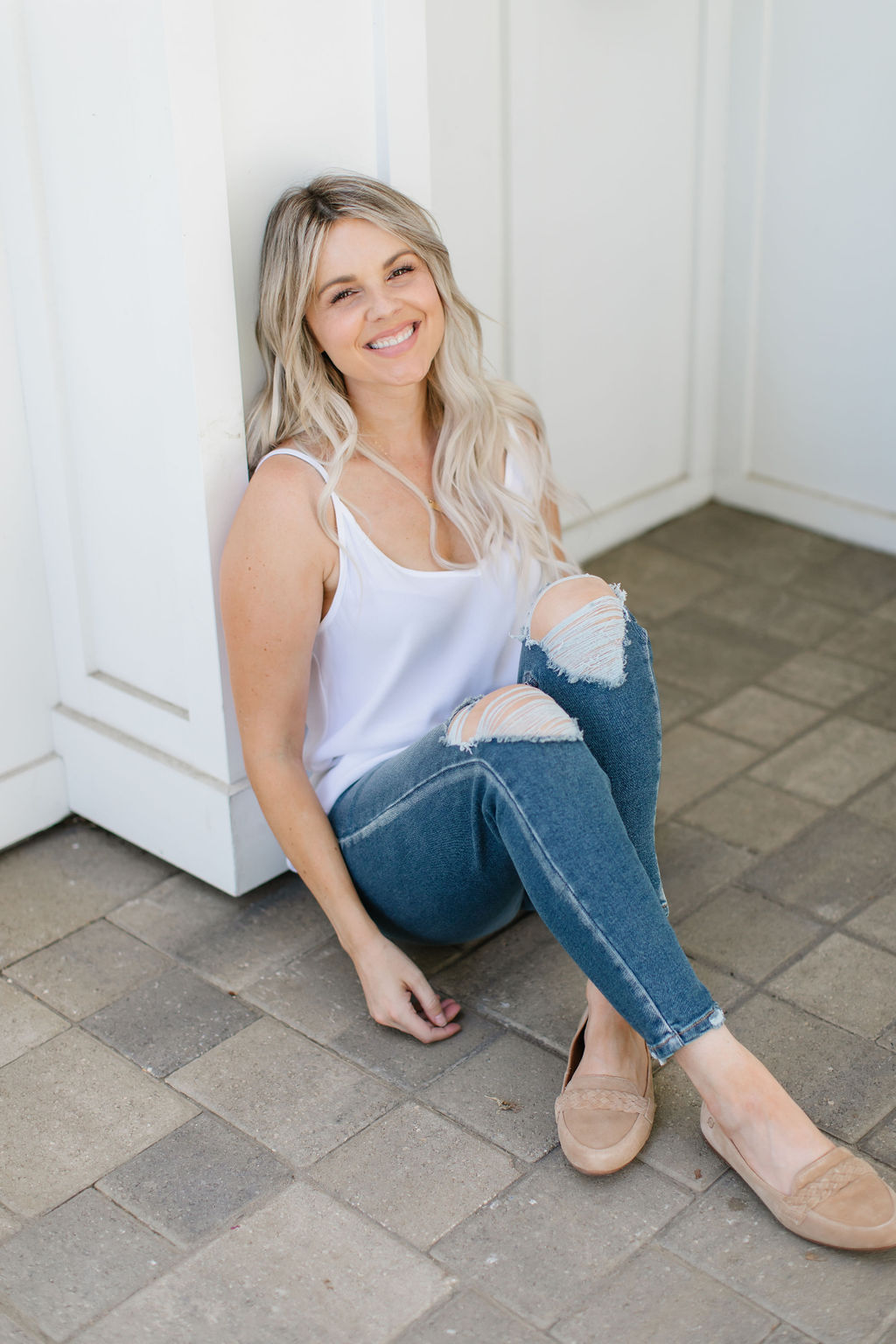 1. WHITE TANK | 2. RIPPED JEANS | 3. BORN MIRROR FLATS
These flats are the most gorgeous color and have the prettiest details. Don't you love the braided band across the top? I feel like that adds so much to the shoe! They have a microfiber lining on the inside that is so soft and comfortable. If light suede isn't for you, they also come in a similar brown color to the boots, AND in leather options too!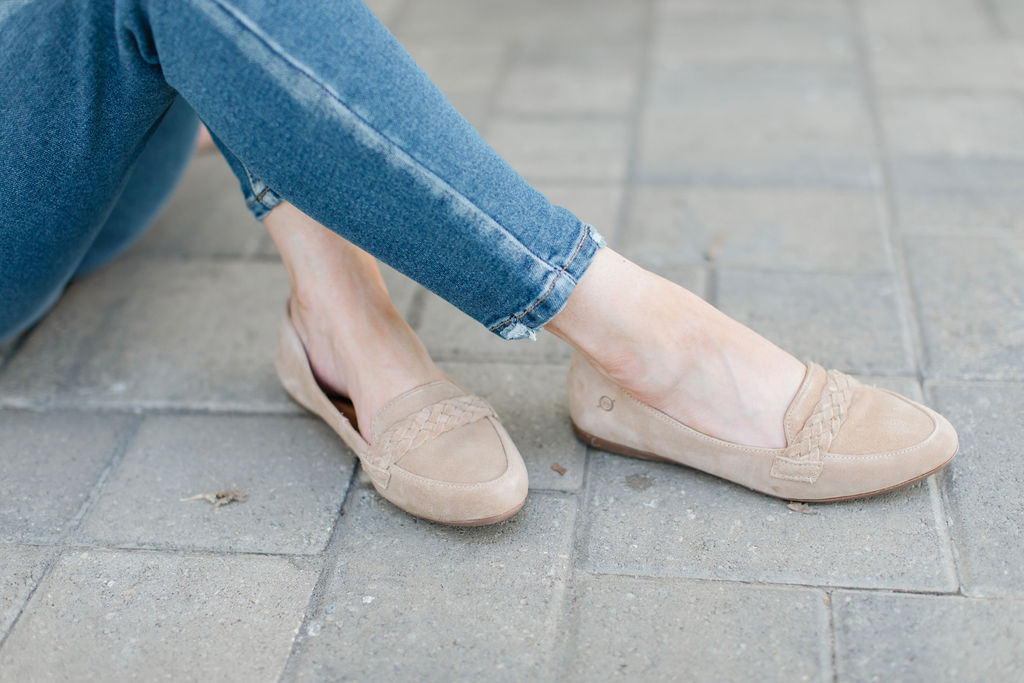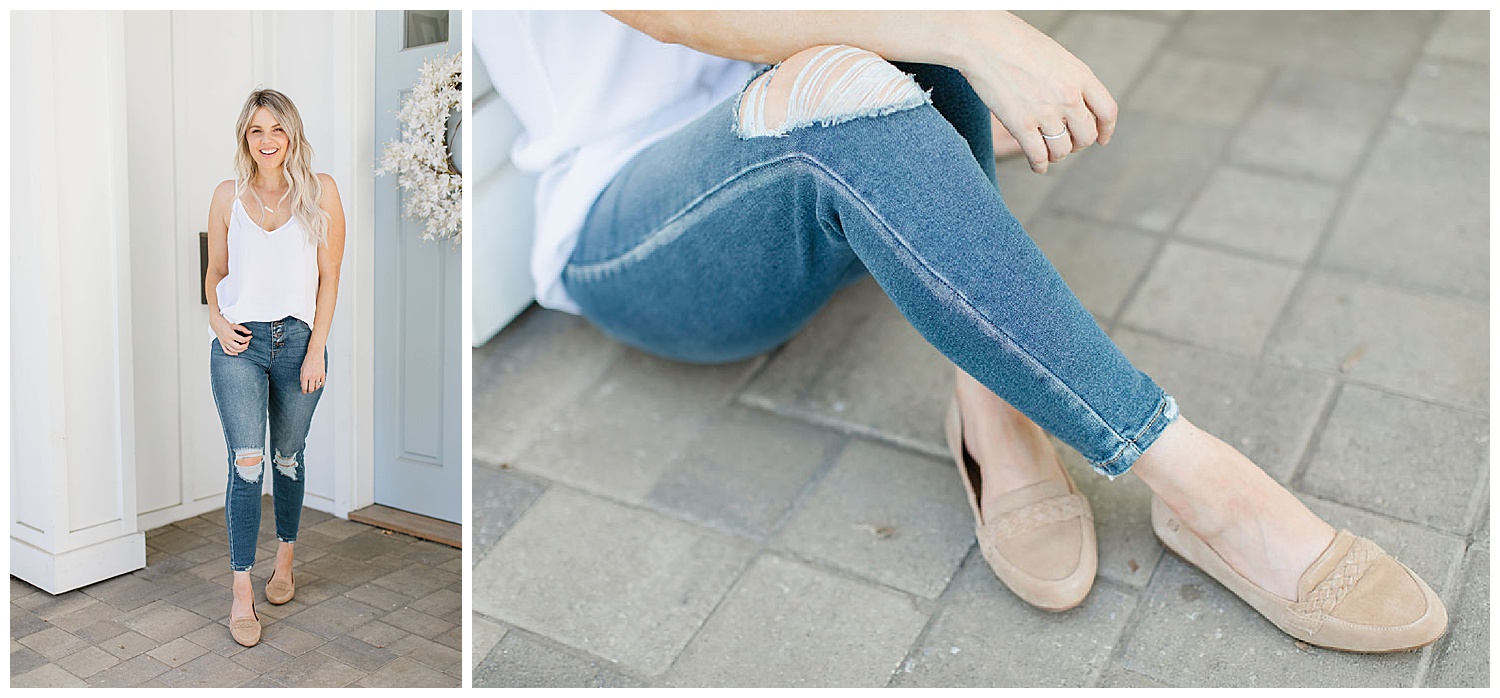 1. WHITE TANK | 2. RIPPED JEANS | 3. BORN MIRROR FLATS
What should be my next post in the series?
I hope you loved all the looks from this post and my Born boots. Which one is your favorite? I'd love to know!!! Also, if I was to do the series with 5 ways to wear a piece of clothing that I love, what would you like to see? Heels? Rain boots? A dress? Pants? Or is there an item that I've posted about that you'd love to see paired with more outfits? Throw your ideas at me, and be descriptive! I will try to make some of your ideas happen!