10 Looks for Affordable Friday!
Happy Affordable Friday everyone!!! I am so excited to share this week's post with you, because it is jam packed with affordable and adorable pieces! TEN looks for Affordable Friday! Yup, you read that right, TEN! You all know how I love doing Affordable Friday posts about my finds at Walmart, but I've read your comments and know you want to see other brands too. I read your feedback and take it to heart and that's why this post has multiple brands mixed in! There are still some Walmart pieces sprinkled in because I just feel like they have some great quality stuff for such inexpensive prices and you guys seem to love those posts! Anyways, yay I'm so excited to share my finds with you today.
Oh! Another thing to note. I am going to be linking the bras that I am wearing with my outfits! I know influencers always say "people always ask me about ____" and it's a bit of a running joke. But I am not kidding you when I say that people seriously always comment and ask me what bras I am wearing with different tops!!! I have always commented back and said "Vanity Fair Lingerie" but in today's post I am going to show you guys exactly what bras I wear and why I love this particular brand.
Look One
Here we go!! I want to start off with this super comfortable and adorable dress for $20! The first thing that I love about it is the material! It is almost somewhat like denim, but what's really cool about it is that even though denim typically is more casual, this cut and color of this dress really elevates it! So many pieces that I am finding lately are very versatile, which is the best! This dress can be worn for a more casual office day, brunch with the gals or dinner with your husband. It's just fabulous.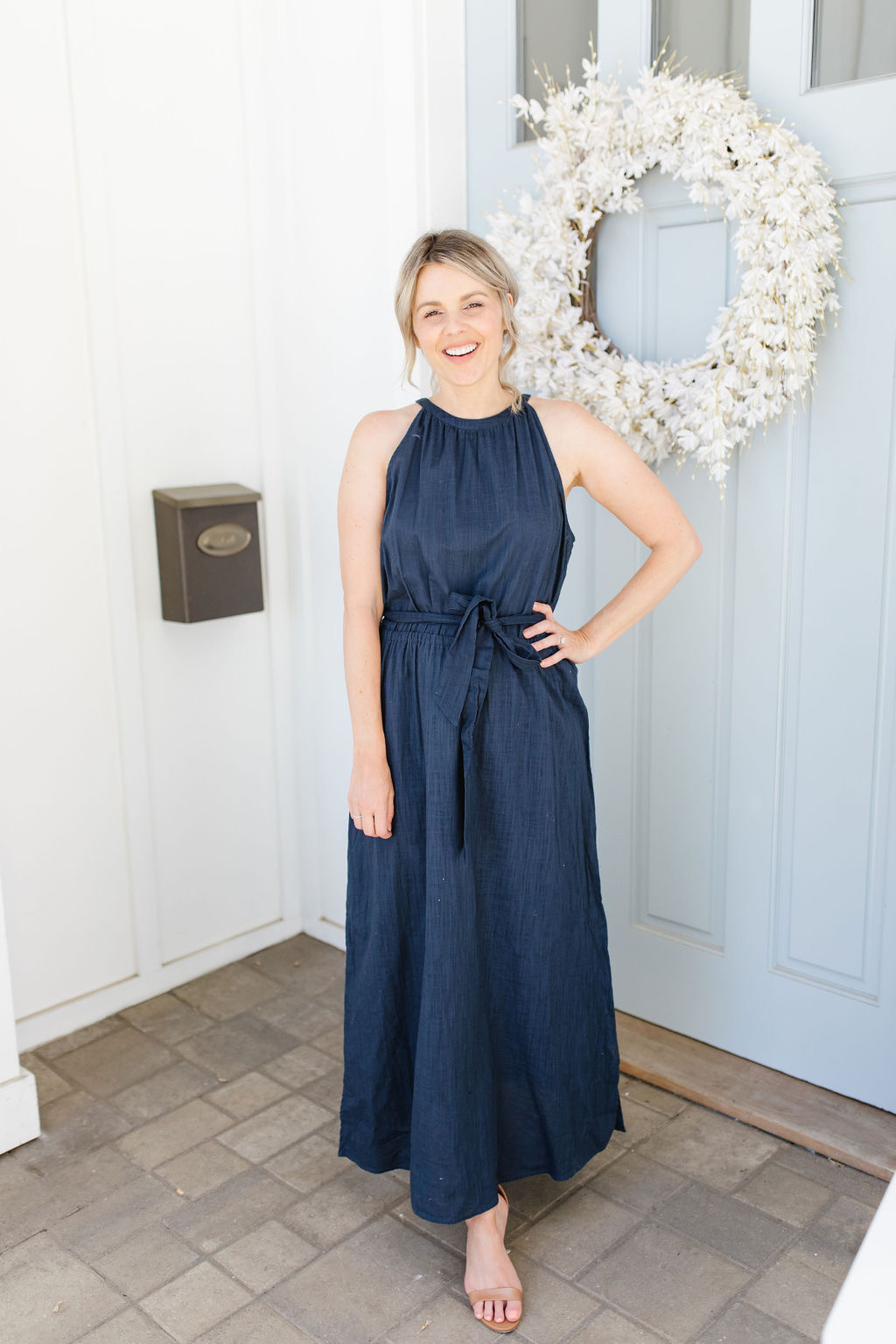 I've mentioned in my blog posts before, but I typically try to cover up my arms since they have got a little love going on, but the high-neckline on this and the cut of the arms are so flattering that I don't even mind. One thing I want to mention is that it runs true to size. I usually am a medium in most dresses. I accidentally ordered a large, that's what I am wearing in these photos (which is why the dress looks big on me – it is!), and I really wish I had ordered the medium. So I would definitely order your normal size! And the best part is that it is currently on clearance for $20 and available in all sizes!!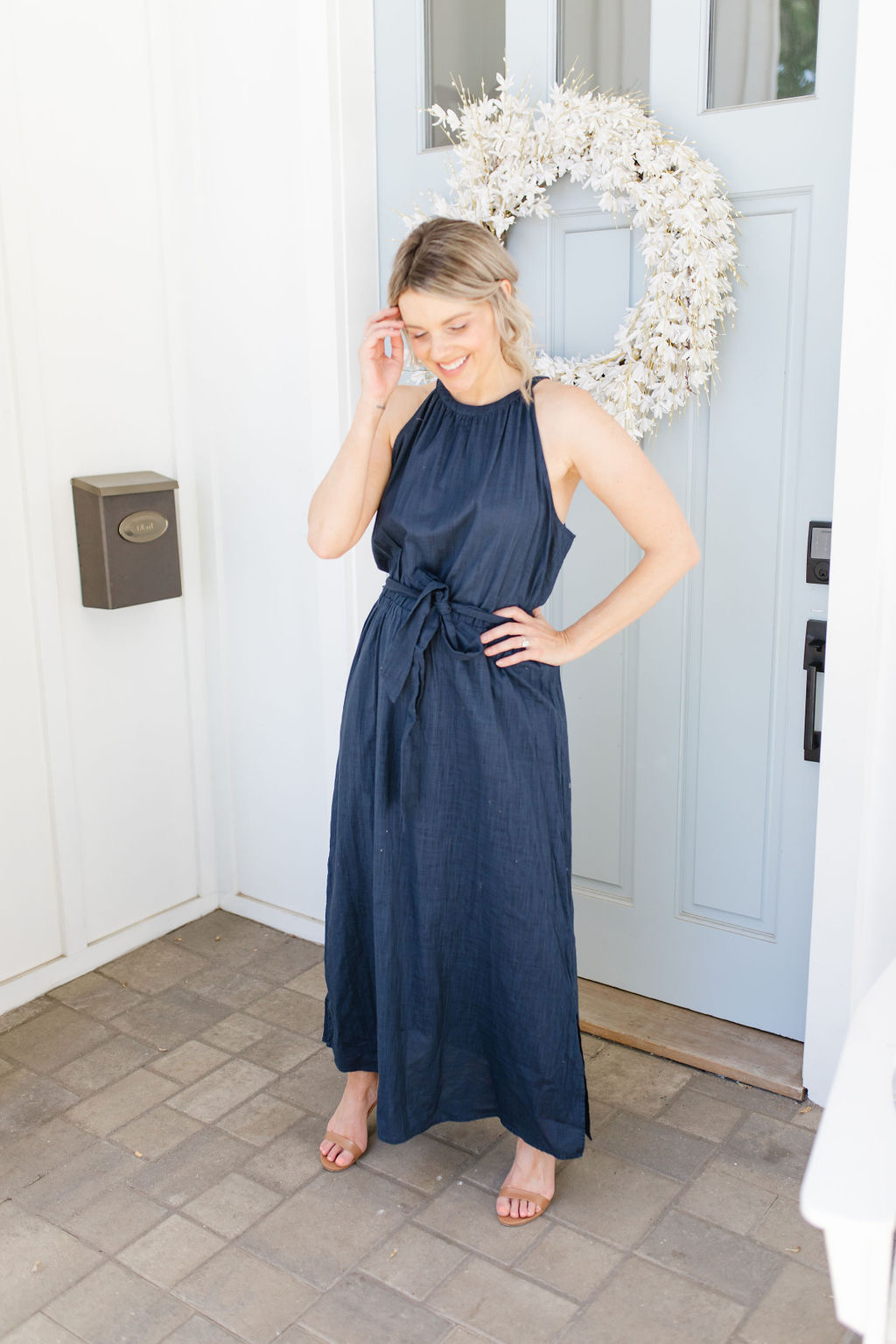 As for the bra that I am wearing in this dress, it's the Beauty Back Strapless Full Coverage Underwire bra from Vanity Fair Lingerie! In fact, most of my bras are from them because they are so comfortable, high-quality and affordable! I can't even believe that I am admitting this, but I just finally parted with a bra from them that I think I had for 10 years!!! Ha! So truly, I feel like that explains the type of quality that these bras are.
I love this particular strapless, because it is full coverage and fitted, plus the fabric has great stretch that smooths everything under my clothes. I feel like with a lot of strapless bras you end up getting weird lines, but the width of the band on this one makes sure everything stays nice and flat! Oh! And another reason that I added this to my 10 looks for Affordable Friday this week is because the bras are super affordable in the first place but they are currently on sale for 25% off which makes them SUPER affordable.


 1. $16 WHITE TEE | 2. STRAPLESS BRA
Look Two
If you're here reading this blog I'm guessing you follow me on
social media
. Who knows, maybe not! Given that, I guess now's a good time to tell you to go follow me
on Instagram
! Ha! Anyway, if you do follow me then you know how much I love
Ramen
noodles. I legit eat it for breakfast most mornings. And I really should not be proud of that fact. Anyway, one of my friends actually bought me
this shirt
recently because she knows how obsessed I am with it. It's seriously one of the best gifts I've ever gotten! I'm not even kidding I'm obsessed. So if you know anybody that loves Ramen as much as I do, go snag one of these for them.
I usually size up in Forever 21 clothes but my friend got me my normal size – a medium. And it fits great! It's cropped. Not quite as cropped as it appears in this photo because I'm lifting my arm up. But if you wear it with high waisted jeans your midsection will not show. I'm also gonna link
my wine glass
here. Because every time I post a photo with my wine glasses in them people asked me where they're from.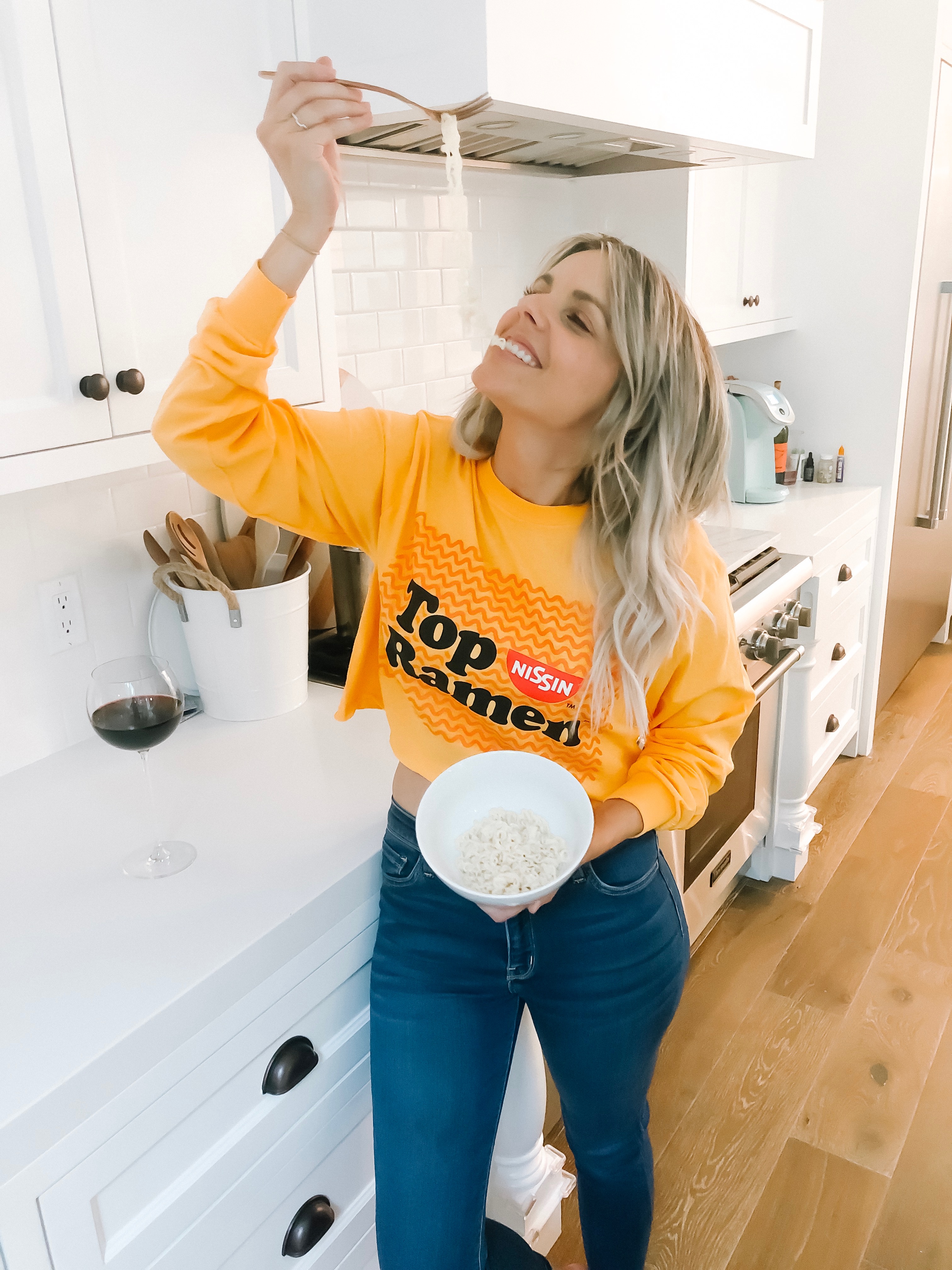 1. RAMEN SHIRT | 2. JEANS | 3. OLIVIA POPE WINE GLASS
Look Three
This next top is a new fave of mine because of the square neck! I love a good square neck top because it is so flattering on any body type! The sleeves are darling and truly the perfect length! They hide any extra love that you may have, which I love!!! You know I'm all about a good, affordable top in white, blue or blush and this checks two of those boxes! It's on clearance right now for only $18! Stock is getting low, so jump on this while you still can!
As for my bra with this one, I am wearing a Vanity Fair Beauty Back® Full Coverage Underwire bra! You could wear a strapless bra if you really wanted to as well!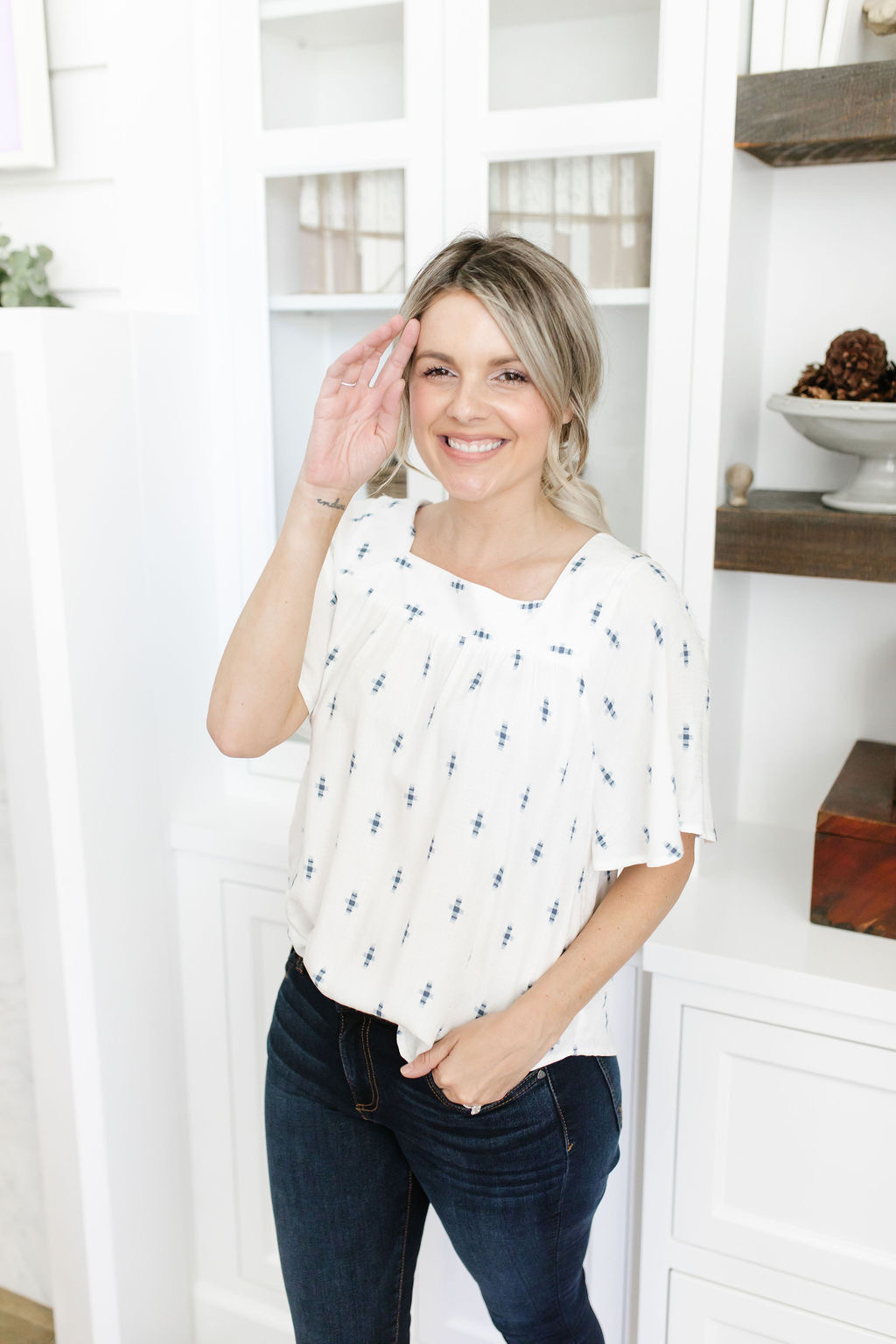 1. TOP | 2. FULL COVERAGE BRA | 3.$9 JEANS
It truly is a great time to get your hands on some summer clothes or even clothes for hot fall days like we have here in Southern California. That's because pretty much all of the summer clothes are starting to hit the clearance rack and who doesn't love a good deal!? I know I do! And that's why I do these Affordable Friday posts!
Look Four
How cute is this look?! This might be my favorite one in this post. When I bought this dress I wasn't sure how I was going to feel about it. Just because it's very fitted. And I tend not to wear fitted clothes that often. However, I will say I've been working out a lot more and feeling a bit more confident in my body. But definitely not confident enough to wear a fitted dress on its own. That's why I tied the light wash denim jacket around my waist. By the way check out this denim jacket it is the best! It's only $18! And it's got over 60 reviews that are all super positive! If you're looking for great light wash denim jacket for fall, this jacket is it!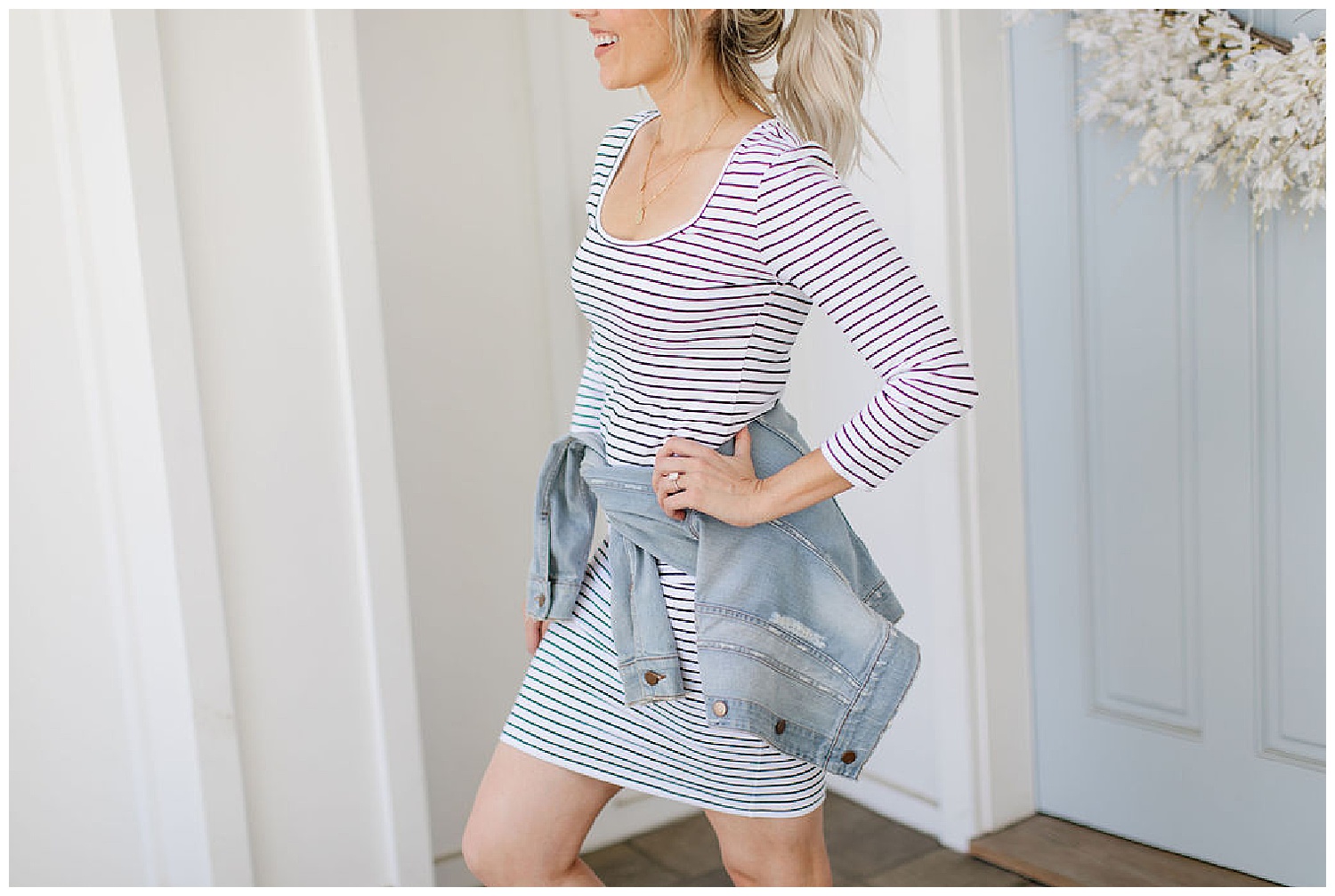 1. $15 DRESS | 2. JEAN JACKET
Anyway, the dress is under $15 and a bestseller at Forever 21. I sized up in a large and I'm so glad that I did. The medium would've been way too tight. But by tying this denim jacket around it I feel super comfortable and even skinny! I can't even believe I'm saying that. You could also tie a chambray shirt or even a sweatshirt around your waist. I paired my outfit with these gray slip on shoes that are under $20. These shoes also have ridiculously good reviews. So I'm not the only one who loves them. Plus I'm finding that I just really love slip on shoes these days because of the easiest to throw on when I'm running out the door with the kiddos.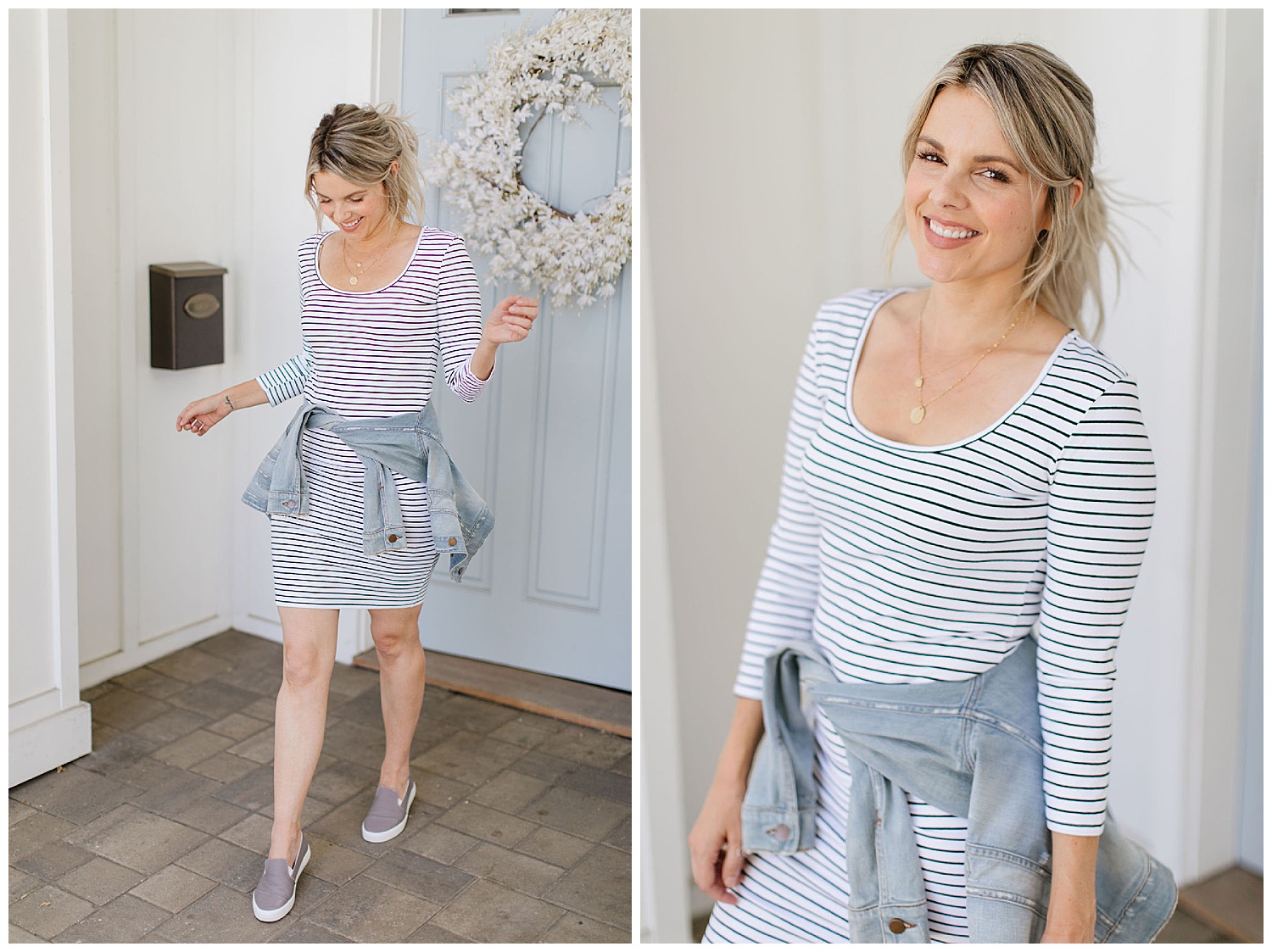 1. $15 DRESS | 2. JEAN JACKET | 3. $19 SLIP ON SNEAKERS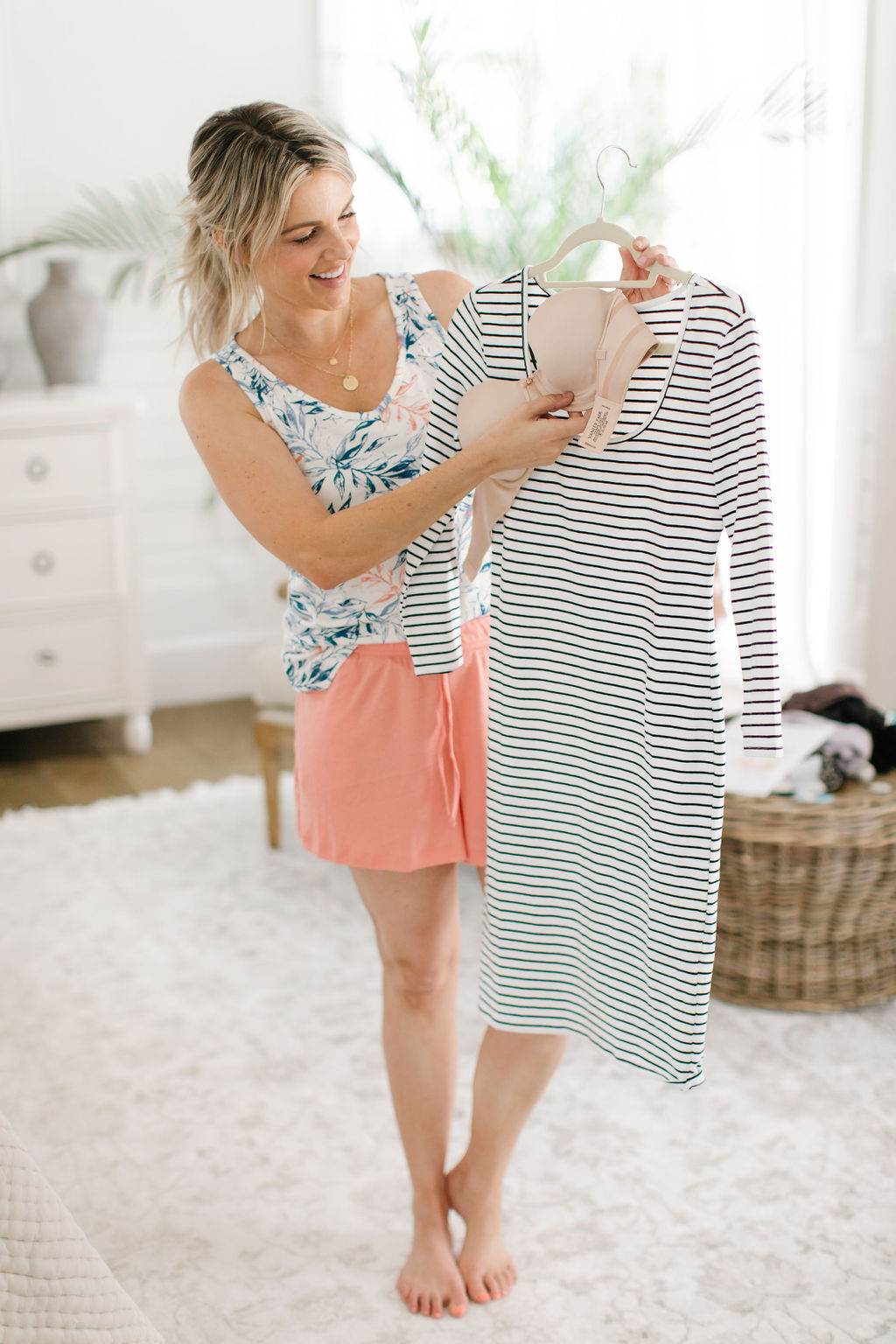 1. $15 DRESS | 2. JEAN JACKET | 3. PAJAMA SHORTS | 4. PAJAMA TOP | 5. STRAPLESS BRA
Also, because this is a fitted dress with a stretchy material it's important to wear the right bra underneath it! Sometimes I wear the Beauty Back Strapless Full Coverage Underwire. But then sometimes I wear a Beauty Back Full Coverage Underwire bra. For this dress the full coverage underwire bra is probably best. But really you can't go wrong with either one. The key feature of this bra is the 4-way stretch fabric that helps keep your back looking smooth under your clothes. Which is a MUST for this dress. OR any fitted dress you have. I am telling you it is my favorite bra ever!!!! I can't even tell you how many times I have seen a woman wearing a top or dress and then seen her bra underneath. I want to run up and tell them about this bra!!!! Because it truly helps so much.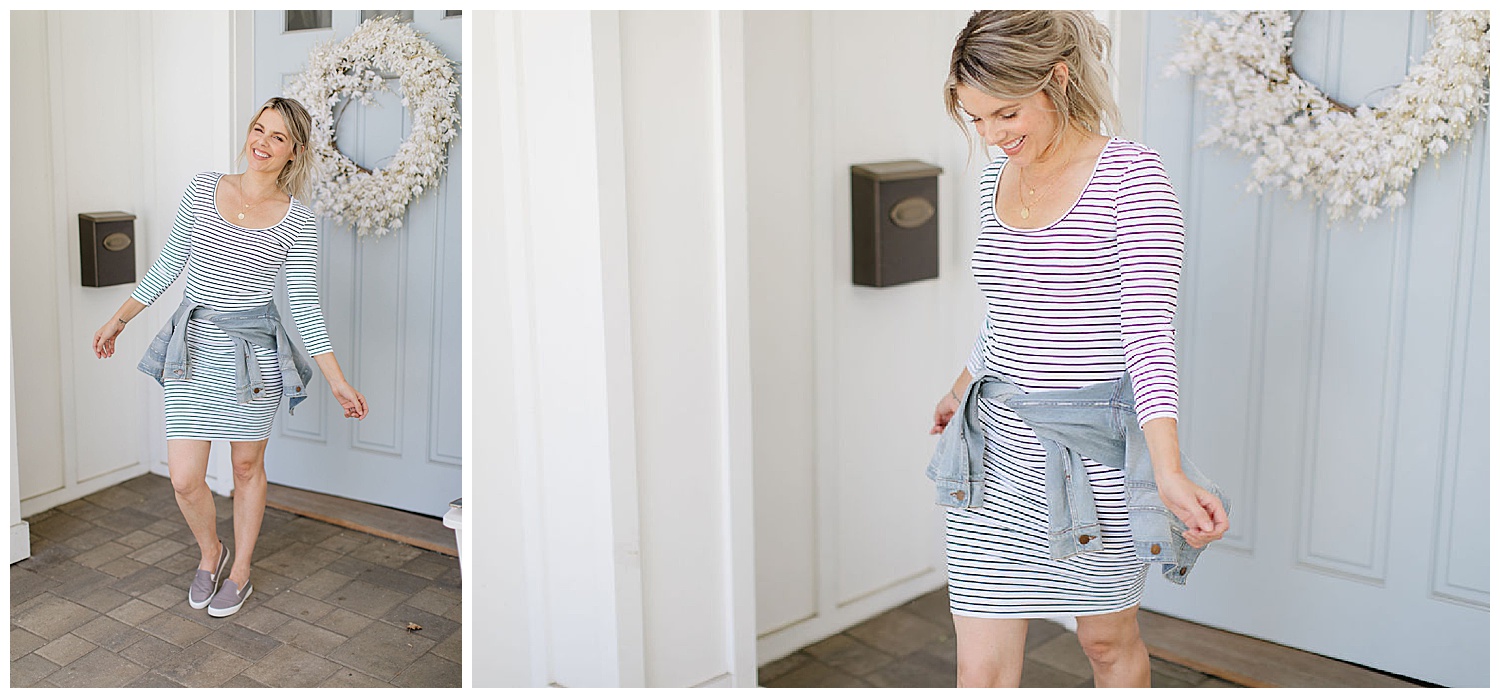 1. $15 DRESS | 2. FULL COVERAGE BRA | 3. JEAN JACKET | 4. $19 SLIP ON SNEAKERS
Look Five
The tank in this look is from Nordstrom and only $25! I got it in this pretty lilac color. But it's also available in white. Honestly, I wanted it in white but it was sold out. But it looks like it's back in stock now! So if you can snatch up the white I would totally do it! I just think it's a pretty top that's easy to throw on and feel like you look somewhat put together. And I just love the detail on it. I'm wearing a size medium which is my normal size. So I would say it's true to size.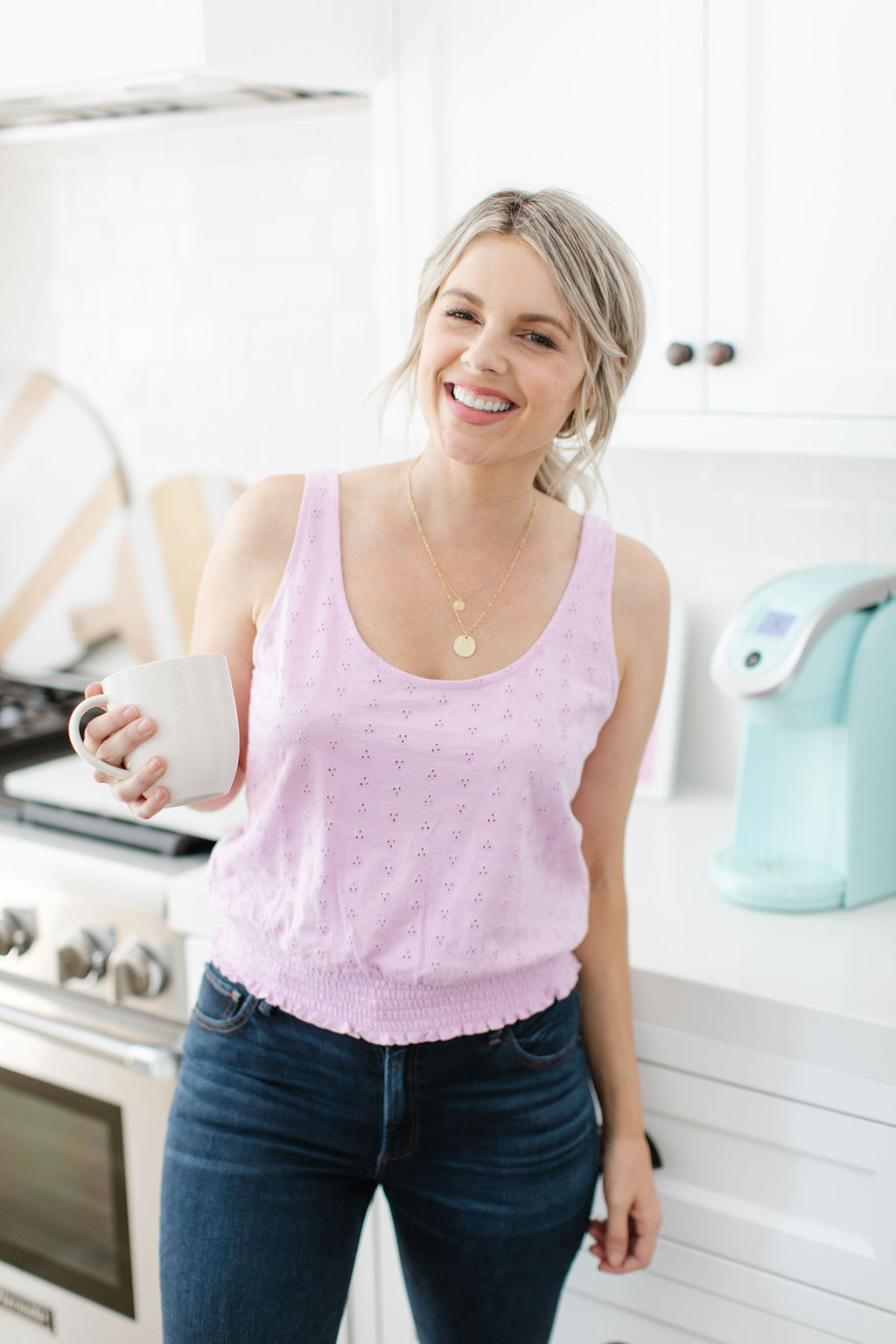 1.LILAC TOP | 2. WHITE TOP | 3. STRAPLESS BRA | 4. NECKLACE | 5. JEANS
My necklace above is from RocksBox. It's a jewelry subscription service that I really like. I think my code ALIXOXO might still work for a month for free. But I don't know. Try it!
For my bra in this pic, I am wearing the strapless bra again! Because it is a Beauty Back Strapless Full Coverage Underwire it really helps to smooth everything out and give me a great shape. It's so important, especially in a tank like this, because the back of the shirt has a really delicate shape! The bra makes all the difference!
Look Six
When I was on the hunt for some pajamas for Riley recently (I found 2 sets for $15!), I also found these super cute ones for me! The top and bottoms are sold individually, but the combined they are only $18! I have been loving them so far because they are really soft (especially the shorts!). And a plus is that they don't really look too much like pajamas! So if I am having a "mom day" and staying in my PJs and cleaning etc, I feel a little more put together even if I am just wearing these pajamas! Ha!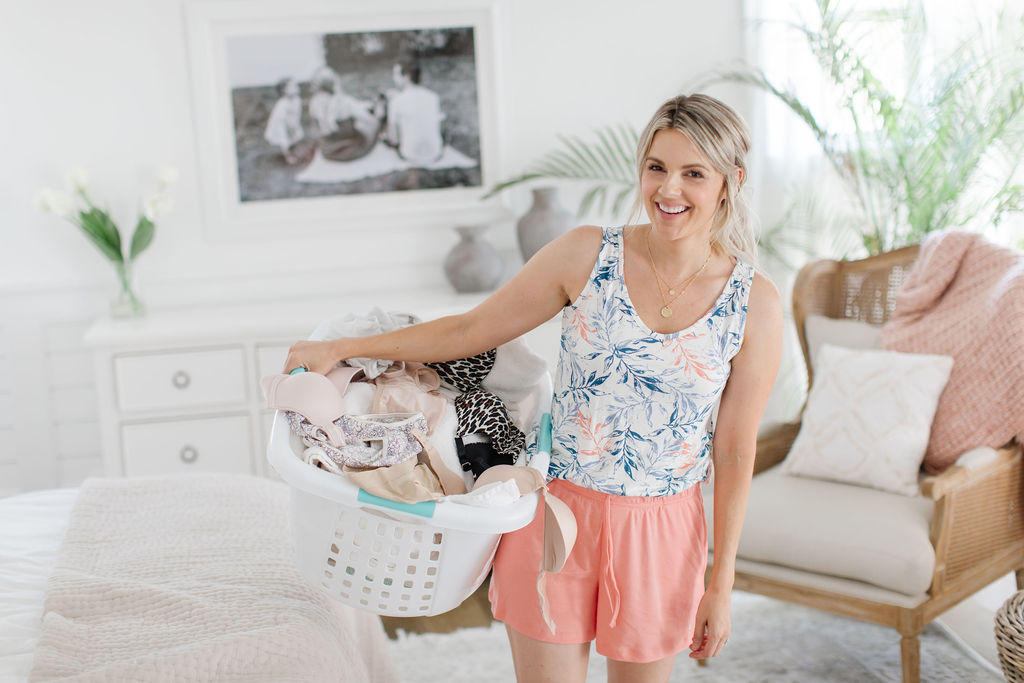 1. PAJAMA SHORTS | 2. PAJAMA TOP | 3. STRAPLESS BRA | 3. CHAIR
Look Seven
This tank is on clearance for only $12! I love it because it has a higher neckline/collar, but it also has a v-neck! Another great thing about this one is the colors because they work great for not only summer months but fall too! The pink color is more of a peachy tan, and the darker blue pulls in aspects of fall coloring! It's can be worn tucked in, like I have it here, or worn untucked if you want a little more coverage for your backside!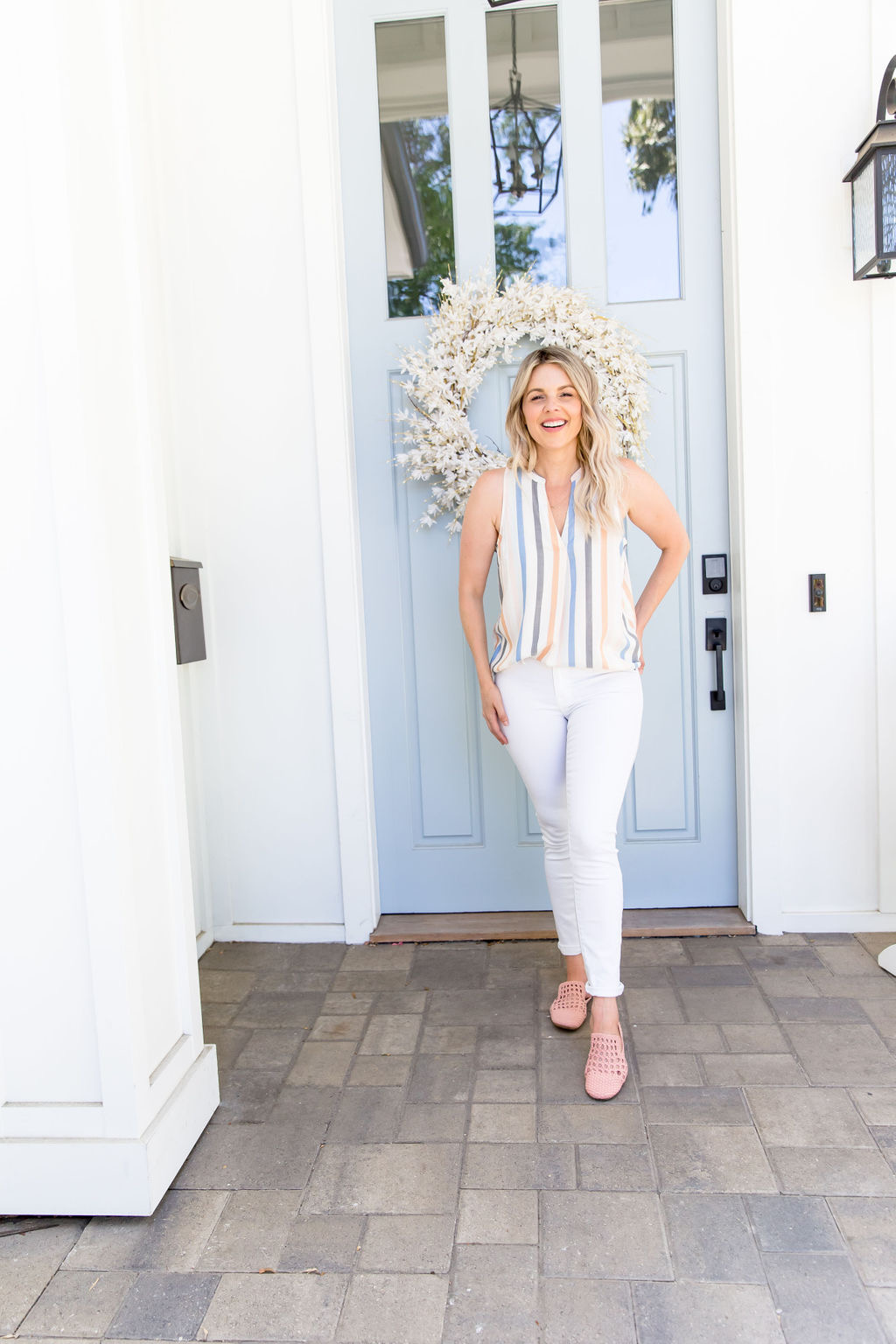 1.$12 TOP | 2. $19 WHITE JEANS | 3. PINK MULES
The shoes I am wearing in this pic are currently on sale right now too! They are $20 off. I seriously wear them all the time, so I'm sure you've seen them on my blog a bunch! For some reason when I click the link for these it's taking me straight to the homepage, so if it does that for you, they are called the Cameo. They also come in a pretty blue color!
For this top, I am wearing the Beauty Back Full Coverage Underwire bra. Even with the deeper-v in this shirt, the bra hides perfectly! Some full coverage bras go up so high in the middle that it would be impossible to wear a low-v, and that's another reason why I love these!
Look Eight
How precious is this satin cami tank?! It looks and feels so expensive and luxurious, but it's only $12 from Forever 21! It looks like stock is low in the light pink, but there's also stock in the cream color too! I love this tank because you can throw it on for a casual day and wear it with jeans, or you can dress it up with a leather jacket and some heels! If your size is unavailable, the satin cami I found during the Nordstrom Sale is great too!
This is another top where a reallllly good strapless bra is so important. Because the material clings to everything, and likes to show off our extra love, you need a bra that is going to keep everything in place. The Beauty Back Strapless Full Coverage Underwire is great for this because it is full coverage. So it covers up your breast area nicely, and then also helps keep any extra back-fat love at bay. Ha! But seriously, because the back panel is thicker, it helps to flatten and control your back area. Which is sooo important for a top like this, because I know personally that without it and if I was wearing a typical strapless bra, my extra love would be hanging out!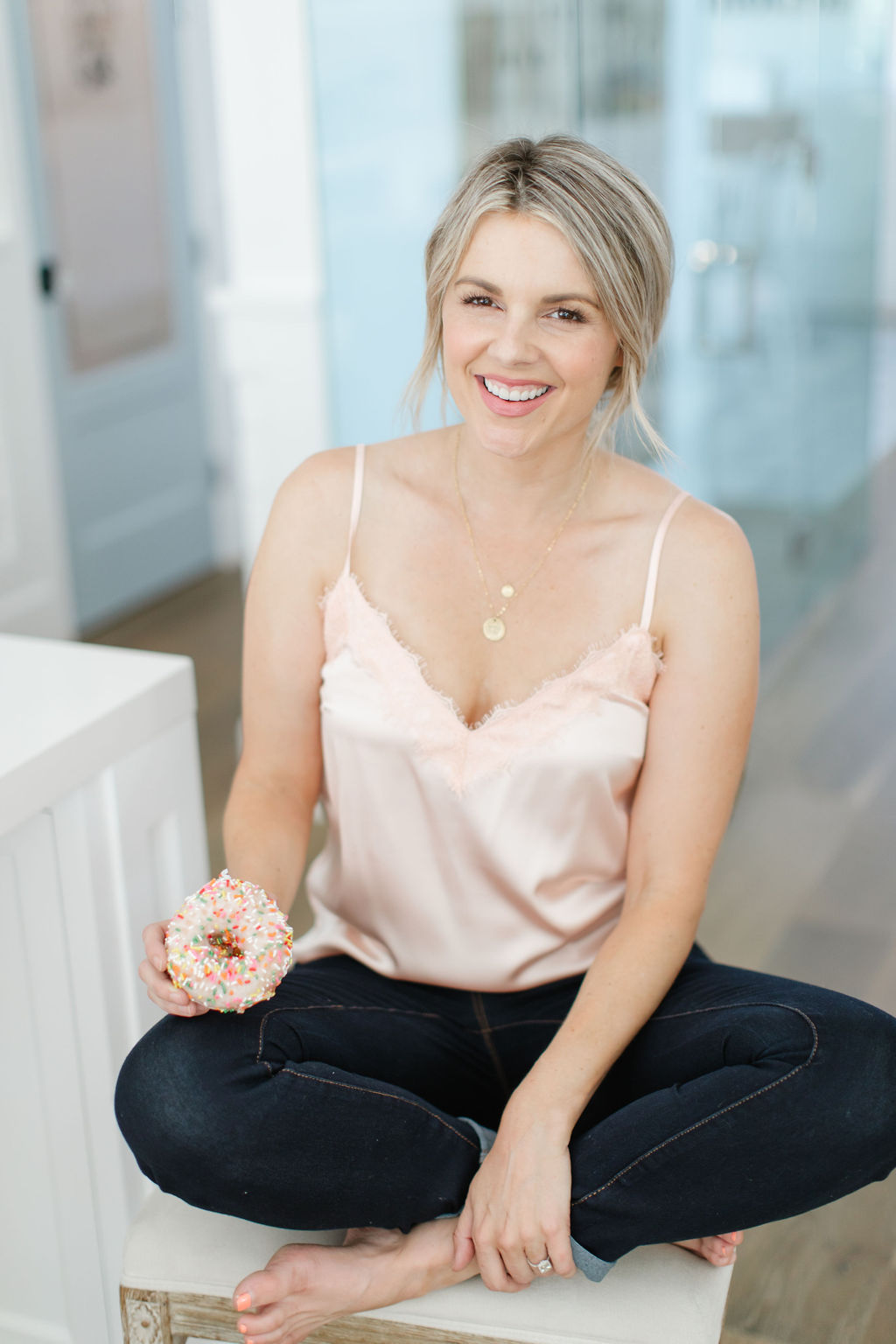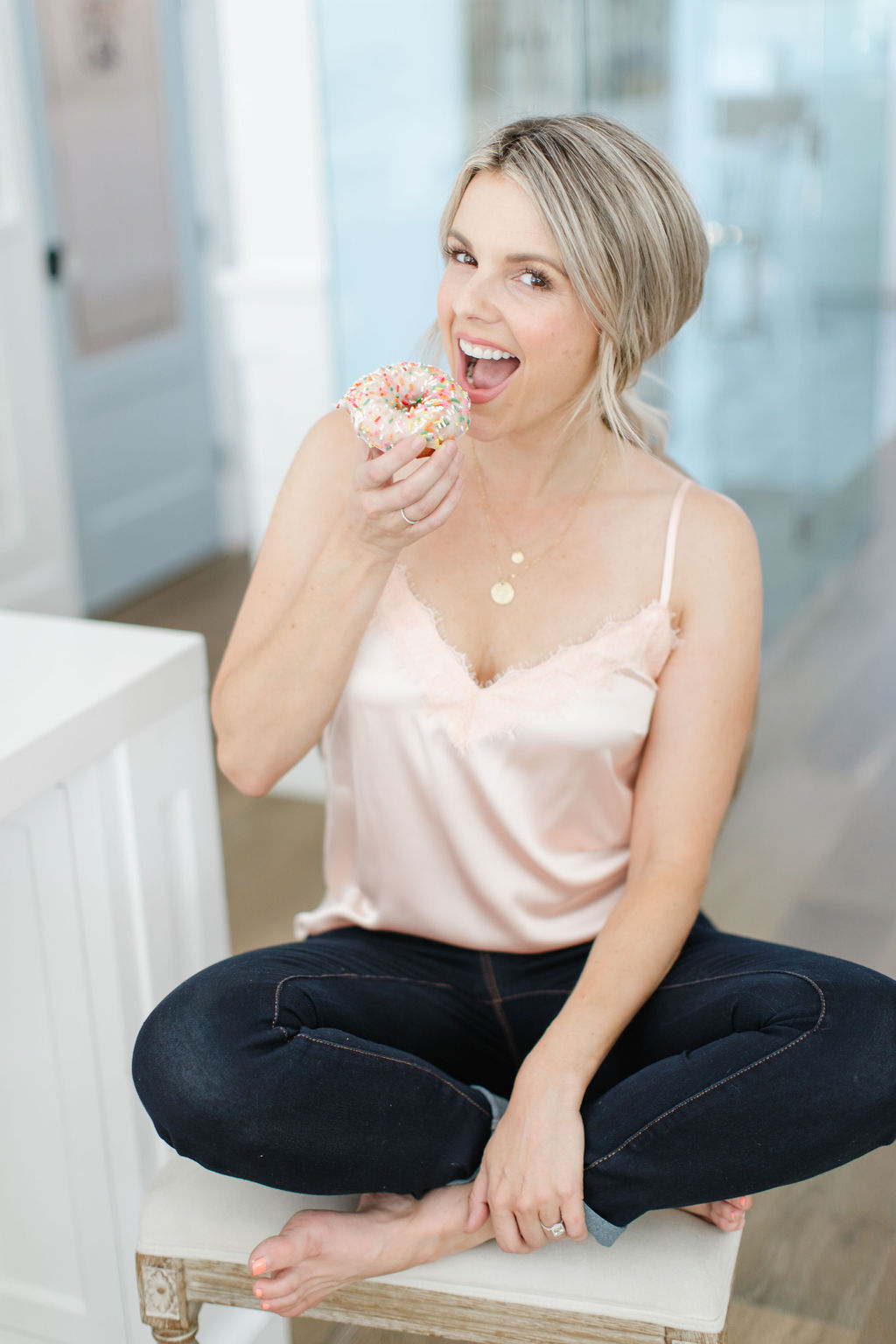 1. SATIN TANK | 2. JEANS | 3. NECKLACE | 4. STRAPLESS BRA
Look Nine
I am really getting into the fall spirit with this final look! Doesn't it just look so cozy and make you want to bundle up by a nice fire?! Ha! I love this outfit, because it is equally cute with and without the scarf, but the look changes so much depending on if you're wearing it or not. The scarf is only $14 and comes in a few different color variations! I really love the "light pink" option too!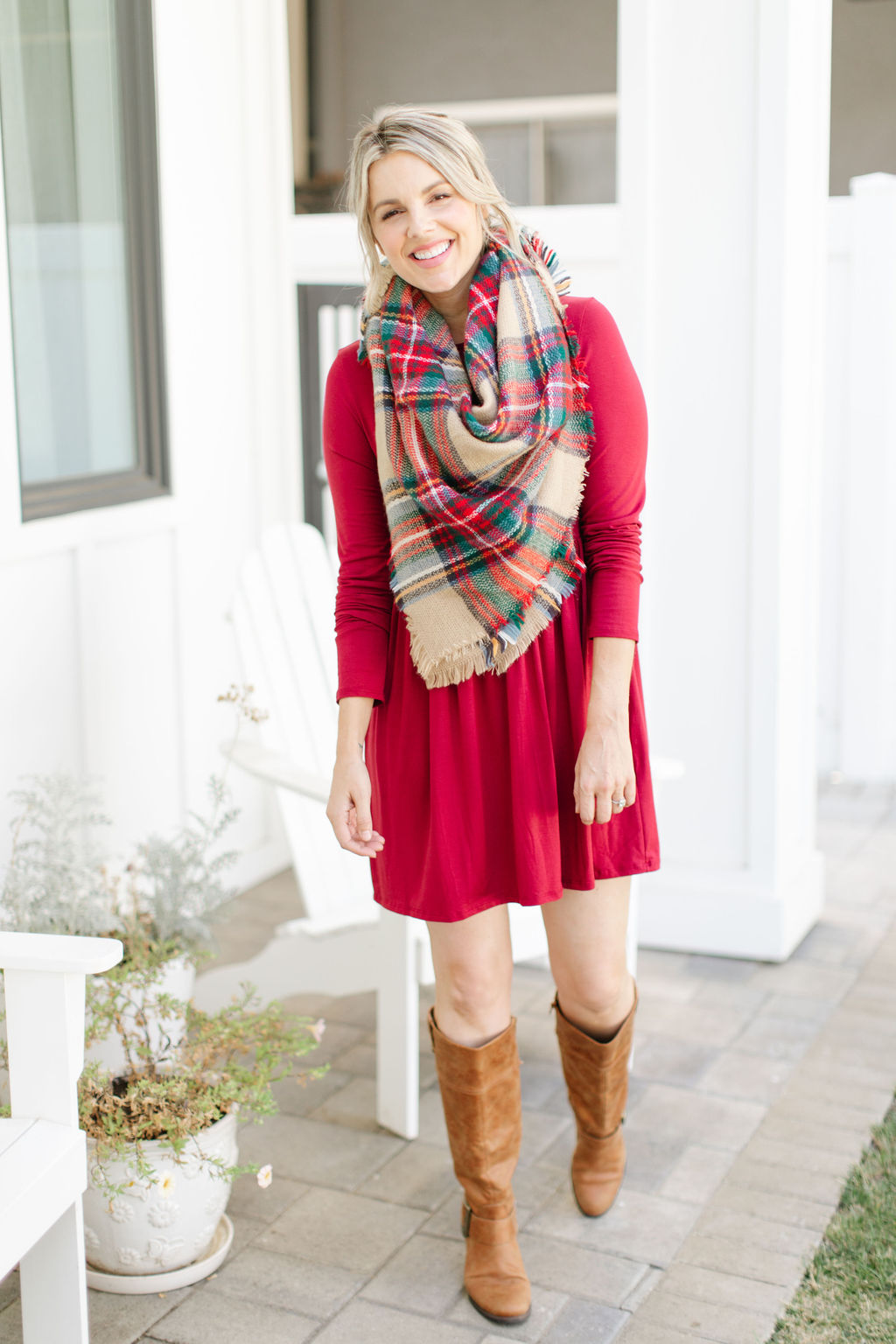 1. DRESS | 2. FULL COVERAGE BRA | 3. SCARF
I love the dress from this look and it is less than $20! The material is really soft and stretchy but feels like a slightly thicker cotton than most dresses in this style. It does run a bit small so I'd recommend sizing up, I typically wear a medium and I am wearing a large here. I always try to order up on Forever 21 – and I know sizing is limited on this specific dress so order up if you can and if not, you might be able to wear it true to size if you have a more slender frame! It's also on the short side, but I like that when I were over the knee boots. I wore knee high boots in these pictures but I always like to have a few fall dresses that are on the short side to wear with over-the-knee boots.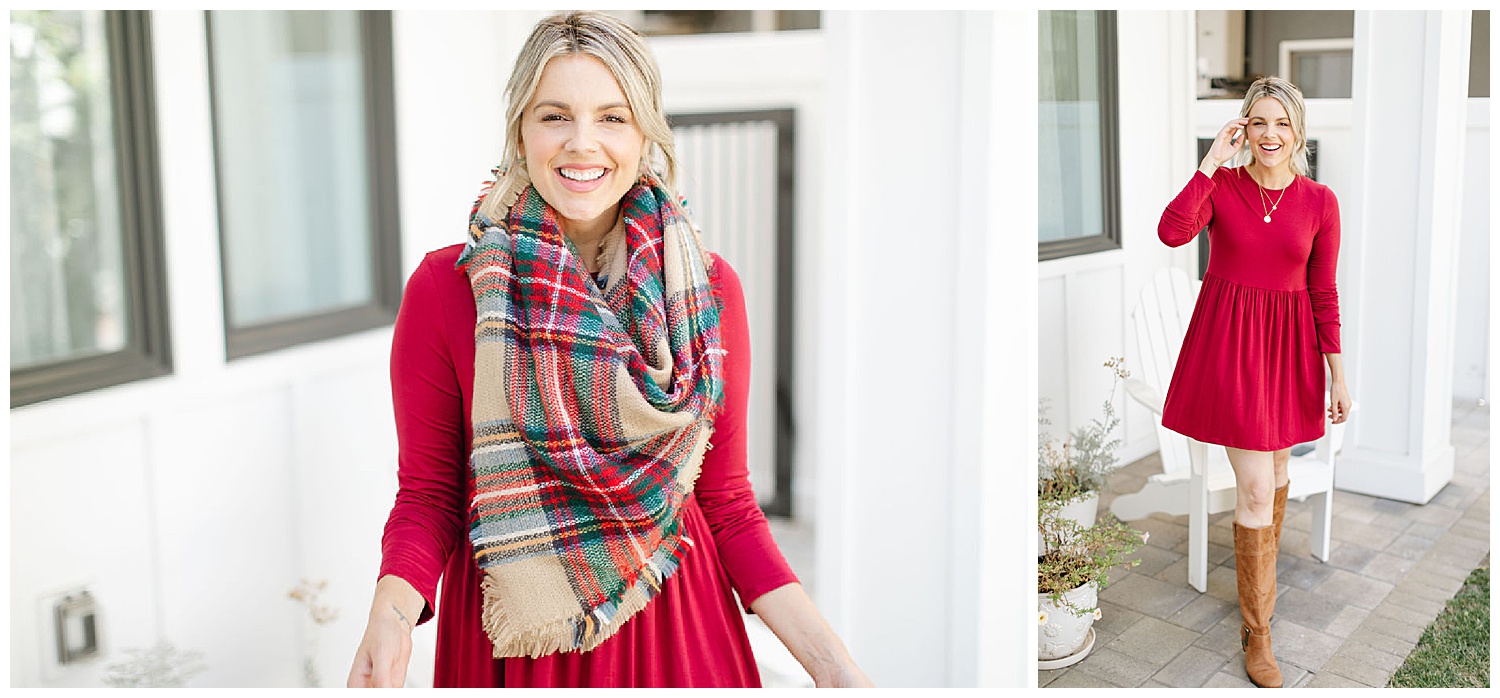 1. DRESS | 2. FULL COVERAGE BRA | 3. SCARF
The bra that I am wearing with this dress is the Beauty Back Full Coverage Underwire ! This is another one of those fabrics where having something that assists with your extra back love is the best! And as you can see from these photos, you can't see the bra underneath at all!
Look Ten
And last but not least… well actually it is the least because it is a $3 dress! Yes THREE DOLLARS! Can you believe that? I definitely saved the best for last. And actually, now that I am looking at the link, some of the colors are even on sale for $1! I don't even know how it is possible but I am here for it! The baby doll sleeves are so darling, and I feel like it cinches your waist at the perfect spot! Not to mention it has the cutest buttons down the front. One thing that I will point out is that it is on the shorter side, so you might want to size up to help cover your booty a bit more. I mean at $3 you might as well order both sizes and return the one you don't like! Especially since their returns are so easy!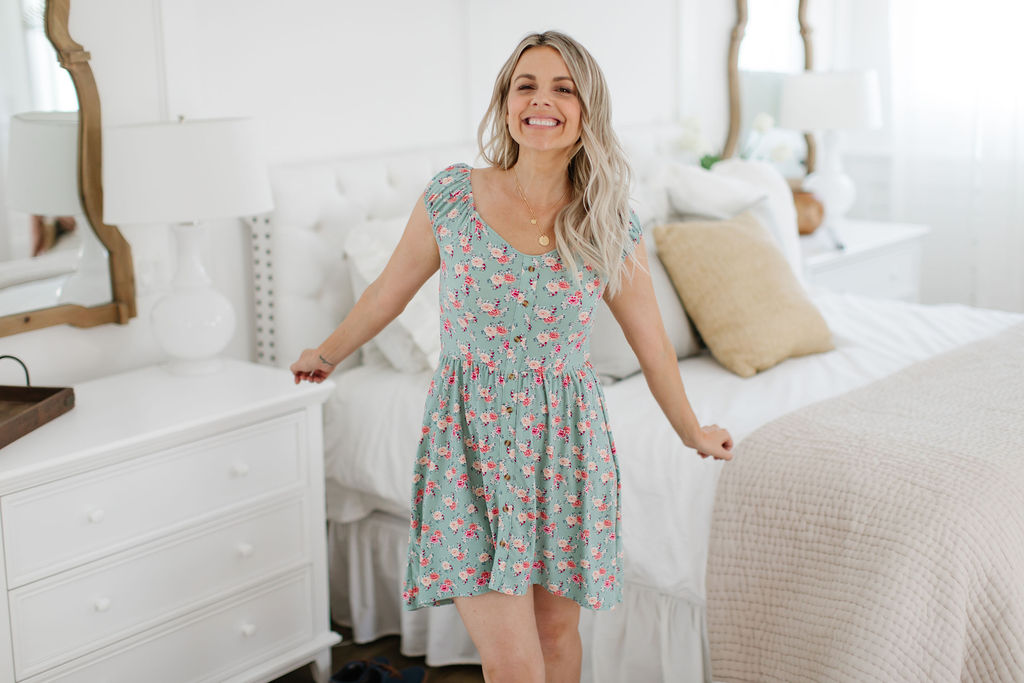 1. $3 DRESS | 2.NIGHT STAND | 3. LAMP
It's been awhile since I've talked about my home decor, so I just wanted to give you the link if you were interested in popping over to the post about my bedroom!
For this dress, I think you could get away with a regular bra, a strapless bra, or even a bralette. But I personally wear it with my Beauty Back Strapless Full Coverage Underwire bra. It is so comfortable and then I don't have to worry about any straps showing. Plus, like I've mentioned it really smooths out my back area, which is ideal when wearing dresses that are more fitted in the back. Basically this bra is just a win-win all around! I put a pic below so that you can see what it looks like in the back!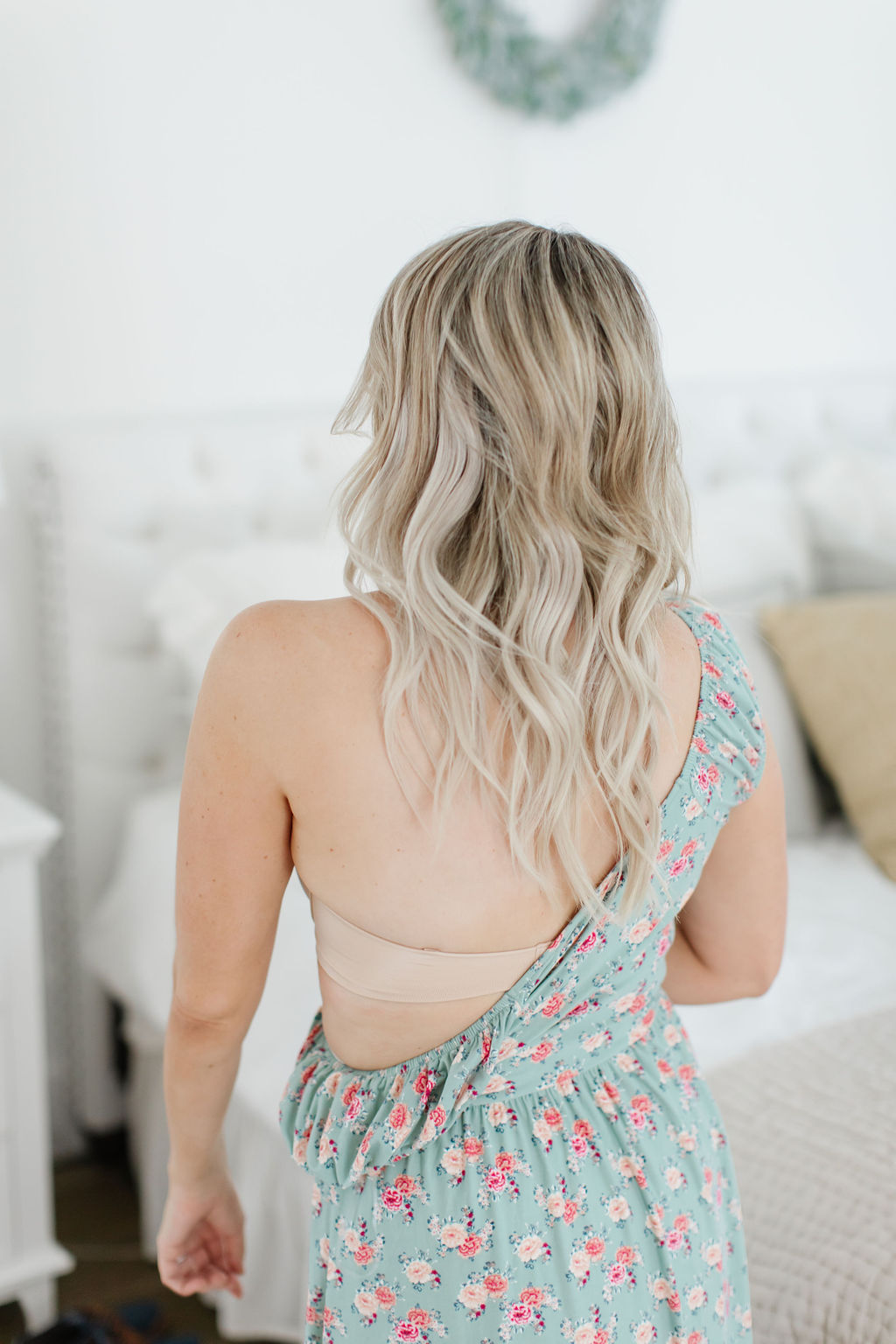 1. $3 DRESS | 2. STRAPLESS BRA
That's It for This Week's Affordable Friday!
I hope you loved this week's TEN looks for Affordable Friday as much as I loved putting this together for you! I think I am doing another one next week so stay tuned! What are your favorite looks from today's post? Do you have any great pieces you've found recently? I'd love to try some of them! Can't wait to chat below!