It's Paradise night!!!! Eeeek we are officially ending the road with this season. In just one week we will find out who is engaged! I am so excited for all these amazing people! Speaking of excitement, make sure to checkout my giveaway toward the end of this blog post!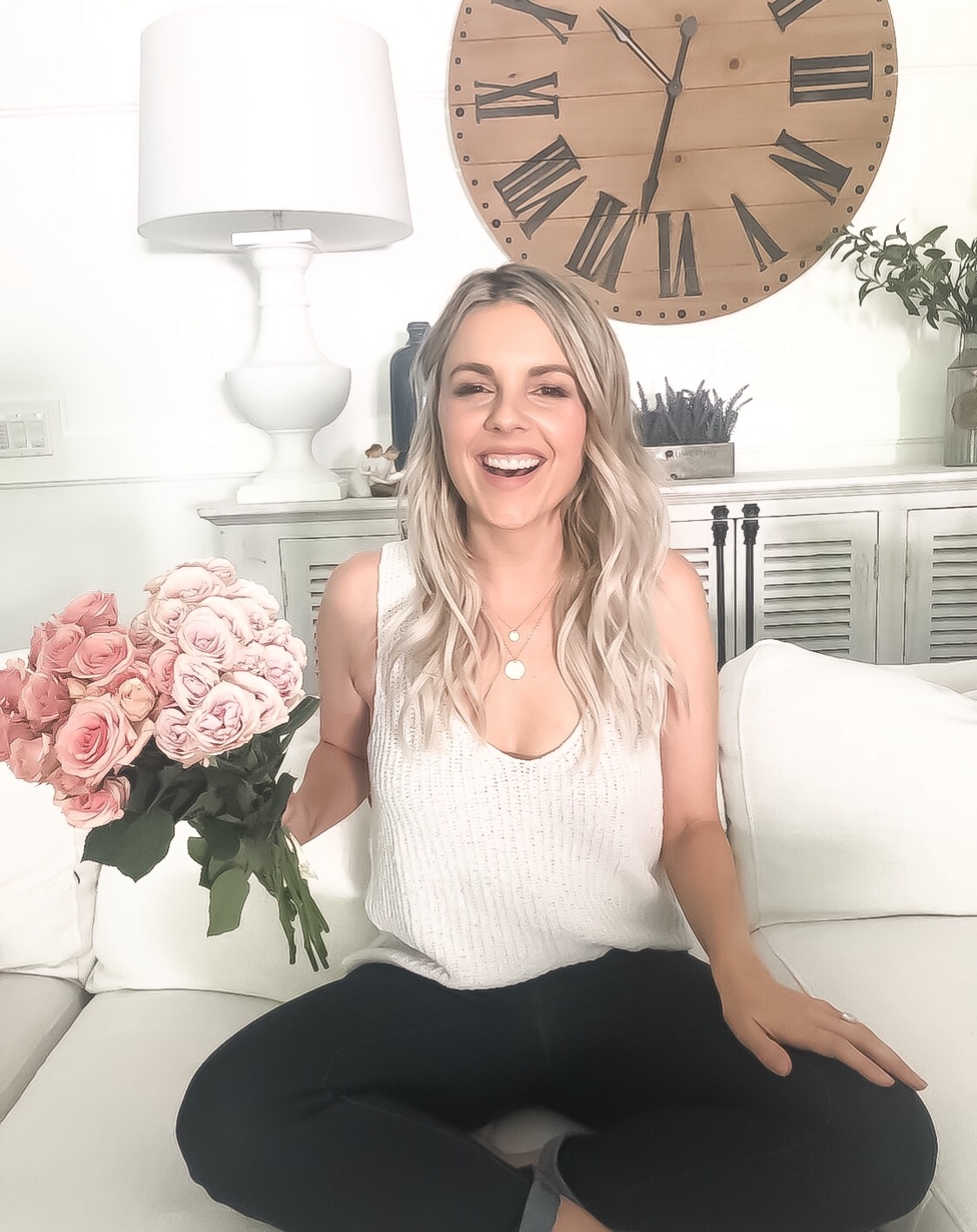 1. NECKLACE | 2. SWEATER TANK | 3. JEANS FOR $9
Hannah and Dylan
I will be the first admit that I was wrong about Hannah and Dylan. At the beginning of the season when he was being so cheesy with her, I thought there's no way on this planet that she was going to fall for him. But she did! And I was wrong. And I'm so glad I was. Because they are just a darling couple! What I love so much about Bachelor in Paradise is that when people say I love you on the show, they mean it. Whereas on the Bachelor and the Bachelorette, I never think those "I love you's" are genuine. And that's the truth. You just don't know the person well enough in my opinion.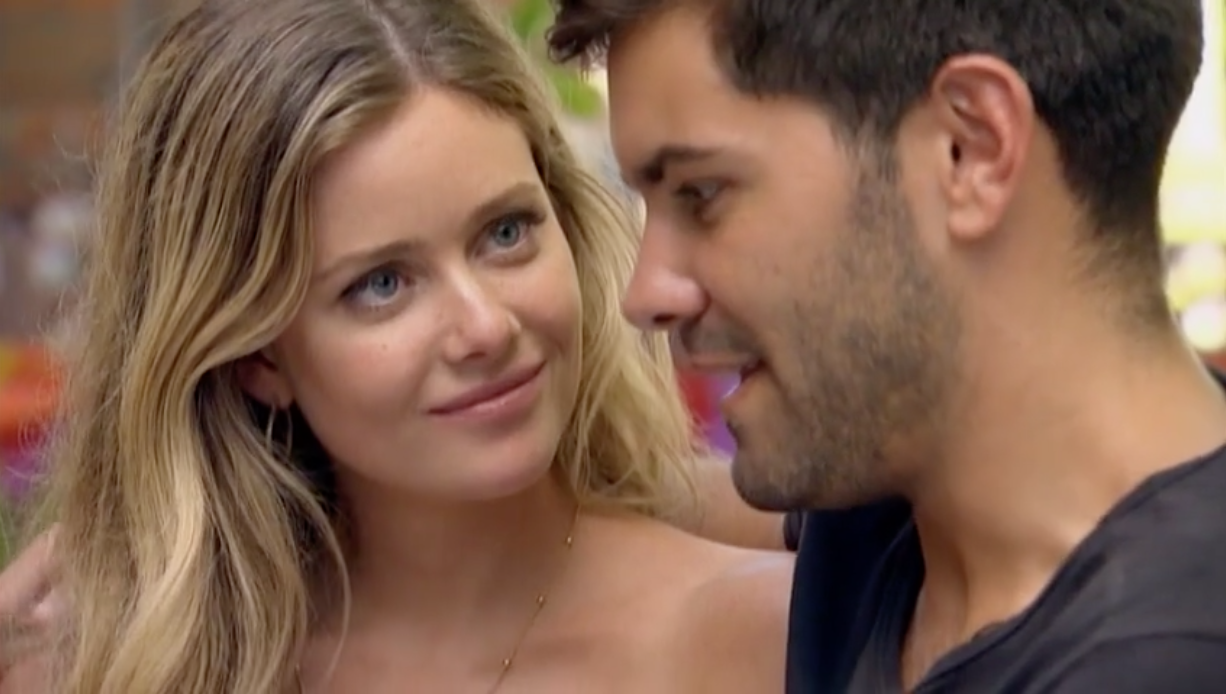 I say this all the time but I'll say it again, to know someone is to love someone. And you don't really get to know people on the Bachelor or the Bachelorette. You spend less than 72 hours total with them from when you meet them to when you get engaged. Rachel Lindsay, who I do the Bachelor Happy Hour podcast with, even thinks it's closer to 48 hours. And if you ask couples who have gotten married from the show, many of them, if not all of them, will say that they actually fell in love after the show. But this is what I love about paradise. The couple spends so much time together, that they actually get to know one another. It's why the success rate of the show is so much better than the Bachelor or the Bachelorette.
So when Dylan and Hannah told each other that they loved each other it felt so real. It was real! And I love seeing those real moments on the show.
Connor and Whitney
At first I thought the whole Connor leaving and then Whitney showing up two seconds later was really stupid because the producers obviously could have stopped that. They completely control when someone walks down the steps and they definitely could've told Connor he had to wait to leave for another hour. And also, it's just so late in the game that introducing new people at this point seems silly.
So as I was watching it play out I just thought it was a little bit of nonsense. But then when the whole scenario played out and when she went to his hotel it actually seemed very romantic. I'm happy for them!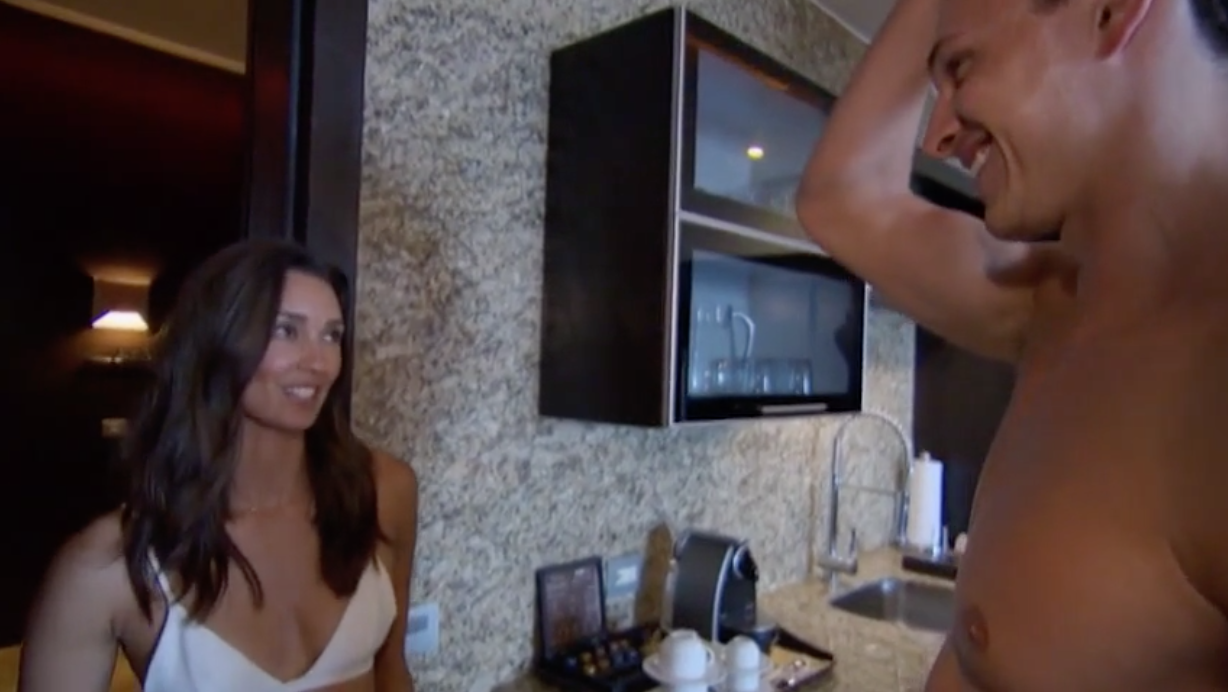 Rose Ceremony
I wanna spend the rest of the blog focusing thing on the more serious couples, but I will say I thought it was kind of weird that Bri accepted Matt Donald's rose and that Angela and Chase gave each other a rose. I just don't understand why they exchange roses and then broke up the next day. Do you guys? I feel like Chris Harrison made it clear that accepting that rose was a very serious step. And then the next day all of a sudden became even more serious?
I get that Chris Harrison came in and told them that they needed to be ready to take the next step as a couple. Did they realize there's only a couple days left to Paradise at the rose ceremony? I just thought it was weird that some of the couples that have only been there for a few days or a week or two gave each other roses.
And why the heck did Matt give his rose to Bri and not Sydney? He even said that Bri was the supermodel and he had a better conversation with Sydney. I feel bad for Matt cause I just think he's super inexperienced with relationships and he's choosing like a 12-year-old boy instead of a grown man. He's got a lot of growing and learning to do – I think we can all agree on that. And good for Bri for calling him out on only seeing her physical appearance and not what's on the inside. I love that she said that! She has so much MORE to offer than just her looks.
Tayshia and JPJ
Never in 1 million years did I think I would get so emotional about the relationship! But watching them talk to each other before they said goodbye really showed how much admiration and love they have for each other. I really teared up! I guess what I thought confusing is it was so obvious that she really cared for him. So why did she feel the need to completely break it off with him? Is that because of the pressure of the show? Like, I get that she shouldn't have to feel ready to get engaged to him, but it seems pretty obvious that in the real world she might still date him. Right? Or maybe not? I'm really interested to hear what she has to say the reunion special.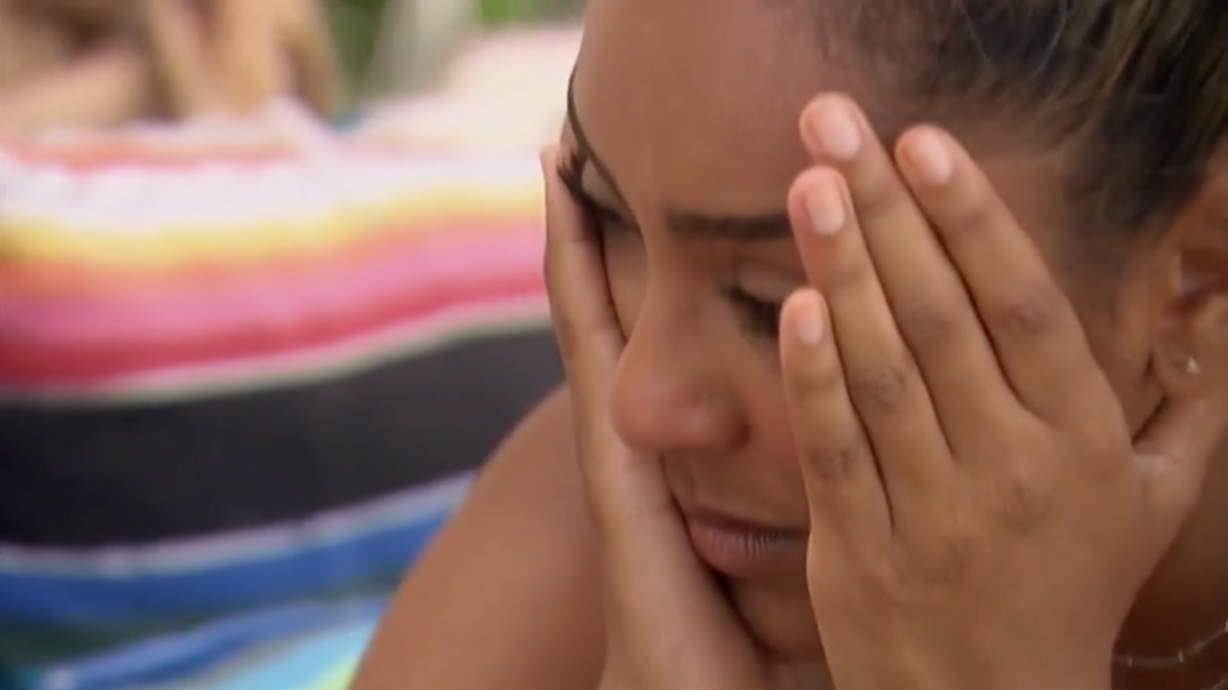 Demi and Kristian
What can I say about the relationship other than I really admire it. They had incredible communication and understanding of one another. Every time Kristiann talks she's putting Demi's feelings first. And vice versa. I feel like whenever Demi is talking, she's talking about how it's not fair to Kristian that she's having a hard time opening up. I just love that they always put the other one first. How awesome would it be if they got engaged this season?! I'm really rooting for them!
Chris and Katie
I think they both seem like great people and I hope they both find the person they're meant to spend their life with, but something in me says it's not going to be each other. Are you feeling that way too? If they do end up getting engaged, then I am so happy for them!!!
Who Will Get Engaged?
OK so now here begs the question, what couples do you think you're going to get engaged at the end of the season? Right now for me, the only two that I think will get engaged are Demi and Kristian and also Hannah and Dylan. Hannah and Dylan are pretty obvious at this point, I think. And do you think there's a chance JPJ is actually proposing to Tayshia at the reunion special? I have a feeling he's not and he's doing something else silly but I'm dying to know! And I am so so so so so excited that we are finally going to find out who the next Bachelor! Who do you guys think it's going to be? I really think it's going to be Peter but I feel like we've been so surprised in the past that I just don't know. Let's discuss everything below! Before we do, I have to tell you about the giveaway on my blog right now!
Giveaway!!!!
I am so excited to share that when kidpik saw the reaction to my curated box on their site, they were so excited that they offered for me to GIVE ONE AWAY to one of you! All you have to do to enter is go to my kidpik blog post and leave a comment about YOUR little girl's style (or a little girl you want to gift it to!). Share anything you want and you are entered to win!!!!! Just make sure you leave the comment on the kidpik post, not this BIP one 😉 Click HERE to go to that post. So cool that they offered to do this today! It wasn't planned at all! Molly's dress below is from kidpik. So cute right?!?!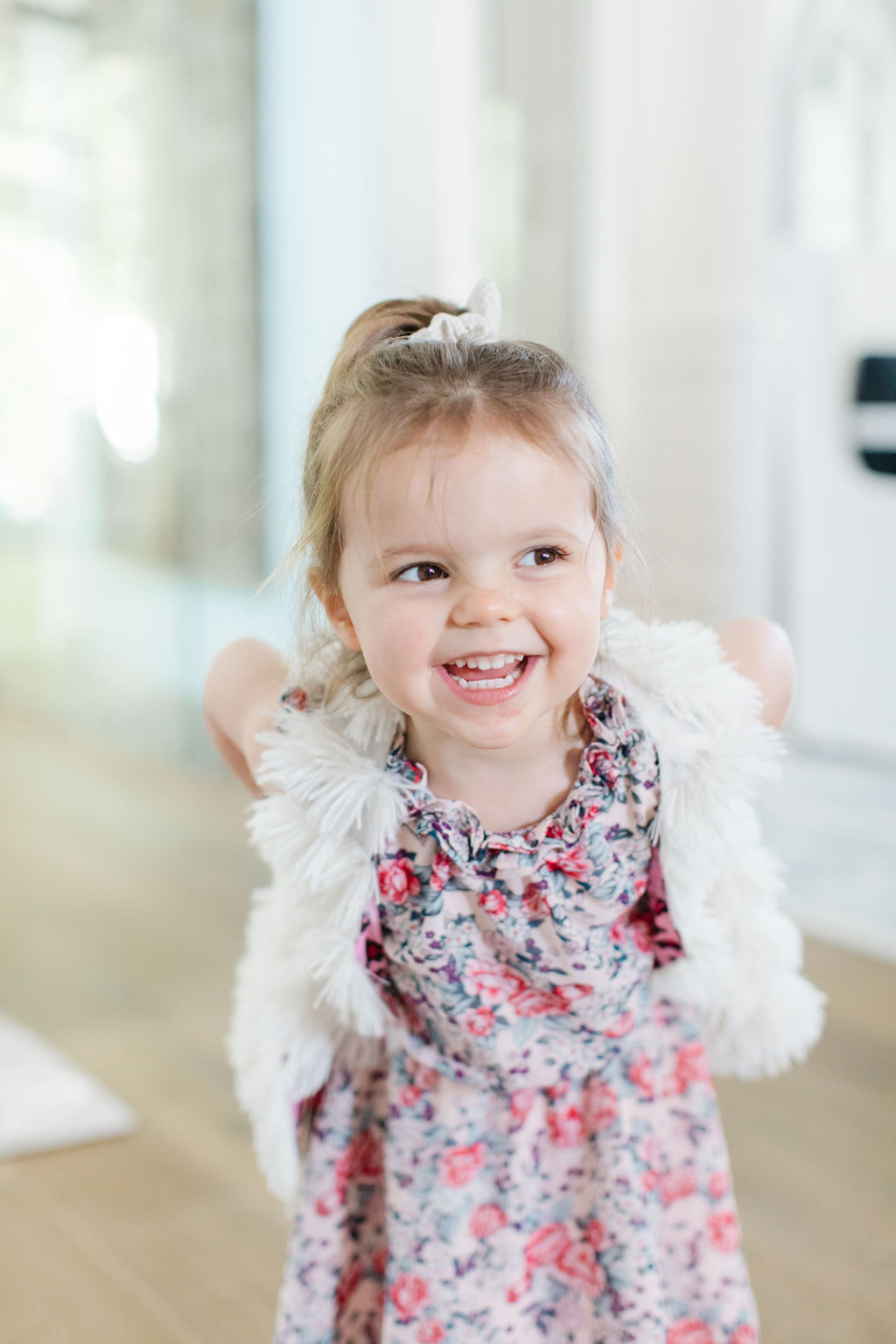 And if you don't win you can buy my curated box! It is normally $95 but with my code AliLuvskidpik you get $25 off so it's only $70!!! And that is for 7 mix and match outfits PLUS shoes! An insanely good deal! Plus, they are all my favorite kidpik pieces on Molly.
Weekly Outfit Recap
If you've been following along all season, you know that I like to end my posts with outfits from Bachelor in Paradise cast members, and give you a recap of my outfits from the past week. I'm still hunting down a few more outfits from today's episode, but I will update that right here soon!
In a few days I am going to be blogging about a pair of brown suede boots that I recently got, and 5 totally different ways to wear them! I decided that I am going to share one of the looks with you today as a sneak peek!
I feel like this outfit is perfect for the weather here in California right now! It's almost fall! And with the welcome of PSL's, we also want to feel fallish and dress in warmer tones and outfits, but the air is still slightly on the warm side. That's where an adorable white tank comes in! Loose white tanks like this can be easily paired with jeans, and they are so flattering! Adding boots to this look takes it from summer to fall, which is key!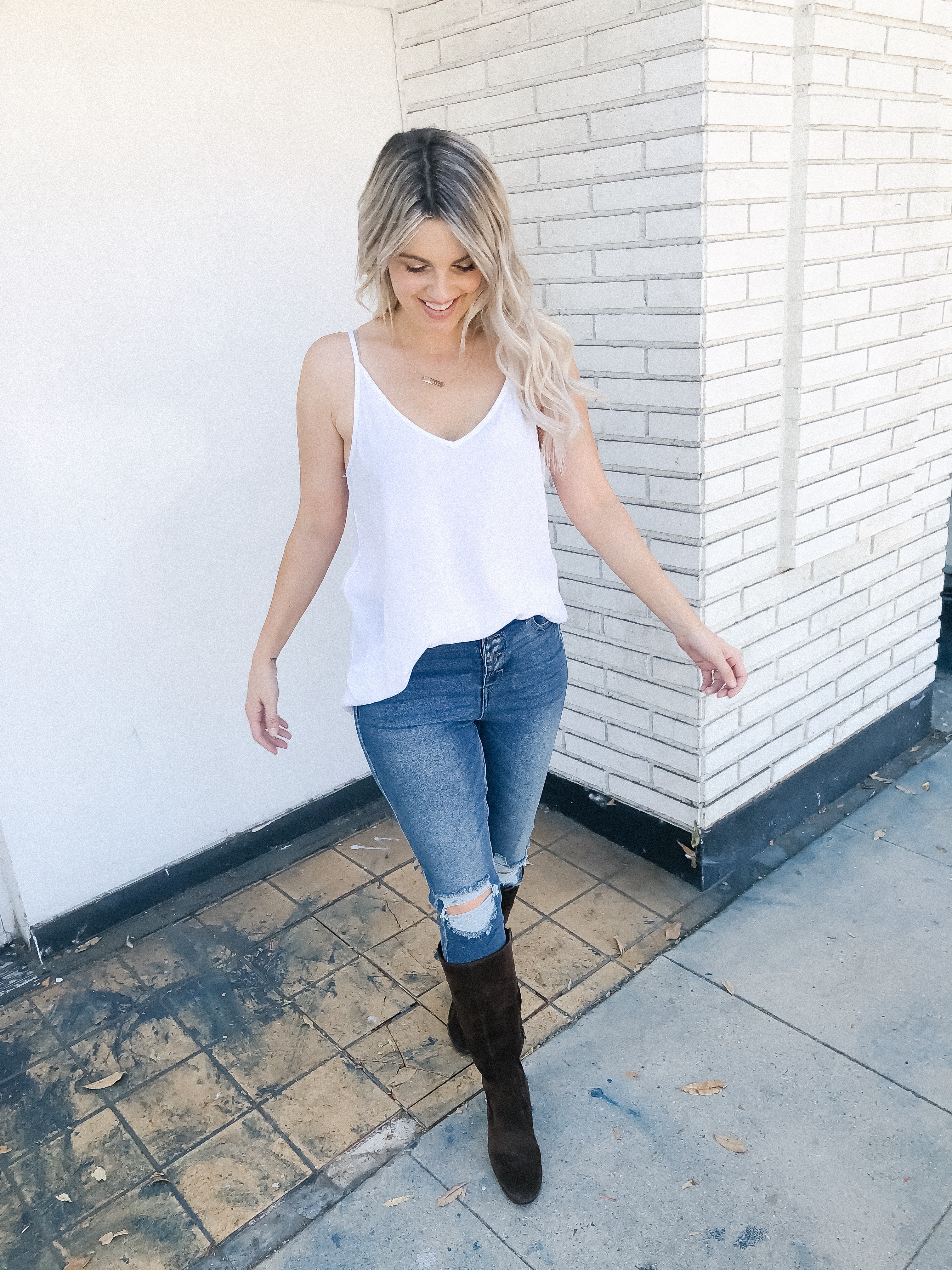 1. WHITE TANK | 2. RIPPED JEANS | 3.  BORN ELBE BOOTS
My exact tank is sold out, but I found one that is super similar that I think you guys will love! Both crepe and chiffon camisole tanks are great to complete this look, and the one that I found has both! I love that the chiffon lines the top hemline!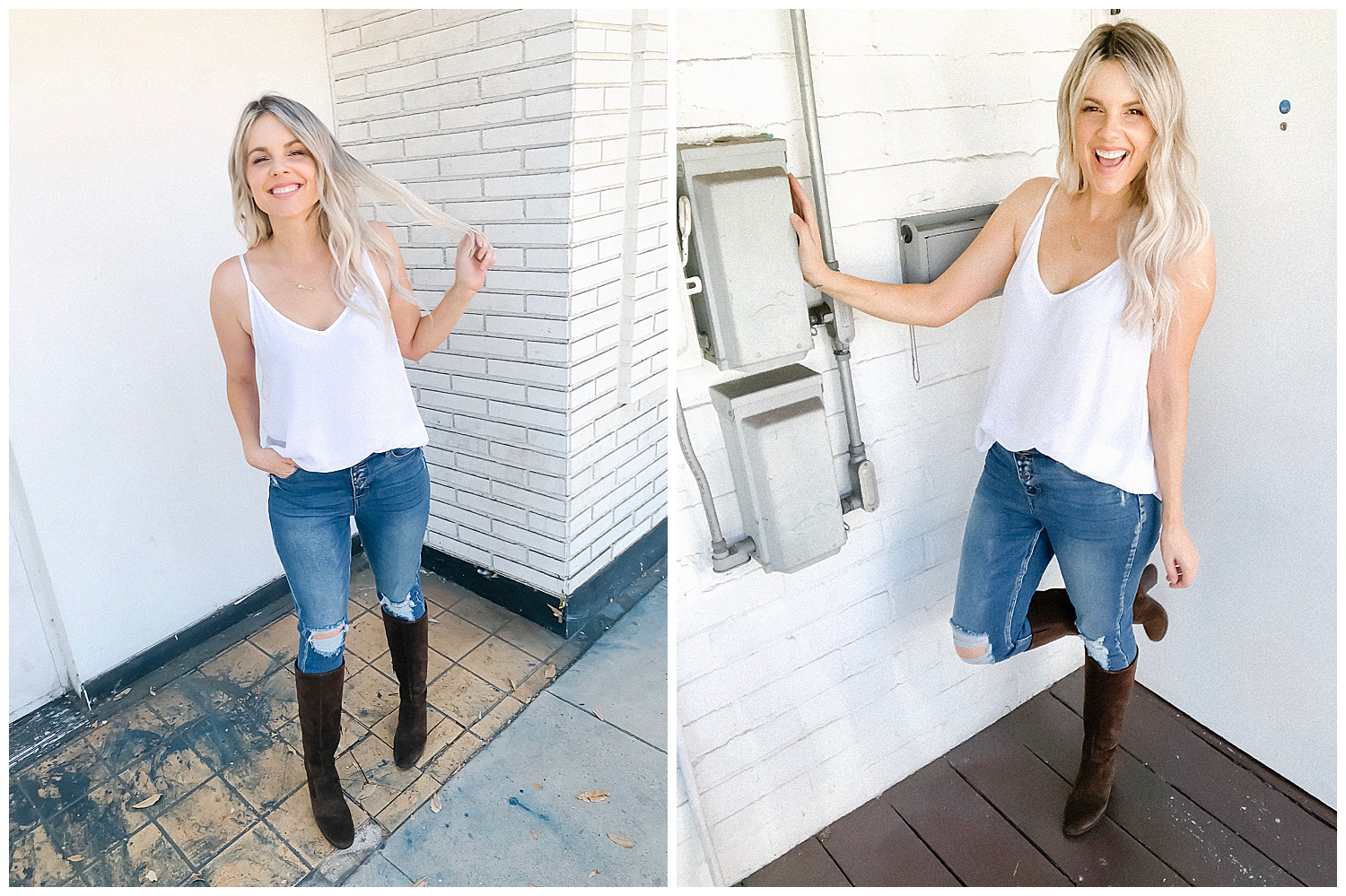 These ripped jeans are only $17…and I LOVE THEM! They are so flattering! There is the perfect amount of tearing in just the right spots. Sometimes you get ripped jeans and the tearing is just a bit too much, but these are perfect. I am normally a size 28 and these are a size 11 for reference when you are ordering! Check out the reviews on the site and you will see how much people love them!
When we were taking these photos, my photographer, Ashley, thought that I was wearing a pair of jeans that she has at home… that are over $250! I think this is the pair that she was talking about – this brand has a ton of ripped jeans so might be slightly different. But WOW, I would say that this is a pretty close dupe. And at $240 less… count me in!
Thanks for visiting my Bachelor in Paradise post, I can't wait to see who is going to end up engaged! Eeep.