Forgive me in advance because today has been an absolutely insane day so I'm not gonna hit on everything that happened on the show tonight. But I did want to touch base on a few things (like Dean coming back!). And I kind of skimmed some of the episode so I also apologize if I missed anything big! Let's jump right into it.
Tayshia and JPJ
After last night's episode, I honestly thought she would be sending herself home at this rose ceremony. I was kind of surprised to see her give JPJ  the rose. Nothing to do with him really, but just because she seemed so much more into Derek last week and then she sent him home and then JPJ hasn't really shown the best side of himself since then.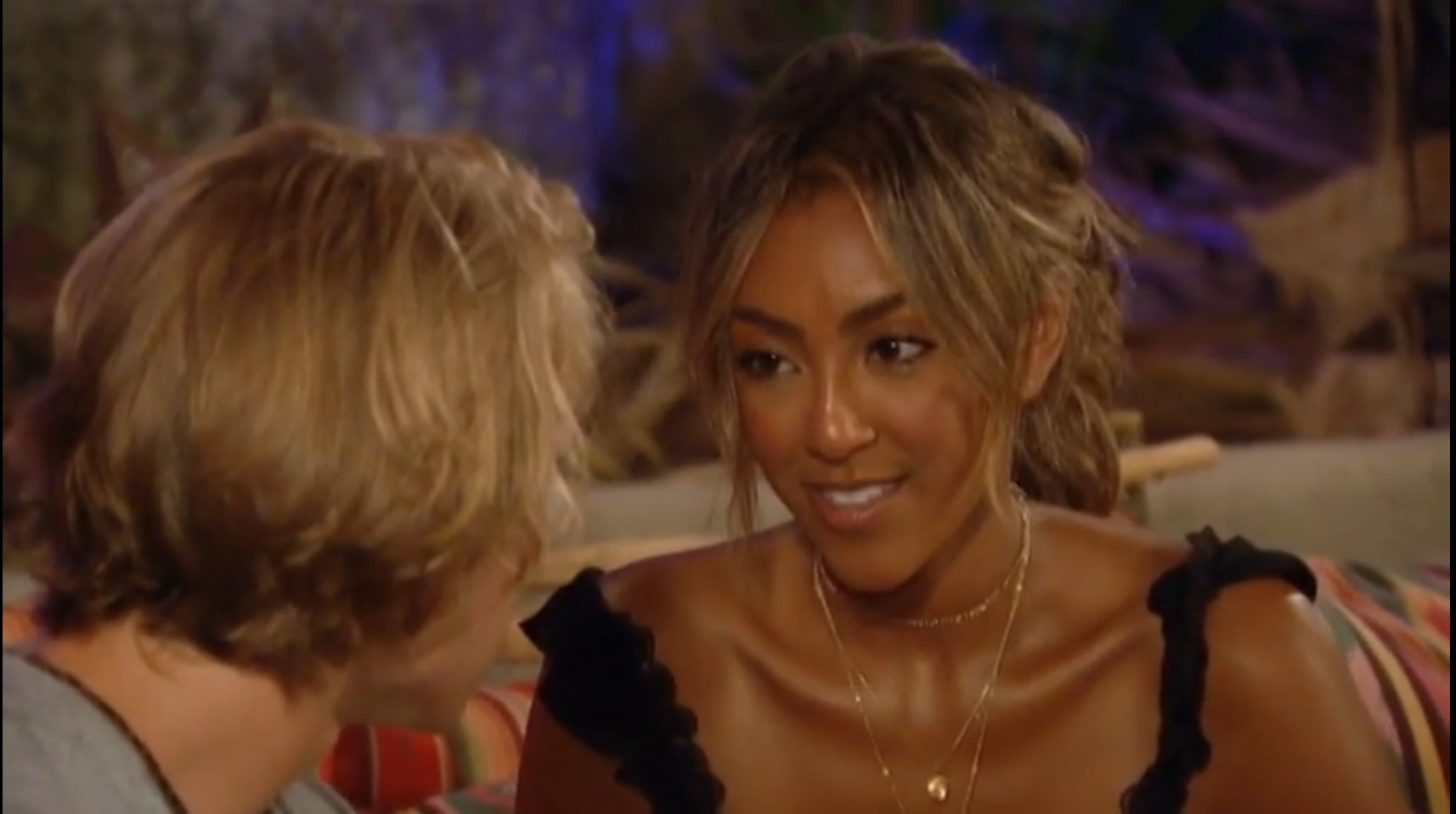 But at the end of the day, if she sees something in him I think that's great! I said it before and I said I'll say it again. I think JPJ must be a good guy because the cast members absolutely love him! However, he made some pretty big mistakes recently and I just hope he learned from them. And I can't go without saying how impressive it was that he caught a fish with his bare hands. I feel like that's crazy impressive!
Kristina and Blake
The first thing that kind of bugged me about the Kristina and Blake situation was that when Blake went to the bar and asked her to talk she immediately said "no", like it was weird that he was coming to talk to her about getting a rose. When last week literally she came up to him multiple times and asked to talk so she could get a friendship rose. So I don't get why she was so put off by him wanting to talk to her in the first place. But I'm just going to say it was editing or there was something going on behind the scenes that we don't know. Like maybe a producer tipped off her off to the fact that he wants to talk to her about something serious. Who knows.
But also what bugs me about the situation is that we hear Blake stressing about possibly going home the next day and then all the sudden he has this revelation about Kristina. I'm not buying it! It really kind of feels like a Hail Mary at this point. All his cards have been played and this is his last option.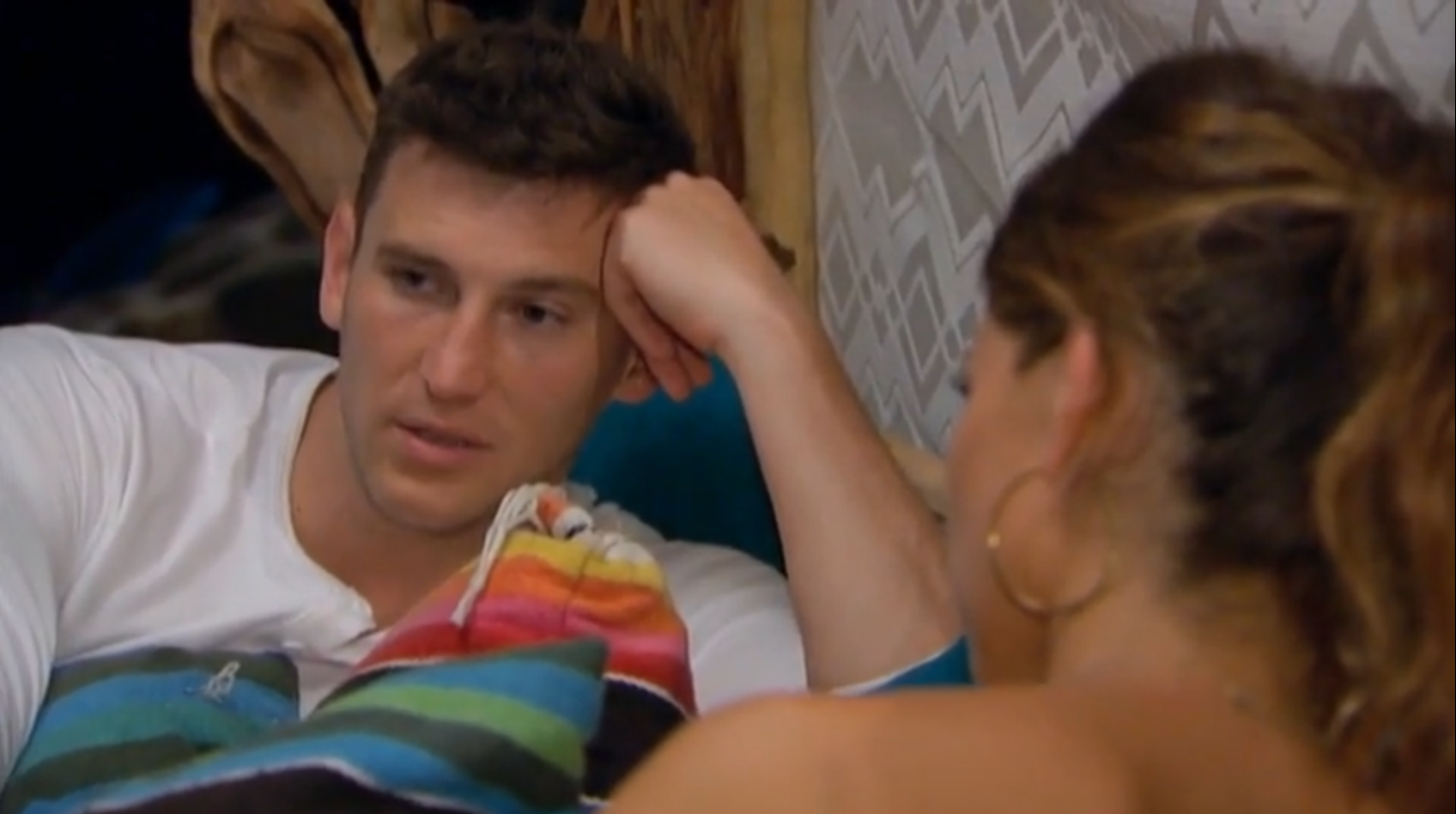 I'm happy that Kristina is hesitant about it. She should be. At the same time this is the girl that used her first date card to take Blake out on a date just to call him out. And this is the same girl they gave him a rose after Hannah chose Dylan so she could, and I'm paraphrasing here, watch him suffer. It just makes absolutely no sense in my mind why a girl that's saying all of these things and expressing a lot of anger and, quite frankly, hate towards Blake, would then consider dating him. As you guys know, I've always thought the Kristina was more into Blake then she was letting on and that's why she was doing all of these things. But the whole situation is just not good and extremely confusing.
I never like to be the type of person that inserts my opinion about whether or not a couple should be together. I always say that's up for the couple to decide not me or anybody else. But I truly do not want them getting together. And they shouldn't! This is not really a healthy foundation to start a relationship on. What do you guys think? Is there something I'm not seeing? I'm totally open to different opinions because I'm honestly just baffled by the situation.
Sydney and Matt Macdonald
Oh my gosh I was just dying over the whole kiss situation. It was hysterical! Poor Matt. He's such a dork and I love him for it. And the montage when he was kissing her had me crying laughing! Well done editors!
Caelynn and Dean
I didn't even have to watch the scene to know how much I was going to love it. As you guys know from my post last night, I was super excited about Dean coming back. And when he told the story about him getting on the plane home and then driving to the Grand Canyon I just about melted. What an incredible story! It's not like he went back to his hotel room in Mexico and then realize he wanted to be with her. He left. Drove 8+ hours to the Grand Canyon and sat there and thought about her. It's just so romantic to me! And I mentioned this last night too but I feel like Dean could be George Clooney and Caelynn could be Amal.
Every guys a bachelor until he meets the right girl. I think Caelynn is that girl for Dean. I kind of think it's silly that they left it as a cliffhanger because it's so obvious to me that Caelynn is going to give it another shot with him. When she put her hands over her face to show distress, you could see her smiling under her hands. She is so pumped that he is back and cannot hide her excitement. I'm sure it's gonna be hard for her pull the trigger on Dean and say goodbye to Connor but I know she's going to do it. I cannot wait to watch next week! And that's because I think Caelynn is leaving and she's leaving with Dean.
Clay and Angela
I wanted to end with them because Angela is going to be on our podcast tomorrow morning and she gives me some insight into the conversation. You guys know I love Clay, so I think I probably cut him some slack when I shouldn't. And this is one of those instances. I understand what he was trying to say. For example, when he was talking about going to the gym. She mentioned that he's there for four hours and that's not for her. But I think what he was trying to say is that he wanted someone to share something in his life that's really important to him with. Which is going to the gym. I don't think that's a bad thing and that makes complete sense to me. I talk about this on the podcast so I hope you guys listen.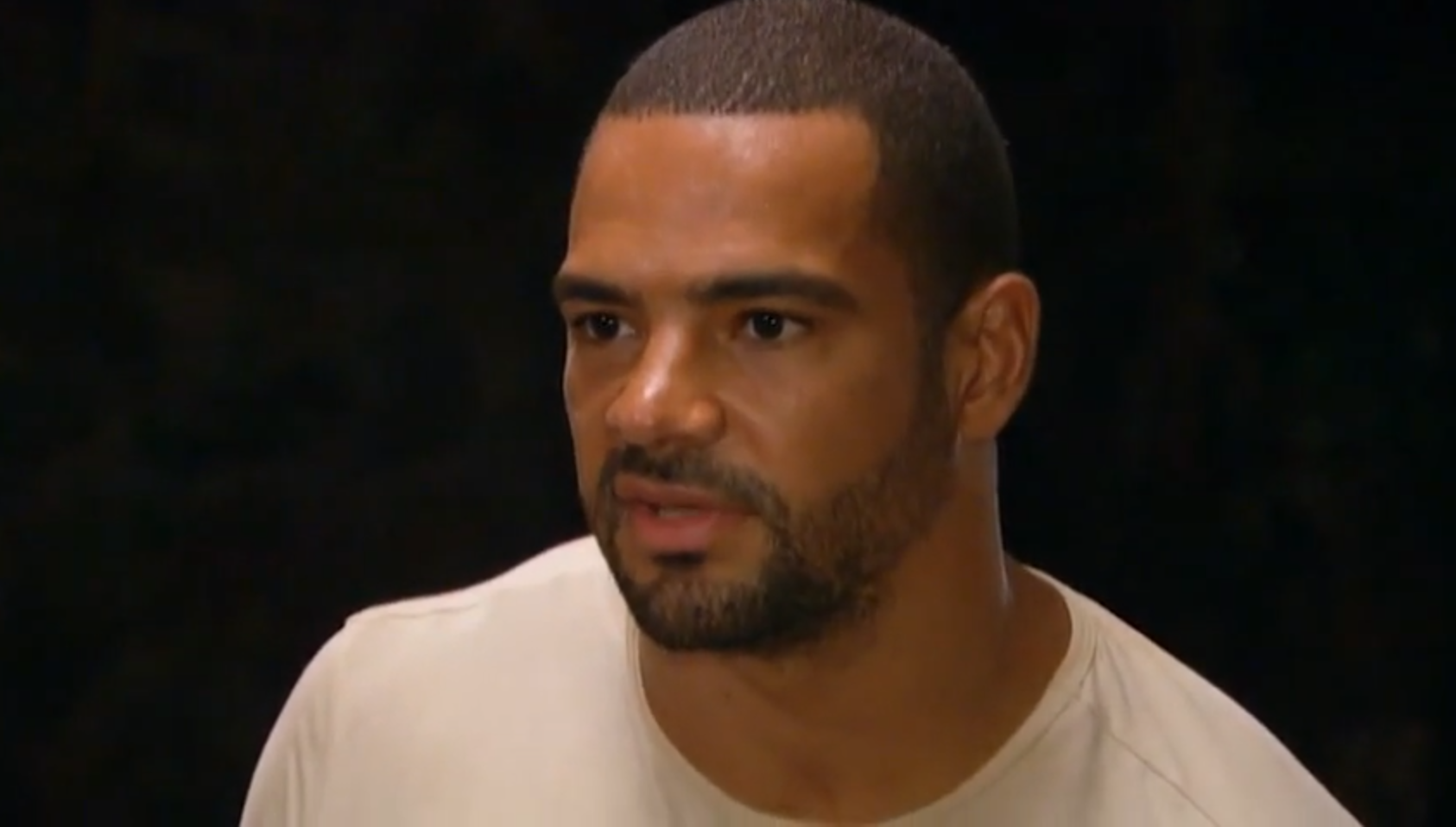 But where he kind of lost me is where he said he was upset that her only goal is to be a wife and mother. He just should not have brought those two things into the conversation. Anyone out there that is a parent knows firsthand that it is the most selfless and difficult job in the world. And there's nothing wrong with that being your main goal in life. Heck, it's always been one of my main goals in life to be a mother. So Clay made a big mistake by making it seem like that wasn't a big enough goal for him.
Instead, I wish he never mentioned that because what I think his point was that he didn't feel that Angela had ambition to do anything professionally in her life. And I'm not saying that he's right or wrong in feeling that way. But I do think that he is entitled to look for what he wants in a partner. If he wants someone that's ambitious and to have a career, then he should find someone like that. I don't think he's wrong for wanting that. But I'm not sure he explained it to Angela in the best way he could have. Are you guys following? What do you think?
And like I mentioned, Angela's gonna be on the podcast tomorrow and it was very interesting to hear her take on everything. It was especially interesting to me to hear about the timeline of their break up. For example, they broke up three months before he went on the show, but casting for the show starts a few months before anyone goes on the show. Except in this case, which Angela explains onthe podcast. And you guys definitely want to hear how it all went down.Right now if you think she shouldn't have gone on the show, you might think differently after listening to the podcast.
Here's the link for the podcast if you don't have it yet! Bachelor Happy Hour
Final Thoughts
Again, sorry if I missed anything crucial. I really had the busiest, but best, day today! But eeep can't wait for next week, especially to see what happens with Dean and Caelynn. I am pretty sure they are leaving Paradise together, what do you think? Are there any parts of this episode that really surprised you? What do you think about the Angela/Clay situation? There is so much to discuss! Let's chat!
This Week's Outfits!
I've compiled some outfit items from last night and tonight's episode for you! Plus, don't forget to check out my post all about the best high-waisted jeans. I've featured a pair below for you!
HALEY

ANGELA

HANNAH

 1. $12 BIKINI SET | 2. FLORAL TOP | 3. FLORAL SHORTS
DEMI

 1. REVERSIBLE SWIMSUIT TOP | 2. REVERSIBLE BOTTOMS | 3. DANGLE EARRINGS | 4. WRAP BRACELET | 5. STONE BRACELET | 6. STONE NECKLACE
BRI

 1. GREEN SKIRT 
TAYSHIA 

 1. POLKA DOT BIKINI TOP | 2. POLKA DOT BOTTOMS
KATIE

 1. WHITE COVER-UP TOP | 2. METALLIC BIKINI
This is one of the jeans from my favorite high-waisted jean post!! I love these Paige high-waisted skinny jeans! They are super flattering. I'm not even kidding you, when I put them on my husband, Kevin, immediately told me that they looked amazing on me. That right there was more than enough reason for me to want to keep them. And they totally give me a really round perky bum! Ha! And I'm all for it 😉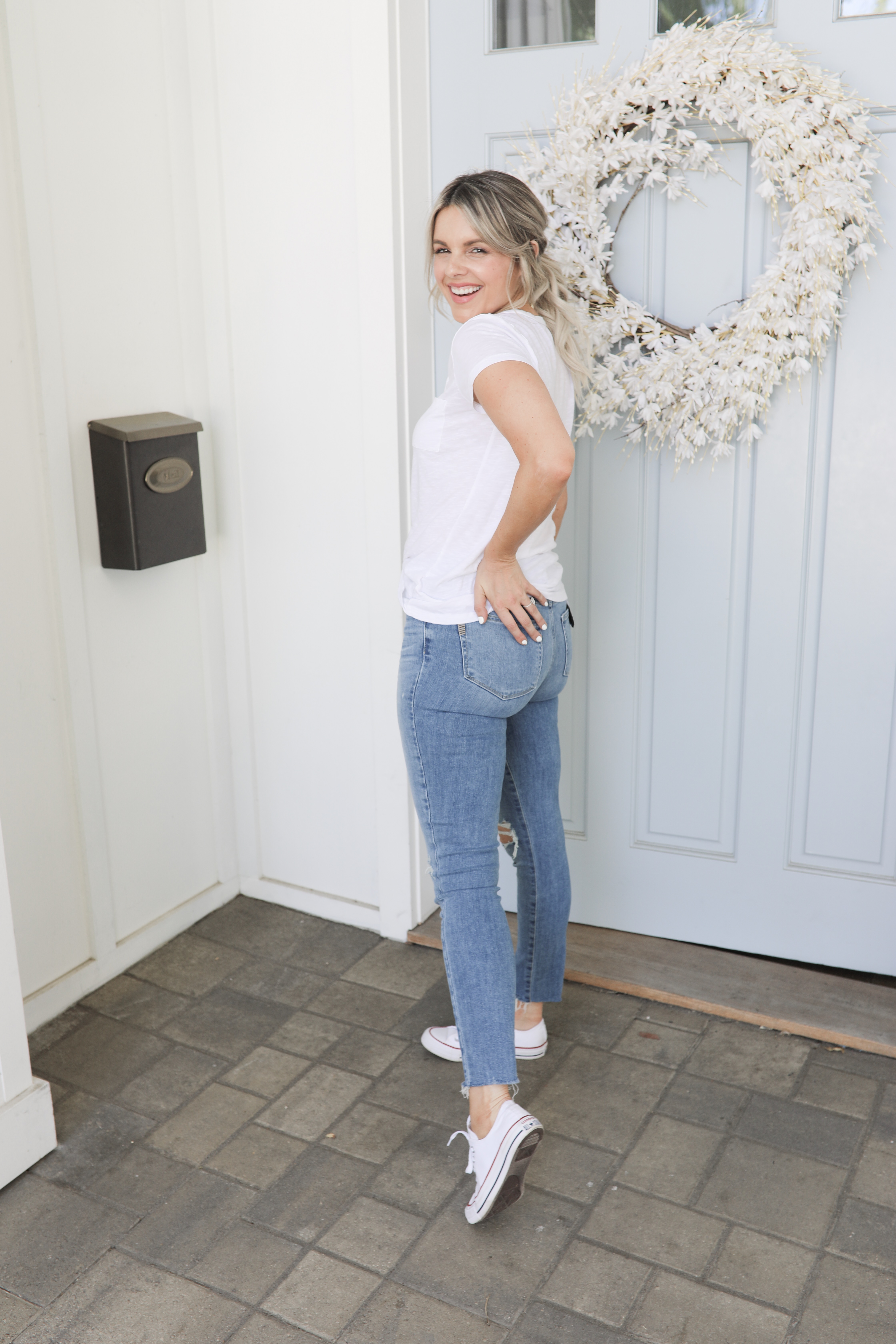 1. CALSON WHITE TEE | 2. PAIGE JEANS | 3. WHITE CHUCKS
Another reason I wanted to share these jeans is because they are slightly low for a high-waisted jeans. And the reason that's important to know is that if you don't have a long torso like I do, these might actually be very high-waisted on you.
One of the many reasons that I love these jeans so much is that they have a really great color and I think the places where they are distressed is just perfect. I love it around the knees and then the little bit of distressing at the ankle. You probably recognize these jeans if you follow any bloggers because I feel like a lot of bloggers own these jeans. Just read the reviews on Nordstrom's site. People LOVE them!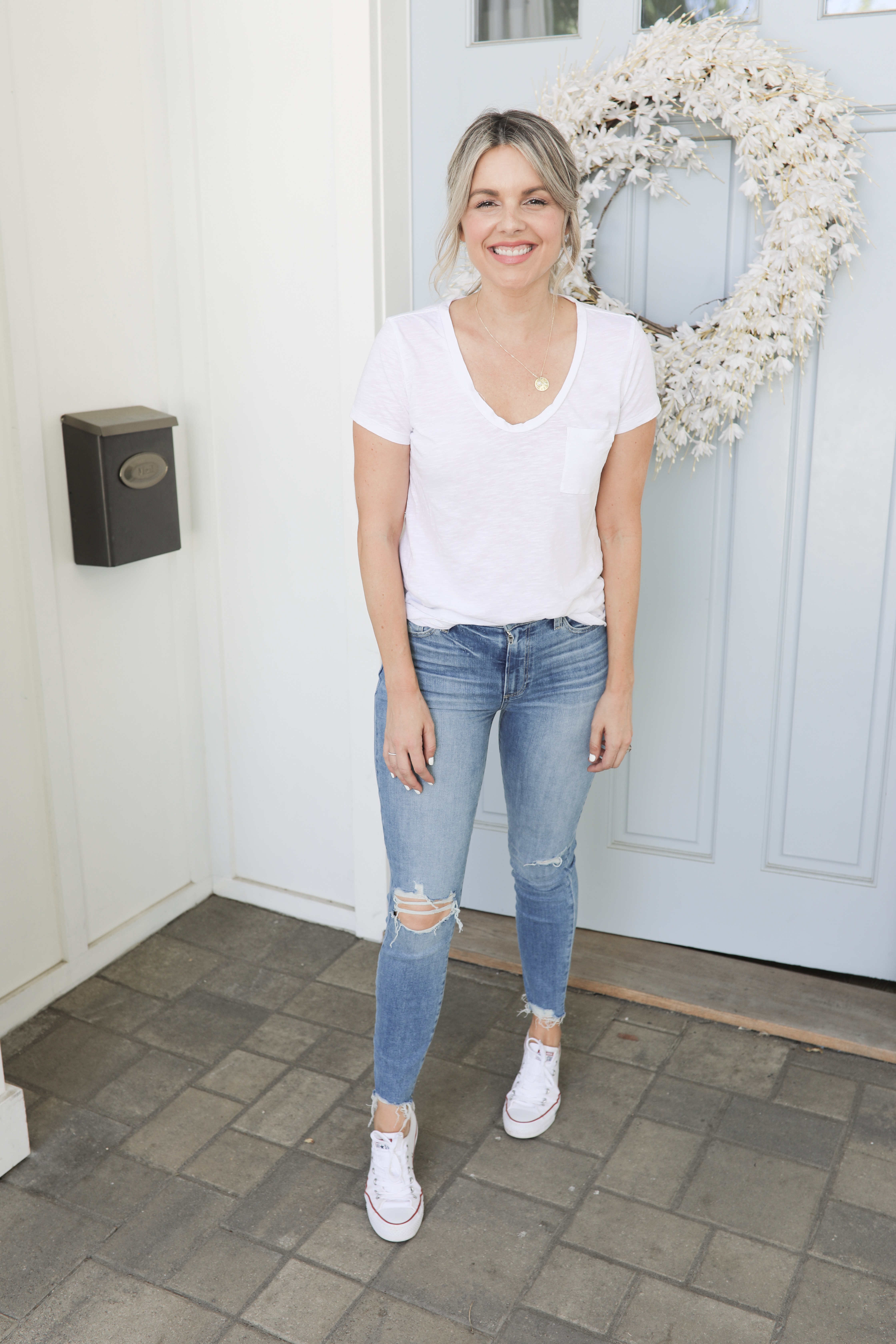 1. CALSON WHITE TEE | 2. PAIGE JEANS | 3. WHITE CHUCKS
All that said, they're pricey. But the great thing about Nordstrom is you can buy them, try them on and send them back if you don't absolutely love them. I normally don't believe in spending over $200 on a piece of clothing but jeans are something you could have for 10+ years, so I think it's OK to justify the higher price if you can afford it. Nordstrom returns for the win!
These are TTS. I got a size 28 and I am normally a size 28.
Thanks so much for coming by my Bachelor in Paradise post today! Don't forget to check out the podcast tomorrow morning!