I always say that there is so much to discuss, but truly, we haven't had an episode yet where there isn't a ton to discuss! Ha! Paradise is full of things to chat about!! Based on past seasons, we can assume that there are probably only a few episodes left. That is just so crazy given where we are with some of these situations (come on, JPJ!). I can't wait to hear what you guys think about tonight's episode!
Angela Showing up
I totally get why it seems like Angela's being totally manipulative by showing up in Paradise. And in a small way she is. Clay was there first, so given their history and how much he broke her heart, it probably would be best for her to bow this one out (even though producer's obviously asked her to be on the show). But here's the thing, being on Paradise is a huge opportunity! The first reason being that you're given the opportunity to potentially meet someone, which I'm sure she's desperate for because she so heartbroken over Clay. I would say the best way to get over someone is to date somebody else. That might not be the best advice in the world, but it always worked for me in the past. I'm not saying to get in a super serious relationship right after dating somebody. But date just to keep yourself busy and take your mind off of the terrible break up.
The second reason I don't blame her for showing up is because going to Paradise leads to a lot of opportunities. Look at Ashley I and Jared. They are absolutely killing it after being on two seasons of Paradise. Meaning they are MARRIED now, but they also both have huge social media followings, work with a ton of businesses, and I'm sure are making A TON money. And good for them! I think that's awesome! So I think for anybody to go on the show and not think about the opportunity is just naïve.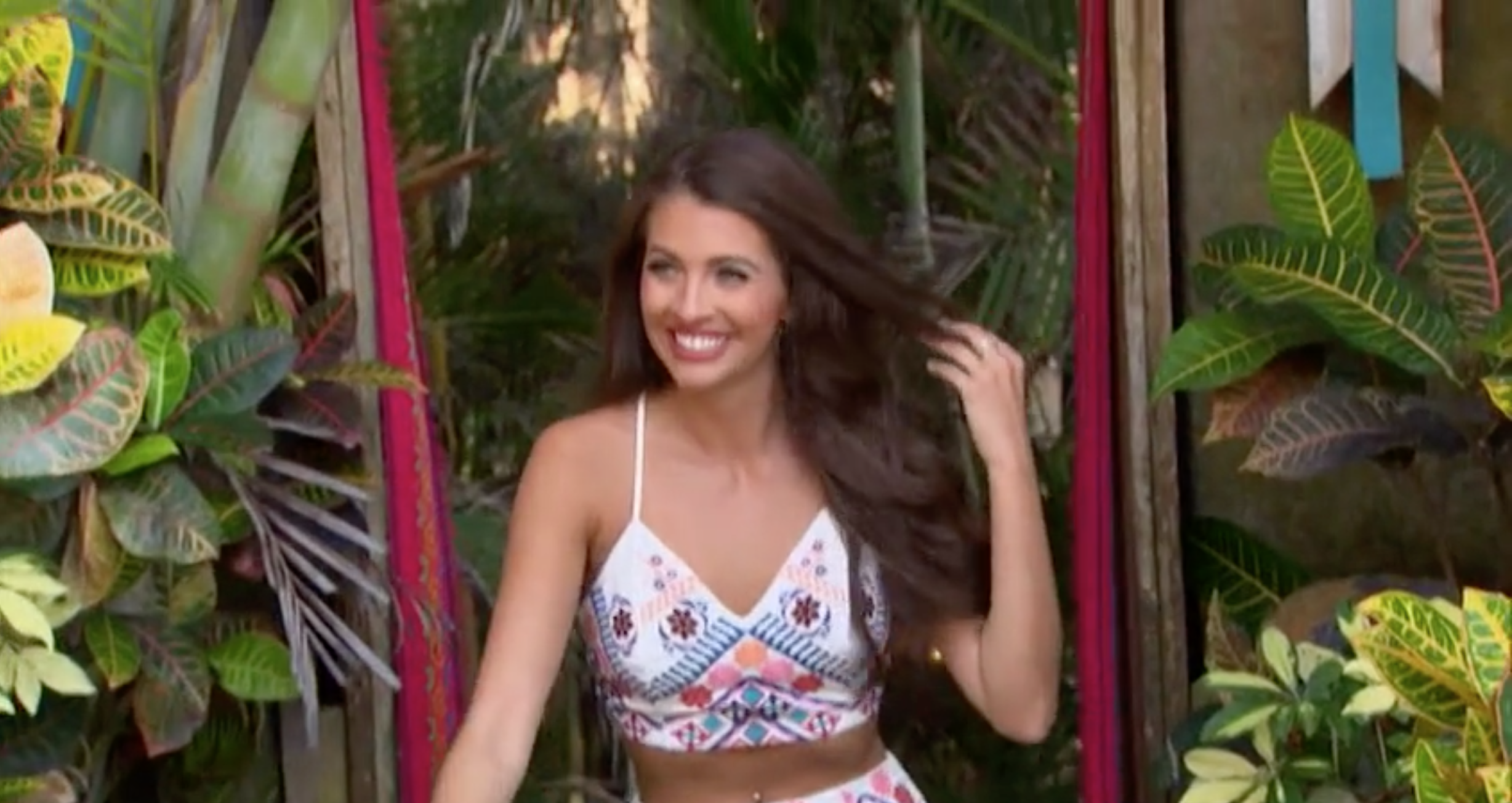 And I know a lot of you don't want to hear this because so many of us are romantics and want to think the show is all about love, but it's just not these days. If anyone out there is going on the show and saying that they aren't thinking about the opportunities that it comes with, I think they are being foolish. I think your first and MAIN reason for going on should be love, but I would definitely be thinking about all the upside in addition to love that comes along with it. Love to know what you guys think about this. Do you agree with me? Do you think it's possible to even go on the show and not think about the upside of instant Instagram success? Or do you think I'm terrible for thinking this way? Ha. Kinda kidding. Be nice in the comments please 🙂
Anyway, back to Angela. I just think it's kind of unfair to her for us to say that because Clay got there first she shouldn't be there. I'm sure both she and Clay got asked to be in the season from the get-go. It's been up to the producers when they choose to introduce different players into Paradise. From what I understand, everyone is flown down to Mexico at the same time and kept in a hotel and then brought to Paradise as the season unfolds. The producers decide who are the first cast members on and then as the drama unfolds that determines who comes down the stairs next. So what if Angela was the first one down there and then Clay came later. Would he have to go home and not take the opportunity just because she was there first? I'm just not sure I agree with that. But with all that said, it's so awkward.
JPJ
He made a lot of HUGE mistakes up until this point. Demi was so right when she was talking about how hypocritical he was talking about how Derek disrespects women when he was so completely rude right to Haley's face. And I definitely don't think Derek is this monster that JPJ is trying to make him out to be. I have not seen Derek treat a woman a single woman in Paradise with disrespect. But I have seen JPJ do it. We saw him do it with Haley.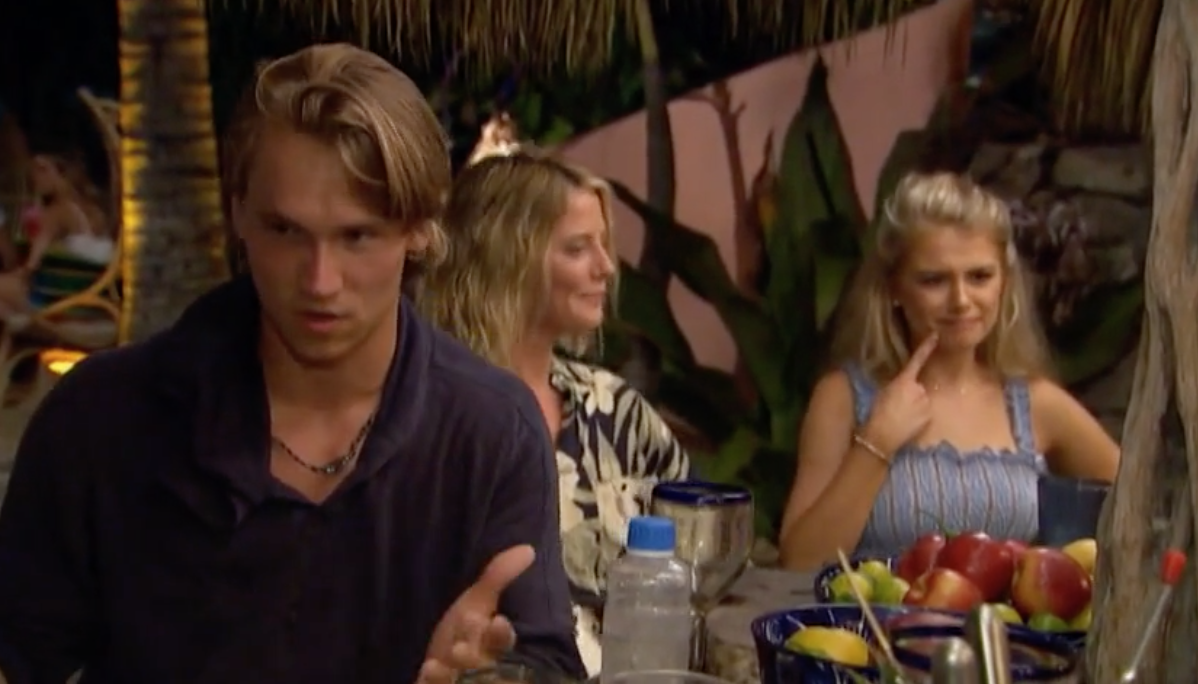 After she explained to him how she felt misled by him, he patronized her by telling her she was a "big girl" and can figure it out. What a terrible disrespectful thing to say to her. I'm just so unbelievably disappointed in him. Especially because I like him and I hate this side of him. I know he can do better. Do you think Tayshia will give him a rose next week? I'm not so sure, but a part of me thinks she will. Let's talk about Tayshia quick…
Tayshia Says Goodbye to Derek
I think I've been pretty confused up to this point as to why Tayshia never jumped in on the JPJ and Derek drama. I mean I get that she didn't wanna get involved but it was really completely about her. So I kind of just wish she stepped in and told them to quit it. Or really told JPJ to stop. I guess I'm just confused how nobody has told her what a complete jerk JPJ has acted like. She seems completely unaware of how awful he's been. That said, I was really sad to see her tell Derek that she wasn't interested. But I'm glad she did when she did. And I'm glad Derek sent himself home. I think at that point however, he knew he probably wasn't getting a rose unless by chance some girl walked down that he had it off with. I think he was just over it at that point. He had gotten his heart broken twice in Paradise and didn't want to do it anymore.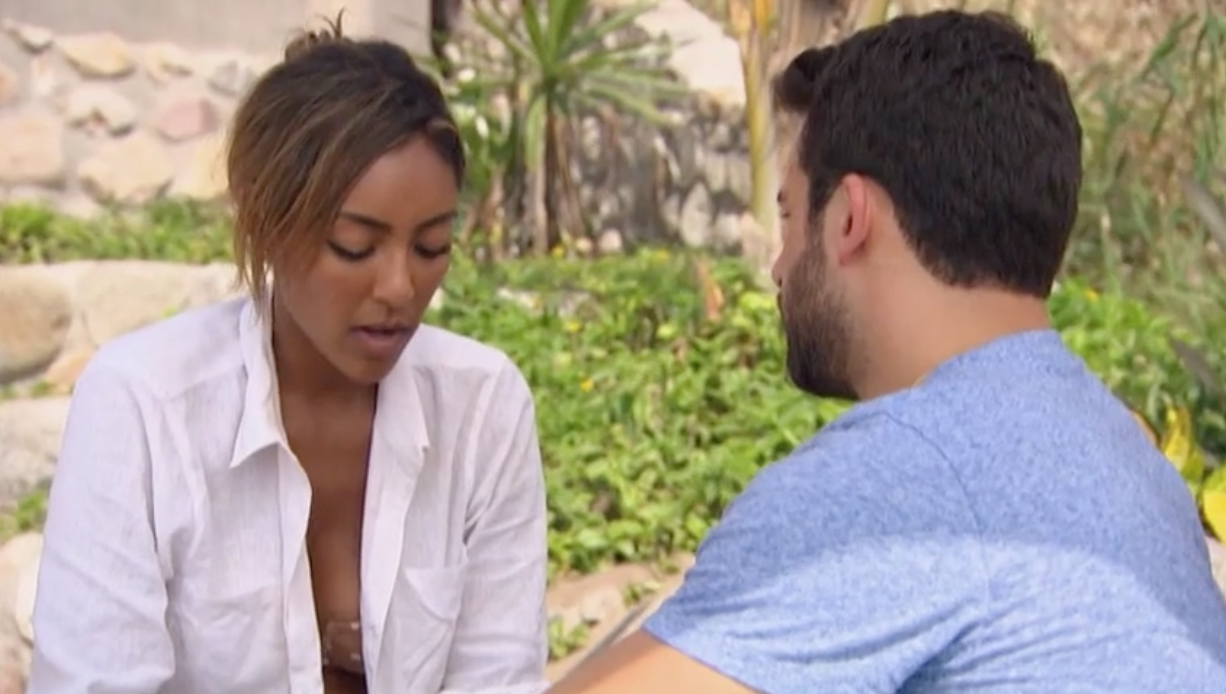 I know a couple weeks ago a lot of us thought that Derek would be the next Bachelor but because of all the JPJ drama, I'm just not sure he will be. I think the way he left definitely put him in a better light again. But I'm not sure if the Bachelor franchise will want to take the chance on him after JPJ said numerous times that he said he slept with women who follow him on social media. Even though once again, I don't think Derek said it that way. I think he said it the way he told us he said it. Which he said that he could but chooses not to. Not necessarily a great thing to say but not terrible either.
I truly don't know if Tayshia's going to give JPJ a rose at the ceremony. I think she's gonna send herself home and then my guess is that JPJ will probably send himself home too. What do you guys think?
Old Matt Donald!!!!!!!
It just shows how much of an impression he made even after being sent home the first night. Everyone knew his name when he walked down the steps. I was SOOOOO bummed when Hannah sent him home the first night. I even said in my blog that I hoped to see him in Paradise and here he is! Yay! I am so so so happy for him.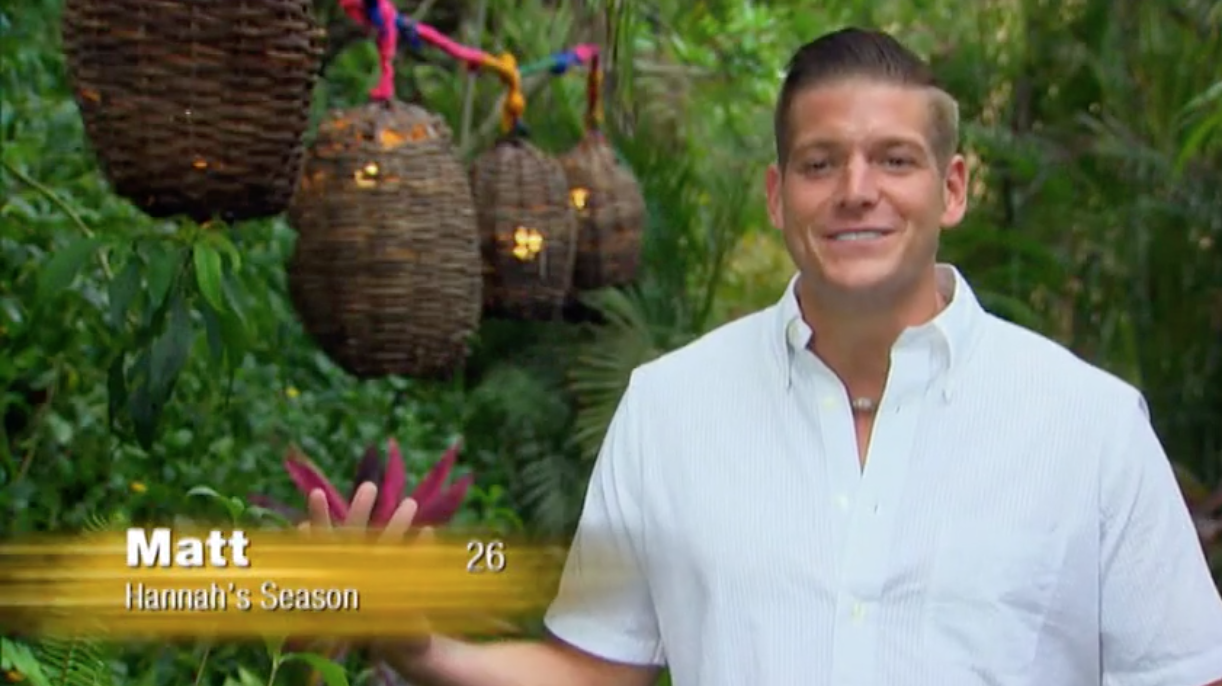 But I will say, after seeing him in paradise I kind of get why Hannah didn't give him a rose. He's got a lot of nerd in him. And I'm not saying that's a bad thing. I like nerds but maybe Hannah doesn't. Ha ha! I couldn't help but laugh out loud when his voice cracked and then I hate to even say this, but I kind of rolled my eyes when he said he didn't want his mom seeing him kiss somebody. I think he has a bit of growing up to do. And I mean that in the absolute nicest way possible because I truly do adore him.
Next Week
I am so confused by the Blake and Kristina thing. I never want to root against a couple because only THEY know what the truly have. But I just don't see it at this time. I think there is too much hurt there.
I'm so excited that Dean is back! I said it last week and I'll say it again but I just feel like him and Caelynn are meant to be together. I don't know why I feel that way, I just do. I'm curious how some of you read the situation. Last week it seemed like a lot of you thought they were a meant to be couple as well. Are you guys still feeling that way? Let's discuss everything in the comments below
This Week's Outfits!
Also, I wanna link some of the fashion from the show like I do every week.
CHRIS + KRYSTAL'S WEDDING
 Over the past week, I was able to find a bunch of the dresses that people wore to the wedding, so I will link them below!
ASHLEY I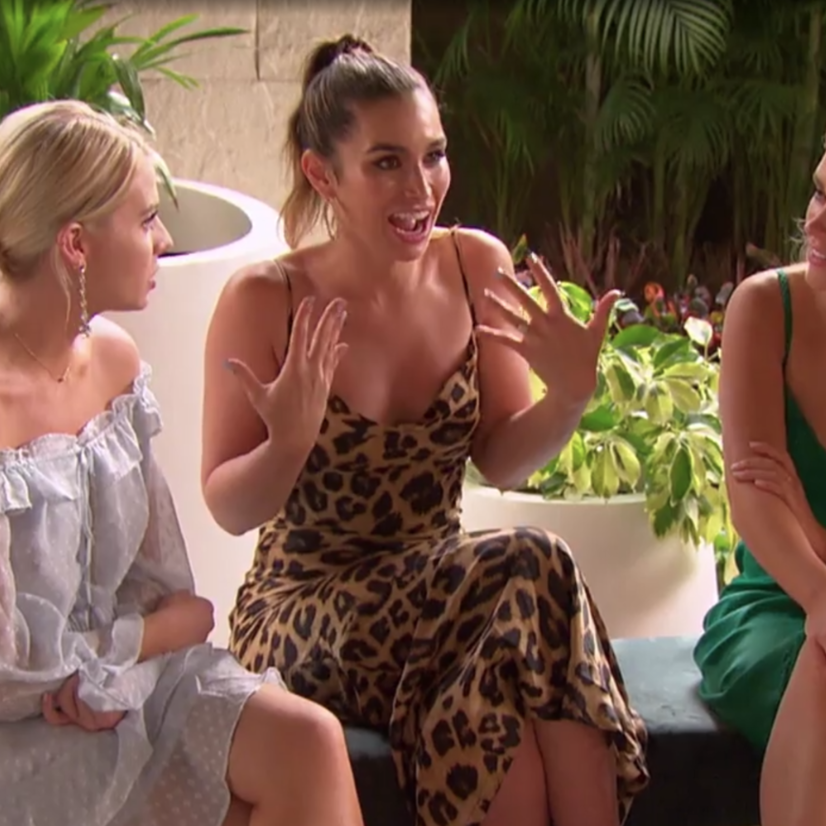 1. LEOPARD DRESS | 2. LEOPARD DRESS ON SALE
BECCA, WHITNEY + ASTRID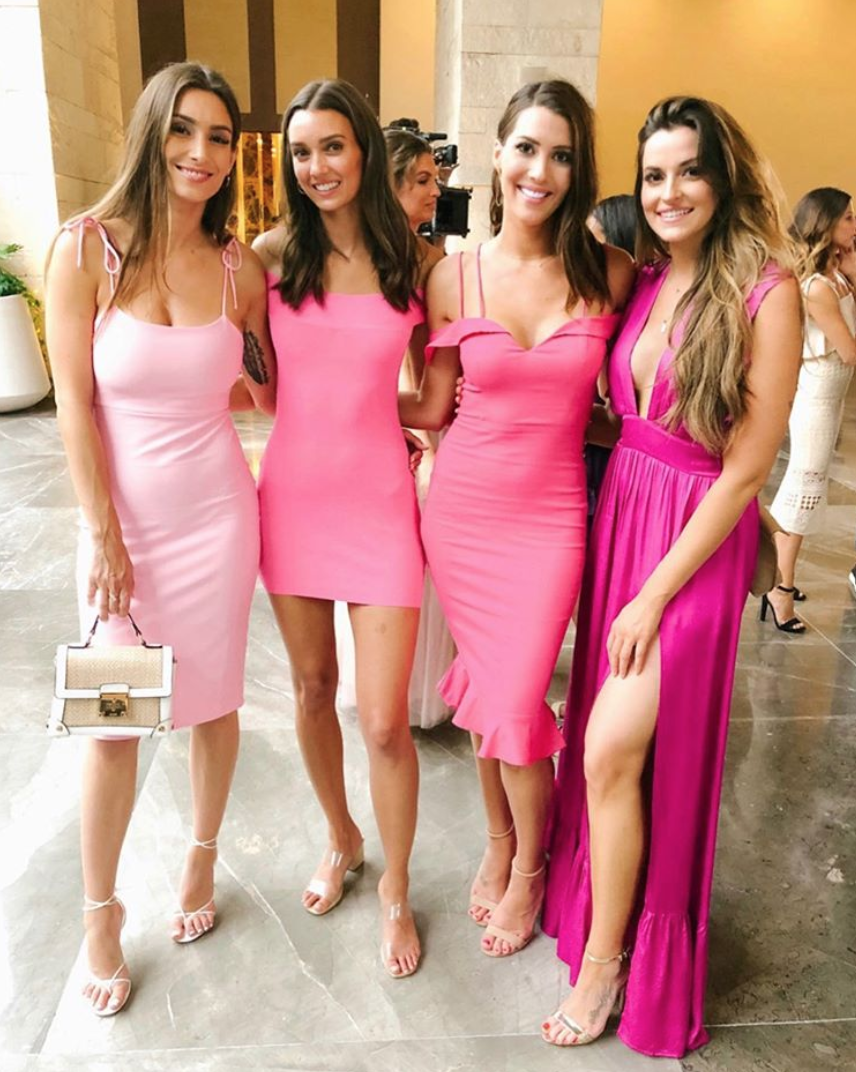 1. HOT PINK MIDI DRESS | 2. PINK OFF THE SHOULDER DRESS | 3. LIGHT PINK DRESS
KRISTINA

CAELYNN

NICOLE

Last week, I did a post on my favorite high-waisted jeans, so make sure to check that out if you haven't already. I'll include one of my favorites here!
These Kut from the Kloth high-waisted dark wash skinny jeans because they are sooo good and affordable. They're under $100 which is so great and they are honestly one of my favorite pairs of all time! And that's the absolute truth. If you guys read the reviews on Nordstrom's website you'll see that people absolutely love these jeans! One person even said they instantly made her feel 10 pounds thinner! And honestly, they do the same for me. I've truly never felt thinner than I do in these jeans.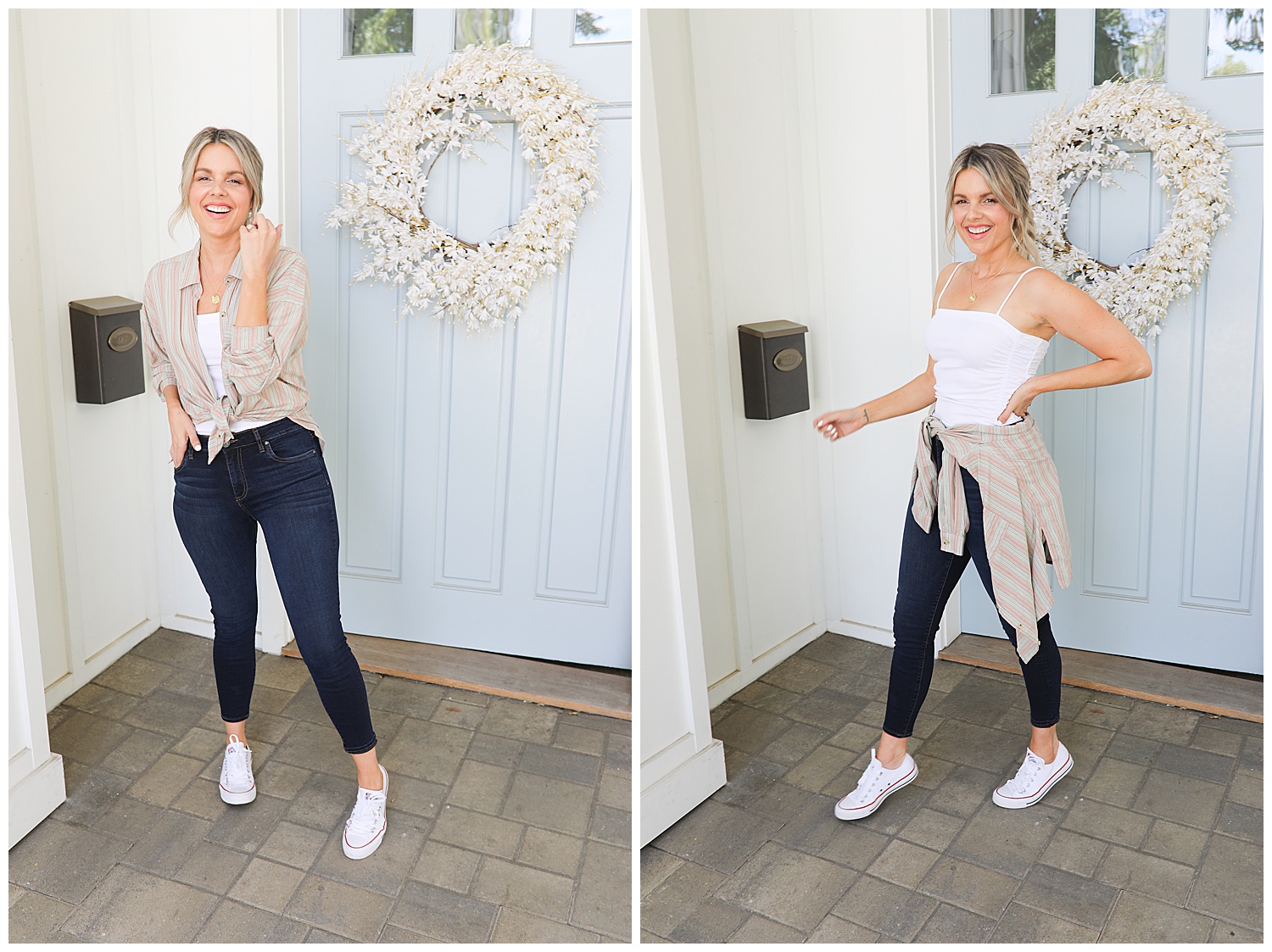 1. BUTTON UP | 2. BODY SUIT | 3. KUT FROM THE KLOTH JEANS | 4. WHITE CHUCKS
Even though being skinny isn't what matters in life. It's not! But if I can put in a pair jeans that are going to make me feel 10 pounds lighter, well, I am all for it!
I think you can size down in these. I would normally do a size 6 or 8 but I went with a size 6 in these and they fit great! They are also very stretchy!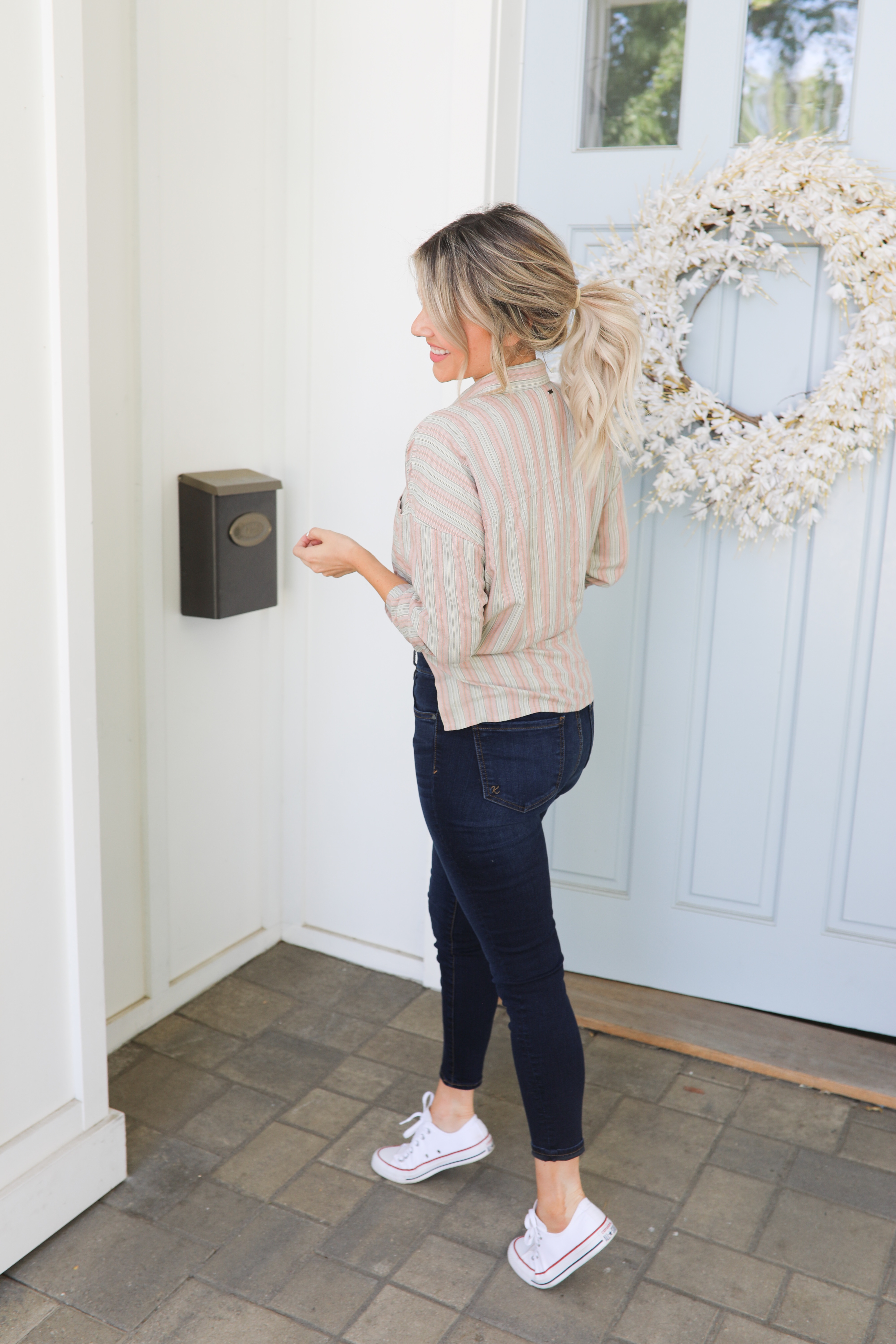 1. BUTTON UP | 2. BODY SUIT | 3. KUT FROM THE KLOTH JEANS | 4. WHITE CHUCKS
Thanks so much for coming by my Bachelor in Paradise blog today! I can't wait to chat with you all!