Happy Friday, everyone!! Today when I was on set for Home & Family, I posted a few stories while wearing this Eliza J dress and I got so many questions about it, so I thought I would do a post! Honestly, I LOVE this dress, and I am so glad that all of you do too!
FYI some of these photos were taken 8 months ago or so! I happened to have them so I put them into this post quick! It's funny because I haven't lost any weight since I started working out regularly. But looking at these pics, I have definitely lost inches which makes me really proud of my hard work at spin class!

1. PLUS SIZED DRESS | 2. DRESS | 3. SHOES |4. ARROW NECKLACE
This Eliza J dress truly makes me feel like I could be the Duchess of Cambridge! Ha! Ok not really. But I feel really sophisticated in a chic way! It's also so versatile – I feel like this dress could be worn to a brunch, to work, to a dinner party or even to an event such as horse races. Seriously, it can be worn for so many different occasions! There are so many different aspects that I love about it – not to mention that it comes in plus sizes as well! The plus sized version is more than %60 off! It's 60% off plus an additional 25% right now.
It is a beautiful chiffon material, that makes it feel so expensive and such a treat to wear. It is fully lined inside, so you don't have to worry about wearing a slip with it, which is awesome! As I mom, I totally believe in outfits that are the least fussy – the less fussy the better! I also love that the hem of the dress comes to just above the knee, and then there is a sheer "ruffle" at the bottom that adds length to the dress. This really elevates the dress for me, because it takes a more cocktail style of cut to something really classy.

1. DRESS | 2. PLUS SIZED DRESS | 3. NECKLACE
How cute are the sheer sleeves on this dress?! They come down just below the elbow, and I love that they hide my arms, since you guys know that sometimes I am self-conscious about them. The sleeves are truly so slimming and flattering! The waist has elastic, and the belt is adjustable and you can remove it all together if you prefer. I personally really like the belt! There are also tiny buttons that run down the front of the dress. I love that the neckline is not super deep, because it makes it work-appropriate!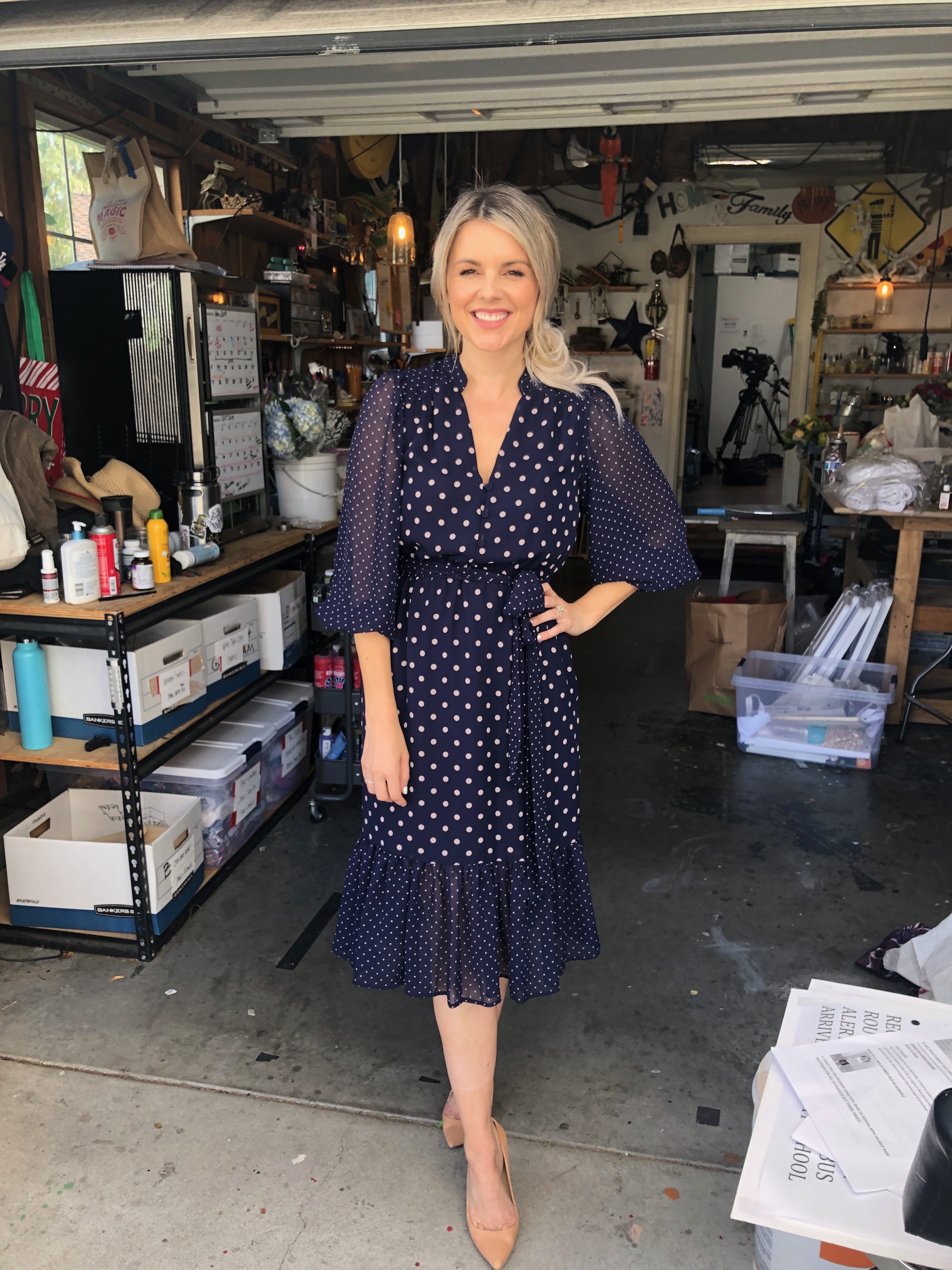 1. PLUS SIZED DRESS | 2. ELIZA J DRESS | 3. SHOES | 4. ARROW NECKLACE
This dress can also be worn with a few different colors of shoes and in varying styles depending on what you are wearing it for. Here, I am wearing it with these nude pumps.  You could also wear this dress with strappy heels or some cute flats! Personally, I would mostly wear this dress with either nude or white shoes, but depending on how you accessorize, you could also do gold, silver or black!

1. PLUS SIZED ELIZA J DRESS | 2. DRESS | 3. SHOES | 4. ARROW NECKLACE
Just as I was about to post this, I realized that the regular sizes are no longer in stock! What a bummer! I hope they come back! But there are a TON of chiffon dresses available! Here's a link for some in similar styles!
Oh! While you're here, don't forget to head over tomy post about Vanity Fair Bras! We are giving away bras to 100 of you and I am so excited for you all to try them!!!
Thanks so much for all your lovely comments on my dress via Insta DM! What is your favorite dress to wear to work? I'd love some suggestions!