Goodness gracious there is so much craziness going on in Paradise! I feel like there is some drama with almost every couple. And two new love interests for JPJ!
New Rose Ceremony Rules
I can't for the life of me figure out why they tried to make it a big dramatic thing about how Chris Harrison was changing the rules of the rose ceremony. Obviously he was! As soon as they teased at the beginning of the episode,  I knew that it was for Kristian and Demi. And I'm glad that he did! But I don't get trying to make it seem dramatic. We all knew what was going to happen. Anyway, let's get into tonight's episode because there is so much to discuss.
Tahzjuan and JPJ Date
I know they talked about how they never laughed so hard but seriously I found myself laughing so hard as well! I'm not quite sure there's a connection there. As we very evidently see later on in the episode. But I love them both for making me laugh so hard!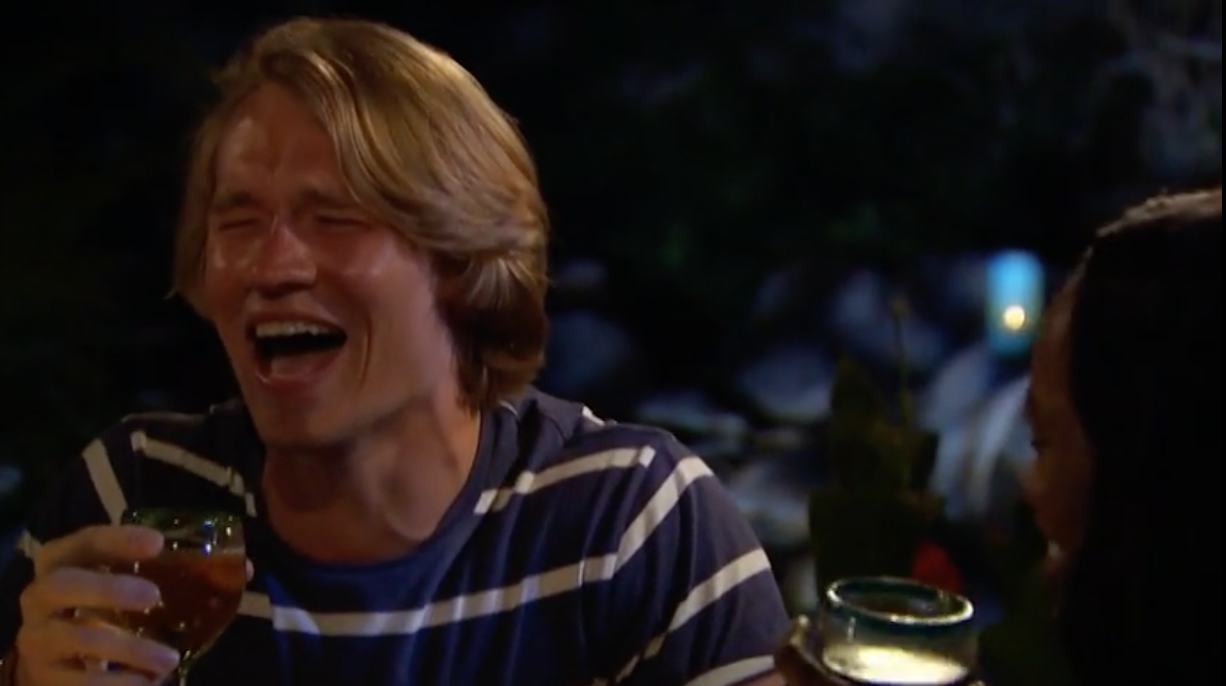 Haley and Tahzjuan Showing Up the Same Week
It's no coincidence that Haley and Tahzjuan both came into Paradise wanting a date with John Paul Jones. The producers are so good at their jobs and they planned it that way. They knew Tahzjuan and Haley were both interested in him based on their pre-interviews with both girls and they planned for both of them to come the same week when the guys were giving out the roses. Yes – these TV shows are real. I've always said that the feelings on the Bachelor, the Bachelorette and Bachelor in Paradise are real, but the show is heavily produced. Meaning, the producer's know how to control and manipulate the situations so they end up turning out a certain way. And they knew that Tahzjuan and Haley were both into JPJ and that it would cause some drama this week, so they had them arrive on the same week, back to back. I'm sure that's not surprising to any of you. Just thought I'd point it out.
Hayley and JPJ Date
As soon as Haley showed up, I knew her and JPJ would hit it off. I would not be surprised at all if they end up together the end of this. The only thing I didn't really love about JPJ on their date is how when he went to put sunscreen on her he immediately started feeling up her butt. I get that she had a thong on and I get that she didn't seem bothered by it – I don't know I just felt like it was a little too much. I guess also they could've been on the date for a few hours at that point have already kissed earlier. But the way it was edited made it seem like it was 15 minutes into their date. You know? I also didn't love how he awkwardly said goodbye to Tahzjuan when he went on their date. Or, he shouldn't have even said goodbye at all because he didn't really say "goodbye". He just walked away from her. And I know he's not doing it to be a jerk,  it's just JPJ and his weird quirky self. But it still was very hurtful to Tahzjuan.
Tahzjuan's Downfall
Tayshia said it best when she said she felt bad for Tahzjuan coming into Paradise this late because not only is her relationship not panning out the way she thought it would, but she doesn't really have a friendship with anybody there because she got eliminated at the beginning of Colton season. That said, I found it painful to watch her. And I feel terrible saying that because I don't want to speak negatively about her. But I really don't like how the show was all about her and her downfall. That's cruel editing. She definitely didn't handle it well and the editor's took advantage of her sensitivity and emotion by making almost the entire episode about her freaking out.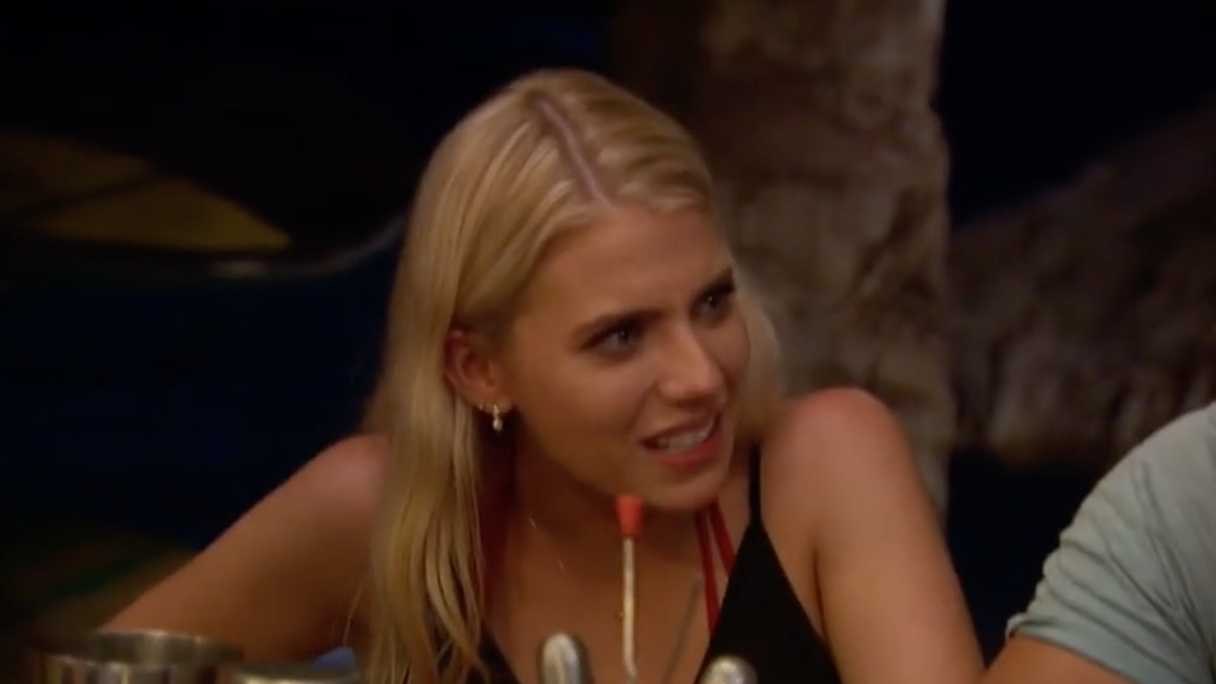 Obviously they had to keep in some of it because of how she reacted when JPJ and Haley got back from their date. She was extremely rude to Haley and the way she acted it was very concerning. But I just think with my concerns for the show and mental health the editing should've been toned down a bit.
Kristina
Last week Kristina gave Blake her rose to "make him suffer in his own personal hell" watching Hannah and Dylan thing. This week she wants his rose because she and Blake are such great friends. I am so disappointed in her! I know Kristina and this ISN'T HER!!!! Truly I don't know this person. I wonder if because she was so hurt the first time she was in Paradise that she is in it this time just guns blazing and walls up. I just truly don't think this is who she is. Although, I completely agree with Kristina that Blake is NOT into Caitlin.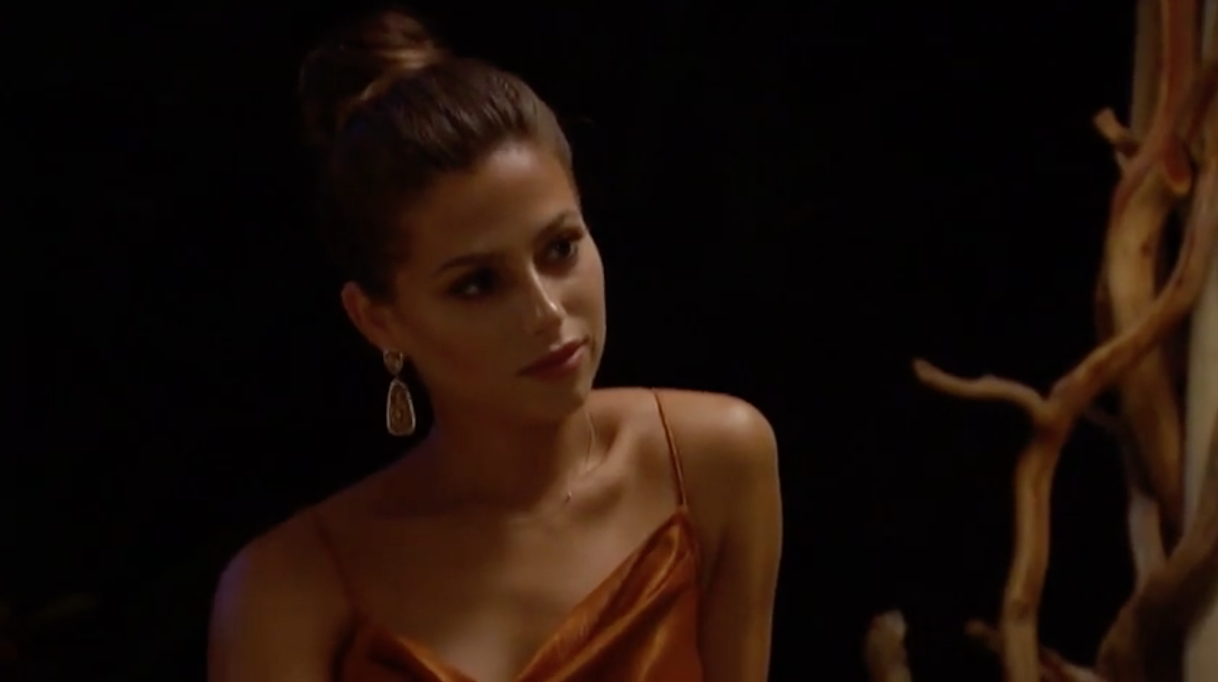 But Blake telling Caitlin he was going to hundred percent give her his rose and then to take that back so quickly afterwards is so messed up! And he even said to her that Kristina deserves a second chance at finding love. But what? Caitlin doesn't deserve to find love? I feel like the Blake and Kristina situation is so sketchy and I don't like it.
Caelynn and Dean
I feel for Caelynn so much in this situation. I know it will be so easy for all of us to say "well Dean told her he wasn't ready to commit" but it's just not that simple. He was showing her the sweetest affection and I think she deep down believes that she can be the one that changes him. I've been there. I get it! And maybe she can't be that one!I remember a girlfriend of mine when I was in my 20s who had a boyfriend that could never commit to her. He was on the up and up in his career and even though she was madly in love with him, he always put her on the back burner. That was probably over 10 years ago and now they're married with a baby girl. I'm not saying that's a common outcome.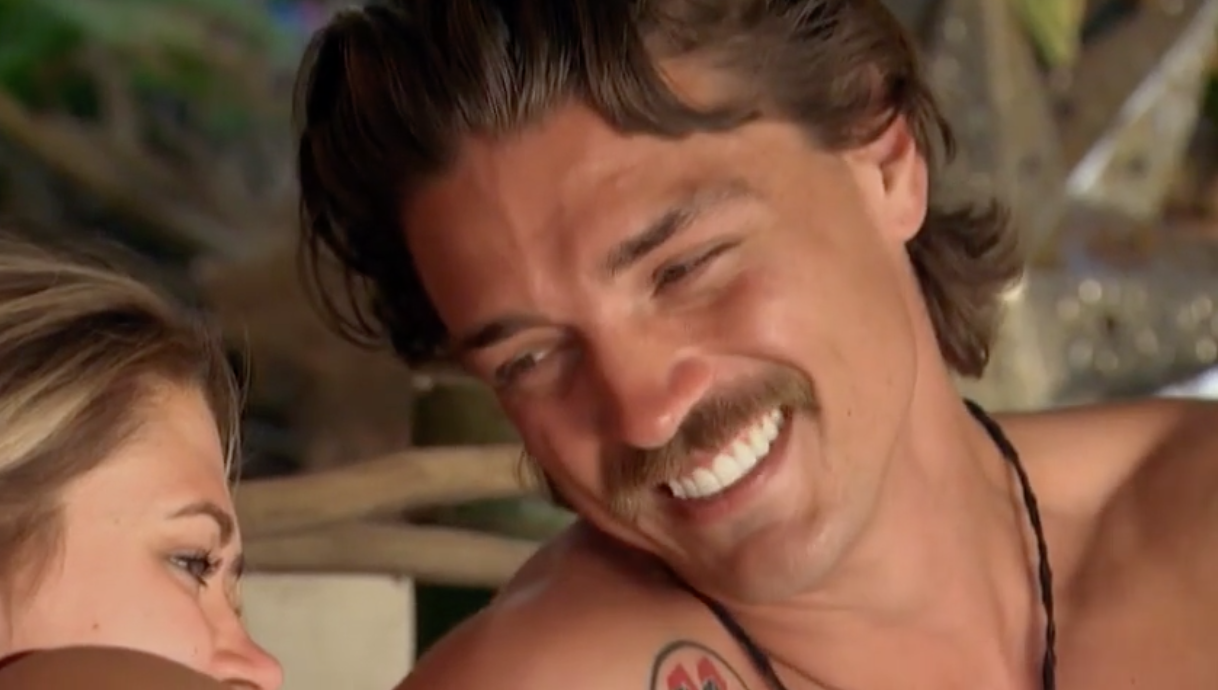 To reference the movie He's Just Not That Into You, they are definitely the exception not the rule. But I think there's a chance for them. And I don't think Dean is being fake with how he treats her. I don't think he's trying to lead her on. I think he's genuinely into her but he knows that he has issues with committing. So he's just trying to be honest. I honestly have high hopes for the relationship. I really think it could work out.
Where are Mike and Syd?
I'm kind of disappointed that we aren't seeing anything from Mike! Like literally nothing. I don't get it! I was so sure that the (Bachelor) producers wanted Mike to be the next bachelor but they're not showing him to us. Which now makes me think that he's not in the running. If he was, they would want us to be falling in love with him throughout the season. But maybe it's just these past couple episodes. I will say that we also didn't really see anything from Hannah and Dylan, Clay and Nicole, or Kristian and Demi in this episode. It's only because there's so much uncertainty with all the other couples that they just don't have time to show the solid couples to us right now. I don't know! But I still think it's super important for us to get to know Mike better if ABC wants him to be the next Bachelor. I just find it interesting.
Tomorrow Night
I cannot WAIT for tomorrow night's episode. I mean I feel bad saying that because it looks like there are a lot of tears and some fights. But come on, that's what Paradise is all about. And I always try to have a soft approach when I talk about the show and the people on it. But I like all of you, get sucked into the drama and love it!
Let's discuss everything in this post. I really wanna know your thoughts on it all! And what we think is going to happen with Caelynn and Dean's conversation? At first I thought he was just gonna tell her that he was actually falling for her more than he expected coming into Paradise. But then we see that clip of her crying in the same dress she was wearing. So I don't know what to think now! Also who do you think JPJ is gonna end up with? Any thoughts!?
Outfit Recap + BIP Cast Outfits
Here's the part where I try to find as many of the outfit's from this week's episode as I can, and recap some of my outfit's from this week too!
KATIE

 1. EARRINGS | 2. SIMILAR EARRINGS
CLAY

JPJ

CAELYNN

 1. PINK RUFFLE DRESS | 2. HOT PINK ROSE CEREMONY DRESS
TAYSHIA

DEMI

I've been wearing this top a lot lately, so you've definitely seen it in my stories if you follow me on Instagram! It is so comfortable! There are a ton of details going on, but I think it is just the right amount and not too busy. I love that the stripes on the pocket are horizontal and how the buttons colors add a slightly "earthy" casual feel. It is so flattering and can be worn a bunch of different ways. You could wear it unbuttoned with a tank underneath or buttoned up like this pic below. You could also wear it slightly tucked in the front, or tied around your waist. So many ways to wear this shirt!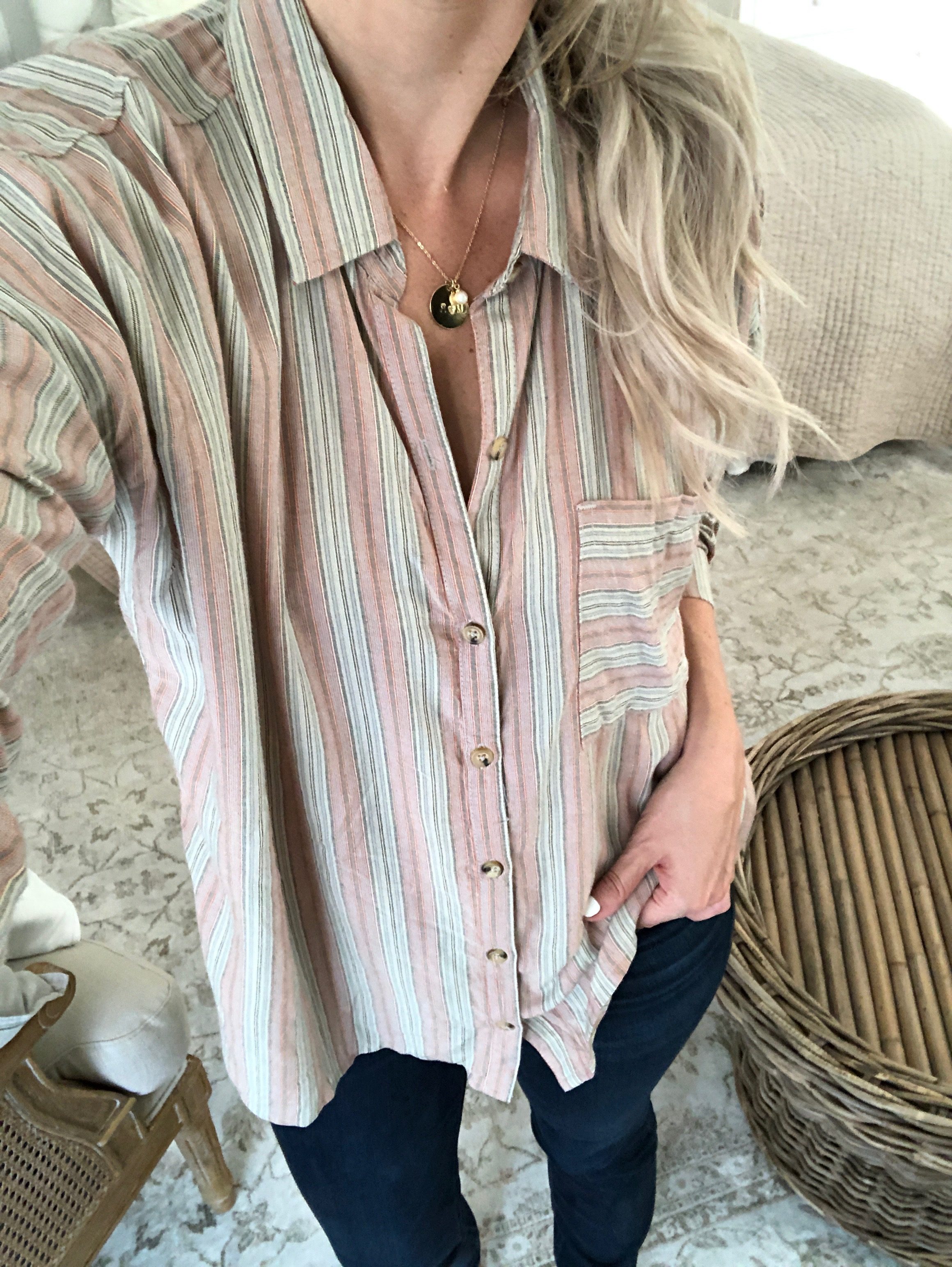 That reminds me, here's the pic from Bachelor Happy Hour last week when we had Demi on. I have it tied around my waist!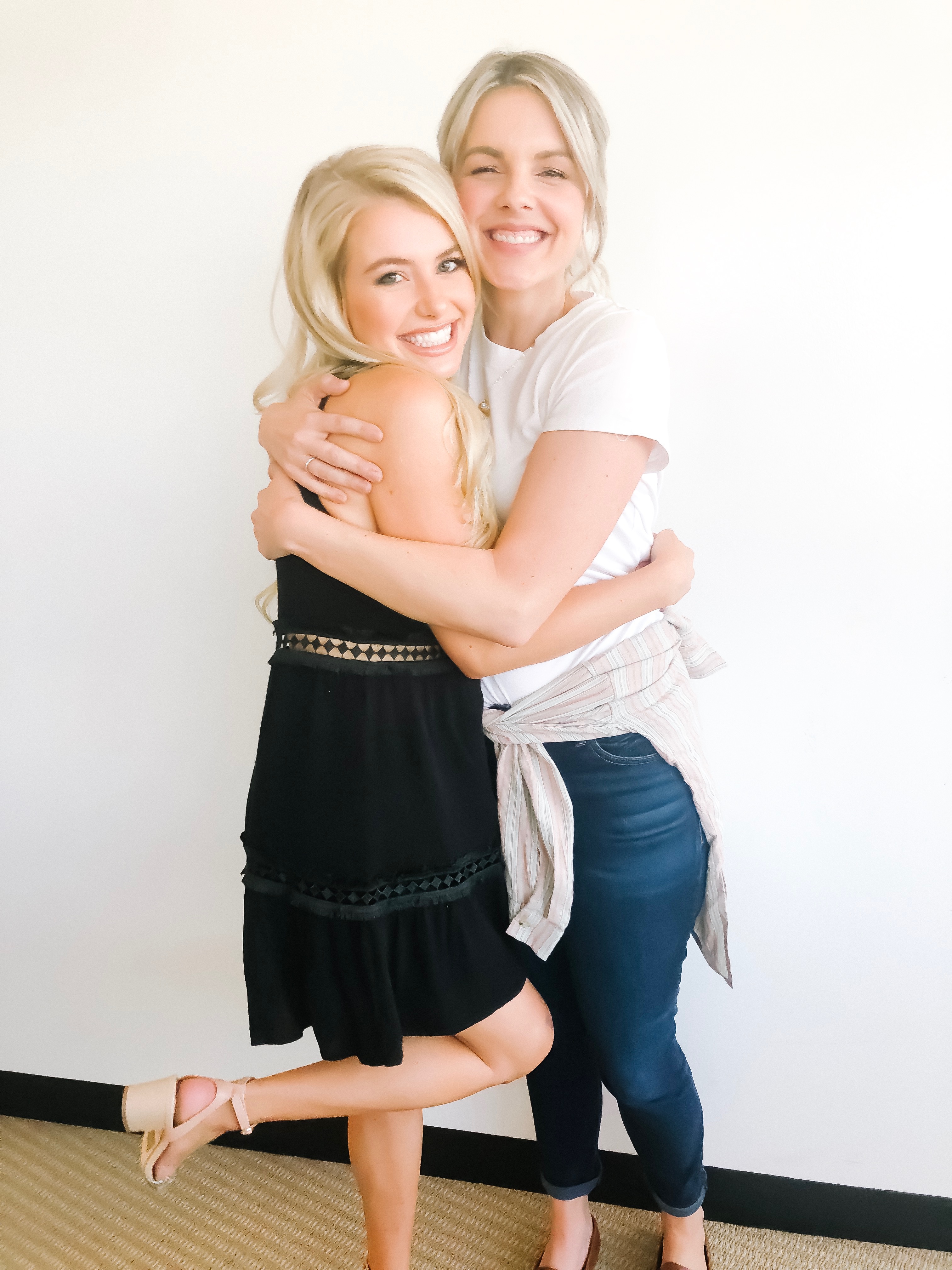 This sweater tank is one of my very favorite new apparel items. It is SO comfortable. I'm sure that you've already seen it on my stories quite a bit, because I have practically been living in it! Ha! It is great for lounging around the house or running on errands. I love the material because it is so soft. And even though it is a sweater-like material, because it is a lighter color and has a bunch of knitted holes in it, it is really breathable. Oh and it's only $15, which is amazing!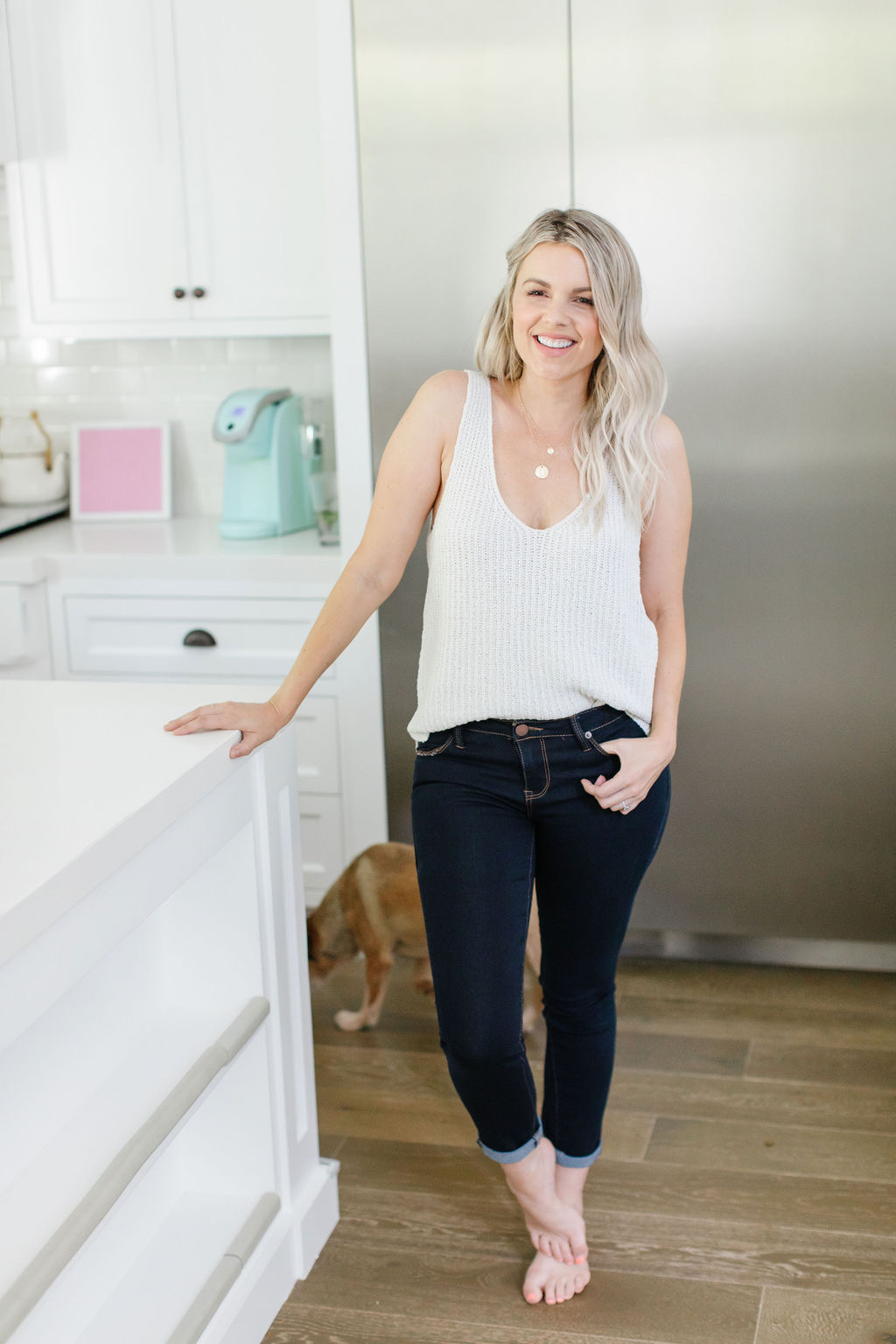 1. SWEATER TANK | 2. JEANS | 3. TEAL KEURIG
How awesome is it that this next dress is so versatile?! With fall coming soon, it's the perfect time to get some pieces that will work both now and in fall!
I LOVE this next outfit because it truly is perfect for transitioning summer to fall. Isn't the pattern for this dress so cute?  The material is lightweight so that it can keep you cool in the summer or warmer fall months. I love the neckline on this because I think it is really slimming. I've always talked about how I typically like to keep my upper arms covered, but when necklines are like this, or square, I feel like it really makes everything looks amazing! As you can see in these first photos I am wearing it with heels, but it can also be paired with boots! It's great because it is really versatile! It's $27 – and I know that I am going to get so much wear out of this during both seasons!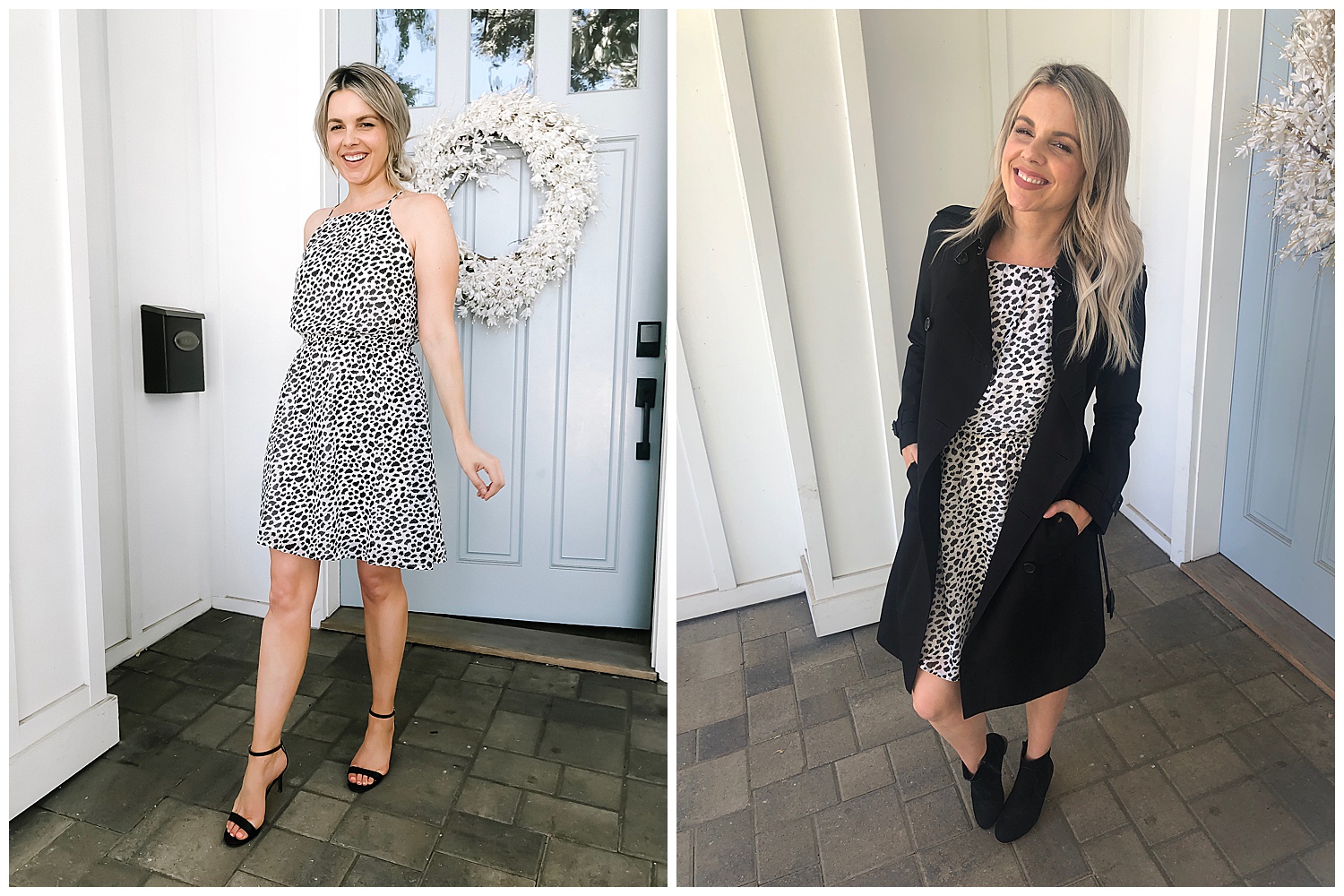 1. DRESS | 2. STRAPPY HEELS | 3. BOOTIES
Here's how you can wear it for fall! In this photo I have layered the dress with a long "trench coat" style jacket, that is the same length as the dress. A long black sweater would also be adorable! My dress is 10 years old and unavailable, but most jackets and sweaters with the look would do! The dress is just the right length where you can also wear it with short boots, or booties like I am wearing here! I truly think that this is going to be one of my favorite looks this fall. Don't you love it?!
I got these booties awhile back, but I've linked a few affordable options here that I think would be really cute with this outfit!

I genuinely love this top so much. How fun is the white fringe around the bottom?! The added texture and detail help to make this top young and fun! The vertical stripes add a level of sophistication. You know how much I love my blush and blue!!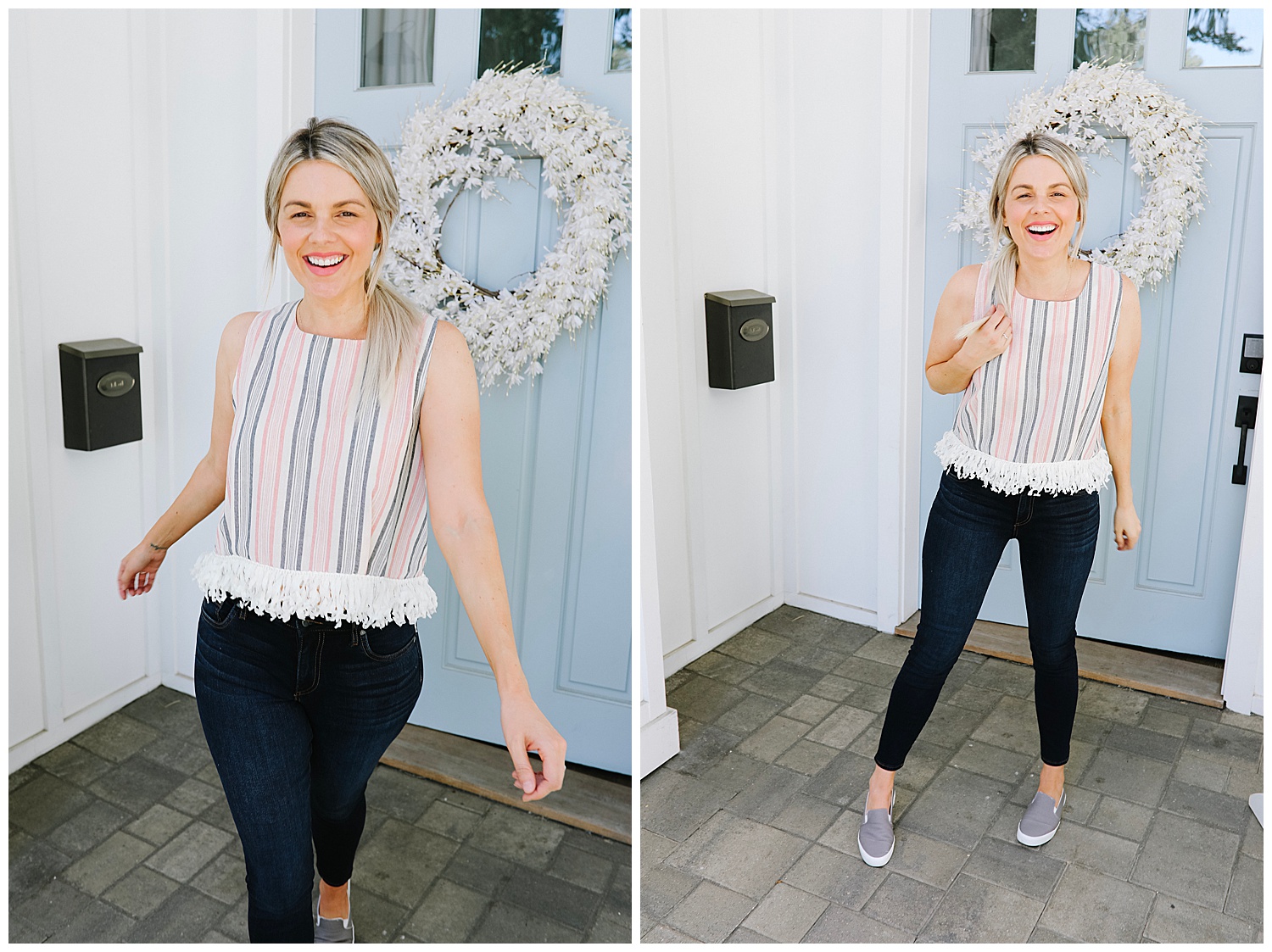 1. BLOUSE | 2. SLIP ON SNEAKERS
There's a few things that I want to point out about this top. First, the fabric is similar to a linen material and definitely looks and feels super expensive. But it isn't expensive! In fact, it is only $14 now! When I purchased it, it was $24! So you're getting an extra $10 off! Gosh you have to love Walmart's prices and sales! Another thing to note, is that it is slightly cropped (not by much), the jeans I'm wearing with it aren't super high waisted and everything is covered. But you might not want to wear low rise jeans.
There you have it! I posted a handful of other outfits in my Affordable Friday post last week if you want to check that out. I can't wait to chat about tonight's episode, and again about tomorrows!
Bachelor Happy Hour
Don't forget to check out the Bachelor Happy Hour podcast that is OUT NOW! The episode that came out today features Chris and Krystal and they gave me all the details about their wedding! We also had country artist Matt Stell, who played while Krystal walked down the aisle! Here's the link!