Happy Affordable Friday everyone! I hope you've had a fabulous week so far, and I hope this post makes your Friday even better because you find some inexpensive new clothes! How crazy that it is almost September! I cannot believe it – but that means we also need to start talking fall clothes! So today, I'm sprinkling in some items that can be worn either now or later in the fall with a few accessory changes! Everything is SUPER affordable and from Walmart. I truly spend a ton of time searching for the best items there and I am always soooo happy with how these Affordable Friday looks turn out and I hope you guys are too! Here we go!
Fringe Blouse
Let's start with the adorable blouse that I am wearing in these photos. I genuinely love this top so much. How fun is the white fringe around the bottom?! The added texture and detail help to make this top young and fun! The vertical stripes add a level of sophistication. You know how much I love my blush and blue!!
There's a few things that I want to point out about this top. First, the fabric is similar to a linen material and definitely looks and feels super expensive. But it isn't expensive! In fact, it is only $14 now! When I purchased it, it was $24! So you're getting an extra $10 off! Gosh you have to love Walmart's prices and sales! Another thing to note, is that it is slightly cropped (not by much), the jeans I'm wearing with it aren't super high waisted and everything is covered. But you might not want to wear low rise jeans.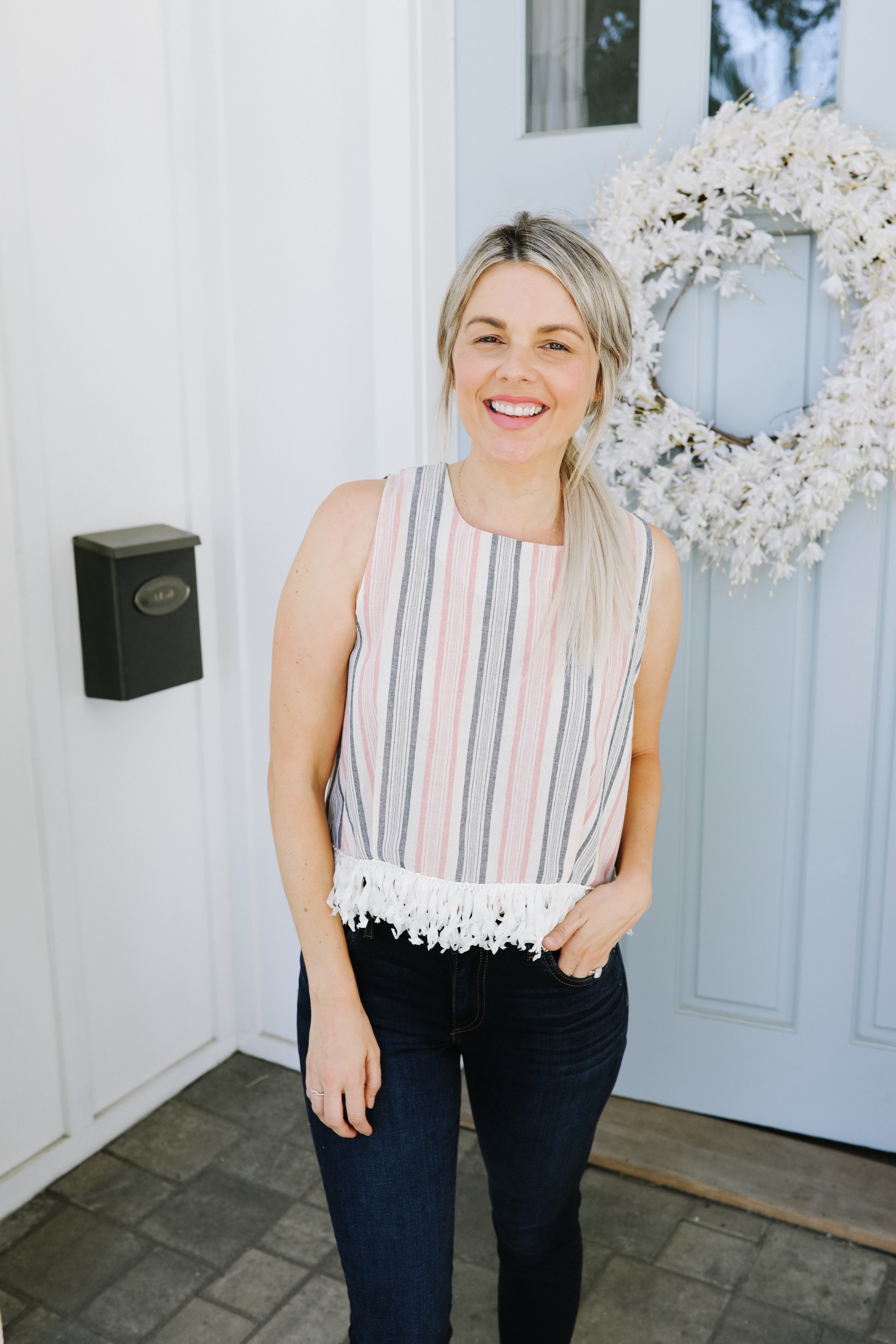 1. BLOUSE
I paired my outfit with these gray slip on shoes that are under $20. These shoes also have ridiculously good reviews. So I'm not the only one who loves them. Plus I'm finding that I just really love slip on shoes these days because of the easiest to throw on when I'm running out the door with the kiddos. If you are in-between sizes, size up!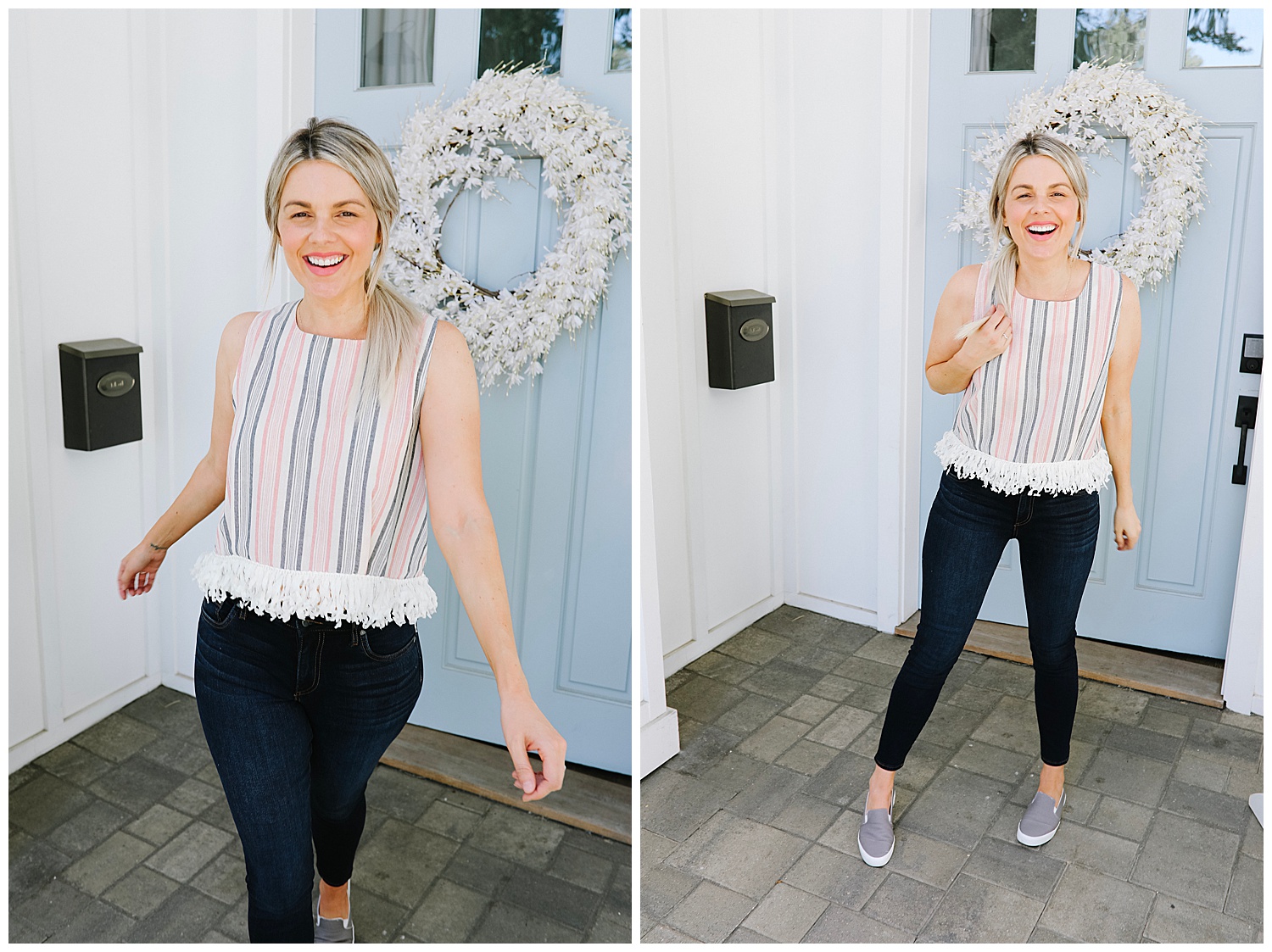 1. BLOUSE | 2. SLIP ON SNEAKERS
Accessorize Your Dress
This next outfit is definitely one that can be worn both now and in the fall. How stinkin cute is a dress paired with a scarf! Unfortunately it looks like my scarf was just taken off the site, but I found a handful of other options that are all under $15!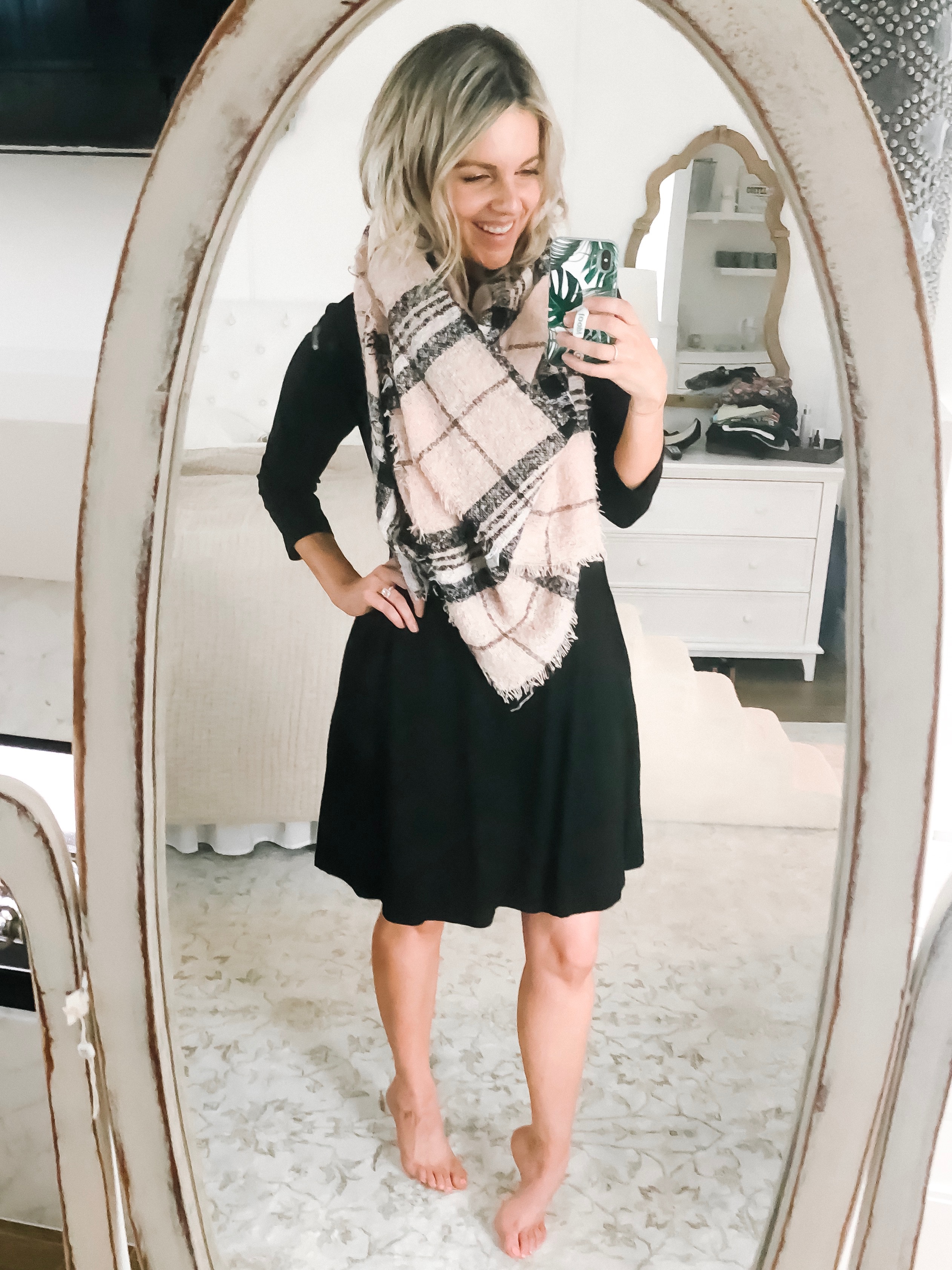 The dress is really loose fitting, and what I mean by that is it doesn't have too much shape to it, but I have found that this sort of dress is perfect for wearing with a scarf or jacket or another layering item. That's because the material kinda just goes with the flow of whatever else it is paired with. So maybe this is more of a fall dress, or even just for a slightly cooler summer night where you can pair it with a cute light jacket! Denim or a colored leather jacket, would both be darling! It's also on the longer side. I find that most dresses like this tend to be on the shorter side. So this is nice for those who don't like short dresses.
Sweater Tank
Okay so I have to say that this sweater tank is one of my very favorite new apparel items. It is SO comfortable. I'm sure that you've already seen it on my stories quite a bit, because I have practically been living in it! Ha! It is great for lounging around the house or running on errands. I love the material because it is so soft. And even though it is a sweater-like material, because it is a lighter color and has a bunch of knitted holes in it, it is really breathable. Oh and it's only $15, which is amazing!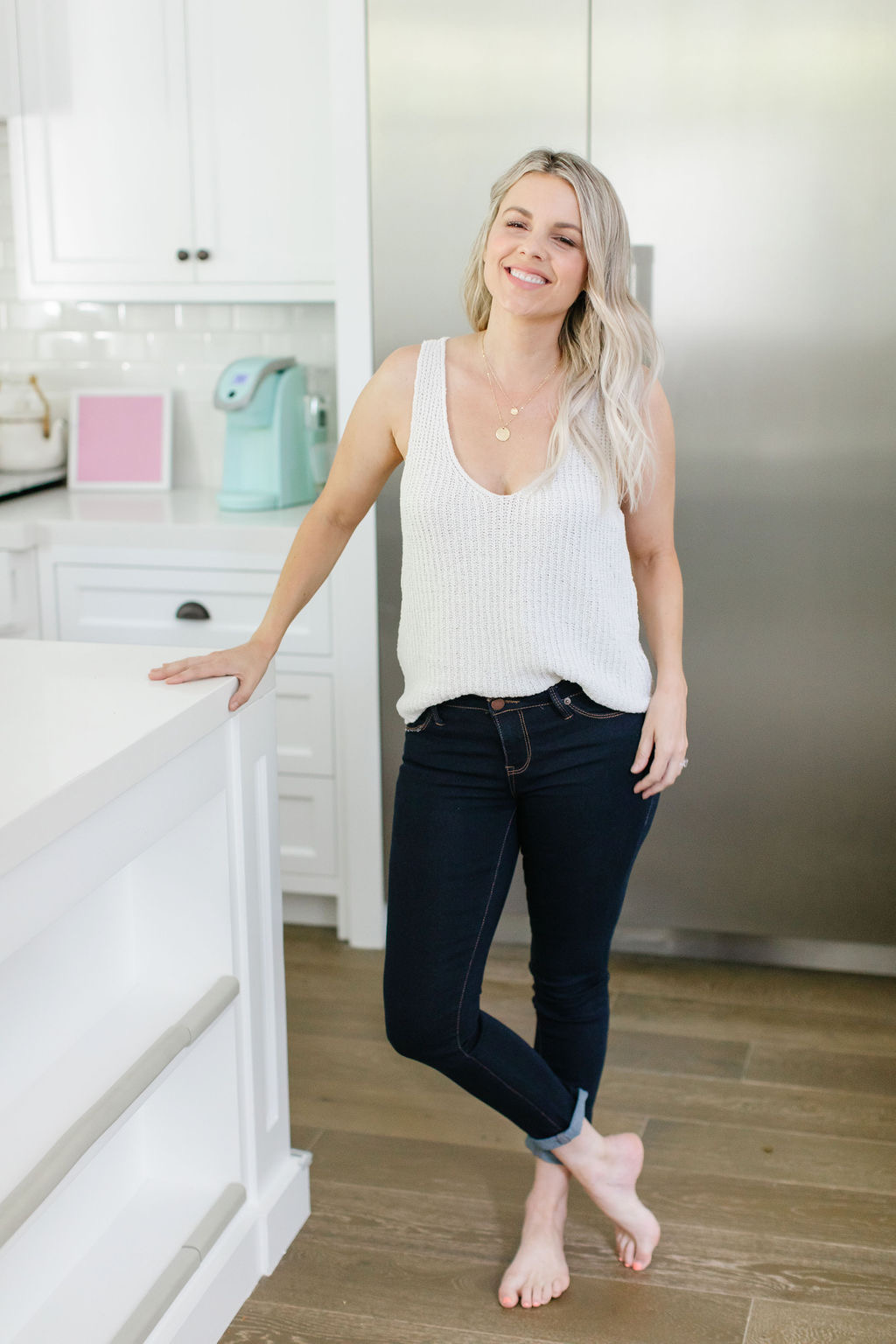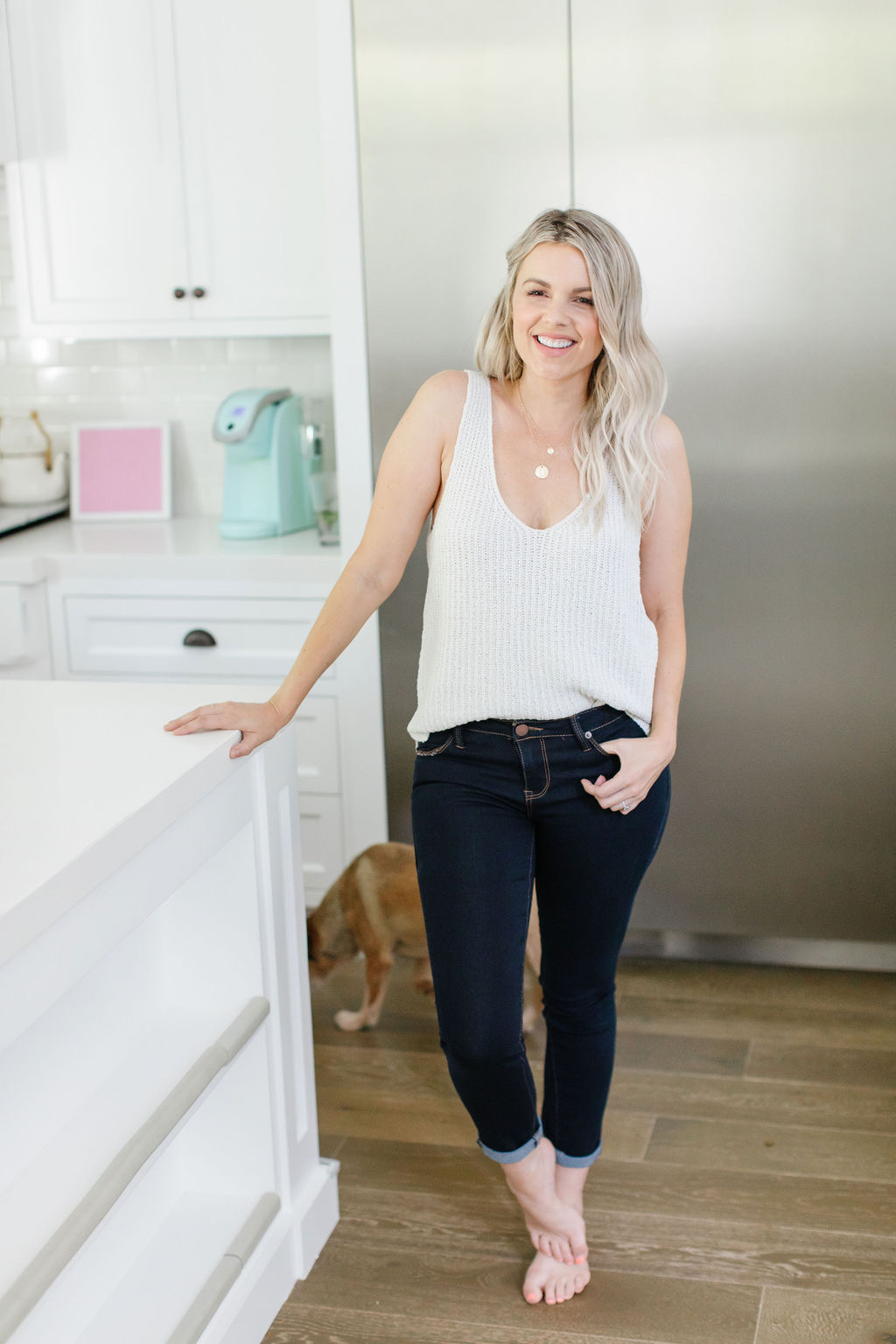 1. SWEATER TANK | 2. JEANS | 3. TEAL KEURIG
As for what bra to wear, I'd say either a strapless or bralette would be best if you are trying to avoid the straps from showing! But even a regular bra can be covered up pretty well since the straps are wider on the tank! You just might see it under your arm. And in that case, a bralette would be the way to go depending on how it fits you.
Here's an iPhone pic so that you can see how amazing this top is, even without a professional camera! I'm also wearing the $9 jeans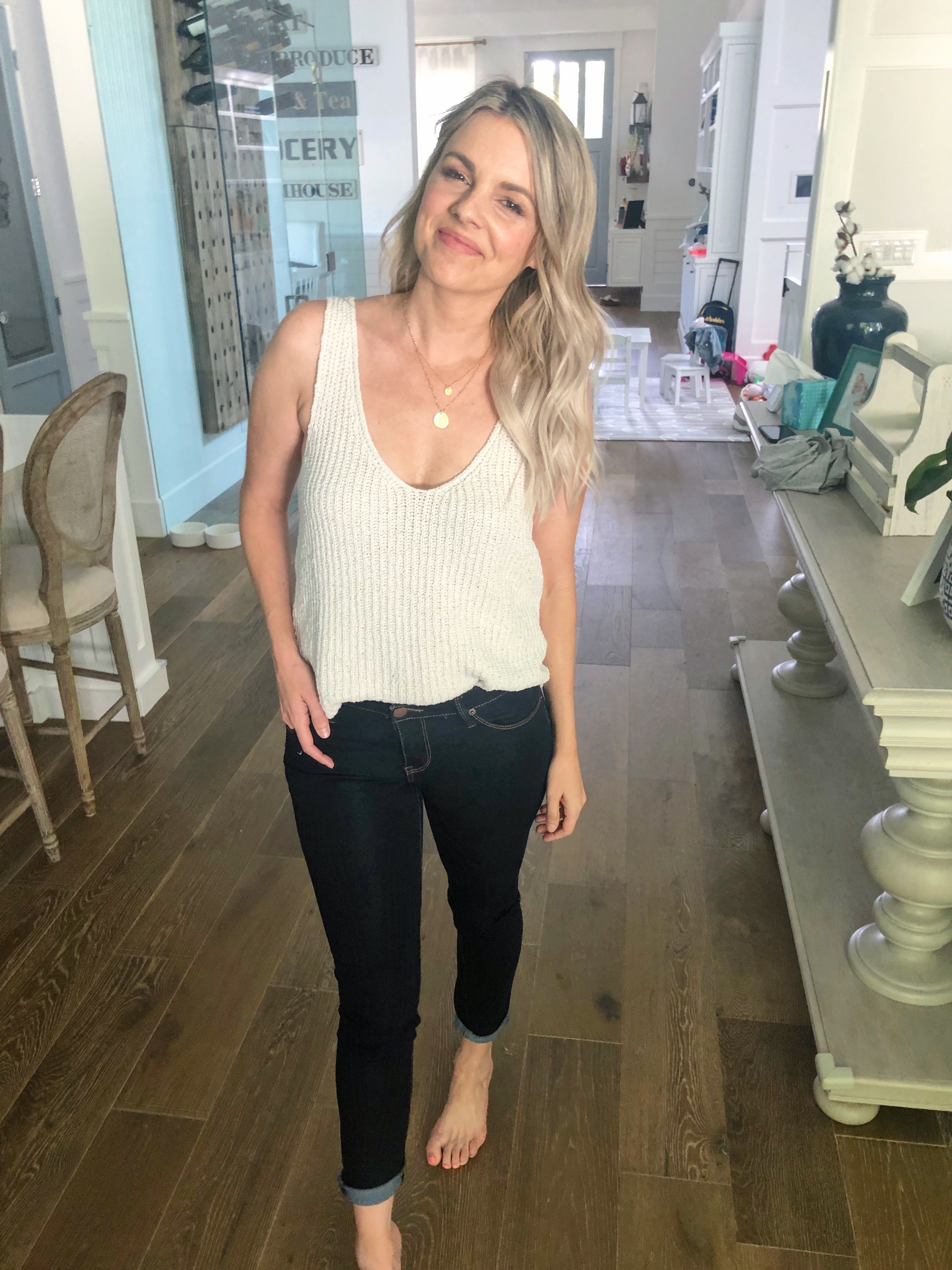 1. SWEATER TANK | 2. JEANS
I've shared these jeans before but I want to mention them again since I am wearing them here and they are only $9!!! Trust me when I say, you will be like, how are these less than $10?! If I didn't know I would think that they were probably more like $60 jeans. I recommend them to everyone because they are so flattering!
Transitioning a Dress to Fall
I LOVE this next outfit because it truly is perfect for transitioning summer to fall. Isn't the pattern for this dress so cute?  The material is lightweight so that it can keep you cool in the summer or warmer fall months. I love the neckline on this because I think it is really slimming. I've always talked about how I typically like to keep my upper arms covered, but when necklines are like this, or square, I feel like it really makes everything looks amazing! As you can see in these first photos I am wearing it with heels, but it can also be paired with boots! It's great because it is really versatile! It's $27 – and I know that I am going to get so much wear out of this during both seasons!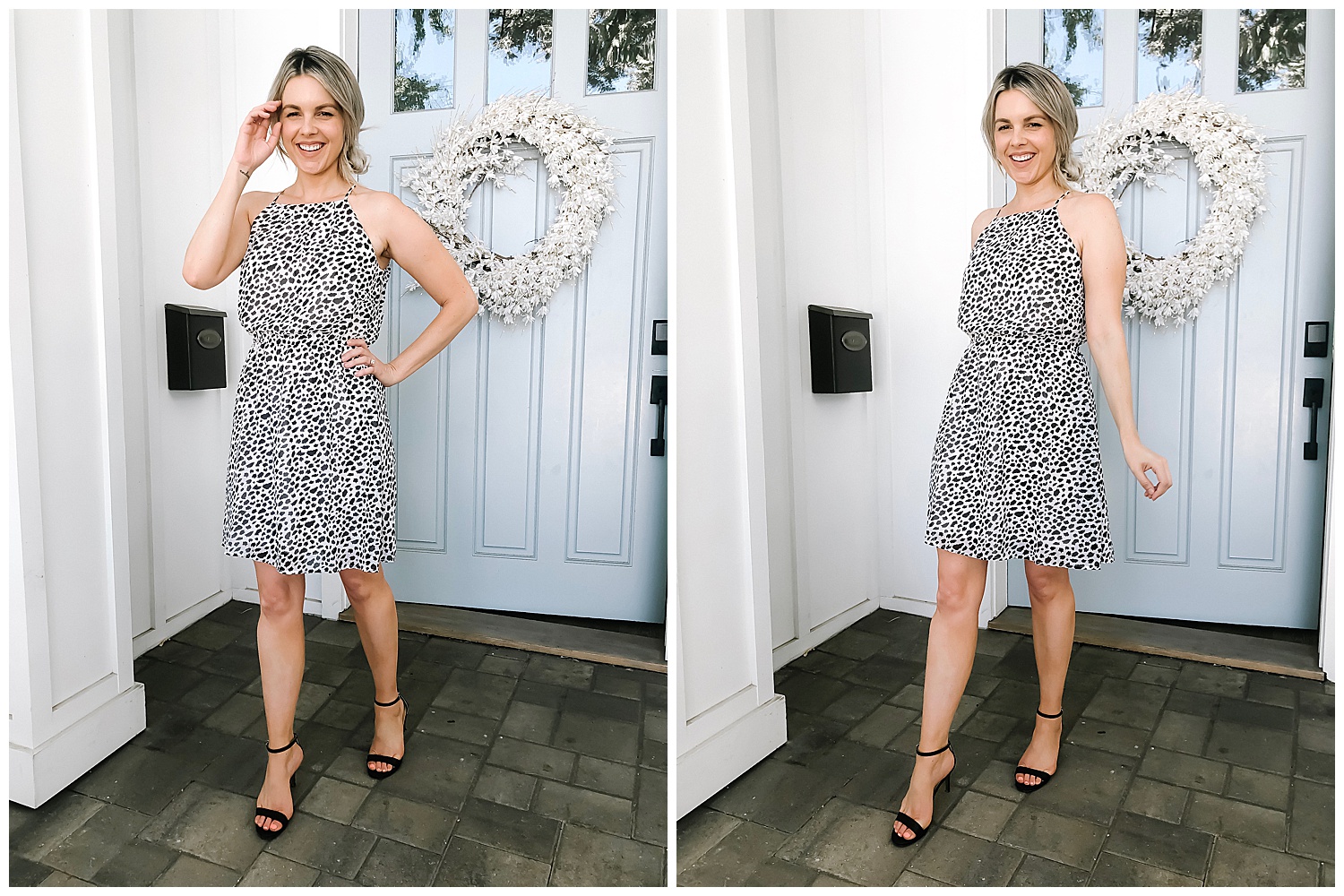 1. DRESS | 2. STRAPPY HEELS
Here's how you can wear it for fall! In this photo I have layered the dress with a long "trench coat" style jacket, that is the same length as the dress. A long black sweater would also be adorable! My dress is 10 years old and unavailable, but most jackets and sweaters with the look would do! The dress is just the right length where you can also wear it with short boots, or booties like I am wearing here! I truly think that this is going to be one of my favorite looks this fall. Don't you love it?!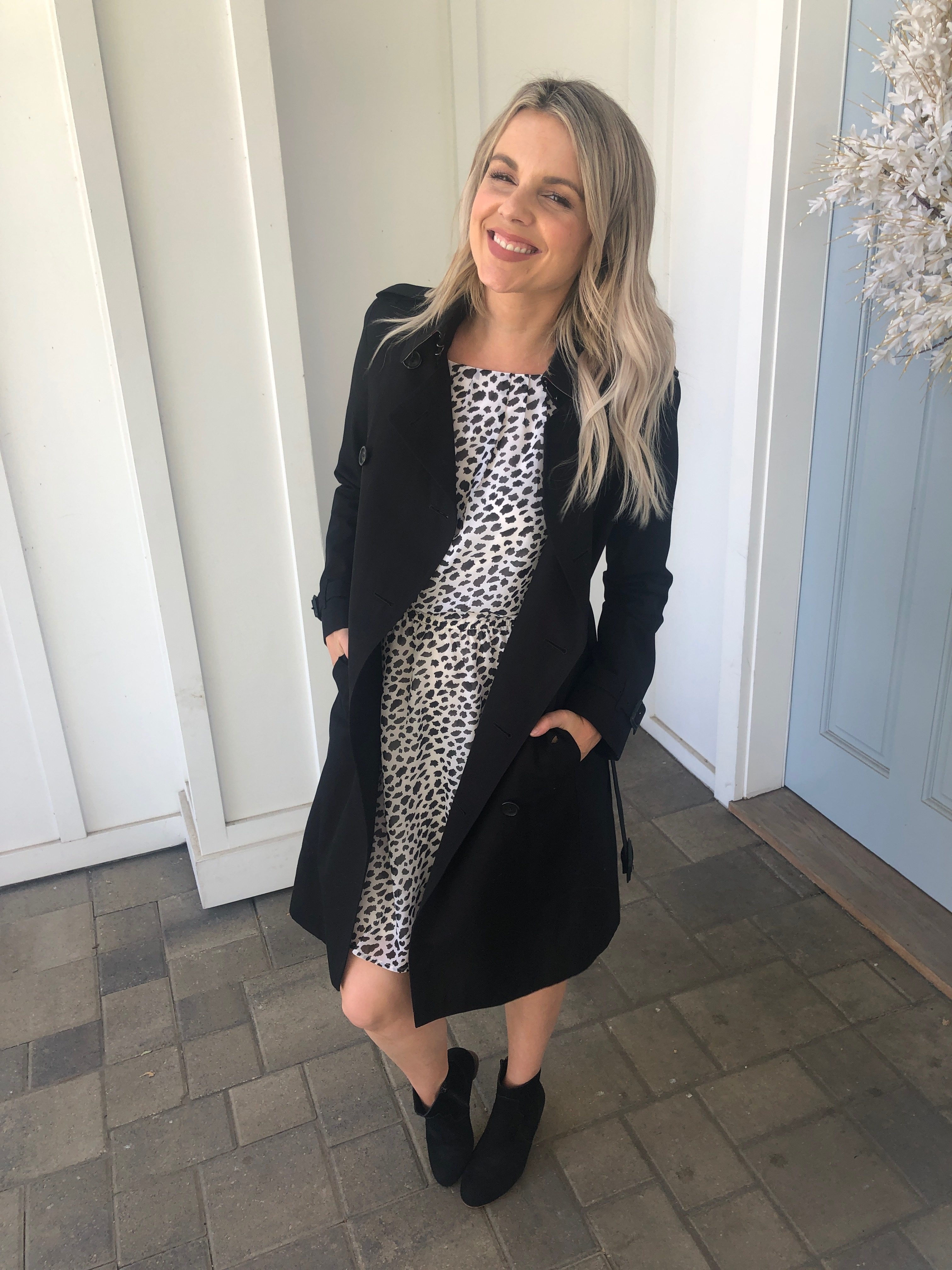 I got these booties awhile back, but I've linked a few affordable options here that I think would be really cute with this outfit!

A Great Errand Dress
Last but not least is this blue dress. You know how much I love wearing light blue colors, and this is no exception! How adorable! This dress and material are very casual, I will probably wear this for school drop-offs and out to errands. It is really nice and lightweight for only $11. I would say this dress would be also great to wear as a beach cover up. For the price point, it is absolutely lovely!! I do want to point out that I would probably not wear it anywhere too formal, as it is a more casual material. Added a belt would definitely dress it up a bit!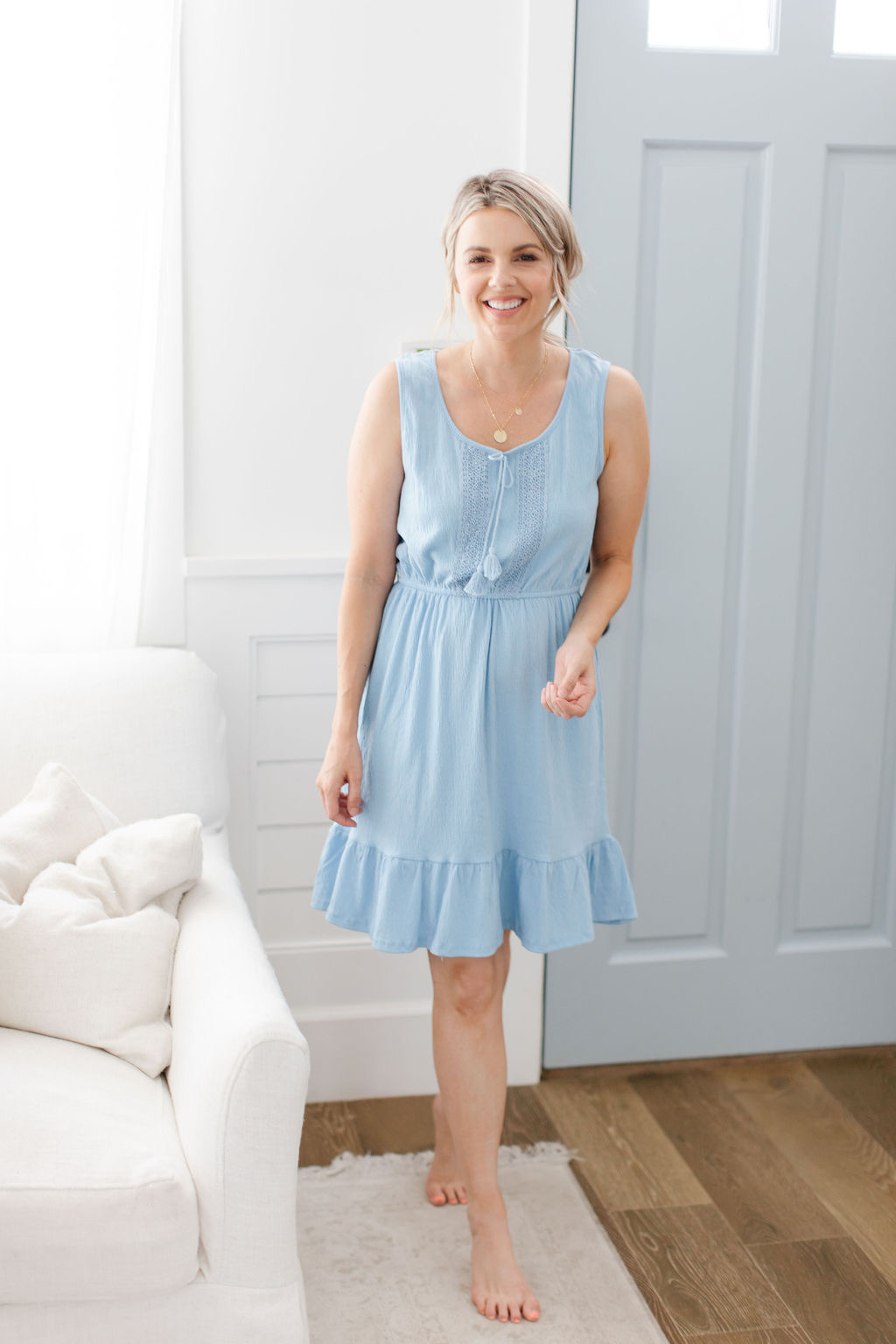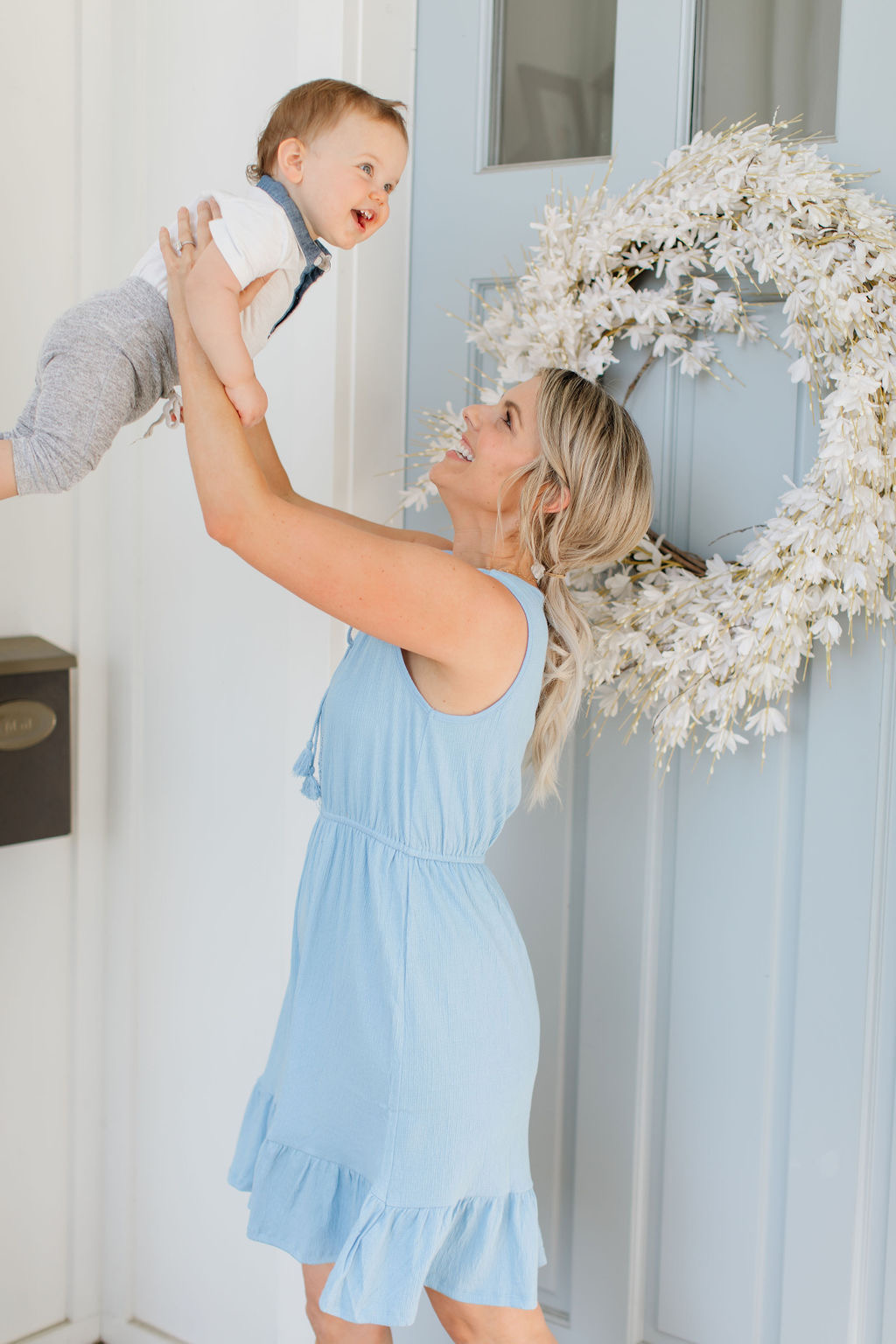 There you have it for Affordable Friday's! Awhile back you asked me to do these more often, are you liking them? What do you want to see more of? What style of looks are you excited to see more of for fall months? Also if you didn't see it, I did a post last week with 10 outfits, plus bras for each!
Thanks for stopping by my Affordable Friday's post sponsored by Walmart.