Wow! It is so exciting to see where the Bachelor franchise is heading after this episode! So much went on during last night's episode but it's really hard for me to focus on anything other than Demi. Let's get right into everything.
I am HERE for Demi!
When Demi opened up about her relationship with a woman and how she is attracted to both men and women I was glued to my television screen, hanging on every word that she said. It was so brave and beautiful and I'm just so proud of her. Honestly there's not much I can say because I think she said it all absolutely perfectly. Demi is who she is and she's had a mask up for all of her life and she's finally peeling away that mask and being her true self. I think that's all we can really ever ask anyone.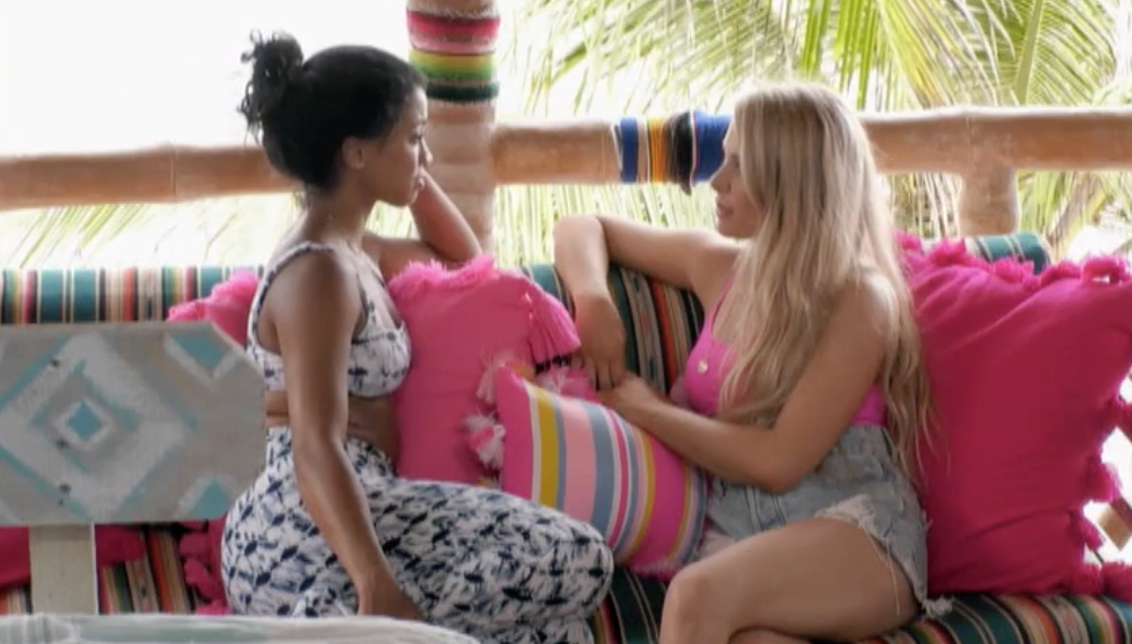 When she talked about telling her parents and how supportive they were I couldn't help but think about if Molly or Riley had that conversation with me and how I would want is for them to know how much I love them. And how I'd support whoever they choose to love because at the end of the day the only thing that matters in this world is love no matter who that is with. Love is what keeps us going – even love from your family, co-workers, and friends. Love is what makes us feel alive. And it truly does not matter who that is with. All I hope is that every person on this planet finds it. Even if that love is the love you find in yourself. Because truly that is the most important love of all.
Tayshia Confronting Hannah
I'm so disappointed with Hannah! Just because I really like her! Full disclosure, I've messaged with her back-and-forth on social media and she's just such a lovely human being. Truly. But she messed up. When Tayshia sat down with her and called her out for not being upfront, she said she didn't think that she needed to bring up a private thing between them. And if that was the only drama surrounding Blake, I would agree with that. I don't think she necessarily needs to tell anybody they met up before hand. That's their decision. Although it would've been nice if they were upfront about it. But where she really went wrong in my opinion, is when all the information started coming out about Blake and all of the different women he had played. She should've come up and been honest about it at that point.
Also, it upset me that she said Tayshia "attacked" her. I did not see that in any way. Tayshia could not have been more respectful. Somehow Hannah did not see that Tayshia was actually trying to help her.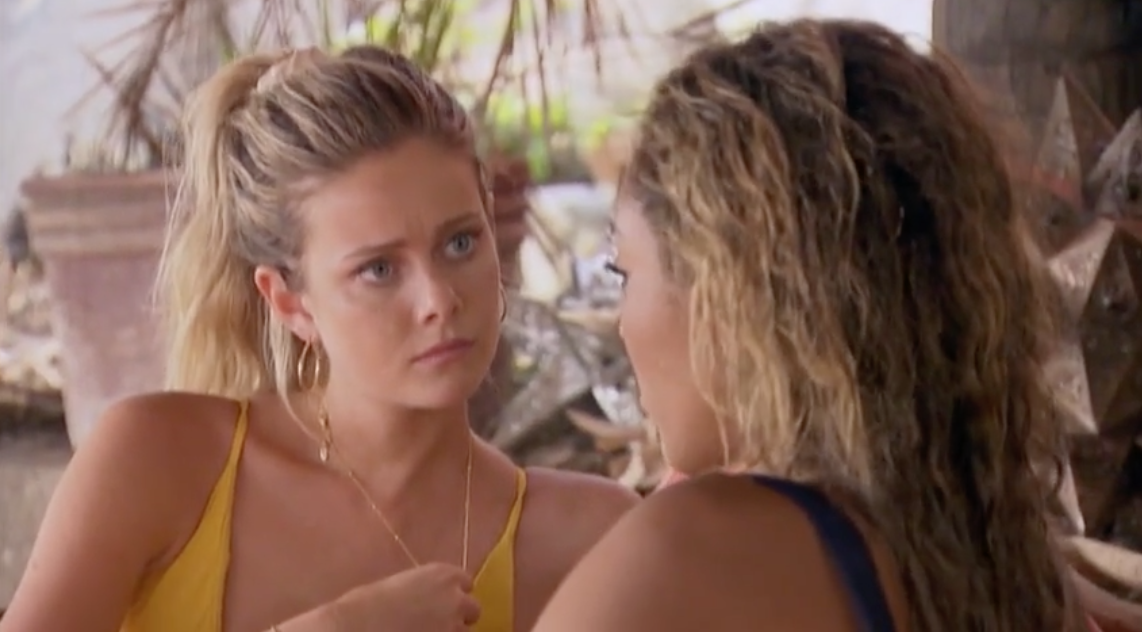 And I guess I'm super confused as to why her blinders are on about how he's played other women. Again, last night on my blog I talked about how if they have a super strong connection then none of that matters. But if they really had that strong of a connection wouldn't they have known that when they met up in Birmingham? Why would he go on a date with Tayshia? None of it adds up but I just don't get it. And it seems like nobody else gets it either. It seems like they were both playing a bit of a game and I don't understand why. There was no need for it. They should've just showed up and said were super into each other, "we met a week ago and we are head over heels." Why all the trouble and games?
Caelynn and Dean
I want to say that the show is not fake. Truly! It's not. It's real people and real emotions. However, I do feel at times that people play up what the producers want or what they think people want to hear. But what I loved about Caelynn and Dean's date is that there was none of that BS. They were both completely and utterly themselves. Dean didn't play up who he was and Caelynn was honest about being apprehensive about him. I loved every second of their date. And after everything she's been through.
Regardless of the whole Blake situation and the text message she sent him the night of Stagecoach, I think Caelynn got really screwed in this whole situation. And it just made me so happy to see her happy! Really I want everybody on the show to be happy! And if anybody out there wants to be mad at me for not throwing somebody under the bus so be it. That's not who I am. Maybe five years ago when I was in my 20s, okay maybe that was actually more than five years ago. Ha! But maybe when I was in my 20s I was more ruthless. But I'm just not now. I've grown and I've experienced life and I know that people are in general good. And it made me so happy to see her smile and to see her and Dean start something together. I hope it sticks and I hope we just witnessed the beginning of something really great.
Christian and Nicole
I honestly loved that Christian zeroed in Nicole right away and didn't bother talking to any of the other girls before he asked her on a date. But my heart broke for Clay! I just adore him so much and I hate that she formed such a strong connection with Christian right off the bat.
Tayshia and JPJ
I found myself glued to their conversation and laughing out loud at the same time. It's funny because I've heard a few girls from the season talk about JPJ being super hot outside of the show. But I just don't see it watching the show. But if Tayshia is interested in him, then he must be attractive! And I just love to seeing their bond and their relationship just makes me happy! I really hope it works out between the two of them!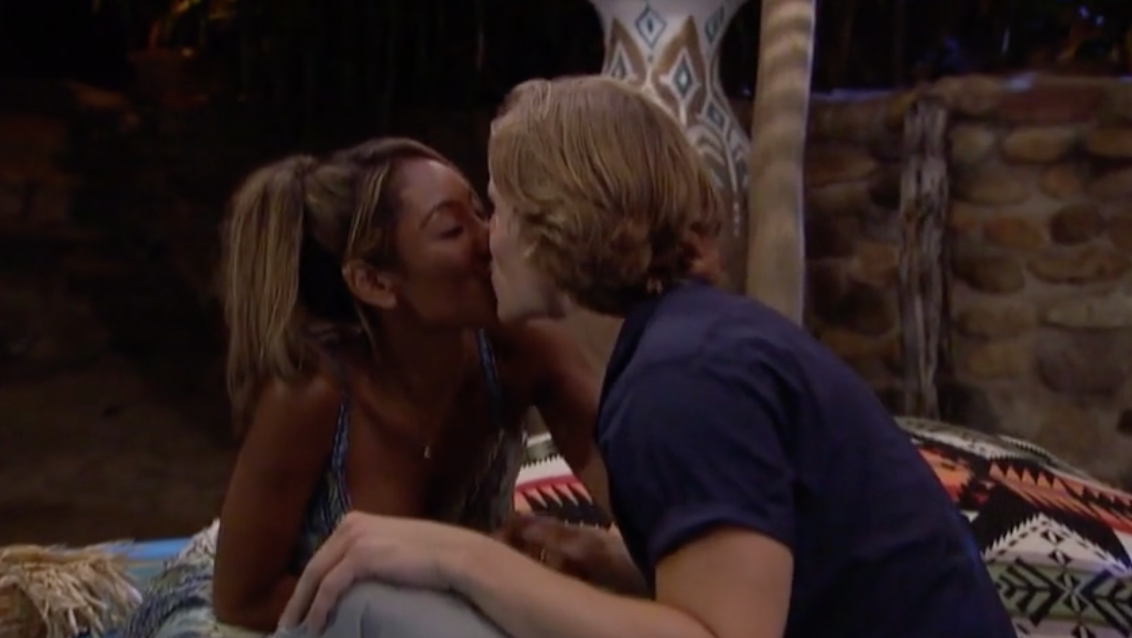 Clay and Christian
I am so team Clay! I just think Christian is bad news bears. As much as I liked how he zeroed in on Nicole I just don't think he's there for the right reasons. It's almost like he's just there to get more air time rather than to actually spend time with her. And when Clay went over and tried to assert himself, I thought it was so amazing how he respected Nicole and didn't want to make her feel uncomfortable. What a man! I am so obsessed with him and I hope more than anything he's the next Bachelor!
Last Thoughts
Can you believe we are only 4 episodes in?! I feel like so much has happened already. I can't wait to see where the rest of the season goes! Who do you want to see together in the end? What do you think is going to happen with Demi this season – I am so proud and excited for her!!! Be sure to check out last night's post if you haven't already!
OH! And don't forget to subscribe to our new Bachelor Happy Hour podcast! New episode is out now and we talk all about last night's episode with Tayshia! Click here to subscribe!
Outfit Sneak Peek
Since there are two episodes back to back, I can't really give you guys two days of weekly recaps. So instead I've decided to share a few outfits items that I purchased today! Plus a few of the outfits from tonight's episode!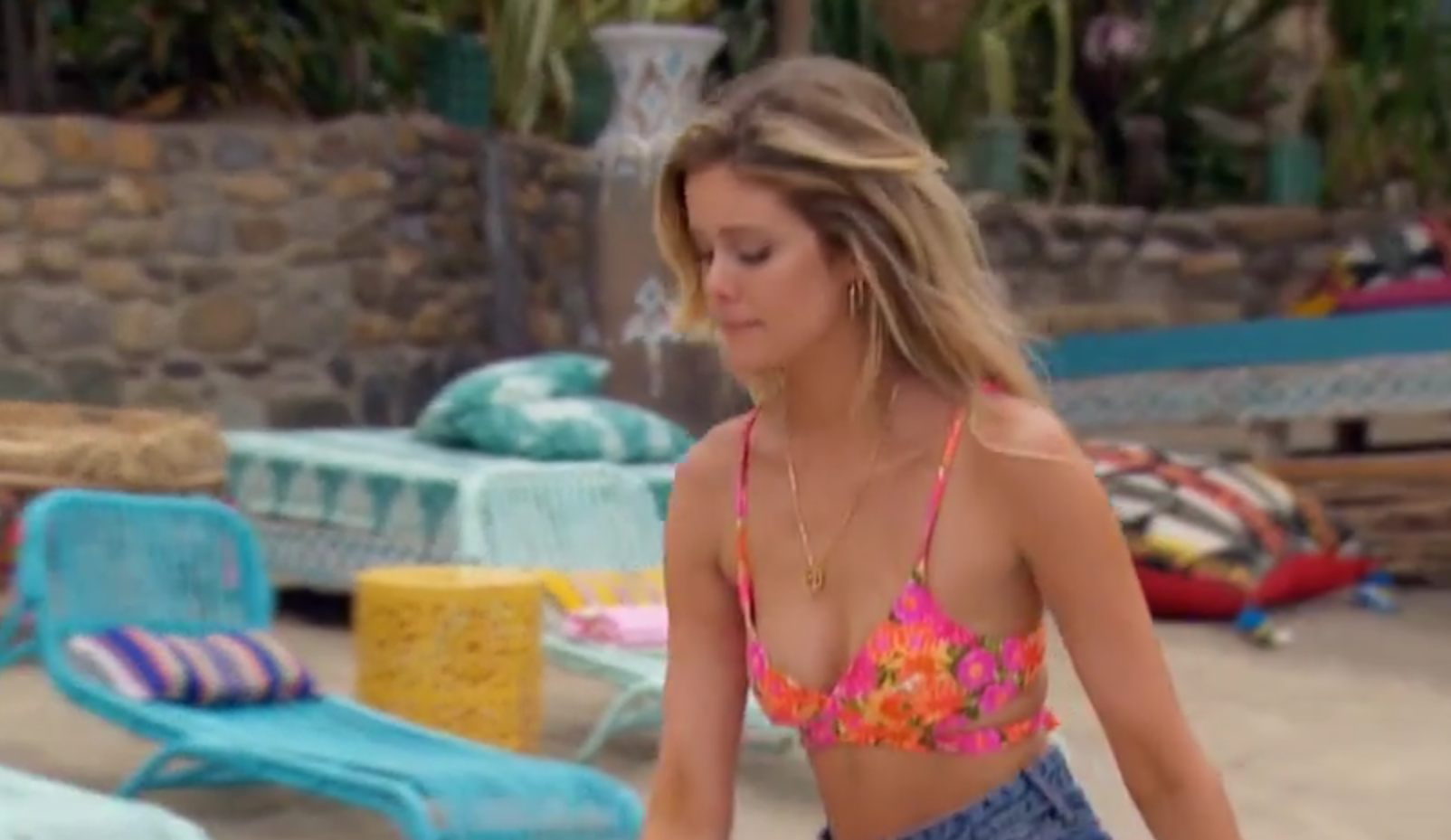 1. HANNAH'S SWIMSUIT TOP | 2. MATCHING BOTTOMS | 3. MATCHING HIGH-WAISTED BOTTOMS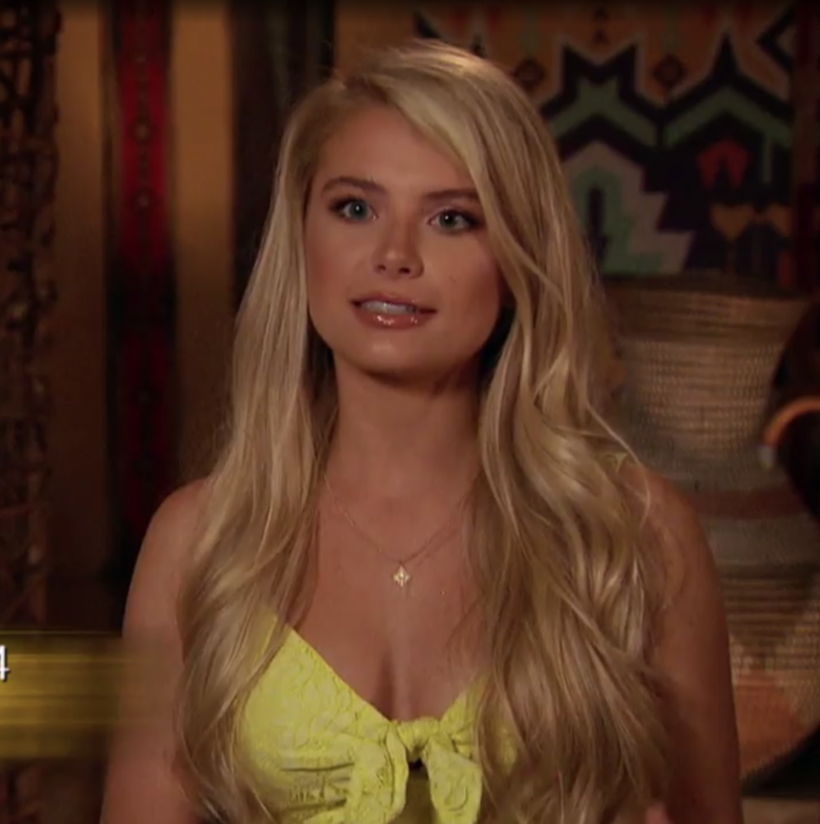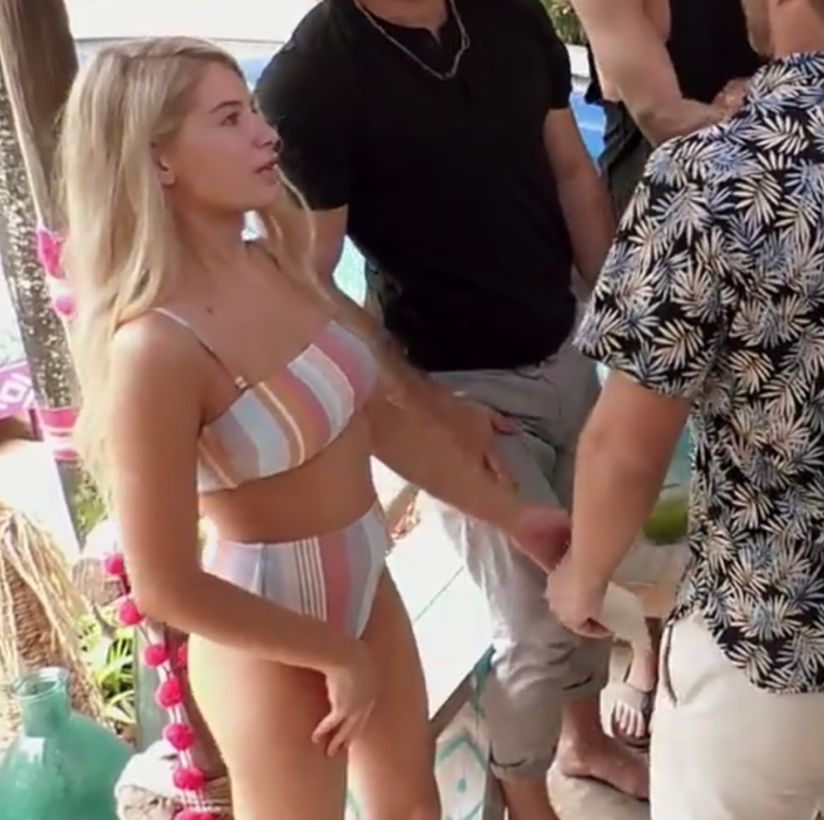 1. DEMI 'S SWIMSUIT TOP | 2. DEMI 'S HIGH-WAISTED BOTTOMS
Okay now for the items that I got today…
First, I wanted to show you this super cute swimsuit that I just got Molly for only $5! Wednesday's are water day at her school and she is so excited to wear this, and I am even more excited that it was only $5! You never know what can happen to clothing items at preschool. Ha! She loves watermelon and is so happy that it's on her suit! Btw, a two piece is great for potty trained kiddos! Easier to go to the bathroom.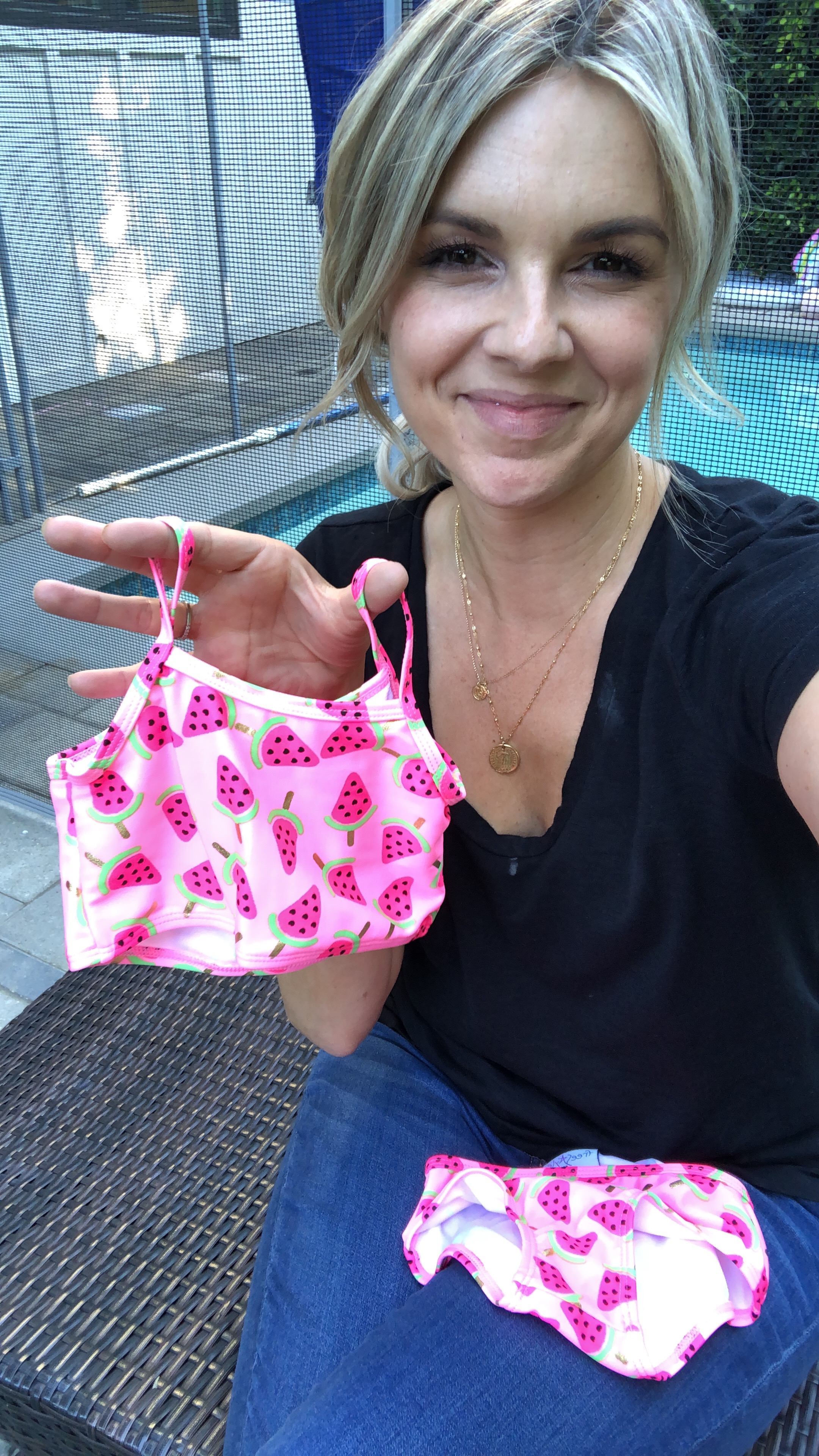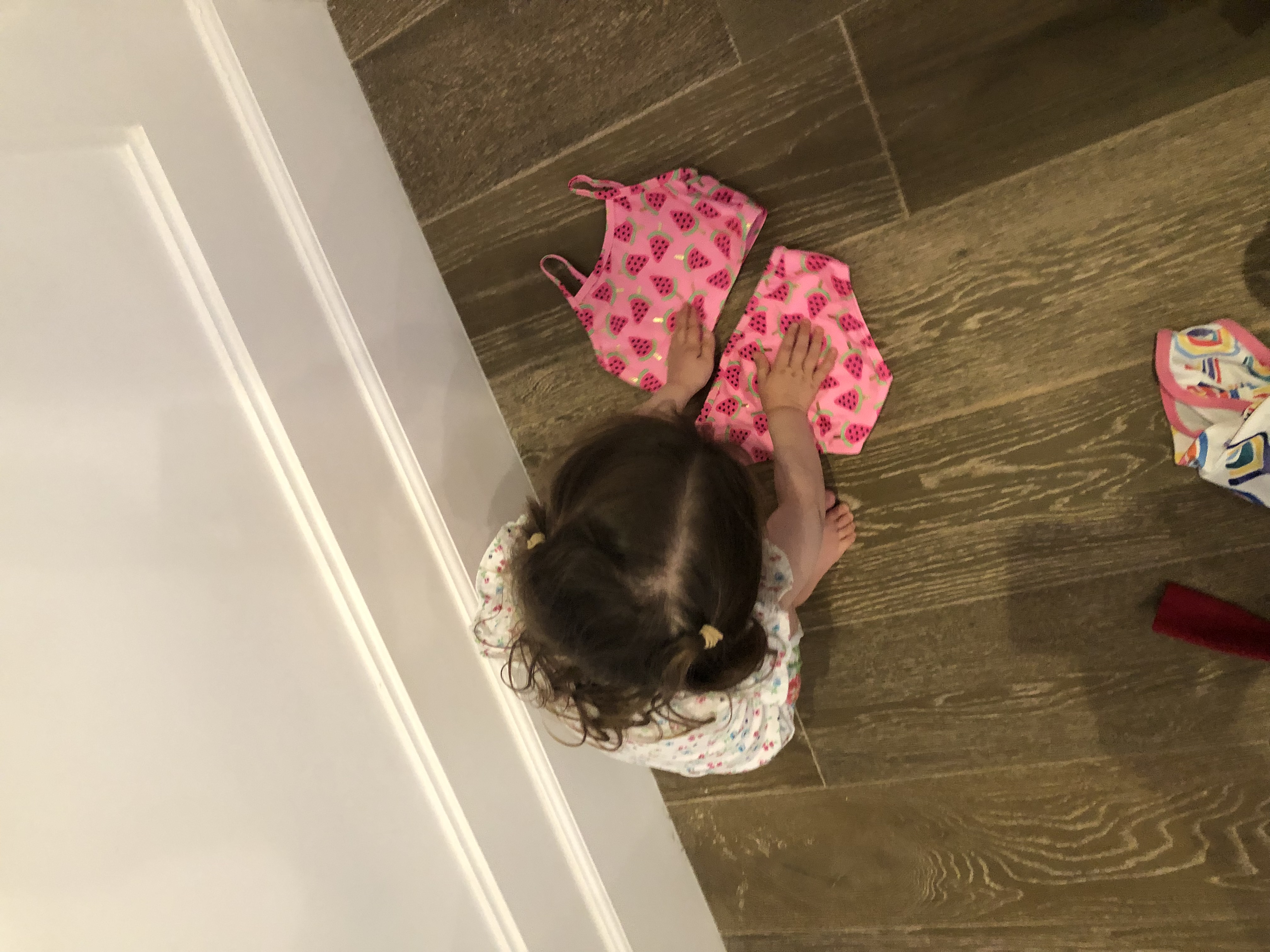 1. MOLLY'S $5 SWIMSUIT | 2. BLACK TEE
Here's my viewing outfit for tonight! If you saw on my stories, we've had quite a night filled with Molly talking to her imaginary bestie and the bank, plus some dancing filled in there too. I love this new sweatshirt! It's cropped so you will want to wear it with high waisted bottoms! And the best part is that it is only $9! Woo! I am wearing a medium here and I would say that it is pretty true to size.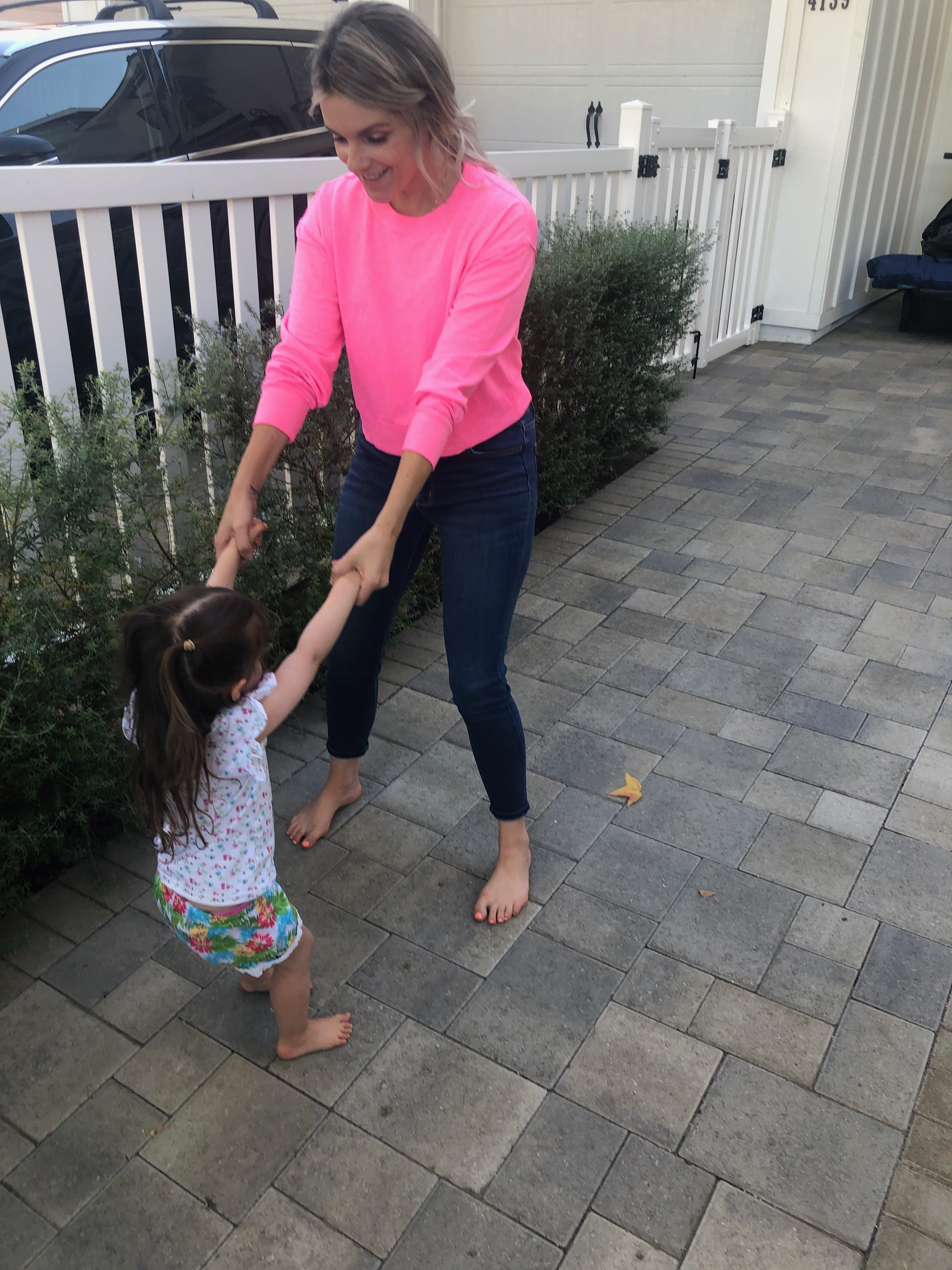 1. $9 SWEATSHIRT | 2. JEANS | 3. MOLLY'S TEE | 4. MOLLY'S SHORTS
Thanks for coming by my Bachelor in Paradise post!