Wow! So much has happened since last week's episode of Bachelor in Paradise, and SO much happened in tonight's episode. I cannot wait to chat with you all about it!
Jordan Kimball!!!!
Jordan is back! Heck yes! He is one of my favorite people from the Bachelor franchise ever! Yes, he can be a bit rude at times and he says the most ridiculous things but he's just a character and I find him hilarious. Honestly, I was super surprised that Hannah was talking about how cute he was when he walked into Paradise. Not that I'm saying that he's unattractive. I get that he's a model. I guess it's just his personality and how he is so ridiculous that it makes me not look at him that way. But I will say that I have met many people from Paradise who I didn't think I would find attractive while watching on TV and then I met them in life and was like oh wow I get why they're so attractive. I'll keep it to myself who those people are. Ha! I'm a married woman.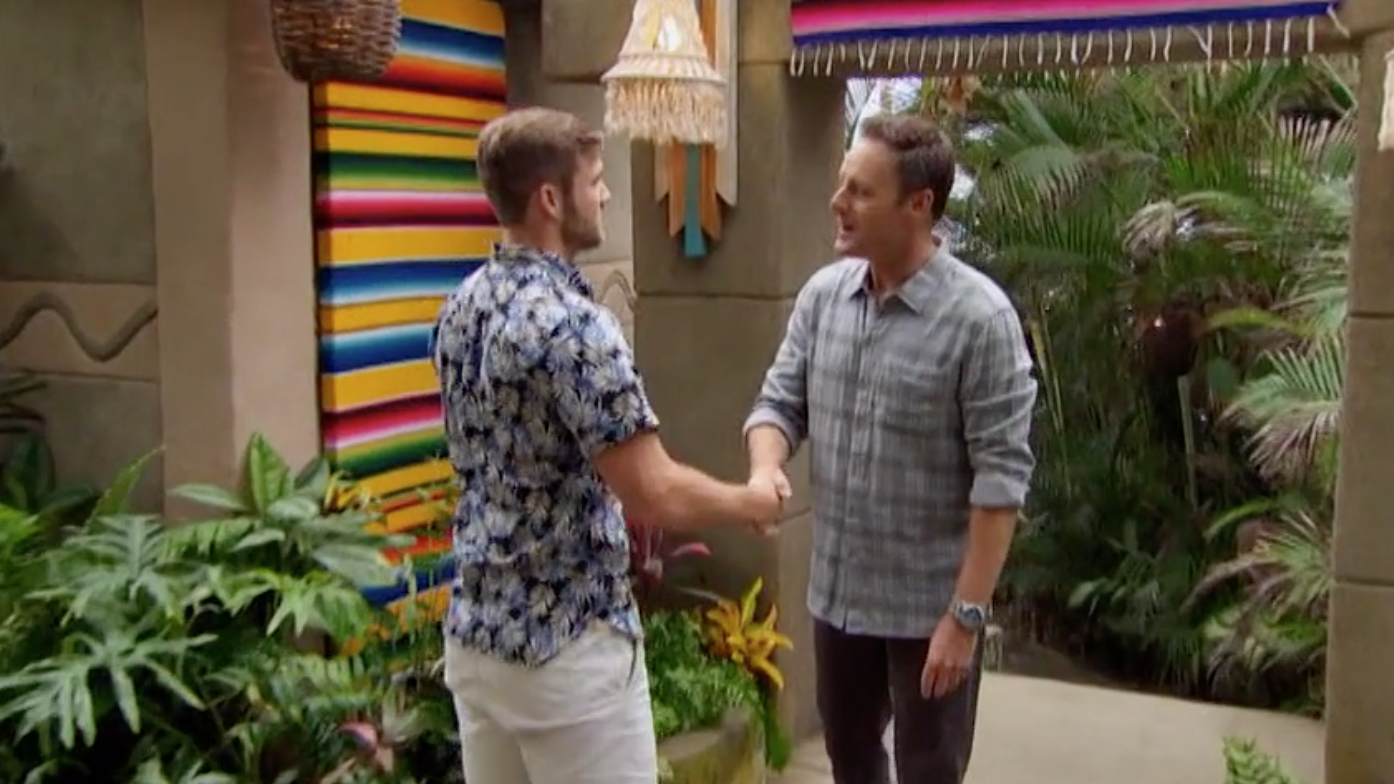 Anyway, he had me laughing out loud the whole episode. I am soooo glad he is back because he brings the "funny" back to Paradise! And because of him it made me think a little less about all the drama.
Dylan
I totally feel for Dylan because it's got to be so terrible being in his position. But I also think Hannah just needs to cut it off with him. It's just so obvious to me and I'm pretty sure to her that she's not gonna end up with him. He is way more into her than she is and to him. And I feel like she's just waiting for what she really wants to come along. And it seems like that person is Blake.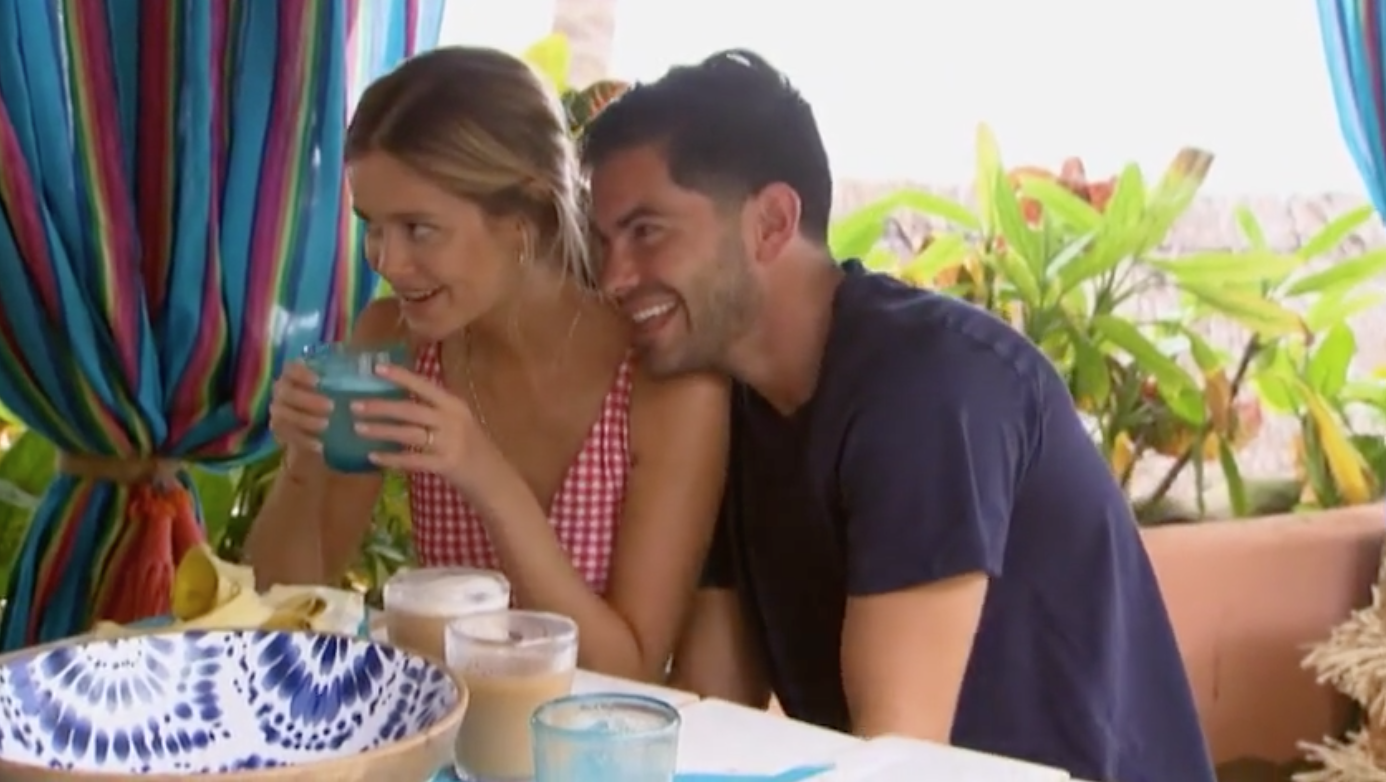 And I wish that after she turned down Jordan she didn't go to Dylan and say it was because she wanted to spend more time with him. Because it's pretty obvious that wasn't the case. What she told Jordan was that she wanted time to figure out her relationship with Dylan and her relationship with Blake. And she didn't want to add another person to that. So it wasn't JUST about spending time with Dylan and I wish she was honest with him about that. I really think Hannah is a nice person but she's isn't doing very nice things. And unfortunately she's stringing Dylan along and in the end I know she's going to hurt him so badly. I mean…she already has. I will get to her kissing Blake at the end of the episode in a minute. First…
…A Random Thought on Clay
I freaken love him. He's a super attractive guy, confident, and just a huge sweetheart! Honestly, I kinda hope he doesn't end up with anybody on Paradise because I think he would make a great Bachelor! That is, if he doesn't end up with Nicole. I really like them together!
Blake and Caelynn's Text Messages
Let's just backtrack to last week for a minute. As many of you guys know, Blake released text messages between him and Caeylnn from the night they hooked up at stagecoach. And without getting into it too much basically she let him know that she was coming over only for sex and "no cuddling" even when he told her multiple times not to come over. He didn't flat out say don't come but was saying not to come in a somewhat flirty way. Anyway, that's how I read them. So I do think that Caelynn was a bit dishonest about the way she portrayed that night. But regardless of those text messages, Blake is acting like a player. And noticed I'm saying "acting" instead of saying he is a player. Even players eventually end up with the person they're supposed to be with. So do I think Hannah should totally ignore him? No. I just don't because I honestly think there is a really good connection between the two of them. And I am all for them getting together if Blake would focus on her and if she would so we focus on him (and leave Dlyan out of it).
Blake and Hannah
If I were Hannah would I go after Blake? I don't know. My gut reaction is to say absolutely not! Because I agree with Demi when she said that pursuing Blake is sending a bad message to date a guy that has screwed over most of the girls over in Paradise. But at the end of the day if you have a super strong connection, I think just go with that. Because I think a guy could be a player until he meets the right person. Maybe Hannah is the right person for Blake.
That said, I was really disappointed in Hannah's decision when she made out with Blake out in the open. I'm sure she didn't think Dylan was watching but why would you do that there was even a possibility of him watching? Especially when you're out by the water which is totally open to everything. It's not like they were in a room somewhere or even in the hot tub surrounded by trees. I just feel like that was really mean. Again, I really think Hannah is a good person and I don't think she means to be mean – but poor Dylan!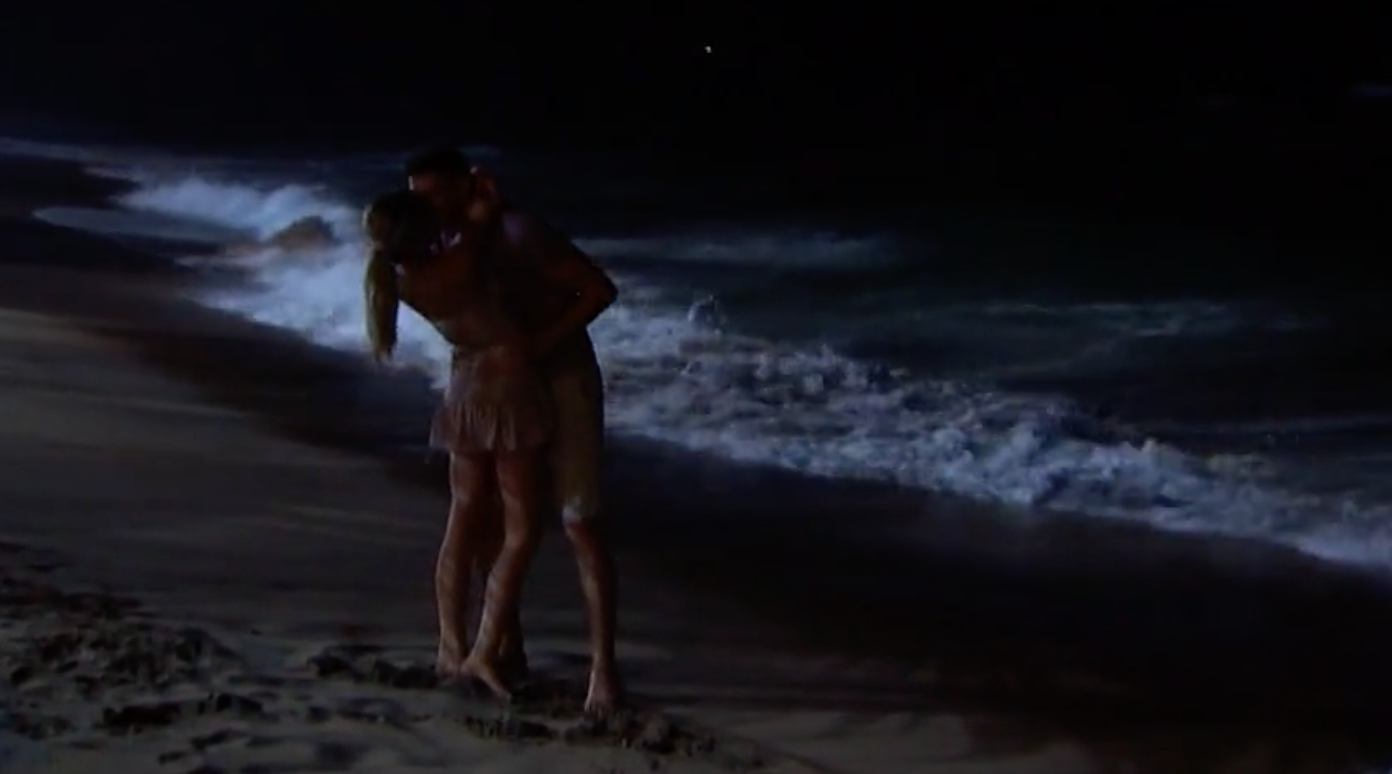 I guess this is where I stand with them getting together. If Hannah and Blake have a strong connection they should absolutely pursue that! Even people who do terrible things can turn it around especially when they meet the right person. But I think they're both really going about things the wrong way. Like how Blake uses the same dance moves on everybody. OK cool that's his thing and he thinks he's a good dancer. But if you do that with Tayshia don't do it to days later with Hannah on the beach when you have a target on your back already.
And I got to say something about Blake reminds me so much of my ex-boyfriend. Honestly now that I think about it they even kind of a look-alike! And that ex-boyfriend was not nice to me. And he was a huge player! But, that same ex-boyfriend has been dating the same person for many years now! So I think when you meet the right person you can settle down. And maybe Blake and Hannah are the right people for each other. Who knows. But that doesn't excuse their lies. Which brings me to my next point.
Hannah and Blake Met BEFORE Paradise?!?!
My jaw just about hit the floor when we found out at the end of the episode that Hannah and Blake saw each other before Paradise. And if he flew to meet up with her, I can only assume they hooked up. So why on earth would Blake take Tayshia on the date when he got to Paradise? And from what we see, he's acting like he never met Hannah! I almost wanna go back and watch the first episode but I'm pretty sure Hannah and Blake are the first people in paradise and they act like they were meeting for the first time. Those two are playing games!
I stand by everything I just said about that making mistakes and then changing for the better when you meet the right person. But why are Hannah and Blake just flat out lying to everybody?! I mean they very easily could've come to Paradise and said they met up before hand. And that they have super strong connection and they are so psyched that they get to explore it more in Paradise. They could say "yeah we met a week ago and totally hit it off. And honestly we hit it off so much that we almost considered not coming to Paradise. But then we thought coming here would be an opportunity to really figure out if we could work long-term." Right? Or just say they met up and hooked up once and are super happy both of them are in paradise. I don't know! Just why the flat out lies?!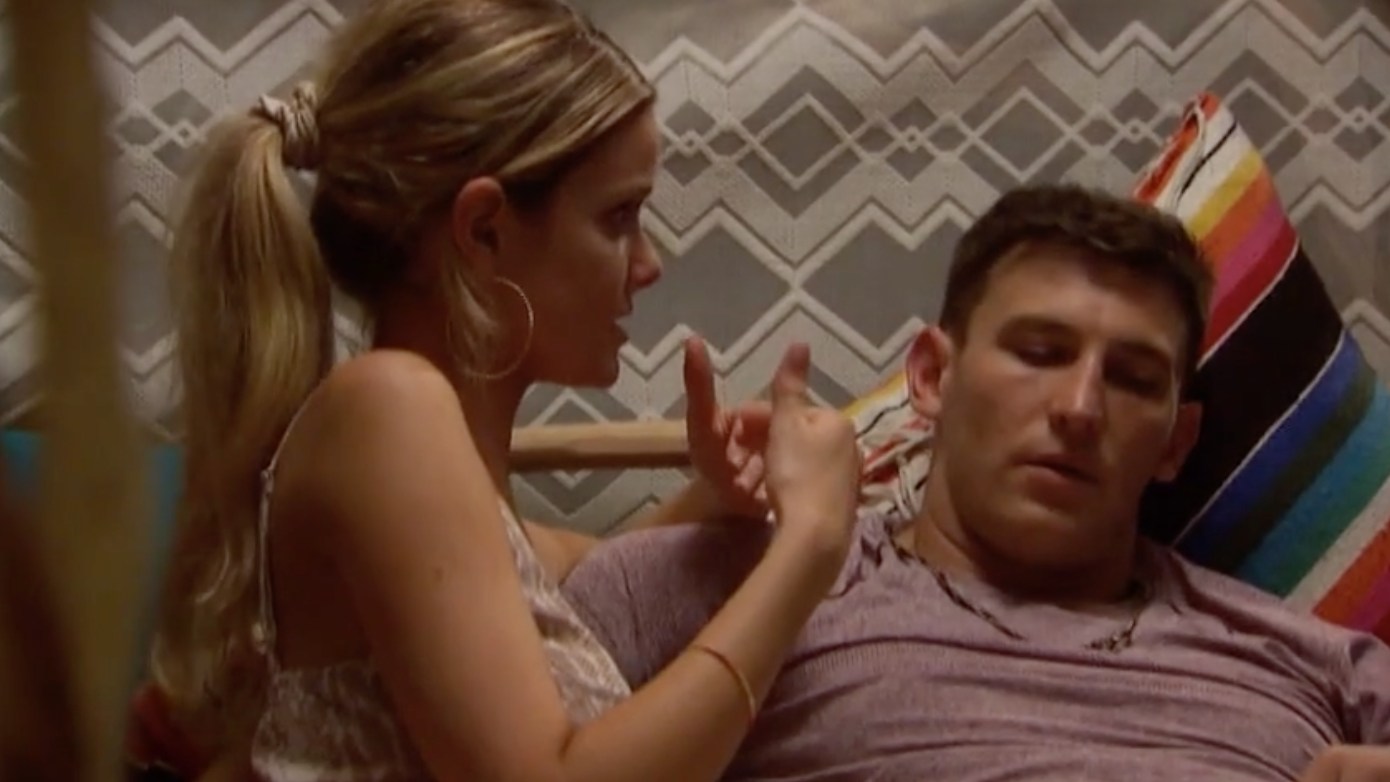 I just don't get it and it makes me super disappointed in both of them. I really hope we get more answers and there's some sort of exclamation because they're both looking pretty bad at this point. And I just want to encourage all of us to be kind when discussing this. I can say what I've said so far in this post with my head held high knowing that I'm not just trying to tear anybody down. That's not helpful to anybody. It's not helpful to Hannah, it's not helpful to Blake, and it's not helpful to any of us. Having hate in your heart only affects you. Anyway, I'm just saying that because I think we can question people's decisions and even be angry with them but let's just try to be careful with our words.
All that said WTF?! I'm just keeping my fingers crossed that there is some sort of explanation although I'm racking my brain to figure out what that could be right now and I can think of something.
And honestly, I feel like this situation is so messy and hard to even explain. Which makes my opinion on everything go back and forth. I mean, I feel like my opinion changes by the minute because there are so many moving pieces. And quite frankly, my head is just spinning.
Can't Go Without Mentioning Mike!
Mike is back too! Yay! I know Mike is back and people are really pulling for him to be the next Bachelor and I have kept saying that I didn't think we got to know him well enough to be the Bachelor. But now that he is in Paradise we will really get to know him. I mean, obviously he is attractive and super sweet. But I want to know so much more about him! And I am so glad he is back. Although my heart broke for Onyeka a little bit. She wanted to go on his date so badly.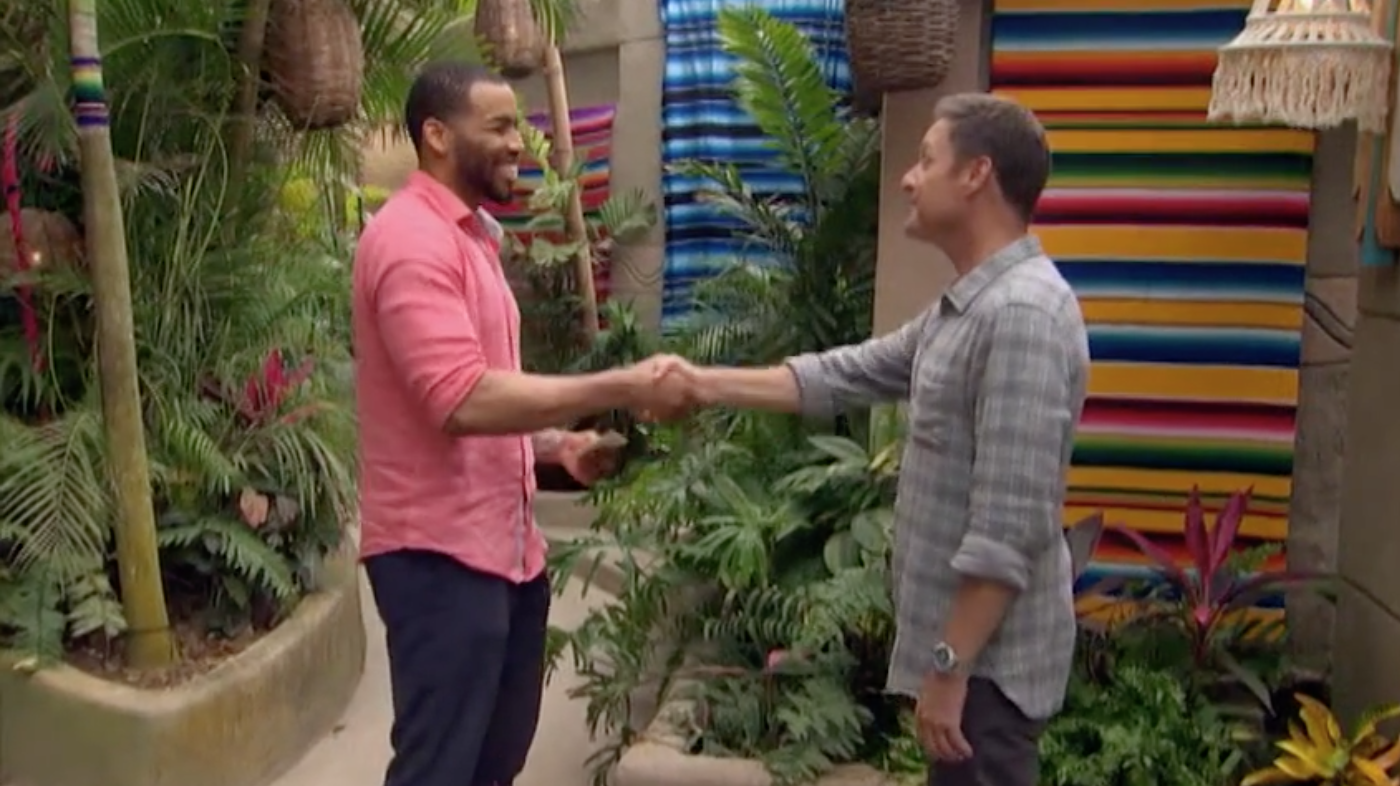 Final Thoughts
Holy moly. This was such a good episode! I am so excited to hear what you guys have to say about today. I cannot wait for tomorrow!!! I so feel for Dylan. What are your thoughts? Are you seeing any couple's form that you could see outside of BIP? Are you as happy that Jordan is back as I am? Let's chat!
This Week's Outfits (plus some from the show!)
I know I haven't posted a ton of outfit posts this past week because I have been so busy, so here are a few that I will be posting about very soon! Check out last week's BIP post for even more links!
After a quick hunt, I found Demi's dress from the Rose Ceremony! If I find any other items after posting this, I will update you here!

This entire outfit, including the sneakers, is less than $35! You guys know I love a good deal, and man this is a good one! I love this top because it is great for summer and fall! It's lightweight and is really stretchy! Plus, it's only $7! These jeans are one of my very  favorites and they are only $9!! If I didn't know this about them, I would totally think these jeans were are least $50! They are great quality. I can't believe they aren't even 10 bucks! I don't know what piece from this pic is the better deal, the jeans, the top or the sneakers! They are all just so affordable!! The sneakers are super comfortable and are less than $20! More details about each of these items will be found in my blog later this week!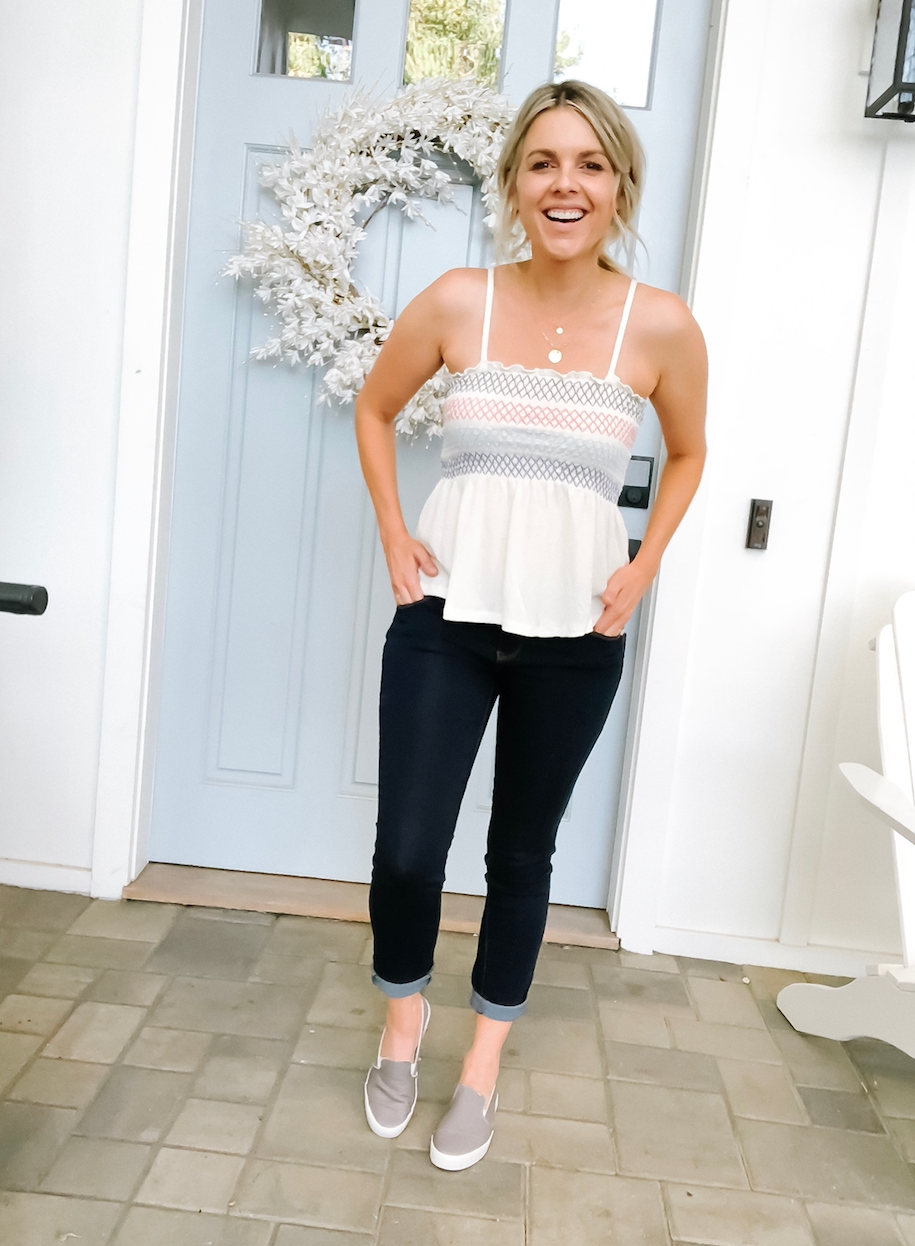 1.$7 TOP | 2. JEANS | 3. SNEAKERS
I'm wearing this right now and got a few questions so I thought I'd add it now! More details to come on this later this week! I love this blouse because I feel like it is the perfect top for me to feel empowered. I've talked about my power colors in the past, and I definitely think that pink is one of them! This top is great because it can be worn in a business or casual setting. It's great because it is just long enough to tie in the front if you want to. Sometimes I like to do that instead of tucking it in!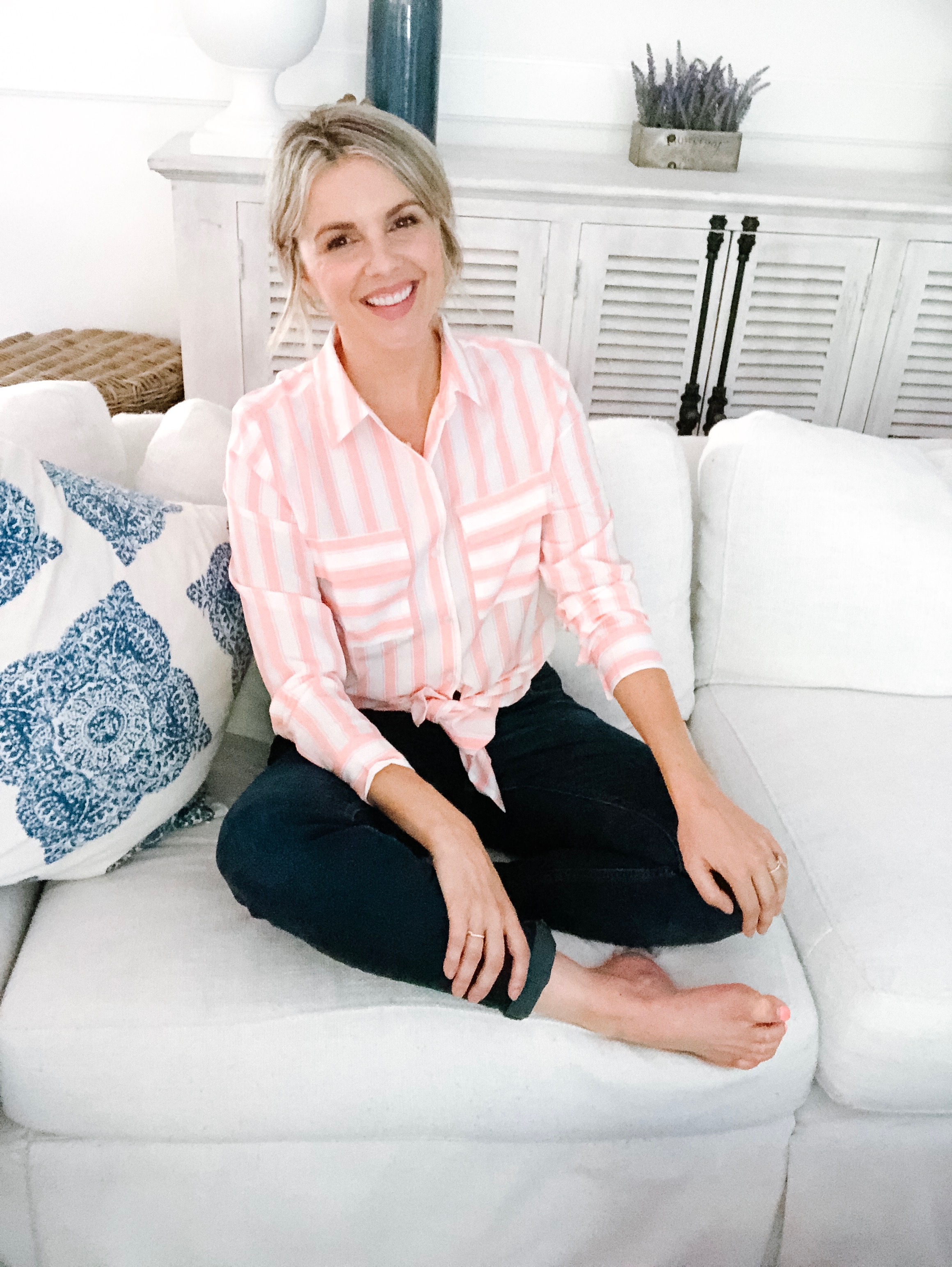 1. STRIPED BLOUSE | 2. JEANS