You guys know I've been working a lot this past month, and that means I've needed some good outfits for work! And there's nothing like a cute and casual outfit that you can wear to look and feel your best. The one I am sharing today is one of my favorites!
Cute + Casual Outfit for Work
It's crazy to think about, but fall is almost here! And that means fall outfits are right around the corner, and in some places can even be worn right now! I'm really excited to tell you that the cardigan and striped blue shirt that I'm wearing in these photos! The exact colors I'm wearing in these photos are in stock and there's a bunch of colors available too!! Pretty much every size is in stock except for extra small.
I'm wearing a size medium in these photos FYI. So it's very true to size. I know the website says it runs large, but I don't necessarily agree with that! I would probably get your normal size, but if you're in between sizes I'd maybe get the smaller one. What I love about it, is that it's so lightweight that it's really great for layering. Sometimes I buy sweaters thinking that I will layer them but then when I put them on it makes my arms look super bulky. Not this one! The thin material makes it the absolute perfect cardigan to use to transition to fall. And then even later in the fall!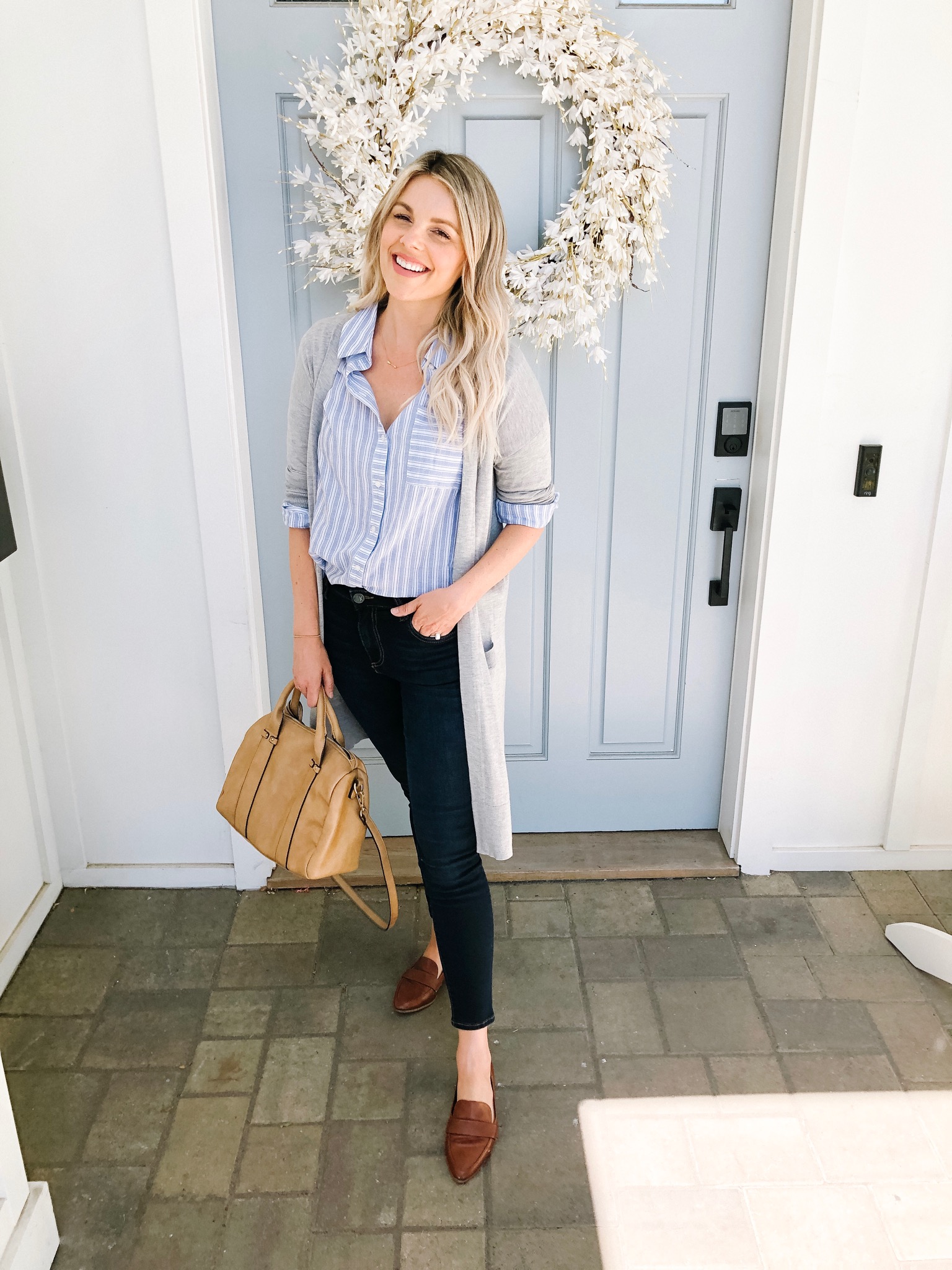 1. CARDIGAN | 2. STRIPED SHIRT | 3. PURSE | 4. JEANS | 5. BROWN LOAFERS 
My striped shirt
I love this striped shirt! It's got that really cute boyfriend look and it looks really sharp layered with the cardigan. I'm also wearing a size medium in this which is my normal size. One aspect that I really love about this top is that the sleeves are rolled for you at just the perfect length. You can even roll it a bit more if you need too, but I love the way these sleeves land on my arm. And it seems like it is also fully in stock in all sizes! It also comes in a pretty burgundy color too!
My Jeans
I also have to talk about my jeans because they're under $100! They are so ridiculously flattering and hit my ankle at just the right place. I'm 5'7 for those of you wondering. If you're shorter than that you could definitely cut them. Although I don't think you would need to if you're 5'5 and over. I tried on so many jeans from the Nordstrom Sale and I have to say I love these ones even more than the jeans that were on sale for $150. So definitely check these guys out!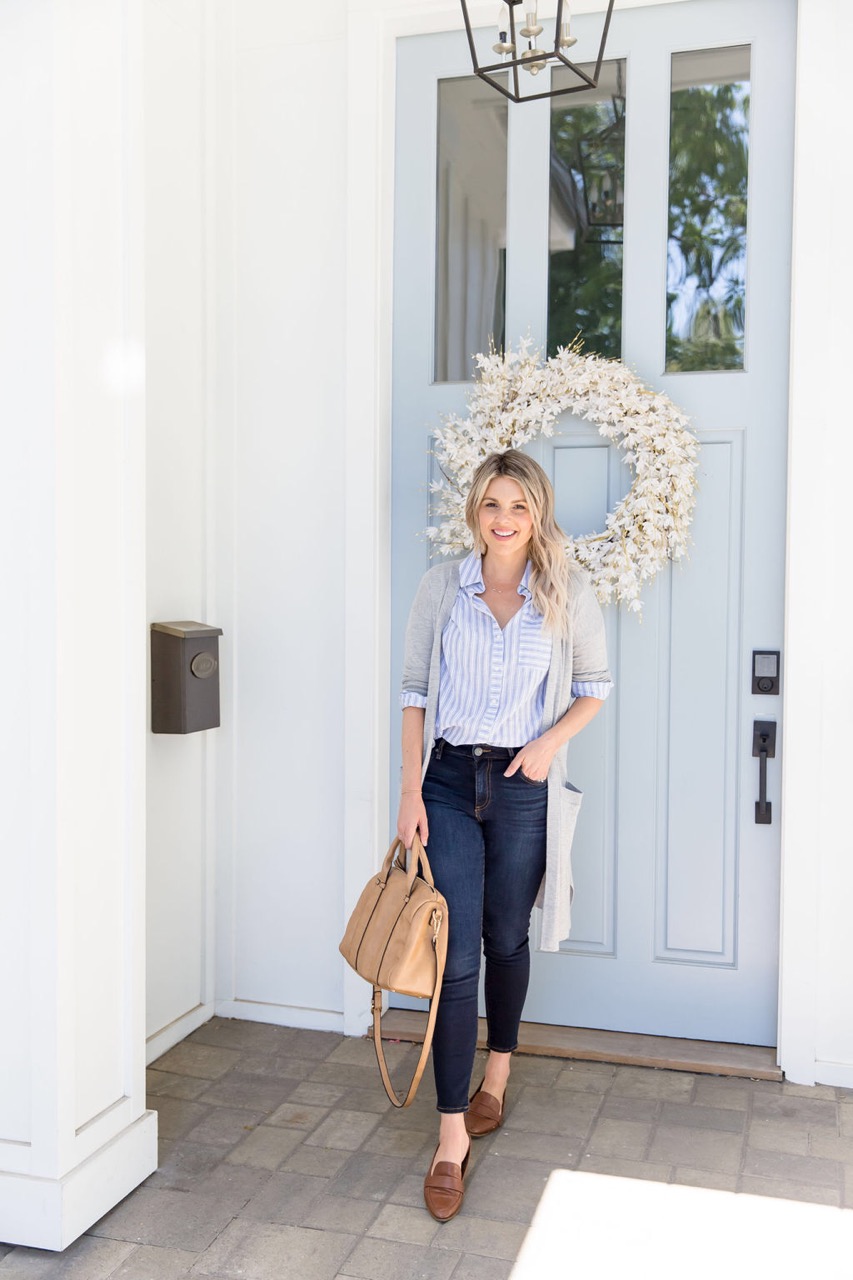 1. CARDIGAN | 2. STRIPED SHIRT | 3. PURSE | 4. JEANS | 5. BROWN LOAFERS 
Accessories
As for my accessories, they are great deals so I thought that I would mention them here! The bag is from Sole Society, and unfortunately it JUST sold out, but I found a really similar one that's on sale for only $45! My brown loafers are from Just Fab, I think I got them for $10 when I first started! They are in stock in a few sizes!
Men's Wear
And if you guys didn't see the post that Kevin wrote for me the awhile ago, please check it out. He knew how stressed I had been trying to keep up with my new website, my new podcast, filling in as co-host on the show I work on, and just trying to be a good mom. So he was so sweet and wrote a blog post for me and even linked menswear outfits that he loves during the Anniversary sale (a lot of it is still in stock!) – he knew that I needed to get up a post about menswear and he did it for me. Husband of the year!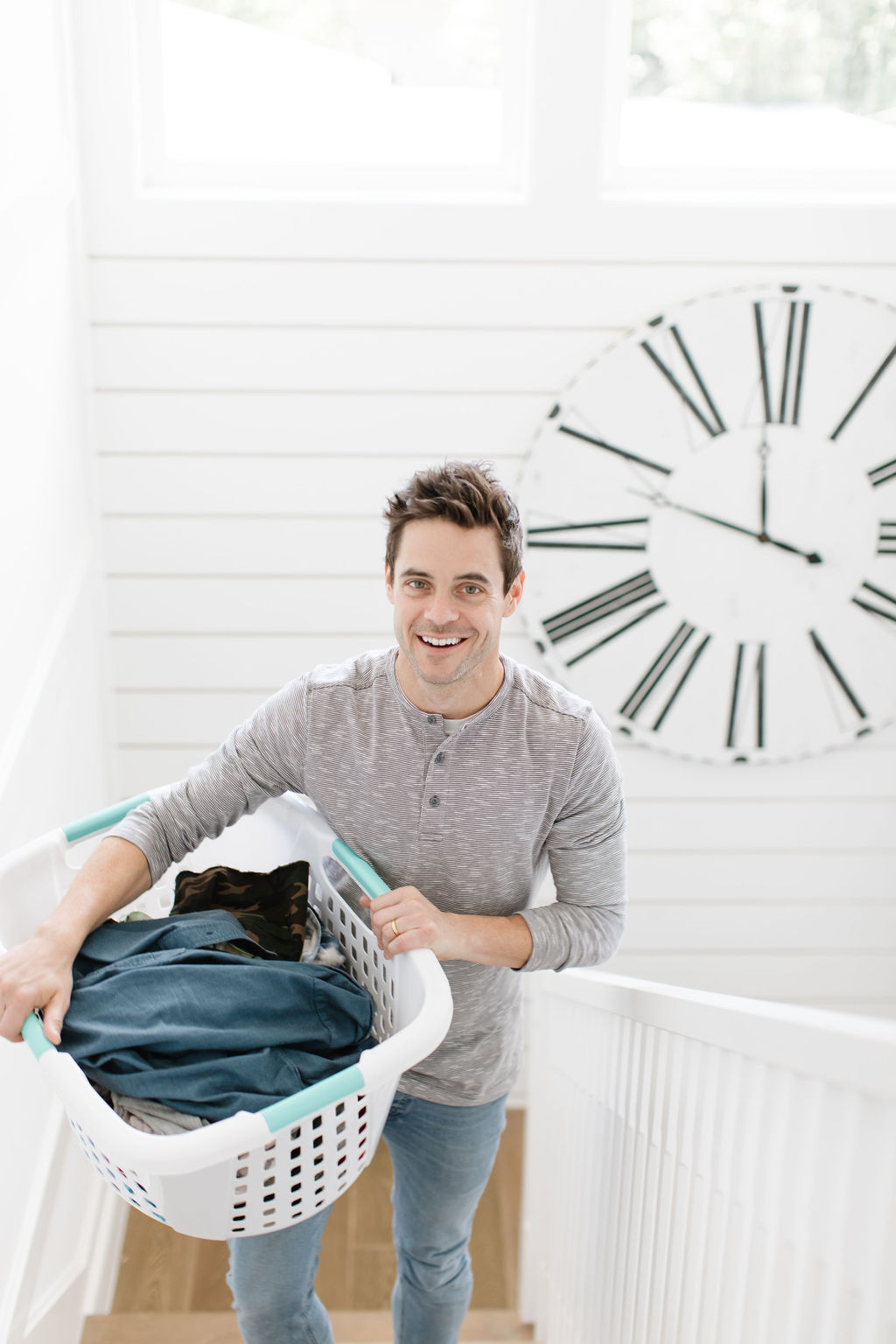 1. HENLEY | 2. JEANS HE LIKES
Do you have suggestions for fall outfits?
I hope you love this option of a cute and casual outfit that you can wear to work, and really you can wear almost anywhere, this fall! I'd love to get some suggestions for you as I continue my fall shopping. Are there any pieces you are already loving? Let's chat!