Hello! This is Kevin writing this. I've done a couple blog posts in the past when I've felt Ali needed/deserved a break. And man, this is definitely one of those times. July has just been a non-stop whirlwind of crazy for her. First, the Nordstrom Anniversary Sale is happening and that's basically the Super Bowl for her and for any other fashion blogger out there. Plus, she's been working full-time as co-host on the TV show that she normally works part-time on. And on top of that, she just started a top secret Bachelor Nation project that I believe she is announcing on Monday. I don't know what I'm allowed to say about this, so I'll stop there!
Which means she has been going to Home & Family to shoot all day long, coming home to help me get the kids down and heading right back out to work on that other secret project. Oh and she also launch this brand new website which required a ton of work, especially after the launch to work out all the kinks. And then she somehow manages to keep up with updating this blog and has continued to be the best Mom ever to Molly & Riley. I truly don't know how she does it! She must have a really great partner. Ha! Seriously though, I'm very thankful that she has this outlet and community to help keep her sane! It's truly therapeutic, so thank you for being there for her. It means a lot to me and her.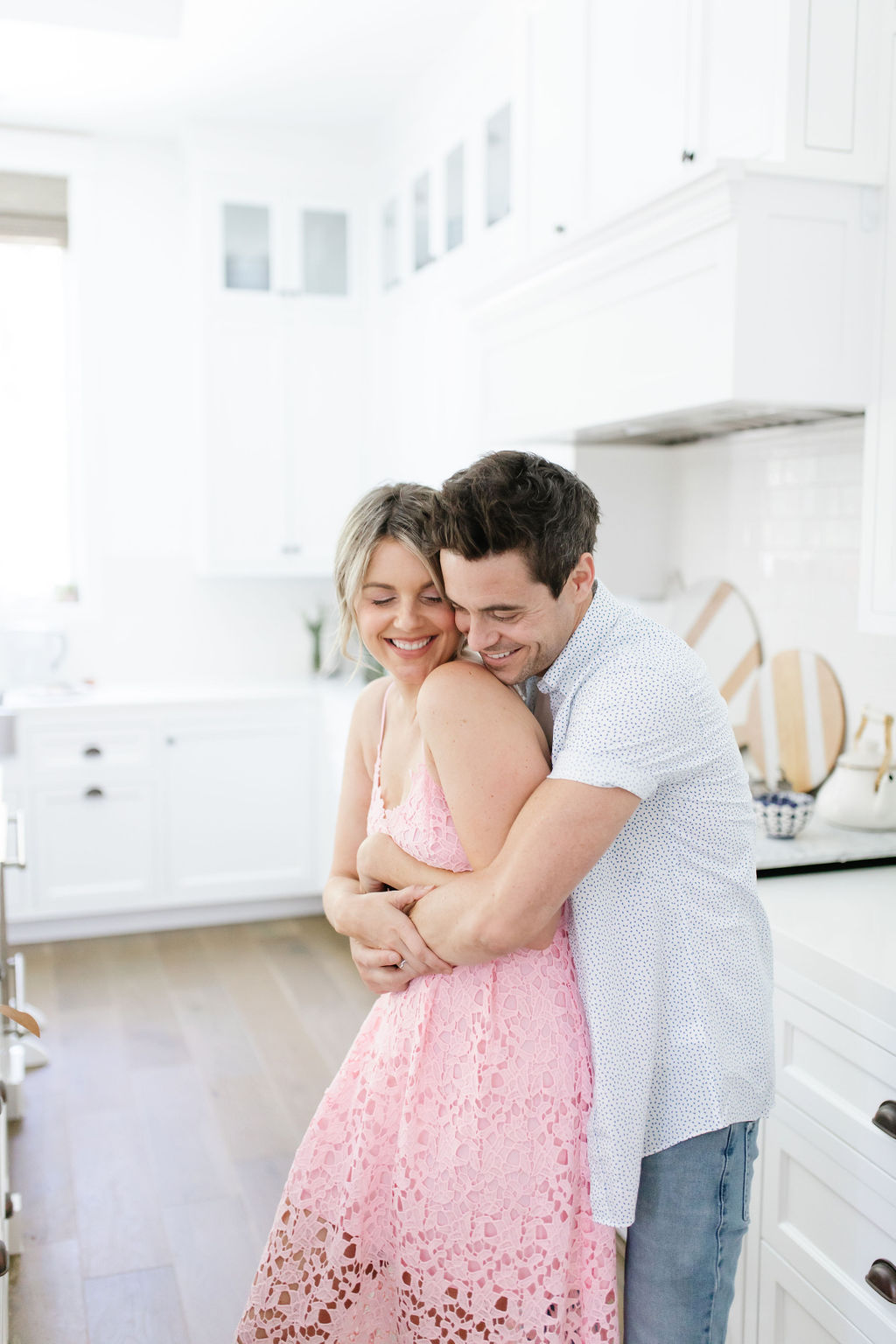 1. PINK DRESS | 2. MY SHIRT | 3. JEANS I LIKE
Anyway, a couple of weeks back she asked me to looks for things I might like form the Nordstrom Anniversary Sale because she wanted to do a post about menswear. Well, I decided to take it a few steps further. Like she asked, I did look at the website and ordered some clothes. But I also set up a quick (super secret) shoot with our friend Ashley & I'm writing this post! I knew she wanted to do a post about guy's clothes, but I didn't want to give her yet another thing to do!
The Manno Household
While I talk about the clothes, I want to explain the unique distribution of work in the Manno household. We regularly get comments and questions about this, and I want to help break down the traditional husband/wife stereotypes!

1. HENLEY | 2. JEANS I LIKE
Family/Laundry Man
As you can see in this pic, I do ALL the laundry in our house! Actually, that's not true, Ali did a load a couple weeks ago and somehow tie-dye'd a couple of her shirts. It's not her thing. About my shirt real fast, it's a Henley! I think it's the first Henley I've ever owned and I love it. I got multiple compliments on it when I wore it to work. As far as sizing goes, I usually wear a small & this is quite true to size. I got a small and it fits perfectly. If you have a dude in your life, this is a good one to get him! And of course it's on sale now for $38 with the Nordstrom Anniversary Sale.  That's a crazy good price for this shirt. Oh by the way, here's a link to the items she loved for the women category of the sale!
How we Split it Up
And it's not just laundry that I do around the house; it's the majority of the cleaning. That includes dishes, as seen in this dashing photo of my brand new cardigan – also from the Nordstrom sale and under $50. I got a small, and probably could've sized up to a medium honestly.
Regarding our workload, the way I like to explain it is that Ali handles all of the "big picture stuff" like bills, the mortgage, scheduling home repairs, etc… and I handle many of the "day to day operations." A lot of people seem to think that's odd, but those happen to be our strong suits. It works for us and I love it.  At the end of the night I'm washing dishes and cleaning up the kids toys, and she's balancing our checkbook and schedule things for our kids like play dates and doctor appointments. It's a great balance.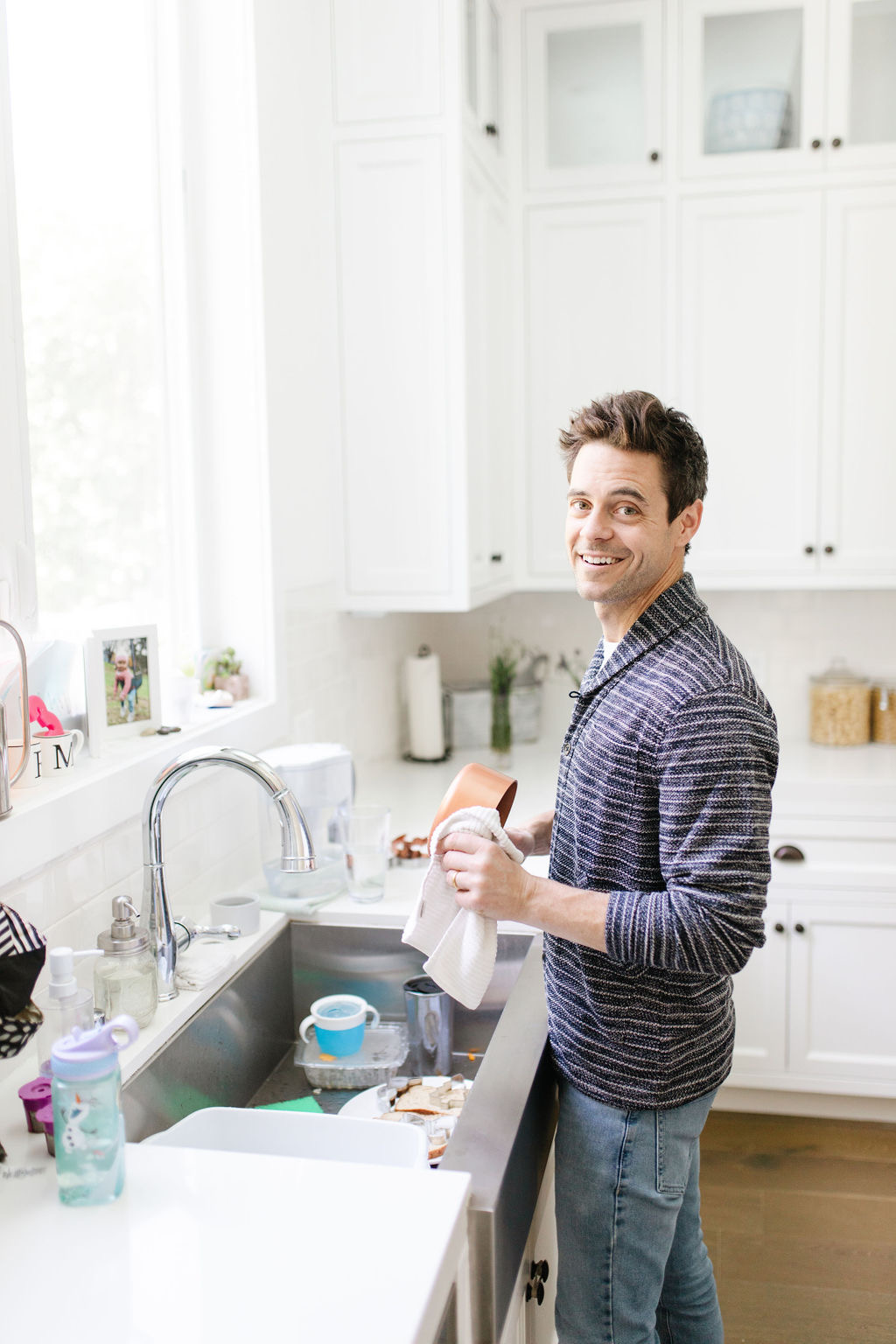 1. CARDIGAN | 2. WHITE TEE | 3. JEANS
Love Notes
In this next look, I'm wearing my brand new Madewell Crewneck Sweatshirt, and I'm writing my wife a quick note to tell her how much I appreciate her. I got a size small in this as well and it's perfect. In full disclosure, this photo was Ashley's idea. Don't get me wrong, I don't want you to see this and think that we're one of those fake/shiny Instagram couples that lives in a perfect bubble and never has problems, because we're certainly not. There is no such thing as a perfect couple, so please don't think we are. But I do think it's important to let your partner know how much you appreciate them every once in a while. I've been writing these little notes for her since we starting dating and I wrote one every week for the 39 weeks she was pregnant with Molly. I like writing them because I know how much she loves getting them. And when she's happy, so am I.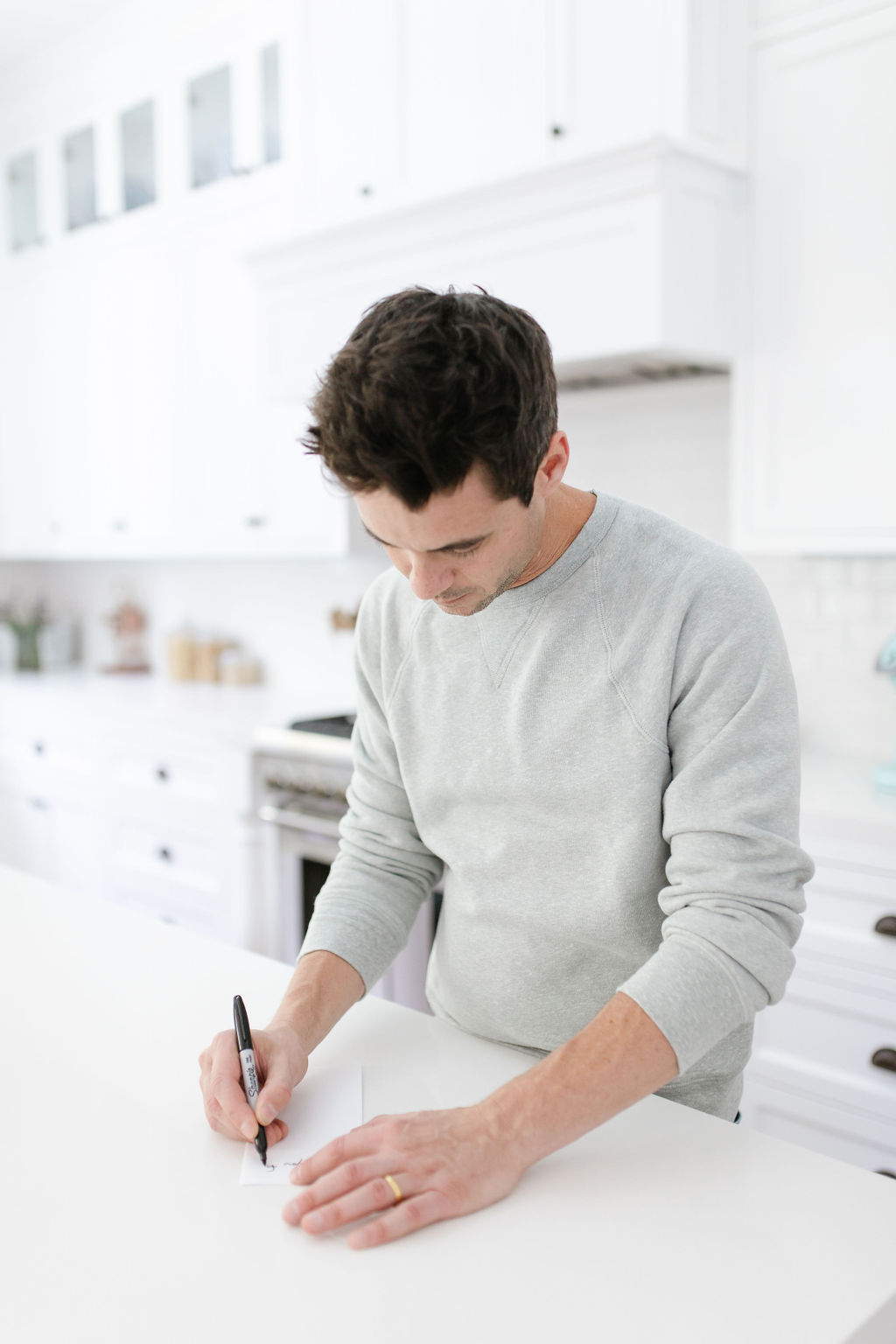 Every time Ali does something sweet for me, it sticks with me for a while. Those little acts can be very very meaningful. Not that anybody asked, but that would be my relationship advice. Do something nice and unexpected today! Also, while we're talking about it, don't ever compare yourself to the people you see on social media. We all present our best versions, and they're not always realistic. People think our kids are little angels, because how often do you whip out your phone when they're having a meltdown? Never. Nobody is perfect, and you're doing great.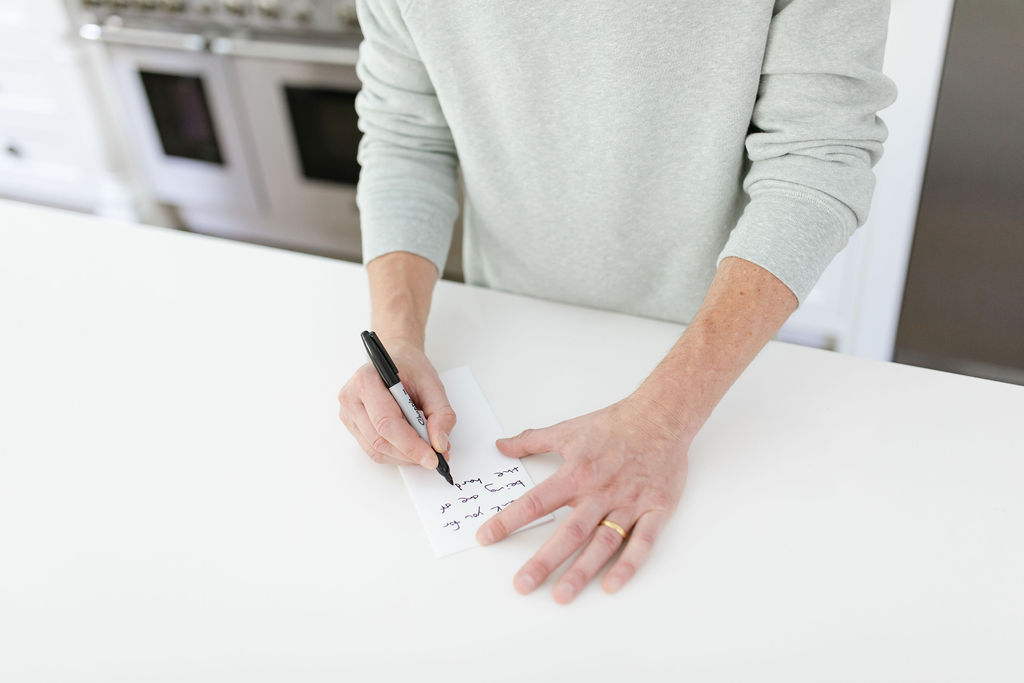 And Ali obviously knew about this last picture, because she's quite clearly in it. She came home at the end of our mini-photo shoot and hopped in this one! She actually got me this shirt from the NSale and it's now a new fave of mine. Thanks, babe! I've been really into these short sleeve button ups lately. I'm no fashion expert, but I think they're in right now. Right? This is a small that also fits perfectly. True to size. And it's only $38. And while I'd love to take credit for these flowers, she actually brought them home with her to take picture for her Bachelorette blog on Monday. And I am almost positive she mentioned in her insta story last week that her dress was only available in a few sizes and color. But I just checked and it fully in stock in 7 colors. I love her in anything, but I have to say this dress is really stunning on her.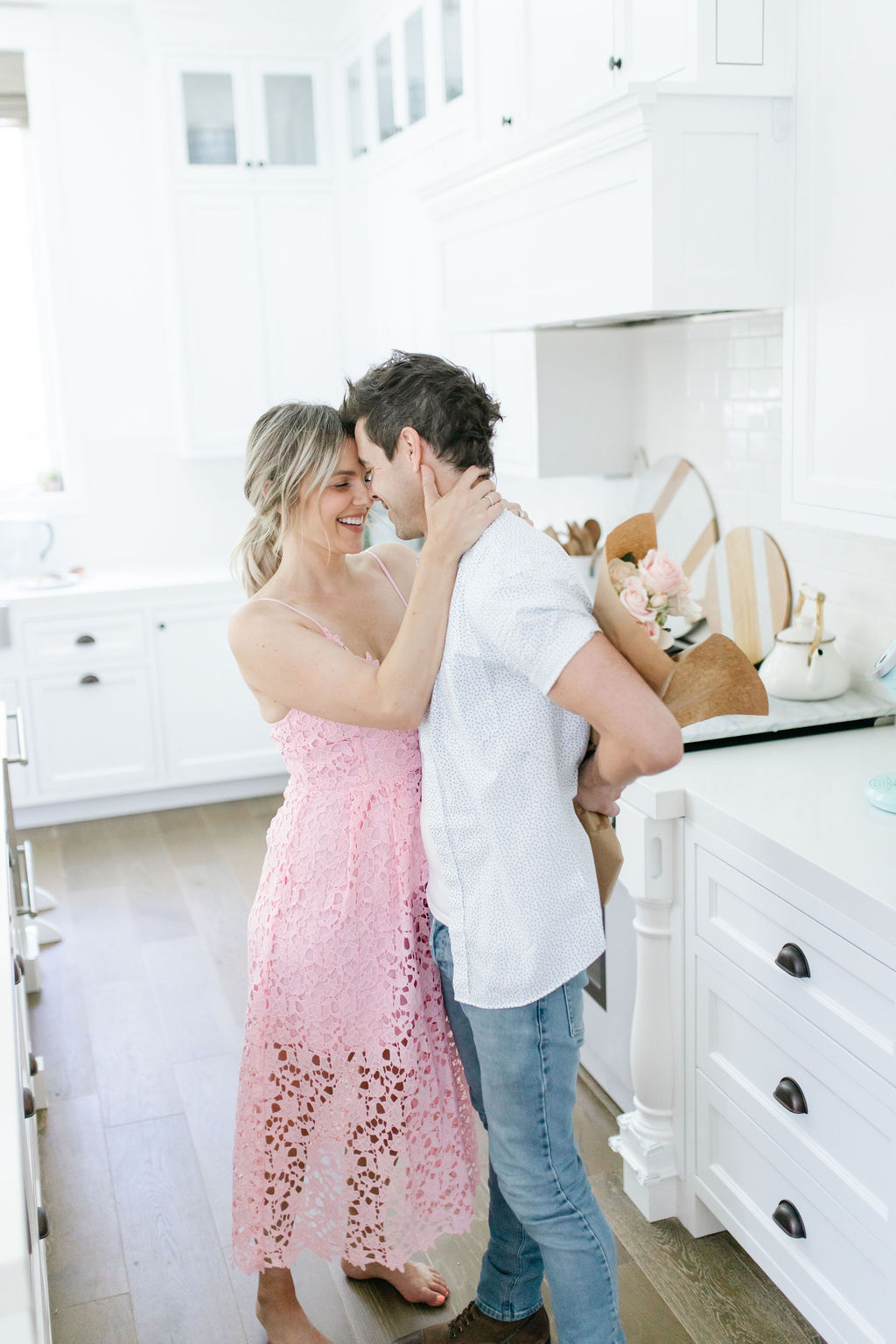 1. PINK DRESS | 2. MY SHIRT | 3. JEANS I LIKE
Anyway… I wanted to jump in here to give Ali a break and to highlight a couple men's items from the Nordstrom Anniversary Sale. She's been working about 16-hours a day (including weekends) for about a month, and I want her to know how much I notice and appreciate it. Does she tend to bite off more than she can chew? Yes. Does she do it for the family? Absolutely. I love ya, babe! Thanks for being such a great leader of our little family. Molly, Riley, Owen and I are so lucky to have you.

UPDATE FROM ALI: Hi!! Some of you brought to my attention that the website says to order this dress 2 sizes up! I got a medium, and that's what I normally wear and I am really confused at why it says that. Maybe if you are in between sizes go one size up, but definitely don't think going up two sizes is necessary!
Thank You
And thank YOU for reading! If you've made it this far, I might as well plug my radio show and Instagram! I do a morning show here in Los Angeles with my friends Valentine, Jill & Brian on 104.3 MYFM. You can listen anywhere on the free iHeartRadio app. And of course, you can follow me on Instagram at @KevinManno. Thanks and have a great weekend!
Love ya babe!
From Ali: Seriously in tears reading this! I love you so much!!! I couldn't do any of this without your love and support. Thank you for being my rock. And thank you to Nordstrom for sponsoring this post and making you look so dang hot in all these clothes. Ok, what you did is what really makes you EXTRA sexy 😉 Love you babe!