Welcome to Night 2 of my Bachelor in Paradise blog! I know I said yesterday that I wasn't planning on posting a blog after every episode, and would likely only be posting after Monday's, but I just felt the need to after watching the episode. So let's get into it.
It's Not Exactly Paradise
Kristina Takes Down Blake
As you guys know, I was so confused when Kristina took him out on a date on last night's episode. And I said it was either going to be to call him out or because she still had feelings for him. And again, like I said yesterday, I think it was a mistake for her to waste her time with a date card to call him out. A huge mistake really! I'm honestly not so sure she's going to get a rose next week. Which by the way, it's crazy to me that we just watched four hours of TV and there hasn't even been the first row ceremony yet. Anyway, I'm so glad she called him out, I just wish she did it on the beach when she first got there. It makes me mad for her that she messed up her own date card! Who knows, maybe one of the producer's told her if she brought him on the date and called them out, they make sure she stuck around for the week. I have no idea how producers are in Paradise because I've never been there.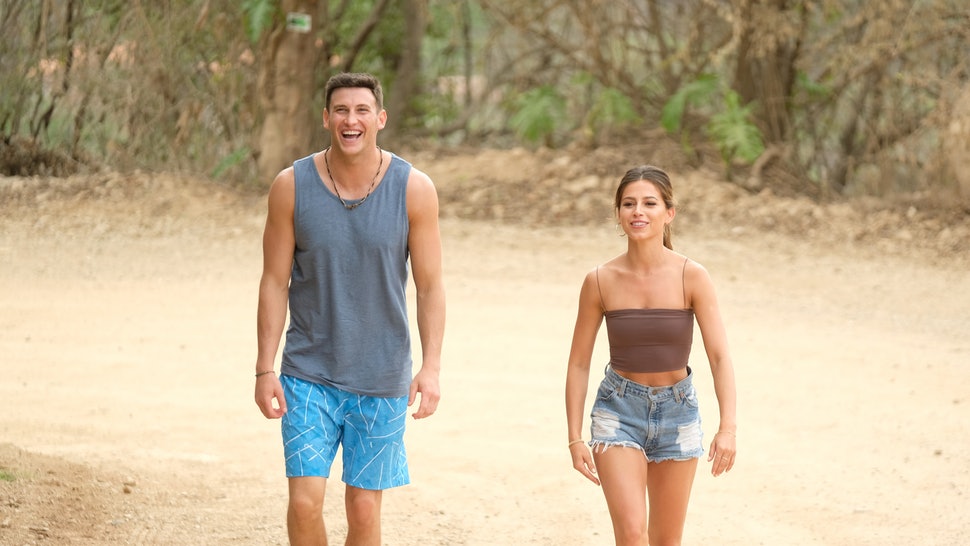 What really broke my heart about the episode is when Caelynn confronted him and told her how dirty he made her feel. Caelynn has been through enough! Remember back on Colton's season where she talked about how she was sexually assaulted? And then this guy has the audacity knowing that about her, to sleep with one girl one night and her the next night and like it's not a problem. He shouldn't treat any girl that way! But it's especially slimey of him knowing that he knows what she's been through. And then to make her feel that way. My heart is absolutely broken for her on so many levels!
Hannah G's A Hot Commodity In Bachelor in Paradise
The kiss between Hannah and Wills might've been one of the most awkward kisses in Bachelor franchise history! Ha! OK I'm exaggerating, but I found it extremely painful to watch. It was clear she wasn't into it.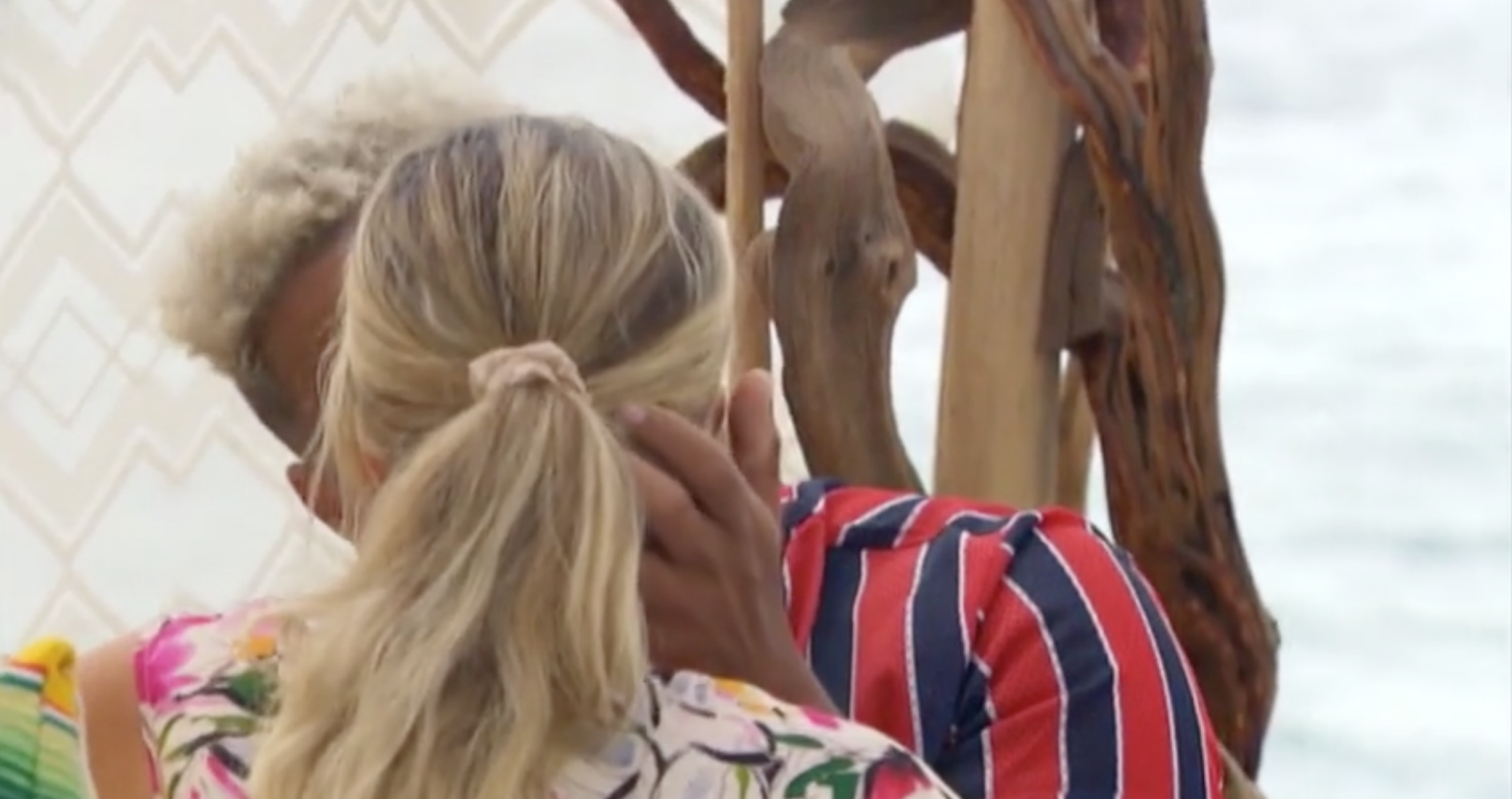 And then watching Dylan come over again and be very cheesy and awkward with her also seemed cringe worthy. It was very obvious she wasn't really interested in them and she's waiting for the guy she's really interested in to show up or something.
Which brings me to Blake. I feel kind of upset about Hannah and Blake kissing? I don't blame Hannah. I truly adore her and think she's just a gem. But I hate that she is letting her attraction to him make her blind to what he just did to the other girls. If he did it to them he can do it to her. I'm not saying Blake can't change. He absolutely can. And I hope he does from all of this. I don't know, it just bummed me out seeing Hannah still interested in him after every single thing she had learned about him.
Blake Breaks Down
Blake tears? Do we feel bad? I kind of do because I never want to see anyone hurting but he wasn't crying because of what he did, he was crying because his reputation was ruined. And that's really where he lost me. We see that he is feeling bad about how he treated the ladies. But we don't really see him completely crumble until he realizes what this is going to do to his family and how it's going to hurt his reputation. As you guys know it's never really in me to totally hate on somebody on the show. Yes, I criticize and give my opinion but I always feel for everybody at the end of the day. He's human and he made some mistakes, but I'm just not sure he's learned from them yet. So can I forgive him and can we all forgive him for what he did? Sure we can! But, he has a lot of learning to do and he hasn't proven to us, or more importantly the women he hurt, that he has grown from it.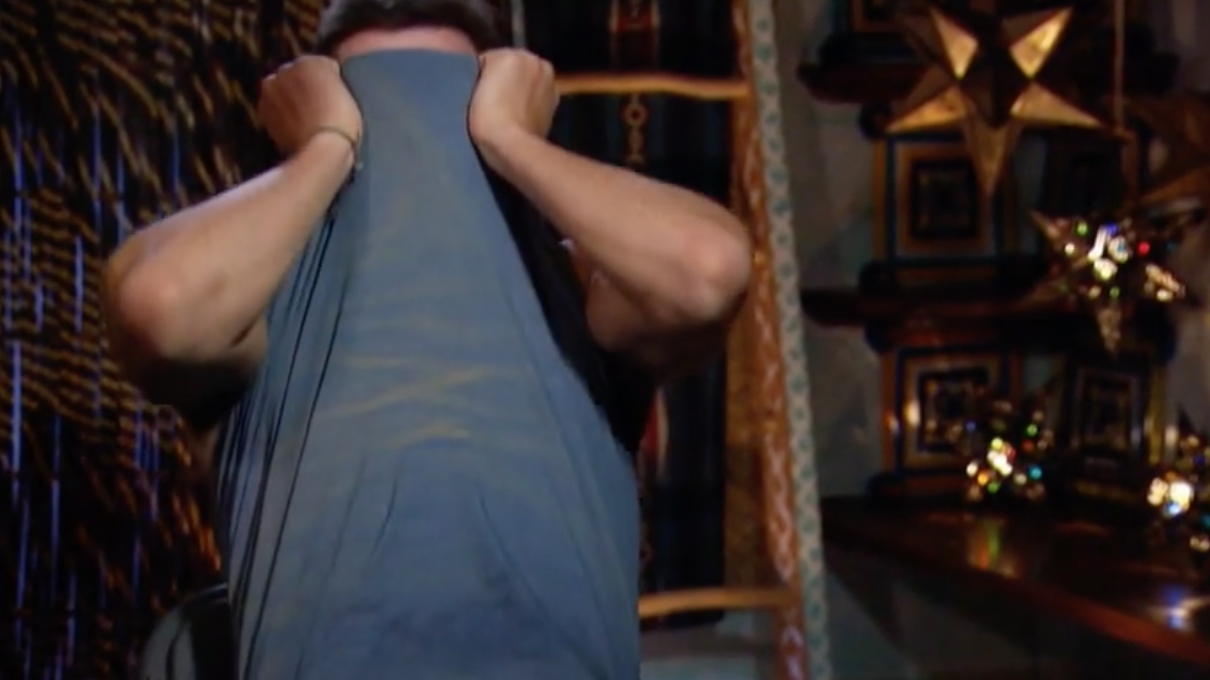 Desperate Times Call for Desperate Measures
The making out at the cocktail party at the end of the episode kind of made me sick to my stomach. And I think it's because we see what people are willing to do just to get a rose and stick around another week. And that's make out with somebody they're totally not into! I mean, I really feel for Caelynn and I want her to stick around because I feel terrible for her because of everything she's going through. But her kissing Cam was absolutely disgusting! I think we can all agree that she wasn't suddenly into Cam. She kissed Cam because she wanted his rose. I can't remember exactly what she said but she kept saying something like "who is this guy?". Like she never realized how awesome he was until that very moment. It's honestly laugh out loud funny. But also a little bit sad. Again, I adore her, but I hate seeing people get so desperate just to stick around a little longer. But then again, I've never been in this situation and I can't say for sure that I'd want to. Maybe she wants to find love so badly that she's willing to do whatever it takes to stick around to see if the right person is coming for her.
The JPJ and Onyeka kiss was also super cringe worthy. And just awkward! I think it's fair to say that that was also one of those desperate attempts to stick around. But then again someone told me that JPJ is actually really hot in person so maybe Onyeka was attracted to him and wanted to give it a go. But it felt very forced to me.
What Did you Think about the Start of Bachelor in Paradise?
Well that's all I've got for tonight. What did you guys think about the episode? Isn't it insane that we watch four hours of Bachelor in Paradise already and haven't even seen one rose ceremony?! And as much as I'm enjoying the show I feel extremely fatigued after the last two night's of watching and blogging and doing the podcast. So I'm not sure I'll be able to keep up with this every week but I will do my best!
New Podcast Tomorrow!
Picking up the podcast cup, we will have a brand new episode up tomorrow morning with Hannah as our guests! And if you're wondering if she commented on the Tyler and Gigi situation, I can tell you that she absolutely did! And I'm proud of her for it! Just saying, after spending the night with her I think it's kind of insensitive that he's going out on such public dates with someone like Gigi Hadid. But that's a whole other conversation that you'll have to wait to hear on the podcast. It'll be up first thing tomorrow morning! But FYI we recording is BEFORE I got the news about Blake releasing the Caelynn texts (see below). My opinion has definitely changed since we recorded it yesterday morning. And man, the reviews are ruthless. People are upset with me after the Jed interview and I get it. But I just don't have it in my to be mean to someone when looking them in the face and that's just me. But I agree that I shouldn't have tried to explain things for him. I just could tell he was nervous and I wanted him to feel more comfortable so he would open up more – if BOTH Rachel and I laid into him he just would have shut down and maybe even walked out. Good cop and bad cop is necessary sometimes. But yikes, reading those reviews on the podcast this morning hurt. So now I sympathize with him and the hate he is getting even more in a way.
A $6 hoodie?!?!
And before you go make sure you check out my outfit this week! Not only is my sweatshirt below only $6 but Molly's entire outfit is only $7 too! And they're both from the same place so that you can throw them in your cart and checkout for 13 bucks and call it a successful shopping day! Ha! There's also a bunch of super affordable looks in this post if you want to check them out!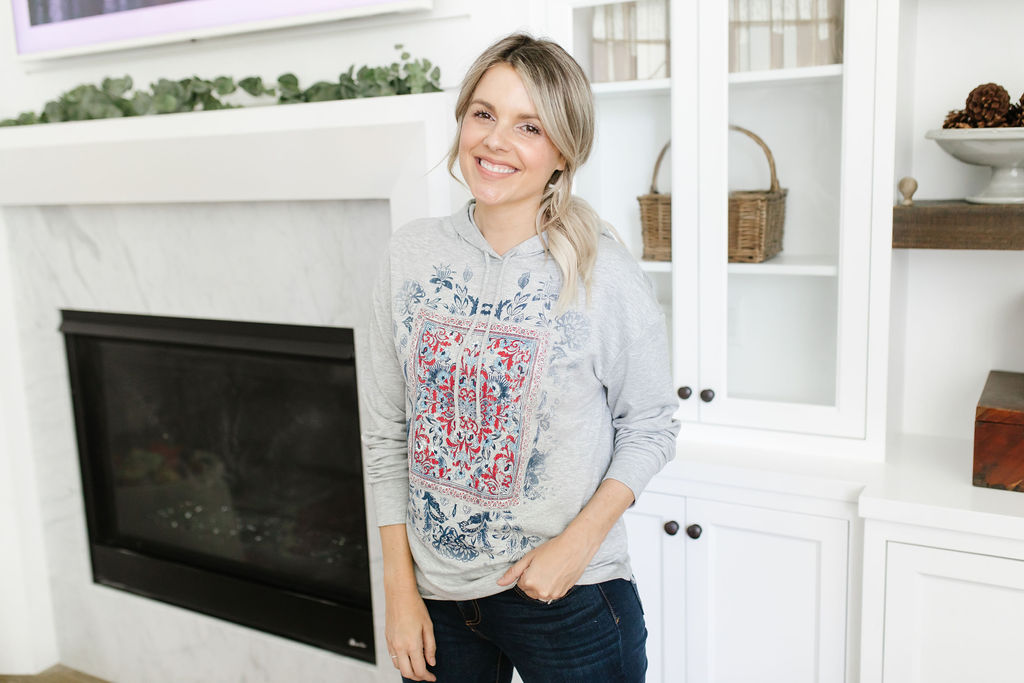 I'm wearing a medium in this photo, which is my normal size, but I feel like it runs a bit large! I wish that I got a small!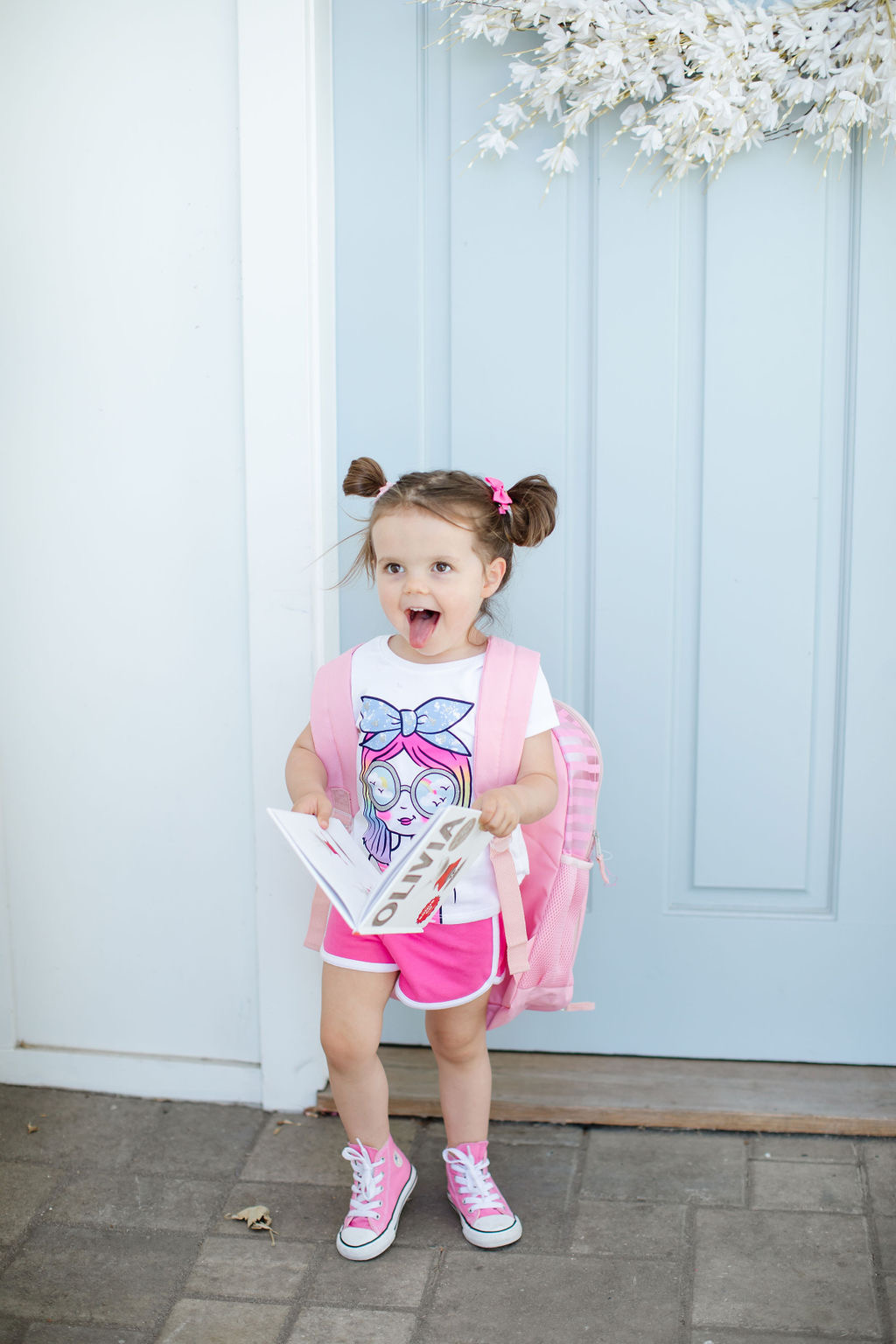 1. HAIR BOWS | 2. OUTFIT | 3. BACKPACK
UPDATE: Blake
I wanted to add an update to this blog post after seeing what Blake put on Instagram and his Instagram stories. I'm going to take screenshots of some of the text messages between him and Caelynn that he posted because I want you guys to have them for reference. After reading all of this, I have to say I am a bit disappointed in Caelynn. I still feel for her because I think she went through a lot in her life and there's a reason that she feels this way. And I have also told the guy in my life that sex didn't mean anything but it really deep down it did. But we can't blame Blake because that's not what she told him. And I still believe that he really messed up by sleeping with two women back to back and not telling Kristina until a few days after Stagecoach. But I also think that Caelynn misrepresented the situation in Paradise and that's not fair to Blake – he didn't deserve what he got on tonight's episode. I've got to know what you guys think about this new information. Here's the link to his instagram, because there's a more than this. I didn't want to change my blog post cause I wanted you guys all to know what I was thinking when I watched the episode. But things are definitely changing my mind now.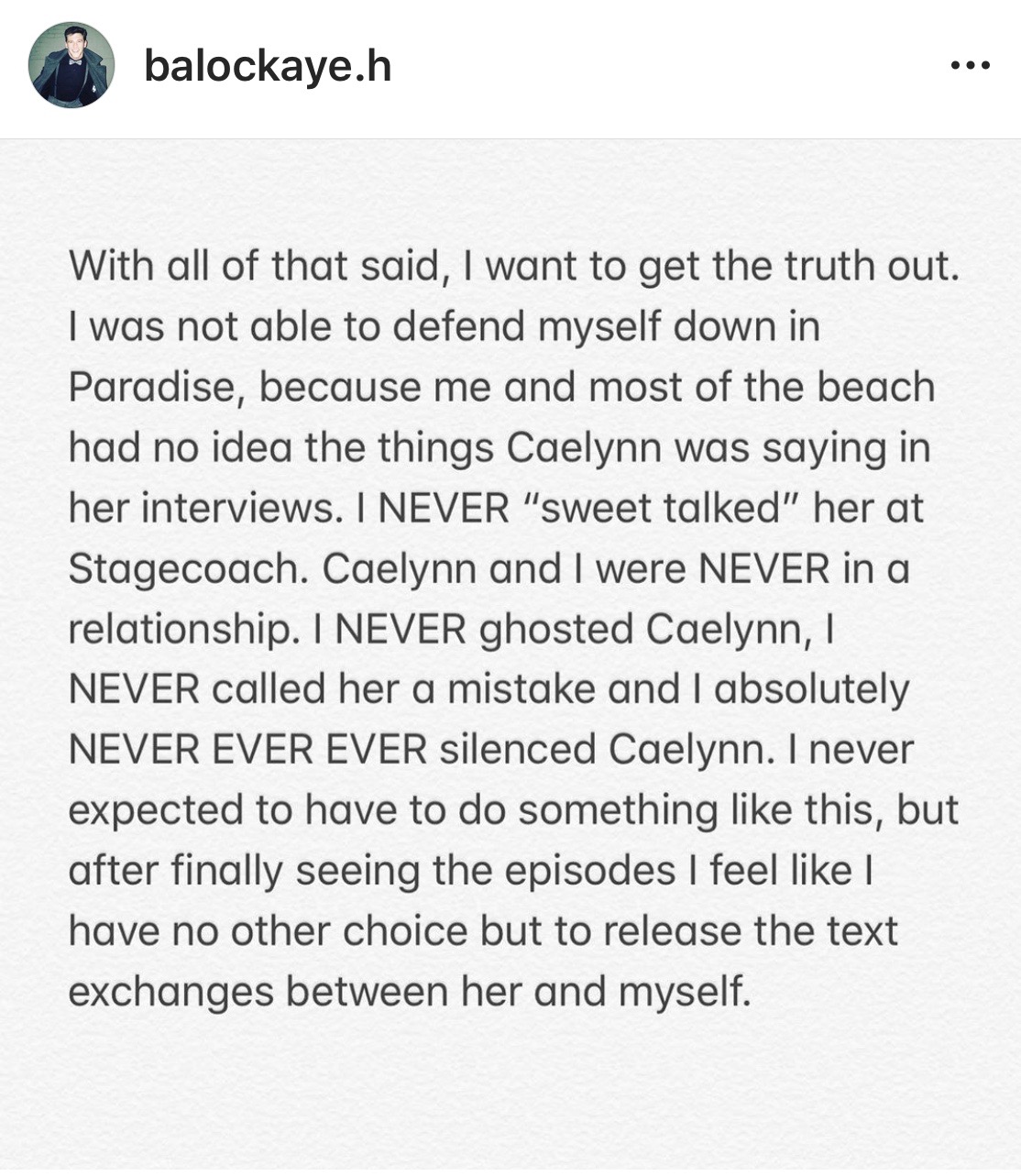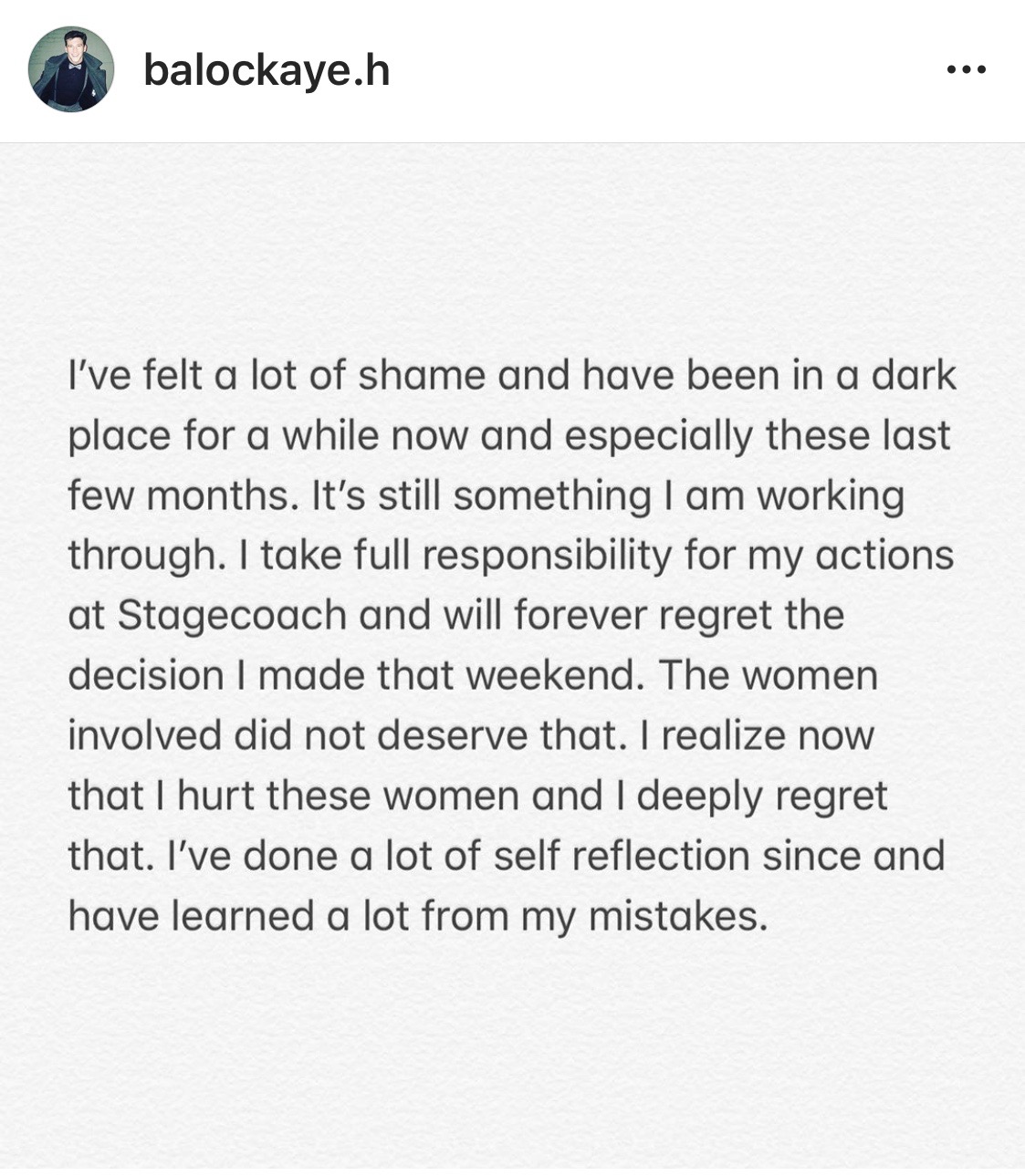 UPDATE: Blake deleted the texts from his insta so I am taking them down from this blog.