It's back to school time! As many of you know, since Molly is in preschool and they only have a 3 week break, she went back to school a month ago. But most parents are gearing up to send their kiddos back to school this month! So I thought it would be fun to share some back-to-school must haves!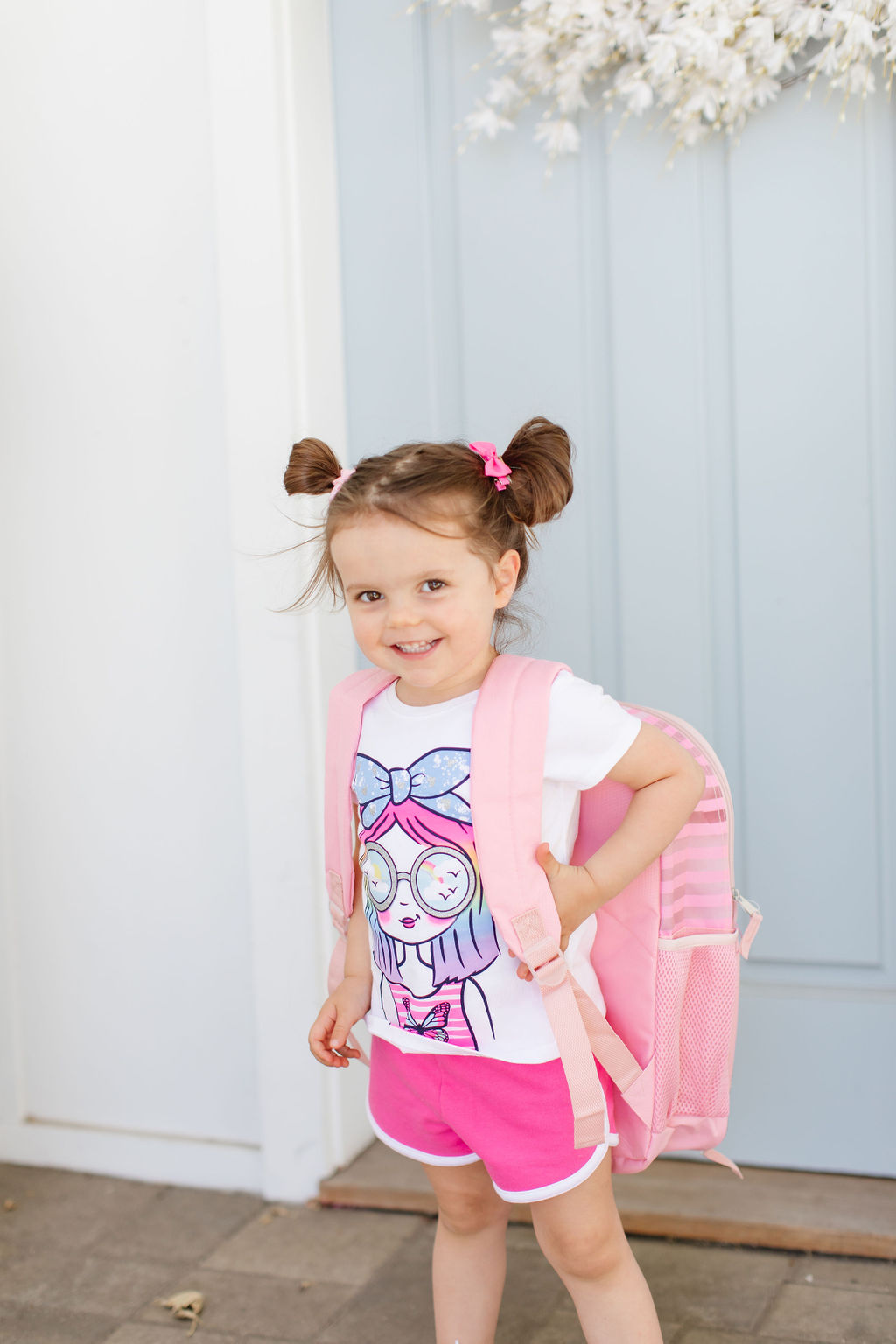 1. HAIR BOWS | 2. OUTFIT | 3. BACKPACK
Since I only have kiddos 3 and under, I knew I wasn't the best person to give advice on what to get for back to school for older kids. So I reach out to friends/family for help! My sister Raya has a 6 year old (my niece Lennon!) so she shared all her elementary school must haves with me. And my friend who has a middle schooler and high schooler shared her older kid must-haves with me! I really loved writing this post because I got to learn from others!!!! Now I'll be super prepared and ready while Molly and Riley grow.
Everything in this back to school post is from Walmart. I really want my blog to have items many can afford and have access to! Walmart not only has adorable back to school clothes, but really they have absolutely anything and everything you'll need to send off your kiddo. What really great about their back to school section is that all the items a separate out by grade level. Plus, I like being able to order everything I need online from one place. And for this back to school post – Walmart is that place!!!

 1. PANTS | 2. T-SHIRT | 3. MOLLY'S UNICORN SHORTS | 4. MOLLY'S TOP
Real quick, my pants in the photo above are MY FAVE right now and only $15!!!!! They are true to size. I am wearing a medium.
Ok let's get into it…
Molly's Must Have Preschool Back to School Items
Since Molly is my first baby and only in preschool, I really had NO IDEA what she would need. So I relied heavily on her teachers to tell me. Definitely utilize your child's teacher! They know what they will need better than anybody! And the very first things that I learned Molly will need is a…
1. Nap Mat
Yup, preschoolers nap at school and they need a comfy place to do it! I had never even heard of a nap mat so I asked Molly's teachers what one she would recommended and she sent me this link. She said it was one of the comiest ones she has seen in all her classes. SO I took her advice and got it asap! (I got two different ones actually, in case I need to switch them out to wash one!)

2. Water Cup
I talked about this water cup on my blog multiple times before. I feel like I should reach out to the brand and ask them to start paying me or something. Ha! Kidding. But I just really love it so I'm happy to rave about it! We've gone through multiple different kinds of cups and this one just works best for us. The only thing that can be a little bit tough sometimes is that Molly loves to chew on the straw. And when she does that, because it's a soft/bendy material it rips and then we have to buy a new one. Where as if it was a hard plastic straw she wouldn't be able to break it so easily. So that is the one downside. But I don't mind because I just find them so easy in every other aspect. The straws are really easy to clean with the brush it comes with. Some of the cups have handles and others don't. We actually don't use the handle one with Molly anymore because we say hers are the big girl version. But the one with handles are really helpful for Riley, and for when Molly was younger!

3.  Sturdy Slip on Shoes
Sturdy shoes to play in are a must for school! As you keep reading you'll see my sister highly recommend them as well for kiddos in elementary school. But I'll take it a step further for kids in preschool and suggest slip on shoes! Or shoes with Velcro! The reason I'm recommending this is that a few weeks ago I sent Molly to school in lace up shoes and her teacher actually asked me afterwards if it was possible to send her in slip-ons with velcro. Just because the kids take their shoes off sometimes whether it's for circle time, or naptime, or because they got wet when they were playing with water. And it's really hard for kids that age to take off lace-up shoes. And obviously with 15 toddlers in the class, it would be hard for the teacher to take off every kid shoes if they all wore lace up.
Yes, I realize the shoes Molly is wearing in some of these photos are lace up. Ha! But I just ordered these from Walmart's website that have stretchy laces that stay in and then a Velcro across the top. A much better option! And I love a cute pair of cowboy boots on her. The ones Molly's wearing in the photos below are under $20 and soooo stinking cute!

Also FYI, Riley's PJ's below are so great! I just bought another set because we like them so much and he needs more pairs. He has grown out of most of his! And my jeans are only $9!!!! You guys, I am honestly blown away by them. I though they would be low quality because of the price, but I would think they were $50 jeans if I didn't know the price! The quality is that good! I'm wearing a size 11. I'm normally a 28/29 for reference. The are slightly snug so I could've sized up too. Also, my duster is $10. Great to transition to fall in. I got a size small. I think you can size down in it.

 1. MOLLY'S  OUTFIT | 2. COWBOY BOOTS | 3. RILEY'S PJS | 4. MY $10 DUSTER JACKET | 5. $9 JEANS | 6. MY SHIRT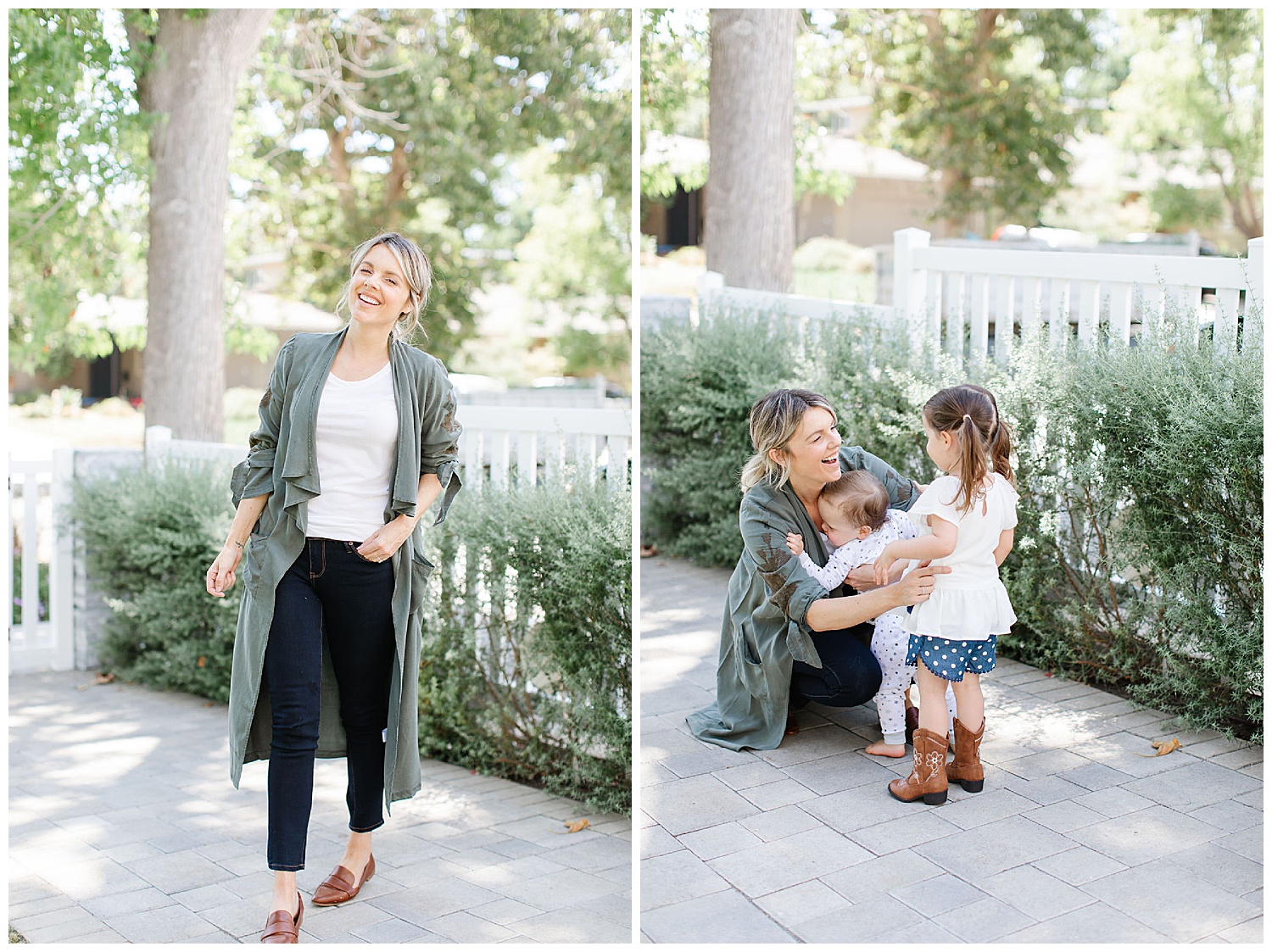 4. Sandwich Cookie Cutters
If you guys watch my Instagram stories and you probably seen that I like to use cookie cutters to cut Molly's food into shapes. Well, I shouldn't say I like to do it, I should say that she loves to get her food that way! Kevin's mom actually started doing it when she came to visit a while back and Molly just got a kick out of it! She couldn't believe that her toast or sweet potato slices could be cut into flowers or butterflies! I'll even cut slices of tomatoes into simple shapes like triangles. Or as she likes to call them – boats!.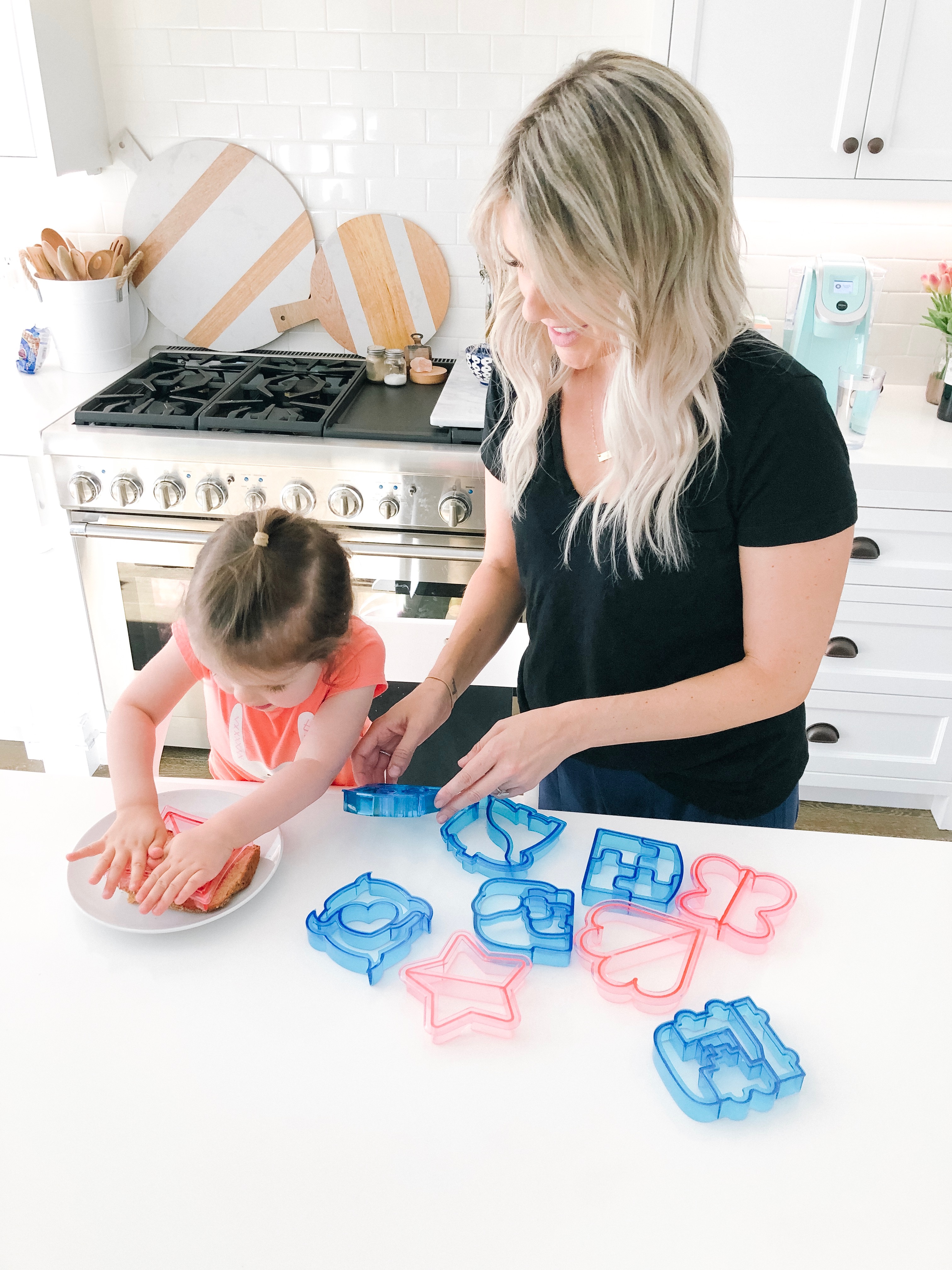 One thing I was noticing however was that when I would cut her toast into shapes or a sandwich into shapes was that so much of the sandwich was getting wasted. Sometimes I would try to eat it or give it to Riley, but some was always wasted. So when I was on Walmart's website the other day I found these sandwich shapes that I had to buy! They're shaped like a piece of bread so you don't have any waste but you still get to cut really cute shapes out. There's a bunch in this package and they're very affordable. Ever since I got them I've been surprising Molly with a new shape for her sandwich when she goes to school. It's been really fun! And in general, these are just good to have to encourage your child to try different foods that maybe they wouldn't if it wasn't in a shape.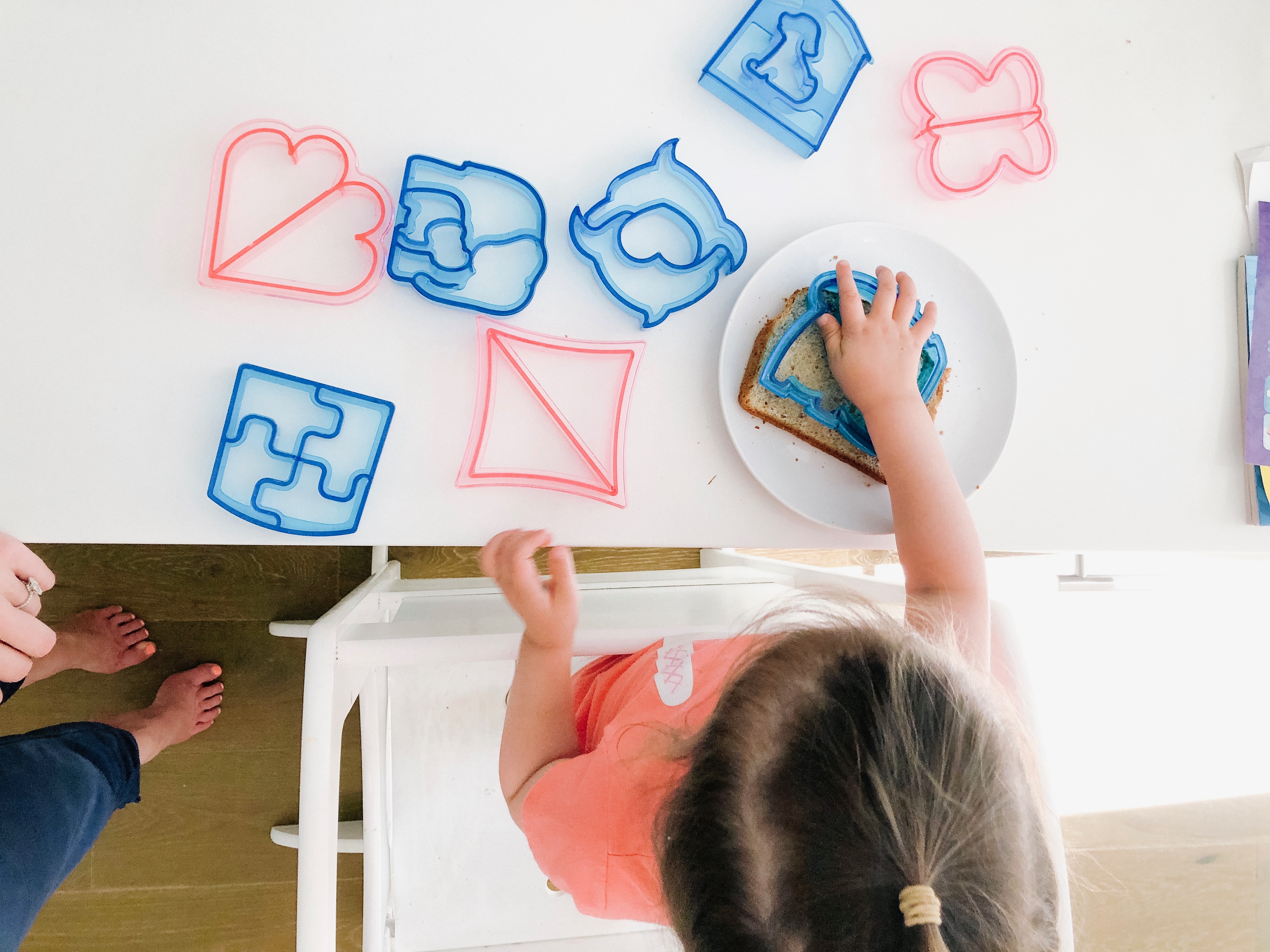 1. SANDWICH SHAPES | 2. TOWER
5 . Two-Piece Swimsuit
When writing this post, I really didn't want it to be all the everyday things like a backpack, notebooks, and pencils. Obviously you know your kids will need those things for school. So I'm hoping that the tips I'm giving make you think of something you wouldn't of thought of before. And that's where the two-piece swimsuit comes to play! At a lot of preschools have water days in the summertime. Molly's school does and I have a ton of friends where their kids have that same thing. And even if it's not an entire day dedicated to playing in the water, the teachers will ask that the child have a swimsuit in their cubby just in case there is water play.
At home, Molly wears a one piece swimsuit all the time! But that's because as her mom and not having a bunch of other kids to look after, I'm able to take her to the potty and take off in her once piece swimsuit so she can use it. It's not that simple for a teacher with a classroom full of kids. Can you imagine how difficult it would be for the teacher to help 10 toddlers out of there one-piece swimsuit to use the restroom? So I've started sending Molly to school on water days in a two-piece swimsuit so she can easily push down her bottoms to use the potty all by herself. It allows her to feel more independent because she's doing it on her own! And saves the teacher some hassle.
All of these are $5 and under and have incredible reviews! I just ordered a few for Molly and you will see those on her soon!


Lennon's Must Have Elementary School Items
1. Durable Backpack
Yes of course your kiddo, of pretty much any age, will need a backpack! The importance is finding one that is durable that will last them throughout the year and can hold their folders, projects and water bottles. Lennon's has this side pocket for her water bottle which is great so it is easily accessible! Her exact backpack is out of stock but I've linked a few similar options! Like this sequin one!

2. Non-Leaking, Stainless Steel Water Bottle
Stainless steel water bottles are great for elementary school because they are durable! Most are BPA-free (make sure to get one that is!) and they are really easy to clean. They also have a reusable straw which makes them environmentally friendly! It also helps to keep your kiddos water cool on hot days. I would recommend getting a few in case one is left in the classroom. Also overtime, this will end up saving you money versus buying plastic water bottles! Saving the planet and money? Check, check! You can get them at all different price points and colors! These ones are $5!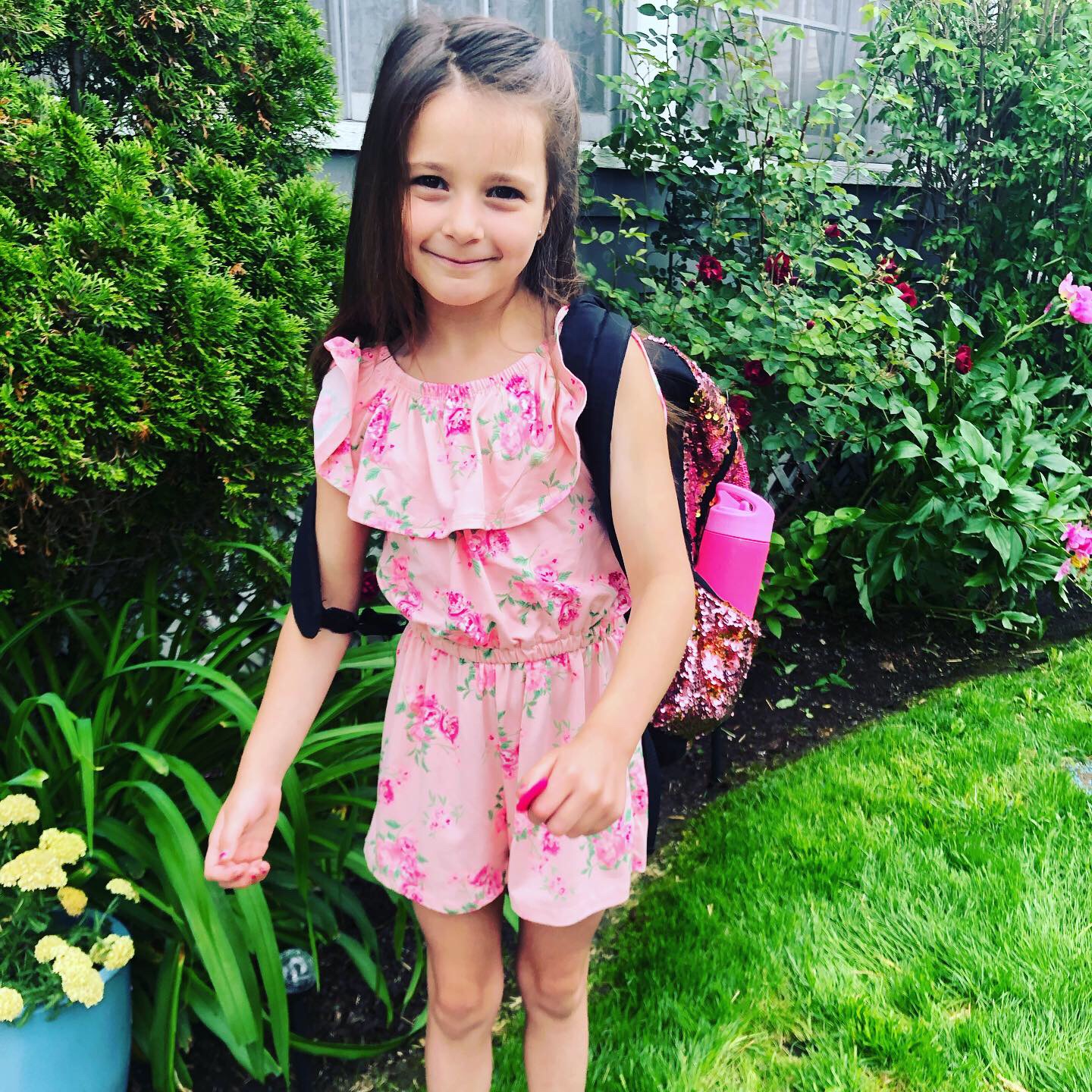 3. Lunchbox – Add a Ice Pack!
This is so important to keep your kiddos lunches cool! Nothing is worse than a hot sandwich after they've been sitting in class all day. There are all sorts of lunch boxes you can get, but from what I am gathering from my sister and friends, lunch boxes are often used to show a kids expression in school! It gives them something to bond with other kids over, especially at the beginning of the year. So let them get that Frozen lunchbox, just make sure that you also get an ice pack to go inside of it!
There are also some really cool metal and plastic lunch boxes now that are similar to bento boxes! While researching for this post, I came across this one, which comes in both a butterfly and snail shape. This is somewhat similar to what we have been using for Molly, but I think I might have to try this one out because it also comes with a reusable ice pack. This is also much better for the environment because there are compartments for different foods and you won't need to use any baggies in your kiddos lunch!

4. Sneakers
Just like we talked about the sturdy sneakers for preschool, it is super important for elementary school too! No matter what your child's grade in elementary school, chances are they will be doing a variety of activities everyday like lunchtime and PE and need some good protective shoes! Chances are your school probably requires the kids to wear closed toed shoes for their own protection! Here are a few options that my niece and some of my friend's kiddos enjoy! Every pair below is $12 or LESS and have great reviews. One pair has great reviews and is only $6!!!!

5. "I Can Read" Books
These are ones of Lennon's favorite books! Right now, she is reading the level 1 and 2, which are Beginning to Read and Reading with Help. These books are great because they can help you as a parent identify which level of reading your child is! And a lot of time, your teacher's will recommend different levels as well.
What's great about the 'I Can Read' books, and you might even own some of these already and not even have realized, but they come out with new ones all the time so they can stay relevant with what kiddos like. They can learn about butterflies or read stories about Pinkalicious! But they are all geared toward readers at different levels, and I think that makes these pretty cool. I'm so glad my sister told me about them because I know Molly will love them. I just order some for her because I think she can start learning now!

6. And reading light next to bed to read all those books
This is a great way for your kids to wind down at the end of the night. A small reading light by their bed, so that they can work on their reading skills and wind down their brains! Especially in the days of electronics, it is important for us all (adults included!) to give our brain a little break from the blue lights before bed and allow our brains to wind down. This truly can be any sort of lamp on their nightstand, but here are a few fun ones!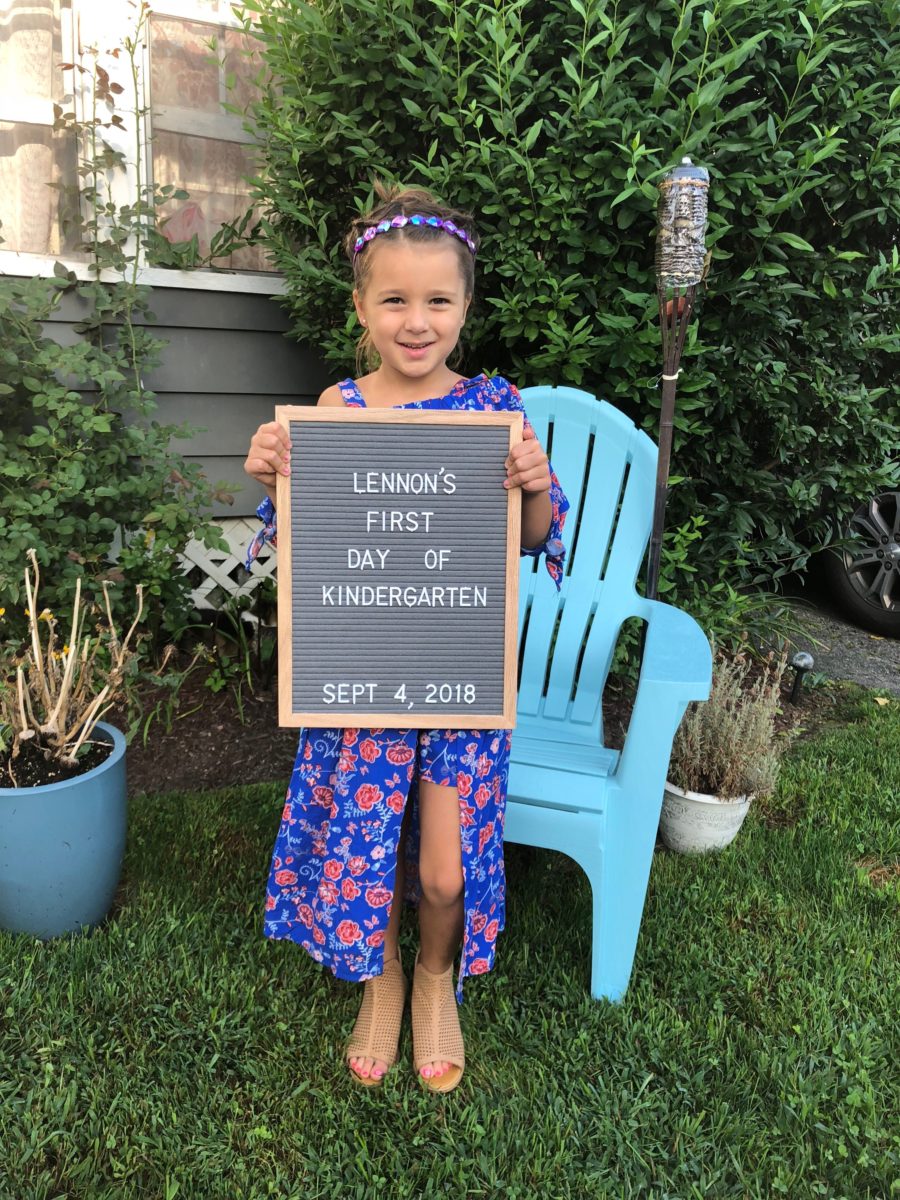 7. Jojo Siwa stuff (Walmart has a whole line!)
I have to add JoJo Siwa as one of my tips for back to school stuff! And only because I know how obsessed Lennon is with Jojo Siwa and how she absolutely freaks when she gets anything related to her. In fact, my sister just took Lennon to a JoJo Siwa concert and she just about lost her mind! So when I saw that Walmart has an entire JoJo Siwa collection and I immediately texted my sister to let her know! It's all ridiculously cute stuff that's really affordable! So I had to share that with you guys because I know my niece is not the only huge JoJo Siwa fan out there!
Teenage Must Haves for Junior High and High School
Herschel Backpacks OR Mini Backpack
My friend who has older kids just told me that carrying around a small backpack and holding a 3 ring binder like a college student is the "cool thing to do" – who knew! That or to wear a backpack like the Herschel ones! This might be different in your area, so definitely talk to your teens, but here in California, the majority of the schools do not have indoor hallways because there isn't harsh weather very often. Even our harsh weather isn't harsh. For that reason, many of the schools have been developed to not have lockers. So the students have to just bring what they need to school daily.
One perk about this, is that a lot of schools have developed a system where you rent books for the school year to keep at home, and then there is a set in the classroom as well! Hence, why they are able to carry around small backpacks with things like their pens, mechanical pencils and calculators, and then just hold the binder with their school work in their hand. My assistant, Madi, says that this is actually what she did in high school 10ish years ago too, or rather just carried around a small tote with a binder instead of a full-size backpack. I had no idea about this! But hey, this blog post is teaching me all sorts of things for when my kiddos are older!

Pens That Are Easy to Write With
Another thing that I was interested to learn, especially for the high schools, is that the majority of them write entirely in pen! Except for tests where they have to use Scantrons, the preferred method is pen! I was also told that it is extremely helpful to have colored pens, at least a few colors anyways, for when doing notes in class. They can write a vocab word in purple and easily locate it in their notes when studying for a test. Sounds genius to me! They gave me a few recommendations on ones they like so I am just going to leave those below. Heck, I might even get some for myself because if someone is doing all their homework and writing papers in pen they probably know the good ones! And I just found this24 pack for $7, score!

Somewhat Stating the Obvious…
The consensus is really that as they get older, the teens know what they want and will just ask you to get it, or even just get it themselves once they can drive. Which makes sense because they are basically on the road to adulthood and want things to be a certain way. Because they can wear pretty much any outfit or style (as long as they aren't at a school with uniforms), it might be nice if at the beginning of the year you let them pick out a few new pieces for their wardrobe, like a nice pair of sandals or sneakers that will last them for the majority of the school year. Something that makes them feel special and make the first day of school exciting, even though they are probably dreading that summer is over and they can no longer hang out behind their phone screens all day! Ha!
And with that, I leave you with a picture of my very one Three-nager 😉 BTW, her outfit below is one of my favorite outfits on her EVER and the whole outfit is only $6!!!!!
I hope this helps you get some inspiration for back to school shopping for your kiddos! Let us know if you have any recommendations for any of these age groups! I love when mamas help mamas! And big thank you to my sister and friend for helping me come up with the ideas for this blog post!!!! And thank you to Walmart for being an amazing supporter of my site and sponsoring this post!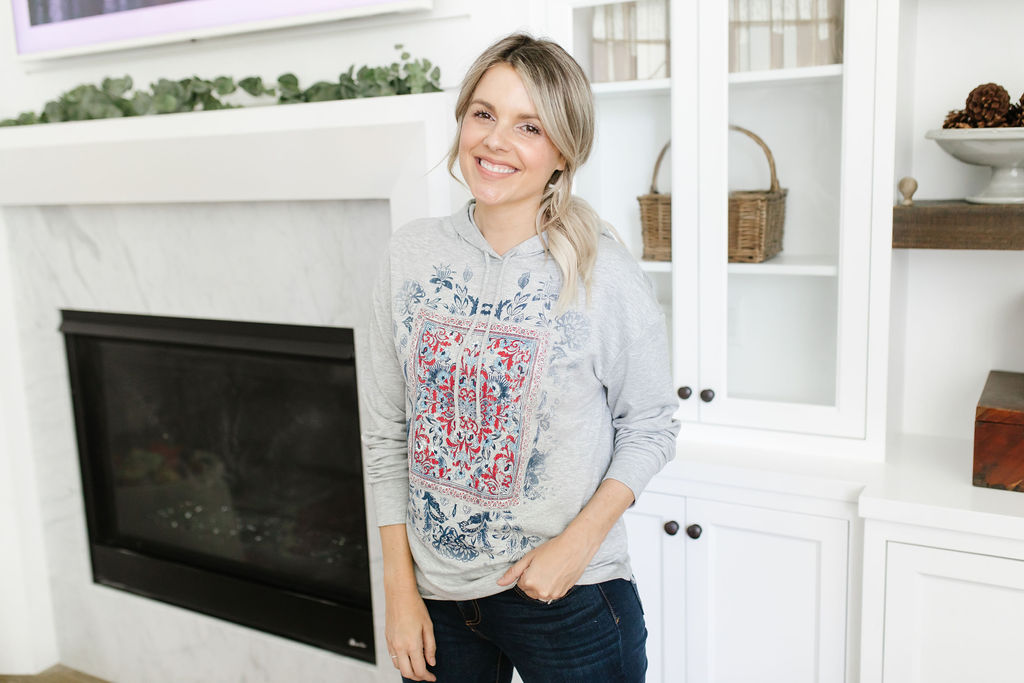 Oh one last addition, I have to share that my hoodie above is only $6!!!!! It's super light-weight and perfect to throw on running out the door to drop your kiddos off to school. Just had to share because I love it and LOVE the price! It's true to size! I'm wearing a medium.