Yup, the rumor about Jed's girlfriend were true. So much to discuss. But say what you will about the season of The Bachelorette. Some say it was a disappointment. Others say there was too much drama. But this is what I say, I think we saw a pretty incredible journey of a young girl learning and growing and discovering herself. And regardless of how this all turned out, I think that's pretty special in itself. As you guys are well aware, I've been respectfully critical of some of Hannah's decisions. And that's OK. We don't all have to agree with each other's decisions or choices. And at the end of the day, the only person that needs to be OK with her decisions is Hannah. But I will say that I'm happy for her and how much she's learned from all of this. She seems like a sweetheart from what I know of her!
I also need to say that I wrote the majority of this blog before I saw the live taping. I get the episodes in advance and I got this one well in advance because I had to record my podcast a good 10 days before the finale aired. So if anything seems off base I apologize. I tried to read through this after I watched the live taping to make sure everything still made sense but I have to admit, I'm a few glasses of wine deep so I might miss some things.
The Podcast – Watching Episodes in Advance
Also, some of you were concerned when I announced the podcast yesterday that because I watched episodes in advance my blogs would give things away. Know that I've always watched episodes in advance. At least two or three days in advance. But because of the podcast, sometimes I'll be watching the next few episodes in advance as well. But know this, I write my blog posts right after I'm done watching the episode! So if I have another future episode to watch, I won't watch that until I finish my blog post for the prior episode first. So I won't be able to give anything away! And all my opinions will be based on what I see and not what I know happens in future episodes!
Here's the link to the podcast! The first episode will be up in the morning!
OK time to talk about the show. And yes I am putting this photo here because I find it more than appropriate because I definitely felt like I needed to throw back copious amounts of wine after watching the finale. I'm sure Hannah did too!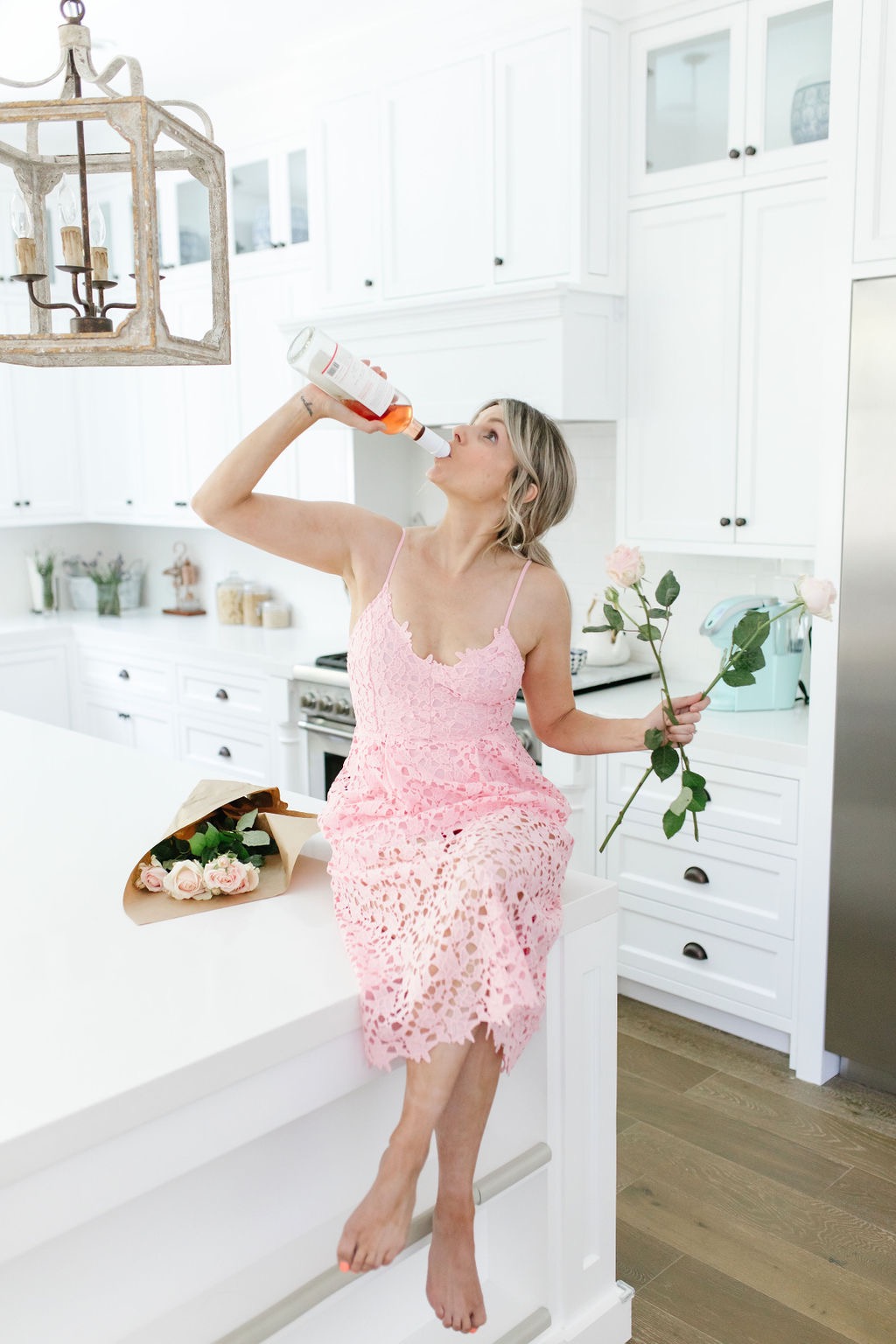 Note, I had to add this update to my last post, but the website says to get this dress 2 sizes up for some reason. I am not really sure why, I am a medium and I'm wearing a medium here. I guess if you are between sizes you can size up, but I definitely wouldn't do two sizes!
OK, let's get into tonight's finale of The Bachelorette…
I found it odd right off the bat that we started the episode with the Final Rose Ceremony. So I knew right away that something was up. I just didn't really know what yet. But needless to say, I was nervous for Hannah from the get go.
Before we move on, I just want to say that I think Tyler is such a stand-up guy!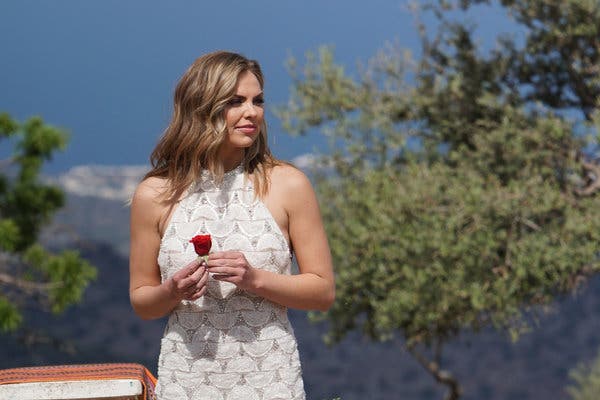 Jed's Proposal…
I want to start with Jed's proposal. I thought it was real, sweet, and very sincere. I know a lot of people are going to hate on him for pulling out his guitar once again. But I don't (at least I don't for that)! Music is a huge part of who he is and just because he admitted to her that he came on the show, it doesn't mean that he's using every opportunity to pull out his guitar as a way to get exposure. Is he getting exposure? Well yeah. But I think it's been justified during the times that he mentioned it. Back at the talent show, why wouldn't he say that it's his talent? In the Hometown visit – that's what he does, it is how he spends all of his time. Of course he's going to take her to the recording booth. And I'm sure he's dreamed of what it would be like to propose to his future wife and I bet he's always envisioned singing to her, so why would he give that up? So I don't blame him for a second for any of that. But the girlfriend thing as well, complete BS. Let's talk about it…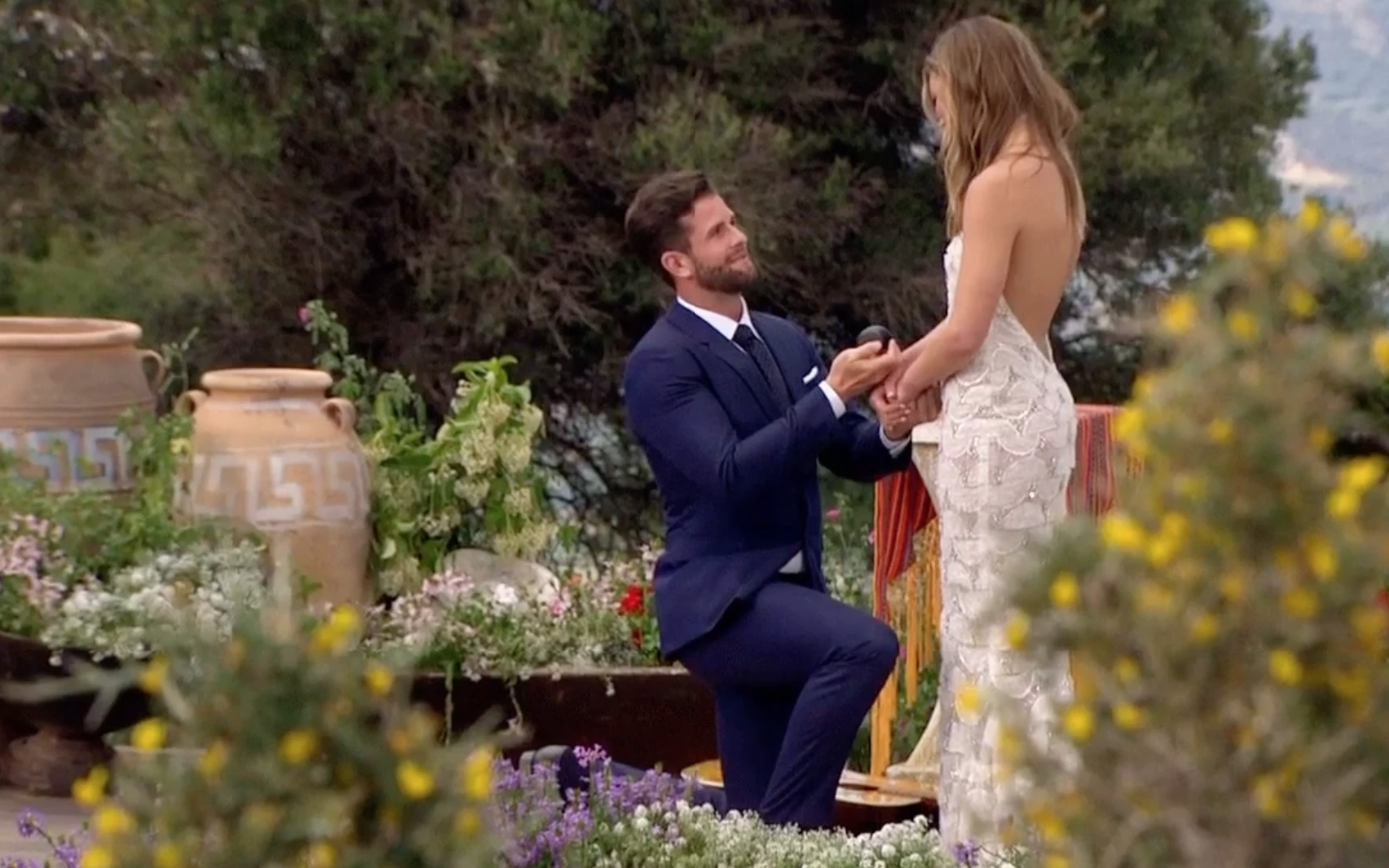 Jed's Girlfriend
When I first heard the rumors about Jed's girlfriend I wasn't mad at him and this is why. Well, I had a boyfriend before I went on the Bachelor. And I told him I was MADLY in love with him before I left. Granted, he treated me like crap and cheated on me pretty much every other weekend. I was young, insecure, and blinded. But still, I am one of those contestants that went on the show while dating someone before hand. Heck, I even stayed at his house the night before I left to be the Bachelorette! I was in a toxic relationship and I had a hard time getting out of it. Jed's situation is different. He told this girl he loved her and she loved him back. They seemed solid based on all the info I've read.
And that's really why I can't get behind him. Dating someone semi-seriously and then leaving to go on the show is one thing. But dating someone, telling them you're going on the show to advance your career, and telling them how much you love them is really shitty to do. Especially when you go off and get engaged to somebody else.
I Wanted to Hear His Side
Back when all this information came out about Jed's girlfriend a few weeks ago, I said that I was going to wait until both sides of the story came out before I judged him. Well, both sides of the story are out and Jed messed up! Big time! And then after he messed up, he didn't even take full ownership of it. He kept trying to make excuses when he sat down with Hannah and it was just making me so angry.
He did say things like he didn't know what love was or what the words I love you really meant until he met her. And I do believe that people change their feelings about love when they meet the right person. But he kept trying to make excuses saying that when they said goodbye, he thought it was a real goodbye. I wish he just said "Hannah, I thought I loved her and I thought I was gonna come back and be with her. That's so messed up and I'm sorry. But then I met you and I realized that you were the one for me and no one else." If he'd said that I think I could forgive him. And more importantly, I think Hannah could have. But he just didn't.
Imagine How Jed's Girlfriend Feels? Well Ex Girlfriend. Kind of.
Jed's girlfriend (or I guess ex-girlfriend) back home has every right to absolutely hate him! He broke her heart in the most horrible way and I really feel for her. I think I said something really stupid in one of my past blogs about how I thought it was weird that she let him go on the show to advance his music career. And one of you even commented saying it was crazy of me to say that. And you're so right! When I really think about it, there's no way she let him go. If it were up to her he wouldn't of gone. I'm sure she was absolutely heartbroken when they had that conversation on their trip about him leaving. I just feel so bad for her and the situation.
And if you didn't get a chance to read yesterday's blog post about the first half of the finale please do! I feel like if I didn't explain something in this post it's because I explained it yesterday.
After the Final Rose
I really wish we saw more emotion out of Jed at the live taping. This may not be the popular opinion but I do respect his apology. He took complete ownership for it and didn't make excuses. But at this point, it's obviously much too late. I also don't know that I completely buy that he still loves her. We didn't see that at all. But then again, we really didn't see much emotion from him the entire season. So I don't know. Like Hannah said, it's just a very sad situation. Am I angry at Jed? Sure I am! He had so many opportunities to make this right and didn't. It was only when he was caught that he came clean. I get that fear drove his decision in not being completely truthful. But that's just not good enough excuse. Excuse my crude language but grow a pair and man up!
But man I was so impressed with Hannah! The Hannah that we saw the beginning of the season and Hannah that we see now are two completely different people. She spoke with such articulation and grace. And I am so proud of her! I know I've been critical of some of her actions over the last season. And one of the things I've been critical about is that I thought she made a lot of circumstances all about her when really it was about her and the other man involved. But to see her give it to Jed grace after he completely ruined this experience for her shows so much class!
I wish I could give Hannah a big hug and tell her that I am here for her! Bachelor nation is here for you! I truly cannot imagine going through an entire season of the show and putting so much faith into it all and then having it in this way. My heart truly breaks for her. She deserved a true shot at finding love and unfortunately Jed ruined the experience for her. But….
Then There Was Tyler
It was really cute to see the chemistry between Hannah and Tyler! I think it says a ton about how much he loved her on the show based on the fact that he's willing to give it another go. Usually at this point in the process, enough time has passed since the show that your feelings kind of quickly change. It's hard to explain unless you've been on the show but I remember seeing some of the guys from my season and feeling like I never even really dated them. Obviously Tyler was different for her because they obviously really cared for each other at the end. Regardless, I'm excited to see what happens with them! Will it work out? Heck, I have no idea! But I certainly hope it does!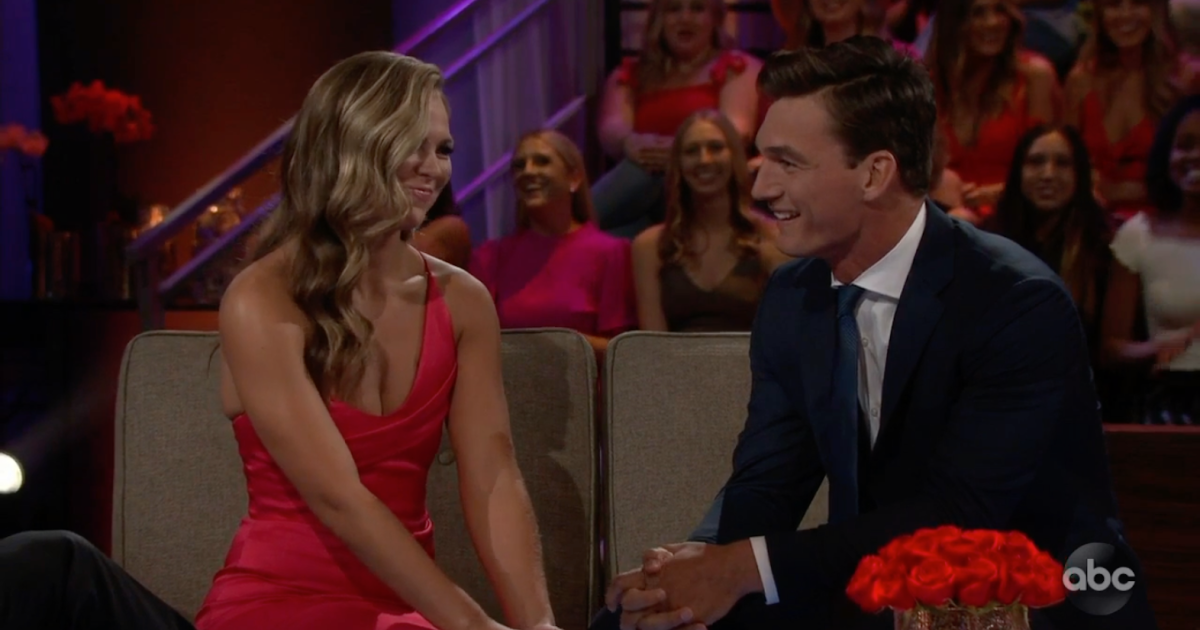 Peter on the Podcast
Also, I am so excited for you guys to listen to our very first podcast! It's either going to be up late tonight or first thing tomorrow morning! We recorded the majority of the episode a week ago or so but finished it tonight after the live portion aired so we needed to update it. So the editors are working extremely hard to get it up as soon as possible! So you might have to wait until tomorrow but we're hoping that for all future episodes you'll get them right after the episode airs and you'll get to hear from contestants on that episode! This is going to be especially juicy once Bachelor in Paradise starts! Trust me!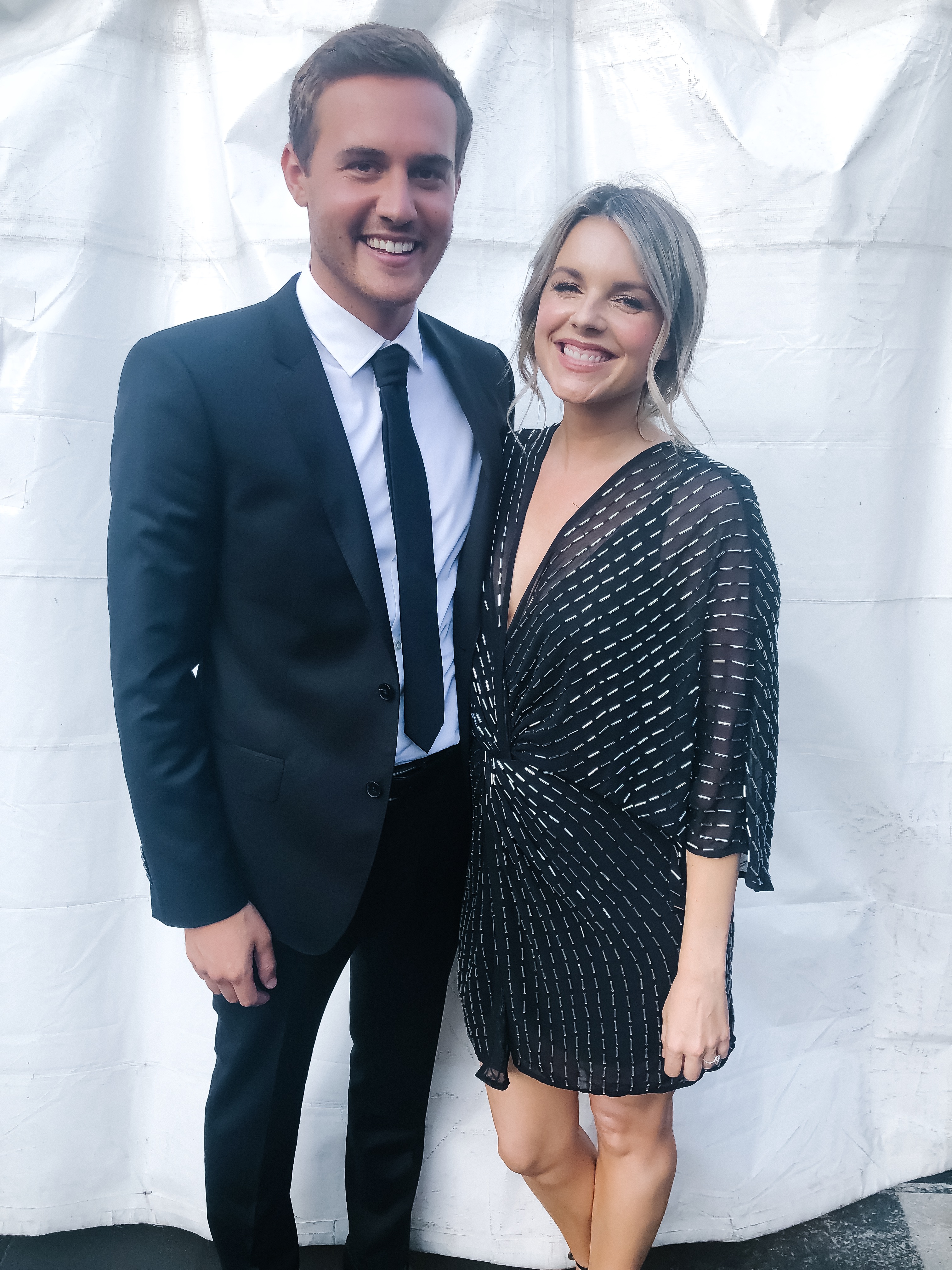 FYI my kimono dress also comes in a bunch of other color and lengths. There is even a maternity version. Linking them all below!

Thanks so much for reading my Bachelorette blog! WHat do you think about everything with Jed's girlfriend and this whole situation? I can't wait to chat more in the comments below! Are you surprised at this ending? Who do you want to see as the Bachelor? Don't forget to keep an eye out for the Podcast by tomorrow morning!
I am wearing this dress today at work and I have gotten a lot of questions about where it's from so I decided to add it here! It's Eliza J and I am wearing my normal dress size which is 6. Honestly I probably could've gotten a size 4 in this. However, I don't know if that's because I am losing a little bit of weight because I have been working out or if the dress runs a little big – I don't know! I would say that it is pretty true to size!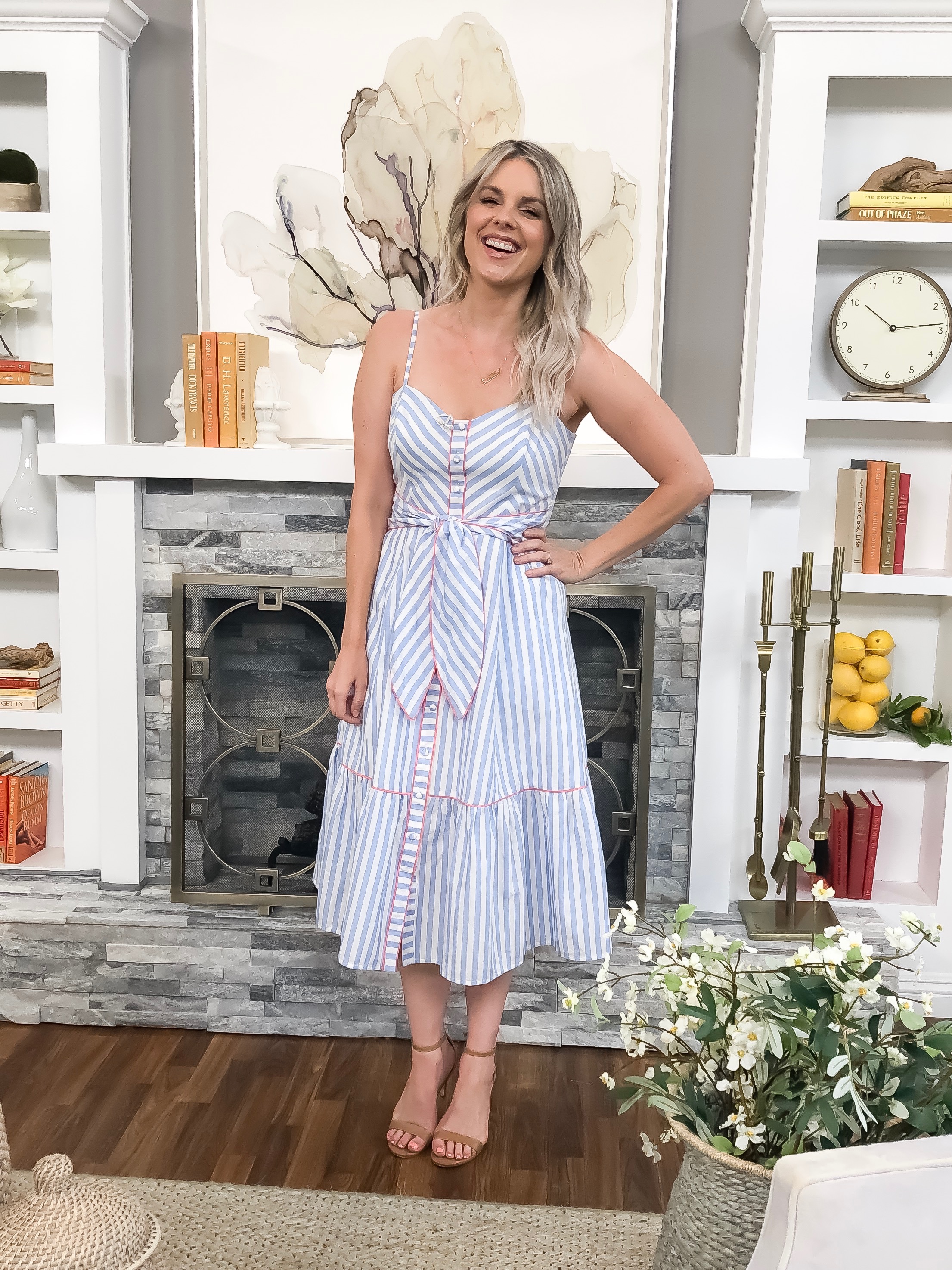 I love the front tie detail and the length of this dress! And not to mention that it is in my two favorite colors, light blue and blush!