UPDATE: For those looking for the pink lace dress in my insta story and the white tee. I wanted to link here! Two GREAT items that are in stock!

Oh my gosh you guys, this is been such a crazy busy week! I've been filling in as co-host on Home & Family this week, I'm working on an exciting project for Bachelor Nation, I'm trying to keep up this website with a new post going up almost every day this week, trying to be a mom to two kids, and get you guys all the latest and greatest finds from the Nordstrom Anniversary Sale! Yikes. I'm exhausted even just listing all that out never mind actually doing it. Ha! Thank goodness I have some much-needed help this week. Because my head is completely spinning.
And I'm not gonna let this crazy busy week stop me from sharing some of my favorite looks from the Nordstrom Anniversary Sale that are still in stock because the sale opens to the public today!!! And I'm even going to share a few looks that aren't in stock right now because I have a feeling that Nordstrom is going to restock some of the items that sold out during early access. Okay so let's get into this!
LOOK ONE
These first two looks are super similar but I just think they are so great for work and meetings (I have a lot of these days) so I decided to get both of them. I love this first one because it has all my favorite colors! You guys know I'm a sucker for all things white, light blue, and blush! Let's start with the cardigan. It comes in a few different colors and it's perfect for summer/transitioning into fall because it's really lightweight. It's also the absolute best cardigan for layering. I've always gotten frustrated in the past when I've seen these layered looks on other bloggers and then ordered them to find that I looks like I've gained about 20 pounds. Ha! It's just hard to layer clothes when you're not super tiny. At least while wearing sweaters. But what I love about this cardigan is that it's so lightweight that it doesn't add bulk when you layer it with things. So I got it in both this blush color and in gray which will you will see in the look below.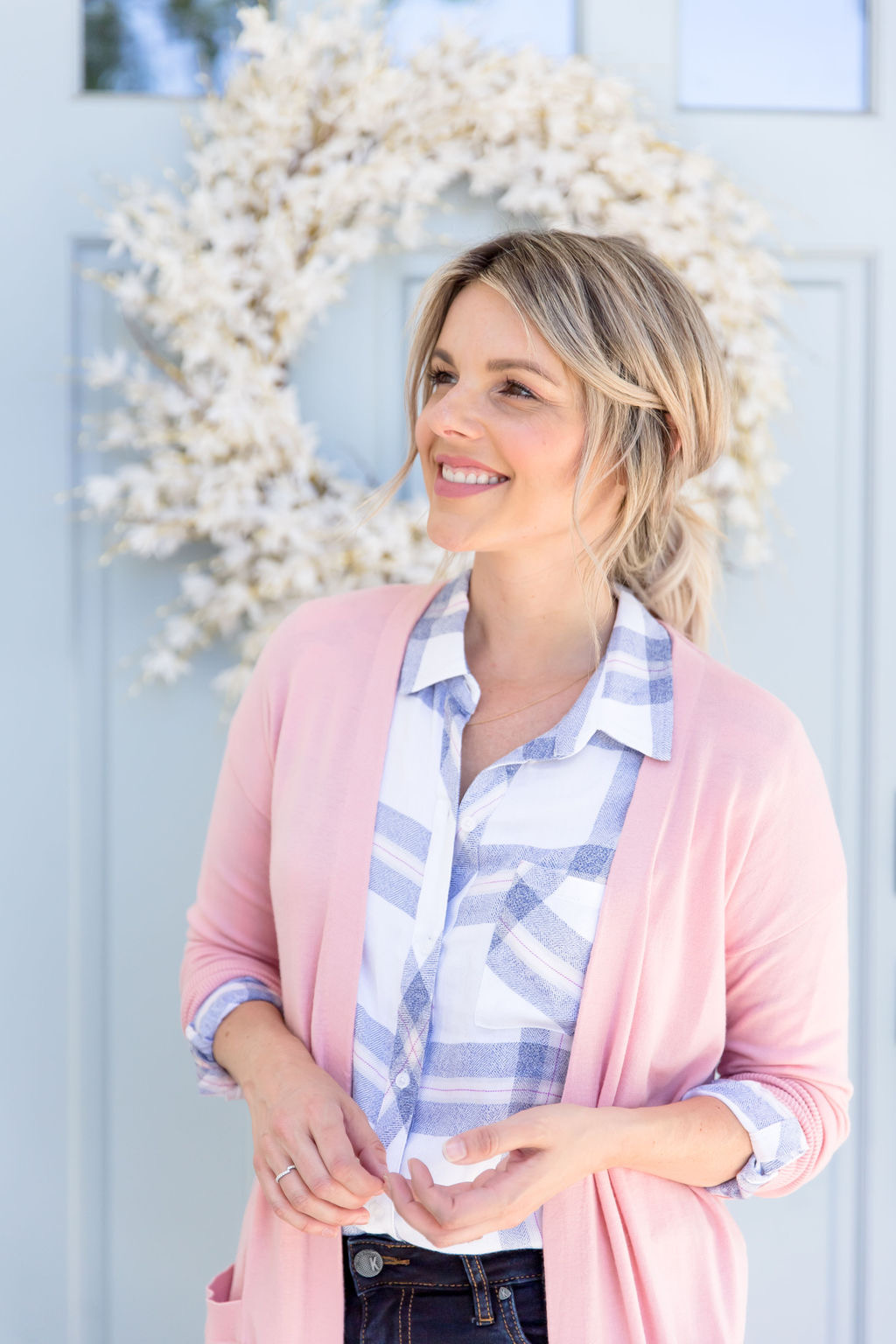 1. CARDIGAN | 2. PLAID TOP | 3. JEANS | 4. SHOES
Then I got this Rails plaid top that's on sale for under $100. Anyone who has checked out the Rails flannel or button-down before knows they're super expensive! Almost always over $150. And that's because the cut is just so amazing and flattering and the quality is so good! This button down is seriously so soft I could sleep in it.
I'll talk more about the jeans I'm wearing in look two since they are the same as these!
Also, here's an iPhone pic! Can you tell how much I love this outfit?!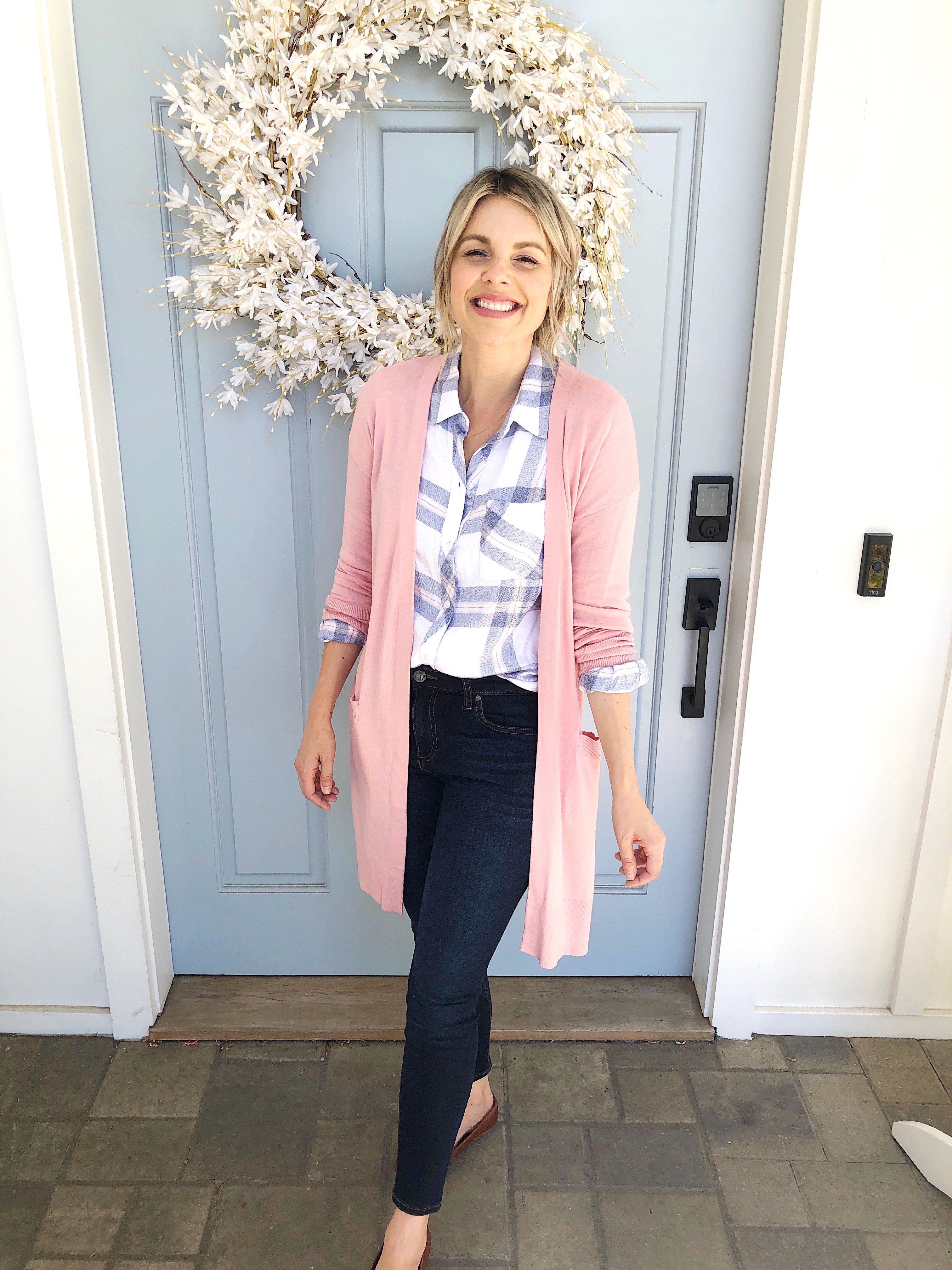 1. CARDIGAN | 2. PLAID TOP | 3. JEANS | 4. SHOES
LOOK TWO
Like I mentioned above, this outfit is very similar to the first one. I just was so psyched when I saw how good this cardigan looked layered that I decided to do another layered look. Once again this cardigan comes in a few different colors and I recommend getting a couple if you need a good cardigan for this fall and even for summer nights. And then I just got this blue and white striped top. It was a really good price and I thought the blue and gray looked really nice together.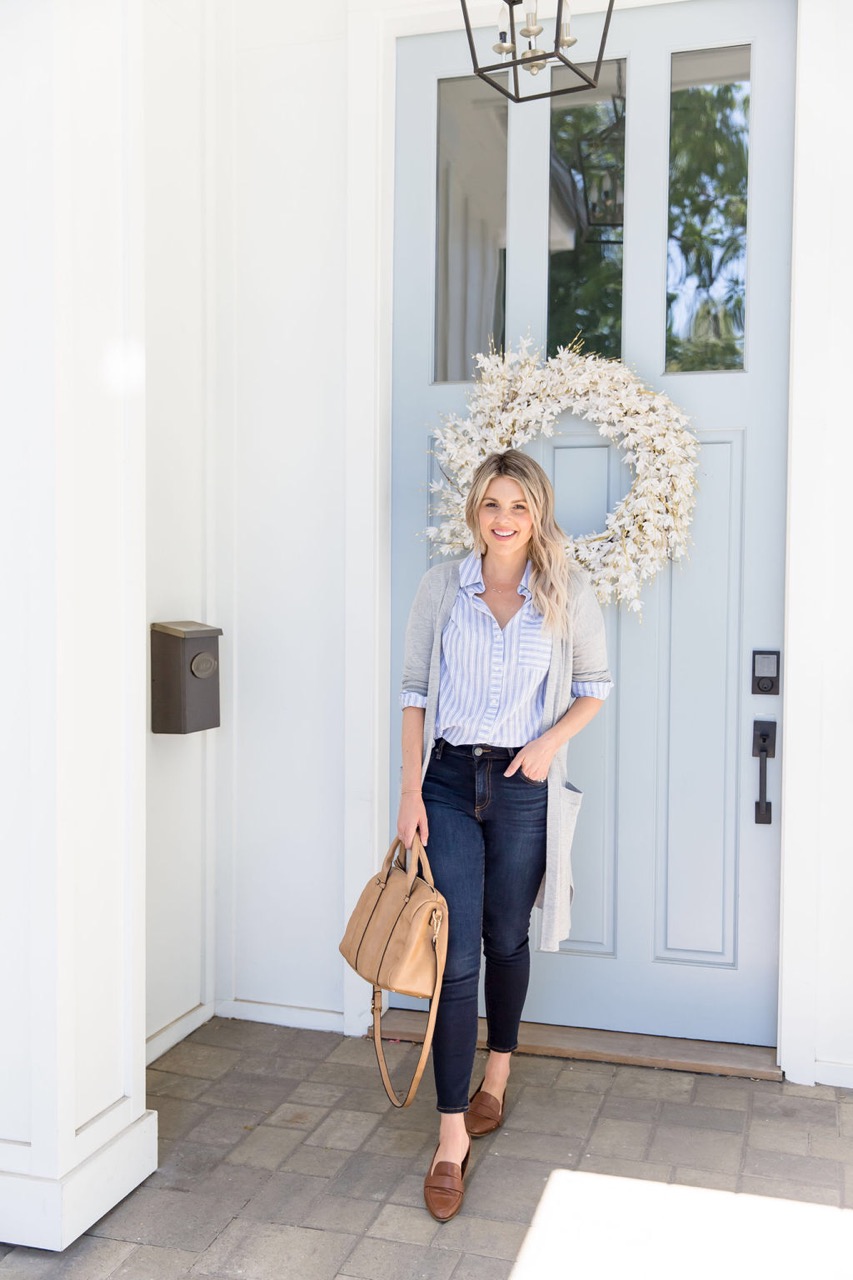 1. CARDIGAN | 2. STRIPED SHIRT | 3. PURSE | 4. JEANS | 5. BROWN LOAFERS
I also wanna talk about these jeans! I got them on sale for $59 and I love them! I'm wearing a size 6. I'm usually a size 29 for reference. They are super flattering, I love the dark wash, and I love where they hit my ankle. I feel like a lot of my jeans tend to be long because I usually buy longer jeans since I'm on the taller side. And I always have to cut them. But these ones at 5'7″ hit me just above the ankle.
I added these brown loafers that I wear all the time to the look! When I signed up for just fab to get them, I think I got them for $10 because I was a new member. And I honestly wear them at least three times a week. And lastly, I am carrying this neutral bag. It's also on sale for 50% off! It's such a great piece if you're looking for a good neutral bag.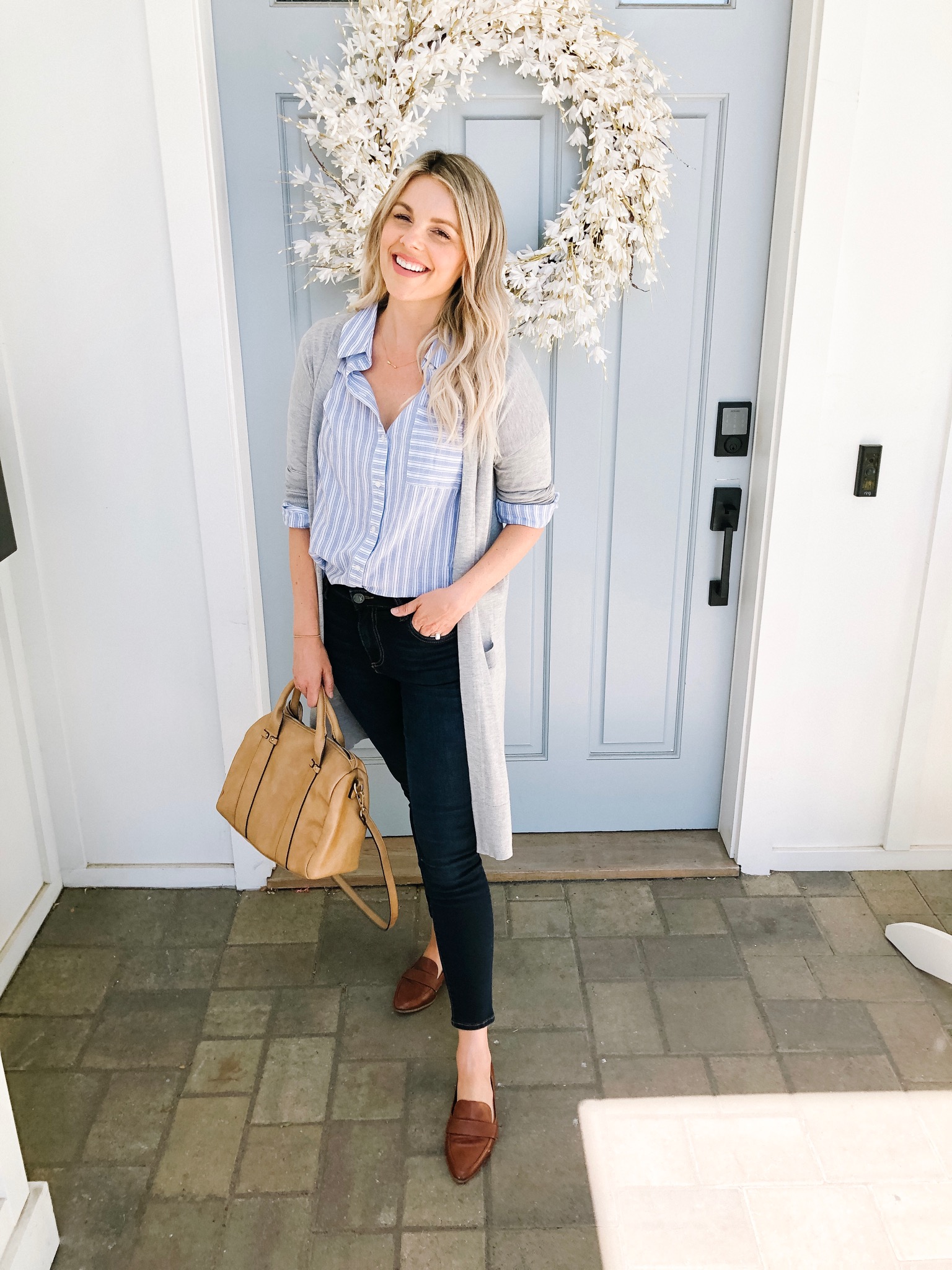 1. CARDIGAN | 2. STRIPED SHIRT | 3. PURSE | 4. JEANS | 5. SHOES
LOOK THREE
This next outfit is simple – and I'm wearing the same pair of jeans! I'll be wearing them a lot moving forward because they're just a great basic. But now, I have on this ridiculously soft sweater! This is truly one of the softest pieces I have ever put on. Ever! Right now it's sold out in the white. But I have a feeling is a good chance it could be restocked tomorrow once the sale goes live to the public. But if not, it's still fully available in the other colors!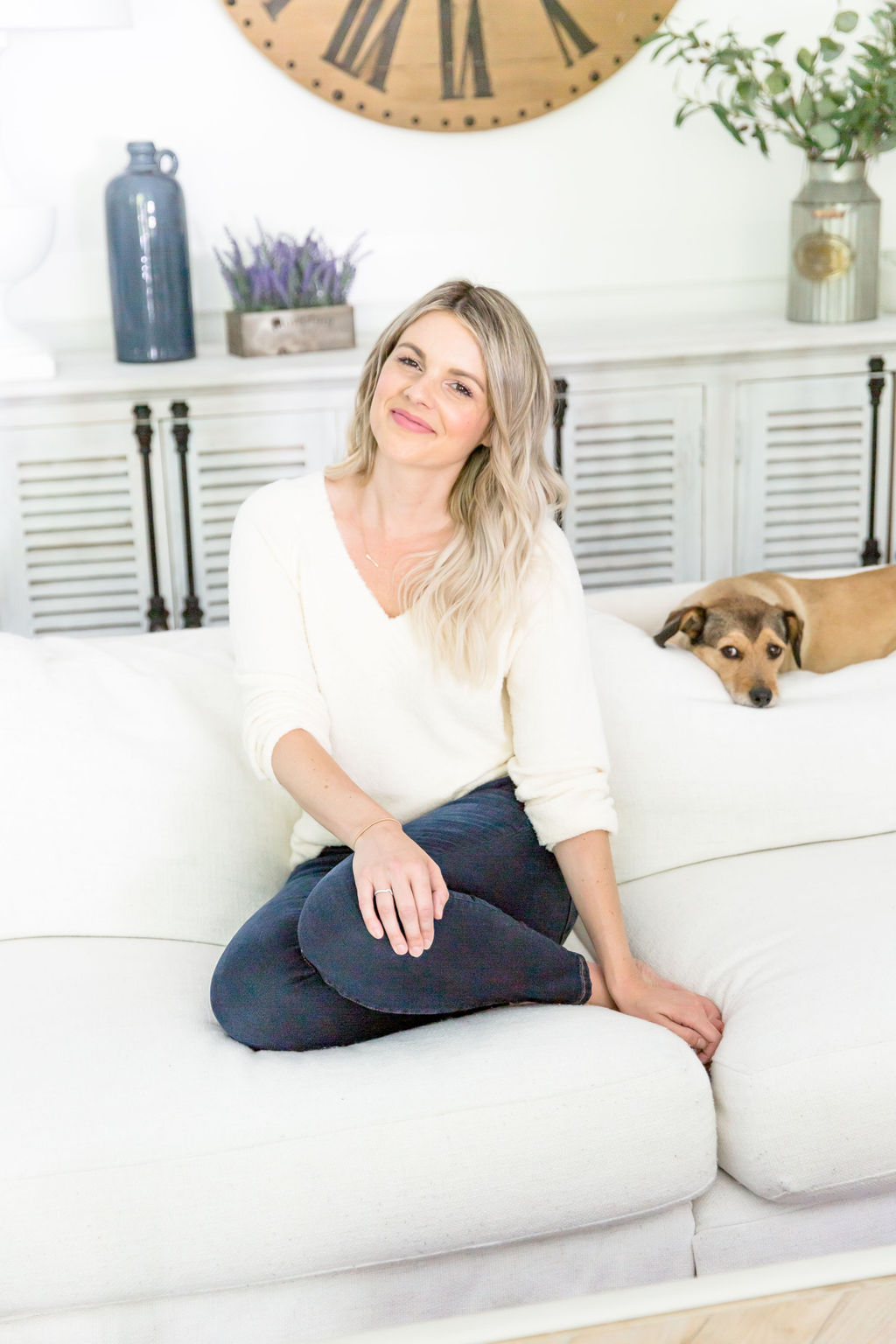 1. SWEATER | 2. SWEATER IN NAVY | 3. JEANS For $80 OFF!
Here's an iPhone shot!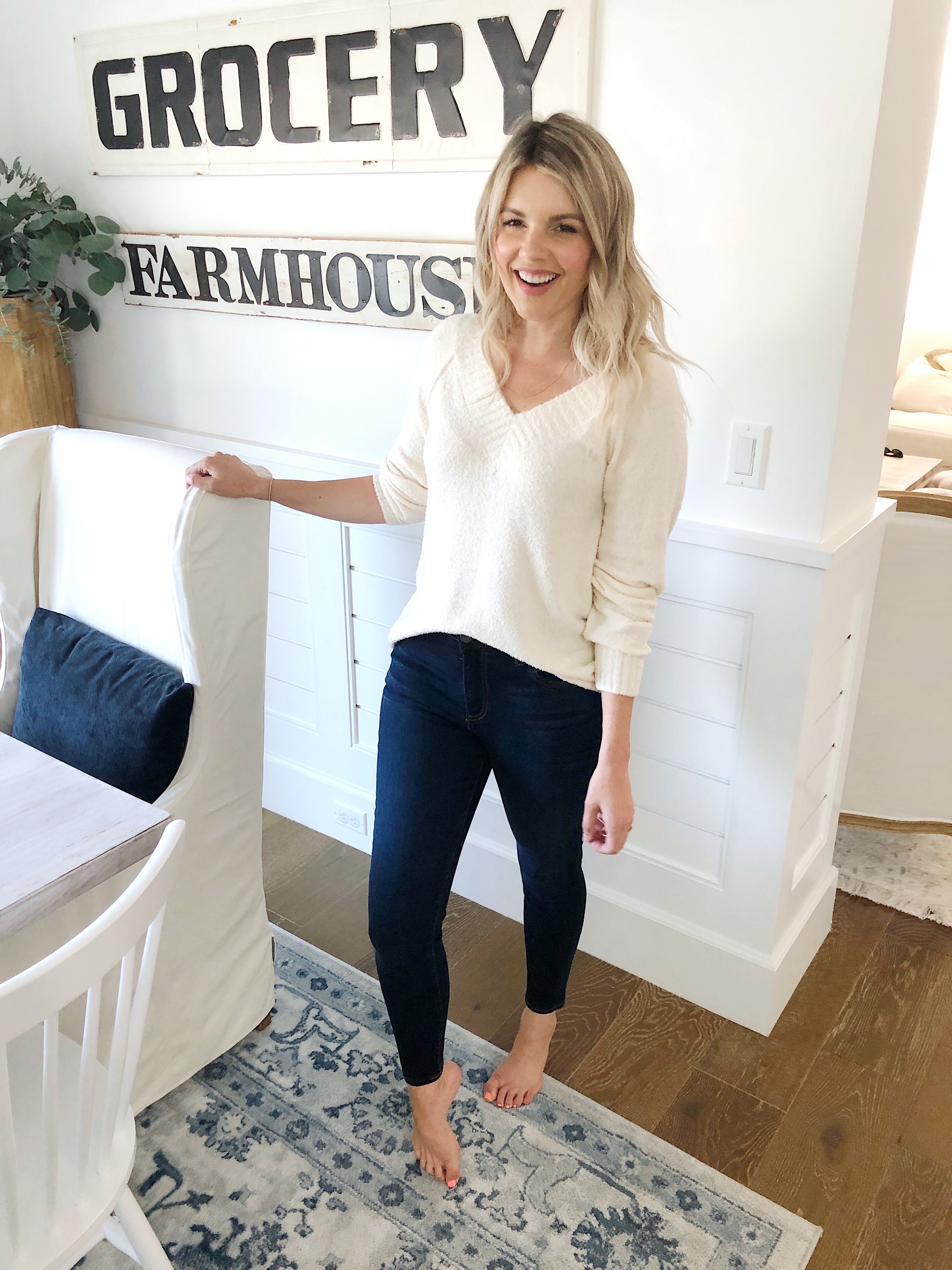 1. SWEATER | 2. SWEATER IN NAVY | 3. JEANS For $80 OFF!
LOOK FOUR
This dress is absolutely stunning! To be completely honest with you guys when I saw it, I wasn't 100% sure I was going to like it but I was so intrigued by it that I decided to try it on. And I was blown away! I thought the print was going to feel way too loud for me but it is the opposite of loud – it has this understated elegance. I feel like I'm wearing a $500 garment when I put it on. And the cut is extremely flattering! These photos are very light and bright but I see this being the type of dress you could wear on a date to a really intimate restaurant. Something about it screams vintage and expensive like I just mentioned. Kevin and I are planning on going to a charity poker event this month and I feel like this is the perfect dress to wear to it.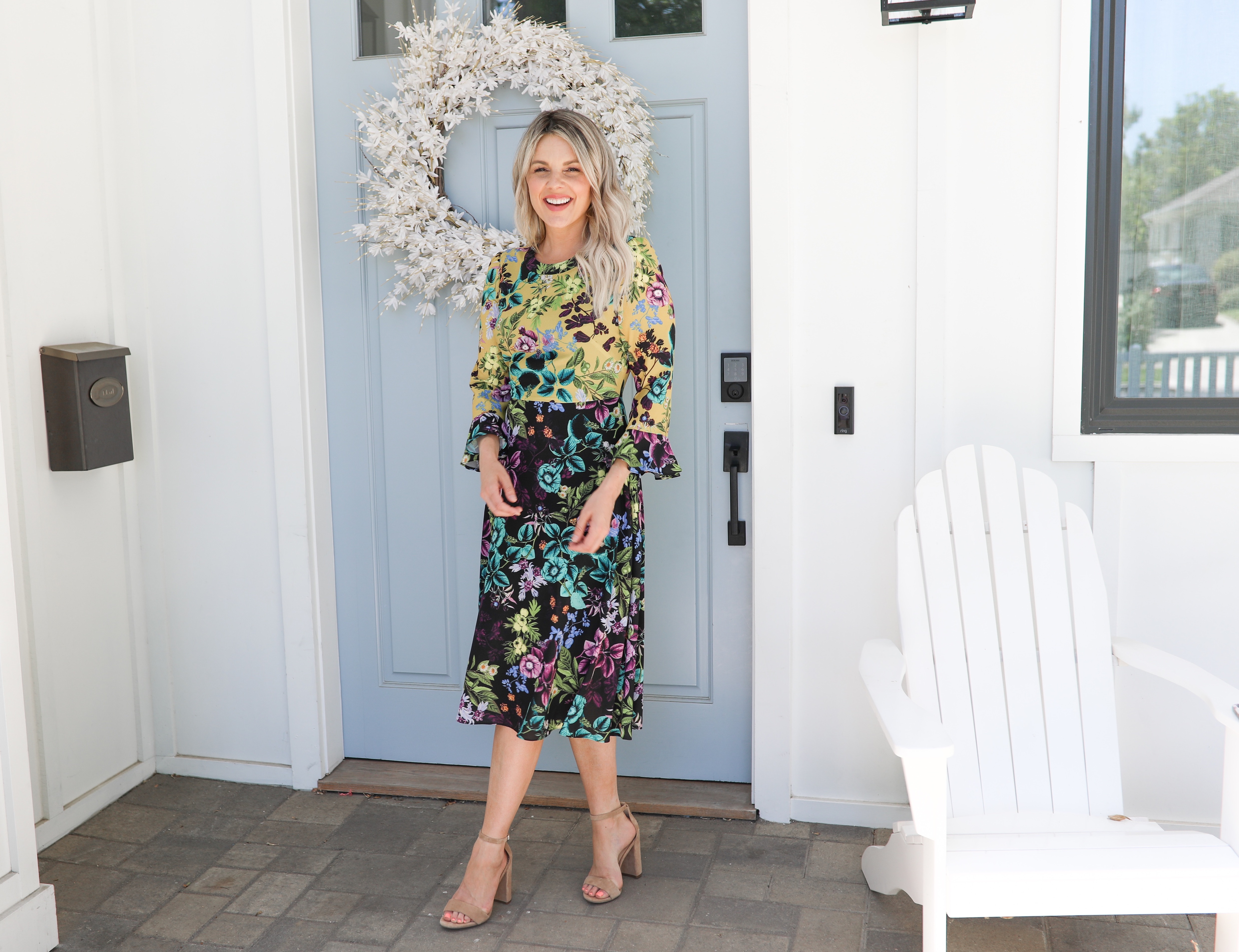 1. FLORAL DRESS | 2. NUDE HEELS

 1. FLORAL DRESS | 2. NUDE HEELS
LOOK FIVE (Ok they are just PJ's, but I still love them! Ha!)
I have been in love with these Nordstrom brand pajamas ever since I gave birth to Riley. Let me tell you, they are the softest pajamas that I have ever owned. I only wanted the softest material to touch his new baby skin. And I think these are the only pajamas I've ever bought and that didn't shrink in the wash. That's one of my biggest problems with PJs – I'll buy them and the fit perfectly and then I'll wash them and they don't fit anymore. These totally don't shrink and hold their shape! They are apart of the sale, and so are the more summery short sleeve version for only $32 for the set! They come in a few colors, and the summery option also comes in a really pretty print. I can't wait for these to come in the mail!

 1. NORDSTROM BRANDS LONGSLEEVE PJ'S | 2.  NORDSTROM BRANDS SHORT PJ'S
LOOK SIX
Ahh! These BP. lounge jogger pants are part of the sale! They are high-waisted and so comfortable! I am obsessed! They are only $35! They come in both regular and plus sizes! I've said this in my other blog post about these pants but they are truly my favorite item in the sale! After I bought them I wore them for two days straight! And that's not an exaggeration! I even napped in them one day because they're so comfortable! And I love that they are dressy enough that I can wear them in a sweater like I am below but I can also dress them up even more with a lace Cami or dress it down with the white-tee like I did in the side-by-side photos below. I'm telling you, if you haven't gotten these joggers yet please get them! You will truly love them so so so so much!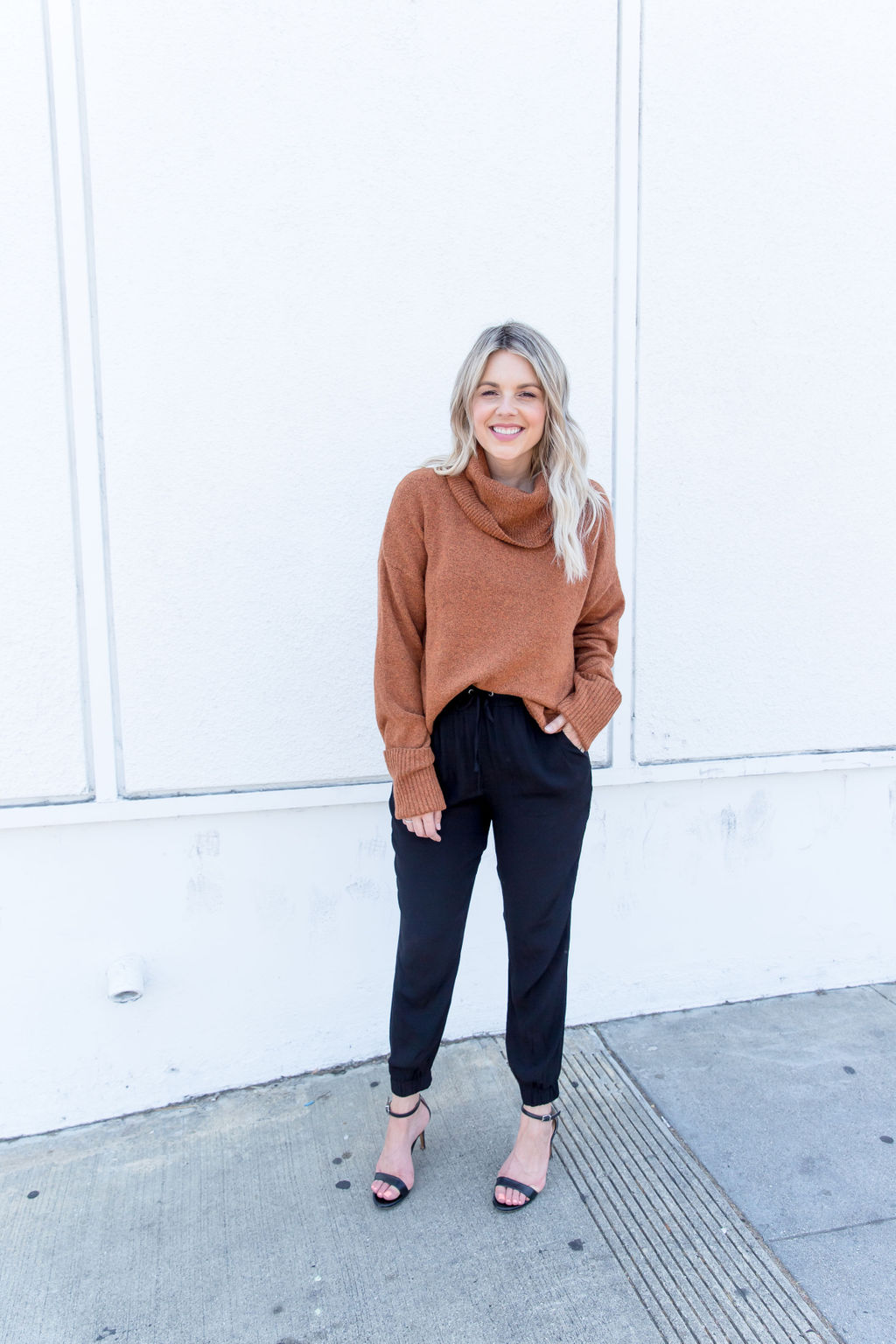 1. SWEATER | 2. BP. JOGGER LOUNGE PANTS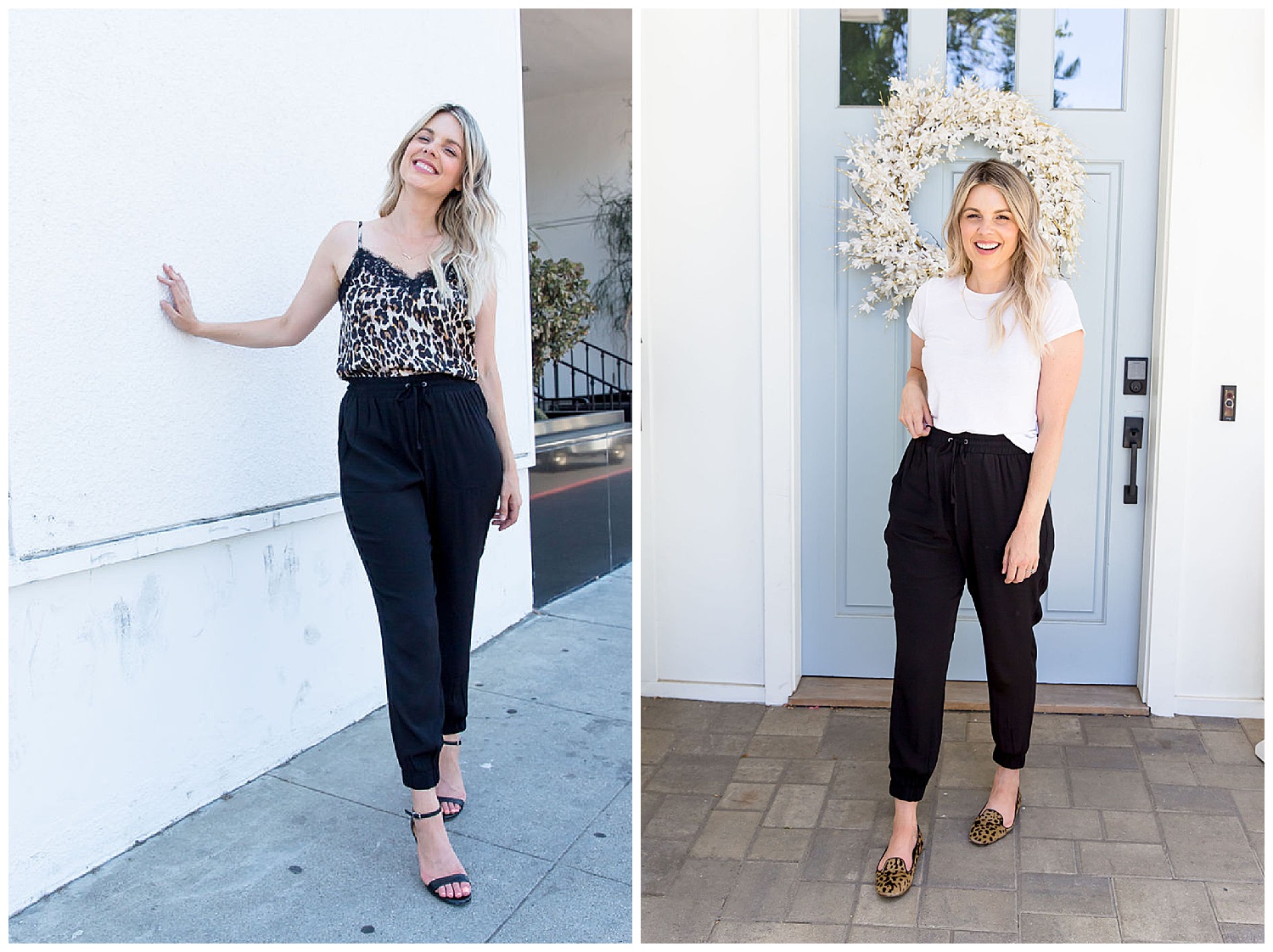 1. LEOPARD CAMISOLE | 2. HIGH WAIST JOGGERS | 3. PLUS SIZE JOGGERS | 4. LOW HEELS |

1. WHITE TEE | 2. HIGH WAIST JOGGERS | 3. PLUS SIZE JOGGERS | 4.  LEOPARD LOAFER
LOOK SEVEN
Okay this leopard cardigan sold out but I have high hopes that it will be restocked when the sale goes public! Fingers crossed!!!! Had to add it here! It is so soft and cozy! Every blogger was posting about this and I truly think that it is one of the best parts of the sale!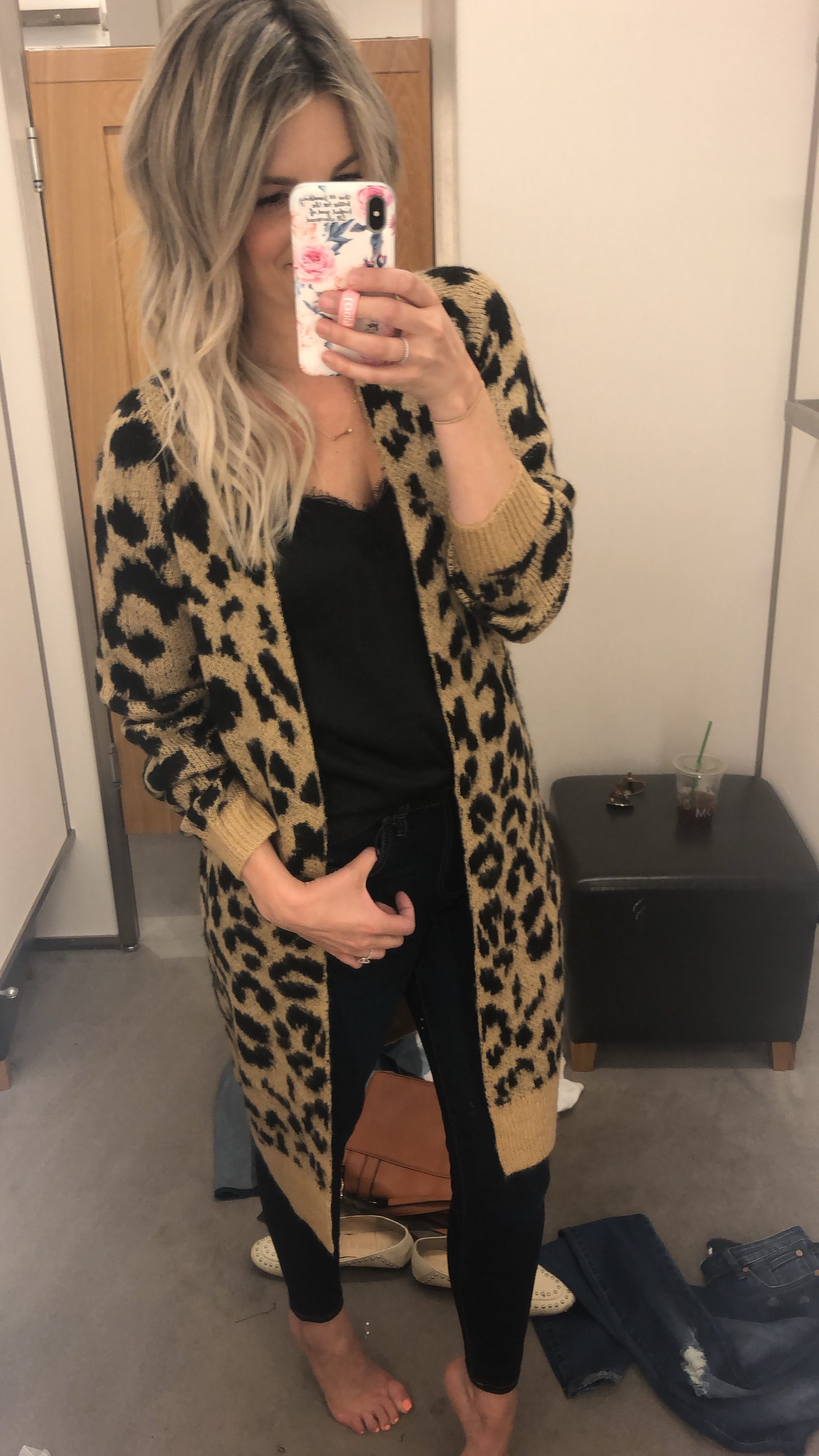 1. CARDIGAN | 2. SATIN CAMI TANK | 3. $60 JEANS
LOOK EIGHT
These heart PJ's are so feminine and sweet. They are sold as separates and are on sale for $25 each. You could totally just buy the joggers and a pair it with a white tee and it would be a really cute PJ look! I've been investing in PJs more often lately because you spend so much of your life in bed that I want to be super comfy and feel good even when I'm sleeping. Plus I kind of like putting on a cute pair of PJs at night! Heck, I'm a mom and on days I don't have to go to work I'm in my PJs most of the day anyway! So might as well have some cute ones!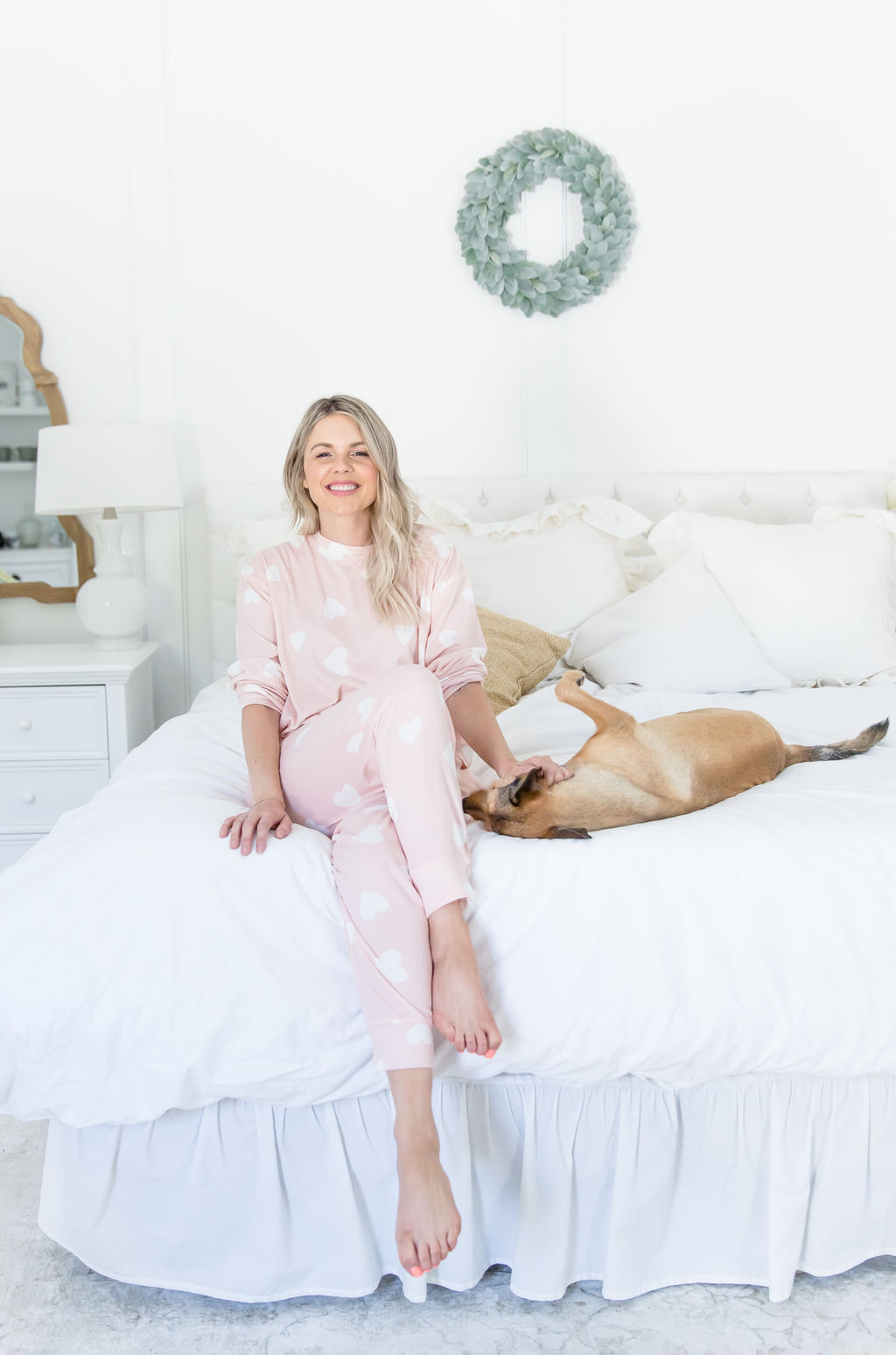 HEART PJ TOP | HEART PJ BOTTOM | HEADBOARD | SIDE TABLE/DRESSER | MIRROR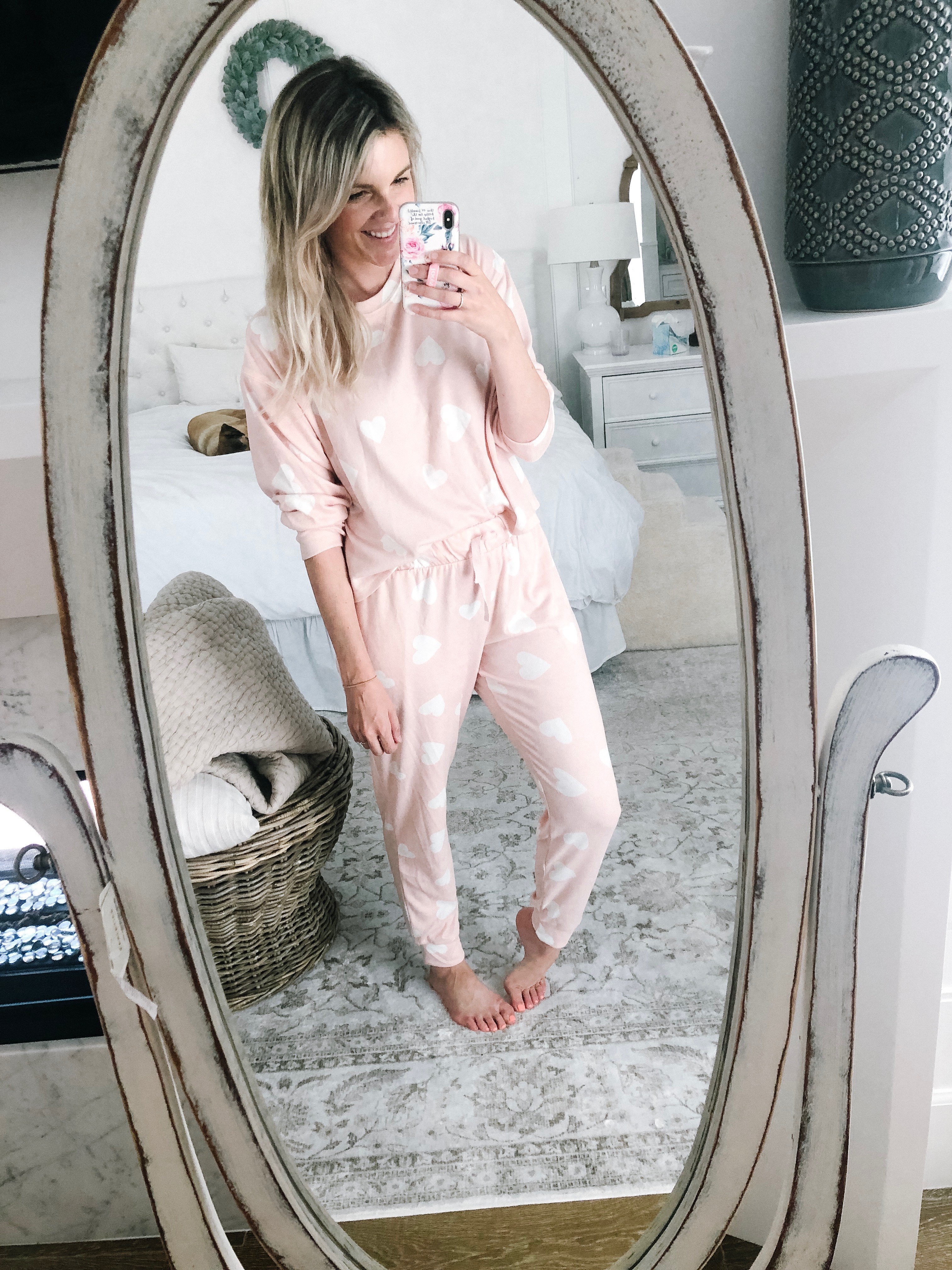 HEART PJ TOP | HEART PJ BOTTOM | HEADBOARD | SIDE TABLE/DRESSER | MIRROR
LOOK NINE
So this dress sold out REALLY fast in the leopard print. I mean look how cute it is!!! It is still in stock in a floral print, and I am really, really hoping that this dress comes back too! Both prints are apart of the Nordstrom Sale and are only $38! I just can't even believe that price because the dress is so gorgeous and high quality! I also found a faux leather jacket that is apart of the NSale and really similar to mine, for only $65!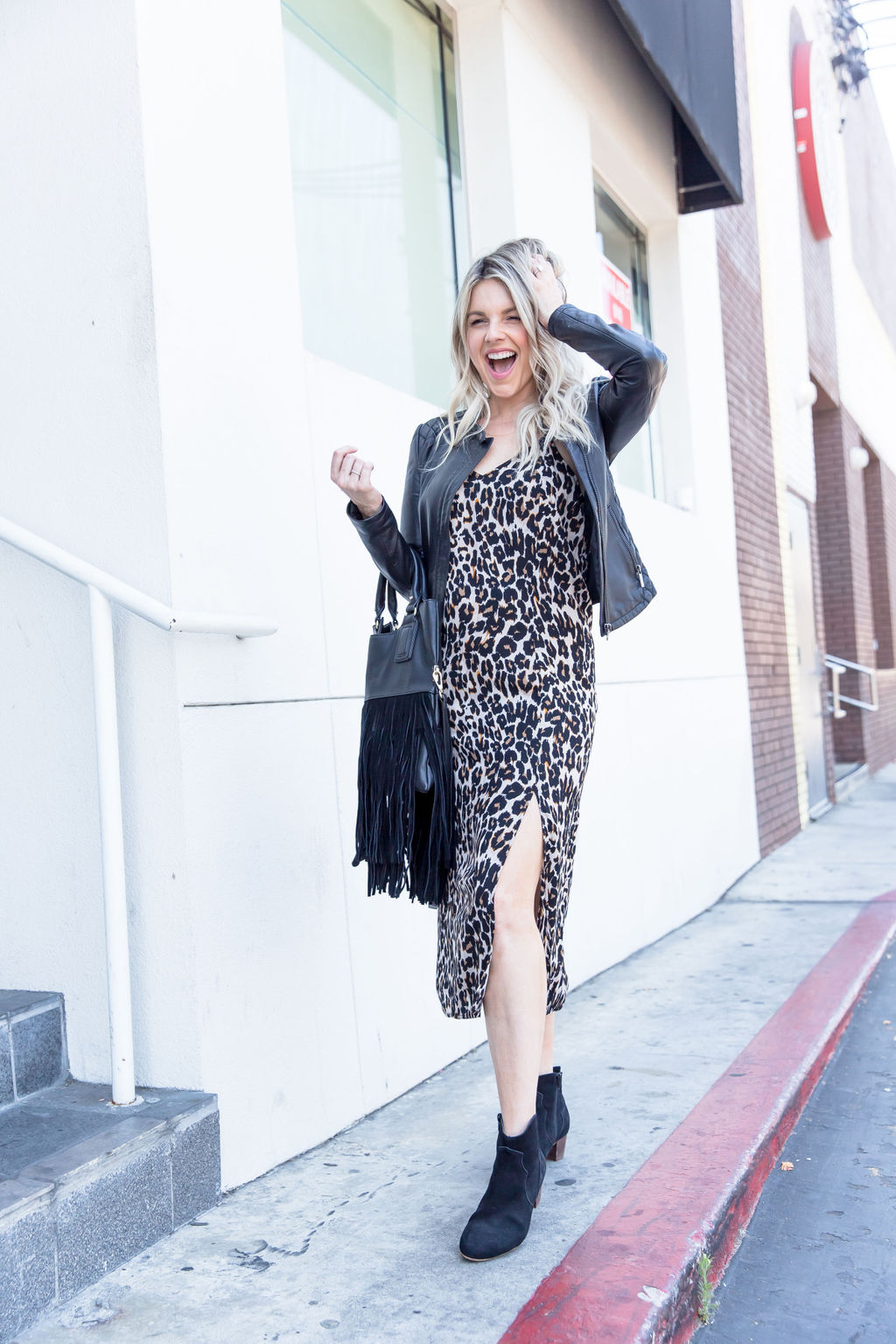 1. DRESS | 2. JACKET | 3. SIMILAR PURSE | 4. BOOTIES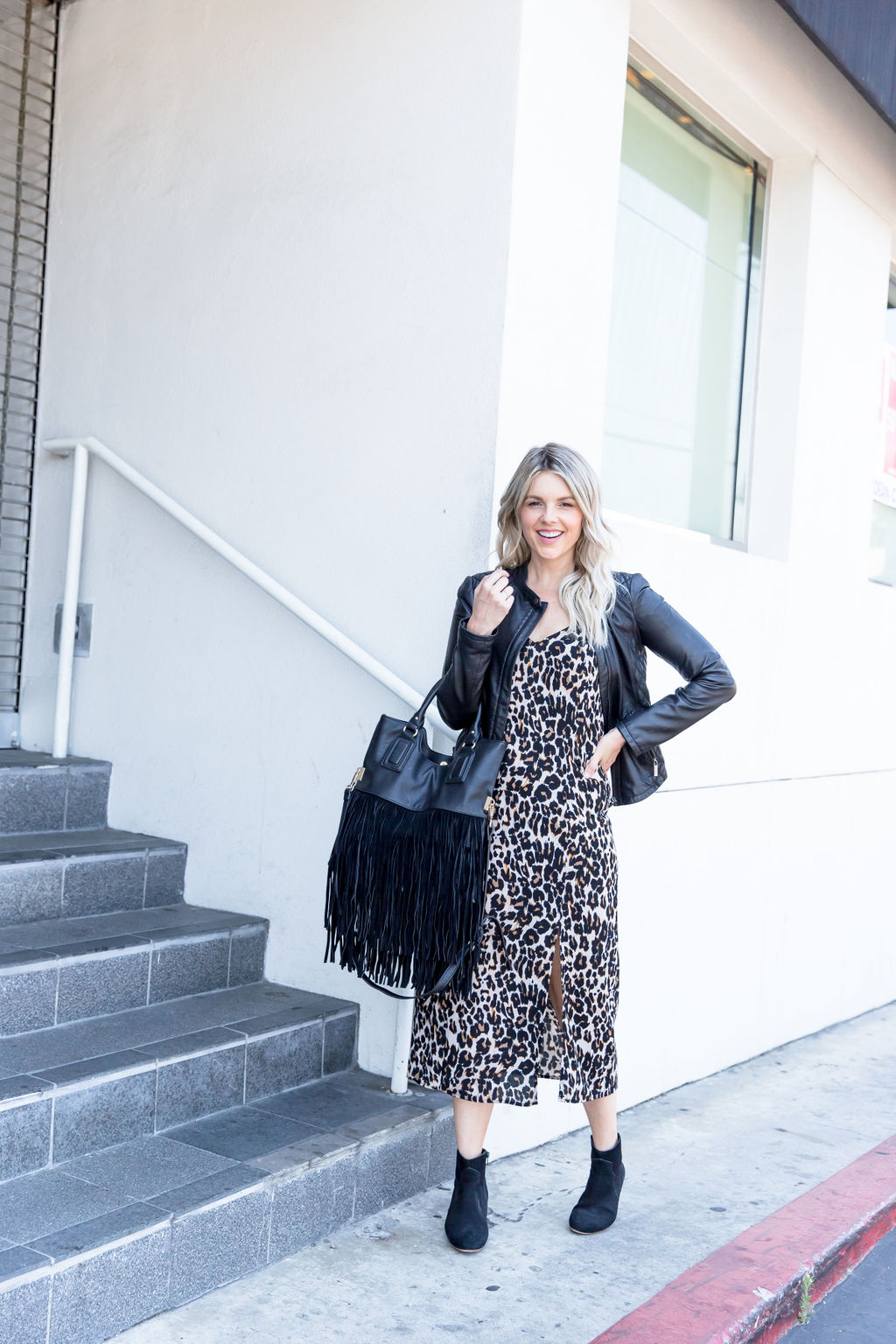 1. DRESS | 2. JACKET | 3. SIMILAR PURSE | 4. BOOTIES
Well there you have it! Those are some looks that I really love from the sale that are either fully in stock or aren't in stock and I'm hoping come back in stock! Ha! I will update you guys asap with a bunch more looks that I ordered that are also still fully in stock! Gosh I just love the sale! Hope you guys find this outfit inspiration helpful! And if there's anything from the sale that I haven't talked about that you love, please share with me in the comments below!