Anyone else looking for some great summer activities for toddlers? Can you guys believe that it's already mid July? Summer is flying by so quickly! Molly has already had a summer break and is onto the summer program, so I had time to introduce her to some new crafts and projects that we could do around the house. I thought I would share them with you, because our kiddos need a lot of stimulation during these summer months and coming up with the ideas is half the battle! Ha! And the best part is that you probably have some, if not all, of the ingredients already in your home. So I will spend today sharing a few of our new favorite summer activities for toddlers with you, a few for in the house and one adventure!
Homemade Bird Feeders
Oh my gosh. I recently remembered about how to make homemade bird feeders. I remember making them when I was a kid! It is super simple, and likely you have most of the ingredients around the house!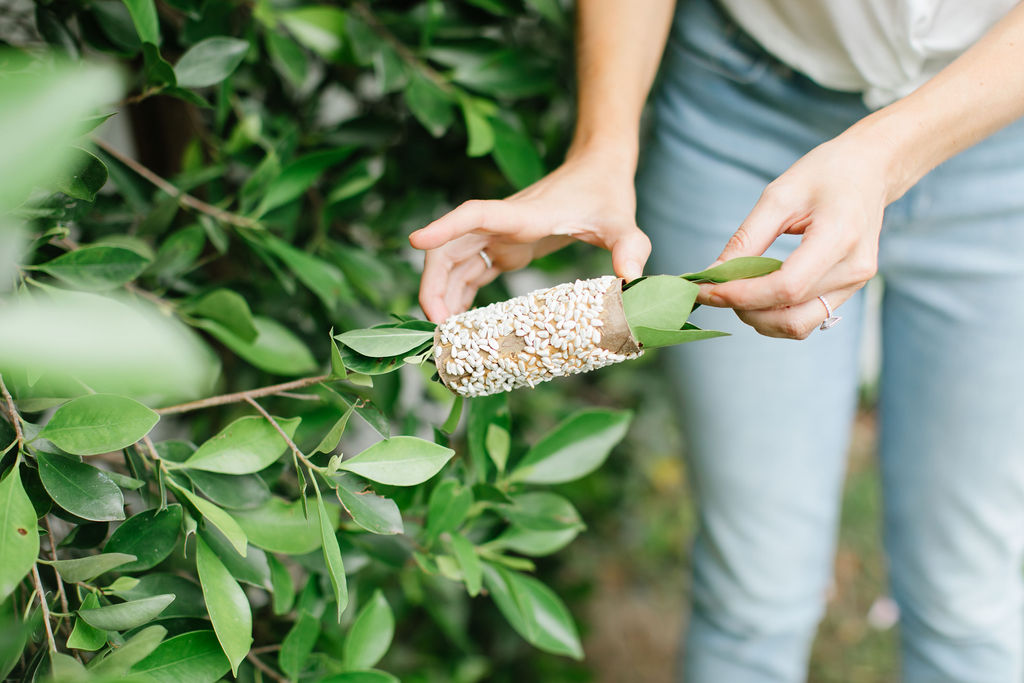 1. BIRD SEED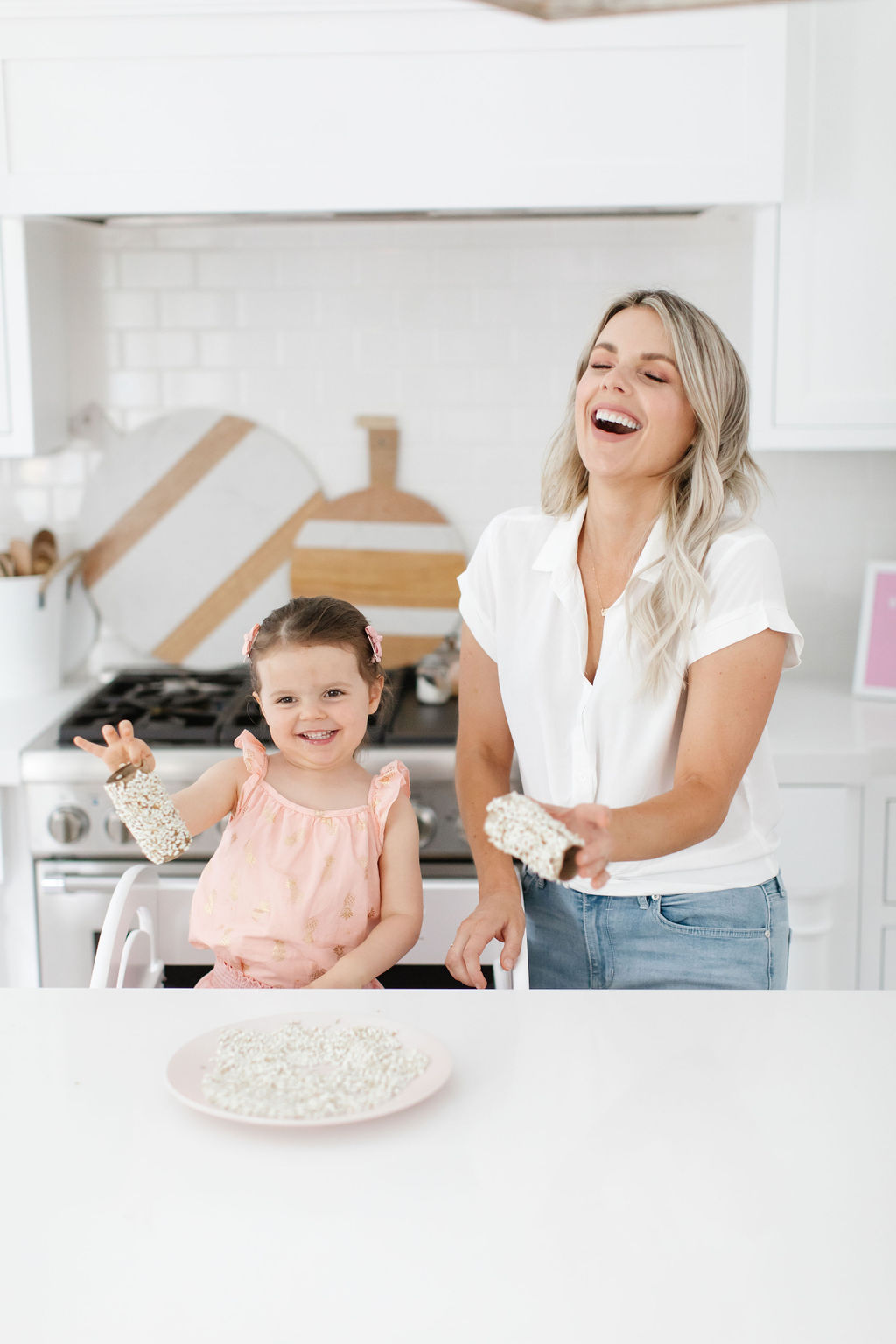 1.TOP | 2. JEANS |  3. MOLLY'S OUTFIT | 4. BIRD SEED
Items You Will Need
Smooth Peanut Butter
Toilet Paper or Paper Towel Rolls (Cut the paper towel roll in half)
Butter Knife – plastic works just as well if your kid wants to do it on their own
Bird Seed – if you don't have bird seed and want to do this today, you could use items from your kitchen like sesame seeds, poppy seeds, unsalted peanuts (make sure they don't have any other ingredients in them), or flax! You will likely get more birds to come to the feeder if you use a real mix though, since they have special seeds that birds love!
The process is simple! Take one of your toilet paper rolls and help your kiddo spread a layer of peanut butter onto the roll. You don't want to put too much (no giant globs) but you will want to make sure there's enough on there so that the seed sticks! Then pour some seeds onto a paper plate and roll the peanut butter covered toilet paper roll until it is covered!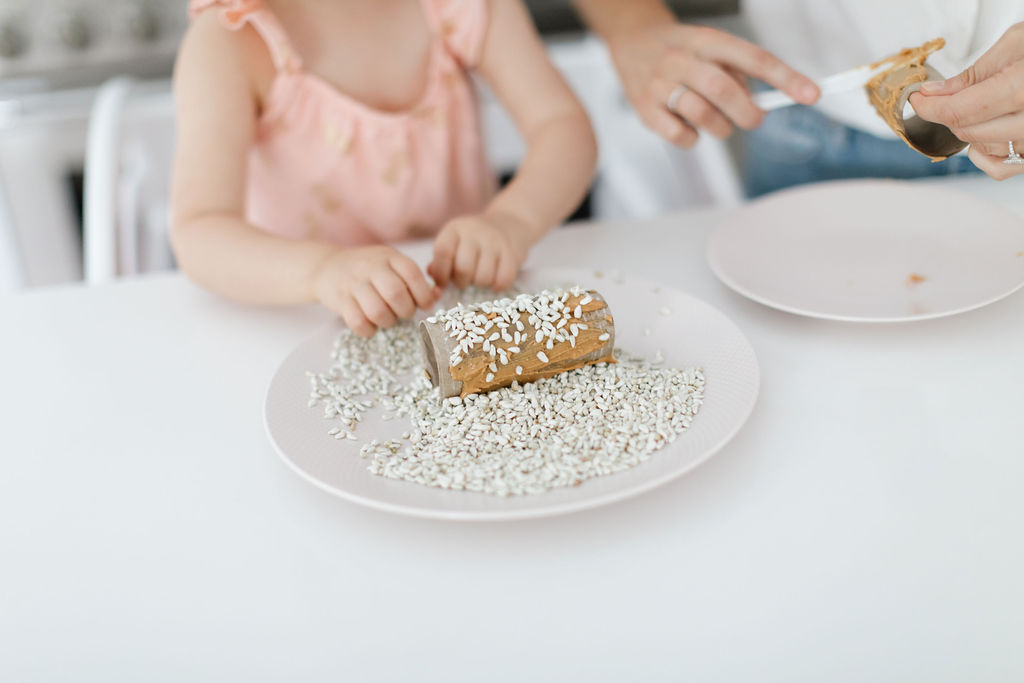 1. BIRD SEED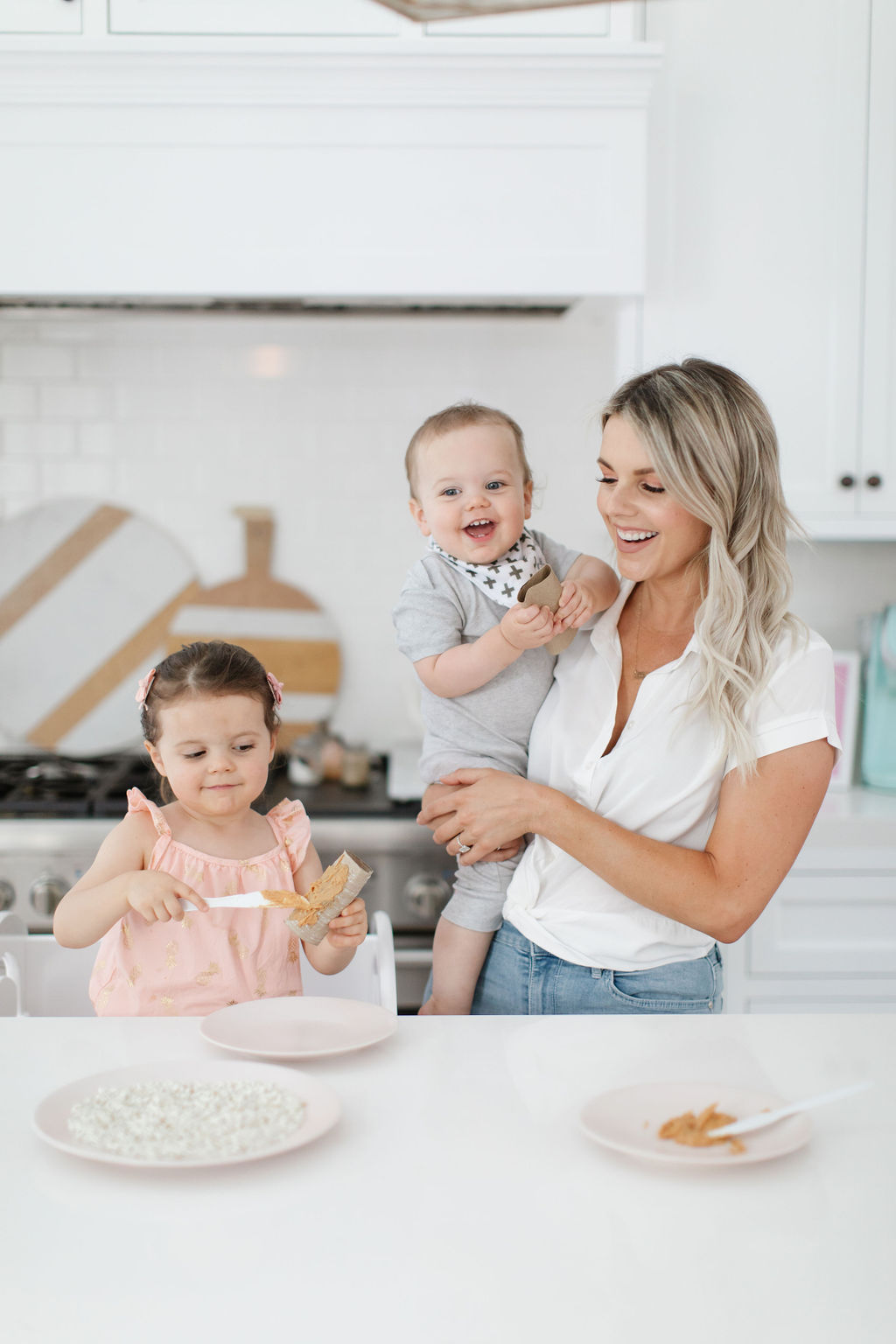 You can choose to tie a string through it to hang it in a tree, or just put it onto a tree branch! I just realized after I did this that another thing you could do would be to put a hole on either side of the toilet paper roll, near one of the ends, and tie string to those so that you can hang it vertically if you choose to! If you put the string through the roll without making holes, it will hang horizontally. Either way works! It is up to you and where you want to hang it!!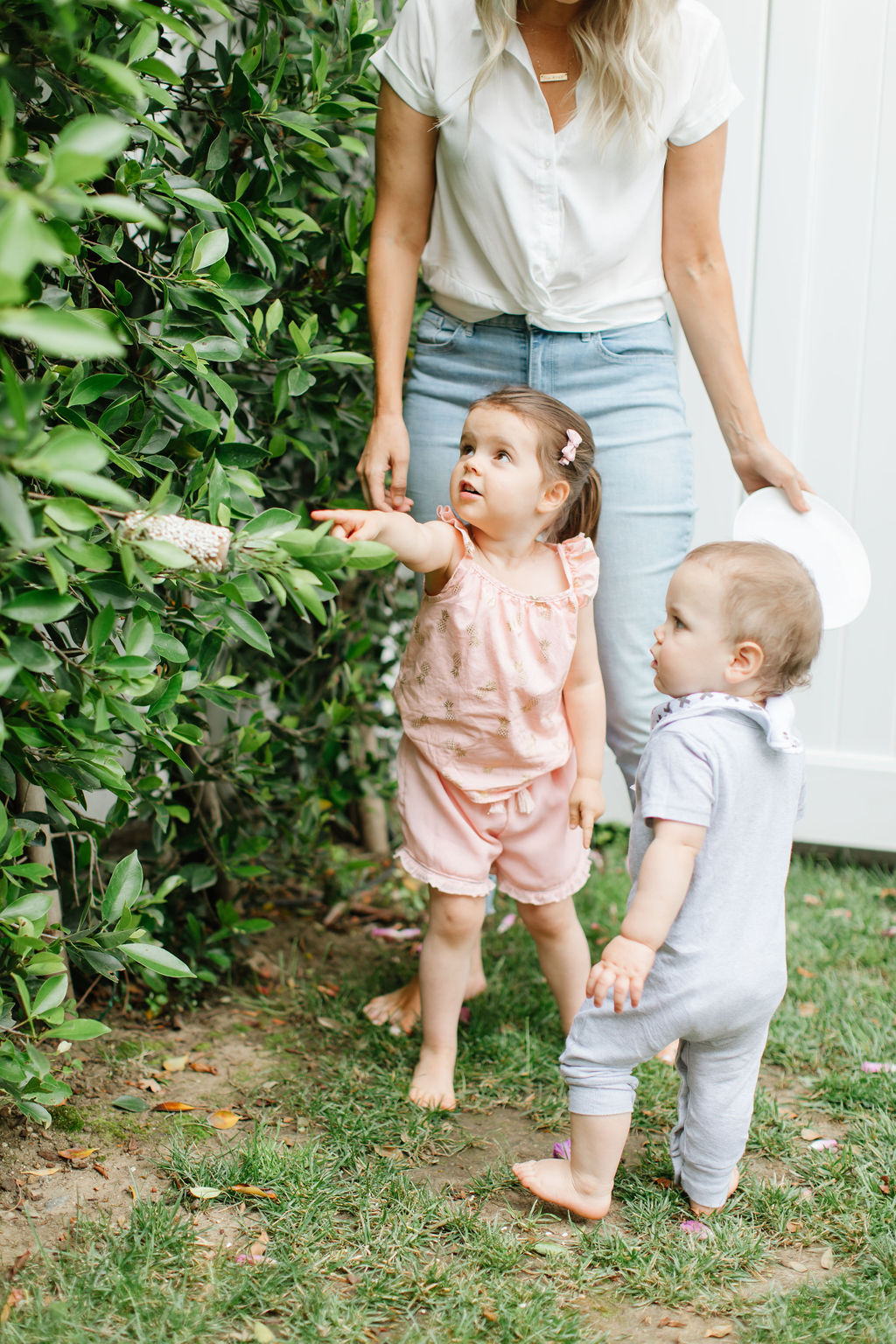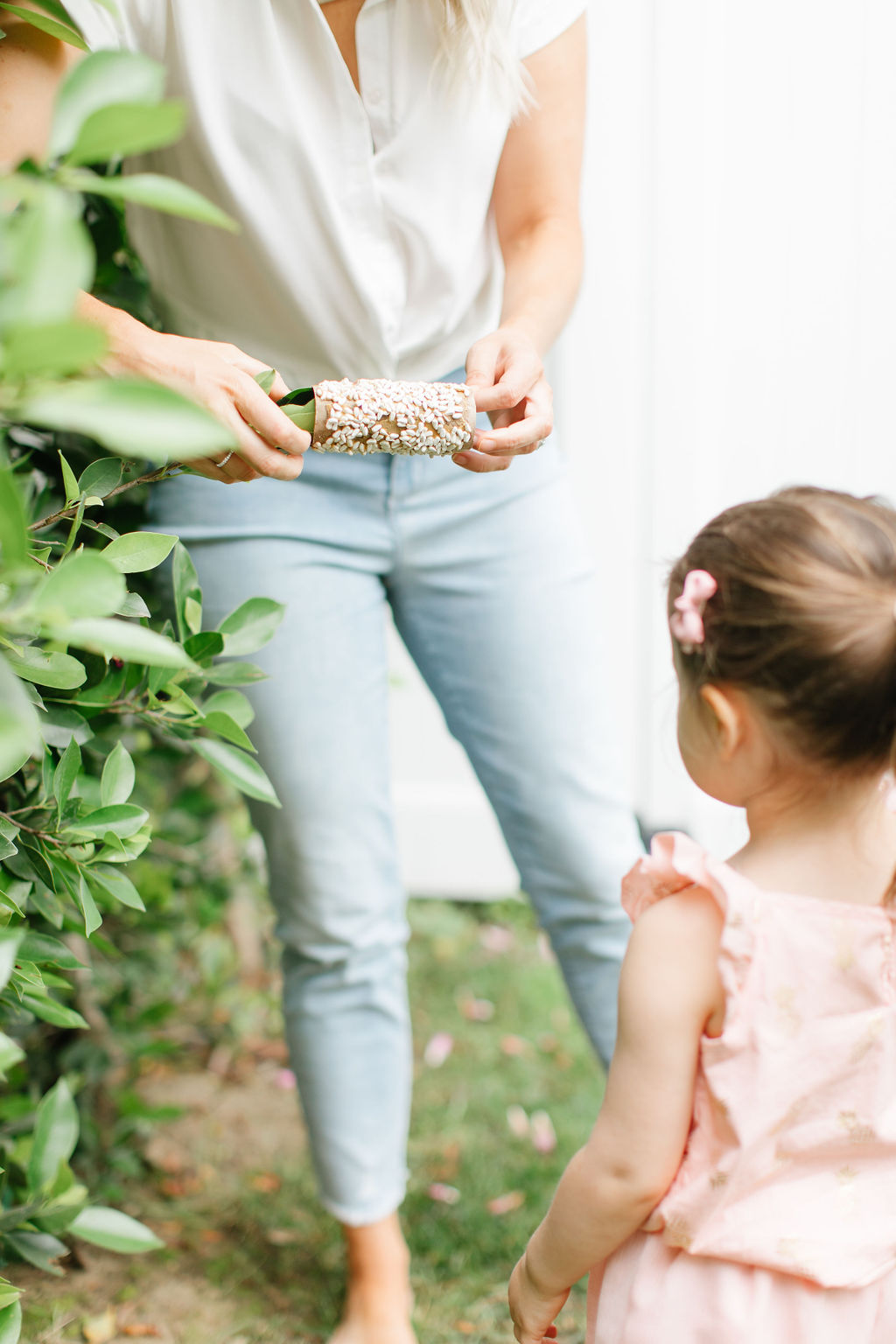 1. BIRD SEED | 2. TOP | 3. JEANS
Practicing Letters in a Tray of Salt!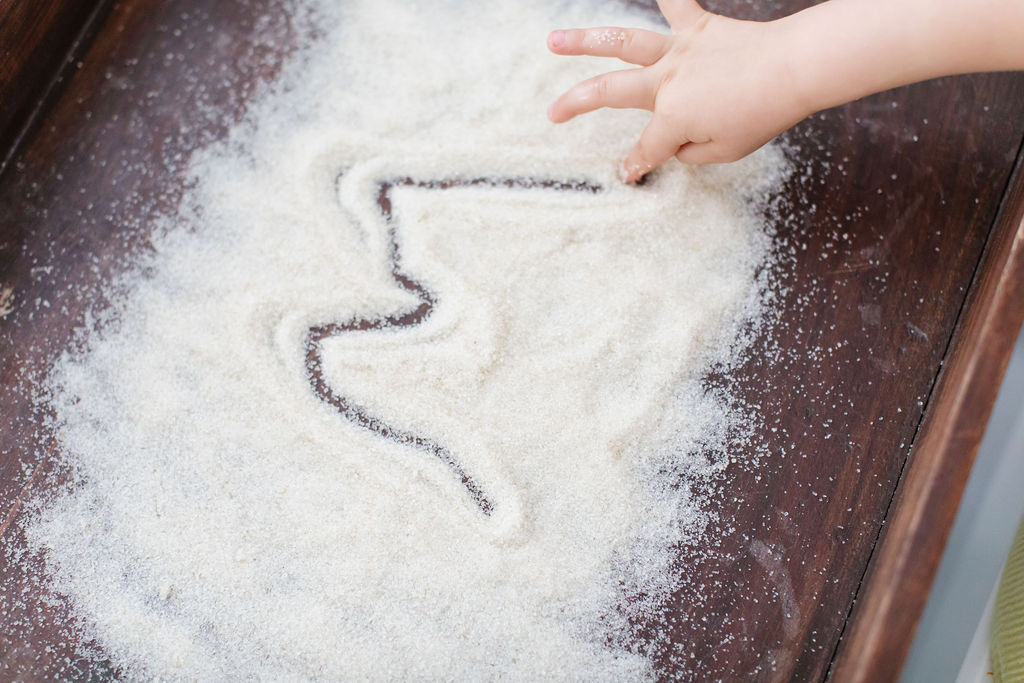 This is a fun and easy activity to get your kiddos working on their letters, shapes, numbers, name, anything!
All you will need for this activity is a tray with sides and salt! For the tray, there are quite a few options you could use like a cookie sheet that has edges, a wooden box from a puzzle, or a decorative tray from around your house. Just pour some salt on the tray and you're ready to go!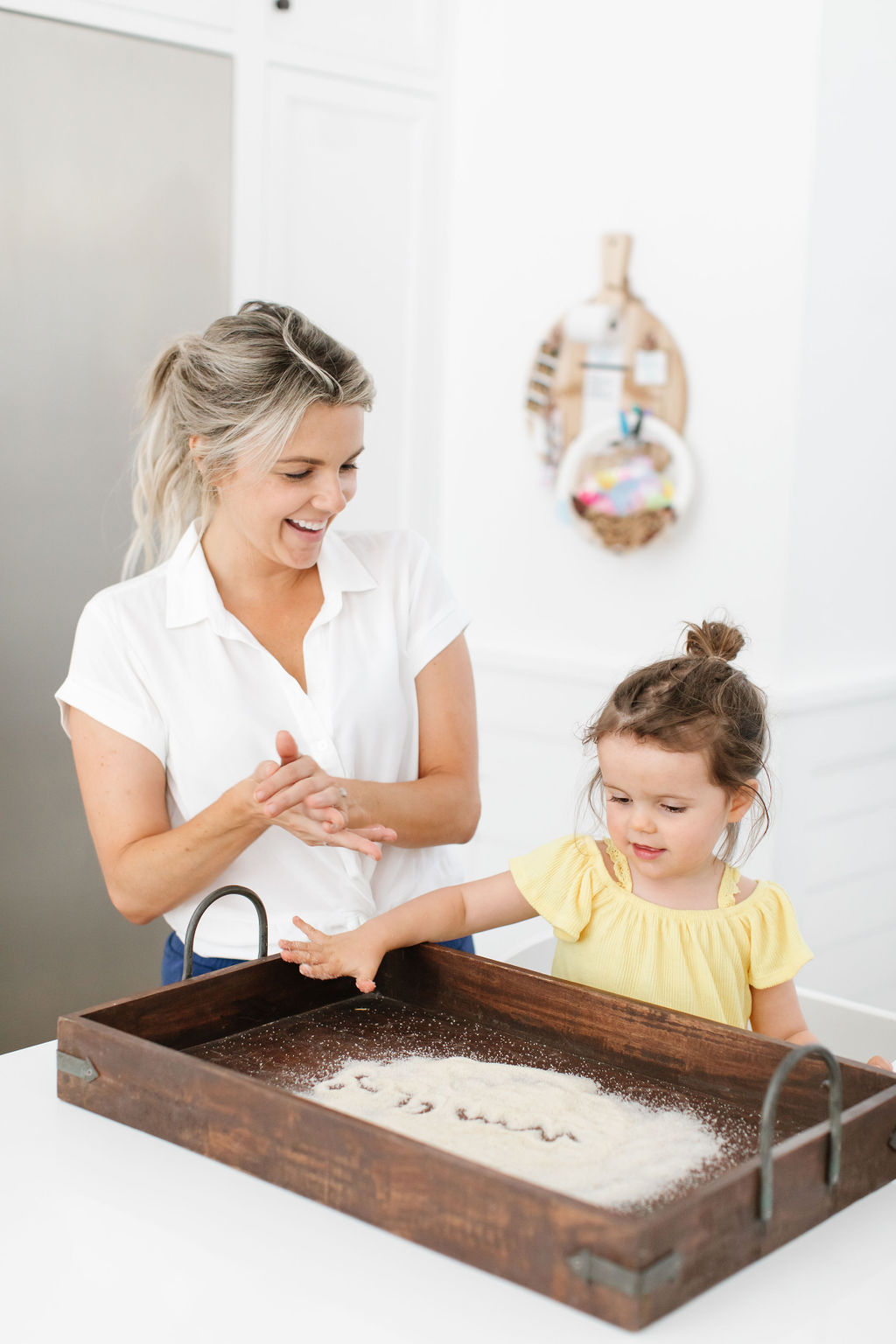 1. TOP | 2. MOLLY'S TOP | 3. SALT
So when I first tried this out with Molly (and took these photos), I actually used sugar because I was low on salt. You might be able to tell because it has a tinge of brown to it.  I truly do not recommend this route! The sugar gets sticky pretty fast on their little fingers, and Molly quickly figured out that it was sweet because she licked some of it off. Plus, it's just asking for trouble with little insects and creatures. USE SALT! Ha!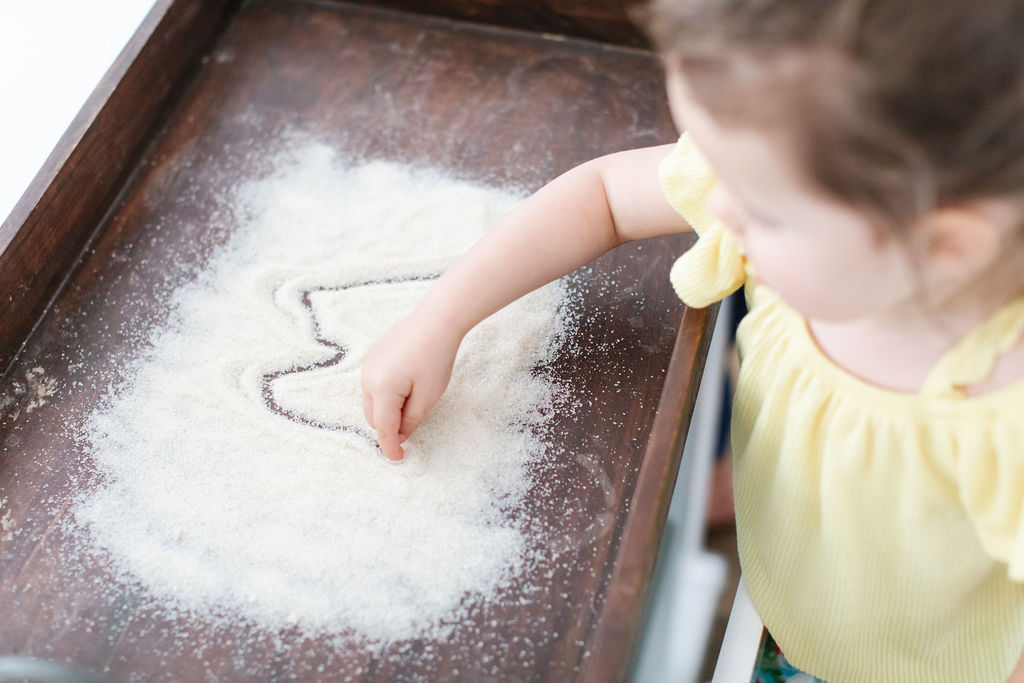 If you aren't feeling super adventurous about this and think your kid is the type that would rather throw it in handfuls on the ground -we've all been there – I linked a custom wooden tracing board below where you can customize your kiddos name! And just an FYI, my top in the above photos is only $12.

Take a Day Trip (to somewhere with water!)
So even though it's really hot outside, sometimes we just need to get out. And for those days, I say, take a day trip to somewhere with water!!! For you, that might be an ocean, a lake, a pool, or heck it could even be a pond! Anywhere where the kids can play and learn from nature and that help them to develop their sensory skills!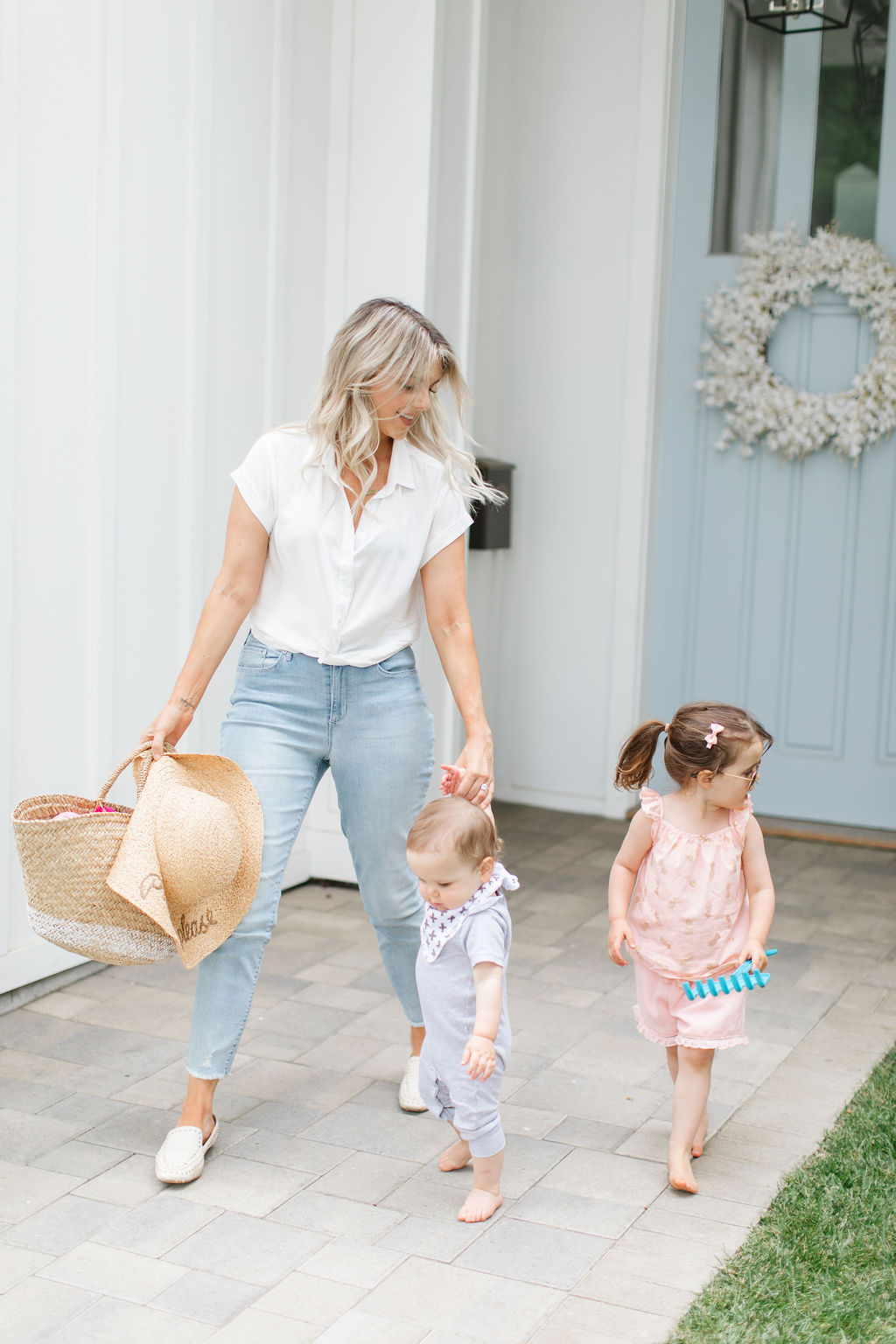 1.TOP | 2. JEANS  | 3. HAT | 4. MOLLY'S TOP | 5. MOLLY'S SHORTS | 6. RILEY'S OUTFIT
Our family went on a trip recently, and we took a day trip down to the water so that the kiddos could play. There were kayaks close to the water, and Molly had a blast going in that with Kevin, even right at the shore! It was just fun for her to be in the boat, even though they weren't out sailing very deep. They both loved playing and splashing in the water, and being on the sand. I don't blame them! A change of scenery is nice, and playing with water on a hot summer day makes it even better! So when it's hot, pack up and head to the beach!!! By the way, a post for everything you need to pack in your bag for the beach is coming soon!
Also for the photo above, I HAD to link our outfits above because they were all so affordable. Molly's top was only $4.50!! YES! Under $5! I showed you my outfit recently on my Affordable Friday post, check it out for all the details – my top is only $12 and my jeans are $24 (make sure to size down in these)! Also, Riley's outfit is part of a 2-pack that is only $12 as well. I think all of our outfits were purchased for less than $55!!!! For all 3 of us!
Some of my favorite items for play hot summer days!
Okay so I decided that this would be a good time to mention some of the GO TO items in our house on summer days. And some of these have been around our house since Molly was a baby – I am sure you will recognize them all from my Instagram stories! And they definitely makes for great summer activities for toddlers.
First is this water table that the kiddos can play with in your yard. Molly and Riley equally love this thing! It is so perfect for when it's a hot day and the kids want to play outside. Especially if you don't have a pool. It has its own umbrella, so it helps keep them cool in the shade. We fill it up with water and they have all sorts of buckets and shovels and balls that they play with in the water. They both end up soaked and completely happy every single time. I know that this will be around our house for a long time!

Another great item is this play basketball hoop! We actually purchased this for Molly about 2 years ago, and ever since, it has received so much love! I would say that it very durable, considering how rough the kids play with it and it is still going strong after two years! It plays songs, and makes fun noises when you throw a ball at the hoop. Molly and Riley both love it, in fact they both were playing with it this morning!

Below I've linked a few more fun toys and summer activities for toddlers for hot days, and ones that will last in your home throughout every season!

That's it! I hope you have a fabulous summer with your kiddos and enjoy some of these summer activities for toddlers! I'd love more ideas that I can do for the rest of the summer, please comment below if you have any suggestions!