Oh my gosh I'm so so so so so excited because Black Friday deals have officially started at Walmart! If you're at Walmart+ member you can start shopping them at 12PM Eastern time today and if you don't have Walmart+, I highly recommend signing up for it because it's still 50% off an annual membership until the end of the day today. So you can sign up for $49 for the entire year right now! If for whatever reason that's not for you, you can still shop all of these deals even if you don't have a membership starting at 3PM Eastern today.
I wanted to share some of my absolute favorites because they are just so so so good. But you can see everything on deal on Walmart's site here.
Black Friday Deals for You & The Home
I'm gonna start by sharing some of my absolute favorite deals. Things like this $35 air fryer that's over 50% off, this Eufy robot vacuum that's over $300 off, and the 4-in-1 stick vacuum that is 50% off and only $75! I actually have this vacuum, and it's incredible! We have both this and the Dyson and this is comparable to the Dyson for a fraction of the price, especially with this Black Friday deal!
Also, if you're looking to get a TV for Black Friday, they have such good deals. If you're looking to go pretty big, they have a 75 inch or this 65 inch Samsung – both have incredible reviews and are just $398. Or if something a bit smaller works for you or you have a tighter budget, this 50 inch TV is only $148! Staying on the topic of electronics, they have incredible deals on laptops too! Like this one that's normally $399, but the Black Friday deal is to get it for $329, so you get $70 off! Or if you're looking for more budget friendly option this one's $90 off and only $249. Everything is linked here!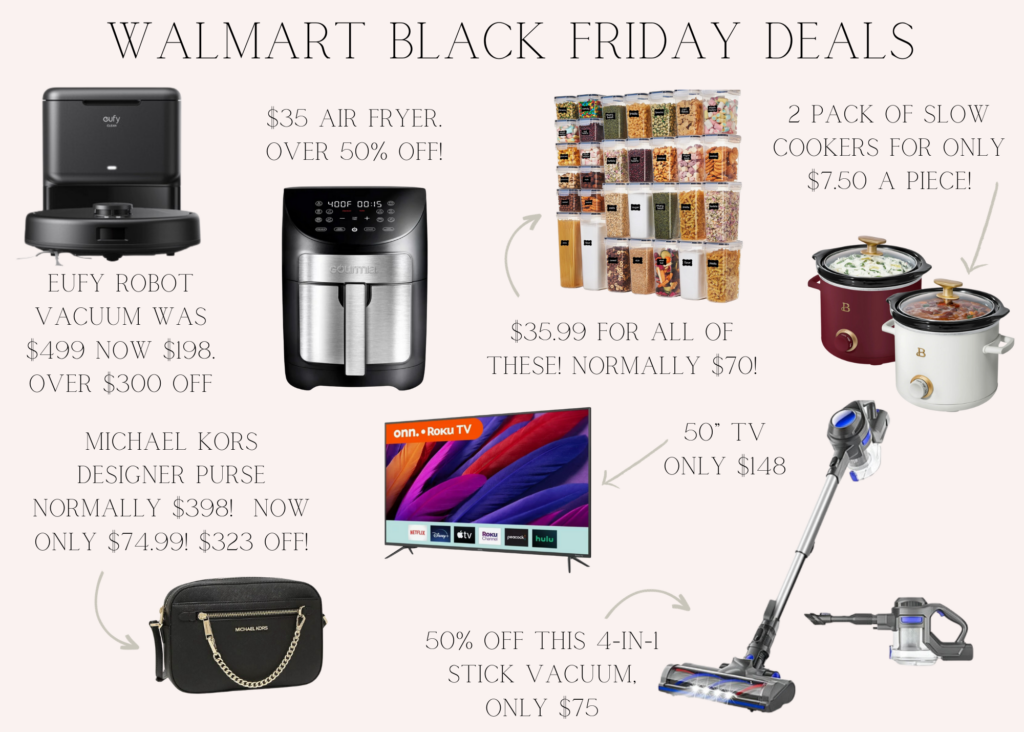 1. EUFY ROBOT VACUUM | 2. AIRFRYER | 3. STORAGE CONTAINERS | 4. CROCK POT SET | 5. MICHAEL KORS PURSE | 6. 50″ TV  | 7. 4-in-1 STICK VACUUM
I had to mention this deal for the kitchen because oh my gosh this 2-pack of slow cookers by Drew Barrymore's line called 'Beautiful' is only $15! That means you get each slow cooker for $7.50 apiece! I don't even know how that's possible. They are mini slow cookers so if you read the reviews people love them making dishes for just two people or making multiple dishes for one meal. I also think they'd be great to give us a gift when you bring a meal to someone's house over the holidays, and then you can just give them the slow cooker with the meal inside. Such a great gift idea!
Black Friday Deals for Kids
Moving onto the kiddos! Walmart has so many insane deals on toys. They have whole sections of toys that are $5, $10 and $15! All of our favorite nostalgic board games like Sorry!, Trouble, and Clue only $5! They had the same Black Friday deal last year and I stocked up on a ton of these games for my kids and we had so much fun playing them as a family all day on Christmas. I feel like some of the best gifts are ones that you get to play as a family throughout the day.
And my son is super into Legos, so I also had to share some of the incredible deals. They have on Legos right now. Like this set that is 50% off today!
Go ahead and check out all the different toy deals, but the last one I just want to mention because I think it's insanely good and so great for parents with toddlers. This 100 piece wooden block set from Melissa and Doug is on sale for only $10! This one will sell out fast I think. So snag it if you have Littles. Or grandchild to buy for! It's also a great gift to buy to give to a toy drive.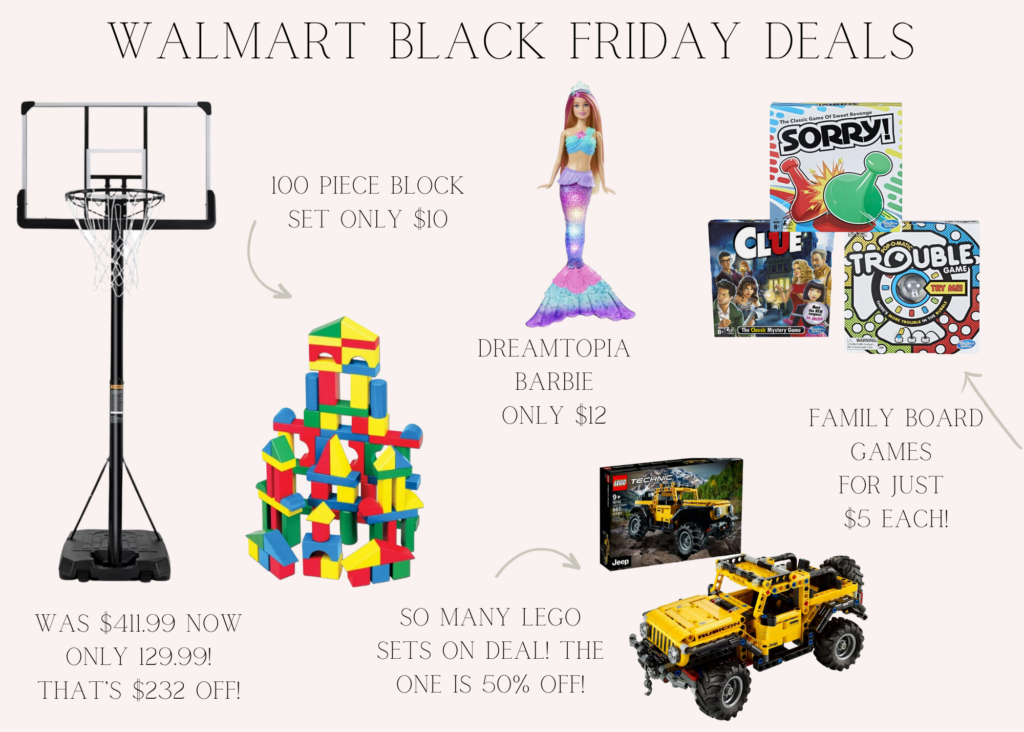 1. BASKETBALL HOOP | 2. WOODEN BLOCK SET | 3. DREAMTOPIA BARBIE | 4. $5 BOARD GAMES | 5. LEGOS
Black Friday Deals | Fashion
There's also some fashion deals I really love. Crocs are only $25, I'd love these Levi jeans that you can see me wearing below. They're only $25. Then how beautiful is this green blouse that's on sale? A beautiful color for the holidays. I shared a video of it in my insta stories and here!

Vacuum Glore!
Sooooo many vacuums deals Sharing them in the pic and linking them all below the pic!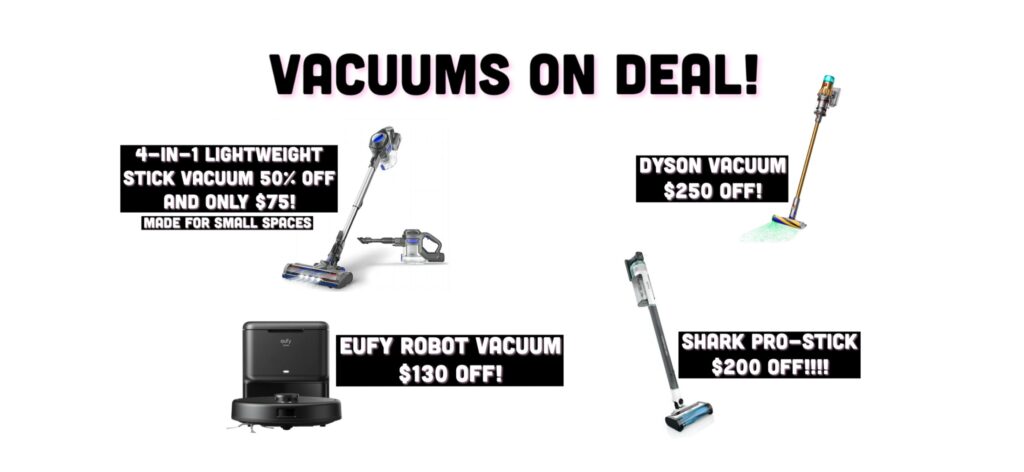 More Deals
Clicks the pics below to see the INSANE deals on things like a folding table, a sofa, $20 bake-ware set, bullet ice maker and more!


Happy Shopping!
Okay, you can find all the Walmart Black Friday deals here, but I just want to share some of my favorites with you guys. When Walmart does these big deal events, the items tend to sell out quickly, especially the electronic ones so snag yours while you can! If you have any favorite items or deals from the sale, please share them in the comments below! I definitely can miss some things, and I want to take advantage of this as well!