Hey guys! Welcome to the blog. With the holidays coming up, I'm gonna start doing some gift guides and I'm gonna start with some toy ideas that I think are really great for kids. I feel like there's so much junk out there and I really try to avoid buying that kind of stuff for my kids unless it's a character that they absolutely love or something like that. But for the most part I try to focus on games, books, and other educational toys. With some Barbie and Mario mixed in, of course!
First GET TAPPLE! This game is soooooo fun! My kids love it so so so much. Here is how it works. You pick a card and the card has a category like "Pizza Toppings". Then someone starts by starting the timer and saying a pizza topping then tapping the letter down followed by hitting the 10 second timer to re-start it. Then to next person goes and does the same thing, but you can't choose things with letters that have already been tapped. If you can't think of one within the 10 second the timer goes off and you lose! My kidsLOVE this and so do I. We have so much fun playing it and I LOVE that it teacher them about what letters words begin with.

Next, let's talk about the character stuff. Barbie and Mario are both so huge right now – and so are the Trolls in my household. So I wanted to share that all of the Barbie movie dolls are back in stock at Walmart. They were sold out for so long after the movie launched and people were selling them online for like $100! Even a few hundred dollars! Well I'm happy to report that they're back in stock and only $24. I definitely see these being kind of like a collectors items so I actually bought all of them and plan on keeping them in the boxes. Although I'm sure the kids will force me to open them at some point. Ha!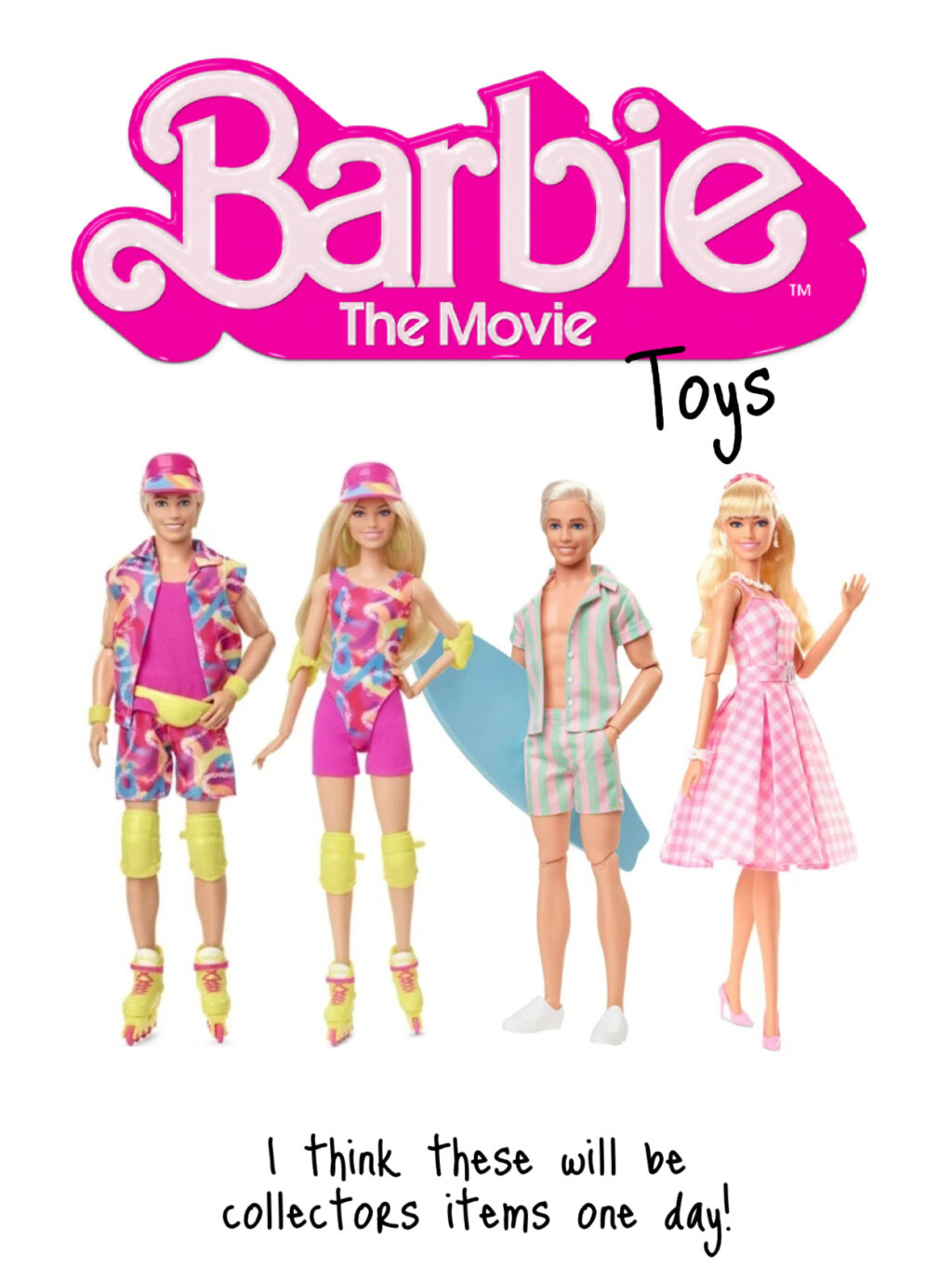 Riley loves Mario so Walmart has some great Mario stuff that's affordable and also I kind of love this Trolls doll because it's super nostalgic for me because I had trolls growing up. The Trolls dolls looked a little different but the nostalgia is still there!
I wanted to share some other big toys because I feel like these are the most fun gifts to give and for kids to get! I saw this Cocomelon train that is so so so cute! Too little for my kiddos, but I had to share it because I know how big Cocomelon is, and I think this would make such a great gift. And then there's also these bumper cars that I just think are so fun. They come in four different colors/themes – Cocomelon, Paw Patrol, Minnie Mouse, and Spider-Man.

I also wanted to talk about board games because we love boardgames in my house. The kids have this Monopoly Chance game that they love. The real game of Monopoly is a little too advanced for Riley right now. I think Molly might be able to do it, but not so much Riley so I love that this game has a more basic concept for them to learn. Or if you have older kids and want actual monopoly, Walmart has a giant Monopoly board on pre-order right now. This could be a really fun gift to have open and spread out in your living room Christmas morning. I always think that big gifts have a big impact when kids come down the stairs Christmas morning, and this one would have that big impact without a big price tag.
And then my kids absolutely love this Search Party game. Riley loves love loves all things like 'Where is Waldo'. Pretty much any game where he gets to play ISpy in some way is a huge hit with him. So I highly recommend this game. It's so fun for them, and I actually have fun point with them too.
I cannot recommend these Lego sets more. How often can you get a Lego set for only $9!!!! They are 3-in-1 Lego sets. What that means is that for the small set in the box, you can make three different things. But not all at once. So your child can make one thing and then take it apart and then make another and then take it apart and then make another. Riley loves loves loves doing this! Molly on the other hand always wants three sets so she can make all three things and keep them put together. Ha ha! At least her set is really affordable at only $9. I feel like it's hard to get anything like for under $10 so this is such a great option if your kids love Legos and you don't want to spend a ton of money. I'll link the different sets below.

Okay, just wanted to throw out some ideas so hopefully this is helpful in someway. Thanks as always for coming to my blog and let me know if you have any thoughts or comments or just wanna leave me some love notes in the comments below!