Welcome to today's Affordable Friday! Oh my gosh it's actually on a Friday this time. I feel like that never happens anymore. Ha! I am so excited to share all of these looks with you today because I found some really incredible pieces for both fall and winter!
MY FAVE!!!!!
I'm gonna jump right into it with my absolute favorite piece from this entire post. It's this super cute sweater that's under $20! This sweater is so much cuter in person than it is on the model on Walmart site. Snag it so so so so fast so you don't miss out. I love the material. It's soft, warm, and cozy.  I'm obsessed with the cut. Whether you do a half tuck like I like to do or leave it untucked, it just lays so nicely! I love love love the beautiful color! Plus, I'm kind of a sucker for anything with polkadots. I'm wearing a size small which is my normal size in tops. So I would say it's true size.

 1. POLKADOT SWEATER | 2. 90s JEANS | 3. WHITE SNEAKERS | 4. MOLLY'S DRESS
Then I also absolutely love the jeans I'm wearing. There are a 90s style straight leg jean. They're only available in 'short' for length. As you can see on me, they go above my ankle. On the model they show them going all the way below her ankle. So if you are on the short/petite side, then these jeans would be a great length for you. If you're taller like me, I'm 5'7, then they'll be more of a crop pant which I actually really love. I'm wearing a size 6, which is my normal size so they're definitely true to size. The color I'm wearing is the medium indigo number 8. They come in sizes 2 to size 22.

 1. POLKADOT SWEATER | 2. 90s JEANS | 3. WHITE SNEAKERS | 4. MOLLY'S DRESS
Wear this with your favorite boots or cute pair white sneakers. I'm wearing a pair of white sneakers by Time and True that are $10.
Molly's cute little denim dress is under $15! It's so so cute to pair with boots and high socks. I just love it!
Basics You'll Love
Next is another absolute favorite of mine in this post. That's because I feel like this is the type of item that absolutely everybody would love to have in their closet and that's these basic long sleeve tops. They come in a pack of two and you get them for under $24. So each top is under $12 apiece. They are so so so so so soft! I love the material! So this is a top I will come to again and again all fall and winter long. I got the orange / striped navy pack. I thought the navy stripe was really cute and classic, and then I love the holiday feel of the 0range brick color. Reminds me of pumpkin spice and it just makes me happy for fall! I also have the rich red and new stone/winter white colors as well. I got size small which is my normal size and it still has a lot of room. So definitely get your normal size and it will give you this nice relaxed fit.

 1. 2-PACK TOPS | 2. 90s JEANS | 3. WHITE SNEAKERS
Wearing the same style straight jeans that I talked about above in these pics. And the same $10 Time and True shoes!
The Styled, But Not Styled look
I have a really hard time styling outfits. Like I'm just not the type of person to put on a shirt with a belt and accessorize with the right jewelry and all of that. Like I need to put on one thing and let my clothes speak for themselves. Ha! I know a lot of other people are like that as well. So that's why I really love this sweater that looks like it's layered with a white button up shirt underneath, but it's actually just one piece and only $23.
I got a size medium, but I actually think I would've been better off with my normal size which is small. I think for some reason I thought this was junior sizing when I ordered it so I got the medium. But definitely go with your normal size for this sweater. Then I paired it with a pair of Free Assembly skinny jeans that unfortunately aren't in stock anymore and these super beautiful knee-high slouchy boots. Can you believe these boots are only $34.98? I love love love love love them! I love a slouchy boot because I always feel like it helps balance out the top of my leg with the bottom of my leg. So it's very flattering. These come in this beautiful cognac color and then also in black.

1. SWEATER/TOP | 2. SLOUCHY BOOTS (COGNAC) | 3. SLOUCHY BOOTS (BLACK)
Lace Bodysuit
I love this bodysuit. I want to say upfront, just so everybody knows, that it is sheer. It's a lace material. Which I think is beautiful and sexy, but the lace is so intricate that it's almost barely see-through. I feel like it's harder to wear a bra with the white version, but honestly the white version is sold out in a couple sizes already. But the black version is fully in stock and I feel like the black version so easy wear with a black bra underneath. I love that it looks so good with the 90s style Free Assembly jeans that I have on all throughout this blog.

 1. LACE BODYSUIT | 2. 90s JEANS
Business Babe
Oh my gosh, if you need any sort of outfit, either to wear to a meeting, job interview, or to the office, this is it! Let me start with the top. There's pretty much nothing I love more than a dress or a top with a bow that ties around the neck. I just think it's so beautiful and feminine and it's one of my favorite details on a piece of clothing. So when I saw this $22 top by Scoop, I had to snag it in both colors. It comes in black and an off-white color. I like both with the dress pants I'm wearing, but the pants have more of a pure white in them than an off-white so I think it looks better with the black, but either would go. I got both the black and the off-white/cream color because they're both so beautiful. I'm wearing a size small in the top and it fits me well. I honestly almost think I might've even been able to size down to an extra small in the top. So if you're in between sizes, I would say definitely size down and if you're not in between sizes, then I think you'd be fine with either your regular size or one size down.

 1. BLACK TOP | 2. CREAM TOP | 3. PANTS | 4. MOLLY'S DRESS
Now onto these $35 pants. I was a little weary about buying them just because I hadn't bought from this brand before, but I am so glad I got them! When I took them out of the bag, I didn't know if I was gonna love them just because the material is on the thinner side, however they are not see-through at all and the thinner material is actually so so so comfortable and breathable. I feel like I could sleep in these pants! I highly highly highly recommend them! I got both size small and a size medium because I didn't know which would fit better and I knew I could just return the other pair because Walmart returns are so easy. I ended up going with the size medium. For reference, I'm a size 6 in jeans. Also, they have a stretch waist band in the back to help fit different waist sizes!

 1. BLACK TOP | 2. CREAM TOP | 3. PANTS | 4. MOLLY'S DRESS
Pair the look with a black boot or black ballet flat. Or heels! The shoe options are endless with this one!
Molly's blue button up dress with the white striped belt is only $12.98 and one she loves to wear to school! She's seven years old and in the size 7/8.
Perfect Fall Dress No Matter Where You Live
Get this dress as fast as you can before it sells out! For some reason it's on sale for only $14 on Walmart site right now and it's almost fully in stock. Only the XXXL is sold out but it's fully in stock from sizes extra small to XXL. I'm wearing a size small which is my normal size and it fits me perfectly. I love love love this dress because it's got a stretchy waistband, a beautiful, fall, print, and it's great no matter what climate you live in. If you live somewhere warmer, you could wear it with an ankle booty, but if you live in a cooler climate, you could put on knee-high boots and tights like I have on in these photos and then add a long cardigan over it. I can't say enough good things it's a must get especially for the price – and the print just screams fall!

1. FLORAL DRESS | 2. SLOUCHY BOOTS (COGNAC)
I paired it with the slouchy knee-high boots, and I think it looks absolutely perfect with them! I think it's sometimes hard to find dresses that look really good with boots worn underneath like this, but this pair is a perfect match!
$10 Dress
I wanted to add this dress for you guys because I think it's pretty incredible for only being $10. I actually brought it to the beach with us to where out one night but didn't end up wearing it because it rained to much.  I got it in both the hot pink color and the black. The black is definitely more forgiving because well it's black. But the pink is pretty great, too. It just shows more. But for $10 if you're looking for a great little going out dress this is a great option I just really wanted to share. It's junior sizing so I size up in this one and sizing up from a small to a medium worked perfectly for me. This work perfectly for warmer climates but also can be paired with a cardigan is colder ones.

Beautiful Wrap
This next top I actually got when I was at Walmart. I walked by it and knew I had to have it! The print reminds me of a Burberry print, which of course is super expensive but this is only $24.97. But it looks ultra expensive! And oh my gosh, it's the softest coziest thing ever! I truly feel like I have a blanket wrapped around me. This would be the perfect thing to wear to a sporting event where you're sitting outside for a long time and you wanna feel like you're wrapped up in a blanket but don't wanna bring a blanket. This is the perfect piece! Plus, I love that you can just throw it on over a basic black top and black leggings like I did. And it really dresses up the look instantly.

1. PLAID WRAP | 2. ON SALE LEGGINGS
By the way, the leggings that I'm wearing are a great option if you need some more leggings for the season. They come in a three pack for under $20 making each pair under $7. Oh my gosh never mind, I just checked in they're on sale for $13.98. Making each pair about $4.50! Snag them fast! I got them in size medium but I actually kind of wish I got size small. But honestly either would've been fine with me. Get your normal size and you'll be happy.
I got the three pack with the black brown and berry color ones just because I wanted to have some different options. But you could get all three pairs in black.
Puffer Coat
You guys know how much I love winter white jacket and oh my gosh this puffer coat is so cute, so cozy, and only $22! I don't think I've ever in my life outed winter jacket that I love that's only $22. The quality is amazing and it's so soft and cozy. I'm wearing a size small in my normal size and there's still room for me to wear a sweater underneath it. Get this jacket so fast! And if White isn't Your Color it comes in a bunch of other colors to check out as well! This is another one that I highly highly highly highly recommend! Also linking THIS puffer coat that I ordered that hasn't come yet but I will share it as soon as it does!

Also random but my girlfriend messaged me last night and said all the Barbies sold out (she really wanted them for her daughter) but I still see them in stock. What do you guys see? Tell me in the comments below! I don't get why I see them in stock but she doesn't.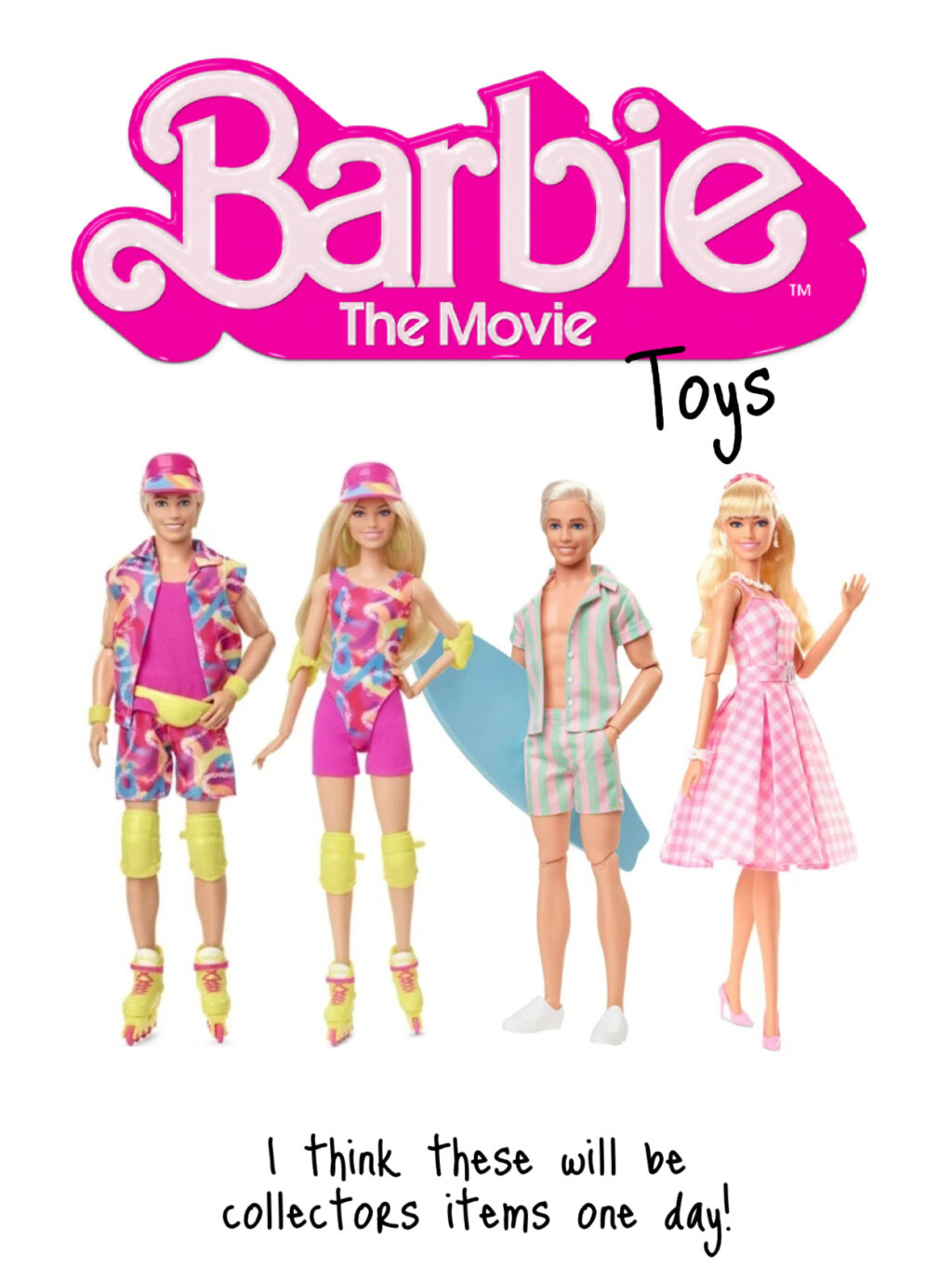 Thanks for coming to my blog! I appreciate you guys so much!