Hey guys, welcome to my blog! I wanted to do a blog today about some affordable beauty items because I know beauty routines can get expensive and I found some really amazing affordable products from all different brands at Walmart and wanted to share them with you guys. Walmart actually has a Beauty Glow Up event going on right now where you can save on a bunch of different products, including the ones that I'm sharing here.
If you want to see a video of me applying all these products, I posted one to my Instagram here. So you can check that out, and I've included some photos here as well.
Clear Travel Tote Bags
I wanna start with this little travel tote set  because it's so great for holding all of your makeup, and I love that it comes with little bags within the bag to help contain things. It's so so so affordable at only $10.98. 

Hair Clip 3-Packs
Another find that I absolutely had to include in this post, even though it's not makeup, are the Scunci hair clips. Each set of three clips shown below are only $4.97! How is that even possible?! That's basically $1.75 per clip. I love love love the cool shapes that one of them has and the neutral tones on the others. They are beautiful! Plus, I always use a clip to hold my hair back when I'm putting on my makeup so that the foundation doesn't get in my hair.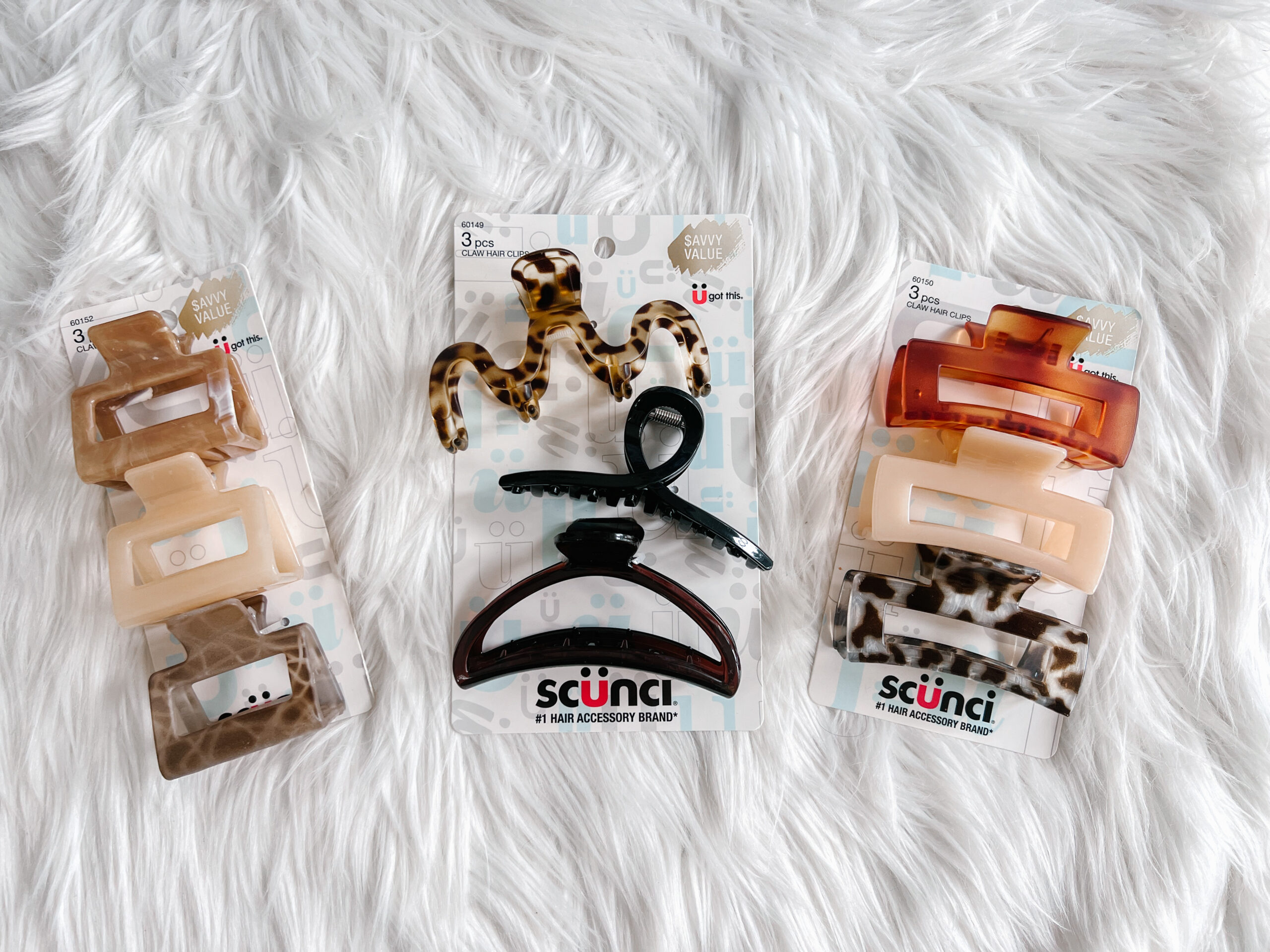 1. SMALLER NEUTRAL CLIPS | 2. COOL SHAPED CLIPS | 3. LONGER NEUTRAL CLIPS
$11 Foundation
Speaking of foundation, pick up this one ASAP! It's $2 off right now and only $11.48, and this bottle lasts quite a long time! When I originally bought it, I bought it in two shades just because I didn't know what shade that I was gonna like the most, and I ended up being absolutely obsessed with shade 313, which is the light tan color. It does just that. It makes you look like you have a nice light tan! I love love love, love, love the shade and I absolutely love the coverage of this foundation. It also has hyaluronic acid in it, which I'm a huge fan of. So I love it when foundations have that already incorporated. It keeps your skin really moisturized. I also got the shade 209 which I plan to use maybe more in the winter months when I don't wanna have that nice tan glow. But from now until at least mid fall, I am all about that light tan glow!

Concealer Under $8
Next, concealer! This one is under $8 and I use the 802 golden ivory shade. I really like for there to be a difference between my foundation and my concealer. Not too much that it looks white under your eyes, but enough that under your eyes really pops. This one by CoverGirl is a 24-hour full coverage concealer. It really does last all day and it's so great.  A very little goes a very long way, so this bottle of last you a long time! It's on sale right now for $7.30, which is so amazing.

Eyebrow Pencil
Now for this eyebrow pencil! It's $8.33 and one of my favorite eyebrow pencils of all time! I use this one a lot and then the Tarte eyebrow pencil a lot. But the Tarte one is more expensive and this one does an incredible job for half the price. It's got the eyebrow pencil on one side, and then the gel on the other side that you can comb through your brows. I'm wearing the Ash Blonde/ Taupe shade. It actually gives my eyebrows quite a bit of depth and darkness. So, even if you have a light brown hair, you might even want to consider this shade over a darker one. I think the biggest mistake people make when doing their eyebrows is picking a shade that's just way too dark.
Blush
The blush I use is sold out which I'm so bummed about. So I'm gonna link another one  that I've used before that I really like because it is so super affordable. 

1. EYEBROW PENCIL | 2. ANOTHER GREAT BLUSH
Lips!
For my lips, I use this CoverGirl Outlast Lip, but I really only keep it on the outside of my lips. I know that's confusing so let me further explain. I put it on and I really overdraw my upper lip because my upper lip is so much smaller than my bottom lip. But then, I actually end up wiping it off on my lips and just leaving it on the outside, so I basically almost use this product as a lip liner. It truly does stay on all day long and stays on so much better than lip liner. So I highly recommend it for this. However, for me personally, I feel like on my lips it's a little too tacky to wear for my full lip. I just wanna be 100% honest with you guys. So then, instead I go in with this Milani lipstick in shade Pleasure because it's pretty much the same color and way more moisturizing. Then I use the gloss from the Covergirl Outlast to go over that. Let me know if this doesn't make sense and ask me questions in the comments below, and I will make sure to answer them. But I really love this system even though there's a few steps. It gives the absolute perfect beautiful neutral lip.

 1. OUTLIST LIP | 2. 'PLEASURE' LIPSTICK
$7 Mascara – On Sale!
In my video when I did my mascara, I completely forgot to hit record, and did it, and then realized afterwards that I didn't record it. Ha! I'm really bad at making these beauty blog videos. But I used the Neutrogena Healthy Lengths Mascara and I think it's a really great solid mascara. Plus, it is $5 off right now and just over $7. A GREAT price! Super affordable right now with the Walmart Beauty Glow Up event. 

Razors
Okay moving on to stuff for your body. First, I love Billie razors. They are so much more affordable than the other razors on the market and I love that you don't have to get them through the mail anymore and can get them at places like a Walmart. I used to have a subscription with them, but I feel like it was hard to keep up with and then I'd end up having too many, so love that I can just order them from Walmart and either have shipped to me or go pick them up in the store. 

$17 Sunless Tanner
Saint Tropez is one of my absolute favorite sunless tanners and what I love about this little kit is that you get both a mini sunless tanner and a mitt to apply it all for only $16.98. That's over $3 in savings because it's normally $20, and it's much less than the full size. So you're getting a really good price and it comes with the mitt! You absolutely need a tanning mitt when you apply a tanning lotion and this is an opportunity for you to try an incredible brand at a really low price and then if you love it, you can keep the tanning mitt because you'll already have it and then just buy the bigger bottle next time. The color is incredible! You're gonna love it!

And here is the final look! I love it!
Although I do think, maybe I fluffed a little too much with the eyebrow gel. Or really I just need to trim my eyebrow hairs on the top and then it will be perfect. So look past that. I guess it just goes to show that the gel works really well! Ha!

Other Favorites from the Event
Linking a few other things from the Walmart Beauty Glow Up event that I think are really great. This blog post isn't sponsored and I didn't have to post it, even though I have a sponsored Instagram post with them. I just wanted to because I really love these products, and I think the prices are just too good not to write a blog about. So I hope this helped you find something great for your beauty routine! Let me know if you have any questions in the comments below.

Thanks so much for coming by the blog today!