Welcome to my affordable Friday Home Edition! Again, it's not Friday but I started doing these on Fridays and the name just kind of stuck. I wanted to post this ASAP because I know a lot of you are looking to finish your outdoor spaces and I didn't want to wait so you can order right away and hopefully enjoy these pieces throughout the entire summer!
The majority of these pieces I've had for over a year or so and I've really been able to live in them and use them and I wouldn't recommend them again unless I absolutely loved them, so I'm really excited to be able to share them with you again. But that's later in the blog. This first space I want to share with you is new!
Affordable Outdoor Sitting Area
I love love love this outdoor seating area and it really looks so beautiful and is high quality, while being very affordable! You can buy it in two sets. The first set is the sofa and the nesting table set. You get all three pieces for only $497. That is an absolute steal to get all three of those pieces!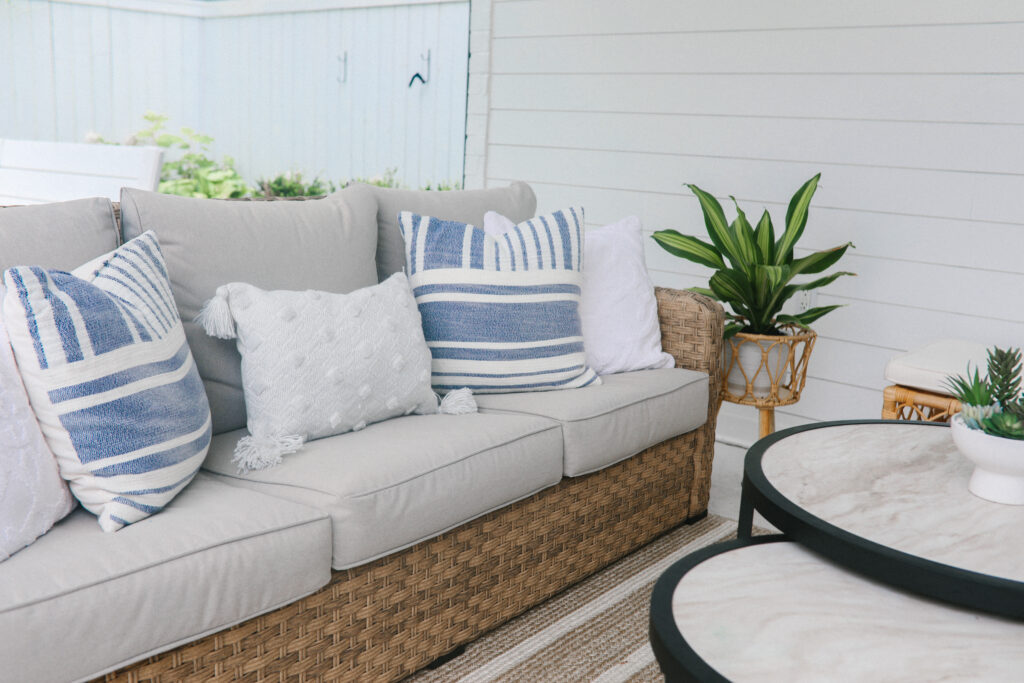 1. SOFA AND NESTING TABLES | 2. SWIVLE CHAIRS | 3. PLANT STAND | 4. POT | 5. WHITE PILLOWS | 6. BLUE PILLOWS | 7. LUMBAR PILLOW | 8. SUCCULENT | 9. BENCH STOOLS
The cushions are thick and comfortable, the color is a light taupe so it's great to have to prevent stains. I have a tendency to go for white fabric on outdoor furniture but I decided to do something different this time. Then instead I used light colored pillows to brighten up the space. It's a lot easier to replace a pillow than it is to replace a cushion, so I really like this technique for still getting that light, bright airy look, but not having to worry about stains! They also unzip and come off, so you can wash when needed.
Above I'm linking the white, light, blue, and lumbar pillows that we used as well. Technically only the lumbar pillow is considered outdoor so if you're putting these in a space that's not covered, you might want to reconsider. But I put them in a covered porch area, so I went with a mixture of indoor and outdoor pillows! Also linking the succulent centerpiece that I got for only $13.
I'm going to link the two swivel chairs that we have as well, even though they're currently out of stock. I feel like there's a good chance they'll be back in stock soon! As well as the white lumbar pillows we have on them. The pillows are only $10 apiece and great for decorating outside. Below are other items you may see in these pics that I want you to have links to!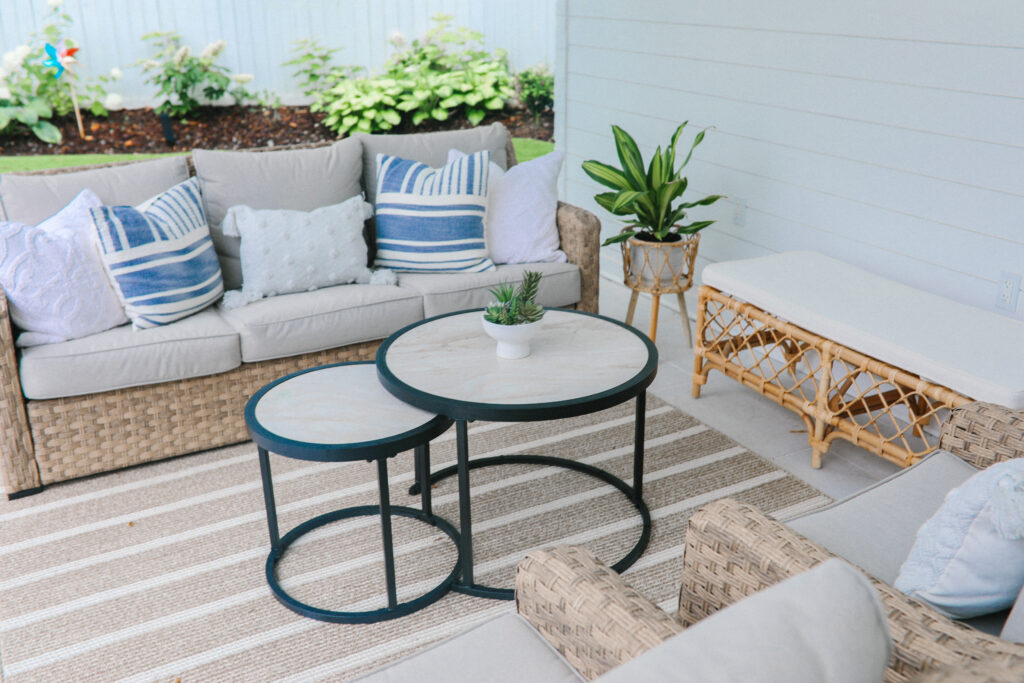 1. SOFA AND NESTING TABLES | 2. SWIVLE CHAIRS | 3. PLANT STAND | 4. POT | 5. WHITE PILLOWS | 6. BLUE PILLOWS | 7. LUMBAR PILLOW | 8. SUCCULENT | 9. BENCH STOOLS
I added this bench from my office to the back wall because I felt like something was missing in the space and it looks so good! However, I still really want it for my office and I just checked and it legit sold out yesterday. Not even kidding, it was available the day before, so I'm so bummed. But I did find it in an ottoman/stool version and I think the two separated will look even BETTER! So I bought two of them to put out here so I can keep this bench in my office and and I can put the two stools out here for additional seating, and to fill in the space. It also helps tie in the color of the planter that I got and to make it all not feel matchy-matchy. The little stool/ottomans are still available, so grab them before they sell out too! I actually think they will look better than the bench by creating space in the middle. I also feel like I need to put up a TV or art to fill in the wall space.
By the way, this planter is gorgeous! Look at the reviews on Walmart's site to see what others are saying about it. I think it looks super expensive but it's of course, super affordable!  I also linked the little planter pot in size 8″ that I got for just $11 that I put the plant in. I love the look of this pot inside the stand. So much pretty texture that goes together so well!

I also want to link a couple other options from Better Homes & Gardens of this exact same type of set but different arrangements. So I'm linking a sectional version of these pieces and a set that's the exact same except for the table and with a darker color wicker, in case that's what you need for your outdoor area in order for it to match with other things you already have.

Affordable Screened-in Porch Decor
Okay, moving on to our screened-in porch. I shared a lot of this stuff last year and have had it for over a year now and just love every single piece. When people come over and comment on how beautiful our screened-in porch is, I'm beaming with pride when I tell them that everything is affordable and from Walmart! People are so blown away that I didn't spend a fortune to decorate it!
Let's start with the outdoor table side of the porch.
Here is the before…
And the After…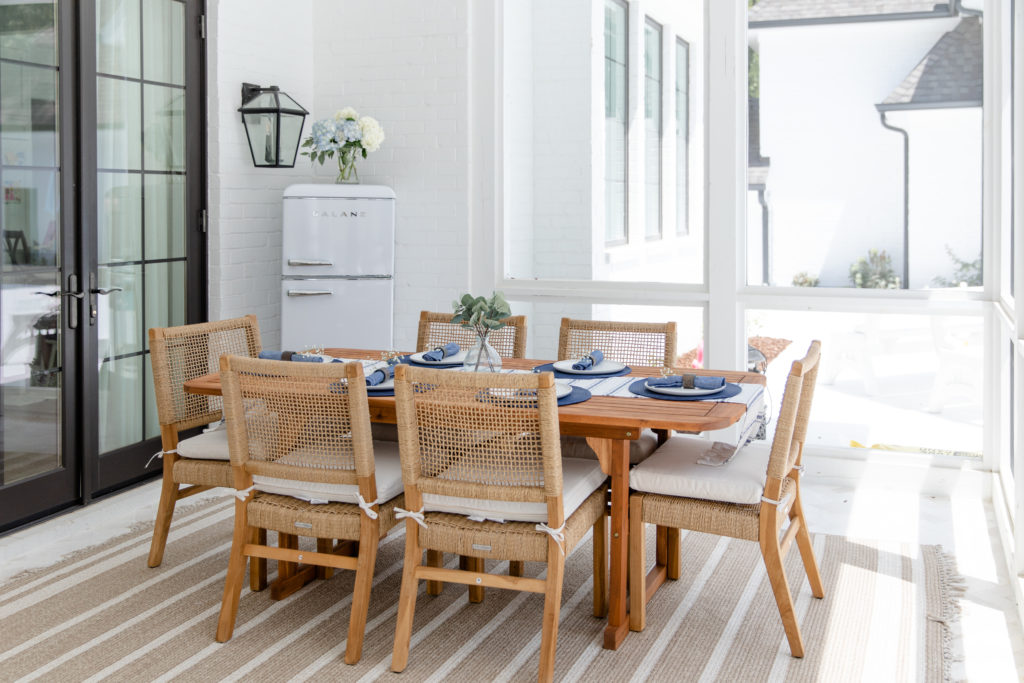 1. CHAIRS | 2. TABLE| 3. SIMILAR RUG | 4. TABLE RUNNER | 5. NAPKINS | 6. SIMILAR NAPKIN RINGS| 7. PLACE MATS | 8. EUCALYPTUS | 9. OLIVE TREE
Indoor / Outdoor Table
I really wanted to find an affordable dining room table when I was decoding this space! Specifically an outdoor one just because this is on our screened-in porch. My goodness it wasn't easy. Tables can be EXPENSIVE! Well, I am so excited to share the table I found because it's amazing and can fit different size spaces! Let's start with the price. I got this table for $383! It's on sale right now for that price so definitely take advantage of it! Look up dining room tables on any other site, or even at a tag sale, and it will be very hard to find a beautiful one at this price. Seriously Google outdoor dining room table right now and I guarantee you the vast majority will be over $1000. In fact, Google the outdoor dining table chair and it will likely be more than what you'll pay for this entire table!
It comes in two different colors. Brown and dark brown. If you decide to get the dark brown, it's even more affordable for $342. I got the lighter brown just because it matched the other furniture I had on our screened in porch better. But both are absolutely stunning! In fact I almost like the dark brown a little better!

1. CHAIRS | 2. TABLE| 3. SIMILAR RUG | 4. TABLE RUNNER | 5. NAPKINS | 6. SIMILAR NAPKIN RINGS| 7. PLACE MATS | 8. EUCALYPTUS | 9. OLIVE TREE
Oh and last but not least, the reason I love this table so much is that to make it this size which is 79 inches there is a leaf in the middle, so it will fit a lot of different size spaces! But I can remove it and push the table together making it only 55 inches which is better for game night when we are friends over.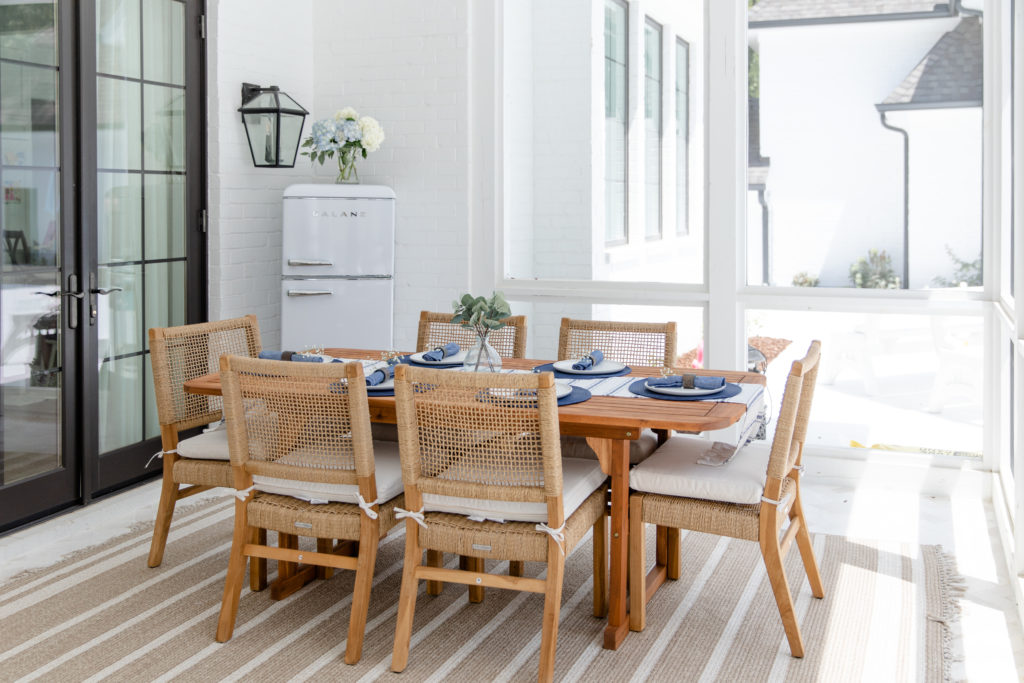 1. CHAIRS | 2. TABLE| 3. SIMILAR RUG | 4. TABLE RUNNER | 5. NAPKINS | 6. SIMILAR NAPKIN RINGS| 7. PLACE MATS | 8. EUCALYPTUS | 9. OLIVE TREE
Chairs
Next I want to talk about the chairs. People always comment on how beautiful they are when they come tour house. These chairs are truly stunning! You get two of them for $347. Which might not seem super affordable, but when you think about it, really is an amazing price. I found other chairs that almost looked identical to these on another website and they were selling to close to $600 for one chair. So the fact that you get each chair for around $170 is a really good deal for this kind of quality. And the quality is so so so good! One of my BEST home decor purchases I've ever made from Walmart.
You don't see the cushions on the first photo on the site, but if you scroll through to the lifestyle photos of the chairs, you'll see that they come with a white cushions. I was confused about this when I purchased (because I wanted cushions) You can use them with or without the cushions. We use them with because I love how they look and they are super comfy. But honestly the chairs are really comfy without them too. I HIGHLY recommend these if you're looking for a good outdoor chair, or even indoor! These would be really beautiful at an indoor dining room table.

1. CHAIRS | 2. TABLE| 3. SIMILAR RUG | 4. TABLE RUNNER | 5. NAPKINS | 6. SIMILAR NAPKIN RINGS| 7. PLACE MATS | 8. EUCALYPTUS | 9. OLIVE TREE
In fact, you should absolutely check out Dave and Jenny Marrs' line on Walmart's website. Every single item I've ever purchased from their line has been  high quality and so very beautiful! The main page of their site says that they wanted to create artisan pieces with exceptional quality at affordable prices and I truly believe they have done just that! Their stuff sells out fast! The pillow I got from them (picture below in searing pics) is out of stock, but I'm linking another super similar option by them for you guys. Check out their stuff!
Decorating Your Table
I used to avoid decorating my dining room table (whether it's outside or inside) because I always thought it would be too expensive and not worth it, but oh my gosh it SO WORTH IT! Plus you can do it affordably! I Like with he items below!  You will love when you see how decorating your table with a few simple items will completely transform the look of your table and just make it feel more homey.
I started with this gorgeous striped table runner. It sold out last year but it's back in stock! Snag is fast! It gave our table that cozy farmhouse feel that I love for only $13! This would look  beautiful in a breakfast nook or a dining room table or outdoor table like I have it here.

1. CHAIRS | 2. TABLE| 3. SIMILAR RUG | 4. TABLE RUNNER | 5. NAPKINS | 6. SIMILAR NAPKIN RINGS| 7. PLACE MATS | 8. EUCALYPTUS | 9. OLIVE TREE
I then used  navy round placemats that are around $30 for 12. If you don'r need all twelve that ok. Store them away if case you ever need to replace one!  I'm also going to link similar Martha Stuart placemats that will give you a similar look that are a great price. And love the pom pom detail on these!
What else, what else? Oh the napkins! I got this set of six napkins for just $19 but they are on CLEARANCE right now for $11. Use wood napkin rings to wrap them up and  eucalyptus leaves to add a little bit more character on the place setting. I almost wish I took a picture of this table before I set it up with all these things on top and then after and you can just see the difference a few affordable pieces can make to completely transform your space!
The Other Side of Our Porch
Now onto the other side!

1. SOFA AND OTTOMAN SET | 2. TWO CHAIRS SET | 3. SIDE TABLE | 4. SIMILAR RUG | 5. WICKER TRAY | 6. FAUX OLIVE TREE | 7. WOODEN BEADS | 8. LANTERN
I got this set last year so it's been set up and we've owned it for over a year now and it looks as beautiful today as the day we got it! I just love love love love love it so much! I feel like it looks like it's from a designer store and costs thousands of dollars but nope it's affordable! When I bought it, it came in a set of four pieces but that's not available anymore but you can still get all four pieces by buying them in two different sets, which honestly is better just in case you don't need all four pieces. the first set is the sofa and ottoman/table. And then the second set is the two chairs. So you can get either or depending on what you need. So if you have a small space, it will only fit a couple chairs then just get the chair set! Or if you'd rather a little so far with the Ottoman to put your feet up on get that! Or get both sets if you have the space!

1. SOFA AND OTTOMAN SET | 2. TWO CHAIRS SET | 3. SIDE TABLE | 4. SIMILAR RUG | 5. WICKER TRAY | 6. FAUX OLIVE TREE | 7. WOODEN BEADS | 8. LANTERN
I've use this rug in multiple places outside and it literally just sold out and I'm super bombed. But I did find this one that is super super similar and quite honestly I almost wish I had it instead because I think it would actually make the space look even better, and have more of a natural fiber field. So if you get this set getthis rug too!
And to avoid making this blog even longer than it is, I'll just quickly link the side tables, which I think they are great, the lantern, the basket and then the beads on the Ottoman. I believe if you get absolutely everything pictured here you're gonna spend UNDER $1000 and to create a beautiful outdoor space like this at that price is truly incredible! On most of the sites if you look up an outdoor couch, you'll spend over $1000 just on that. If not double that! especially one that looks like this!

1. SOFA AND OTTOMAN SET | 2. TWO CHAIRS SET | 3. SIDE TABLE | 4. SIMILAR RUG | 5. WICKER TRAY | 6. FAUX OLIVE TREE | 7. WOODEN BEADS | 8. LANTERN
Adding this framed art because when I check online, it's still available at one local store near me, but not available to ship. So just in case it's available at one of your local stores. I am including in this post because I think it's stunning.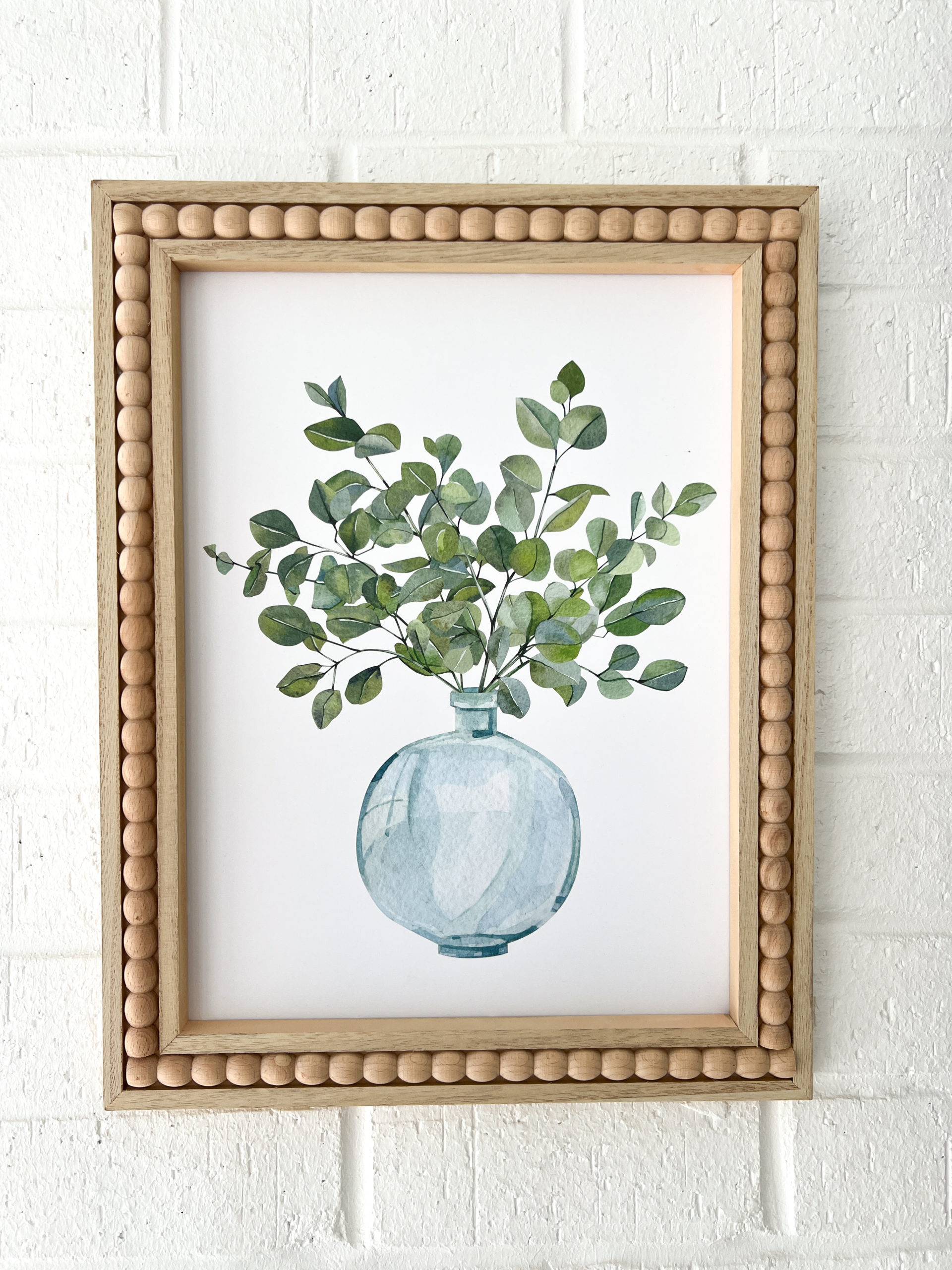 Other Affordable Items I Have For My Home
That's it for our outdoor spaces. Hope you found and were able to get something you love! But before you go I quickly just want to link a few other affordable home finds that I truly LOVE!
First, this bamboo bathtub tray. I've had this for over two years now and I absolutely love it! Have I ever actually read while in the bathtub? No, I haven't. And you guys know how much I love reading. So I haven't functionally used this yet. But I use it just because I think it's beautiful on my bathtub. I like it as a home decor piece rather than an actual functional piece. I always have a book in it open just for the look.
Bathroom pics above by Amy Demos

I also wanna share this candle I got with you guys. I feel like candles that have more than one wick are always expensive and this one has five wicks and is still a really good price. It's a little on the higher side and when I'd like to pay but for under $30 to get a beautiful candle like this with five weeks I think it's a pretty dang good deal.
And lastly, adding this $10 pool float I got that is great and these pink striped umbrellas if you want a fun pink look like my backyard but for less! I love the umbrella but I do wish the pole was white instead of gray.
Also, linking these rugs that I got for our outdoor area. I really wanted a way to cover some of the pavers in our backyard but I didn't want to use just any outdoor rugs. I was afraid it would get really gross quick because we get so much rain in Tennessee. But I found these rugs made of plastic that work perfectly! The smaller version is only $35 and a large version is still a steel at only $55!

1. SMALL PLASTIC OUTDOOR RUG | 2. LARGE VERSION
Have a Wonderful Week!
Well that's it for me, I hope you enjoy this blog post! As always thank you for coming over, reading and supporting me I love you guys so much and I hope you have a wonderful Tuesday!