Welcome to Riley's carnival birthday party blog! I am so so so excited to share every little detail from his carnival birthday party with you guys! I may have gone a little carried away with this party. Ha! But I would do anything for my sweet boy and planning this amazing party for him brought me such immense joy! The look on his face throughout the day made it all worth it!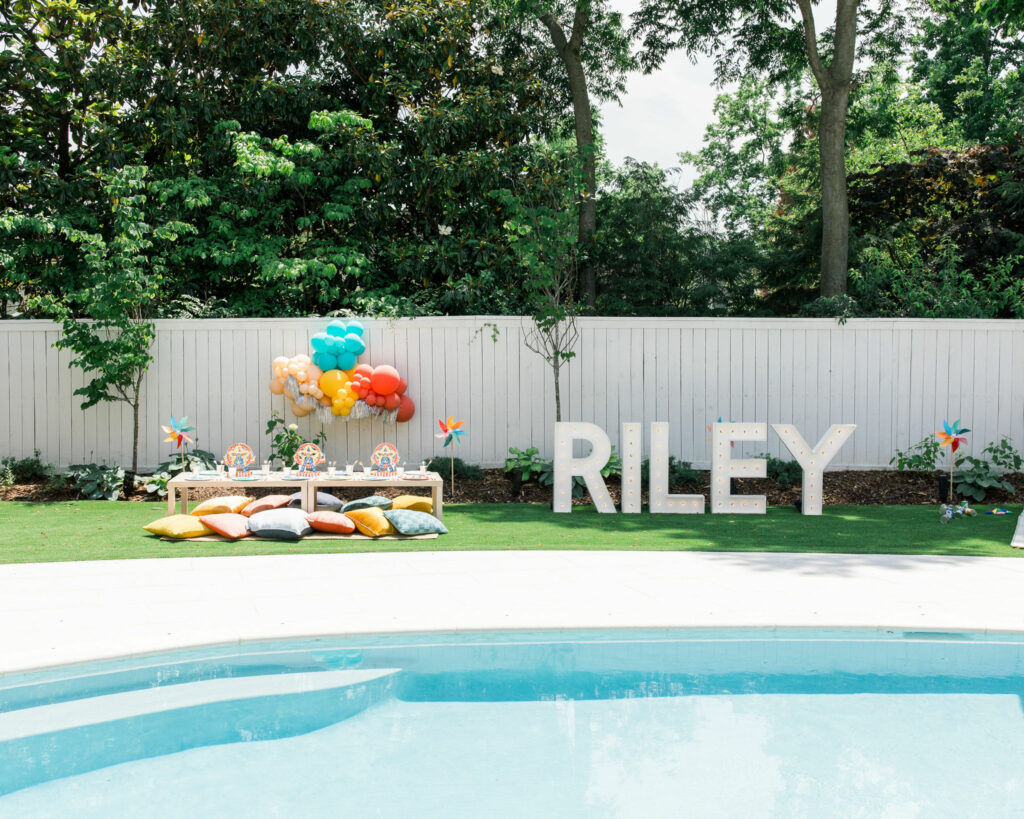 Carnival Birthday Party Balloons
The party was a mix of stuff I put together and help from Host Society Events! I am so so so grateful for her. Because not only did she do all the ballroom garland, which turned out beautiful, but she chose the colors and I am in love with the balloon colors. There's three colors that I never would've put together. I would've just chosen red, blue, yellow and probably white and the feel would've been so different. But the colors we used just so you guys know if you ever need order your own balloons are aloha, red, golden rod, blush, and caribbean blue.
Like I mentioned, Host Society Events did all the balloon garland, but I did the big circular balloon piece (On sale for $20 off right now!) and the balloon towers in the front of the house. I'll link to them on my Amazon live. I did it last year when I was talking about Molly's party and I linked both of those things – they are the 3rd and 4th items below the video if you scroll over a little. I love them because you can reuse them again and again, so while it's an investment upfront and you're gonna spend around $70 to get both, you can use them again and again every year and only spend a few dollars on balloons to create these amazing pieces! It's so so so so easy to do. So easy that Riley and Molly help me put these together!
For balloons, I went to this website called Balloons Direct to order them and was even able to do 2-day shipping to get them in time because I didn't realize I was going to do extra balloons until last minute.
Host Society Events
Oh my gosh, how precious is this table that Host Society Events did for us! I don't know how she found pillows that matched the theme of the event, but oh my gosh, she found the perfect colors to match the colors of the balloons! She let me know that she got most of the paper goods on the table from Rifle Paper Co. in case you're interested in getting similar. It's just came out so cute and I love love love it. Another thing I want to say about Host Society Events and Jessica real quick (and again this applies mostly to Nashville people, but if you can hire her do it), the fact that she pivoted so quickly when I changed the date of Riley's party from Saturday to Sunday was huge. She was here before 7 AM the day of the party setting up because she had another big event that day, but she wanted to make sure it was perfect. That's a party planner! An incredible party planner that cares about your event, so thank you Jessica! So grateful!
Oh and thelarge windmills along our fence are only $6 a piece and soooooo cute! I am going to keep them up in our back yard all summer. The kids love to watch them spin in the wind!


Host Society Events also got all the signage for Riley's party from The Magic Factory. Including the little tickets that we gave everybody who came to remember the party, the welcome sign, and the Riley's carnival sign that was in front of the bubble house. What I love about the signs is that we are going to repurpose them as art and decorations in Riley's room! He loves loves loves that his name is on them and because they're so big, beautiful and substantial, they work really well as art pieces in his room!
Carnival Birthday Party Prize Table
I originally had a really beautiful prizes backdrop that we were going to use for the event, but because I switched the date last minute because of the rain, I had to pivot because the backdrop was being used for another party. So I quickly pivoted and created this prize table, and I feel like it came out better than I could've imagined! The Magic Factory cut the carousel foam piece for me, but if this is something you want to do at home I definitely think you could do it with an X-Acto knife and some pieces of foam board. Then Kevin and I used red duct tape to create the stripes on it. At first we thought about painting it, but we knew it wouldn't look as clean so we went with the red duct tape, and I think it came out perfect! The lines aren't exactly the same, but it totally doesn't matter and it has character!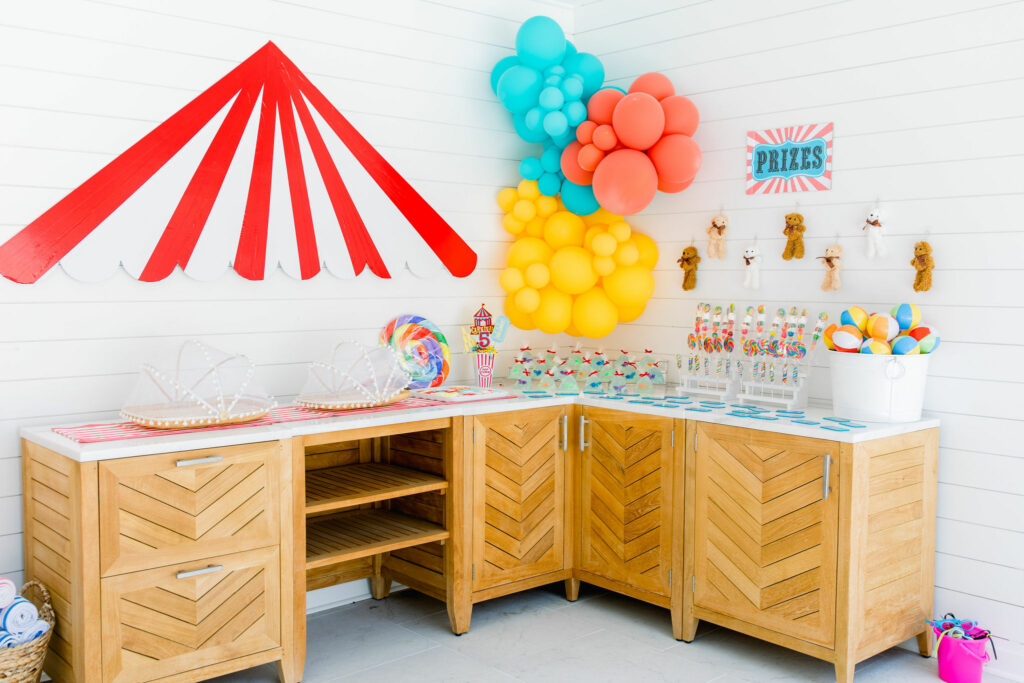 I will link the teddy bears, candy kebabs, lollipops, beach balls, and fish soaps all below. Yes, there's a little bit of candy here but I really wanted the party gifts not to just be a bunch of candy or plastic junk that parents would end up throwing away in a week. So I love what I chose.

I love the teddy bears cause they're keychains, and my kids are obsessed with hidden key chains on their backpack, so I thought they were really great party gift. The fish in a bag is so cute to give away for a carnival theme and it's actually a bar of soap! When I ordered them, for some reason, I thought it was going to be more like a liquid soap and I was a little worried about how that would ship in the mail to me. But I was pleasantly surprised when I got them and they're actually solid bars of soap. So it encourages kids to wash their hands throughout the day and then once they get to the bar soap, they get a little fishy at the end! Getting these prizes was definitely pricey for kids party gifts, but in my mind worth it to send everyone home with something that was useful! Oh, and the prizes sign we made just by printing out the sign and then taping it to a piece of cardboard! And I hung the teddy bears on the wall with little command strip hooks.
I got lollipops stands from Amazon to display the lollipops and candy kabobs. Again, another thing I was happy to invest in because I will use this for my kids parties over the years. Then I displayed the fish on these shelves that we use in our pantry for our canned goods. So I just took all the cans off to use them and then put them back on our pantry after we were done.
I got the little centerpieces from Etsy, but the current shop I got it from is taking a break so I'm linking a similar one. To be honest I don't hundred percent feel like this is worth it. Mine was like $26 and I thought it was gonna be a lot bigger. But linking it for you guys just in case. I'll also give the link for the large faux lollipop I got for an extra decoration. I got it because it will also go with Molly's theme for her party and then it's just a fun prop for the kids to play with and for photos in general.
Carnival Birthday Themed Food!
OK now let's talk food! The cookies are from Sweet By Cari and the cake is from Ivey Cake Store. She did Molly's cake last year and I was just so blown away by her work that I want her to do the kids birthday cakes this year as well. I basically told her it was a carnival theme and that I would love if she could put Rileys stuffed animal amigo as a little topper on top. Of course, the whole cake came out insanely beautiful but more importantly, it was ridiculously delicious! Then she made a number 5 and Riley's little Migo doll at the top in sugar candy, so Riley could actually eat them, and he was delighted to nibble on Migo's little foot at the party! Ha! If you happen to live in the Nashville area and have the opportunity to visit their bake shop in Franklin, I highly highly highly recommend it! They also sell other little sweet treats there like cupcakes and mini cupcakes. It's one of my kids favorite places.

We did a fruit, cheese, and vegetable platter, and then these little boxes with popcorn that were a big hit with the kids! We also did a red and white striped piñata, which was a number 5!
Solid Color Bounce House and more…
The bounce house, bubble house, and ball pit are all rented from The Vlanka House. This is a company run by a husband and wife and then they're the most lovely people. I almost didn't do the bounce house this year just because of course all the prices add up, but the bounce house is just such a hit with the kids and the solid color bounce houses just make the party so beautiful compared to like the kind of ugly multicolor ones that we grew up with his kids. I would go with the white, but they also have pink and black and other solid colors that really can make your party! Honestly, if we didn't have these things at the party, I feel like it would've been a completely different event. They make the party! And with the ball pit, they have different colored balls you can put it in, so we did mostly white with a little bit of red to match Migo and the carnival theme!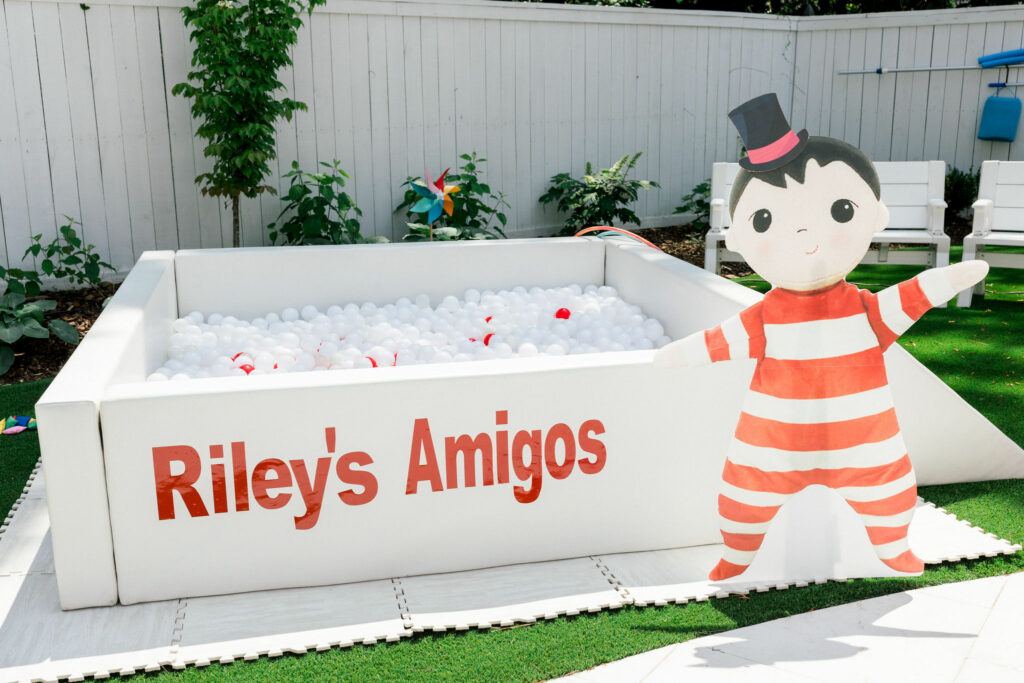 And oh my gosh look at these photos from inside the bubble house! You can add any color balloons for the theme of your party. When I look at the photos, the only regret from the party is that I forgot to take videos of the kids playing inside the bubble house. I saw some videos of my friends took and posted Instagram and oh my gosh they are so magical. I'll get video during Molly's party to show you guys what it's like, but if you live near the Nashville area and you have the opportunity to rent one of these from The Vlanka House do it, it's so worth it! The kids spent more time in the bubble house than they did in the bounce house, believe it or not.
Marquee Letters
Let's not forget about the marquee letters from Letter Bright Nashville! The marquee letters are the last thing we put up at the party and I remember walking around thinking it was so amazing and then once the letters arrived oh my gosh, it just took everything to the next level! Riley was beaming, seeing his name spread across the backyard, and then we have big number five at the front door for people to see when they walked in. Also, even if you just get your child's age for your event, it just is such a fun and easy way to get really cute pictures! I love that they actually light up so when the sun was going down, Riley's name was lit up in the backyard!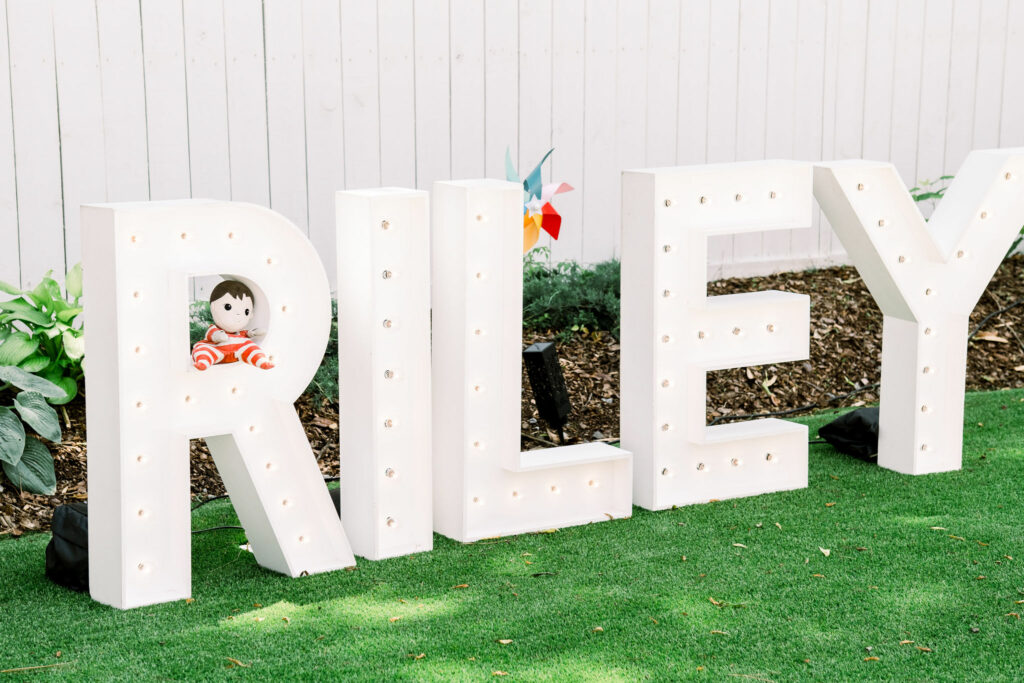 Other Fun Items!
Carnival Games
Also, since it was a carnival theme and there were prizes, I wanted there to be some games. So I got this little set from Amazon that was used for the party, but will also use all the time when the kids have friends over. There's a basketball hoop for the pool where they could make a shot. There weren't actual prizes for doing well. I just told all the kids that everyone got a prize just for being here and having fun! But it was still fun to have the games!
"Staff" Attire
I will link the shirts we got from Etsy below and the striped swim trunks I got for Riley are from Amazon.

Giant Migo
Oh my gosh, and last but definitely not least, I can't forget the big cardboard cut out of Migo that I got for Riley! I brought this out last minute as a surprise to him, and he lost it! He now sits in the front window of our house, looking out towards the street, so everybody who drives by sees Migo! I had this company from Etsy do the cardboard cut out and then because I wanted to be able to remove the top hat if Riley wanted to, I just printed out a top hat on my computer and taped it to cardboard and then taped it to the top of his head. That way he can come off!
Can't Believe Riley is 5!
Okay, I could be missing something, but I think that's everything! I know I tend to go a little overboard with parties, but it's something that I really enjoy in life. It's  too short to not do things that bring you joy, so I let myself go all out! Heck it's the last time I'll have a child turning five so I was going to enjoy it! Hope this blog post inspired you or maybe you found something that you were looking for for your own child's birthday. Thanks for being here. I love you guys!
And just in case anyone stops on the spot and wants to know about our backyard decor, I'll do a carousel below with our umbrellas and furniture. The pink umbrellas in our backyard were such a big investment and I spent so long going back-and-forth on whether or not we were going to get them. I actually bought two and then six months later bought two more to try to help spread out the cost but in my mind they were worth every penny because they bring me such joy! When I look at my window when I see the pink umbrellas, I can't help but smile.