Happy Friday! Hope you all had a wonderful week. I have to start today's Affordable Friday post with one of my absolute favorite looks out of everything in this post and really honestly maybe one of my favorite sweater looks ever! That's because I love love love both the sweater and the jeans so much!
Favorite Jean Ever For Only $20!!!
Let's start with these $20 jeans because I honestly think they're gonna sell out so fast, so I want to link them right up at the top of this blog post so you guys have the best chance of getting them before they do. I'll start with sizing. I'm wearing a size 7 and I'm normally a size 8 in Walmart jeans for reference and the 7 fits perfectly with room. They're super stretchy so even though they are high waist, they're so comfortable when I sit down. After washing them, I actually am planning to to size down to the 5!  I am obsessed with the cut! I'm sure you guys have heard this multiple times, but the skinny jean look is no longer in style and this more boot cut or flare jean is! I have to say I kind of love it because I feel like it's so much more flattering than the skinny jean. That's because the leg tapers out at the bottom to balance the top of your leg with the bottom of your leg which in my opinion makes them look more flattering. The fact that they're $20, you just really cannot go wrong. Get them, get them, get them fast and please message me to let me know how much you love them when you do. I am positive you're gonna be as obsessed with them as I am.

  1. JEANS | 2. SWEATER | 3. SNEAKERS
70's Vibes Sweater
Isn't this sweater so pretty! When I was ordering, I couldn't decide between the blue version and this pink and orange version. They're both so beautiful and I ended up getting the pink and orange in size medium and the blue in the size small to compare. Honestly, both sizes work for me. I'd say the medium is a little more boxy and leaves more room. If you want it more fitted, I would size down one size in this one. It really just depends what look you're going for. But I'll include pictures of both, so you can see it both ways.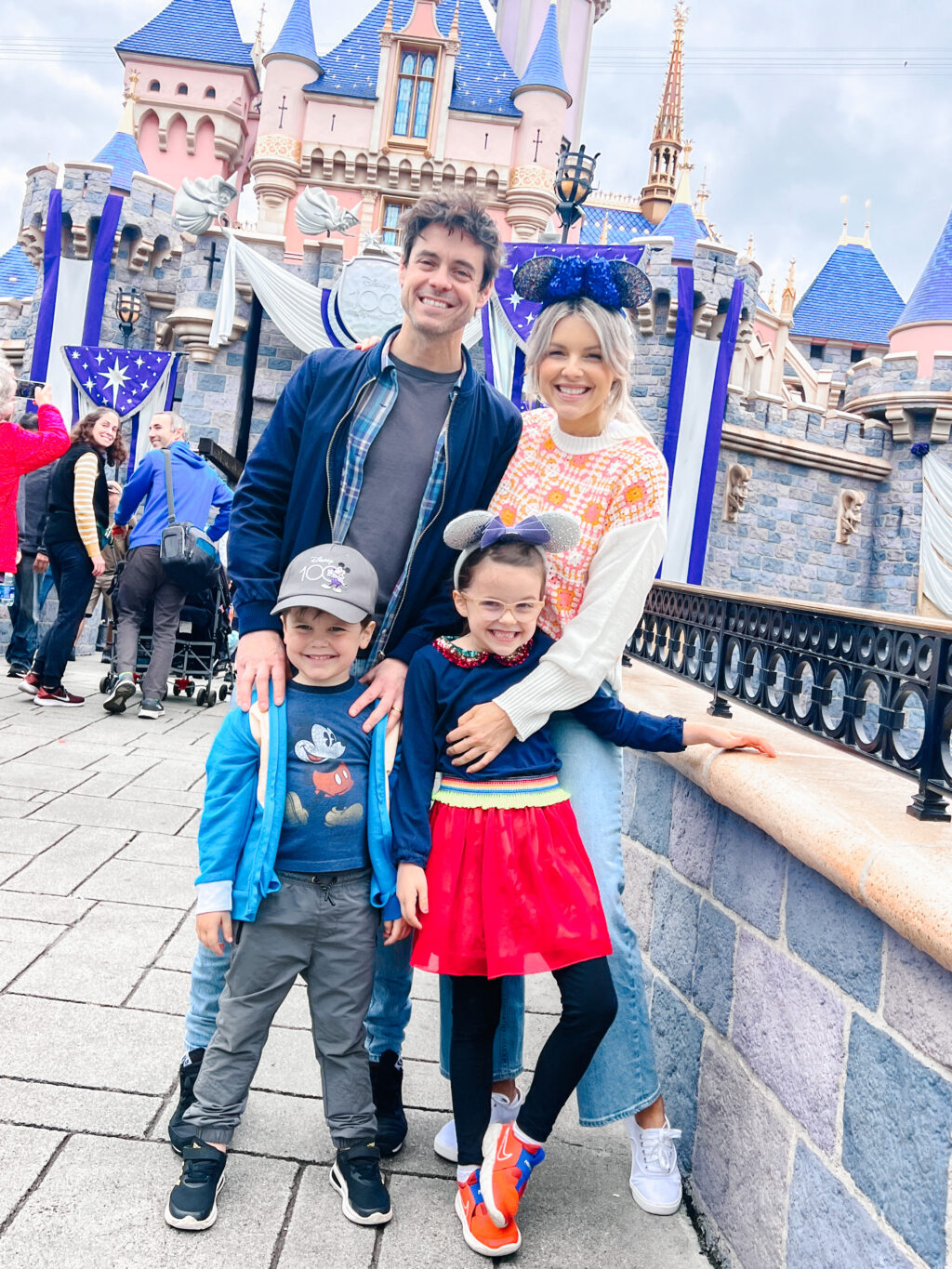 1. JEANS | 2. SWEATER | 3. SNEAKERS
It's a lightweight sweater so it's really perfect for transitioning into spring. I love the 70s feel a bit. Then the front even has little holes that let air breathe through the sweater which is perfect for transitioning into spring. You don't want your sweater to be too hot. This is a great every day sweater or would even be really cute for Easter. I'm not 100% sure because I'm writing this the day before we leave for our trip to San Diego, but by the time I post this we will have already have gone to Disneyland and I'm pretty sure this is what I'm gonna wear to Disneyland cause it's supposed to be a little on the cooler side that day, and I just think it's such a fun, comfortable and beautiful outfit!

 1. PINK & ORANGE | 2. BLUE | 3. DARK JEANS
More Denim
The dark denim that I'm wearing with the blue shirt is also incredible! If you ordered the light blue wash of these jeans that I linked in my last Affordable Friday and love them, get these because they're just a darker version of those pants! It says the fit is short. I'm definitely not on the short side but I got them anyway and they're just cropped, which I think is exactly how they're supposed to be. I'm wearing a size 8 short and they fit me great. I love Free Assembly denim. Not only because the fit is always so good, but they're a sustainable brand at Walmart, which I love. You're really gonna be so so so happy with both pairs of denim in this blog post if you get them.
To-Go White Tees
Boxy Fit $10 Tee
Next, I want to share some white t-shirts with you guys that I really love. Honestly, one of my most requested pieces of clothing is my favorite white T-shirt so I wanted to show you guys a couple super affordable options that I love. Honestly, I would say 90% of my white tees are from Walmart. So sharing two options with you guys here.
This first one is more on the boxy side and the second one's more of a relaxed fit. I want to give you guys options depending on what you prefer. I love both and wear both depending on the day, but also which option happen to grab out of my drawer that day. This first option also happens to be on sale for just $10! So you get a cute white tee for 10 bucks that you can throw on any day!

1. $10 BOXY WHITE TEE | 2. JEANS | 3. SNEAKERS
Relaxed Fit $7 Tee
If I were to pick a favorite out of the two, it would be the second one (although I own and love both). Don't get me wrong I love a boxy cut, but to just be 100% transparent, the cut of the first option isn't my favorite white boxy tee I've ever had. But the cut of this more fitted/relaxed t-shirt is absolutely perfect.

  1. 2-PACK TEES | 2. JEANS
Get this – it comes in a two pack for under $14. So you're paying less than $7 a tee. You can also buy the tops individually for just over $7, so if you only want one t-shirt you can do that too, but I think it's worth it to get a two pack. I'll show you pictures of me wearing it in white, blue and pink so you can see some different versions. But this is an absolute go to t-shirt for me. Also, the white isn't a solid white if you look really closely, it's got almost a worn / slub look to it that I absolutely love and I feel like makes it look way more expensive. These are MUST GET t-shirts in my opinion!

  1. 2-PACK TEES | 2. JEANS
Family Easter Options!
I got Molly and Riley some clothes from Walmart this month, so I had to include them in this blog post.  I was actually thinking that my dress and their two outfits go together perfectly for a family Easter event or photo! They all go together, but they're not matchy matchy, which I think is perfect when you're taking holiday photos of any type. Whether it be Christmas photos or Easter photos. Riley's little outfit all comes together and it's on sale for under $15. I love that the suspenders are built into the pants which makes it so easy, and I cannot resist suspenders and bowtie on my little man. Just the cutest ever! Grab this before it sells out! I'll link his little sneakers as well. I'm not even sure if they're still available because we've had them for a while.

 1. RILEY'S OUTFIT | 2. RILEY'S SHOES | 3. MOLLY'S SHIRT | 4. MOLLY'S OVERALL DRESS | 5. SPARKLY SNEAKERS | 6. MY DRESS
Molly is wearing a super cute little $7 peter pan neck shirt from French Toast. I get a lot of clothes for the kids for school from French Toast just because they have great stuff, and I love a Peter Pan neckline on her. Then her little skirt overall dress option is just darling! It's on clearance for $11 too, so snag it quick if it's available in the size you need. It's still available in four different sizes including the size Molly is wearing which is a size 6. She really loves loves loves this outfit. She's been really obsessed with Matilda lately and she says she feels like Matilda in it. So cute. Linking the sparkly sneakers as well that she also has in blue (the sparkles do rip kinda easily though – but Molly loves them).

 1. RILEY'S OUTFIT | 2. RILEY'S SHOES | 3. MOLLY'S SHIRT | 4. MOLLY'S OVERALL DRESS | 5. SPARKLY SNEAKERS | 6. MY DRESS
The dress that I'm wearing could basically be a bathrobe it's so comfortable. I'm wearing a size medium, which is my normal size, but I could've sized down to a small in this one. So I would size down if I were you. It has deep pockets, which is wonderful and I love love love the flutter sleeve. The fact that you can get it for under $20. It's just such a steel.

1. RILEY'S OUTFIT | 2. RILEY'S SHOES | 3. MOLLY'S SHIRT | 4. MOLLY'S OVERALL DRESS | 5. SPARKLY SNEAKERS | 6. MY DRESS
Retro Spring Look!
This next cute little spring number is normally something I would never buy. I just usually avoid things when it looks like it's going to show my mid drift because that's just not my vibe and not normally something I'm comfortable with. But I love the retro vibe of this top and skirt, so I just tried to get it to see! Plus, I love anything I can wear sneakers with and wearing this with sneakers really gives me a retro 50s vibe! Oh my gosh, I love it! The top is long enough that it doesn't even show your stomach unless you really stretch up an arch your back. So I love that. But it's so fun, cute and sexy! It's available in size XS to XXL. I would say that the skirt is true to size. I'm wearing a size medium, which is my normal size. Although I will say, maybe I could've gone down to a small, but maybe not. I'm comfortable at the medium. But the top I wish I size down to a small in. I'm like a small C cup and I feel like the medium is a bit loose on me. The small would've fit better.

 1. TOP | 2. SKIRT | 3. SNEAKERS
I also wanted to show you the top with the jeans I was talking about above. I love how high waisted these jeans are, and I just think the jeans and top looks so sexy together. Don't get me wrong, I am not the type of person that normally wears stuff like this because I'm too self-conscious in it. I have a big mom pouch which I've shown you guys on social media many times. But something about this outfit just hits all the right places and makes me feel so good. Pair the denim and the top with these cute $10 white sneakers!

 1. TOP | 2. JEANS | 3. SNEAKERS
Matching Moment
If you are looking for a really cute matching mommy and me moment, these dresses are it! Again, I really did not think I was gonna like this dress when I bought it. I just wanted to give it a try and Walmart's return policy is so good I knew I could get it and try it and if I didn't like it, I could send it back. But I love it! The cut outs hit in just the right place and they're super subtle. Then Molly's version only has the little circle cut out in the front and it's just darling! The construction is so so so so so good! These dresses feel like they should be $100 and $200 apiece. The puff sleeves stays perfectly and just truly feels expensive. This will be the cutest little dresses to take on any tropical vacation. You have planned to wear with your daughter. Molly's eyes lit up when she put on the dress and I loved seeing how great she felt in it. We've been struggling with some confidence issues over here with her so whenever I see her light up with confidence, it makes me so happy – and this dress did that for her.

 1. MY DRESS | 2. MOLLY'S DRESS
Swimwear!
As you can see, the majority of these pics were taken when we were home, but I took these ones while we're here in San Diego! It's honestly been pretty chilly here for Southern California standards. But my friends heated their pool so we could enjoy it. Riley's wearing the $25 set with a SPF 50+ in size 5T. It comes in size is 12 month to 5T. I really try to buy as many longsleeve swimsuits as possible.
 1. RILEY'S SWIM OUTFIT | 2. MOLLY'S SWIMSUIT | 3. MY SWIMSUIT

When I know we're gonna be spending a lot of time outdoors and then Molly brought two suits on this trip from Walmart. A pink two-piece for $18 and this blue one piece that's only $10! Some people prefer two pieces for using the bathroom. But I just tell her to pull her swimsuit to the side when she's in the bathroom, so I do both one pieces and two pieces. Sometimes I feel like if we're gonna be in the sun all day long, I prefer one piece because the little crack of skin between the bottom and top that always sticks out when they're building sandcastles stays completely covered and there's less likely chances for burns.

The swimsuit I am wearing is one that I just got recently too and I got it in a size large. Honestly if I had more time before the trip I would have definitely exchanged it and got a size medium, which is my normal size. There is just a little more room in this than I would prefer, but it is SOO cute. I love the pattern on this suit so much.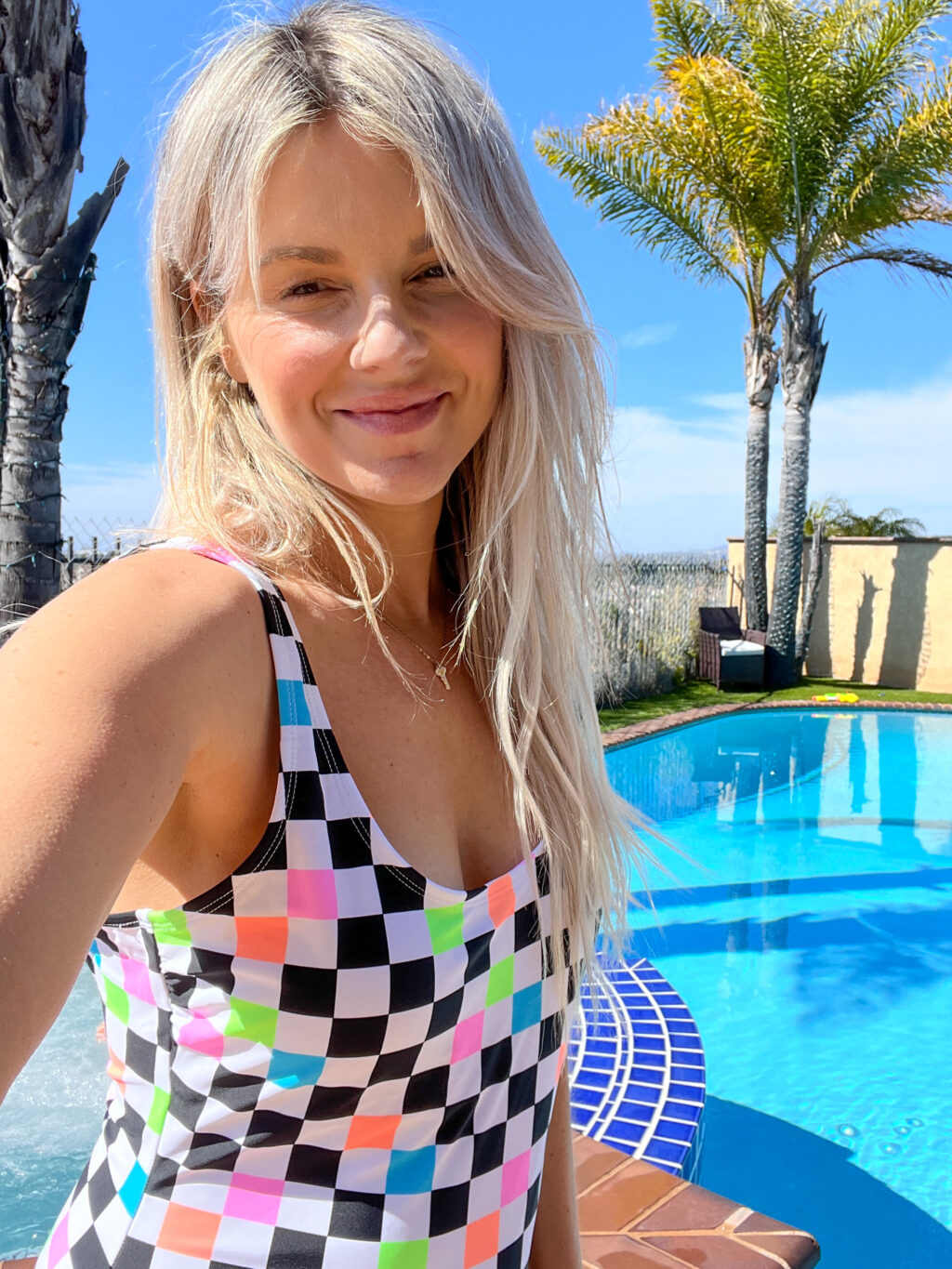 I also love the below hot pink suit. It's not as high up on the hips as the one I wear all the time (that is my preferred), but that one is sold out. I still really love the color of this one and I feel like a lot of you will too!

Past Affordable Fridays
I'm also going to link a few other outfits from my past Affordable Friday in case you missed that are still in shock that I really just love. Or maybe you didn't shot them last month because it was still super cold where you live but maybe now you're planning for trips or the weather starting to warm up so I want to include them here so you didn't miss out on them because they're great options!
Go-To Sweatshirt
You might recognize the sweatshirt because I have it in so many colors and I'm wearing it during this trip. It is legit one of my absolute go-to tops all through the fall, winter, and spring. Even the summer for nighttime. It's super lightweight, so this isn't heavy at all and perfect to transition to spring. I have it in maroon, navy, black, and a beautiful blue floral. Showing pictures of the black and the blue floral because that's what's in stock right now. A lot of the other colors are out of stock, which I totally get it because it's amazing! Check out the reviews! You get both colors for $just over $25, which makes them about $13 each!

 1. BLACK & FLORAL TOPS | 2. MY WHITE SNEAKERS
I'm wearing a size medium, which is my normal size so it's true to size. You will love this top so trust me and just get it. It will be one of the ones that you choose time it again is one of your go to tops.

 1. BLACK & FLORAL TOPS | 2. MY WHITE SNEAKERS
Neon Color for the Win!
I had to include this rainbow sneakers because they are soooo fun and still in stock!

1. HOT PINK SPORTS BRA | 2. RAINBOW SNEAKERS
Shoes!
Then also linking a few shoe options that we bought recently. I absolutely am obsessed with my brown sandals that I got for only $12.98. They're super comfortable and the strap in the back of the heel makes them stay on really nicely. These will be a go to of mine this summer. Read the other reviews. And then re-linking a pair of rainbow slide on sandals that I got for Molly that she loves, and some sparkly sneakers that she's been wearing.

Easter/Spring Decor
And then truly last, but not least spring decor! Like this cute wicker carrot. I love for Easter decor that's subtle and has farmhouse vibes.

I just bought these wreaths for our front door. I'm linking them so you guys know where I got them, but then also I kind of want your opinion on which ones we should put on our front door. Normally I would go with the eggs because I think they're so cute, whimsical and fun and I think they would've been perfect on our old doors, but I don't know if they really go with our black door now.

 1. EGG WREATH | 2. TULIP WREATH
So I'm thinking maybe the white tulips would be better. What do you guys think?! Maybe I put the easter egg one on our side door or even in the play room. We have Easter egg wreaths on the back of our kitchen island stools and I LOVE them. Just look at the gorgeous textured detail on the egg wreath. I love it!
That's it for today! Did you love today's post? I ALWAYS love Affordable Friday with basic pieces in them because you get the most use out of basics. Tell me what you loved in the comments below and what you'd like to see in my next affordable Friday post!