I'm so excited to start sharing some of my favorite mocktails with you guys on social media and here on my blog. This mint mocktail is refreshing, delicious and perfect for spring and summer! I made mine with full spectrum CBD in it, but it's a perfect mocktail without it as well! It really depends if you just wanna mocktail that is refreshing, or if you want one to feel slightly relaxed or really relaxed! I'll explain more below! So here's how you make it.
CBD Mint Mocktail
Ingredients
1/4 cup cucumber
1 Tbsp. Fresh Mint
1/2 cup limeade
1/2 cup sparkling water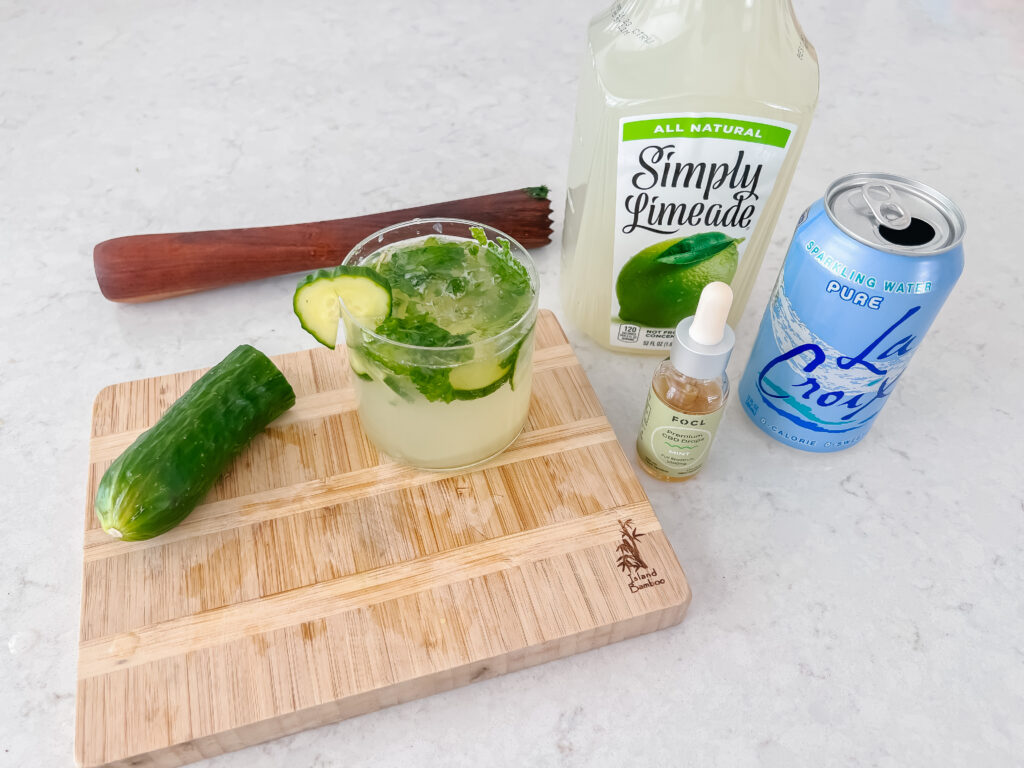 Instructions
Add ¼ cup of fresh sliced cucumber and 1 tablespoon of fresh mint to the bottom of your glass
Add 1 dropper-full of FOCL Full Spectrum Mint CBD Drops
Fill the glass with ice
Add ½ cup of limeade and top with ½ cup of sparkling water
Add 1-3 droppers of Broad Spectrum or Full Spectrum CBD (more on that below. Use code 25ALI for a discount)
Garnish with cucumber and mint!
I want to give you guys a little bit of info about the CBD so you can decide if you want to get it to add to your mocktail. The mocktail tastes delicious without it, but I personally always have made mine with CBD because it helps chill me out the way a cocktail would without the effects of alcohol. There are two kinds of CBD. You can get broad spectrum and full spectrum. I'll explain both. No matter which one you decide to get, use code 25ALI for 25% off at FOCL! That's right, I got a bigger discount code than last time!
Broad Spectrum CBD
If you've tried CBD before you likely have tried broad spectrum. Broad spectrum CBD comes from hemp and has tons of benefits to help with all sorts of things from pain to anxiety to sleep. I honestly find that the best combination for me when I'm unwinding at the end of the day is mixture of broad spectrum and full spectrum combined. Broad spectrum does not have any THC in it and the effects are very subtle. Like if you have a drink with the broad spectrum during the day, you might just noticed that you're more chill and don't get annoyed as easily. Ha! I always find I am much more patient with my kids when I have a mocktail with broad spectrum. But I don't really feel anything, if that makes sense.
And then, if I'm having a mocktail before bedtime, I will use the sleep broad spectrum.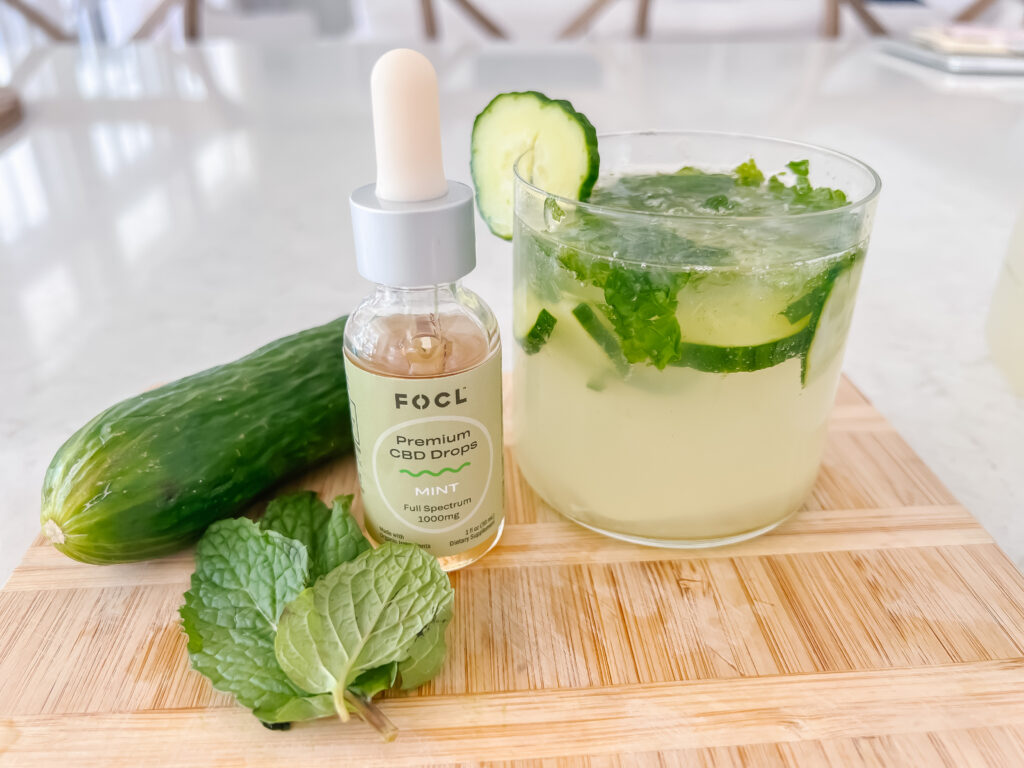 CLICK AND USE CODE 25ALI FOR 25% OFF CBD
Full Spectrum CBD As an Alcohol Replacement
Full spectrum CBD has all the benefits of broad spectrum. However, it has trace amounts of THC in it. I want to reiterate that it's trace amounts. It's so little that you might feel absolutely nothing if you have one dropper full or you might just feel slightly relaxed. Or you might need 3 droppers full to feel the effects that you're looking for. When you get it, definitely start with a smaller dose and then play around with more to see how it affects you.
The benefits of trace amounts of THC have been widely studied, and I highly recommend you talk to your doctor about it if this is something you're interested in. I'm not a medical professional and I can't give medical advice. But for me, full spectrum CBD has been incredible. It's hard for me to even explain it. You don't feel drunk, but you have that little bit of release that makes you feel like maybe you had a half glass of wine. But without the alcohol! I really feel like full spectrum makes the absolute perfect mocktail if you enjoy the release that having a glass of wine gives you, but you don't want the negative effects of alcohol. I've read only good things about the benefits of CBD with small amounts of THC and I personally love it. So if you've ever tried broad spectrum CBD in the past and felt like I didn't do much for you, I highly recommend trying Full Spectrum instead as long as your doctor agrees that it is okay for you! And don't forget to use code 25ALI for the discount!
The combo that works best for me is 1-2 droppers of the full spectrum and then 1-2 dropper of broad spectrum. It just really relaxes me and when I use the sleep versions that helps me sleep so so so well.
Disclaimer (because it's important), for anybody who is struggling with alcoholism. Please know that this recommendation is not for anyone who is struggling with alcoholism and I highly recommend and hope if that is you, you reach out and get the help you need. Sending you love! This blog is intended for people who are looking to cut back on their daily drinking, who might want others options to help them wind down.
Anyway, I hope you guys make this and I hope you love it!