It's hard for me to even begin to write this blog post because I remember thinking about writing it over a year ago, but truly not knowing if I would ever get to the point where I could. I say that because I've always loved to drink! I never really thought I could give up my nightly glass of wine. I didn't want to enough. We all know the saying "it's 5 o'clock somewhere." Well for me, it was 7 o'clock somewhere cause I would usually wait until we put the kids to bed to open a bottle of wine and cozy up on the couch with my husband to watch our nightly show.
And I loved this routine so much, that even though I contemplated (multiple times) whether or not I was drinking too much, I wasn't willing to give up this routine in order to cut back. I'm going to get more into this part of the story because I think it's important, but I guess I just wanna start this post by saying that I'm so proud that I'm able to write it now! A post I never believed I could write, because I didn't think I could really change my relationship with alcohol nor did I REALLY want to. But I've gotten to a point where I finally feel confident in my ability to actually control this relationship. And that truly is something to celebrate! But probably not with a champagne toast. Ha.
My Sober Curious Journey
So, where to really begin. I guess I'll start from the very beginning – when I first started drinking. I was young. Very young. I don't wanna get into too many specifics, but my entire life I was the young kid. I started kindergarten when I was 4 years old and I was almost the very youngest kid in my class. There was one other student named Mike B. I won't give his full name for privacy purposes. But his birthday was literally one day after mine on September 17th. And the reason it's so crazy that I remember not only his first name, but last name, is because I have the worst memory ever! I think I told you guys this but I barely remember 70% of the people in my small 95-person graduating class by name. Of course I remember my closer friends but it's just really hard for me to remember names and things in general. But not only do I remember his first and last name, I remember his birthday because it was one day after mine which meant I wasn't the very youngest in my class.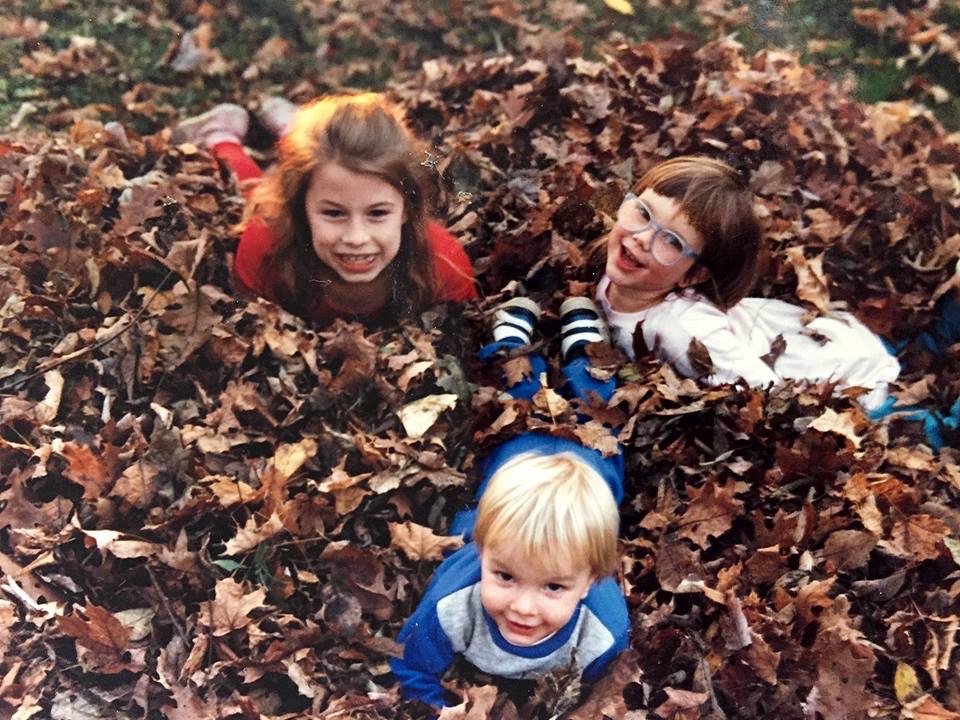 Anyway, because I was the youngest, I always wanted to be older. I counted the days until I got my license, I started dressing older way too young, I started sneaking out of my house when I was just a pre-teen. I didn't go to the senior year of my high school, and instead did something called a senior waiver, so I could take college classes. I moved out of my house when I was so young – 15 years to be exact. My poor mother couldn't control me – I was A LOT. I just wanted to grow up quickly because I was always the young kid. And I think that's why I started drinking young too. (BTW, if you've been following my Molly story, this all plays into my feelings on that as well)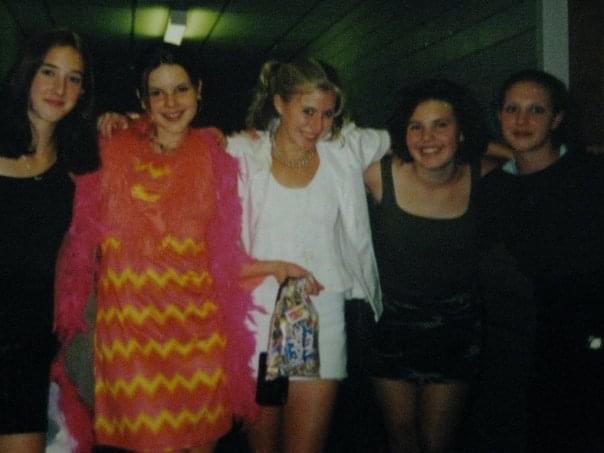 The pic above is my friends and I dressed as the Spiced Girls for a school talent show. I was Ginger.
Then I Grew Up
So going out and having drinks with friends was a theme not only in my teens, but definitely throughout college and my 20s. Then I hit my early 30s and started having babies. I remember around this time that I started wondering if I was drinking too much. But when I got pregnant with Molly, I did not have one single drop of alcohol touch my lips the entire time I was pregnant, so that gave me the validation I needed to know that I wasn't dependent on alcohol. Same when I was pregnant with Riley. Not one drop of alcohol consumed. And while that might not seem like a huge achievement to many, I did have friends that would have a half a glass here or there later in their pregnancy and I thought because I didn't have any, that meant I definitely was in complete control over my alcohol consumption.
After giving birth to Riley, I still had a good grip on drinking and wasn't drinking very often because I was breastfeeding him for the first 8 months of his life, and then the year after that I introduced alcohol back pretty consistently. But there were so many articles out there saying red wine was good for you, and it was just so normal to have wine out at dinner and at the end of the day that it never crossed my mind as something that was truly bad for me. In fact, it was so ingrained in my brain from media articles (that got shared millions of times across social media) that red wine was actually good for me. I know now that is so not true.
Pandemic Drinking
Then the pandemic hit. And I, like so many other people, started drinking more. Being home all day every day and not able to go anywhere justified opening a bottle of wine before the kids went to bed. It justified having wine on the weekends. And I know I keep saying wine, but it was also margaritas and beer and champagne! Again, I wasn't doing anything crazy. I still felt in complete control early on in the pandemic. I think it was about a year in when I started realizing that it was a little much. So I would not drink for a couple nights just to prove to myself I could and because if I could make it those couple nights, in my mind it justified that I didn't have any sort of alcoholism. And like I mentioned at the beginning, I still wouldn't call my relationship with alcohol "alcoholism" because I could stop when I needed to. I think this was about changing my relationship with alcohol as the norm instead of the outlier.
So, from the start of the pandemic until basically September of last year I thought multiple times that maybe I should stop drinking as much or maybe I shouldn't pour a glass of wine at the end of the night, but it just seemed so much easier to have the glass of wine. I would SO look forward to it at the end of the day, and here's the thing. It didn't affect me the next day. I actually felt fine in the morning. I didn't feel like I was going to bed drunk – just sleepy. And I would wake up and exercise for an hour and feel great! In fact, the times that I did try cutting alcohol out for a few days here and there, I felt no better in the morning then on the days I had drinks. I've also heard from people that their sleep suffers when they drink. That wasn't the case for me. I slept like a baby when I had a few glasses of wine before bed. (However that has changed now that I don't drink much. My sleep REALLY suffers now if I drink). So there was no real reason for me to want to stop other than just realizing that it's not a great idea to have alcohol every night.
The Shift – Sober Curious
Anyway, the main gist of the journey is that I wanted to start this years ago. But I never quite had the motivation or reason enough to do it because I felt so good. But then something shifted in me in late August early September 2022. I started seeing articles about people being "sober curious." I don't necessarily love that term, even though I have used it, because I don't know enough about alcoholism and the people who really truly suffer from it their entire lives. I wouldn't want to claim a word like 'sober,' when it could mean so much more to someone else who is truly struggling. But essentially there's just been a movement of people trying to cut back on alcohol, and that really intrigued me. Then I started following doctors on Instagram, who talked about the effects of alcohol. I read a book called The Naked Mind that truly opened my eyes. I highly recommend getting it yourself. It talks about how society treats alcohol (which is a drug) like it's the best thing that could happen to us. When in fact, alcohol kills so many people and it's objectively bad for us. It also just explores so many things about alcohol and myths that we've been fed for years and debunks them. Like the idea that red wine is good for you. I think you'd have to drink like 20 bottles of red wine tonight to get the antioxidant benefits that some articles claim. I can't remember the exact numbers, but read the book and you'll see what I mean. It just really opened my eyes to the fact the alcohol is in fact, poison. It's not good for you. And that realization really helped me decide that I needed and WANTED to cut back.
CBD and Alcohol
Here is where CBD comes in. And I'm gonna start with being extremely transparent here. This is not a sponsored post, and I do not get paid to share my feelings on CBD with all of you, but I legitimately cannot tell my alcohol story without talking about CBD. I truly believe in my heart that I would not have been able to cut back initially, and even continue to cut back, without the help of CBD. That said, I do have a very small percentage, I think 3%, of equity in FOCL so if it ever succeeds I would benefit from that. But the reason I chose equity in the company instead of payment when I decided to work for them is because I believe so strongly in their CBD and its ability to help people. So now that I've gotten this little spiel out of the way, let me tell you how CBD has helped me.
I, like many of you, turned to my nightly glass of wine or any drink really to help me do one of two things. Either relax at the end of a long day, or to help me loosen up and be more outgoing in social gatherings.
Let's talk about winding down at home. The fear of not being able to have that release at the end of the day was the biggest thing keeping me from cutting back on drinking. I had been taking broad-spectrum CBD for a while and it definitely helped me calm down in general and I loved it. So back in August/September when I really made a conscious decision to cut back on alcohol, I made sure that at about 60-90 minutes before I would put the kids to bed, I would take CBD. Either I would take a supplement or pop a couple gummies. I realized that it helped me abstain from alcohol so much. I would also take a dropper full of the sleep CBD right before bed. It made me sleep GREAT (seriously the BEST) however, it didn't fully do the trick to terms of cutting out the alcohol. I still found myself wanting to have a drink at the end of the night. Something about the oral fixation or even just the process of having a liquid drink was something I needed. So I started replacing my glass of wine with a cup of tea. This process was super helpful for me. I even started adding droppers of my CBD to my tea at the end of the night to help me relax even more. If this is something you want to try I highly recommend you consider getting FOCL (Use code 20ALI for 20% off if  you try it). They have both broad-spectrum CBD (great for anxiety and sleep) and Full Spectrum CBD.
Oh and also, if you re-order go to the highlight for CBD on my instagram page cause there are a bunch of other codes you can use for future purchases (you can't use each code more than once)
Just for clarity, this link is for broad-spectrum CBD – which works wonders for anxiety and sleep. That's very different from full-spectrum which I'm about to get to, because oh my gosh did that change everything for me.
CLICK HERE AND USE CODE 20ALI FOR @)% OFF FOCL CBD
That's right, once I discovered full spectrum CBD it changed the game. I want to start by saying that full spectrum CBD has trace amounts of THC in it. So if you get drug tested for THC, you'll want to avoid this. However, the benefits of THC have been widely studied and I highly recommend you talk to your doctor about it (again I'm not a medical professional and can't give medical advice). For me it's been incredible – and let me just be completely honest here. This is coming from someone who has tried marijuana in the past and hated it. It made me feel out of control, weird and I didn't like it. So I didn't know how I was going to feel about this. However, it's completely different. Because it has such a tiny tiny tiny trace amount of THC, you just get the tiniest buzz after taking it (buzz might not even be the right word. Just a release). Just like if you were to have a glass of wine. But without the alcohol! I'm not a doctor, so I'm not going to make any claims on what's healthy and what's not in this blog post. But I personally believe and have read only good things about the benefits of CBD and small amounts of THC, and I love it!!!! So if you've tried regular CBD in the past and you didn't feel like it did much for you, I highly highly highly recommend trying full-spectrum CBD. I don't have a 50% off code for that but you can use 20ALI to get 20% off and believe me when I tell you it's worth every penny.
Not only do I use it, but so many of my friends do and we legit sit around the game table, playing mahjong talking about how much it has helped us all in different ways. One of my friends suffers from extreme back pain and it's helped her, the other can't sleep at night and if she has wine it keeps her up all night so it's helped her a ton. For me, I just have a lot of anxiety at the end of the day and it's helped me relax so I can fall asleep peacefully even faster than with just Broad Spectrum CBD. There's even different CBD's for daytime and nighttime. However, I wouldn't take full spectrum during the day, unless I was in a situation where I could have been drinking all day and be OK with it, if that makes sense. I mostly just take it at night when I have nowhere to go.
Drink Something Else – Replacing Alcohol with CBD Mocktails and Tea
Anyway, I wanna move away from the CBD conversation but it truly is a huge part of the reason I've been able to change my relationship with alcohol. But if CBD isn't for you, that's cool too. Or maybe it's not in your budget right now cause I know times are tight. I would say my other major tip for changing your relationship with alcohol is finding a different drink to have at night. For some people, that might be a mocktail, or a cup of tea, or maybe a 1 to 3Life! Ha! Had to throw my company in there. When I first starting cutting back and would find myself really craving a glass of wine and I would tell myself that I could have one after I had a cup of tea. And what usually ended up happening is that after I have my tea I didn't even really want the wine anymore. I wasn't even craving the wine or the alcohol. I was just craving a drink. So try this too! Even if you do end up drinking the glass of wine after, maybe by having the tea first, you're only gonna have one glass rather than two or three. Play around with it.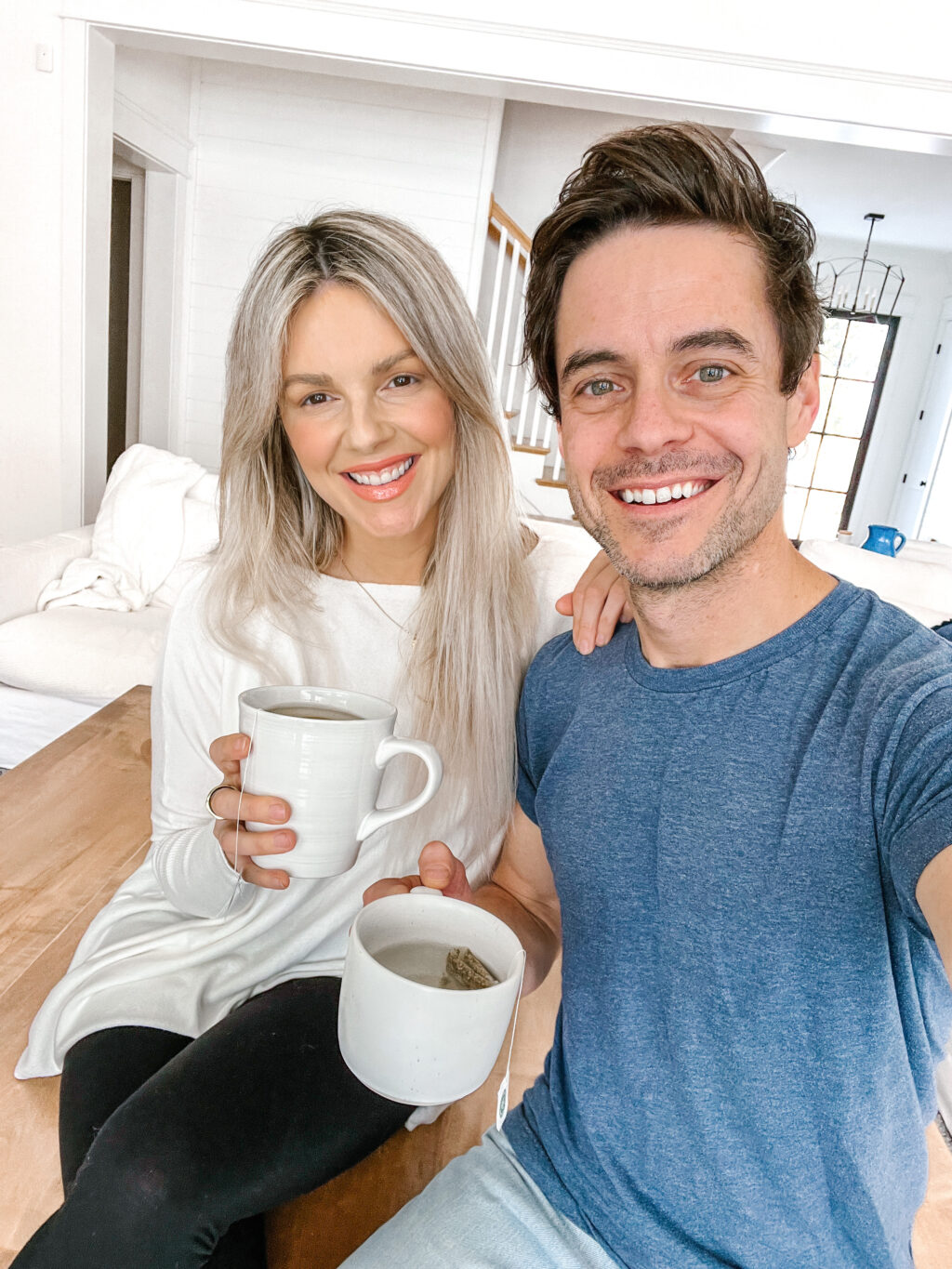 How Much I Currently Drink
So you might be curious how much I do drink now. And the answer is it depends. In January, I think I had drinks on 4 of the days throughout the month. Then this month, so far I think I've had drinks on 6 different days. To some of you, this might not seem like a big accomplishment, but for me it is. Especially when I had gotten in the habit of having a glass or two almost every night. So I've cut back significantly and I've also made the rule that I no longer open a bottle of wine at home for no reason – I want to enjoy my wine or cocktails when there is reason to celebrate. When I choose to have a drink for the experience of enjoying a special cocktail or a nice glass of wine. Or the experience of being social with others (yes, I feel like wine loosens me up in social settings, although the book I recommend would say otherwise). But never just because. Does this mean I'm never going to have a glass of wine at home with my husband for no reason ever again? No. Just a sort of a rule of thumb. I'm trying not to do that and haven't so far this year. I think that's a healthy mindset to have and I'm proud of it.
The very last thing I want to address that I hope those of you reading this, and really our society as a whole starts changing the narrative, is when it comes to people choosing to not drink, or to drink less. What I found so interesting in this process of me sharing my journey to drink less alcohol is the amount of messages I got from people asking if I had a problem with alcohol, and I think that narrative needs to change. When we hear that someone stopped drinking, we might be curious to ask questions because we want to change our own relationship with alcohol. Which is a good thing! But the response should never be to assume that that person decided not to drink because they had a problem with alcohol. I mentioned this in my Instagram stories the other day, but I think it's worth mentioning here too. I was out to dinner with some friends the other night and one of them brought this example to my attention and I just find it very interesting – I'm going to use the example of soda here because I think it's a better comparison. But if you offered someone a soda and they said, "No thank you, I don't drink soda anymore," you wouldn't really think twice about it. Maybe some of you would ask why, but again that "why" would be stemming from questioning your consumption of soda and deep down wanting to cut back and wondering why somebody else cut back. Maybe you're worried about the sugar or the amount of money you spend on soda, etc. etc. But chances are you wouldn't say much and most people wouldn't even comment. You certainly wouldn't assume or ask if that person had a problem with soda.
Now let's switch the narrative and say that you offered somebody a drink and they said I don't drink anymore. It's natural for us because of the way alcohol is presented in our society to assume there must be some major reason why this person doesn't drink. It seems odd and strange that somebody wouldn't drink alcohol. But why? Why do we assume someone has a problem with alcohol because they chose to stop drinking? Or in my case choose to drink less. It's just something to ponder. And again I'm going to mention it, but I really think The Naked Mind or Quit Like a Woman are amazing books to help you wrap your mind around this concept and ponder it even more.
To Wrap it Up
This is getting long, so I'll stop here. I think this is mostly what I wanted to say. If you have any questions for me, please ask them in the comments below and I'll do my best to answer. Again I'm not a doctor and none of this is medical advice. I just wanted to share my story with you guys on what's helped me and why I decided to make a change. I don't have any plans on fully giving up alcohol at this time. And for those of you who do fully give it up – great, amazing! For me, I just truly enjoy it and I'm so dang proud of myself for adjusting my relationship with it. So, don't beat yourself up, take it one step at a time, and I hope in some small way this blog post inspired you to examine your own relationship with alcohol, especially if you were already sober curious. I love you guys!
Help
If you or someone you love needs help with alcohol please seek treatment. This blog is only to share my one experience and not to help treat alcoholism. Take care of yourselves and those you love!