If you're anything like me, the end of November can feel super overwhelming. There's just so many sales going on that it can all feel like a lot. That's why I'm so so so happy that Walmart's Black Friday Deals for Days is happening all month long this year! That's right, Black Friday Deals EARLY! There will be new deals that drop 3 separate times throughout the month of November and the first one is starting today at 7pm ET (12pm ET for Walmart+ members)!
There are seriously so many incredible deals, but I thought I'd take the opportunity to share a few of my absolute favorites that I am purchasing today.
TV's for an INCREDIBLE price!
First the TV! To get a 55 inch TV for $188 is such an amazing deal! We have a TLC TV and we love it. It's in our playroom. So we decided to get this one for our guest room because we don't have one in there and you really can't go wrong when it's only $188. Normally any TV under $200 is like a 35 inch or something. I'm so pumped to get to 55 inch at this price! Check out the reviews – there's 22 of them on Walmart's site and they're all super positive.
If you're looking for a larger TV, and we were for our outside pool house, you can get the 65″ LG LED smart TV or a 75 inch 4K smart TV for under a $450. Again an absolute steal! Normally for a TV as big as 75 inches you're paying thousands of dollars! And again this one has incredible reviews! I just bought this for our pool house and I'll have it mounted come spring.


1. $188 55″ TV | 2. $398 LG TV | 3. $448 75″ TV
Gifts for the Kiddos
I know this time of year is focused on holiday gifting, but I honestly like to stock up on birthday gifts this time of year as well. I know this is a little pricey for a birthday gift but I will reserve it for Molly's very closest friends and my nieces. To get five Barbies for $70 with all these accessories is an incredible price! Plus I feel like Barbies rarely go on sale so I'm buying a few of these to have on hand for birthday gifts and even to donate this holiday season. You can also get this 5-pack of LOL Surprise Tween Dolls for $70 as well!

This art kit is also a really great gift for kiddos or any artists in your life! I bought a couple of these to give as gifts for birthday parties. It's a really amazing gift especially for only $24.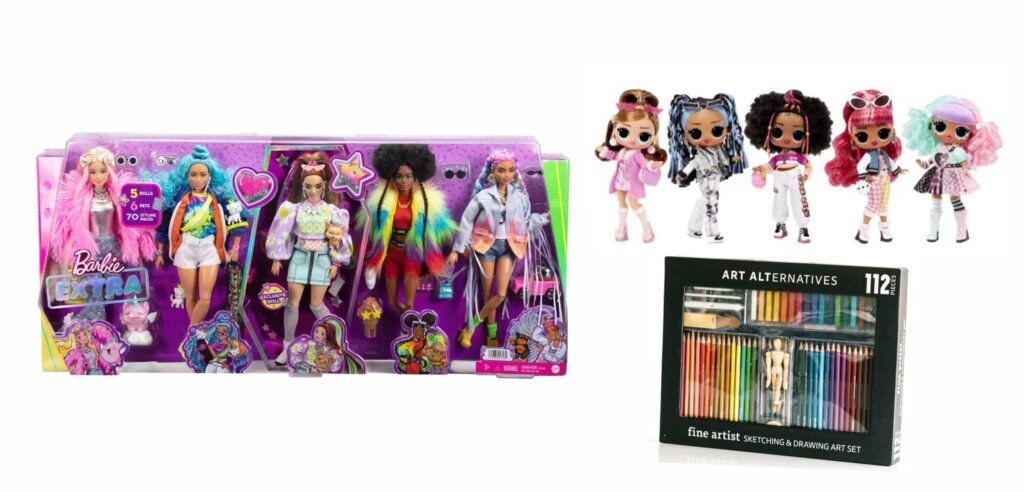 1. $70 FOR 5-PACK OF BARBIES | 2. LOL SURPRISE TWEENS | 3. ART KIT
Electronics for Less!
This is also a really great time to get new electronics either for yourself or your kids. If you have a high school student that needs a laptop you really can't go wrong with this one for under $150. I don't personally own this laptop so I can't speak to it, but I did go ahead and read over 170 reviews of people raving about it! So I wanted to share with you guys.
I also don't have this exact Bluetooth speaker but I do have one that I spent more money than this on. This one's normally $99 and you're gonna get it for $59 with this Black Friday sale! I absolutely love love my portable Bluetooth speaker. We use ours all the time if you don't already have one. I actually just was telling my friend Madi, you know she helps me with my website and Facebook Group, and she told me she has this speaker and absolutely loves it! I love having feedback from someone I know in addition to all the incredible reviews on this.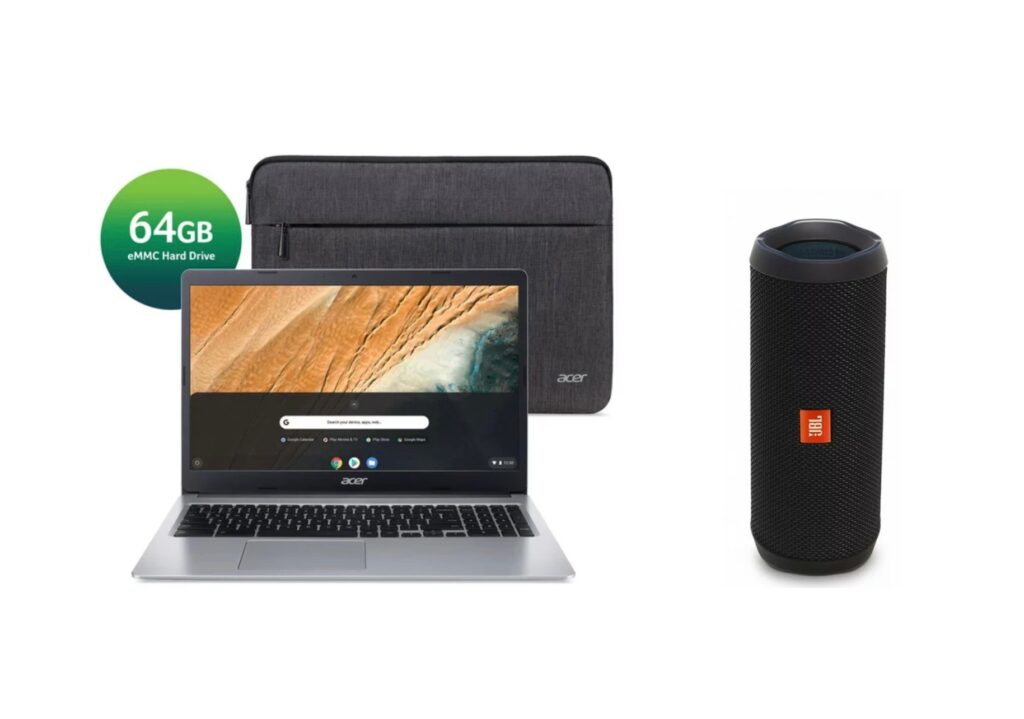 1. LAPTOP UNDER $150 | 2. $59 JBL SPEAKER
In general, you can check out a bunch of different electronic deals that they have going on. I will link a few more below so that you can click on to see the prices. They're all pretty incredible.

A Few Must Haves!
Oh my gosh, if you need an air mattress for your home for guests or camping, get this! It's on sale for only $44 and I'm telling you it's so so so great! Having an air mattress with a built-in pump is a game changer for easily inflating and deflating it! We use ours all the time when the kids have sleepovers. We tend to just put all the blankets and pillows and blowup mattresses in the playroom and all the kiddos sleep there.
You guys know how much I love an air fryer. I'm honestly shocked that they have one for just $38. I recently talked about one in my insta stories that was on sale for $75 and I couldn't believe what a deal it was. So to get this air fryer for $38 is seriously a steal!
Oh my goodness this might be one of the very best deals. The Shark Cordless Stick Vacuum is normally $259 and it's on sale for only $144 for Walmart's Black Friday Deals for Days! Check out the reviews cause they're super positive and get this deal while it lasts! Like I mentioned above, I've been told that these things are going to sell out really quickly!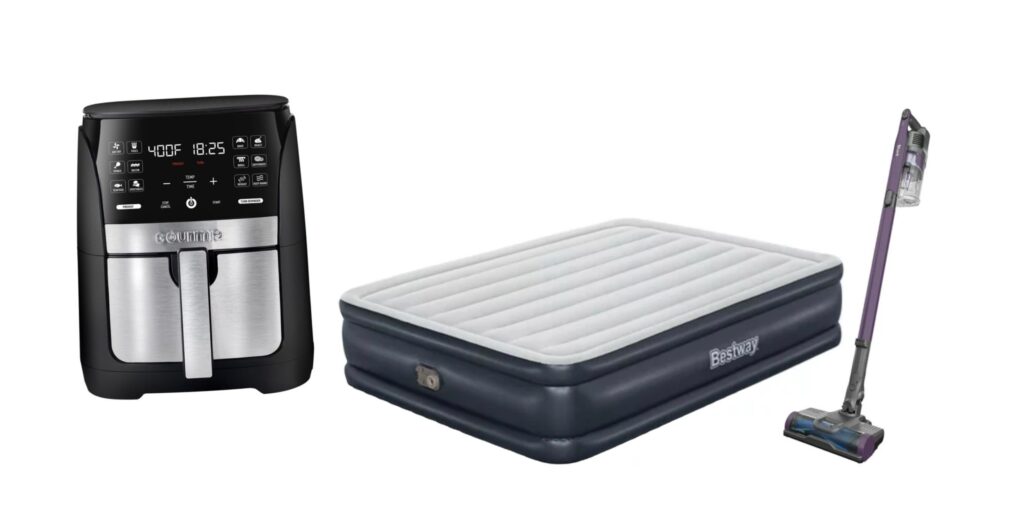 1. AIR FRYER | 2. AIR MATTRESS | 3. SHARK CORDLESS STICK VACUUM
I'm gonna end with something just because I really want to know what this is, but I feel like I don't understand it at all and I need someone to explain it to me in layman's terms. It's under $40 and a Google product for your TV so I'm very intrigued. Can someone please tell me what the heck this is and what it does? Ha! Tell me in the comments below! Seems to have some pretty incredible reviews.
Check out all the deals on Walmart's website. There are so many!