So excited to share some of my absolute favorite pieces from Walmart that I used to decorate my home in today's blog post!
The Bench of All Benches
I'm gonna go ahead and jump right in with my inspiration for today's blog post. This bench! I bought this bench almost a year ago. It was one of the very first pieces I bought for our new house. I've been craving to share it with you guys ever since, but sadly it's been sold out almost the entire year. Like legit sold out all year because I've checked every single month! Well, a couple days ago I decided to check again quickly, and I almost screamed. I was so excited to see that back in stock! This bench is so stunning! I promise you these pictures and my insta video don't even do it justice.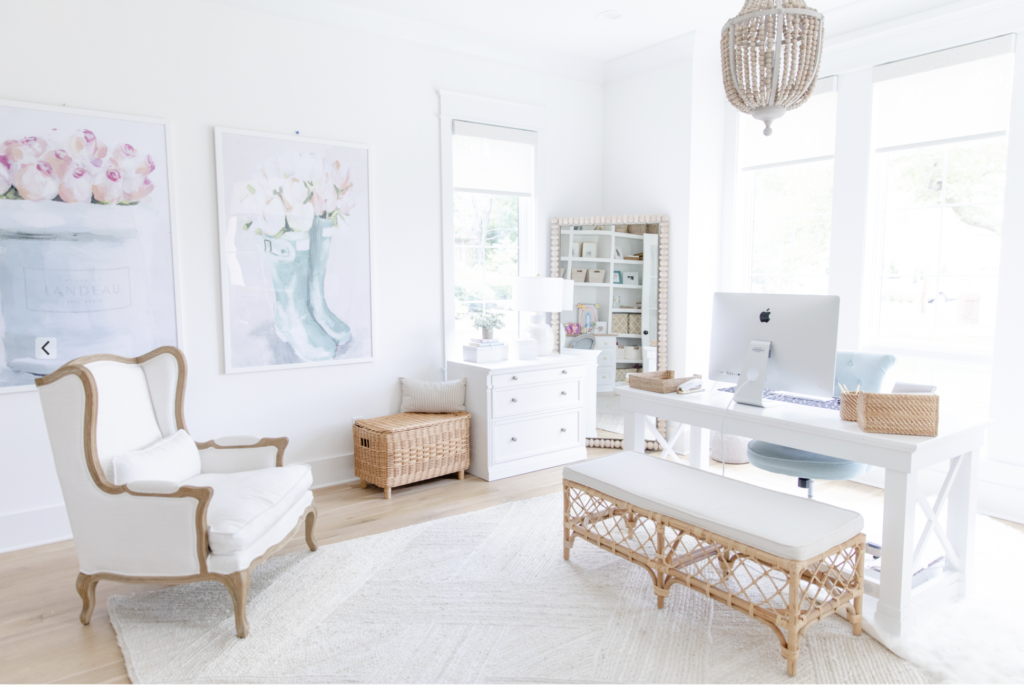 It straight up looks like a bench from a company like Serena and Lily that would likely cost about $2000 or more if you bought it from them. That's why I'm getting this one for $386 is an absolute steal! I know that's still a lot of money, but I promise you this is worth every penny! I'm including it in this Affordable Friday blog post, because for the quality, style, and prices of furniture in this day and age, it's actually a great deal! I think my brain is still stuck in the 90s for how I feel things should be priced. I forget that the 90s was 30+ years ago. Ha!
Order this bench ASAP before it sells out again! I just ordered a second one for our guest room because I am so so so in love with it!
Tissue Box Cover


If you don't have tissue box covers for your home, you need them! They seriously make such a difference! It just takes something that looks like a product and changes it into something that looks like a functional home decor item! I love this white distressed wood one, so I wanted to make sure I shared it in this post.
Lanterns
I had to include my two absolute favorite lanterns in this blog post, because they're stunning, and so affordable!
I apologize if you're sick of this first lantern because I have shared it so many times! I just think it is so beautiful, stunning and the price is incredible! Check out the reviews on Walmart's site because it's over 80 of them that are super positive! It comes in 2 sizes. I have large built-ins, so I need the larger 7″x 14″ size. But it also comes in 5″ x 10″. It's beautiful, has a distressed look, and can really cozy up a space. These are my go-to pieces for decorating built-ins, and around fireplaces.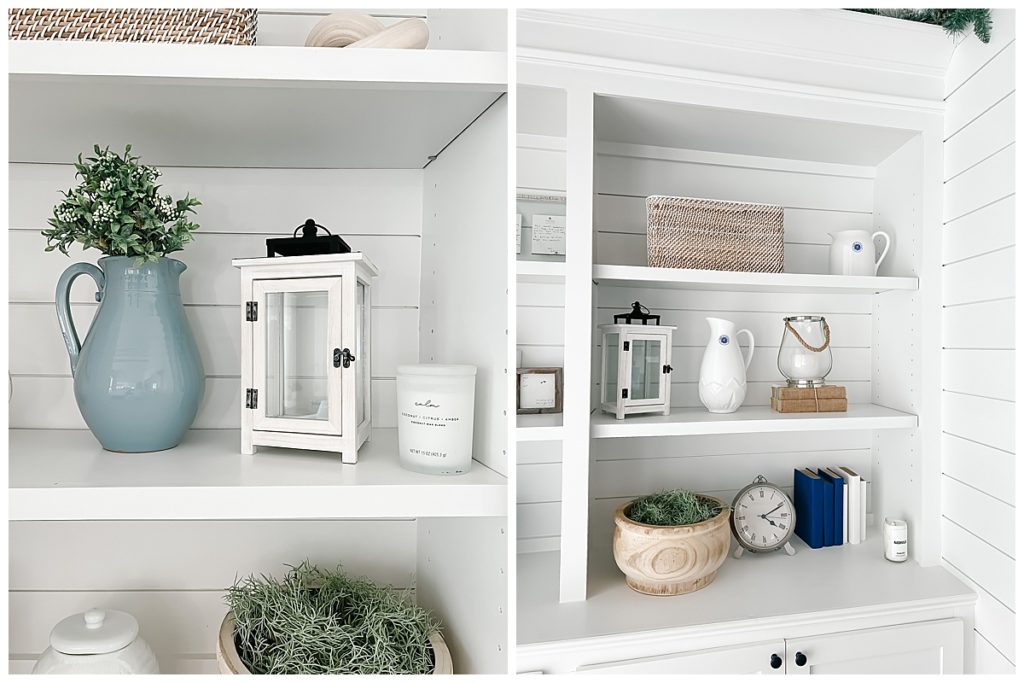 This next lantern is one that I have on the screened-in porch of my home, but you could really put it anywhere. When I first posted about this, it's sold out pretty immediately and it's still sold out in the large, but you can still get it in the small and in the medium, ranging from $19-$29 depending on what size you get. When you get this piece in the mail you are going to be absolutely stunned by the quality. It truly feels like it's a piece that cost five times that.

Art
I wanted to share some beautiful art in this post that I have throughout my home. First, an evergreen piece and then some winter pieces that I love love love so much that I don't even just keep them up in the winter. I keep them up year-round.
First up is this gorgeous farmhouse beaded wood frame with a eucalyptus print. I love eucalyptus and use it in multiple places in my home. And this frame is one of my favorite things in my house. No joke. The frame alone should be worth five times the price of this piece if not more. You get the entire piece for only $14.97. It is so beautiful. It would be perfect in an entryway or a bathroom. The reviews are amazing. There's only one negative one because they wanted glass or plastic over the print but in my opinion that would've made it feel cheap. The way it is is stunning and artisan, and I wouldn't change a thing. Except maybe making a bigger size because I want more. Ha!

 1. 4-PIECE FURNITURE SET | 2. SIDE TABLE | 3. RUG | 4. WICKER TRAY | 5. FAUX OLIVE TREE | 6. WOODEN BEADS | 7. LANTERN | 8. CANDLE | 9. WOODEN BEADED FRAMED ART
Candle
This 6-wick candle is under $30 and gorgeous! Candles with 6 wicks can cost upwards of $100+ and they are usually in a glass jar with a brand label on it. The fact that this one comes in this gorgeous bass is so great!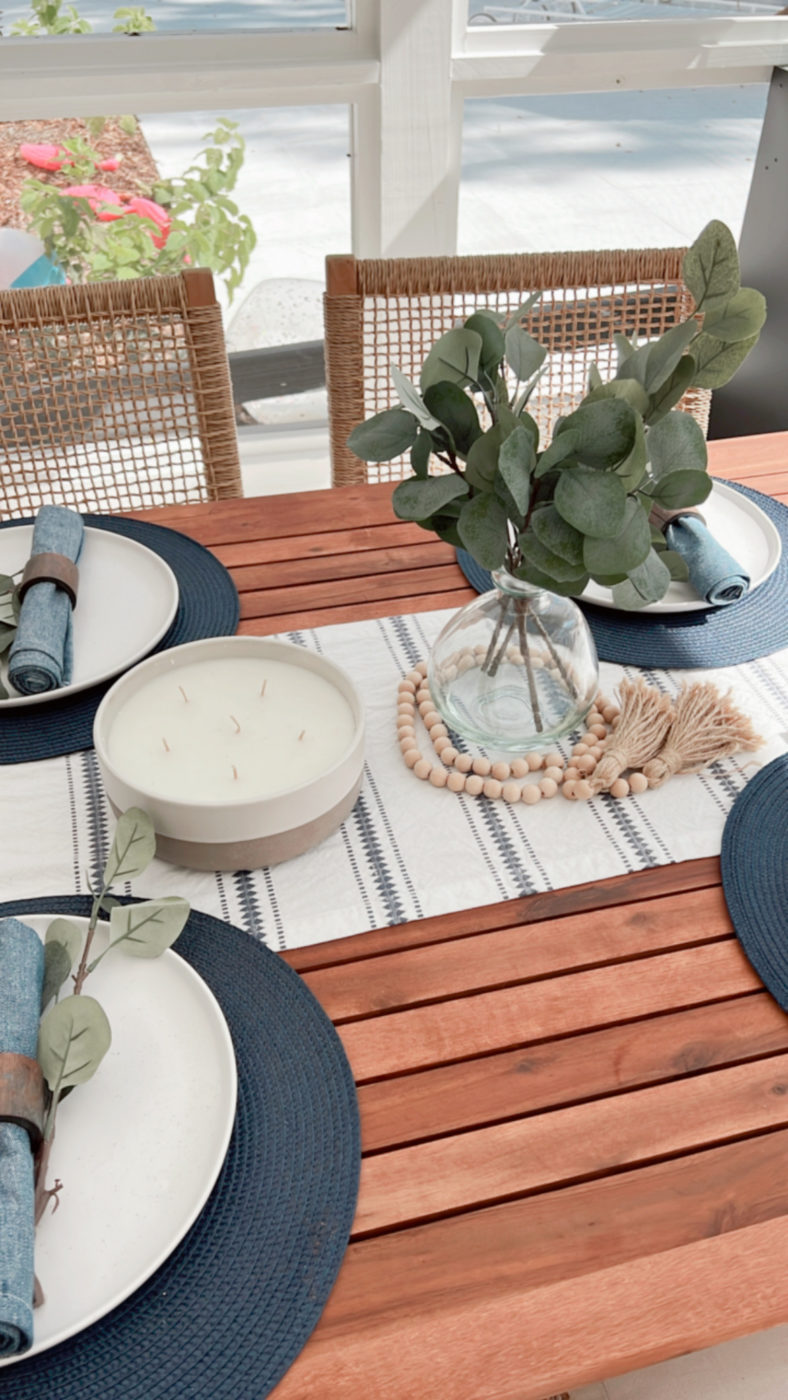 Winter Art
I know technically these pieces of art have a winter theme, but I've had them up in my guest room year-round! In fact, sometimes I just come in this room in the summer when I want some cozy winter vibes, so it really isn't something that you have to change seasonally of course, unless you want to! The two pieces I have in the guestroom are by My Texas House. You'll see throughout this blog that I have a lot of things from her lines because I love them so much. They're just really beautiful and affordable pieces of art to add CHARM to your home. Here's the link to the barn scenery and then the trees!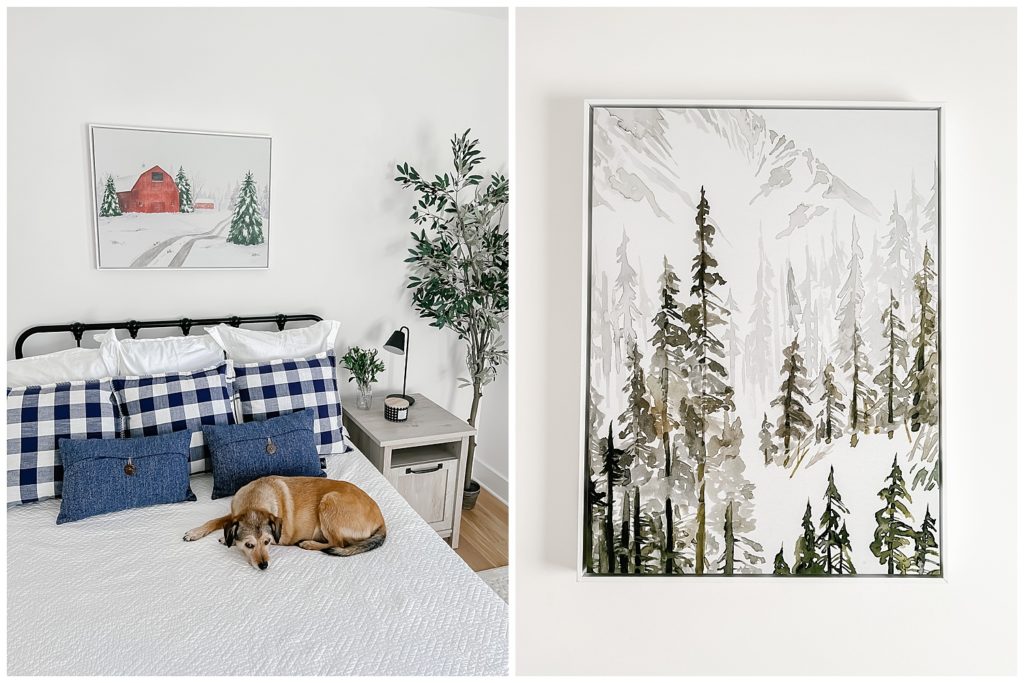 1. METAL BED FRAME | 2. PLAID PILLOWS | 3. QUILT | 4. RUG | 5. TREE ARTWORK | 6. BARN ARTWORK | 7. NIGHTSTANDS | 8. LUMBAR PILLOW | 9. SHEET SET | 10. CANDLE
Guest Room
I was just going to share the art in our guest room, but I've actually decided to share the entire room again because it's just so beautiful and I love it for a little refresh to your guest room for when they come for the holidays.
The bed itself is sold out in black in the queen size, but it's still available in black in both the full and a king size. Plus the gray is available in all sizes and it almost looks identical to the black.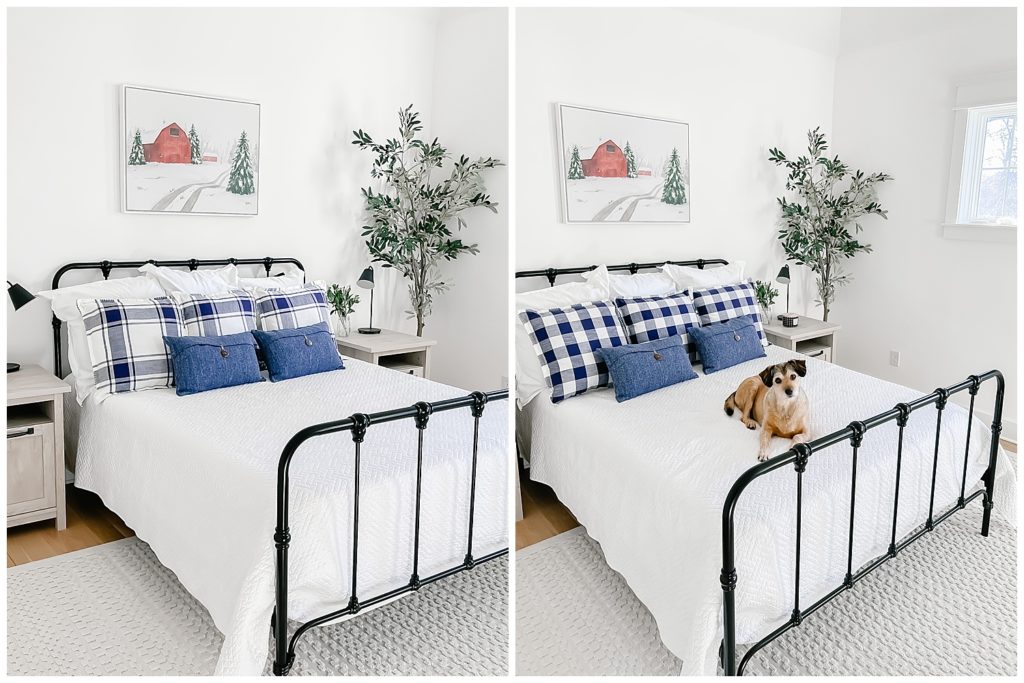 Linking the pillows and the gorgeous and super soft white quilt set that you can get for under $45. Seriously, read the reviews on this one and then get it! The plaid pillows, which are reversible, are only $11.89 apiece. These pillows are stunning – and plaid is my absolute favorite way to decorate for the holidays.
I love the nightstands in this room because they have a built-in USB charger so it's so perfect to charge your phone at night and super convenient for guests if you put these in a guest room.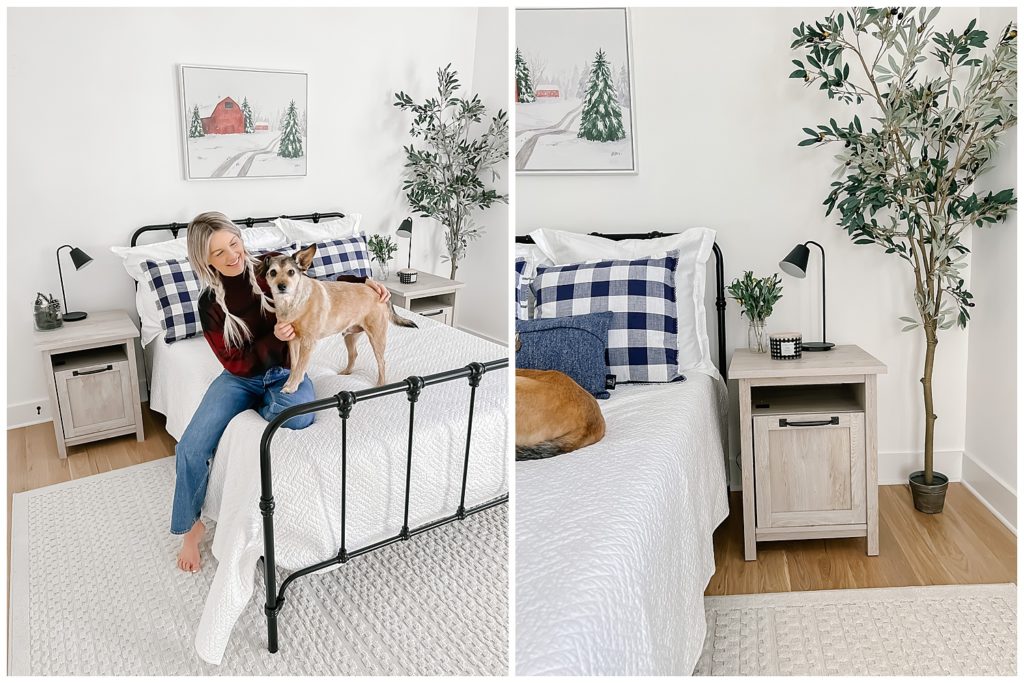 1. METAL BED FRAME | 2. PLAID PILLOWS | 3. QUILT | 4. RUG | 5. TREE ARTWORK | 6. BARN ARTWORK | 7. NIGHTSTANDS | 8. LUMBAR PILLOW | 9. SHEET SET | 10. CANDLE
And last, but not least in this room is the rug! The rug is by My Texas House, and I have her rugs in multiple places all throughout my home, like in my dining room and bedroom! I'll link all the ones I have below.

And just so you can see them here are some photos of the other rugs. The dining room chairs are also Walmart and affordable FYI!
Bookcase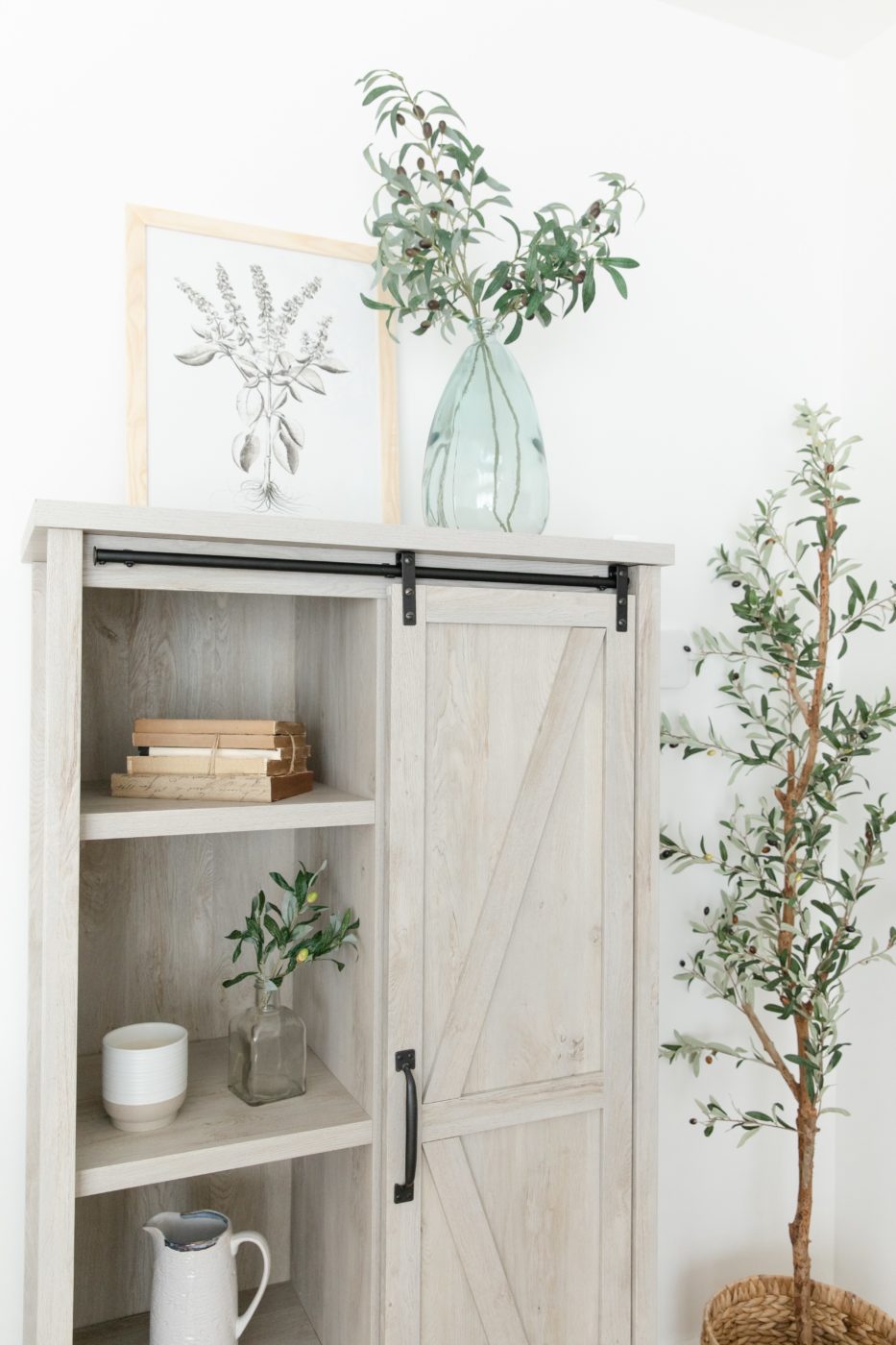 Also, I know you guys don't see this bookcase that often in my Instagram stories, but that's because it's in the guest area of our home so I'm not over there that often, but my goodness do I fall in love with it over and over every time I walk in that room. It's an absolute bargain for $259! Check out the reviews if you don't want to take my word for it because there are over 1000 positive reviews for this bookcase! I got it in the rustic white finish but it also comes in a rustic gray that's really pretty too. I feel like you just cannot go wrong with this piece!
Thanks so much for coming by the blog today! Tell me your favorite piece in the comments below!