Welcome to another back to school Affordable Friday blog! I wanted to share some more options before the start of school for anyone who is still doing some back to school shopping. My kids go back next week, but I know a lot of kids don't go back for a few more weeks so you might even just started yours or haven't even started yet! Or maybe your kids just started this week and you need more ideas! In this blog post, I'm gonna be sharing the go-to comfy cotton back to school clothes that we know and love, but then also a few pieces that are absolutely stunning. So much so that I feel like they look like little artisan boutique dresses. I am blown away at the prices of them. In fact, let's start with those dresses!
FLORAL DRESS & RILEY'S POLO
Gosh, where do I begin with how much I love this dress. Let me just start by saying right off the bat that it's under $10. As you can see in the links below it comes in multiple prints. These are just three of them and there's more on Walmart's website. But truly I feel like these pictures don't even do this dress justice. It's so beautiful! Only thing is it only comes in sizes 18 months to 5T so this is definitely a toddler/younger child back to school option. But snag it while you can! Molly is wearing a 5T and it fits her perfectly and will fit her throughout the year. I thought it would be small just because she's six and I tend to go towards size 6 options, but I'm actually realizing that they're are too big on her so I'm sticking with the 5T for now.


 1. MOLLY'S DRESS | 2. MOLLY'S SNEAKERS | 3. RILEY'S POLO | 4. RILEY'S HIGH TOPS | 5. MY DRESS
And I got these sneakers because they're so well-made and really cute to wear with dresses. They're actually a little boys sneakers, but Molly loves them! They look really cute with her dresses and then I figure she can pass them down to Riley when she outgrows them. I'd like to think beyond something being affordable and how I can pass it on from one kiddo to the next.
I'll also link Riley's adorable little outfit. I got him this polo in both the pink and blue options. This pink version that he's wearing above is the size extra small and it fits him, but there's a lots of room to grow. I also ordered the blue version and it's equally as adorable on him! I just want a little button up shirts like this for my little guy and this one is for kiddos his age up to size 18.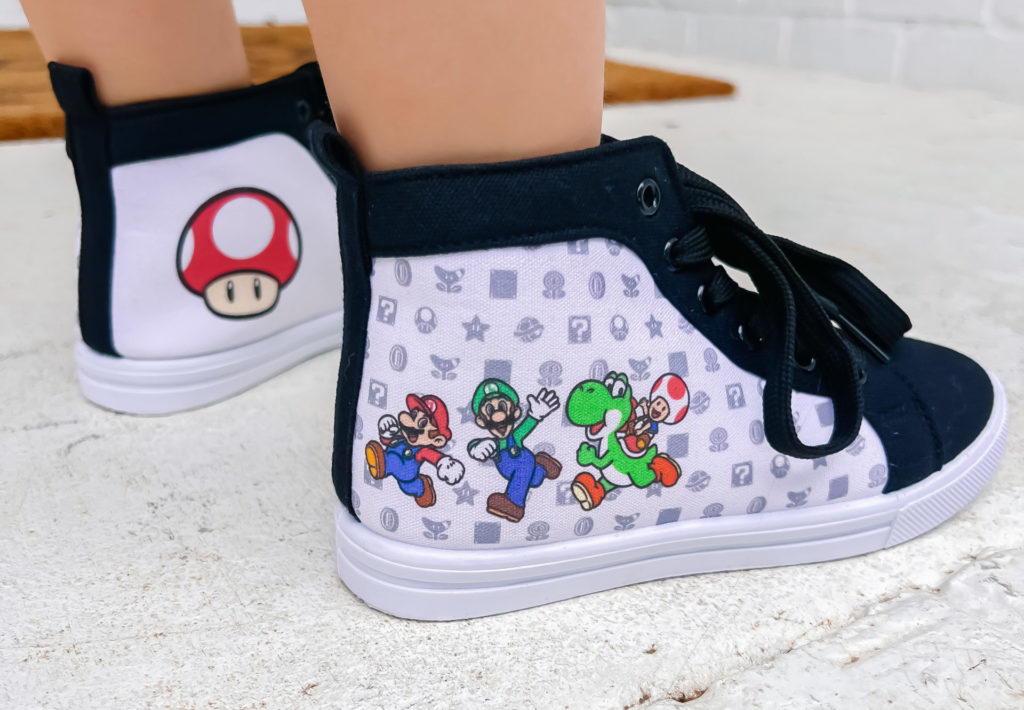 Riley shorts are also from Wonder Nation, but they're sold out so I won't bother linking them. But I will link Riley's absolutely adorable super Mario Brother hightops! They are left in super limited sizes so get them fast if you want them for your little one! Although when you click through if you don't see your size, click on the other version of the sneaker which looks like it's the exact same but it's available in different size options. This is a little weird as I've never seen anything like this before. But just another way to get more sizes in the shoe if you want to get it. They're on sale right now for $16.
I'll also go ahead and link my dress, just cause why not. It's a really pretty dress to transition from summer and to fall. It comes in sizes S to XXL –  not to mention it's only $26.

 1. MOLLY'S DRESS | 2. MOLLY'S SNEAKERS | 3. RILEY'S POLO | 4. RILEY'S HIGH TOPS | 5. MY DRESS
VINTAGE LOOKING DRESS

1. FLORAL DRESS | 2. BROWN SNEAKERS
On to dress two for Molly because I am obsessed! I almost started this blog with this dress because I think it might be my favorite. It comes in multiple prints but I'm linking two of them below so you can get an idea. I got the yellow one because the orange one wasn't available when I bought this when I was shopping at my local Walmart. But now that I see that the rust/orange color is available online in Molly's size, I'm ordering it right now! I'm legit talk to text writing this blog as I'm adding it to my cart on Walmart site. Ha! This dress is under $15, has the most adorable neckline, and seriously feels like something that was handmade 50 years ago. I don't know what else to say except that it's exquisite! I love love love it and this is also a dress that's for the younger ones. It comes in size 12 month to 5T. Molly's wearing the 5T.
She's wearing the same brown sneakers from the first dress in these photos as well.

1. FLORAL DRESS | 2. BROWN SNEAKERS | 3. MY DRESS
AUDREY HEPBURN CHIC
Up next, the cutest little outfit that I ever did see! Oh my gosh, with Molly's hair like this and wearing this outfit, she reminds me of Audrey Hepburn! Do you think so too? She has total Breakfast at Tiffany's vibes! Anyway, I really didn't know what I was going to think of this to be honest because I was a little worried that it would fit weird, but oh my gosh it fits perfect! I honestly love it so much I wish they made it in my size! In this one I actually did get Molly the size 6 and if it pretty well. I definitely feel like this is something that she can wear now and also will be able to wear next summer! Just cause it is slightly big, but I knew that because I got size 6 instead of the 4/5. I love love love love love it and it's on sale for a couple bucks off and is only $14! The high neck line is just the cutest!

1. $14 OUTFIT | 2. SNEAKERS
PACK OF DRESSES
Gotta end with a few more girly dresses! This cute cotton dress comes in a four pack for only $23.92! I mean if that's not a steal, I don't know what it is and it has incredible reviews! I also got Molly a size 6 in this, but it's much too big. I should've stuck with the extra small, but I figured I could just save a few of these and she can wear them this summer. I might order another pack for her to wear now in her current size. So if your child in between sizes, I would probably size down in this one. Unless you don't mind the dress looking a little oversized.
With this dress she's wearing the cutest pair of sparkly high tops I love the shoes because they have Velcro at the ankle but then also a zipper on the side so they're super easy for her to get on and off. They also come in a really cute black pair!

 1. 4-PACK OF DRESSES | 2. CAT HIGHTOP SNEAKERS
UNICORN DRESS
Last but not least, the same sparkly kitty cat high top sneakers with this pretty sparkly unicorn dress! When I was online buying some of the stuff, Molly saw this dress and begged me to put it in the cart. She absolutely loves unicorns and loves loves loves any dress that has a tulle bottom. It makes I feel like a princess! This dress comes in sizes extra small which is a size 4-5, up to size 14/16+. I got her the size 6 which fit pretty well actually. If I wanted to snugger fit, I could've gone down but I think for sake of clothes lasting your kiddo longer, you can size up if your child in between sizes. If not then just get them their normal size. Molly's in-between a size 5 and 6 right now, so I have to go back-and-forth depending on the option. I wanna give you guys sizing info so hopefully it helps you pick because I know sometimes online shopping for kiddos can be tough because of this!

 1. UNICORN DRESS | 2. SPARKLY CAT HIGH TOPS
Well, if this blog has told me anything so far, it's that I've gotta do some more shopping for Riley. Ha! Granted I did get him some more clothes than shown, but he just didn't feel like taking pictures of them and I wasn't gonna push him. One of the things I got him was this pack of super cute tees. I'm always looking for cute tees with prints on them that don't have characters and I love these.

Anyway I hope you guys found this helpful for your back to school shopping! I cannot believe that summer is already over. I feel like it just started.