Today's blog post is all about space saving storage furniture! Particularly in our garage! Our garage has been an absolute disaster ever since we moved into our new house. While it's a big garage, it's just been such a mess, so I have had it on my list of things to organize. Once you organize your garage, you realize how much space you end up saving so I wanted to share it with all of you!
Garage Shelving
Okay, let's start with some before pictures just so you can see how we had a garage. We basically were just stacking our bins on top of each other, and while it doesn't look terrible, it is so not functional. Every time we needed to get something, especially if something at the bottom, we had to take down all the ones on top and it was just such a pain in the butt and we'd leave the space more of a mess than when it was before we needed the bin. Not functional at all!
Before…
After!!!!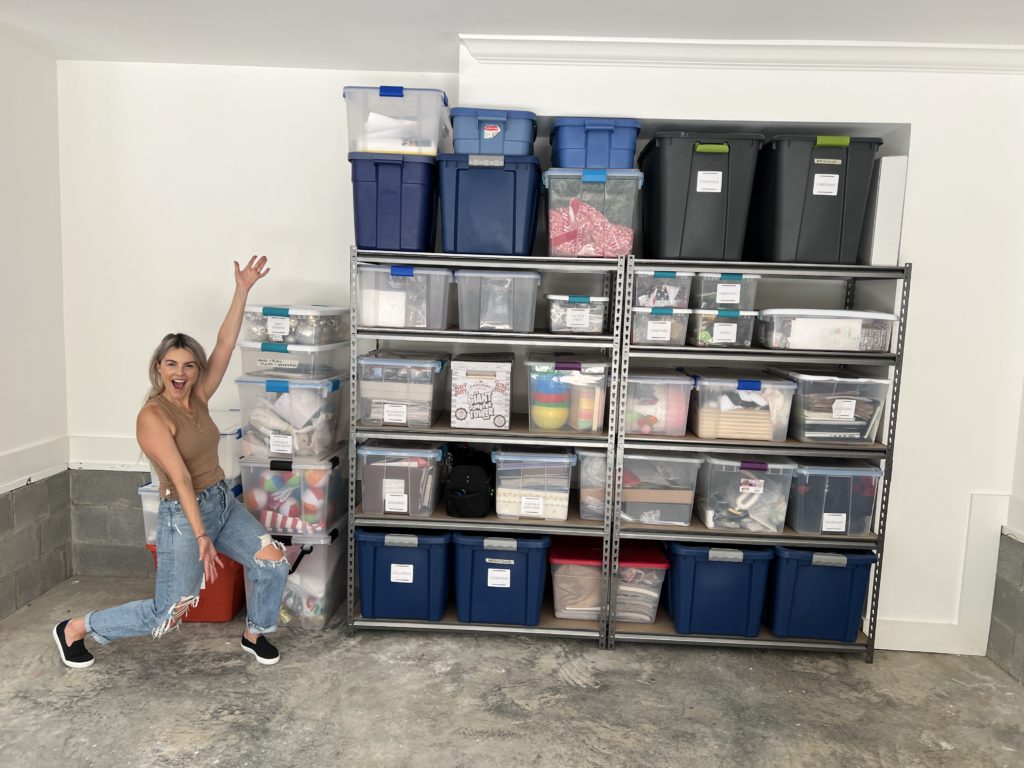 1. STORAGE SHELVES | 2. 66 QT. STORAGE BINS
Look at that after! So I'm gonna start by staying RUSH to get this garage shelving while you still can! I have been putting off organizing our garage because when we had hired someone to help us organize our garage in LA, the shelving seemed so complicated to put together and I just did not wanna have to deal with that. So when I found these shelves with great reviews, I decided to give them a go, especially because they're on rollback for $30 off each!
Get them fast! Not only do they have wide shelves that are great for big storage bins, I made the mistake in the past of ordering one with too narrow shelves. But they are ridiculously easy to put together! I posted a video to my Instagram, so I highly recommend checking that out – it shows Kevin and I putting one together and you can just see how quick it is.

I got two of them, but I'm ordering 3 more now that I know how great they are because we need a few more to finish our complete garage. Like you can see in these photos, a third would fit perfectly on this wall, and then I am getting 2 more for another wall in the garage! But I wanted to make sure I ordered before I posted this because I didn't want them to sell out. Ha!
One last thing I want to say if you're hesitant is to look at the reviews. There are over 1300 reviews for these garage shelves alone. I've never seen that many reviews for anything on Walmart's website. So highly highly highly recommend these!
Large Storage Bins
Also get these large 66qt storage bins ASAP! You can get 1 for under $10 or 6 of them for under $50 meaning each one is less than $8. That is such a steal! I'm not even kidding you I've seen versions of these for like $50 apiece lately. Especially if you get like the weatherproof ones. They're so expensive right now for some reason. So to get six of them for this price is insanely good! If  you just get one, they don't deliver those so you have to pick those up from your local Walmart but if you have the time to just quickly add it to your cart and buy online and then go get from your local store, do that! Or if you have Walmart+ you can get them delivered from your local store for free if you spend $35, that what I did. I ordered this morning at 8:30am and I have them by 1pm! Woohoo!

1. STORAGE SHELVES | 2. 66 QT. STORAGE BINS
Small Storage Bins
Besides the garage and outside,  really the last room in the house that I have to organize is the playroom. I love the shelves we got for in there, but I realize they often look cluttered and messy so I wanted to get some more bins to be able to hide items on the shelves. Another space saver/organizing idea are these storage bins. You get a 4 pack for just $12.73 and they also make your built-ins look so much nicer and contain things to give you more space! Here's my before and after!

 1. $12 SET OF 4 WHITE BASKETS | 2. RAINBOW LIGHT
Jewelry Armoire
Another amazing space saving storage design is this mirror that doubles as a jewelry armoire. I have really struggled to figure out what to do with our jewelry since we moved into this house. I had a huge beautiful jewelry armoire at our old house but it was seriously like 700 pounds and I didn't really like the look of it, and it just took up too much space. So I absolutely love this option because it's compact. I'll be able to use it as a full length mirror while in my closet. And it will discreetly store all my jewelry! This is on it's way to me so I will add pics ASAP! 🙂

Also adding a few links below to another style that you can hang directly on the wall, or on a door! I know many of you know Madi from our Facebook group, and she has this style in her closet to save floor space! We will get pics of both of these in the blog soon for you to see! The style she has is on clearance and is 50% off for only $90! Such a steal.

Before I go, I'm also going to link a few other random things that I've gotten from Walmart lately that I just absolutely love! Can't wait to hear what you all think of my garage, I am so proud! Hah!

In while I have you guys can you quickly help me pick chairs for our screened in porch! I'm trying to decide between the below two? The table linked below is the table we got so I'm trying to decide which would go better with that table. We got the light brown version but it's actually closer to the dark brown than the light or maybe somewhere in the middle. It basically identical to how it looks int he beach photo below. And then I also linked are other furniture that's on the outdoor porch so you can see why I'm going lighter with the chairs because I want it all to sort of blend.

What are you guys think? Tell me in the comments below!